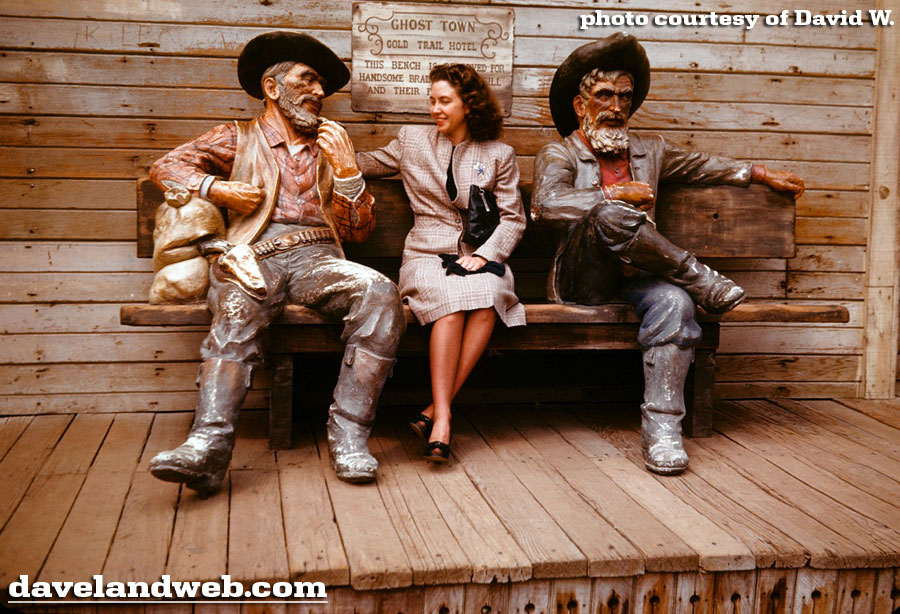 Daveland reader David W. was very generous in sharing some treasured photos from his family of early Knott's. Here is David's commentary:
I have a lot of good memories of Knott's (& that other theme park over in Anaheim). These photos were taken by my Dad who enjoyed photography (these are from before I was around). The Kodachrome colors sure do last. My Grandparents (Dad's parents from Colorado) liked to go to Knott's, and judging by the clothes, these photos are from a few different visits. I recall my parents talking about how my Grandfather was laughing after Sad Eye Joe talked to him at the Ghost Town Jail. The first photo shown here is my Mother (she just turned 88 this month) and the slide
even had the actual day it was taken written on it (April 9,1948). This is the only picture that I have seen where Whiskey Bill has a red shirt.

The 2nd is my Mother (holding her chihuahua) & my Grandparents in the wagon camp. I believe this was taken in the 1950's (unfortunately the slide was not dated).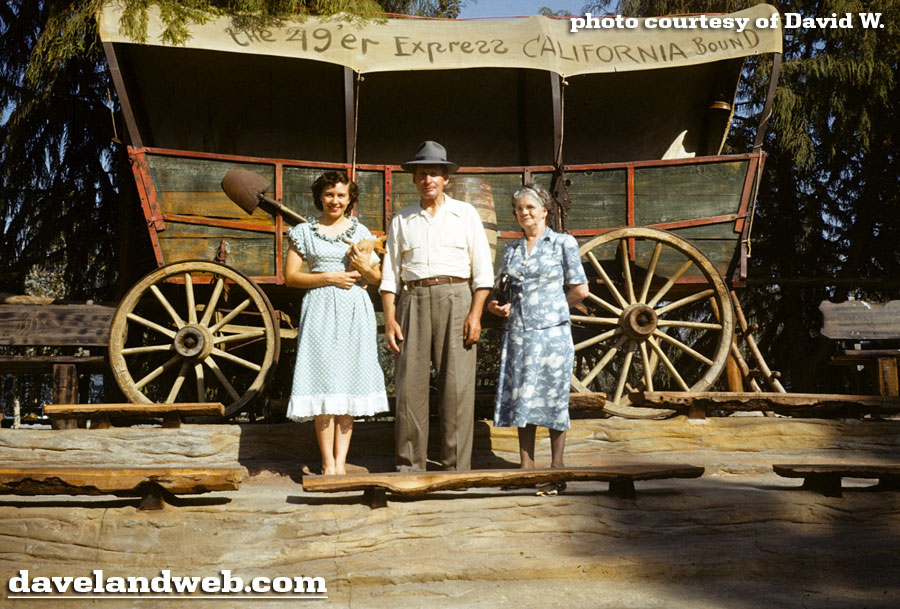 Here's my Mother again, this time standing by The Chapel by the Lake (April 9,1948).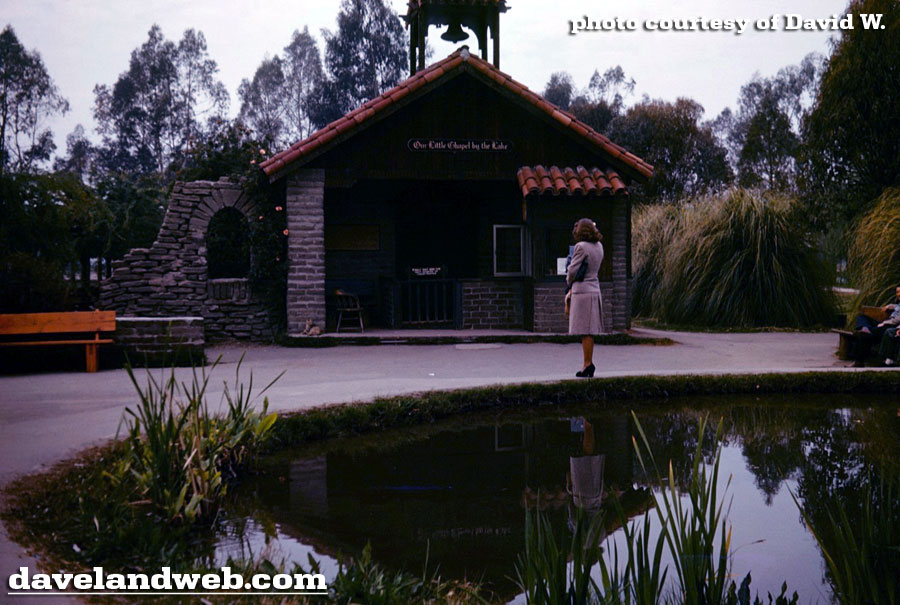 My Grandparents, circa 1950's—I really like the expressions on their faces as they ham it up for the camera!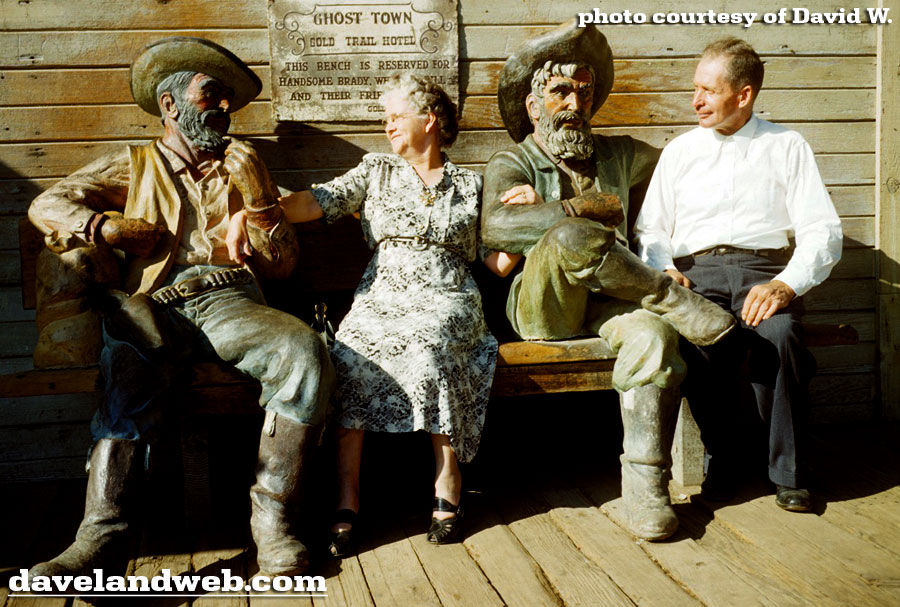 The final one is of my grandparents at the Pitchur Gallery: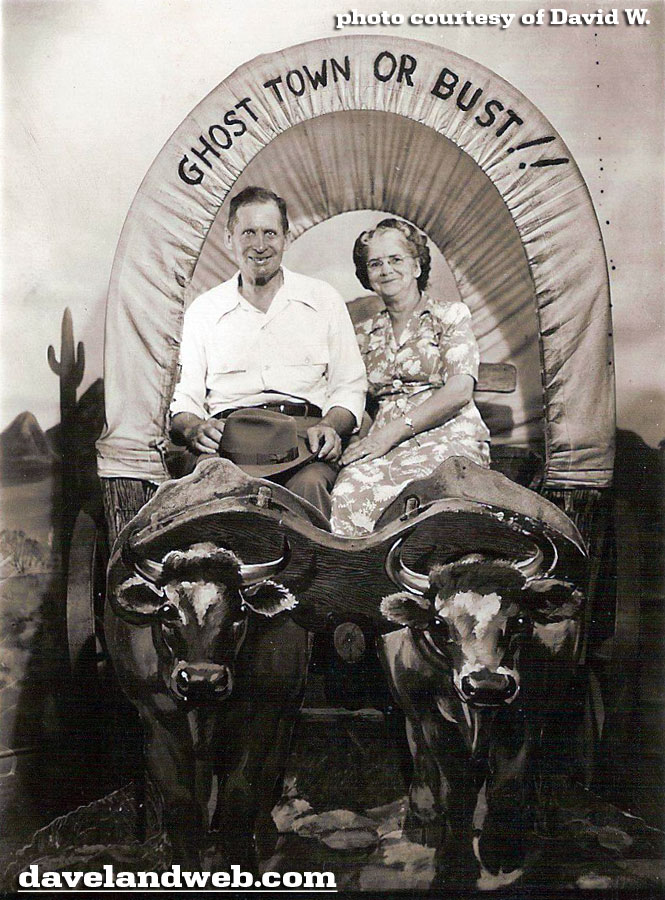 A huge thanks to David for sharing these high quality images from his family's history.
Had a few requests for the recipe for my Christmas Fruitcocktail Egg Nog Pie (yes, there are still a few retro cooks alive and kicking out there!). It differs slightly from the vintage recipe posted by Tim. Here's the one I use:
Ingredients:
2 cups prepared egg nog. 1/4 teaspoon salt. 1 envelope Knox gelatin. 1.5 teaspoon vanilla. 1 cup (before whipping) whipping cream (whipped). 1/4 cup sugar. #2.5 can fruit cocktail thoroughly drained (draining is key! otherwise pie will be soupy). 1/4 teaspoon almond extract. 9" pie shell (I made a graham cracker crust; either is fine).
Directions:
Mix gelatin, sugar, and salt. Gradually stir in egg nog. Warm over direct low heat until gelatin is dissolved. Chill until mixture mounds when droped from spoon. Fold in whipped cream, flavorings, and 1.5 cups fruit cocktail. Chill again 5-10 minutes until mixture mounds. Heap into baked pie shell. Decorate with remaining fruit cocktail. Chill 2-4 hours.
Note: If you're going to make this pie, don't ruin it by using low-cal or low-fat or lite-syrup anything; it's a retro pie and needs all the ingredients to be fully leaded!
Be sure to send photos!
See more Knott's photos at
my main website
.