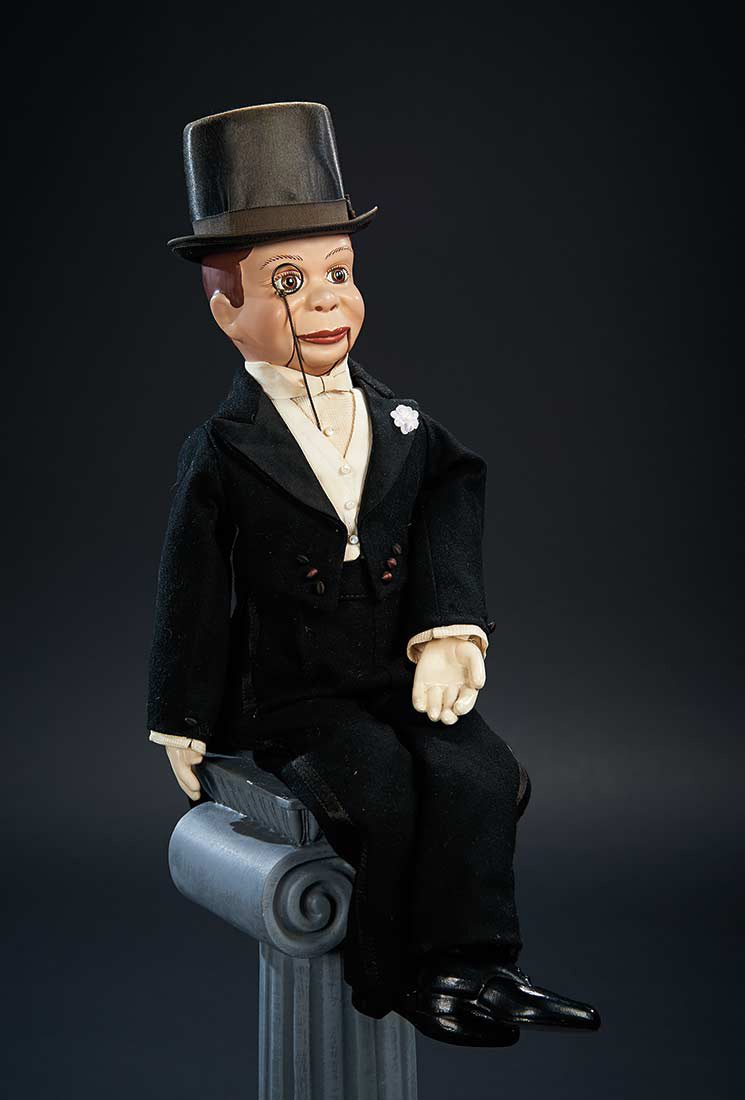 It probably sounds very hard to believe that one of the most popular radio programs in the country starred a ventriloquist and his doll, but it's true. Edgar Bergen (the ventriloquist) and Charlie McCarthy (his not so dumb dummy) had an eleven year run on a radio show sponsored by Chase and Sanborn Coffee from 1937 to 1948. Bergen was the somewhat reserved "straight man" of the act and Charlie was his racy sarcastic counterpart. Together, the "two" made magic. I discovered in 2015 at the Love, Shirley Temple auction that the child star had her very own Charlie McCarthy 20" doll gifted to her directly by Bergen himself (shown in the photo above). Made by the Effanbee doll company in 1938, the gift might have been the result of a blurb from Silver Screen magazine in October, 1937: "Before leaving for her holiday in Honolulu, little Miss Shirley Temple made only one request of her studio: could she have lunch with Charlie McCarthy? ...Charlie was so pleased when Public Favorite Number 1 asked to lunch with him that he has been insufferable ever since." The auction included a photograph of Shirley with Edgar and Charlie puppet...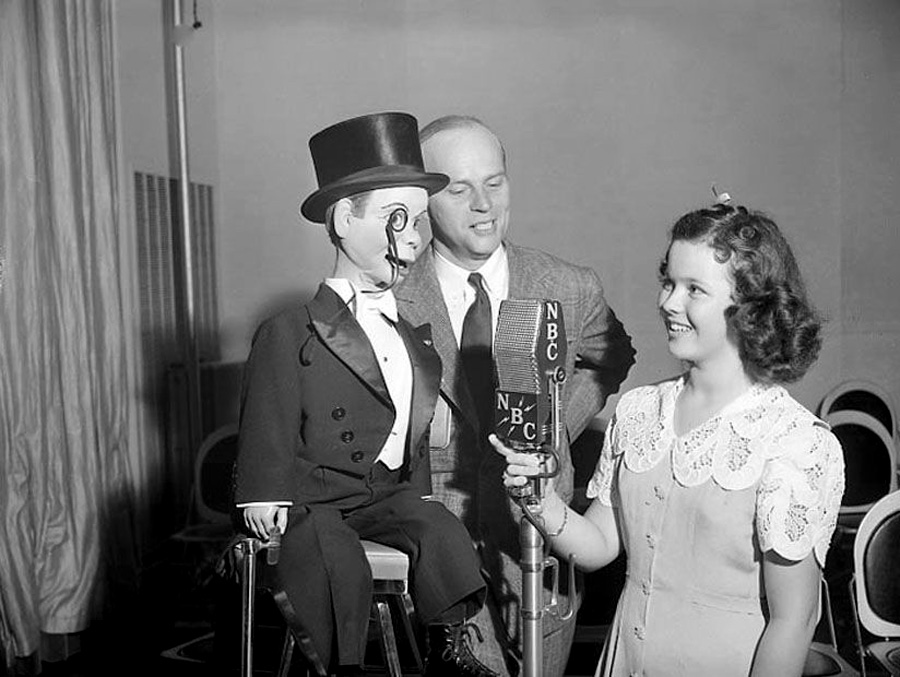 as well as a letter dated October 10, 1938 which thanks the young star for her photograph, noting that "Charlie wanted it for his room, but I thought the den would be a much better place for it."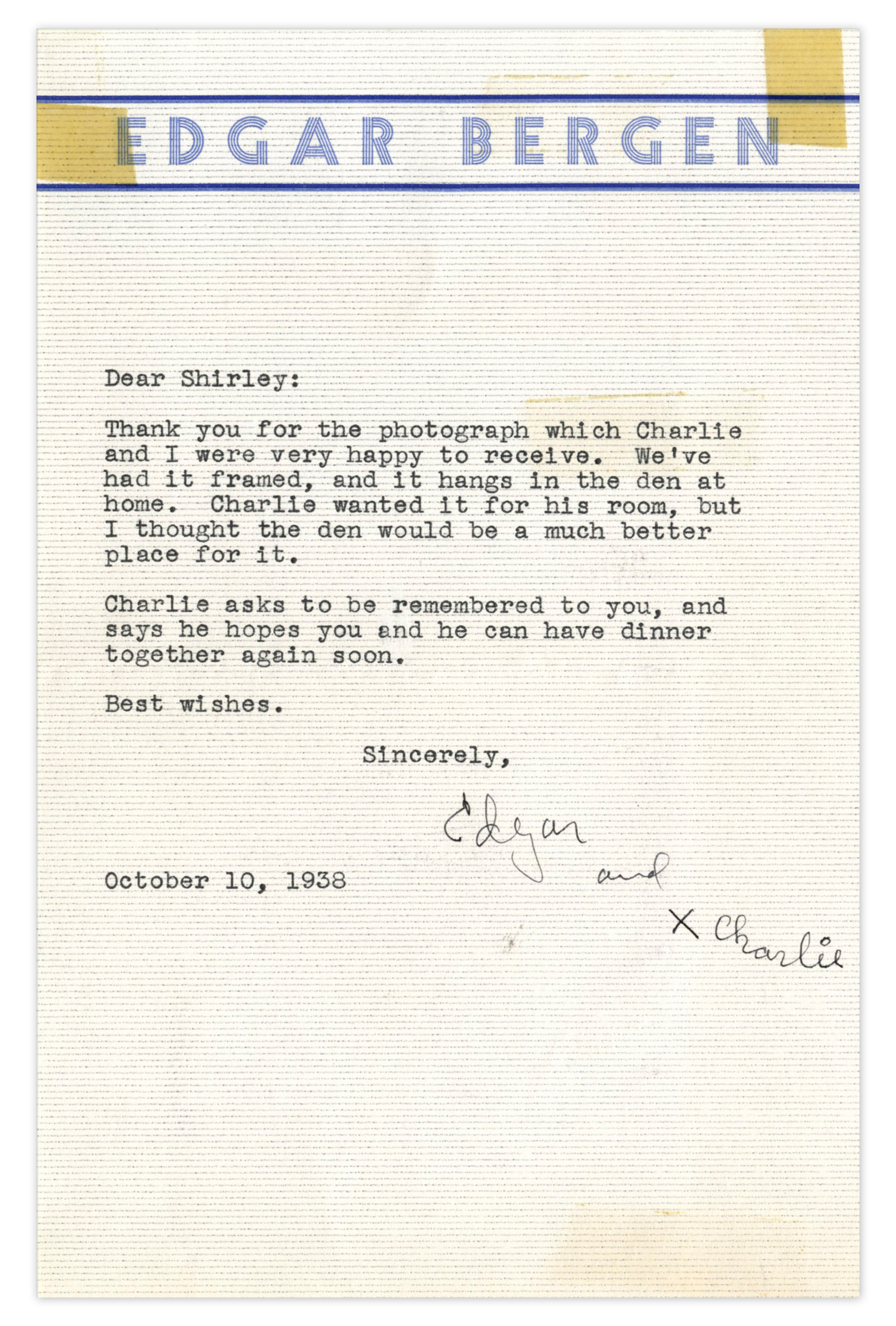 A shot of Shirley's Charlie McCarthy when I saw it on exhibit at the Santa Monica History Museum: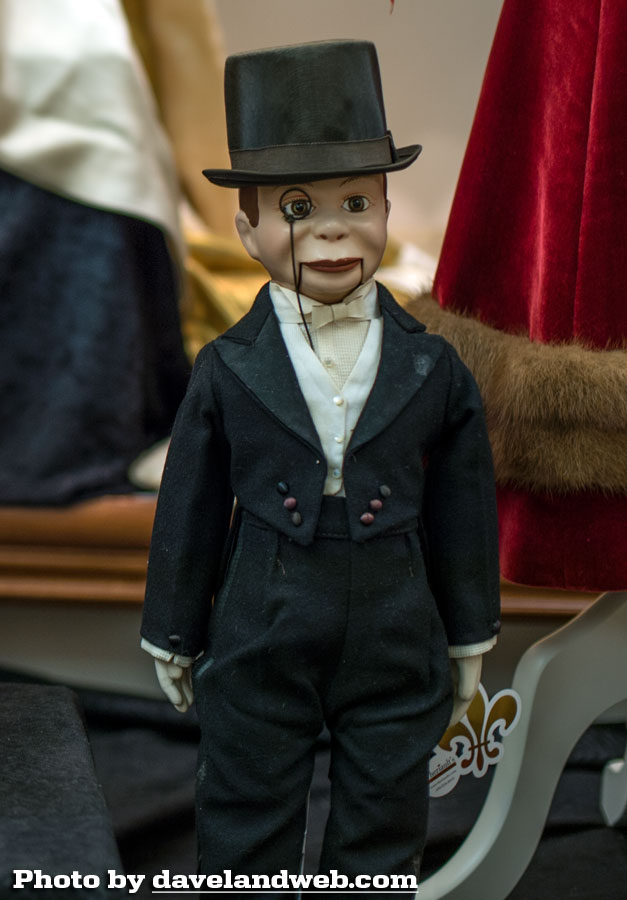 To give you an idea of just how far Edgar/Charlie pushed the censors, here's a famous dialogue between Charlie and Mae West from December 1937:
Mae:
"Come on home with me, honey. I'll let you play in my wood pile."
Charlie:
"Not so loud, Mae, not so loud! All my girlfriends are listening."
Mae:
"Oh, yeah! You're all wood and a yard long."
Charlie:
"Yeah."
Mae:
"You weren't so nervous and backward when you came up to see me at my apartment. In fact, you didn't need any encouragement to kiss me."
Charlie:
"Did I do that?"
Mae:
"Why, you certainly did. I got marks to prove it. An' splinters, too."
As a result of that show, West was kicked off the airwaves until 1950.
Here's a vintage shot of the duo with famed gossip columnist Hedda Hopper. From the accompanying publicity blurb:
Charlie McCarthy challenges Hedda Hopper's hat crown on his radio show. "What time do you feed that thing on your head?" he quips. "I don't have to feed it — I just shot it this morning," replies Hopper, while Edgar Bergen referees, looking like "Old Professor Quiz."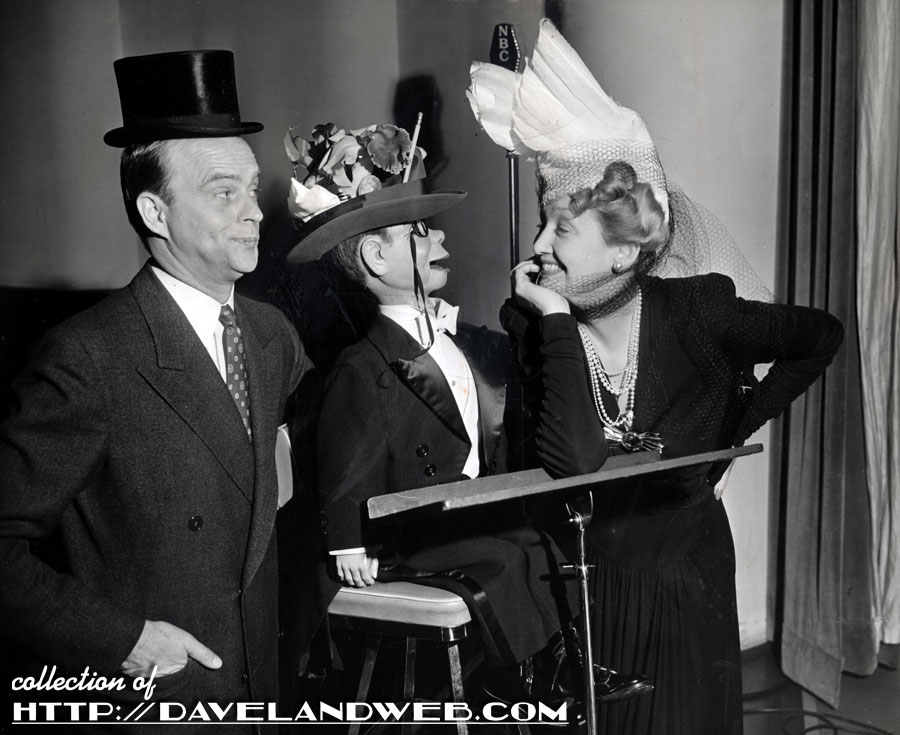 A later shot of them at the famous Brown Derby restaurant; I am guessing from the 1970s.
From my own collection comes a shot of the 15" tall composition Charlie from Effanbee with its original button: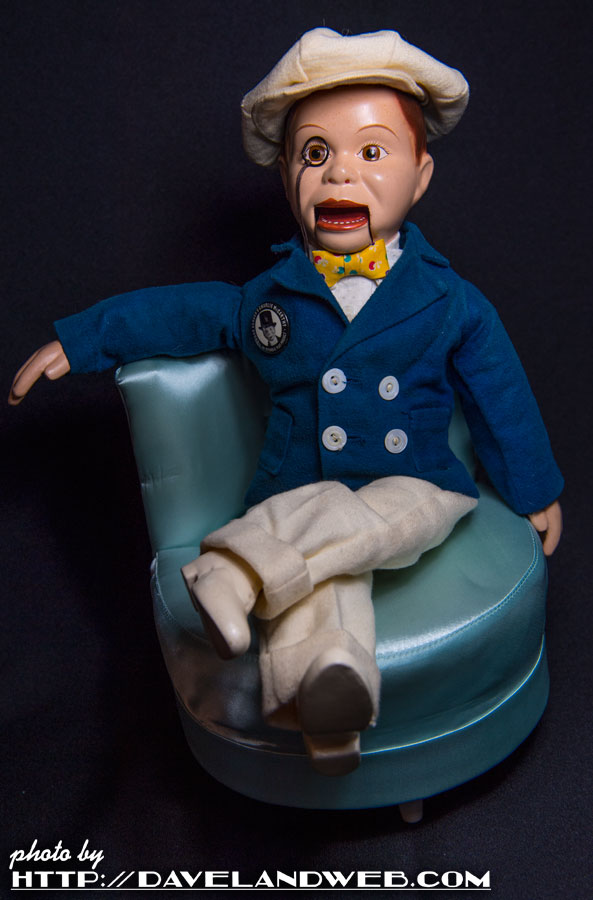 and a 20" Charlie, which strangely enough did not include a monocle, nor is there a hole near the eye, which would have indicated one had been originally included.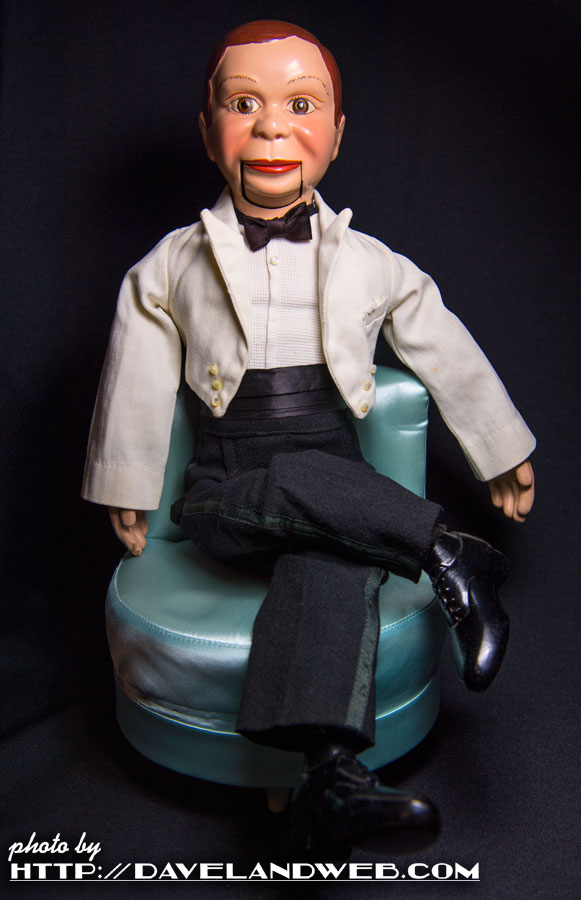 See more Shirley Temple photos at my
main website..
Follow my Daveland updates on
Twitter
and view my most recent photos on
Flickr
&
Instagram
.