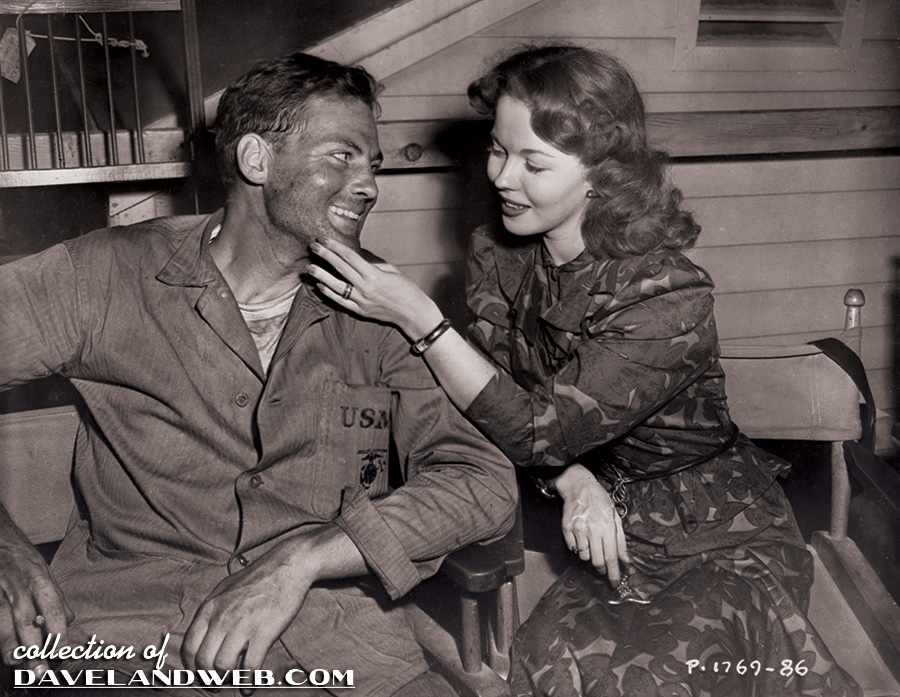 Shirley gently caresses the chin of her then-husband, John Agar, in this 1949 image taken on the set of "The Sands of Iwo Jima," released by Republic Pictures on December 14, 1949. John Wayne was the star of the film. He had previously costarred with both John and Shirley in "Fort Apache" (1948):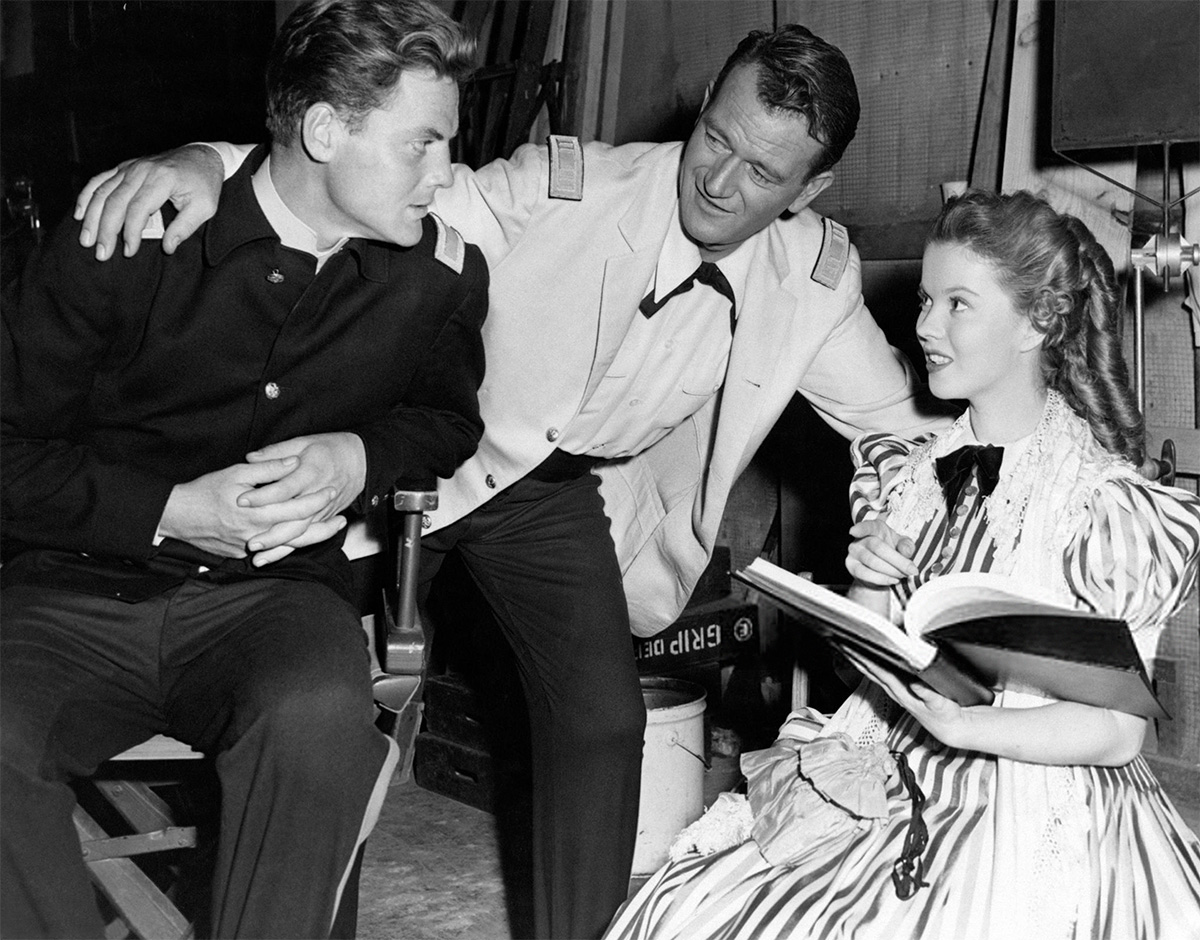 "Iwo Jima" was directed by Allan Dwan, who also directed Shirley in "Heidi" (1937), "Rebecca of Sunnybrook Farm" (1938), and "Young People" (1940). Dwan is seen standing behind actress Helen Westley during the filming of "Rebecca" just out of the view of the camera: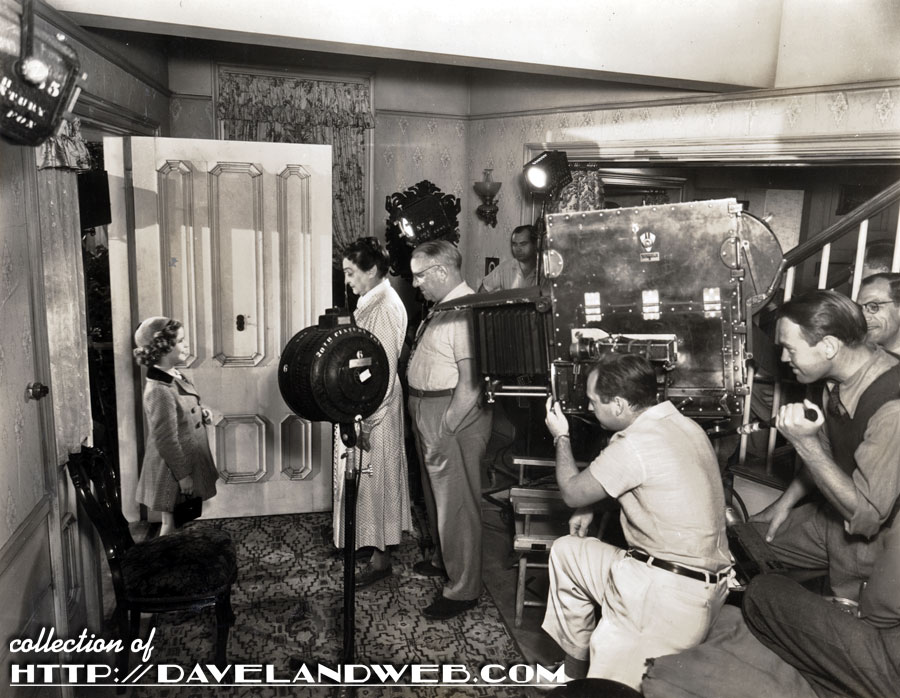 John Wayne received his first Academy Award nomination for Best Actor for "The Sands of Iwo Jima." Although he lost to Broderick Crawford ("All The King's Men"), he DID get his footprints and handprints placed at Grauman's Chinese Theatre in conjunction with the opening of the film there.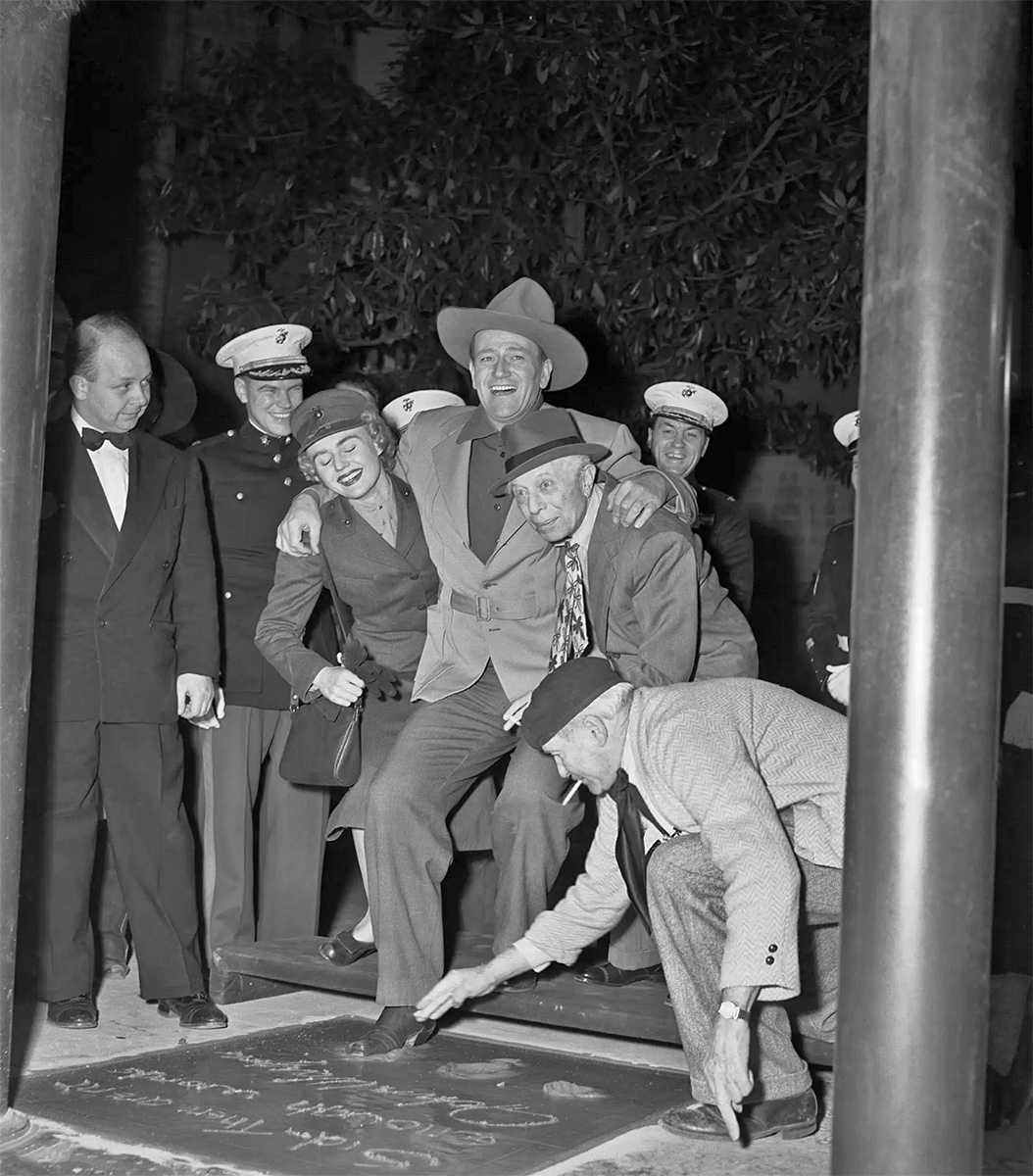 From the
John Wayne Facebook page
I found the above shot along with this info:
Duke is hoisted up by a Marine to his right and Sid Grauman, owner of TCL Chinese Theatres​ ( Grauman's Chinese Theatre) as he imprints his foot in the courtyard of the Hollywood landmark #onthisday in 1950 [January 25]. Duke's performance in Sands of Iwo Jima (1949) earned him this piece of immortality, and the role remains a favorite of fans and critics alike. The cement was mixed with sand from the beaches of Iwo Jima.
Here's Shirley getting her own piece of immortality at Grauman's fifteen years before Wayne: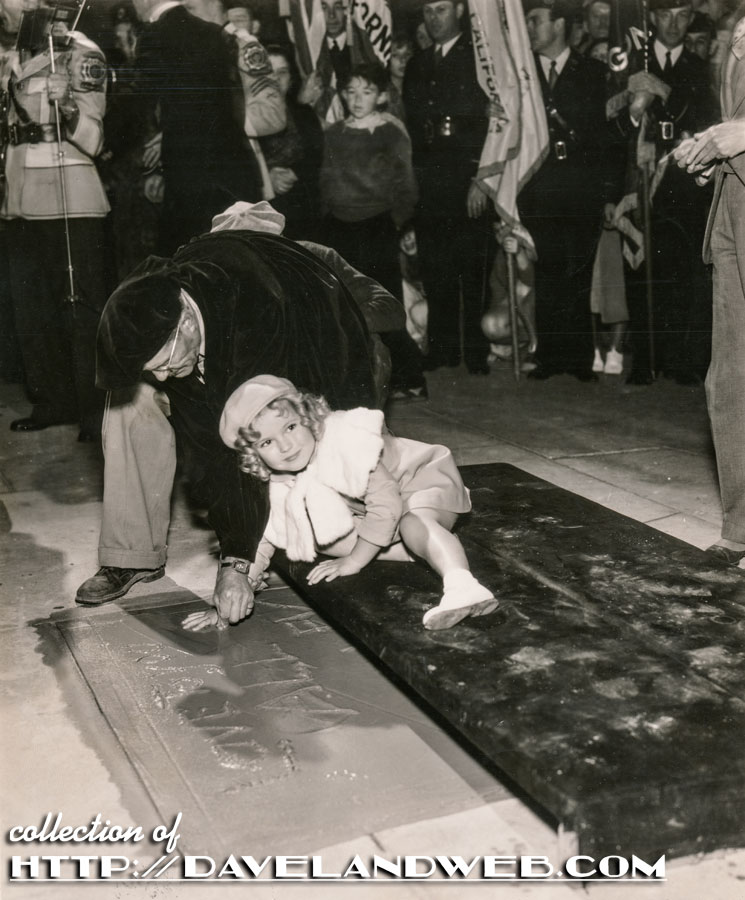 One of the most famous episodes of "I Love Lucy" dealt with Lucy stealing Wayne's cement slab from Grauman's so that she could take it home as a souvenir. In a two-episode arc, it originally aired on October 3, 1955 ("Lucy Visits Grauman's") and October 10 ("Lucy & John Wayne").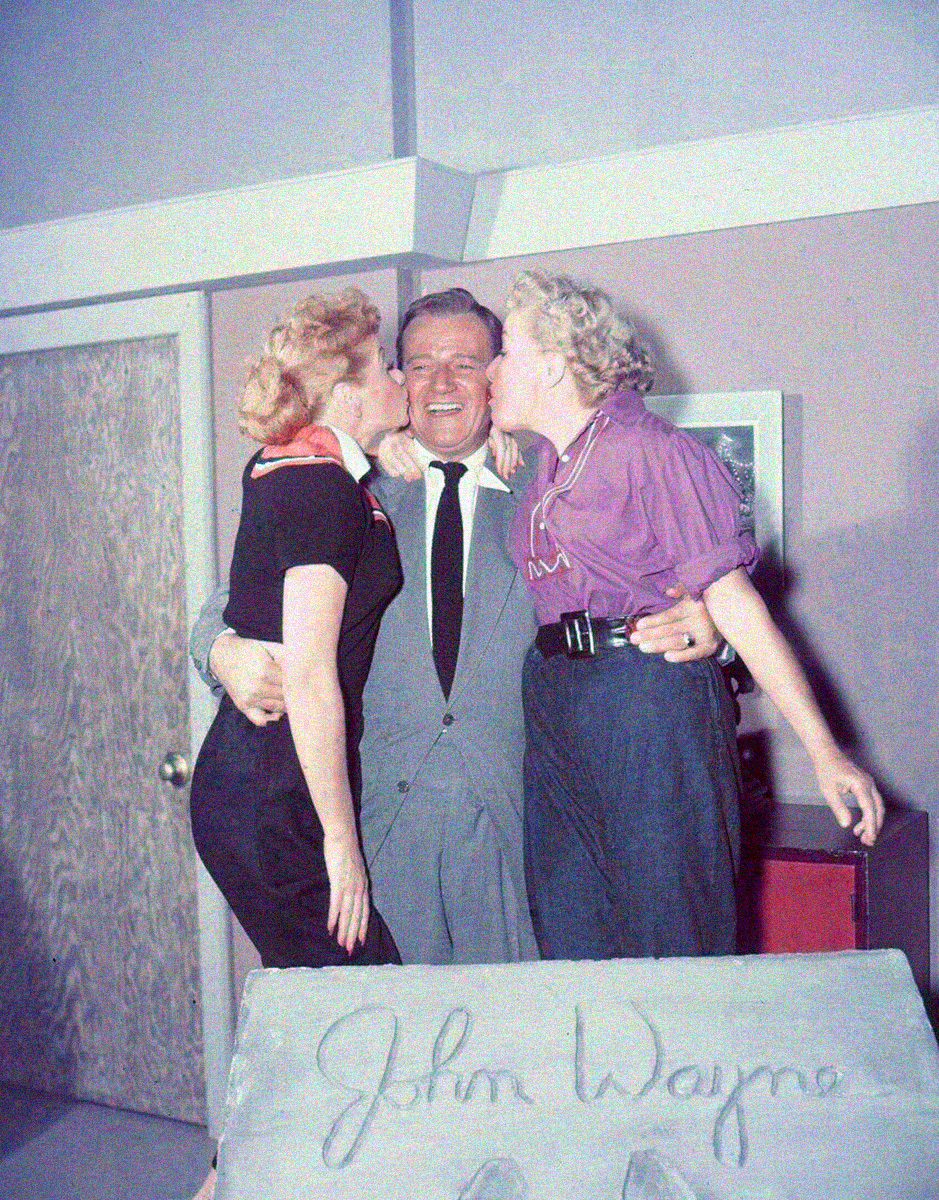 Watching the episode, you can tell that a soundstage set stood in for the real Grauman's, and that a prop was created in place of using the actual cement slab. The prop came up for sale at
Heritage Auctions
in 2016.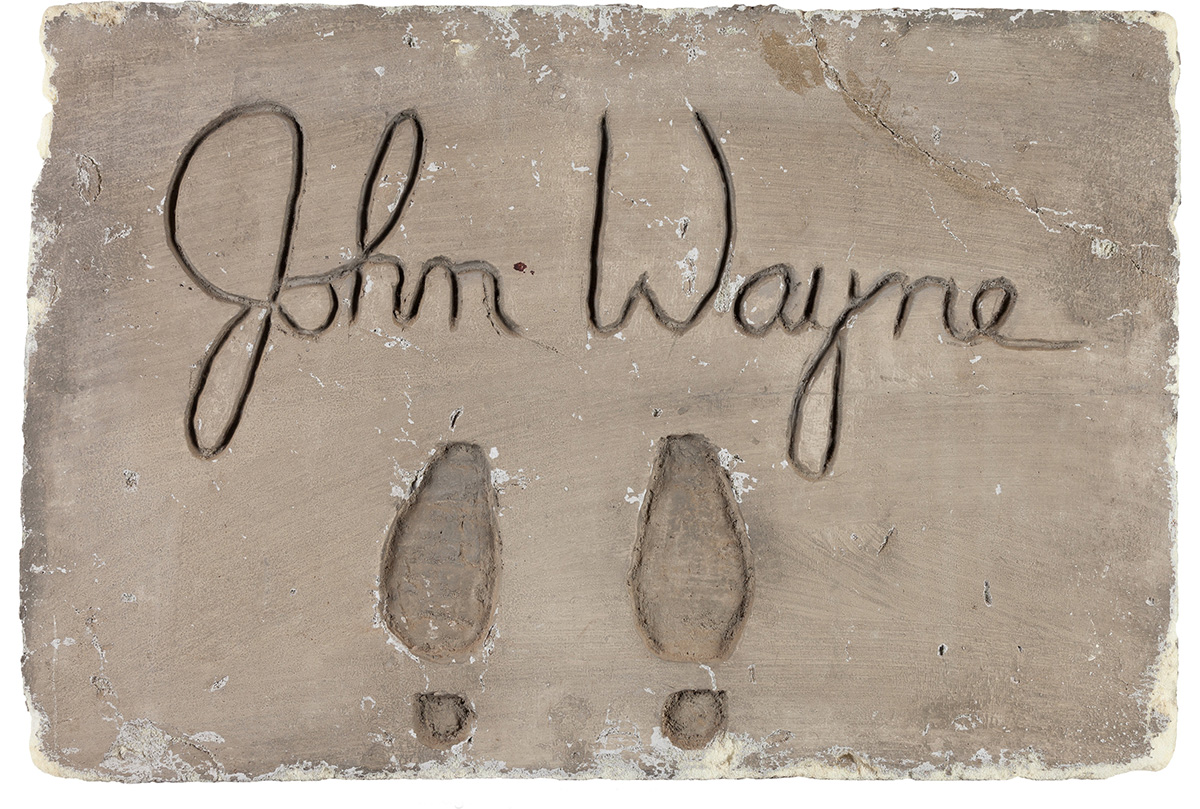 From the auction listing:
A John Wayne Prop 'Grauman's Chinese Theatre' Signature/Footprint Slab from "I Love Lucy." CBS Television, 1951-1957. Made of Styrofoam and fiberglass, painted gray to simulate concrete, with text reading "John Wayne" (though funnily enough, not the star's real signature) above boot footprints, with purposeful distressing on the surface and around all edges, with a cracked upper right corner; used in the hysterical 1st and 2nd Episodes of Season 5 -- titled 'Lucy Visits Grauman's' and 'Lucy & John Wayne,' original air dates October 3 and 10, 1955 -- when the Red Head steals the Duke's footprints from Grauman's only to have wackiness ensue; a number of these props were made for the two-parter, four of which are actually seen at the end of Episode 2 when Wayne walks in to the "Ricardo's" hotel room carrying what appears to be this exact one! (Please note this piece is dirtied and somewhat stained due to age.) 24" x 36". PROVENANCE: The current owner, Ardis Lichtgarn, obtained this piece directly from Wayne's publicist, Beverly Barnett, who gave it to her at the 1955 wrap party for this two-part episode which took place at Desilu Studios. Barnett had invited Lichtgarn to the party specifically so she could meet Wayne, but the star left early so she missed him. As a consolation, Barnett gave her this prop which he said was meant for Wayne, but because he was gone, she got it instead! Included is a signed letter from Lichtgarn outlining how she obtained this piece 61 years ago.
The prop sold for $22,500. That's an expensive piece of styrofoam! Here's a vintage closeup of the actual cement slab at Grauman's from the
Calisphere site
: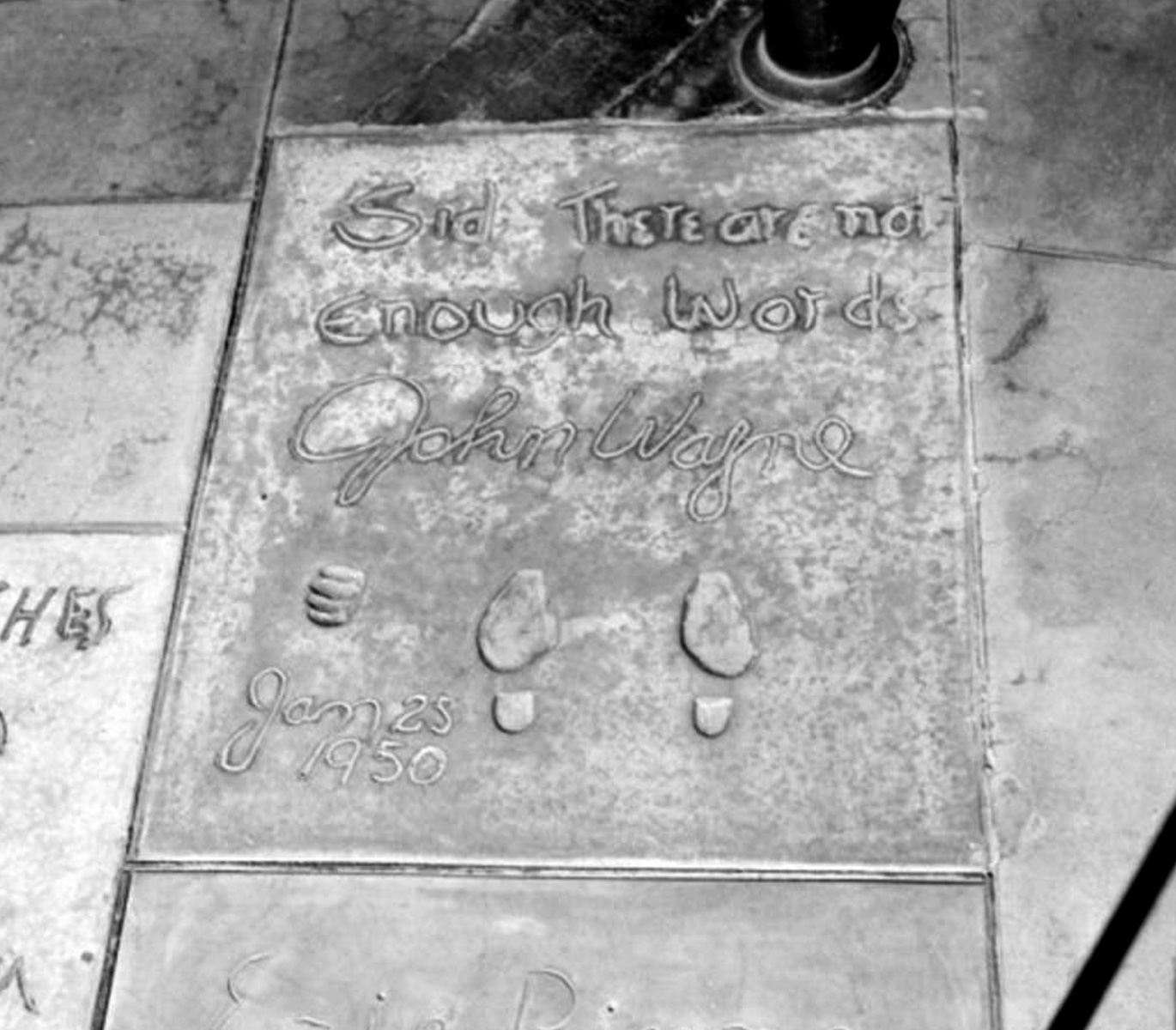 In this previously posted shot, Wayne has a chuckle during this reunion with Shirley in 1976. George Burns and a dentally-challenged Shelley Winters are on the left.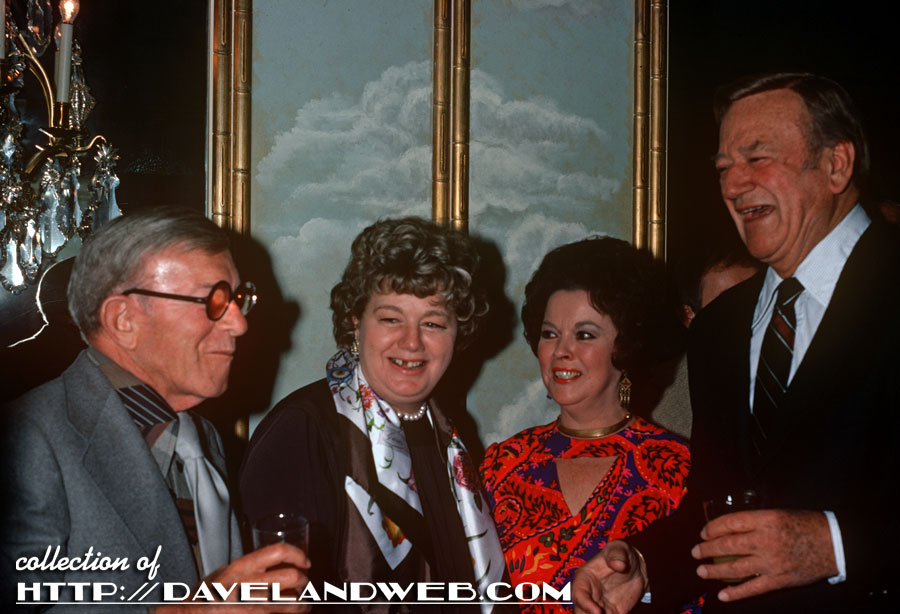 Here's an image of the Grauman's entrance that I snapped in 2014: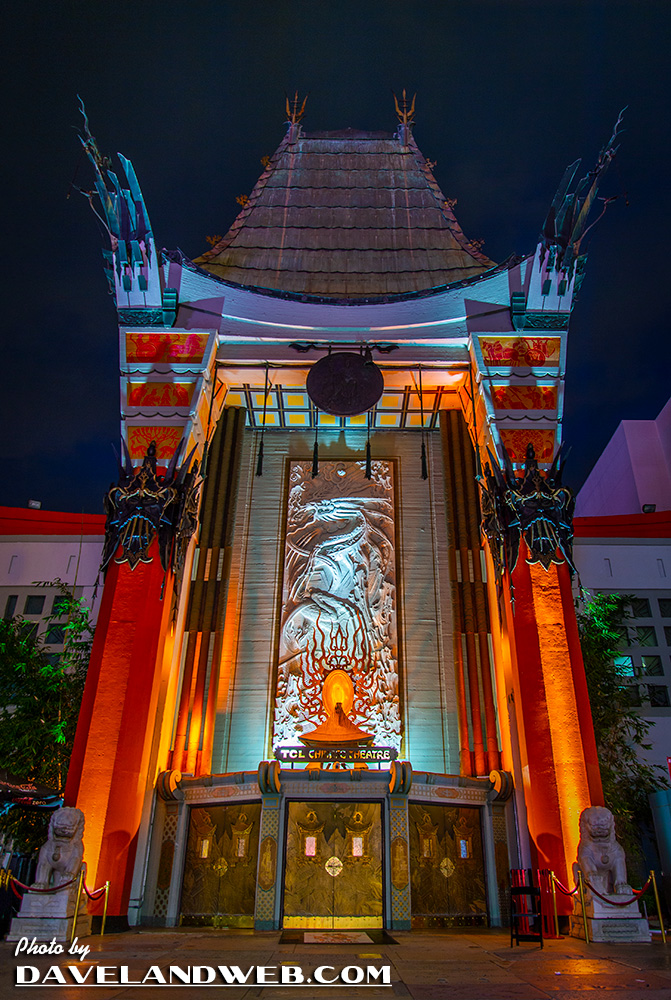 See more Shirley Temple photos at my
main website.