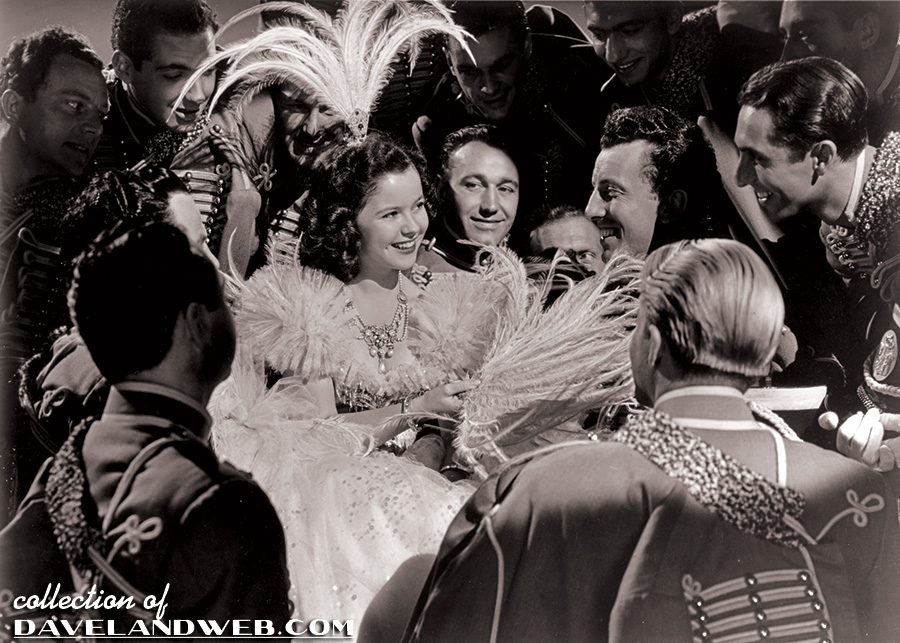 Today, for Temple Tuesday, the 3 Rs stand for "Reduse, Reuse, and Recycle." In the 1941 MGM film, "Kathleen," Shirley Temple performed in the standard dream sequence, decked out in an ornate feathered concoction complete with headdress, necklace, and fan.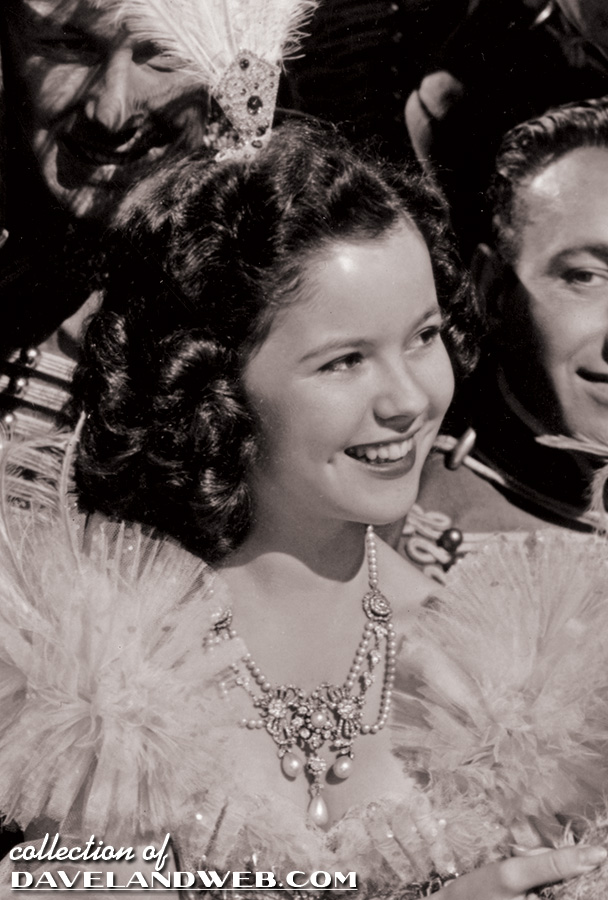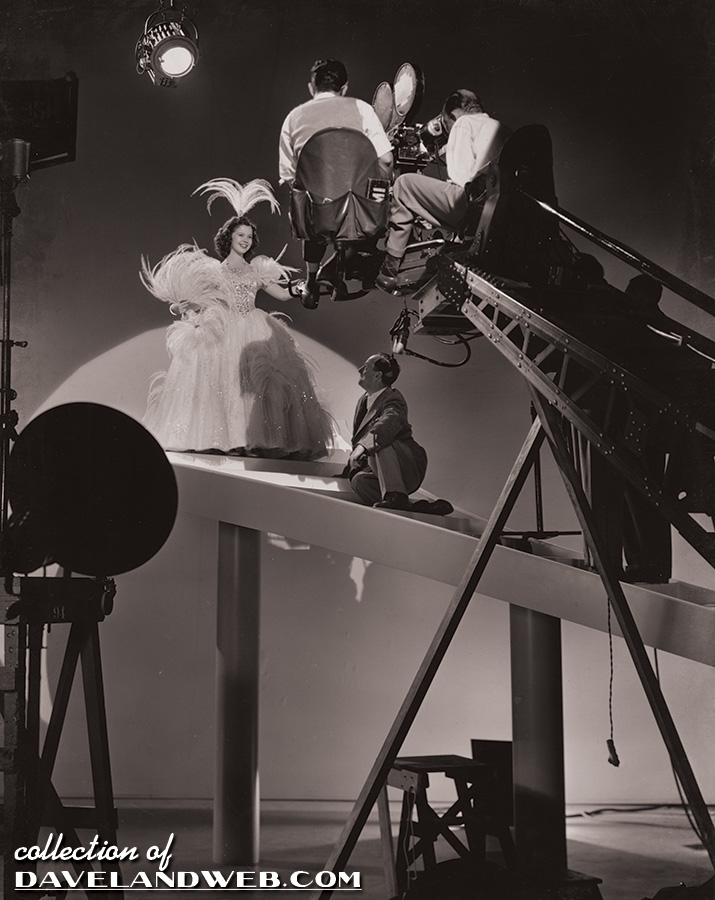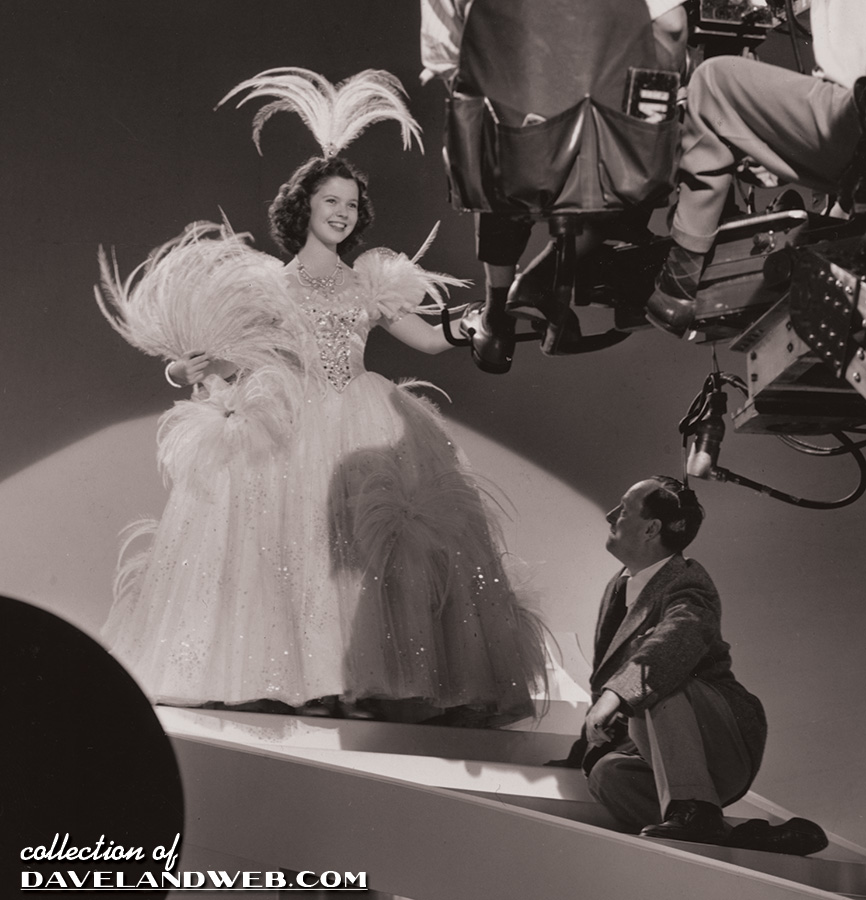 Apparently, Shirley's mother wrangled the same deal that existed at 20th Century-Fox, where Shirley was allowed to keep her wardrobe. Seven years later at a Hollywood costume party, Shirley wore the exact same outfit. From the vintage publicity blurb that accompanied the following photo of Shirley and her then husband, John Agar:
COLONIAL PAIR that would cop the beauty prize at any show are Shirley Temple and John Agar (right). Shirley looks very much the grande dame with a white wig covering her short hair, and John in his uniform—well, handsome is the word. After appearing together in RKO's "Baltimore Escapade,"
[NOTE: retitled "Adventure in Baltimore" for release]
Selznick players went their separate ways (filmwise that is): Shirley to 20th for "Mr. Belvedere Goes to College" and John into John Ford-directed movie, "She Wore a Yellow Ribbon."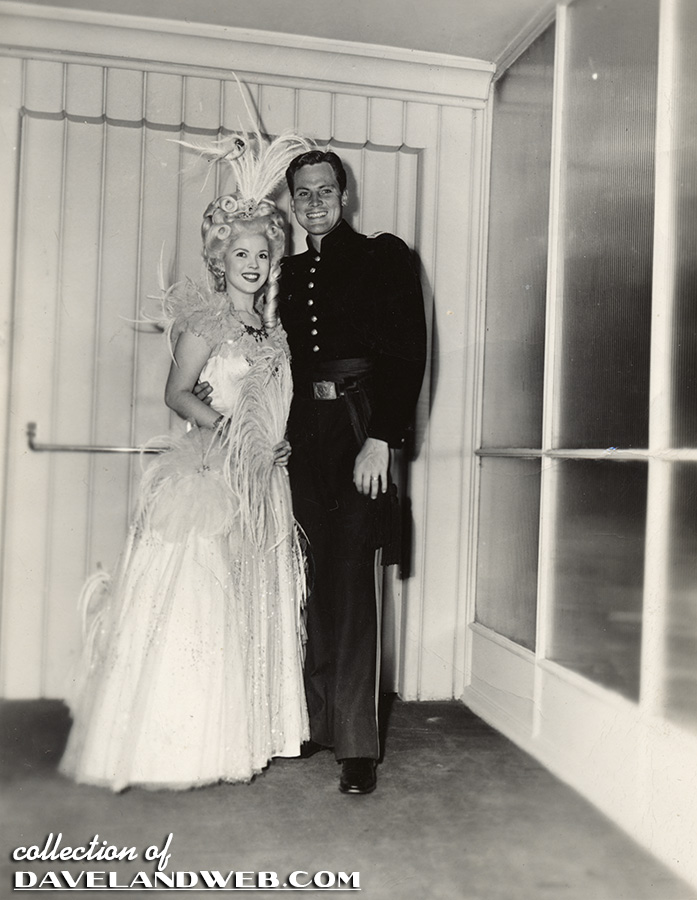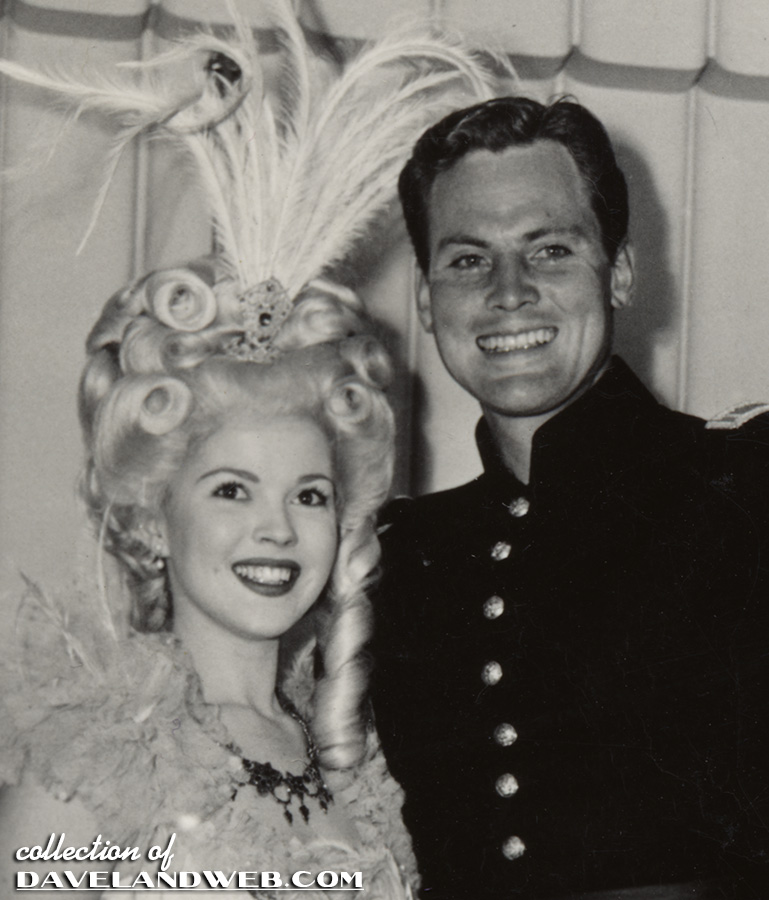 You'll note that except for the necklace (which MGM most likely did NOT allow her to take home!), everything is the same. The 1948 necklace came up for auction in 2016.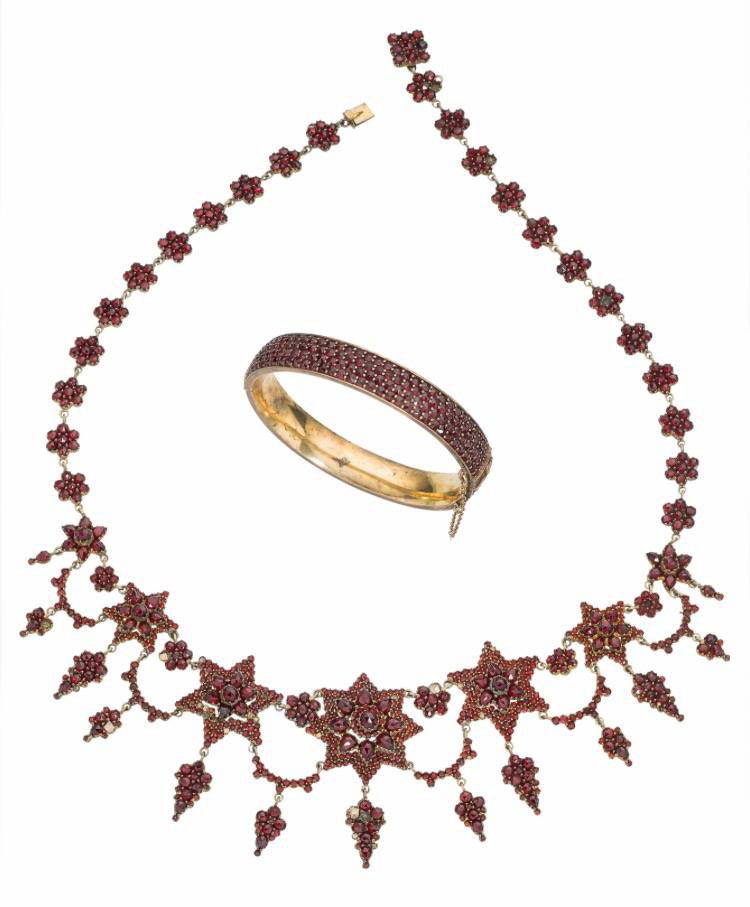 The photo below was accompanied by this blurb:SHIRLEY TEMPLE dances in feathers while husband. John Agar appears in the uniform he wears in RKO's forthcoming "Fort Apache" at a recent fancy dress party.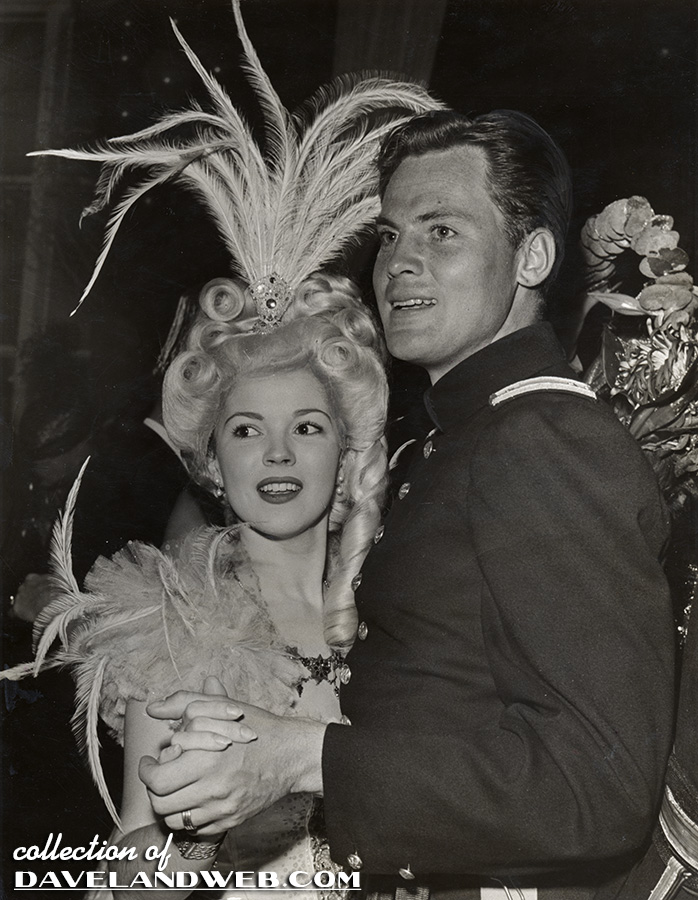 From the
Akron Beacon Journal
, Sunday November 14, 1948:
Cute Shirley Temple was just as perky in a powdered wig as with her own curly top. The handsome Yankee soldier is hubby John Agar.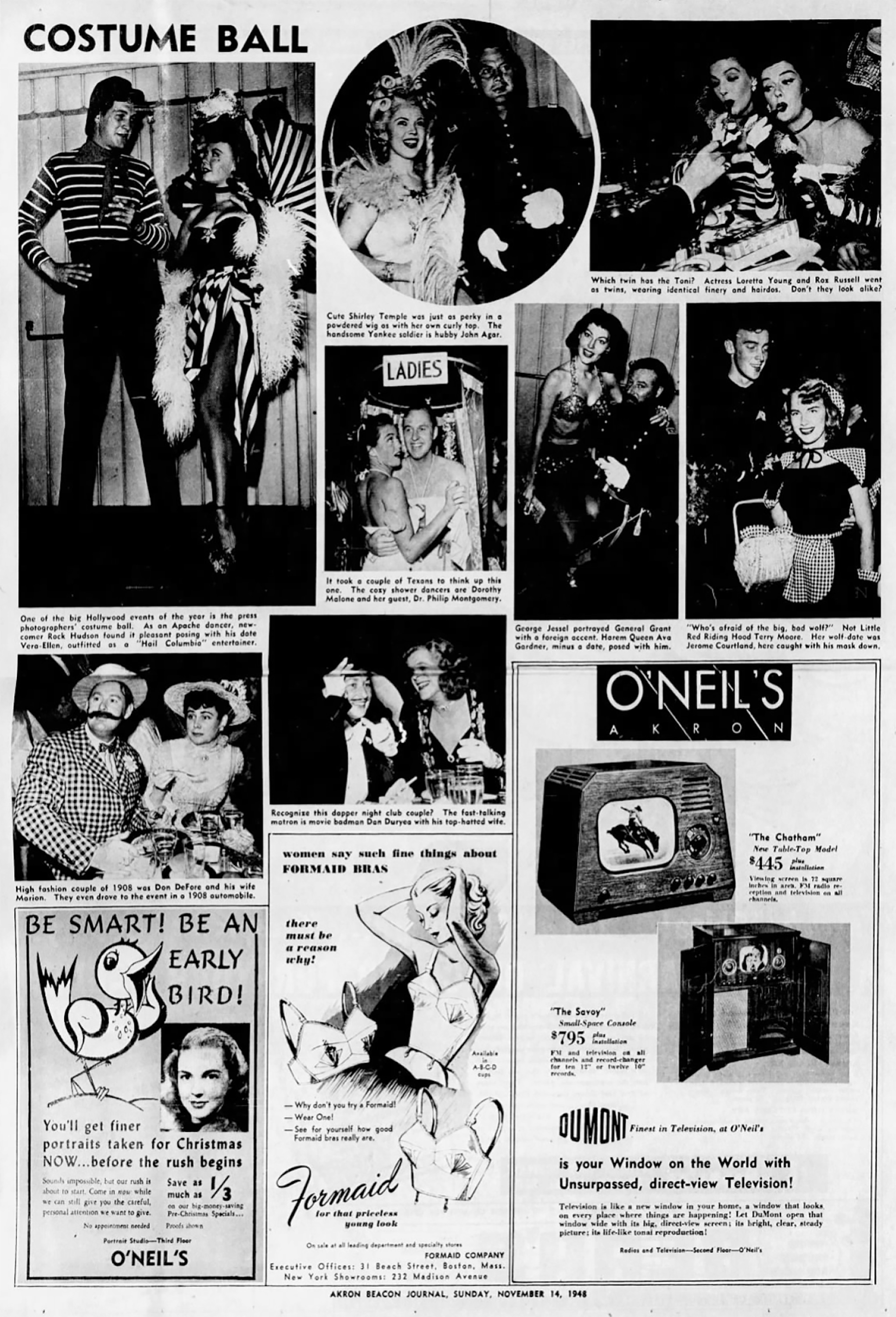 Also shown in the
Journal
are Rock Hudson & Vera-Ellen, Don DeFore & wife, Marion, Loretta Young & Rosalind Russell (as twins!), George Jessel, Ava Gardner, and Terry Moore.
According to other coverage of the event, Shirley (dressed as Marie Antoinette) was "judged the prettiest gal there. The lensmen asked her to present a watch to General Grant (Jessel) in appreciation of swell job he did as M.C."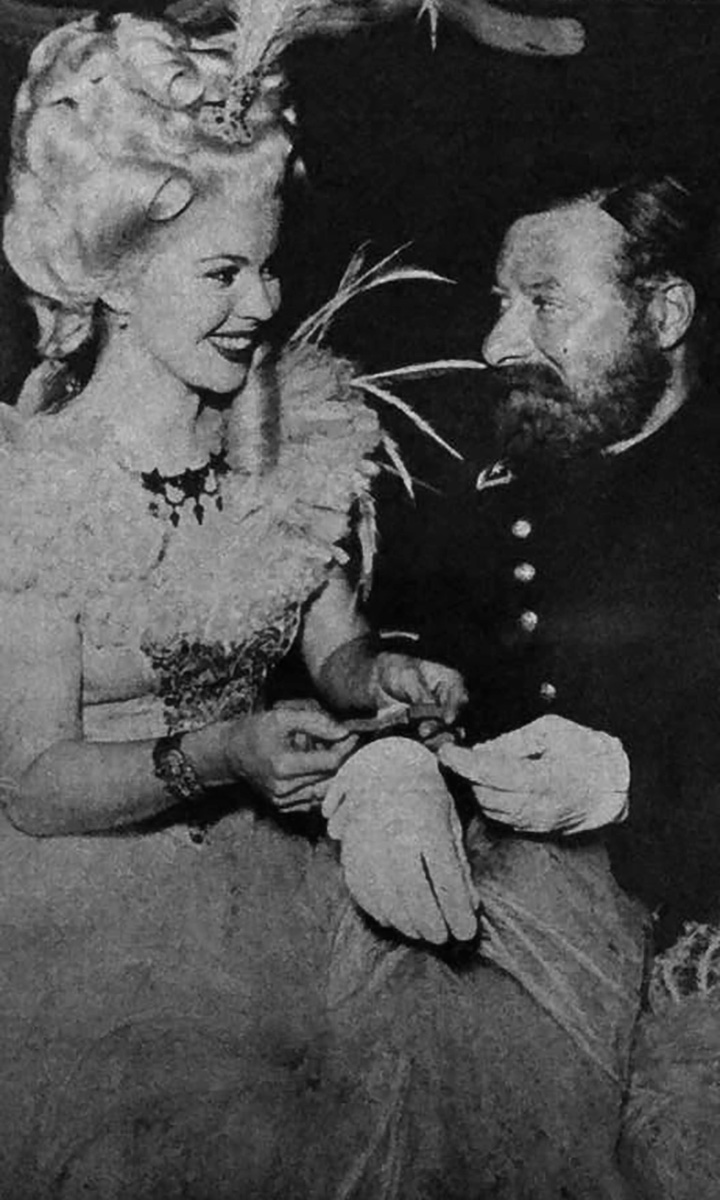 Much was made about the public kiss between the married couple: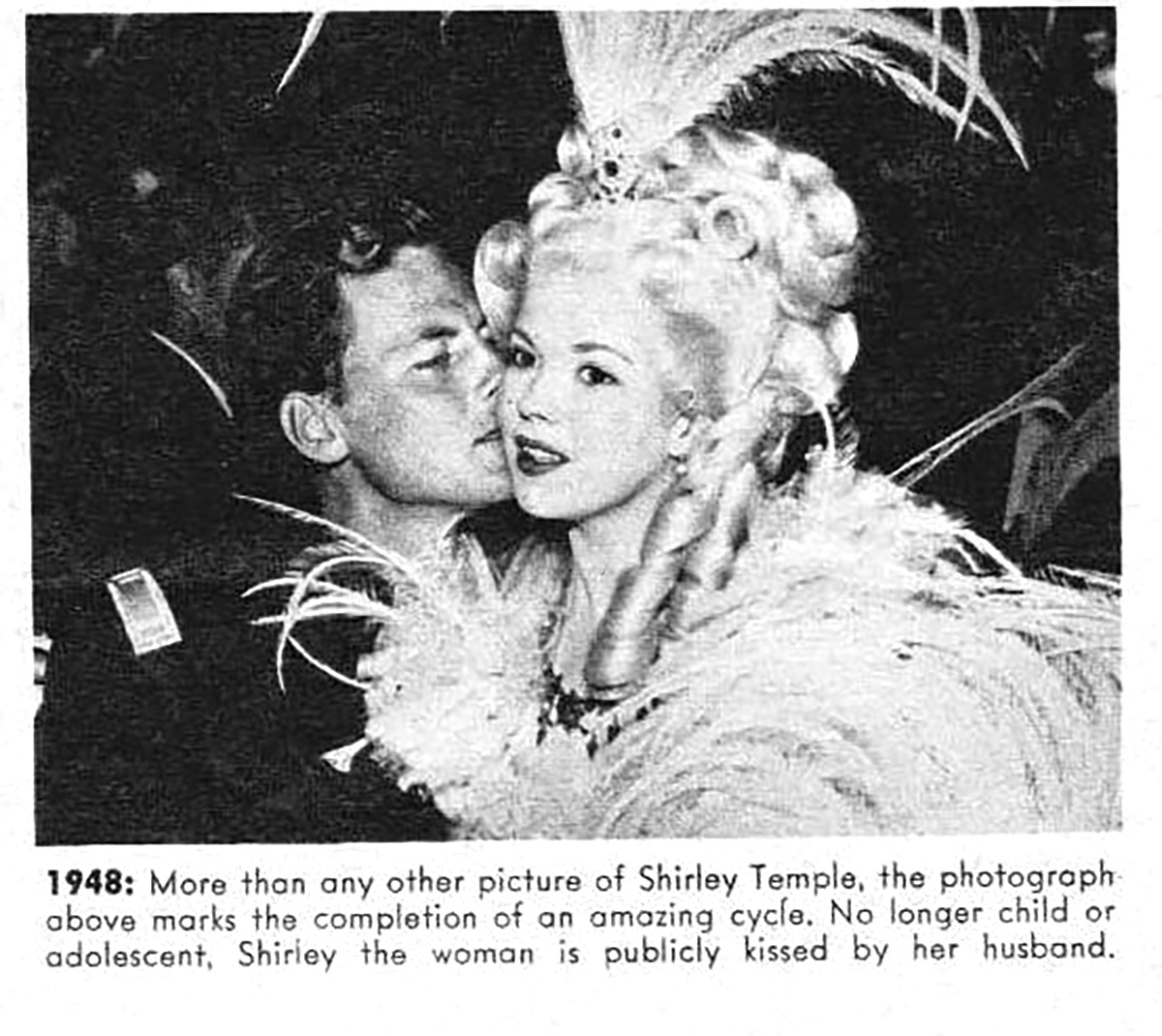 How the dress appeared when it came up for auction in 2016: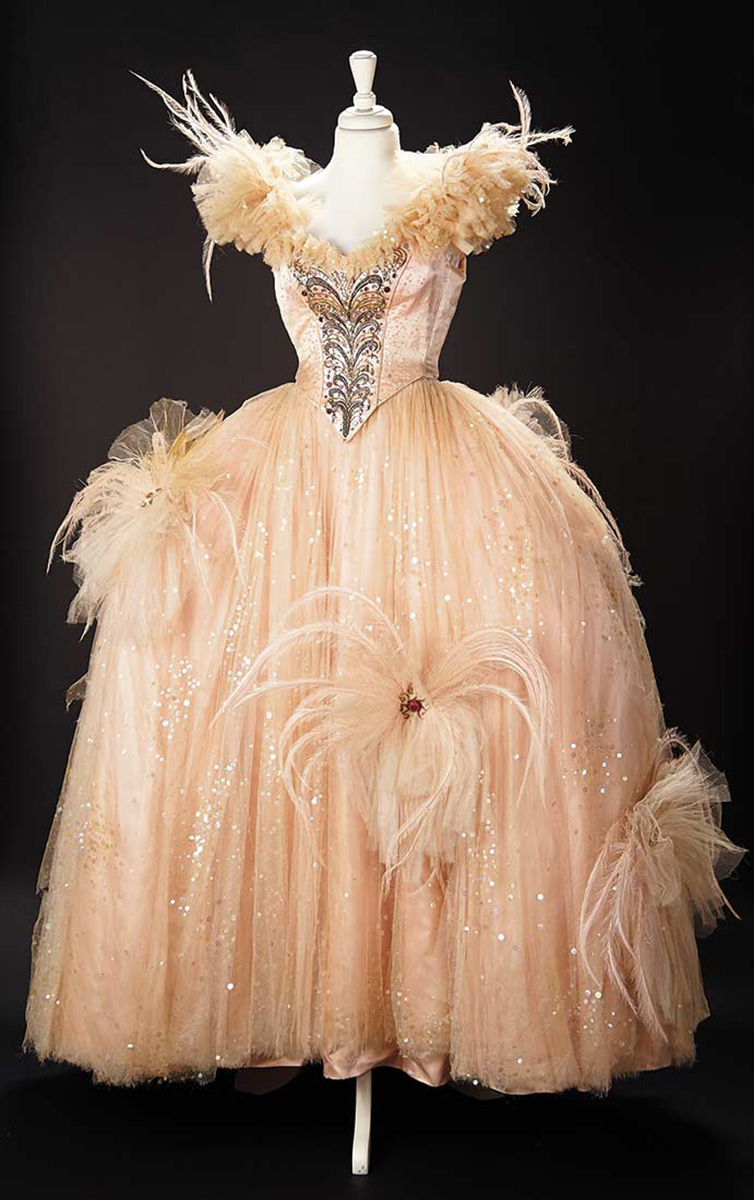 From the catalog description:
The extraordinary multi-layered gown of soft rose features a satin-fitted bodice with elaborate center panel decorated with sequins, rhinestones and metallic braid, above a multi-layered skirt including three layers of richly gathered tulle with sequins on the top layer, rose sateen petticoat, and still more multi-layered cotton petticoats with layered skirt ruffles, all above a hooped frame with wide panniers that gives form to the skirts. Feathered corsages decorate the skirt all around, and match the feathered fan that she holds as well as her fan headdress. Included are dyed-to-match kid shoes by Capezio, decorated with faux jewels including large "rubies". The gown was worn by Shirley Temple in her role of Kathleen, in the 1941 MGM film of that name, during the fantasy scene, as Kathleen imagines she is a star on Broadway and performs a remarkable descending-the-staircase dance. Realized Price: $2,750
The headdress, fan, and shoes: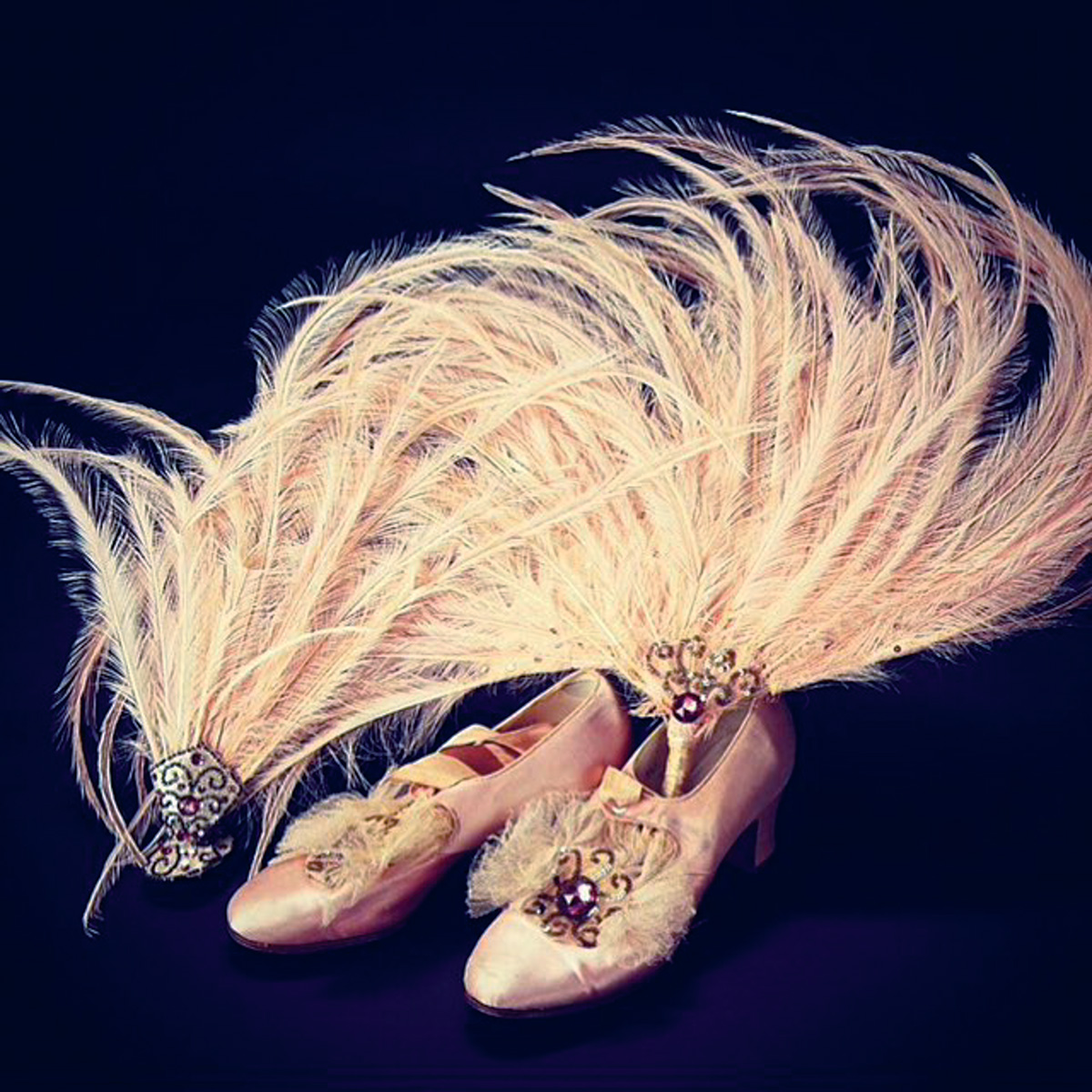 A closeup of the headdress from the 1948 costume party; it's a match!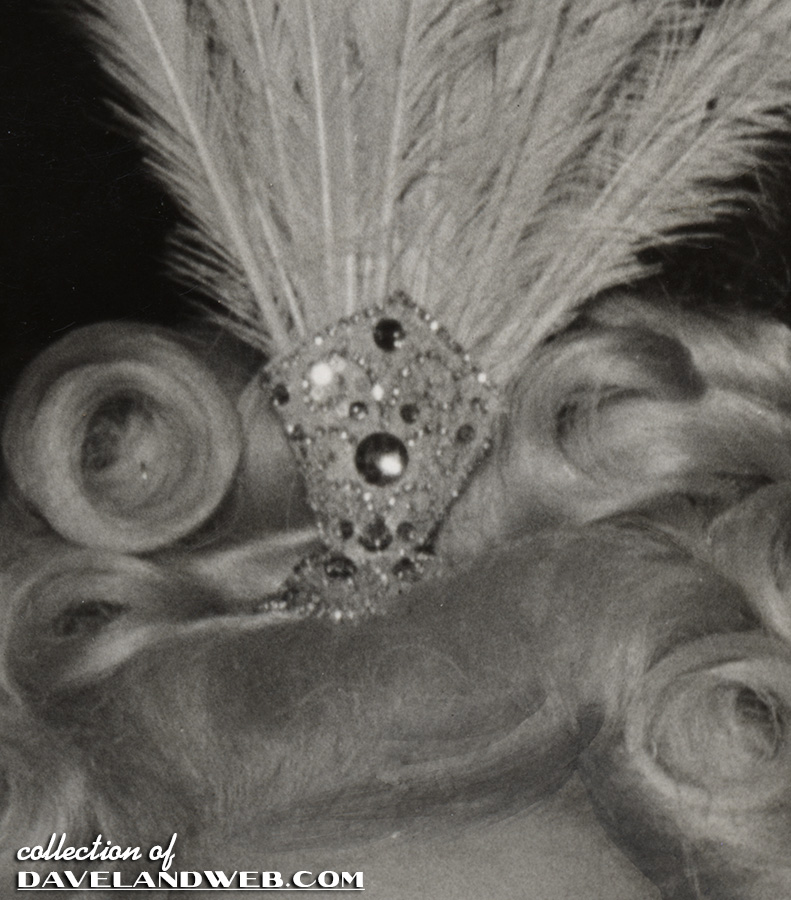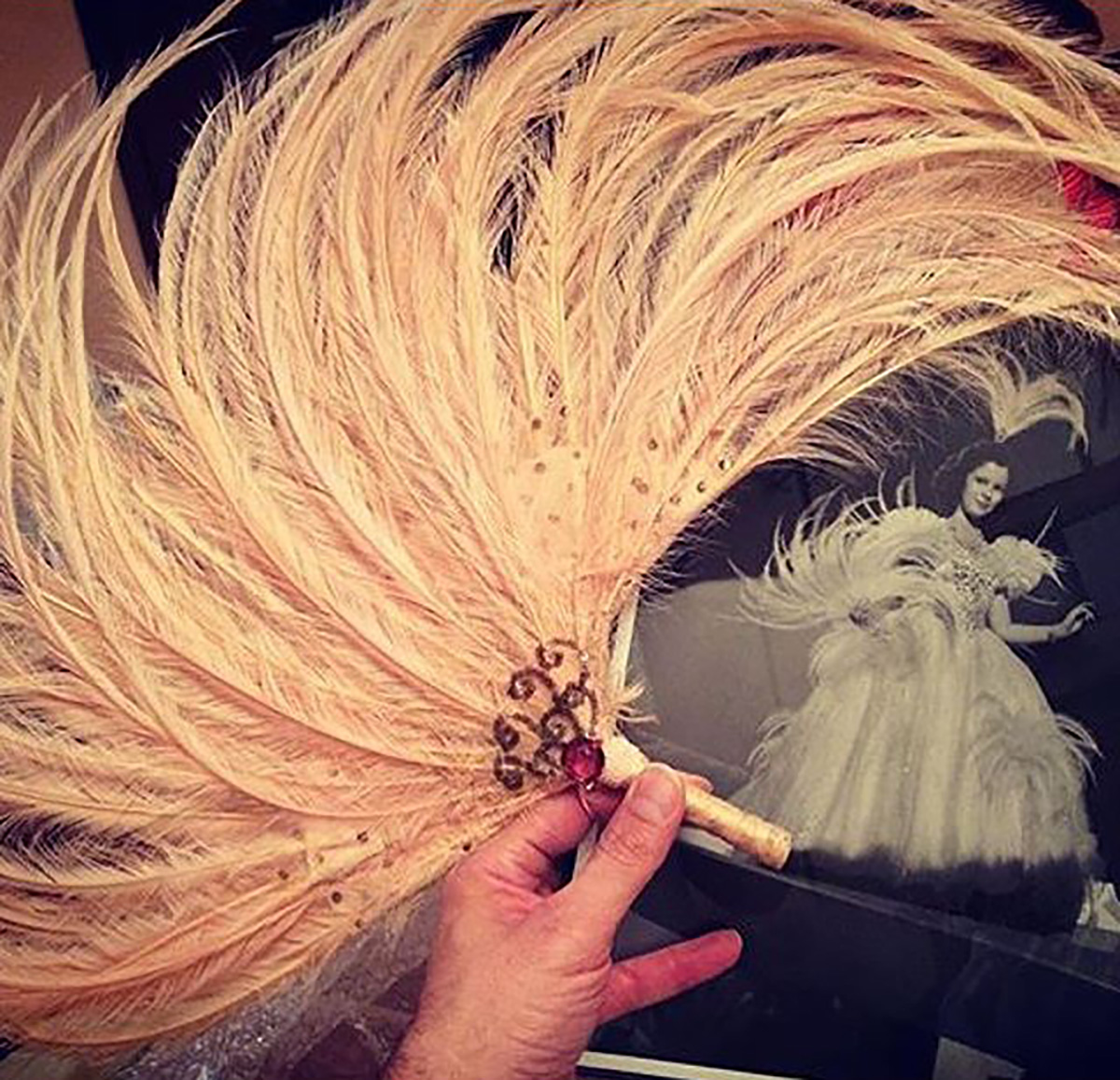 Many thanks to Melissa (aka "The Colonel") for tracking down all the vintage articles for this post!
See more teen Shirley Temple photos at my
main website.