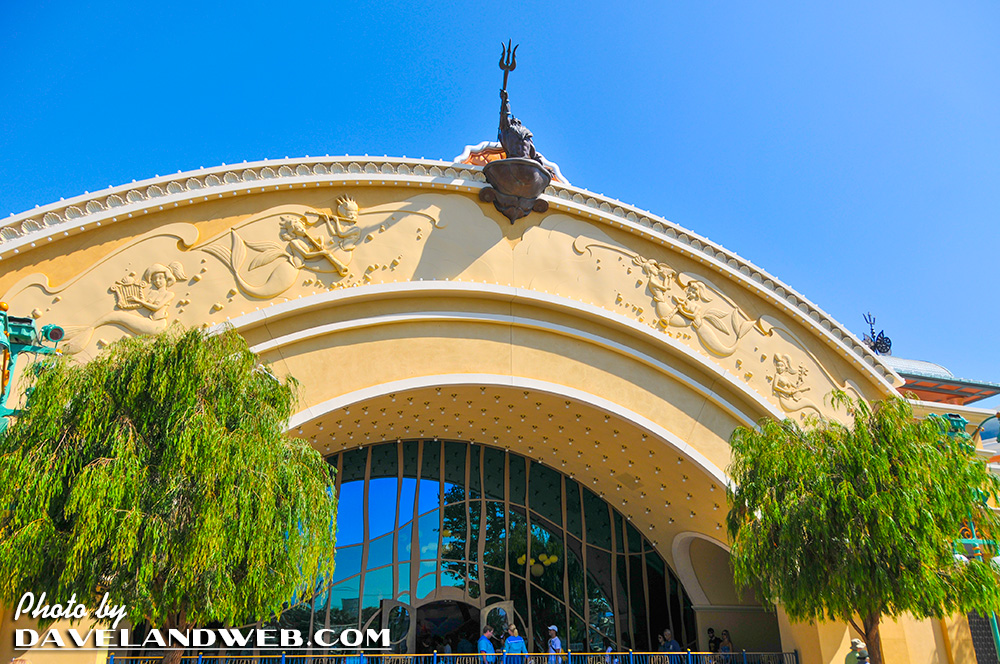 The main reason I stopped by Disney California Adventure on Thursday was to get some interior shots of The Little Mermaid attraction.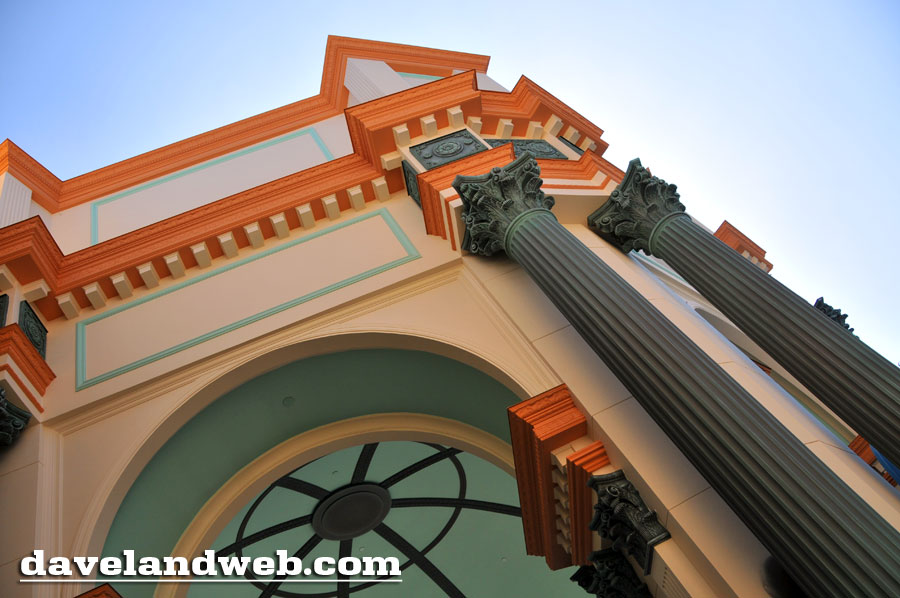 When I went during the cast member preview, cameras were not allowed. I know, I know...when has that ever stopped me before? There actually are times when I pay attention to the rules and respect what's being asked. Of course that didn't stop me from being steamed when I saw others with their iPhones shooting away; a quick reprimand from a cast member to them made it all better though! Enough of the griping; here are some shots that I got from my 2 ride throughs (count 'em, two...right in a row...no waiting at all).
It is really nice that Imagineering has followed through with the tradition of murals in the attraction as an introduction and teaser to what lies within.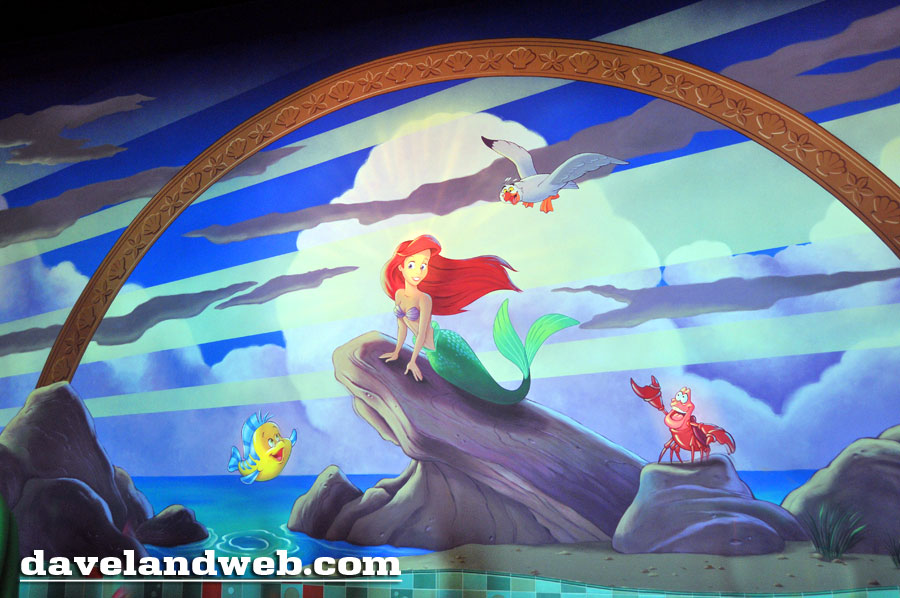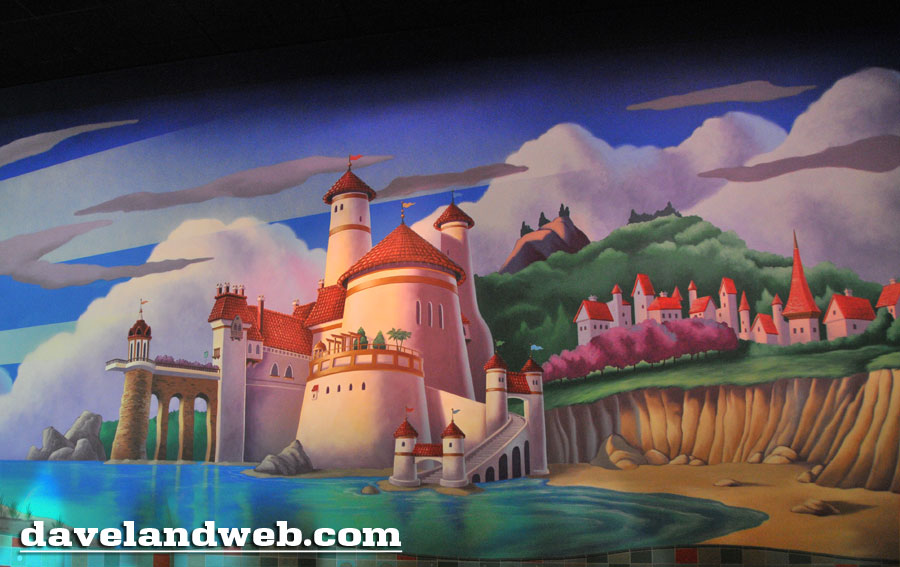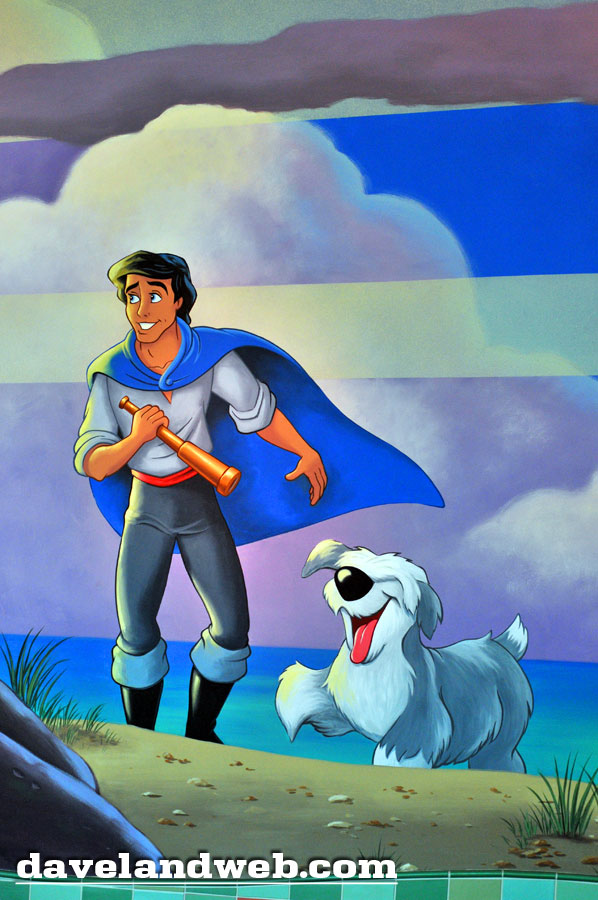 It appears that the gull serves as somewhat of a bookend storyteller on this attraction: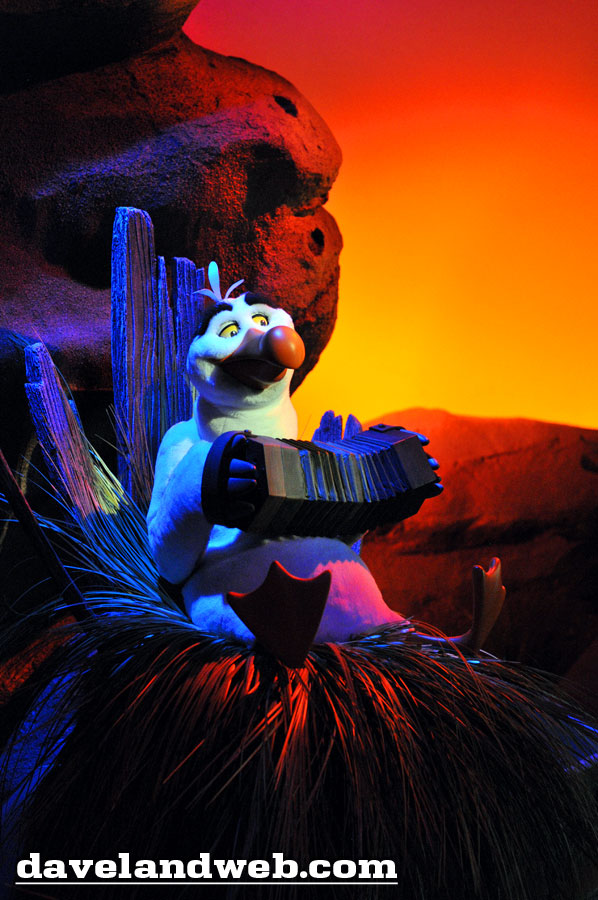 And then the clamshell takes you under the sea; or at least this attractions attempts to make it seem that way with a bubble projection on the clamshells in front of you.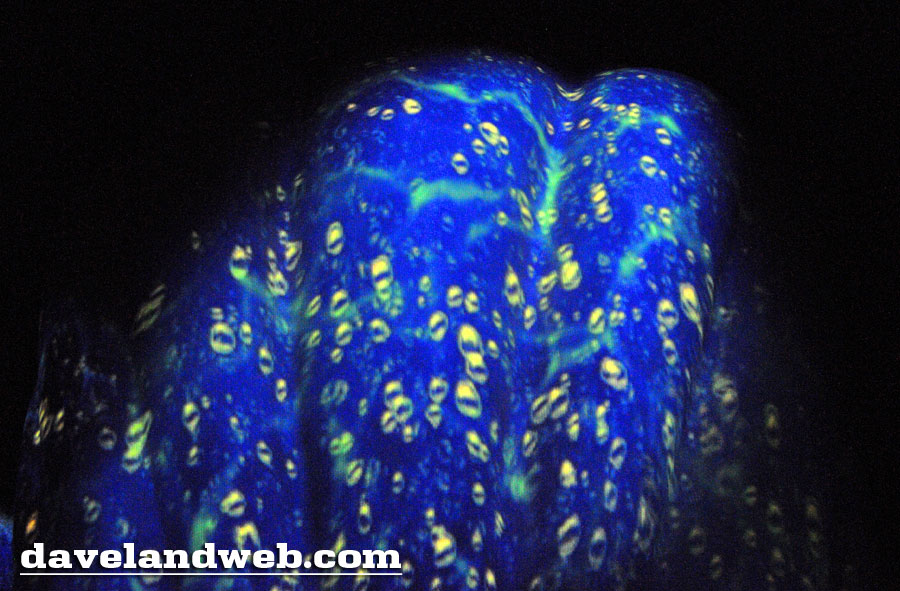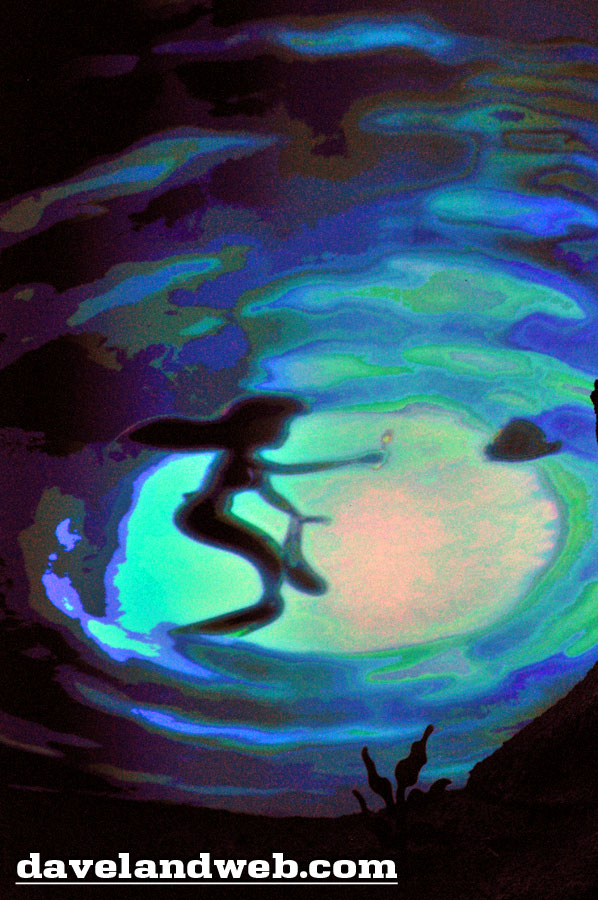 Ariel herself makes many appearances in the attraction: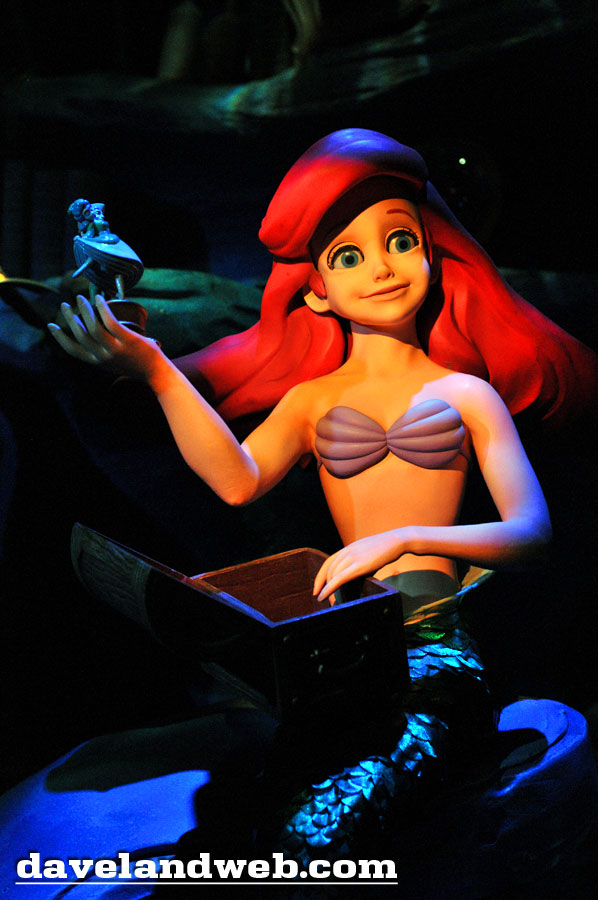 There are many whimsical characters throughout as well, making it fun to notice different ones each time you ride: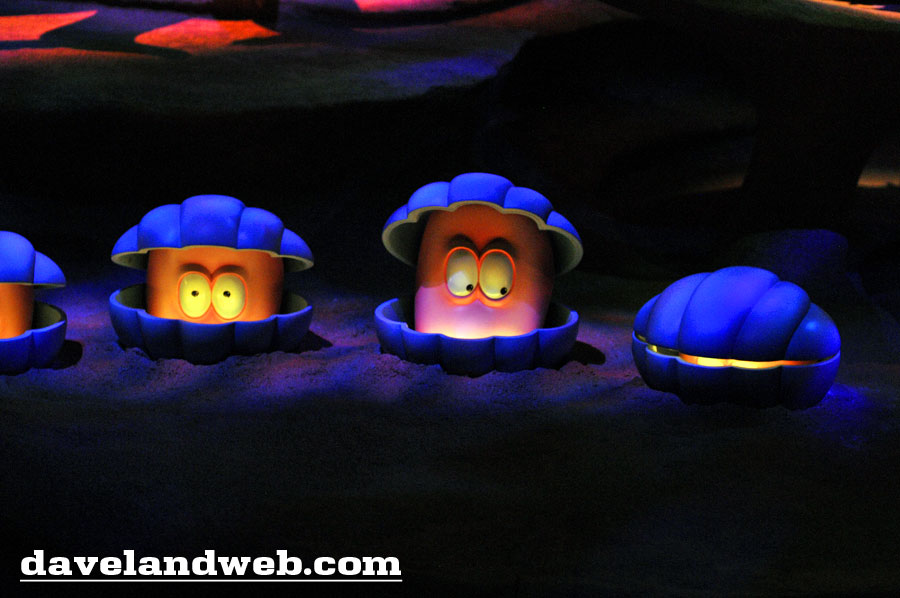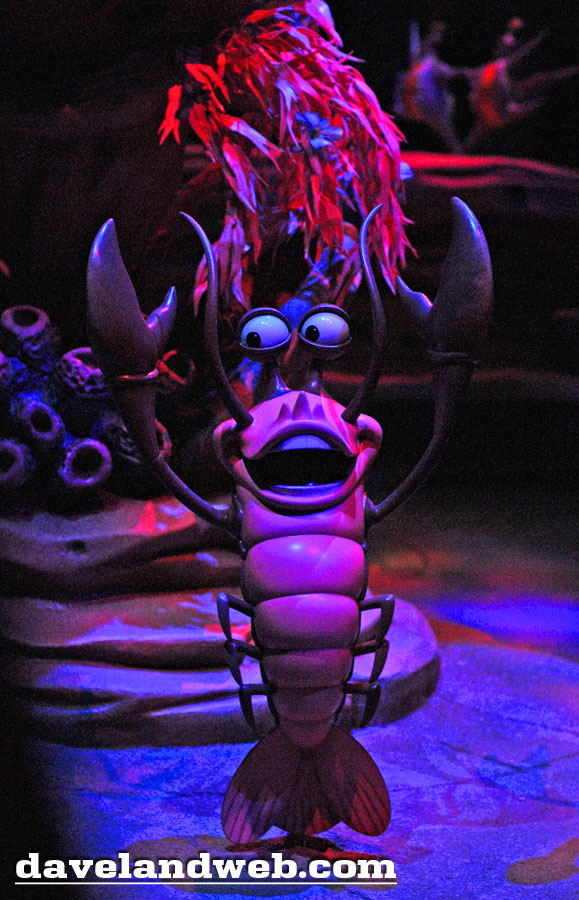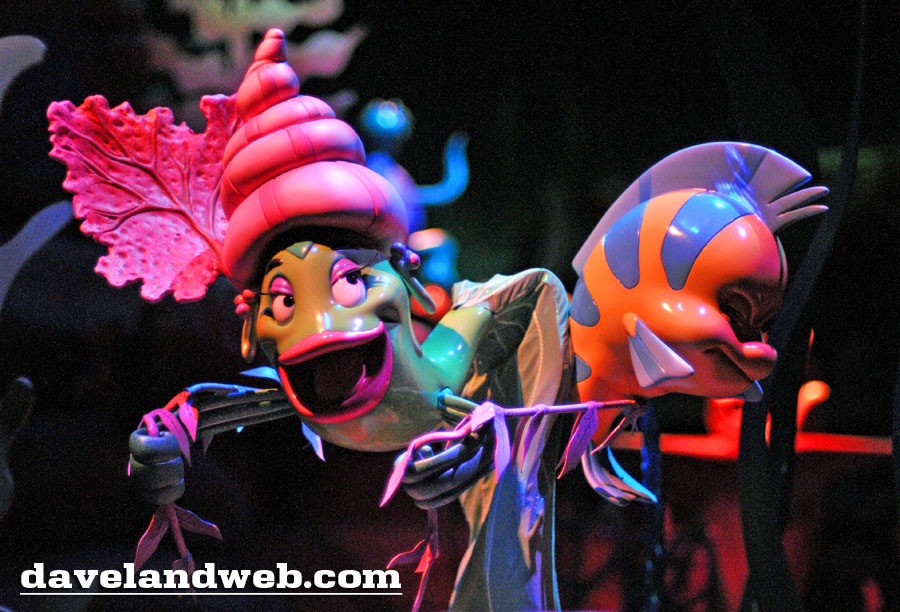 The Imagineering Marketing video breathlessly described how they labored to achieve the effect of Ariel's hair actually looking like it was floating in the water. In person, it just looks like a mass of rubber sticking straight up on her head.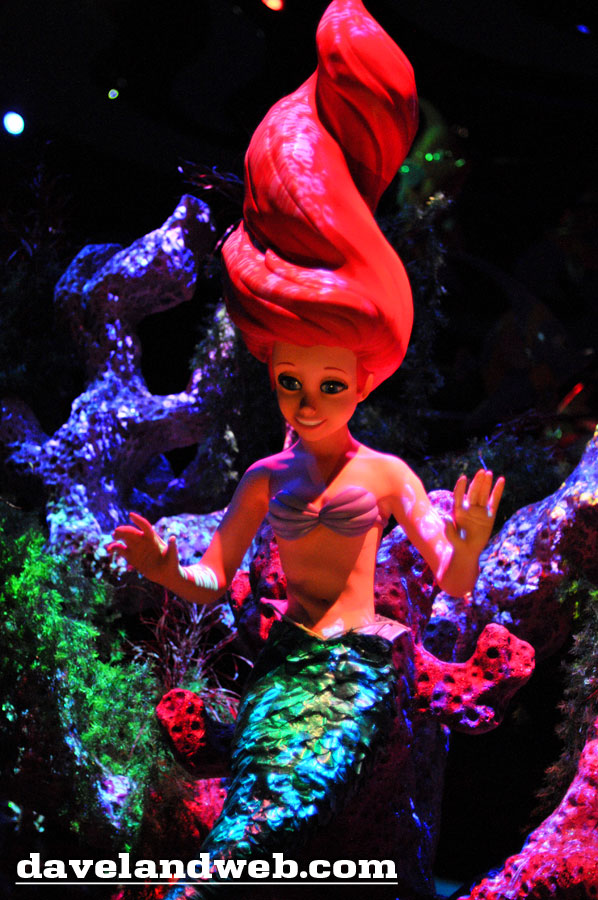 Now we approach my very favorite scene; Evil Ursula and her crystal ball. Call me dark, but I love this menacing part of the show. Walt himself knew that kids actually enjoyed having the living crap scared out of them, and thus had Mr. Toad & Hell, and Snow White and the scary forest. C'mon Imagineers...bring on a storm...bring on more evil Ursula! Help wake this attraction up from its boredom.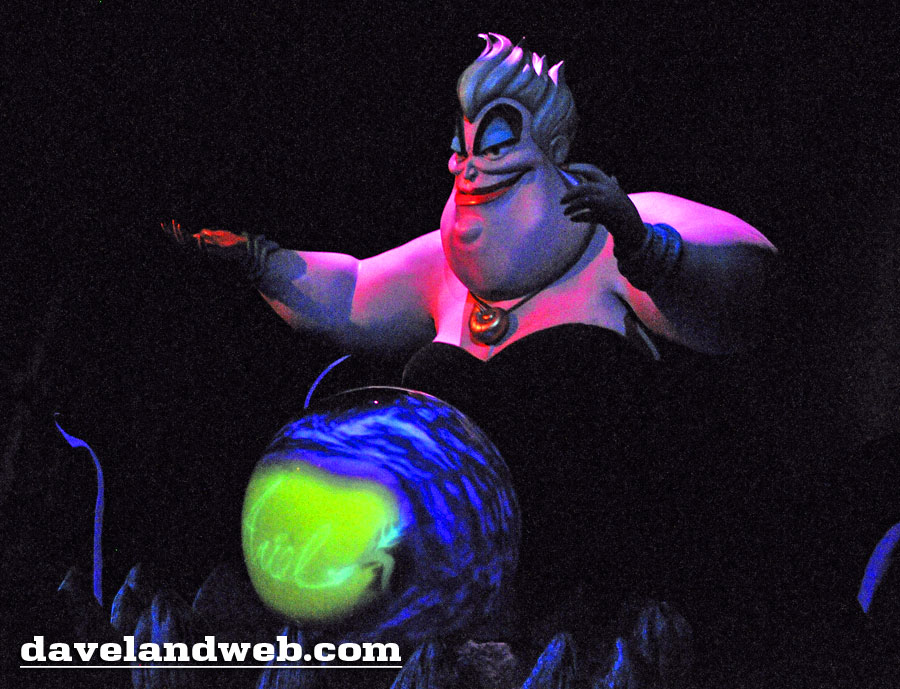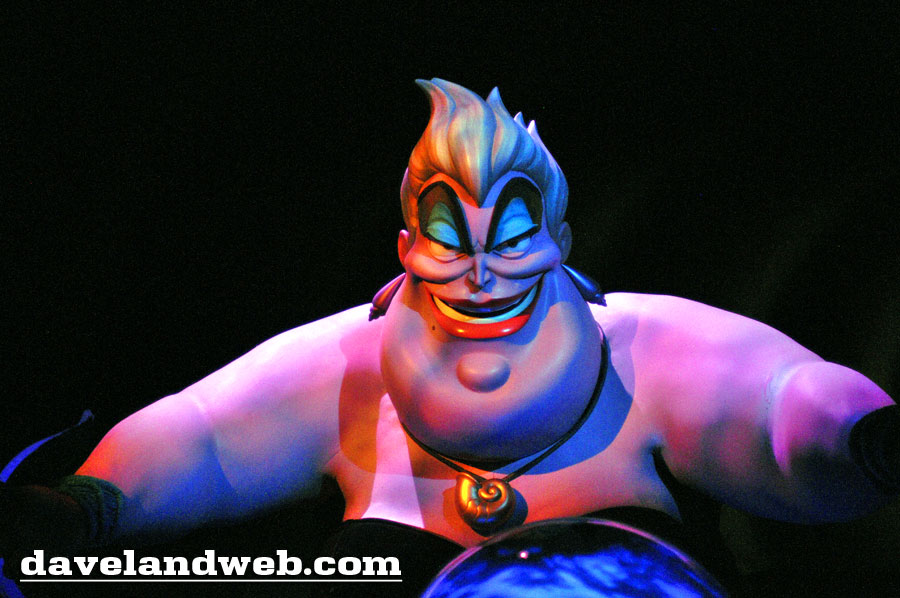 Those poor unfortunate souls!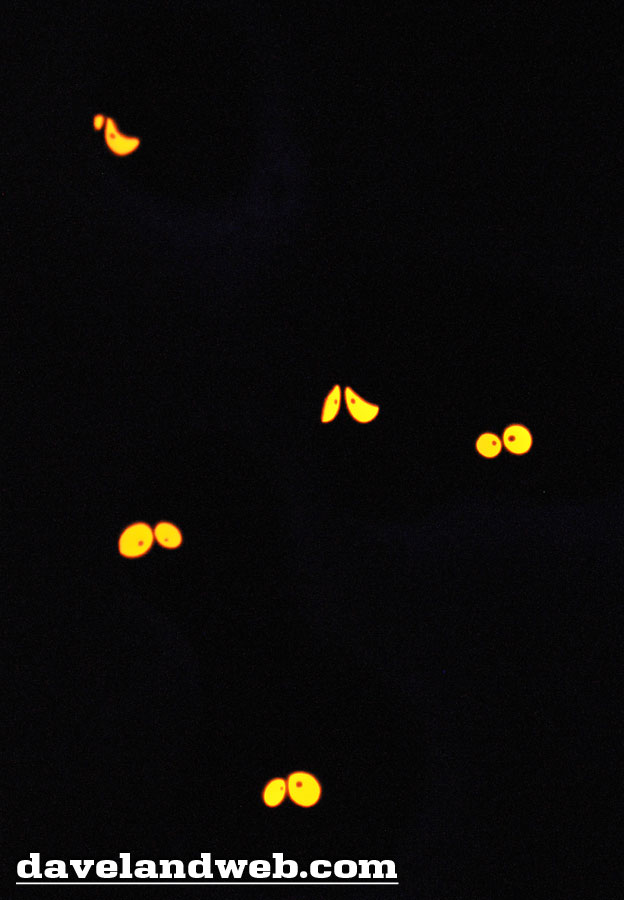 A happy ending quickly rolls out to bring us back from the depths of despair: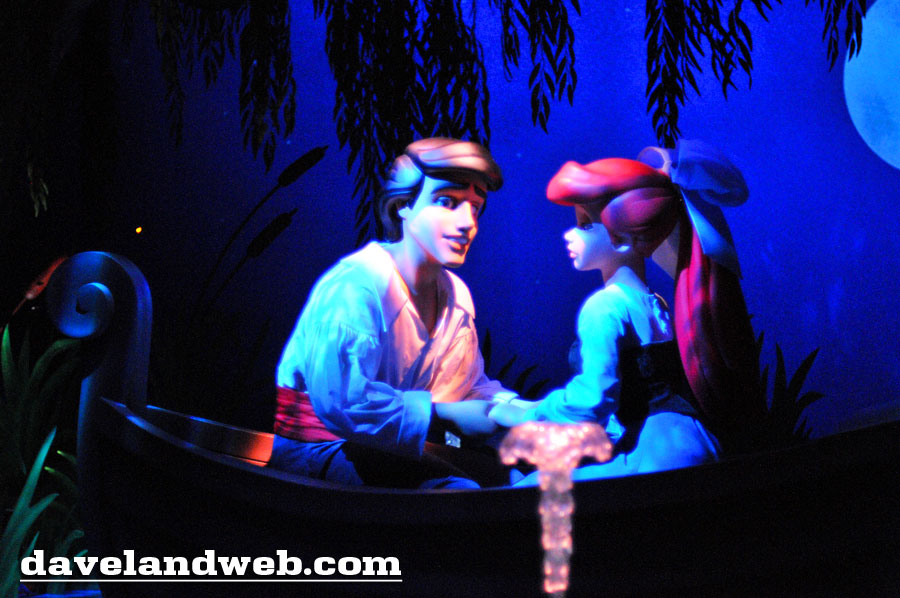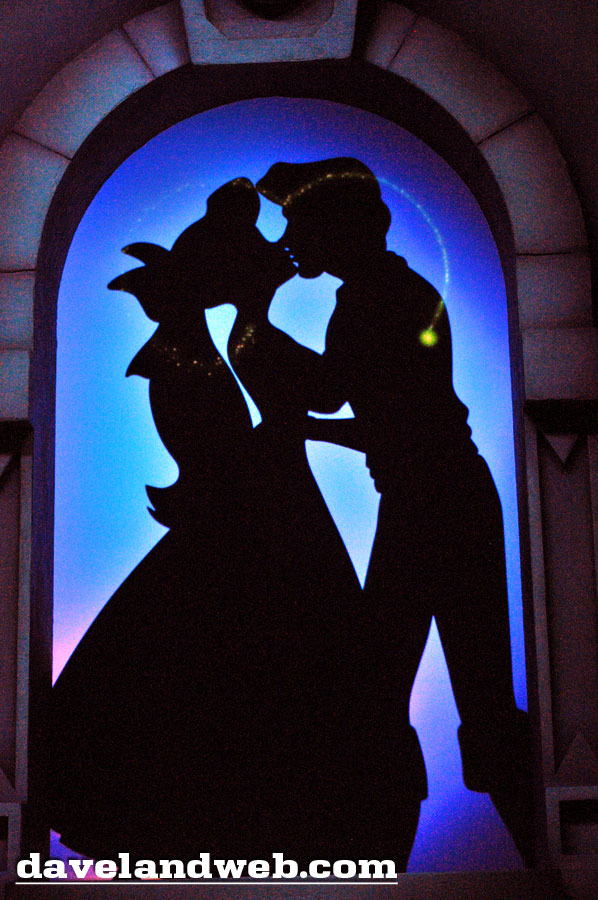 Poor Ursula is foiled again.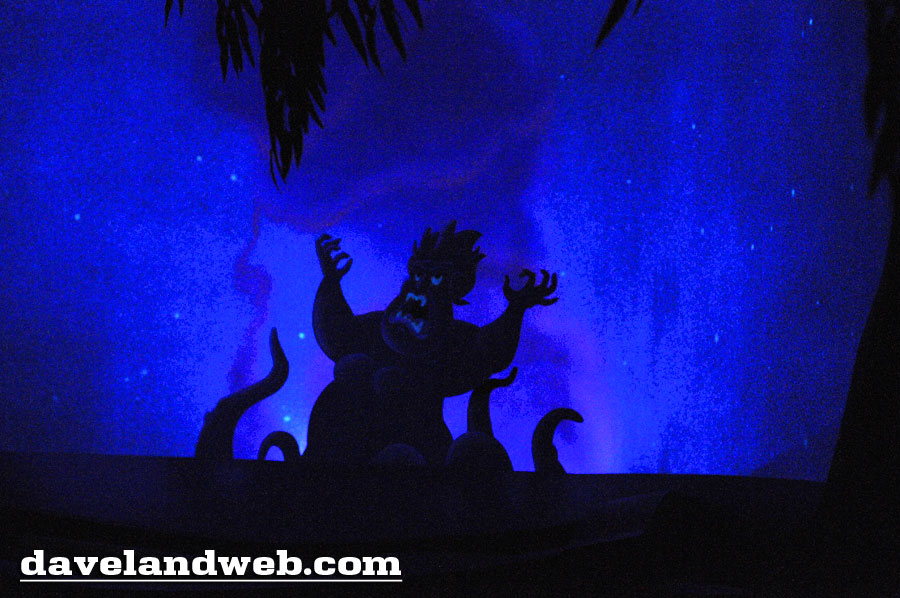 The attraction ends with a bang; a joyful celebration by all the main characters from the film amidst fireworks.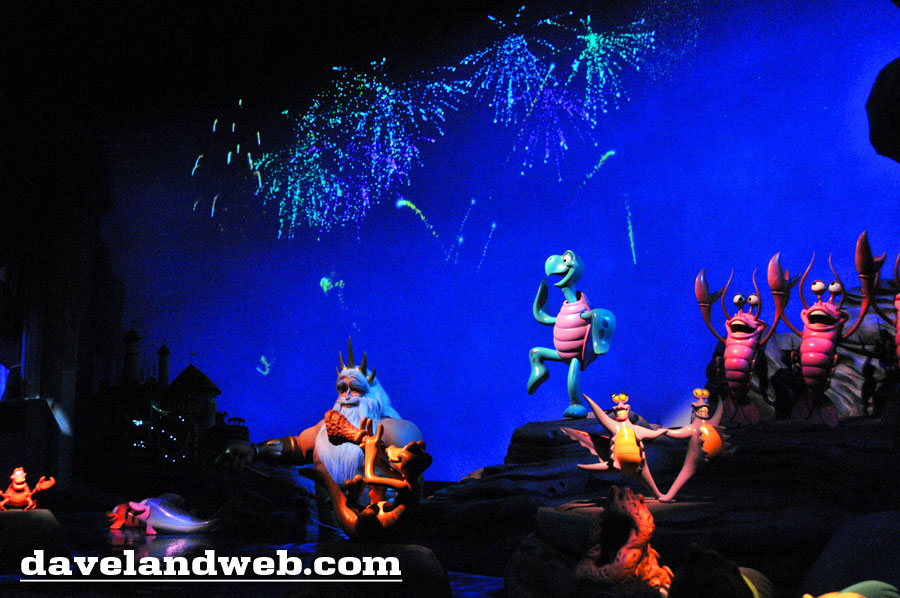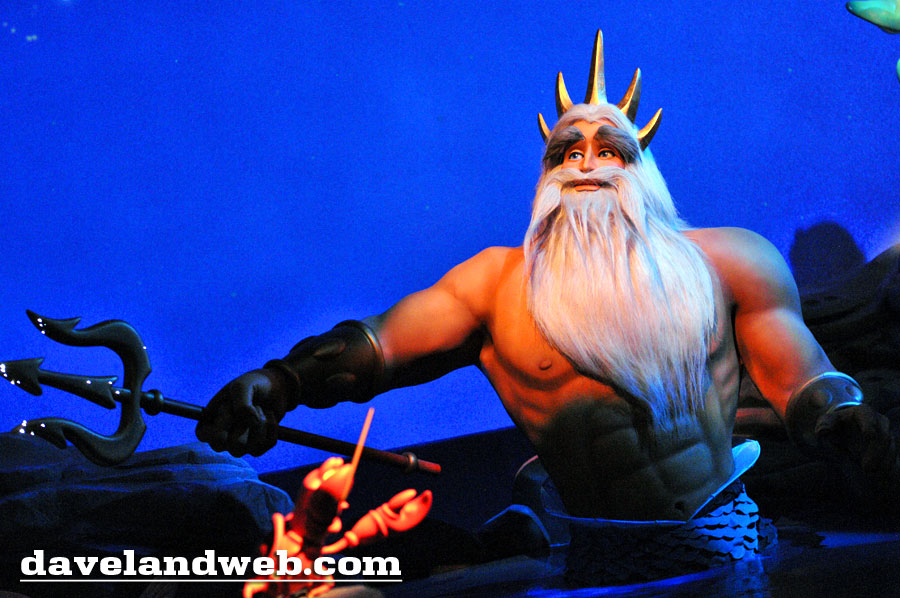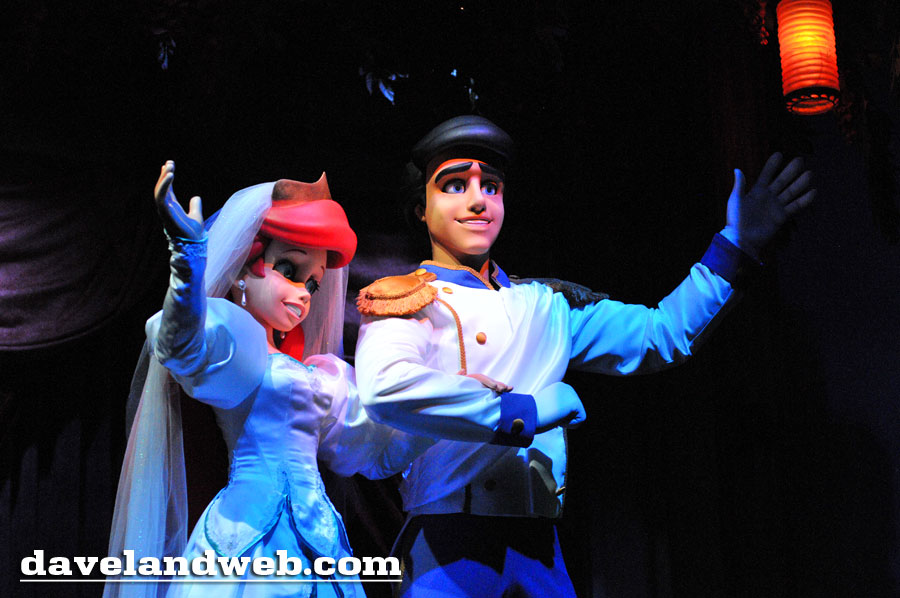 Our storyteller gull makes his final appearance as we exit.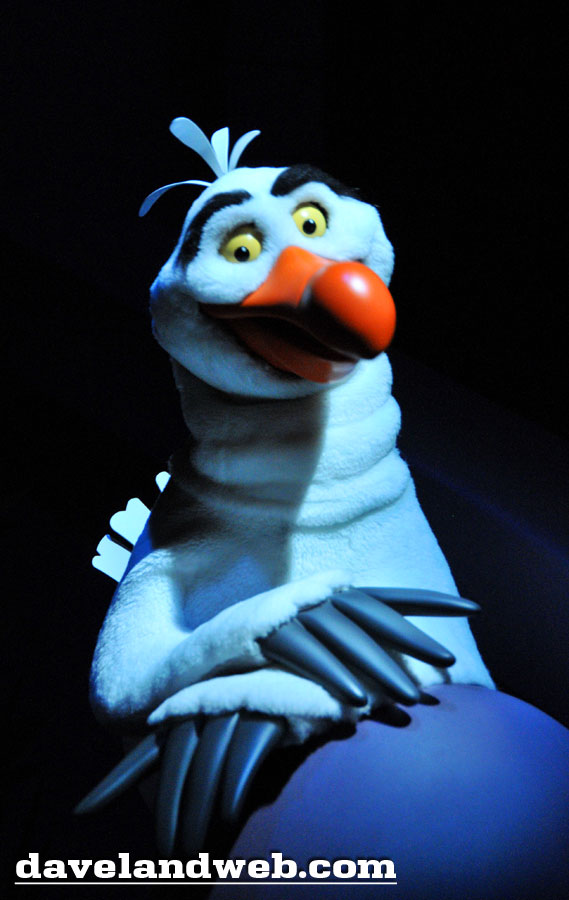 After I exited the attraction the first time, cast members were polling guests about their opinion on the attraction. I have a feeling that Imagineering knows something isn't quite right as the lines are almost nonexistent. The publicity machine is attempting to say it's because of the attraction's ability to handle high capacity ridership; personally, I think it's because it's kind of blah. Pirates of the Caribbean has many interesting scenes that bear repeat viewing because they feature interesting tableaus with multiple story lines going on. The Little Mermaid attraction features large scenes, but the stories being told do not bear repeat viewing.
Elsewhere in the park, the Condor Flats sign is now rotating again (trust me, even if you can't see the movement in my photo!).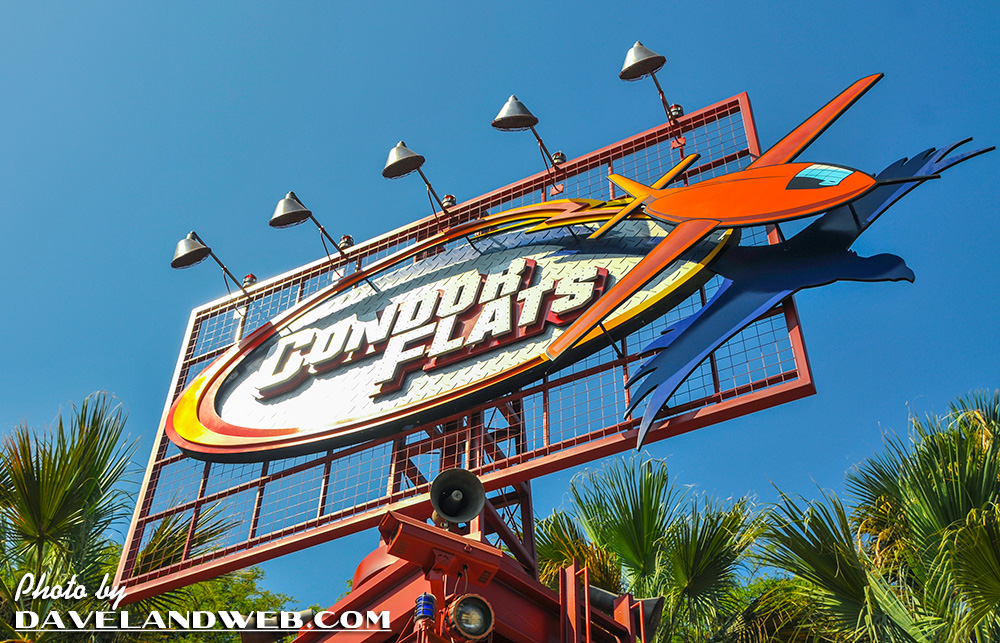 The Redwood Creek Challenge area has now taken on a new theming layer by inserting the characters from the Pixar classic, "Up."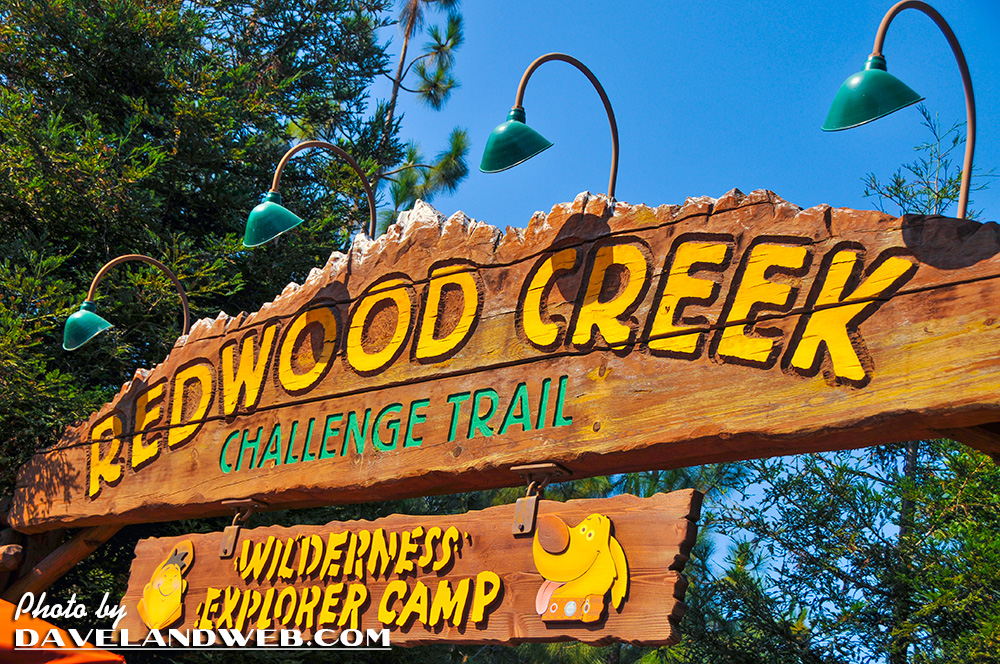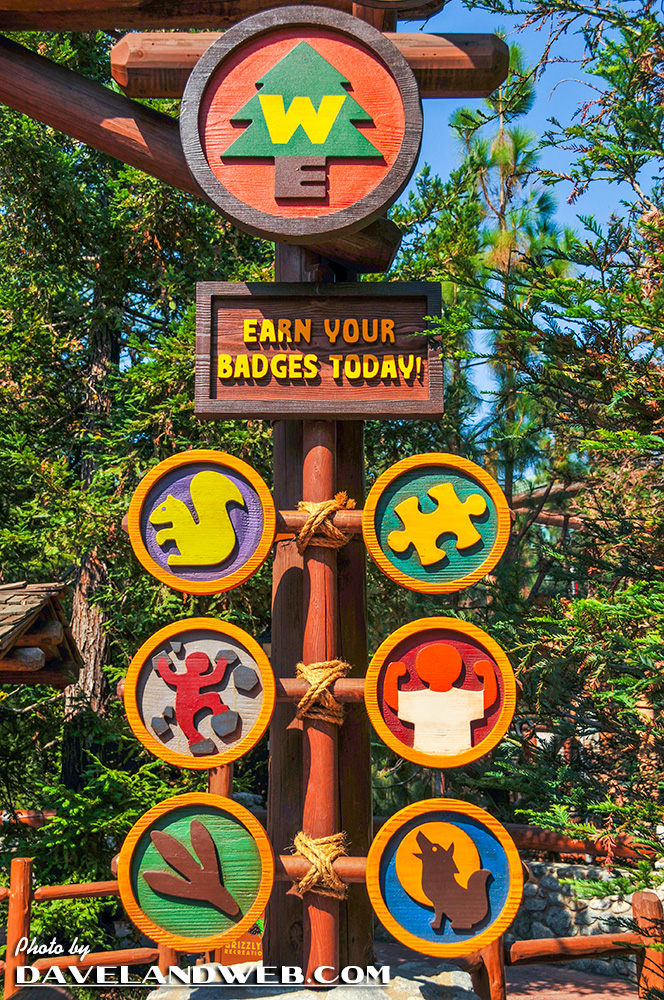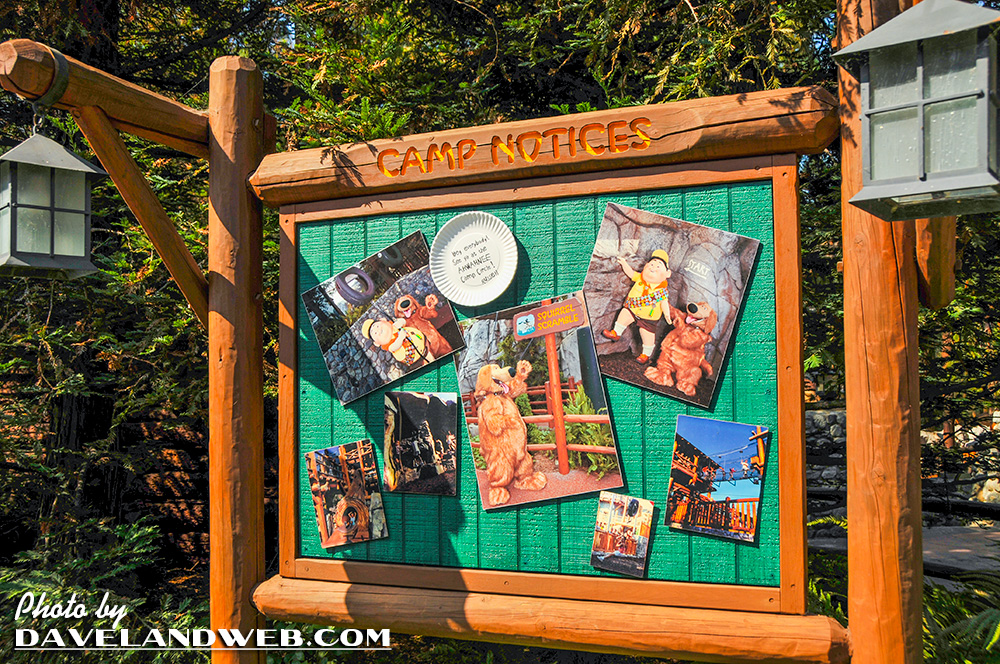 For only an hour, it was definitely worth my visit!
See more vintage & current Disney California Adventure photos at my regular
website.