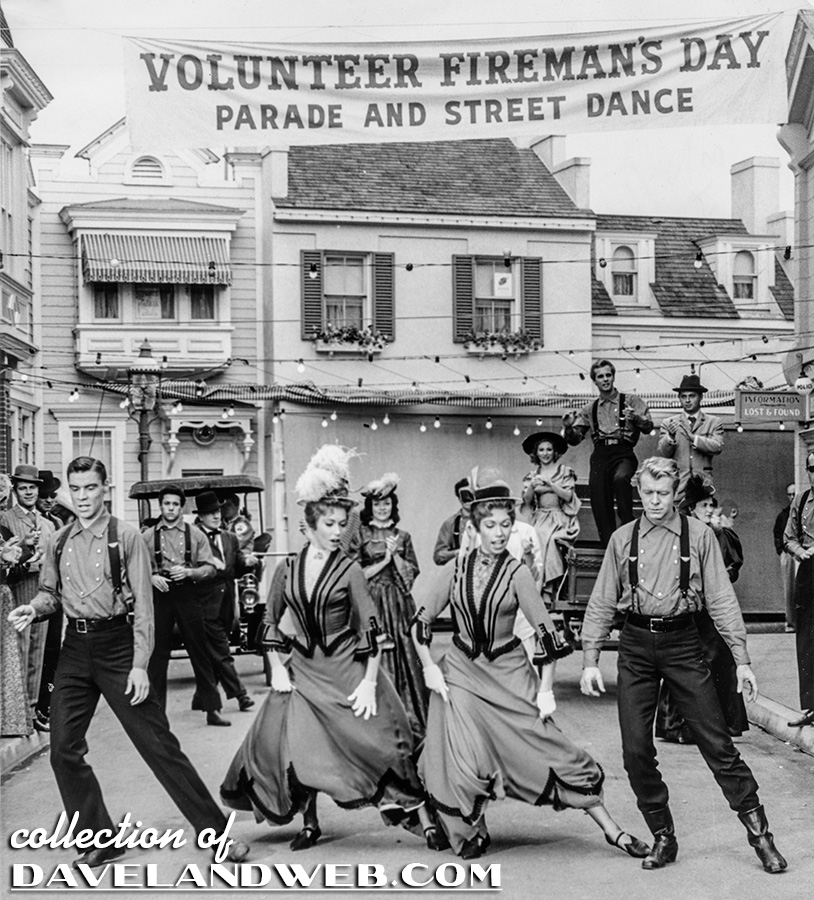 On February 17, 1961, NBC aired a show called "The Sounds of America" which was part of the Bell Telephone Hour (1959-1968). The show was about a group of children visiting Disneyland, traveling by train through Frontierland, by steamboat to hear Mark Twain (played by Dwight Marfield) spin tales of his life on the Mississippi River, and then visiting Main Street U.S.A. to hear the Disneyland Marching Band (led by Vesey Walker). Hermes Pan was the choreographer for this hour long show, and also the one who got a career started for Ruth & Jane Earl, the twins that were featured in this program.
Here's the publicity blurb that accompanied this photo:
FEB. 12, 1961: The Bell Telephone Hour Friday on NBC-TV, "The Sounds of America," was taped in Disneyland. Above, Jacques D'Amboise, Ruth and Jane Earl, and Gene Nelson, left to right, dance down Main Street. Gordon Jenkins wrote the score.
D'Amboise was a principal dancer with the New York City Ballet, where ballets were especially created for him by famous choreographer George Balanchine. He also had a number of roles in classic Hollywood musicals such as "Carousel" (1956) and "Seven Brides for Seven Brothers" (1954).
See more vintage & current Disneyland Main Street U.S.A. East Center Street photos at my regular
website.