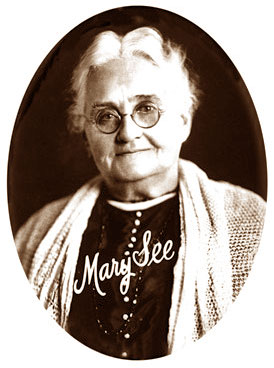 For as long as I can remember, See's Candies were part of the holidays and other times of life that my family celebrated. Founded (and still headquartered) in California, See's Candies has been around since 1921. Those of us from the West Coast are familiar with their slogan, "A Happy Habit!" One bite of their candy and you'll be hooked, thanks to their commitment to sticking to the finest, freshest ingredients, with no preservatives. Other brands may be more famous, but I have yet to taste one that begins to match See's.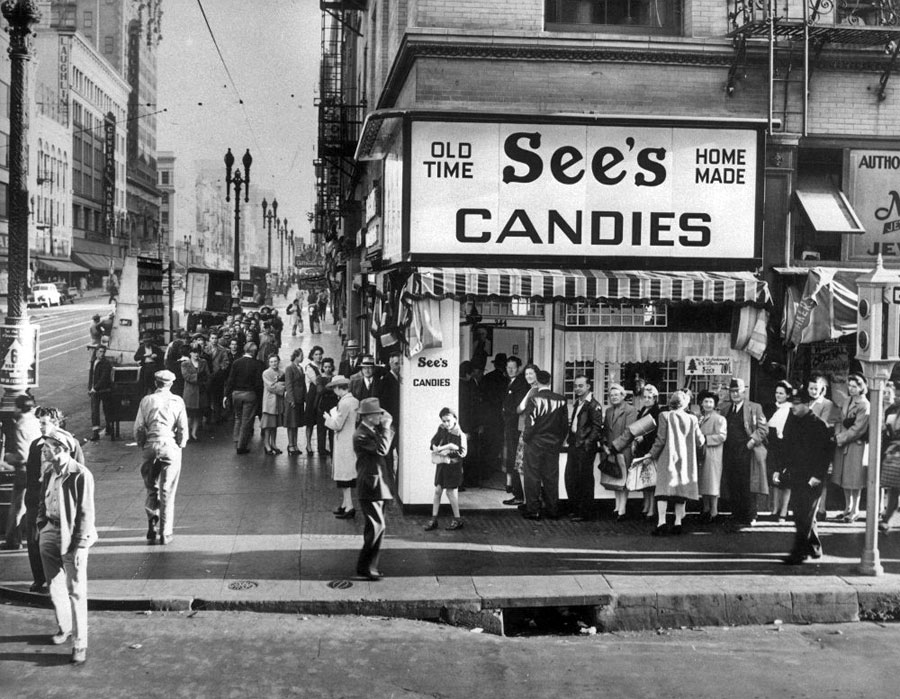 In this vintage shot that a rep from See's was kind enough to share, you can see the line of people waiting to enter one of the famous black and white shops, where every guest is allowed to sample a free piece of chocolate.
When my family moved out east to Philadelphia in 1966, I was comforted to know that there would be at least two times a year that I'd be able to enjoy my beloved See's. At Christmas, my Grandmother would typically ship (or personally deliver!) a 2-5 pound box of chocolates that disappeared quickly as we hungrily devoured it. Our annual trips back to San Diego in the summer meant that I would find a pad of drawing paper and a box of See's waiting for me at my Grandmother's home.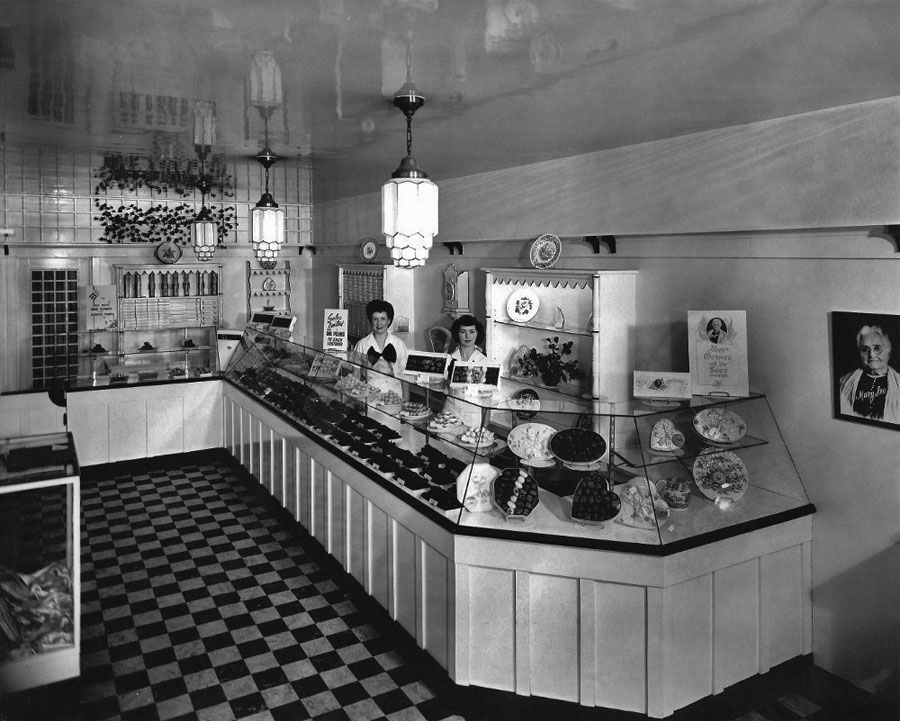 Going to visit a See's Candy store with my Grandmother was a huge treat. The stores were (and still are) immaculate, and the ladies who worked there were impeccably dressed in their starched white uniforms. They were always gracious, always generous with samples, and always smiled at every guest. My eyes popped out of my head as I saw some of my favorite flavors behind the counter, like Kona Mocha and Apricot Delight, just to name a few.
From the See's website, here's their story:
When Charles See arrived in Los Angeles from Canada in 1921 to try his hand at the confection business, he decided that no image would better reflect the personality of his fledgling venture than that of his mother. Apart from using her recipes as a foundation, See knew that keeping things in the family was the only way to bring about the kind of lovingly crafted product he desired.

See along with his mother and his wife, Florence, opened the first See's Candies shop and kitchen on Western Avenue in Los Angeles in November of 1921. The sparkling clean, black and white shop was designed to resemble Mary See's home kitchen. Benefiting from the wide acceptance of an unusually high quality candy, See's was able to grow steadily from that first shop in Los Angeles to twelve shops by the mid-1920's and thirty shops during the depression. By 1936, See's was able to expand to San Francisco. Mary See died in 1939 at the age of 85, but the company's ability to adjust to changing times - without abandoning the passion for quality and service that Mary See represented - kept it going strong throughout the decades to come.

Following World War II, See's Candy Shops grew as California grew, and the See's family continued the tradition, opening up shops throughout the state. In the 50's, See's established itself with the new and growing phenomenon of shopping malls. See's customers continued to recognize the See's Candies product for its quality and taste, and continued to visit See's old-fashioned black and white shops, enjoying a visit to a time past where service was paramount.

In 1972, the See's family sold the company to Berkshire Hathaway Inc., presided over by Chairman Warren Buffett and Vice Chairman Charles Munger. Utilizing his philosophy of acquiring solid companies where he could follow his "hands off" policy, Warren Buffett installed Charles N. Huggins as President and CEO. Charles Huggins dedicated himself to the continuance of the company he joined in 1951, guiding it with the old-fashioned values set by Charles See until his retirement at the end of 2005. He is succeeded by current See's President and CEO, Brad Kinstler, a longtime Berkshire Hathaway team member.

Today, "California's Famous Old Time Candies®" are sold in over two hundred shops throughout the West, a true sign of their enduring popularity. And, to this day, Charles See's living motto, "Quality Without Compromise®" continues to guide the company.
I love introducing friends to See's, like my friend Rob from Indiana University who traveled with me to San Diego for Spring Break during my Senior Year in 1986.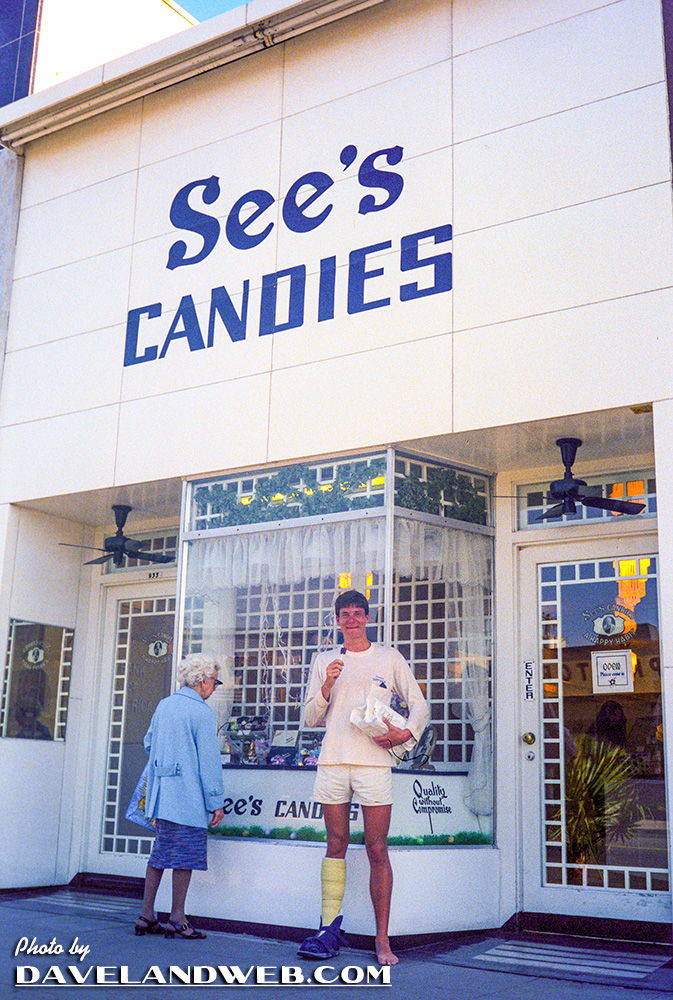 Savoring a See's lollipop, he almost forgot the cast on his leg!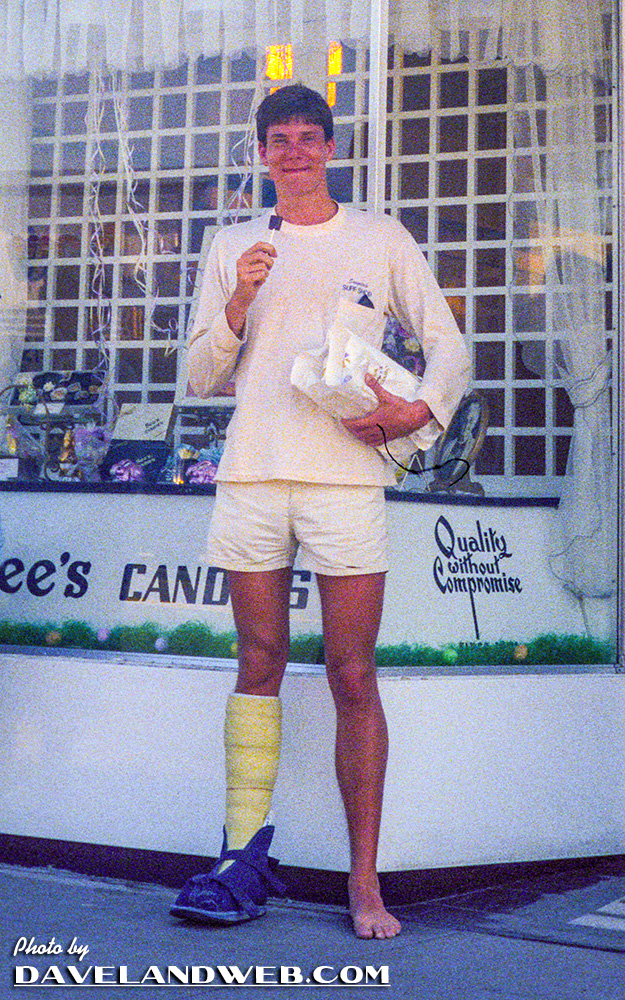 The windows are always festively decorated at See's, too; who could resist walking into such a beautiful shop?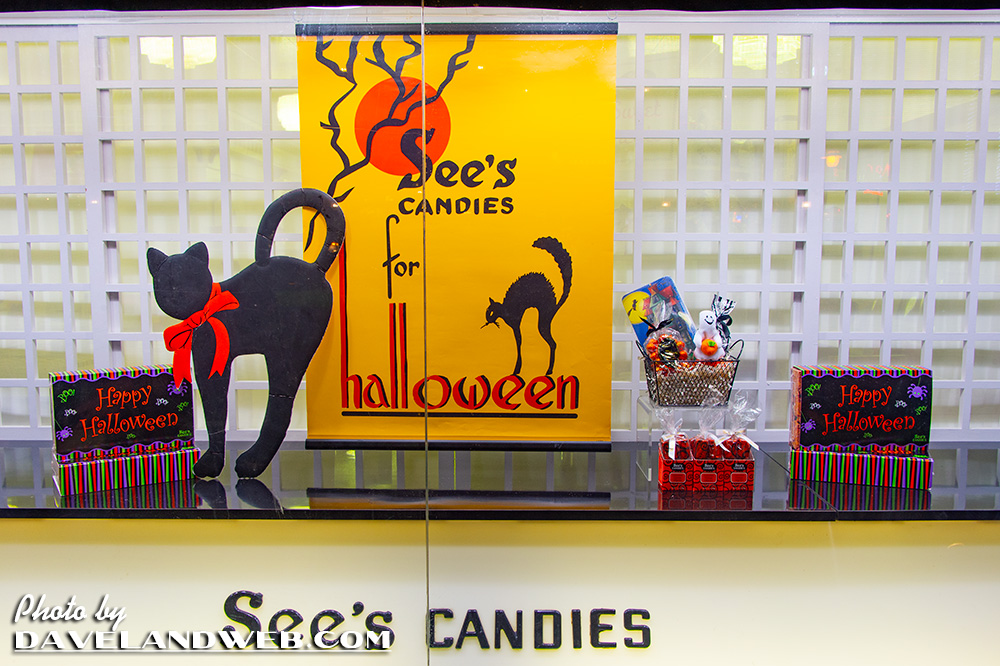 As proof of their place in pop culture, even Barbie commemorated my favorite chocolate company: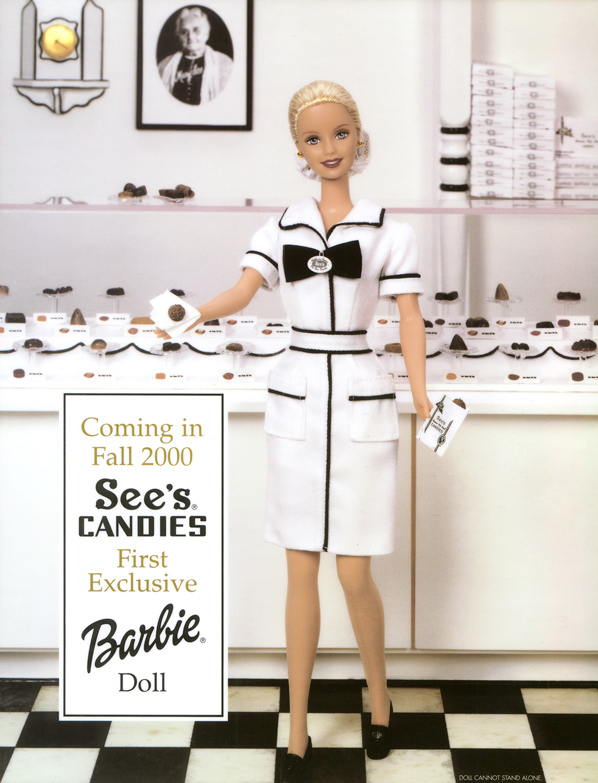 To order the best chocolates and establish a VERY happy habit, visit the See's website at
sees.com
.
UPDATE! Frequent Daveland contributor Lee (aka Cox Pilot) has submitted two photos from a recent visit to See's at South Coast Plaza; I know those black and white checked floors anywhere!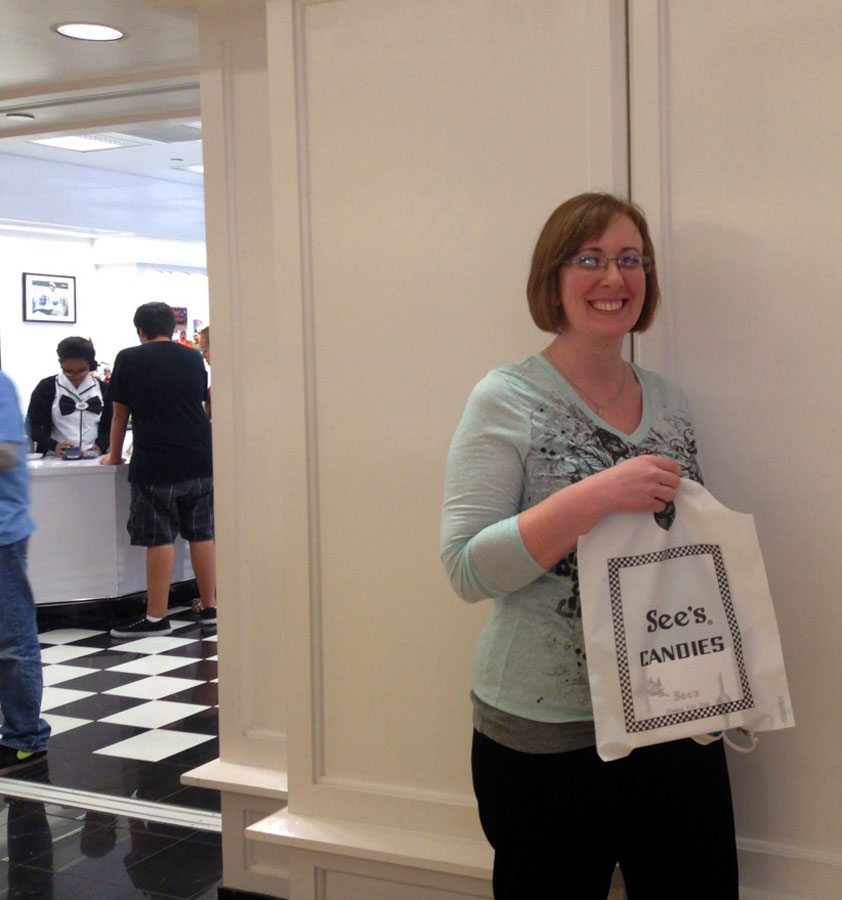 Mom and her two daughters are displaying their treasures! If Lee's family is anything like mine, i'll bet they didn't last long!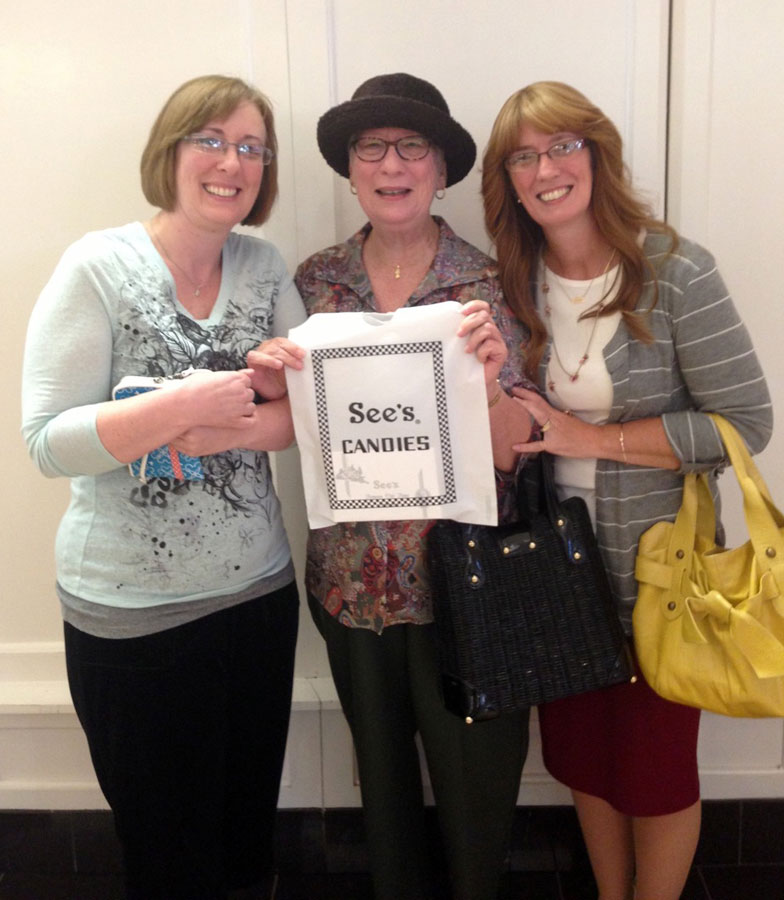 See more vintage & current Daveland photos on my
photography web pages.