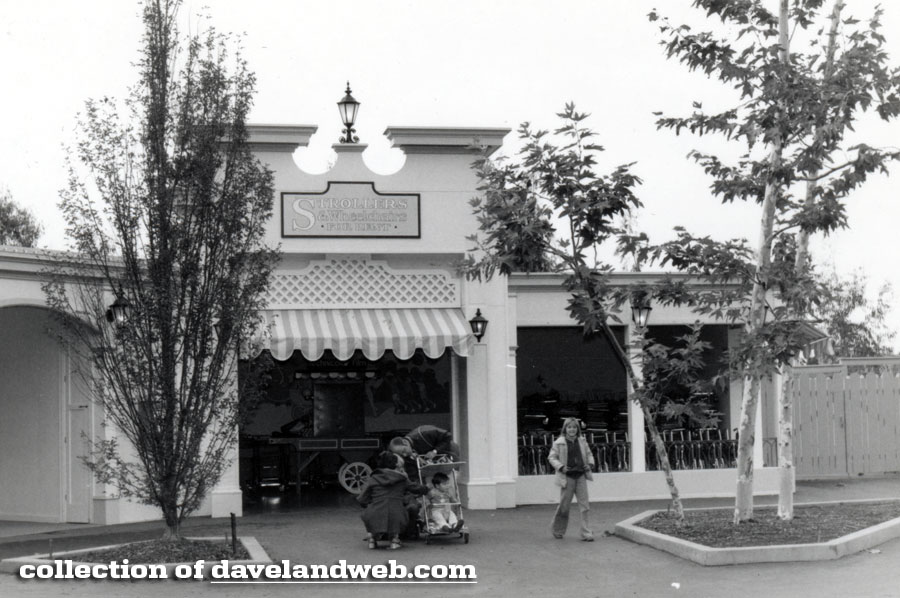 They are the bane of my visits to Disneyland. Those not-so-little contraptions that parents load up with every toy and gadget known to man. Back in the day, strollers were just big enough to do what they were intended to do: help parents get around town with their young children without the burden of having to physically carry them. What a great idea! This vintage shot shows the area that guests could rent strollers from.
Zooming in, you see a father attempting to figure out how to use the stroller. Mom will probably have to show him how!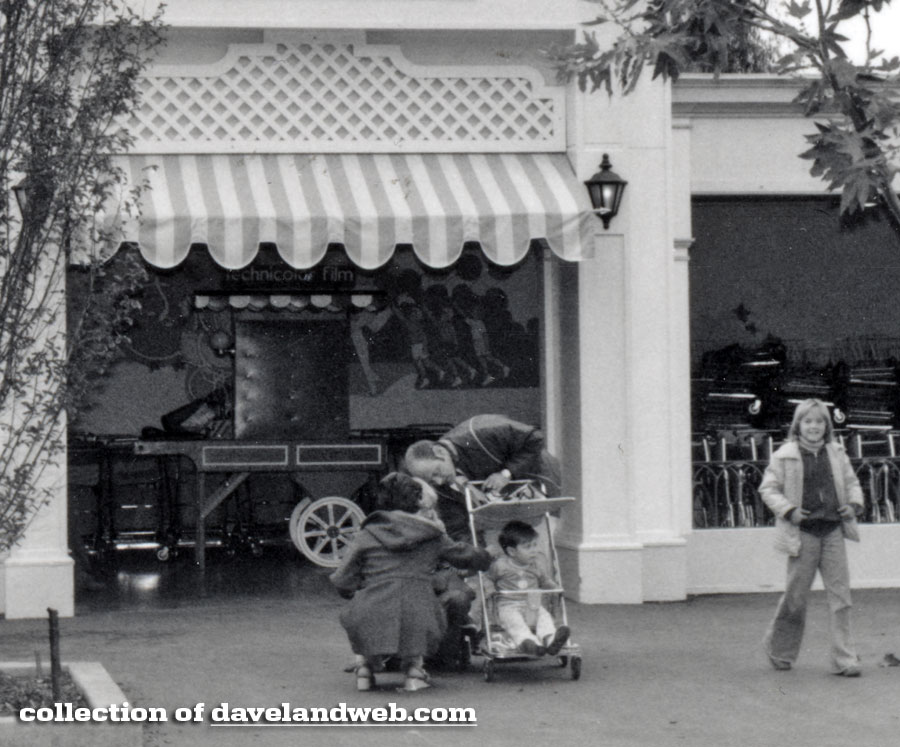 To accompany this photo, here's an article from The Disneyland Line Newsletter, June 29, 1978:
While Strolling Through the Park One Day...

Among the many services that Disneyland provides for its guests is the facility that helps put our non-ambulatory visitors on wheels: the Stroller and Wheelchair Shop. With 1500 strollers and over 100 wheelchairs to clean, repair and rent out to guests, the location's Merchandise Hosts and Hostesses have plenty to keep them busy.
When a guest pays his or her $1.00 fee and $1.00 deposit for a stroller or wheelchair, he or she expects to be given a sturdy, clean and pushable unit. The Hosts and Hostesses at the Stroller Shop strive to see that every expectation is fulfilled and exceeded. A pool of available vehicles is fed from the neat stacks of folded strollers in the backroom. While Stroller Shop personnel pull from these stacks, they make sure that all units are operational.

Most stroller repairs are done in the Shop by the Stroller crew. In fact, when guests' strollers suffer mishaps while in use in the Park, the Stroller Shop acts as a pit stop where minor repairs can be made. The equipment and skills utilized in the Stroller Shop have become more and more sophisticated. Don Carter, day Working Leader, explains that this increase in repair knowledge and abilities has resulted in a 70-75% decrease in the number of strollers that need to be sent out of the Park for repairs. Don adds that there is a feeling of accomplishment in fixing a stroller and making it usable, and says, "A repaired stroller is a thing of beauty."
Until recently, guests were asked to leave a form of identification when renting strollers, so that they would bring the units back. Now, however, the new procedure of keeping $1.00 as collateral speeds up the stroller-return process at the end of the night.

"The nights are very different from the days," explains night Working Leader Charlie Moss. While the day cre is kept busy repairing and renting out strollers, the night crew seems to get all the units back at one time, right after the Electrical Parade. Then they have to be cleaned, broken down and stacked.
The Stroller Shop, once staffed only by Merchandise Hosts, now is operated by a crew that includes many Merchandise Hostesses as well. The girls like the non-stop hustle and bustle that the shop provides, and find that the lifting and pushing help to keep them in shape.

The Stroller and Wheelchair Shop accomodates those guests who require their own mobile units to enjoy the Park. So, when guests want to get "pushy," send them to the Stroller Shop.
Today, strollers are much larger and parents pay less attention to the guests that they constantly bump into, block, or worse yet...run over their feet! Please Disney...create an annual Stroller-Free Day—I'd be first in line!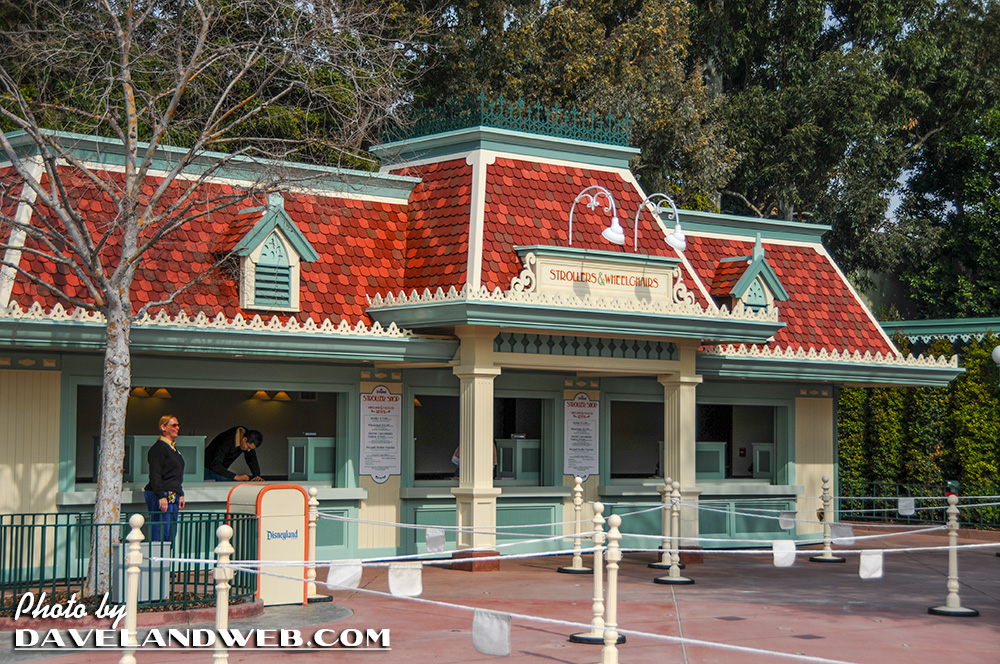 See more vintage & current Disneyland entrance area photos on my
Disneyland entrance web page.