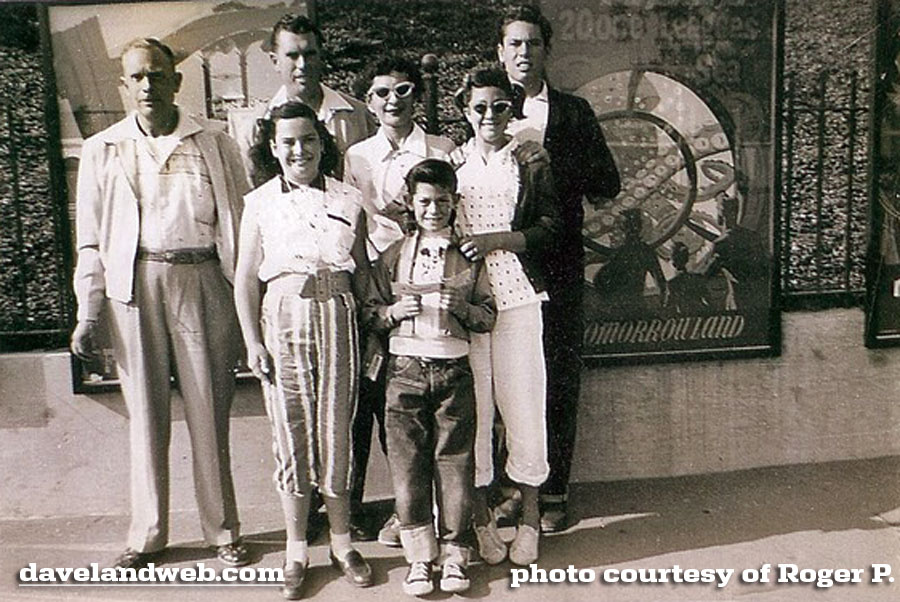 Every now and then, I get an email from someone who was touched by the photos on my website. Bringing back a flood of happy memories, they are inclined to share their story of a vintage family visit to Disneyland and what it meant to them. Roger P. was one of the most recent ones to do so, and I am so grateful that he did. The photos from Roger's collection are designated with a credit; the rest of the photos shown here are from a recently acquired batch of 1955 images that were extremely faded and scratched. Still, I thought they made a nice accompaniment to Roger's memories. By the descriptions of particular attractions, I would guess that Roger's memories include multiple visits, especially since the Mickey Mouse Club Circus with the Mouseketeers was kaput by late 1955.
I'll let him tell his story himself:
I have great memories of Disneyland. The first photo that you see here is of me, my parents, and our relatives; I am in the front. I was about 8 years old at this time. The first memory that I have of going to Disneyland was when we all went over to Tom Sawyer's Island to have a look and play there. I discovered the cave where the gold was buried plus having fun in the fort. It was great. There were toy rifles there and they even made a shooting noise. What I didn't know was that everyone else had left the island on the motored raft and left be behind. Finally my mother noticed that I was not with the group. She came back and
got me. My father, who had a weak heart, asked my uncle Jack (the tall man in the photo) to take over and keep an eye on me after that.

This photo from my collection shows the motor raft to Tom Sawyer's Island. Tom Sawyer's island is still in my heart.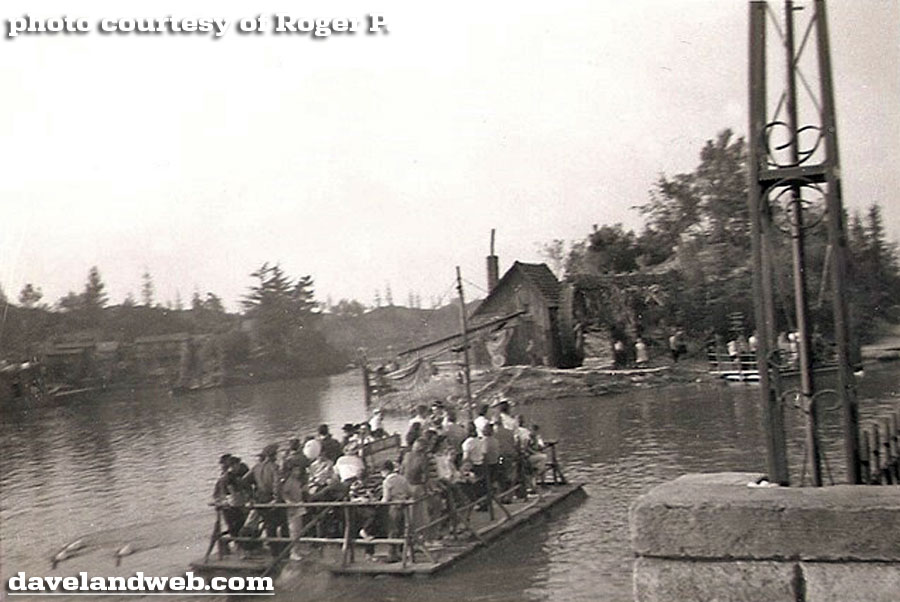 I remember going into the House of the Future, which was great. There was the Walk Thru 20,000 Leagues Under the Sea attraction, then across from there the 360 surround America the Beautiful movie.

In the park was a circus tent with the Mouseketeers performing. A clown came up to me and gave me a balloon hat. I saw the
spaceman in the revolving glass exhibit, and the Magic Shop on Main Street which was just how I wanted it. Disneyland sure had everything!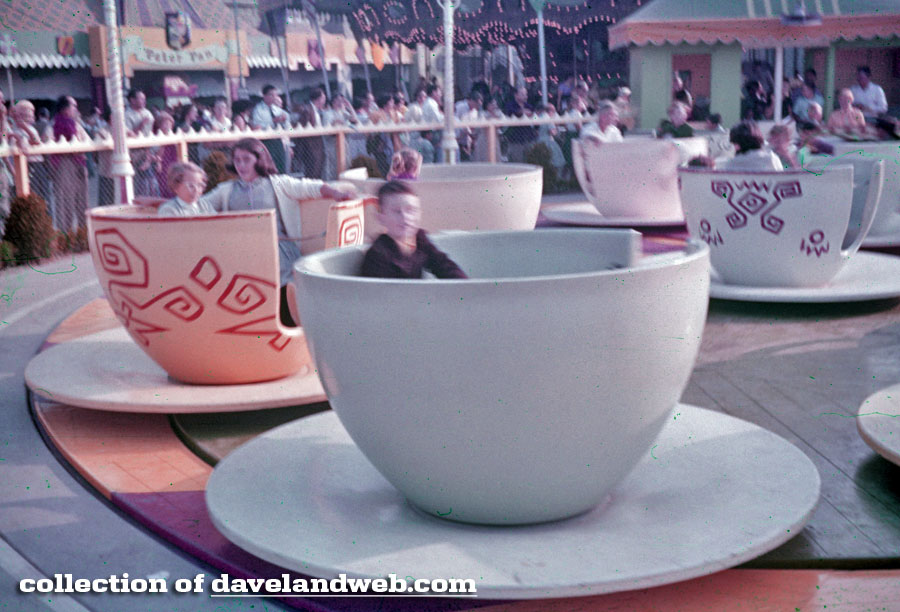 The most difficult ride was the Tea Cup ride. My 2 older sisters got this cup spinning so fast I nearly passed out. When it is your first time in this park and you are a young kid, everything is unbelievable. You do not want the day to end. I still have some of the old Disneyland ride tickets from years ago.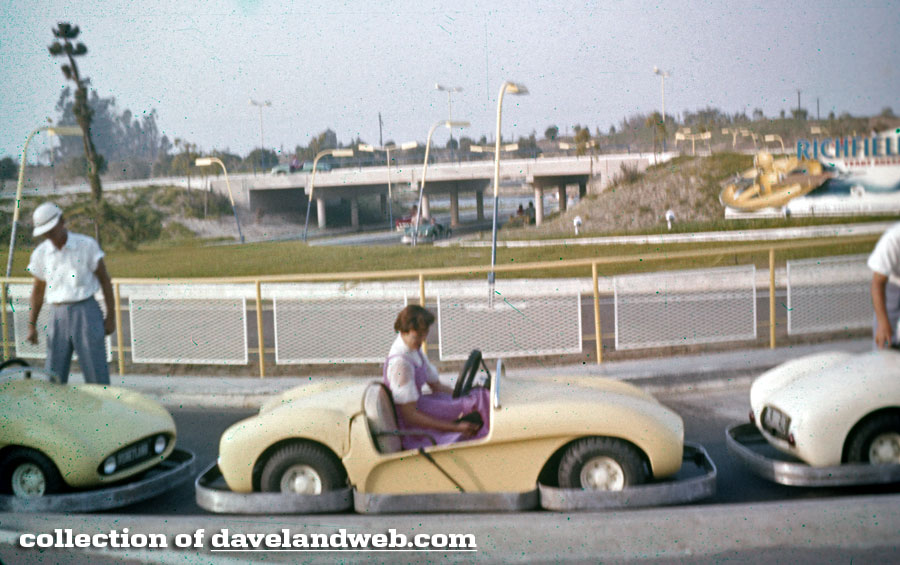 The ride that I wanted to do the most was Autopia. I had an odd experience because to ride the cars you had to be a certain height. I was just a few inches too short. Bummer. However, I got lucky when we walked back over and there was an older person who could escort you on this ride. After going on that attraction I wanted one of those cars!

At Tomorrowland there was a fenced in area that a person was flying model airplanes in a circle in the enclosed area. This photo from my collection shows a small automobile (could be an Autopia car) parked on a large star with the points of the compass around the star.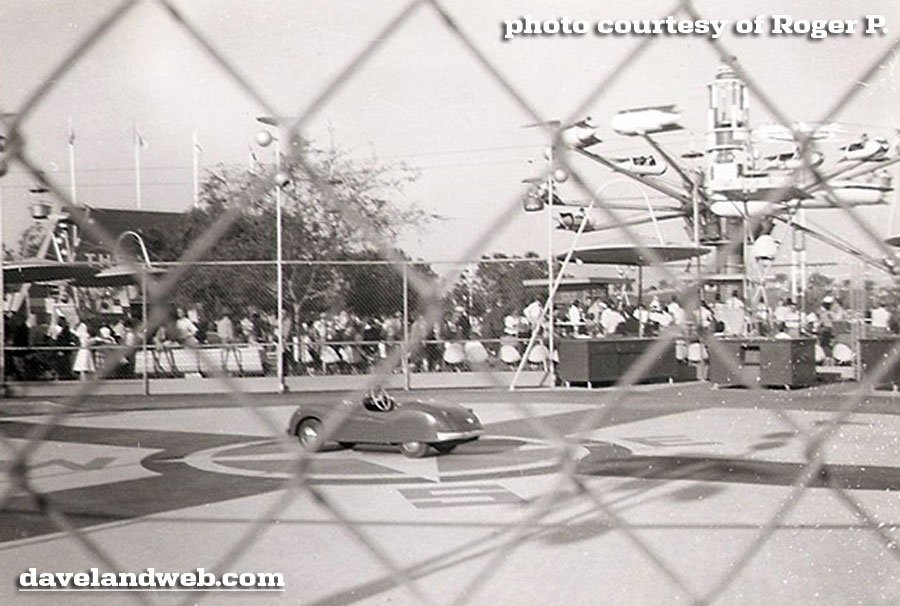 Editor's note: I sent this photo to Cox Pilot, since I had never seen an Autopia car parked in The Flight Circle before. He had this information (and keen observations that I missed):
Wow! That is an unusual photo from before my time at the park. I'm guessing that this was taken in the off season when The Flight Circle was not being used. They did that a lot to fill the space. I'm also guessing that it's a Junior Autopia, since it only has ONE steering wheel. Didn't the Midget Autopia have two for the kids? And, wasn't the Junior Autopia opened around this time? This leads me to think that it was a promo for the new attraction. Did you also notice all the chairs and benches around the circle have their backs to the center? Another indication the circle was closed. I also observed that the design lines of the little car are very much like an 1950's Jaguar XK-120. Why did I notice this? Well, I had one from 1962 to 1965.
Looking at the Midget Autopia photos in my collection, Cox Pilot is correct; they all had two steering wheels. However, this vehicle looks to small and of a different design to be a Junior Autopia vehicle. Maybe it was a prototype, advertising the attraction as Cox Pilot suggested. Back to Roger: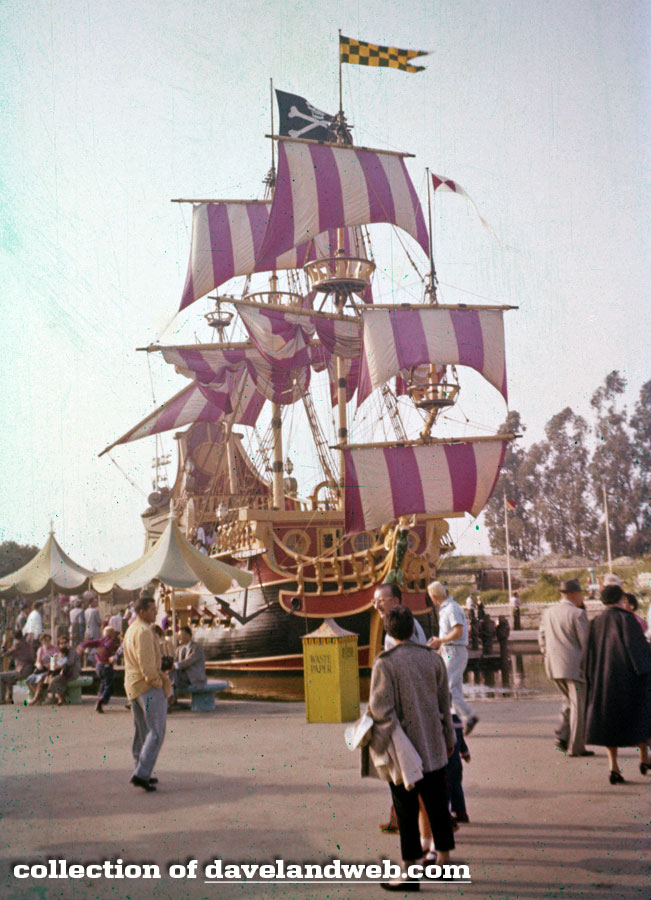 In Fantasyland there was a Pirate ship that sold food. My father and I had a tuna sandwich there together. I wonder where that is ship today?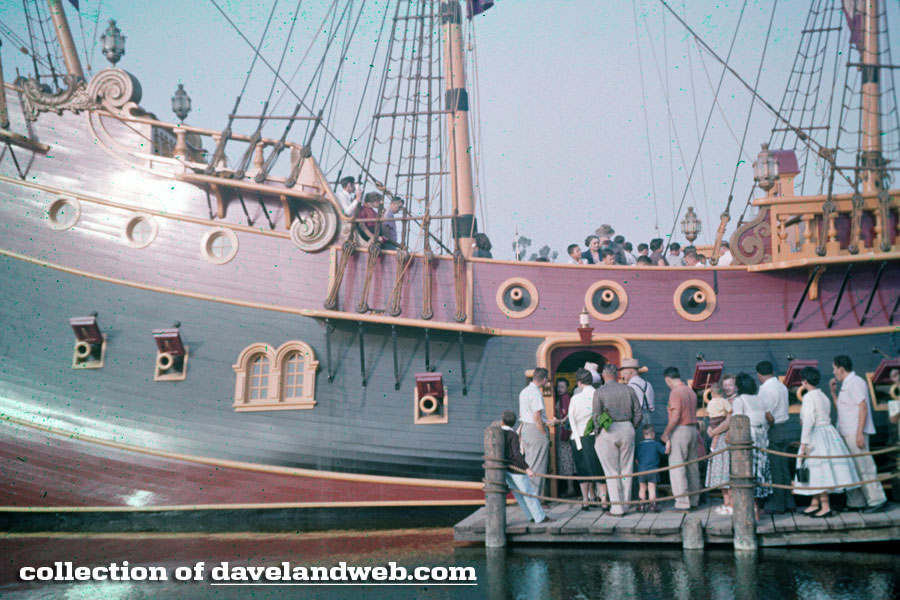 Going over all of memories of the 1956 photo with my cousin, I kept mentioning the other people that were with us. My cousin did not think the other relatives came with us. Now that you mentioned that the circus was at an earlier date I think that maybe I had come to Disneyland the year before.

As you can probably tell, I completely enjoyed visiting Disneyland!
See more vintage & current Disneyland photos on my
Disneyland web page.