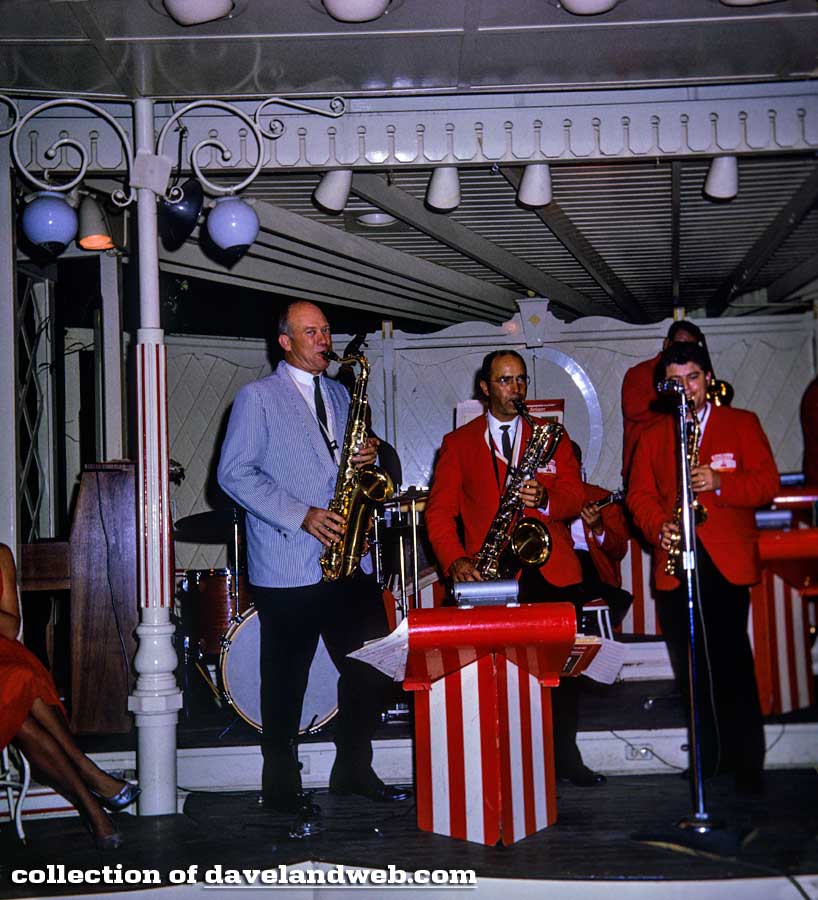 My Christmas celebration started early when I got this email from a gal named Holly:
Hi Dave-

You have NO idea what your Plaza Garden pictures mean to me!!!

I grew UP in them, as the Elliott Brothers were my Dad Lloyd and my Uncle Bill!! And those pictures of TERRI!!! (Uncle Bill's singer-I have never seen those.) After my parents divorced, Dad dated her—I remember going grunion hunting with her one night when I was probably 11 years old. I haven't thought about her in a long time—she was really nice.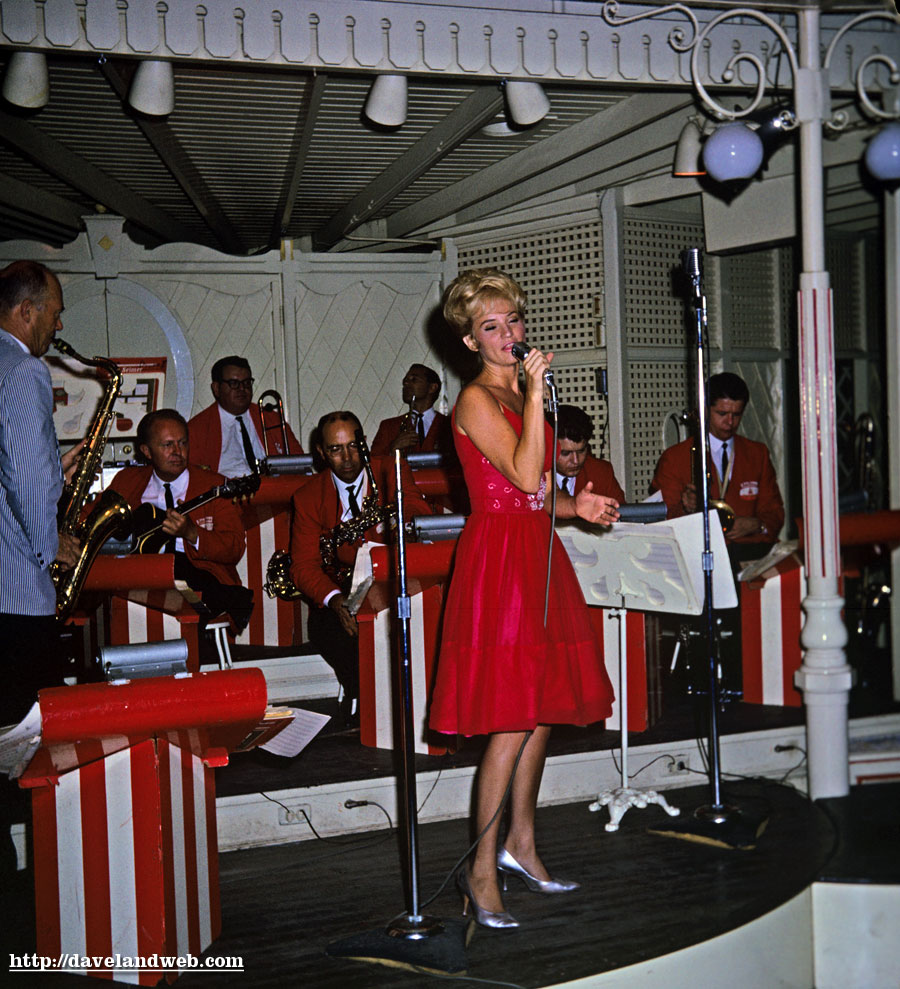 I did hear about the plans for Plaza Gardens. One of my cousins was just visiting and we were talking about old times and how lucky we are that our dads left a legacy on vinyl (we even played a couple of tracks from Date Night at Disneyland!).

Wouldn't it be great if Disneyland had some kind of final tribute weekend to all those who ever played there? Some goodwill like that might go a long way…that and a teaspoon of sugar!

Holly
As if that weren't cool enough, I crossed my fingers and replied that I'd love to have her write down her dad's story as it related to Disneyland...and guess what readers...she did! I can't thank Holly enough for taking the time to share her story (and a few photos) with me.
My Dad Works At Disneyland: Plaza Garden Memories

That was the biggest brag a kid could make to another kid when growing up in Southern California. Well my Dad Lloyd and my Uncle Bill were the Elliott Brothers! And the Elliott Brothers and the Disneyland Date Niters dance band were a fixture for years at the Carnation Plaza Gardens just off the end of Main Street, Disneyland in view of Sleeping Beauty Castle. Their swingin', happy music attracted thousands of Disneyland-goers over the years, young and old, for an evening of dancing "under a million twinkling lights."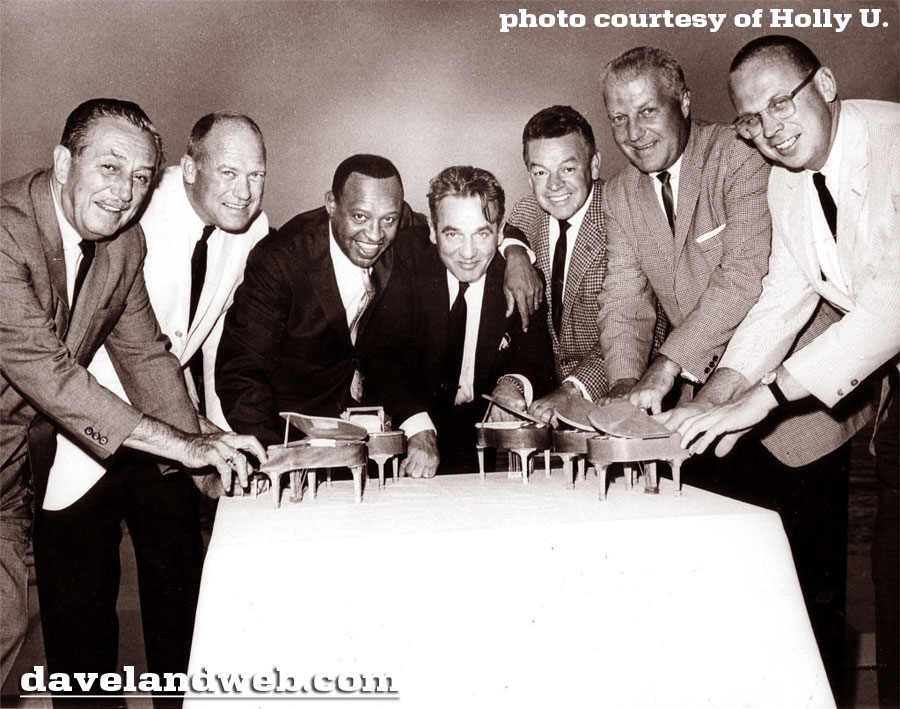 Bill and Lloyd were well established in their music careers before Disney came calling. The Elliott Brothers Orchestra had a recording contract with MGM and produced several hit records, including a version of "In The Mood" as sung by Thurl Ravenscroft (another Disney legend!). They were THE band to hire for dances all over the Southland. Bill was a contract saxophone/reed player at Twentieth Century Fox during the era when each studio maintained its own orchestra and band. None other than the great Alfred Newman was in command at that time. Lloyd was a freelance trombonist who played all over town. He began his legendary run of Academy Awards shows in 1951 when "All About Eve" won best picture. Movies, shows, records, dances, television, they did it all and were some of the best players in the business.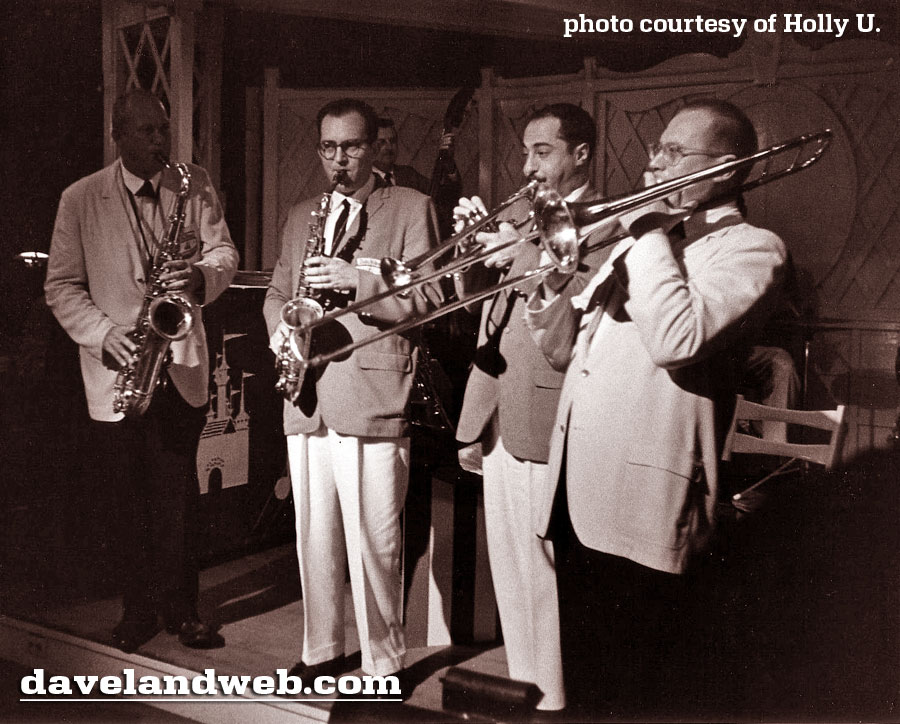 Exactly how the Elliott Brothers came to work at Disneyland is lost in time. I don't know if Disney sought them out or if it was an audition or ??? My mother does remember that everyone who was going to be working there was treated to a sneak-preview the day before the park officially opened in 1955. She dropped off the dog at Kennel-land (maybe I was sent to Baby-land [just kidding]) and she and Dad went to the park. Makes me wonder if the Brothers were already playing there, just in a different venue. Mom said that they had the most infectious personalities in town and that everyone loved them! It's possible they were hired by Tommy Walker, the park's first entertainment director
[note: this is what the rest of Holly's family seems to remember as well]
. Maybe they had been recommended by Tutti Camarata who was a fellow studio brass player, arranger and a co-founder of Walt Disney Records-he was great friends with Dad.

So when did they start working there? Scott Wolf of Mouseclubhouse.com was kind enough to contact Disney Legend and marketing genius Jack Lindquist. Jack was not familiar with the Elliott Brothers prior to the beginning of Date Nites so I guess it's safe to say that they were brought in for the park's new night time era. June 28, 1957 was the first Date Nite at Disneyland when the park became the number one venue for fun after the sun went down, and Carnation Plaza Gardens was THE place to be!

Both my parents really loved Walt and talked about how nice he was and how great he was to work for. Mom said that he was always on a first-name basis with everyone: "Please, call me Walt." Walt would stop by the bandstand often to shake a leg and to just enjoy the vibe of the band and those dancing to it. Dad told me that he and Bill always had a little something for Walt in the side room in case he wanted to stop by for a "nip". (And Dad told me that the reason Walt had the monorail stop at the Disneyland Hotel was so that parents could go over there and have there own "nip" as well!).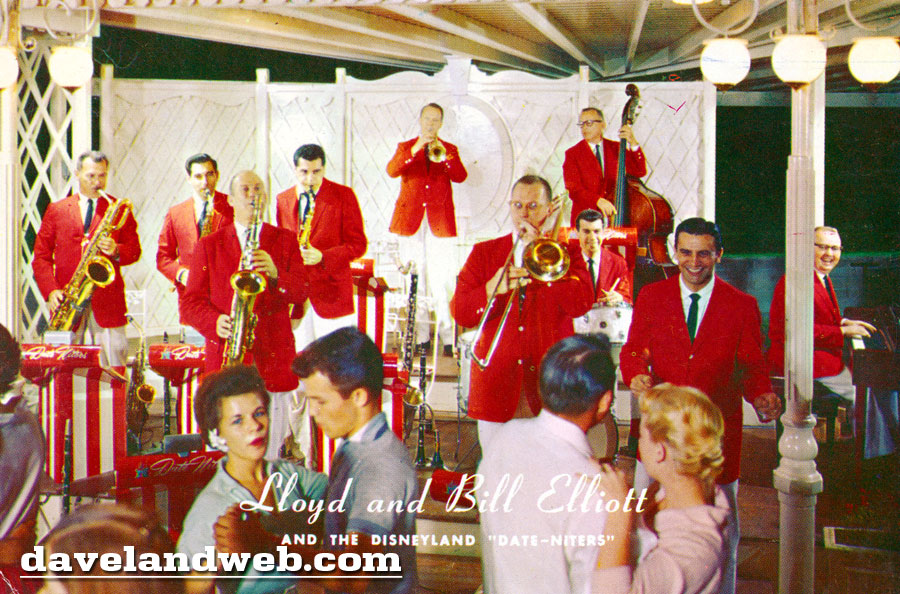 A milestone for the Elliott Brothers was the release of the "Date Night At Disneyland" record album in 1958, a live recording of some of the bands most popular dance tunes (I remember seeing the album as a Ski-Ball prize at the Fun Zone in Balboa). The album really captures the feeling of that moment-such a fun time, great music and musicians, the energy...to me it just encapsulates what Disneyland was all about. How could it not be when the album liner notes say that "The Elliott Brothers are the swingin'est bunch to come peel in' down the pike since the Brothers Dorsey"!

I remember saying to Dad how much I loved listening to it—he said he didn't like it that well: "That was during my loud period." Date Nite has been re-released on CD and at one time they would burn you a copy at the park. It's also available as an iTunes download as well. This special magic was preserved in an episode of "Walt Disney's Wonderful World of Color" called "Disneyland After Dark." The Osmond Brothers-just grade-schoolers at that time-are featured singing barbershop, then The Elliott Brothers and the Date Niters are showcased playing everyone's favorite, "La Raspa (Mexican Hoedown)," followed by singer Tony Paris' attempt to sing "Twilight Time" with great "assistance" from the audience (You can catch this over at YouTube).

Over the years some really fabulous musicians spent time at the Plaza Gardens with the Elliott Brothers. I remember meeting Julius Wechter who went on to form the Baja Marimba Band. And according to my uncle, the first gig that film composer John Williams had when he came to town was playing piano with the Date Niters. He said he really had to work hard to keep up with Lloyd and Bill!

So what was it like, having a Dad that worked at Disneyland? Dad took us to the park quite often, especially for private parties when a company had rented out Disneyland for the evening. It was great because you didn't need tickets for the rides and it wasn't crowded. We would arrive and check in at a building called The Zoo where the character wardrobes were kept-Lloyd and Bill would put on their white Date Niter jackets and then we headed inside the park for Plaza Gardens. The band would start the first set of the evening and Uncle Bill would give us kids some maracas or a tambourine to shake-he would always say our names and introduce us like we were part of the band! Then it was off to go on rides. We always made sure we were back at Plaza Gardens at 9pm for the "Fantasy In The Sky" fireworks and Tinker Bell's descent from the Matterhorn. After wards Lloyd and Bill would gather the audience around the band stand, report the on latest college football games or baseball scores and tell some corny jokes ("We almost didn't it make to work tonight, folks. Lloyd's/Bill's mother-in-law had a terrible accident-she fell down a flight of stairs. [Oh-No's from audience]. She forgot her chain didn't go that far." [groans from audience]). Then they would play everyone's favorite "La Raspa" and we would all dance around and around. After wards it was off for more rides until the end of the evening.

The Elliott Brothers were also an important part of Disneyland's Big Band Festivals which began in 1961. Benny Goodman, Count Basie, Lionel Hampton, Buddy Rich-they all graced the Carnation Plaza Gardens bandstand as well as other locations around the park. Sometimes multiple bands were booked for one weekend, sometimes one band would be booked for an entire week. The festivals were wildly popular with park goers! Lloyd and Bill both received Mouskers from Walt in appreciation of their contribution to the event. (A Mousker was Walt's version of an Oscar statue.).

Prior to the Big Band Festival was Dixieland at Disneyland which had its debut on October 1, 1960. Nine thousand people showed up for the event which featured six bands, including the Elliott Brothers. It started up on the Rivers of America in Frontierland, then each band marched off to a separate venue to play; then at the end of the evening they all gathered together again and marched down Main Street and played until the park closed at 1am. I think a little of this event was preserved in the "Disneyland After Dark" episode.

By the mid-60's the long hours of working the studios all day up in LA and Hollywood, then driving to Anaheim and working all night caught up with Lloyd and he left the band, leaving just Bill Elliott and the Date Niters after that. (Bill had long conquered the commuting problem by flying his airplane from Santa Monica to Fullerton every evening.). For Dad things were never the same at the park after Walt passed away. I was with him the night he had to check in with a security guard on the way in to work-he just about blew a gasket he was so mad! Bill continued playing there until 1969 when at that time entertainment management changed and he realized it was time to bid Disneyland good bye. For at least twelve years Lloyd and Bill and their band made a wonderful contribution to Disneyland's rich musical heritage, and for me and all of those who danced, listened, lingered awhile, and savored those special evenings, they made Carnation Plaza Gardens our Happiest Place On Earth!

One interesting thing about writing this is that my mother has been remembering and telling me all sorts of stories about DL and things she and my Dad did. One event she remembered is that they put together a band with 76 trombones and played at the park. Every trombone player in town and beyond got the call except for Marshall Cram (studio player friend). Mom thinks they did that to him as a joke! Unbelievable so, I found a film clip of this on YouTube! Tommy Walker is leading the band, all dressed in black tuxedos. Meredith Wilson looks authentically surprised! I love the internet!
As if all this weren't cool enough, Holly invited me to join her family at the Carnation Plaza Gardens last weekend as they paid a final tribute to the area before it goes under the wrecking ball. Left-Right: Dawn Ulyate Jenkins, Karen Ulyate Crabtree, Holly Ulyate, Ryan Ulyate, Zennon Ulyate-Crow, Betty (formerly Ulyate) Cherry, Robin Ulyate Trento, Maxine Ulyate Anderson, Laura Anderson, Kent Anderson, Dorothea Ulyate, Jordan Anderson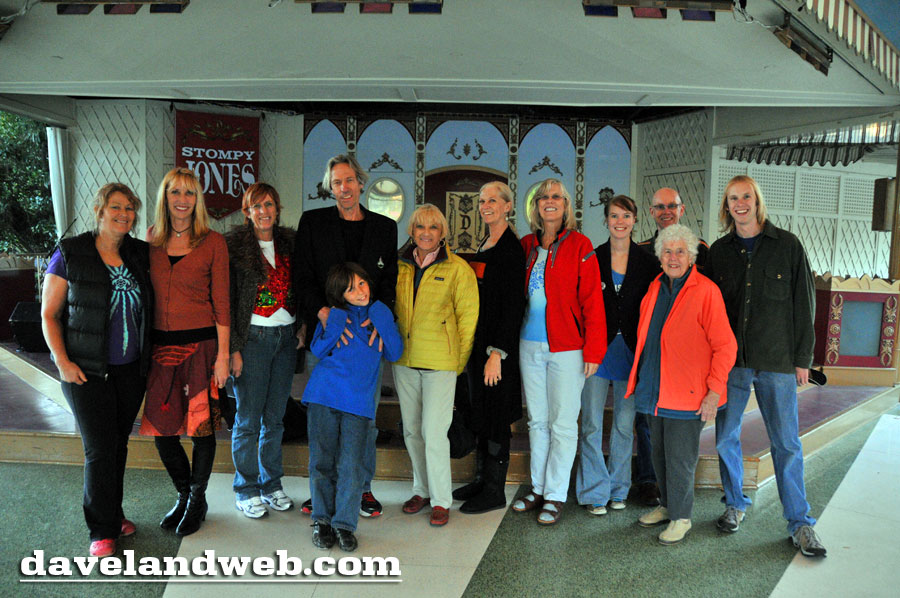 A shot of the direct descendants (Holly's the one in the festive Christmas vest - gotta' love it!) Left-Right: Dawn (Bill's daughter), Karen (Bill), Holly (Lloyd's daughter), Ryan (Bill's son), Robin (Bill)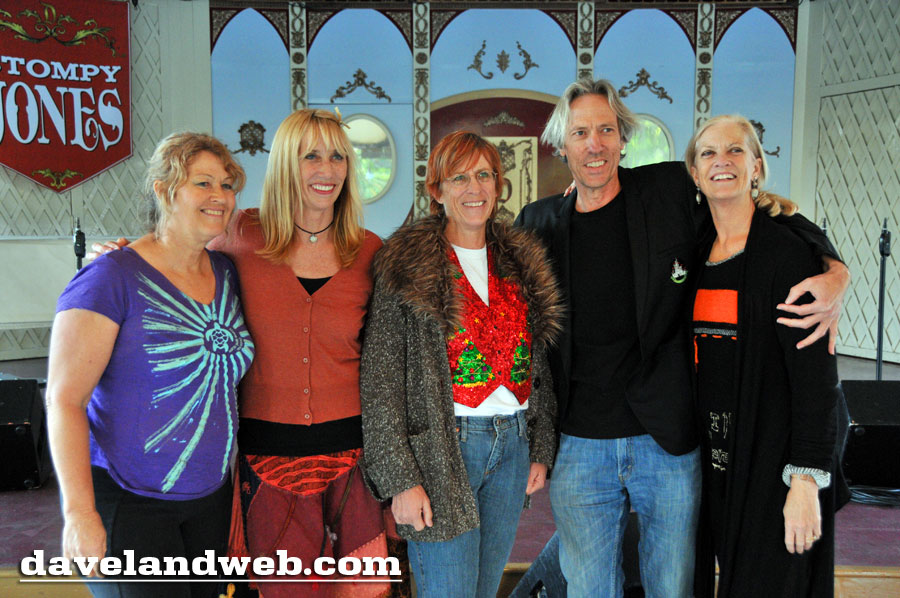 Her cousin Ryan, Bill's son, wore his dad's Disneyland Blazer: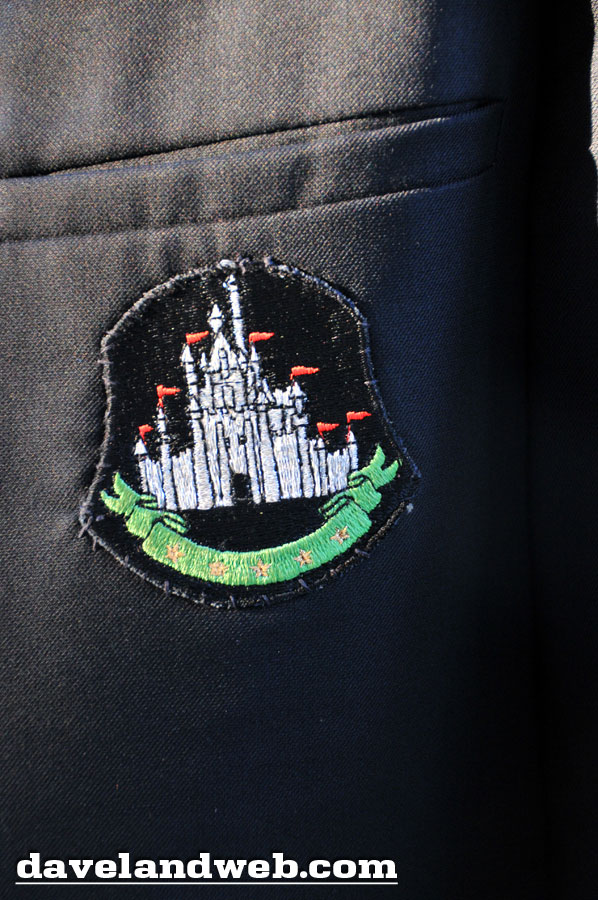 As fate would have it, while we were all convening and meeting each other, Tony Baxter was passing by with an entourage that included (ironically) the guy who is in charge of the Princess Meet-and-Greet that is replacing the Plaza Gardens. They were alerted to the Elliott family reunion; I thought this would be a great chance for them to pay tribute to the family and the significance of their dad's relationship to Disneyland. Apparently I was wrong, as Baxter & Company kept on walking. Huh...I guess the loss of the Stouffer's mural at the old Plaza Pavilion doesn't seem so surprising.
Despite that, it sure was fun to meet Holly & her family. What a great bunch of people, and so gracious to share their time and memories. Ryan had one very fun anecdote from when he was a fifth grader. Apparently he and his buddy had long hair; his dad Bill was at the Disneyland Hotel eating dinner and told the boys to take the Monorail into the park where he'd see them later when his gig started. Excitedly, the boys zoomed off for another fun day in the park. Stopped by security, they were told that they could't board because of their long hair: "It clogs the drains!" The boys shot back, "Girls have long hair, why can they get on?" Security was not impressed with their logic and told them to scram. Bill was not happy about this interruption and told Security that if his kids couldn't take the Monorail, it would make him late for his gig that night at Disneyland. Security relented and the boys were back on track for a night of riding the Skyway Buckets and other thrills. Keep in mind, this was all before
Yippie Day
.
MANY MANY MANY thanks to Holly & the rest of her family. What a treat for them to share today's post!
As for the impending removal of The Plaza Gardens, I went back that night to see what was going on in this area.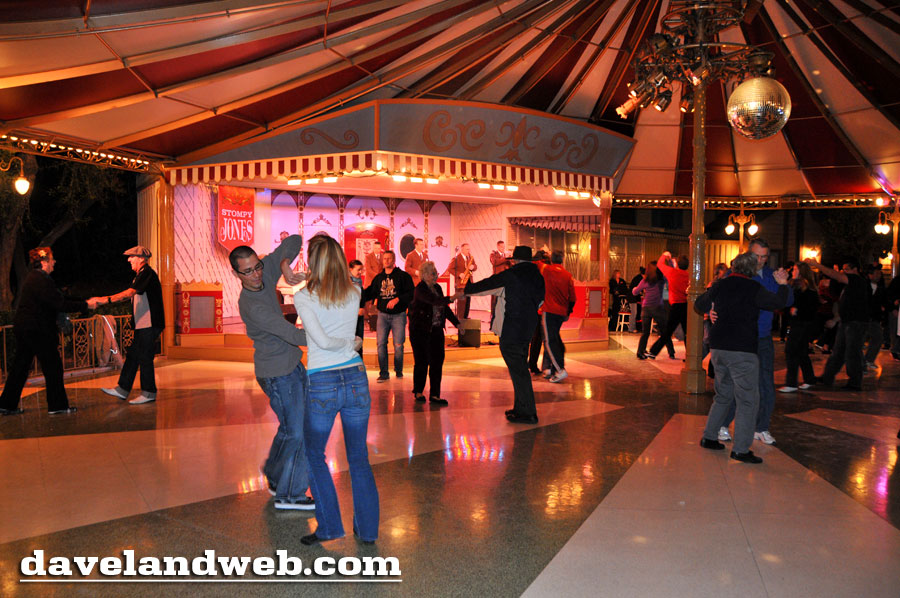 Looks damn fun just the way it is.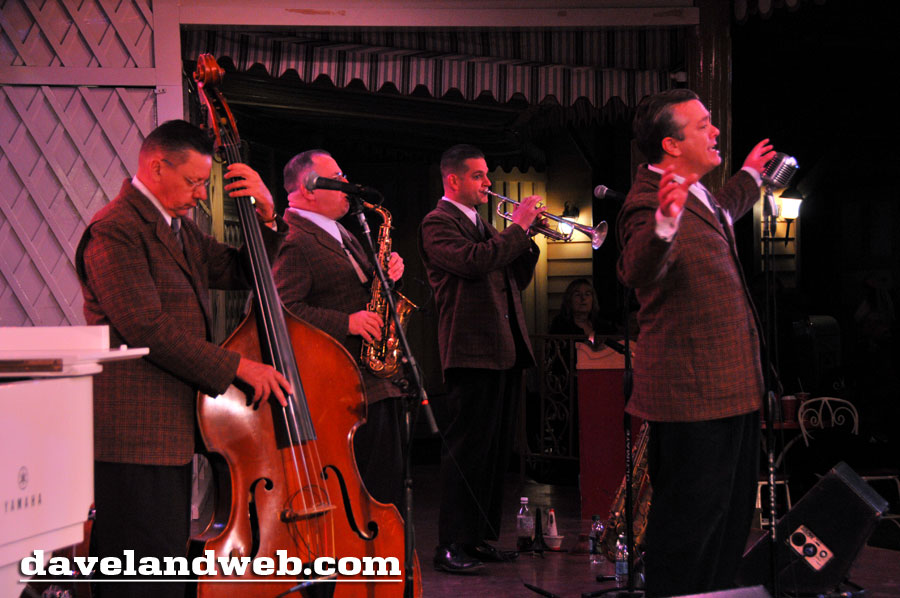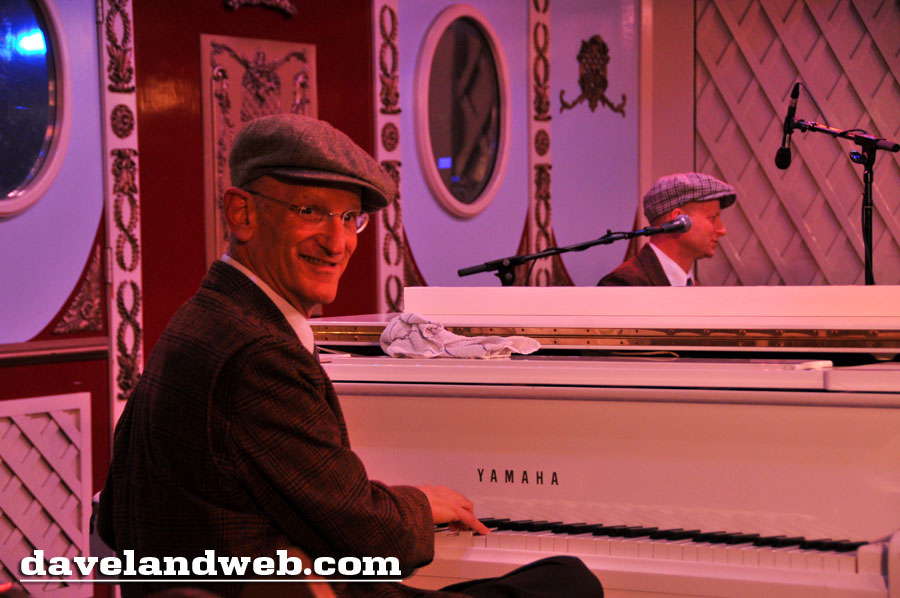 See more vintage & current Carnation Plaza Gardens photos on my
Carnation Plaza Gardens web pages.