Taken in July 1955, it's not difficult to imagine the amount of blood, sweat, and tears that were needed to complete Disneyland with only a handful of days left. Not sure if it was a matter of saving the best for last, but Tomorrowland was the last area to get started, as the decision of whether or not to include it waffled right up until the last minute. As you can see in this closeup section, there's still a lot of scaffolding and a plethora of pickup trucks. Be sure to notice Snow Hill (top left), the future site of the Matterhorn, as well as the star formation to the left of the Moonliner; this is where the flags of each state were situated originally before they were moved to the Tomorrowland entrance.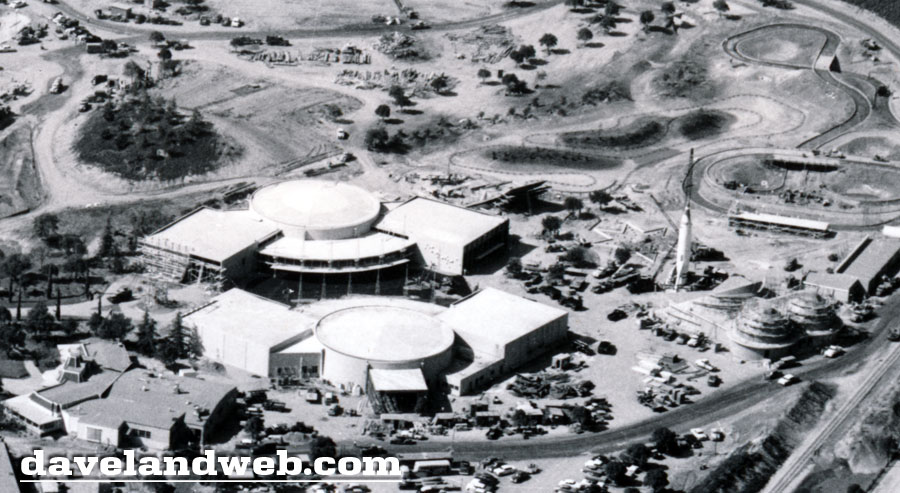 Fantasyland also has its share of work left to do. Snow Hill is on the right, an uncompleted Chicken of the Sea Pirate Ship Restaurant in the center, as well as a very raw Storybook Land attraction.
Nature's Wonderland is nowhere near being completed, and the town of Rainbow Ridge is but a pipe dream. The Bandstand has already been moved from Town Square to its second location near the castle (right side of the photo).
1 year to build Disneyland...almost two years to build Cars Land. Huh?
See more vintage & current Disneyland Aerial photos on my
Disneyland Aerial web page.