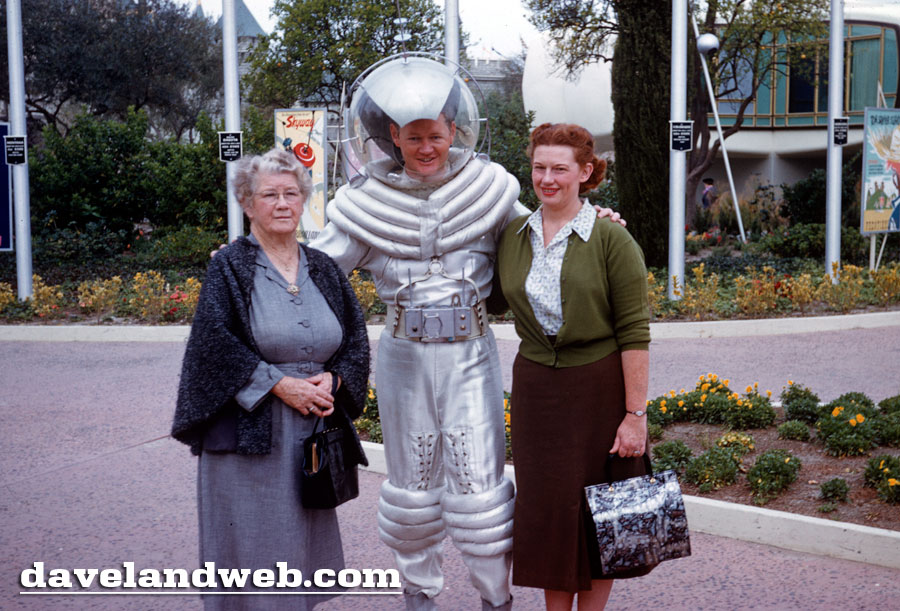 One image for today, but definitely a good one...plus a little bonus. This undated shot is from approximately 1957, and features the Tomorrowland Spaceman posing with two lovely ladies. Mama on the left looks a bit unsure about the Disneyland Spaceman, whereas her hip younger counterpart on the right is fully aware of the great potential and hope that space exploration will provide for the future! In the background are the Flags of the Nation, in their recently moved spot at the edge of Central Plaza & Tomorrowland. The Monsanto House of the Future can also be glimpsed behind the flags as well.
As a special treat, I provide you three short retro videos directed by Robert Dastoli. The first one, "Keep Watching the Skies!" is based on the Tomorrowland episodes of the Disneyland TV series (specifically Man in Space), showcasing artistic projections and live action dramatizations of a flying saucer invasion. Its design comes entirely from the early space race and cold war period. The film has already played at a few sci-fi film festivals.
This next Dastoli short, "The Day the President Moved Thanksgiving," was very much inspired by The Hall of Presidents, Great Moments with Mr. Lincoln, and the American Adventure.
Six years ago he also made a short film called "Southwestern Orange County vs. the Flying Saucers," which is about a flying saucer attack on an Orlando theme park. At the time Robert was living in Orlando and working in MuppetVision 3D at the then named Disney-MGM Studios. The film is a bit rough around the edges, but it is still worth a watch for any Disney theme park fan!
Hope you enjoyed today's post and Robert's videos. See more vintage & current Tomorrowland photos on my
Disneyland Tomorrowland web page.