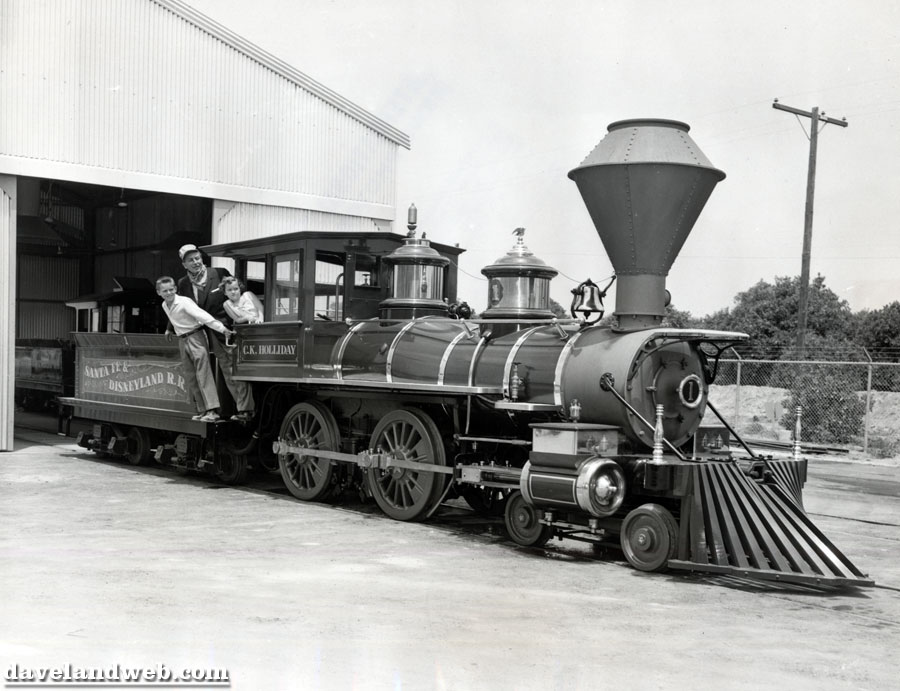 It took three years for me to complete this trio of publicity photos. The publicity blurb on the back described 3 images that were shot before the park were opened. It wasn't until recently that I was able to have access to all of them. Talk about patience! So today, I present to you the publicity blurb and photos that document two of the luckiest kids in the world, circa 1955. From the publicity blurb that accompanied these photos:
DISNEY-CONDUCTED PREVIEW OF DISNEYLAND, ANAHEIM, CAL.

TWO OF THE LUCKIEST YOUNGSTERS IN THE U.S. OF A., SYBIL STANTON, NINE, AND BILLY KRAUCH, 12, ARE SHOWN IN THESE PHOTOS AS THEY WERE GIVEN A PREVIEW OF THAT FABULOUS WONDERLAND, BUILT BY THE MASTER OF FANTASY, WALT DISNEY AT A COST OF $17,000,000 NEAR ANEHIM. NOT ONLY THAT, BUT THE CREATOR OF DISNEYLAND, WALT DISNEY HIMSELF, CONDUCTED THE TOUR. AT LEFT: DISNEY AND THE LUCKY BOY AND GIRL RIDE IN THE LOCOMOTIVE OF THE "DISNEYLAND RR."

THE ENGINE IS AN AUTHENTIC SCALE REPLICA OF THE OLD-TIME PUFFING BILLY.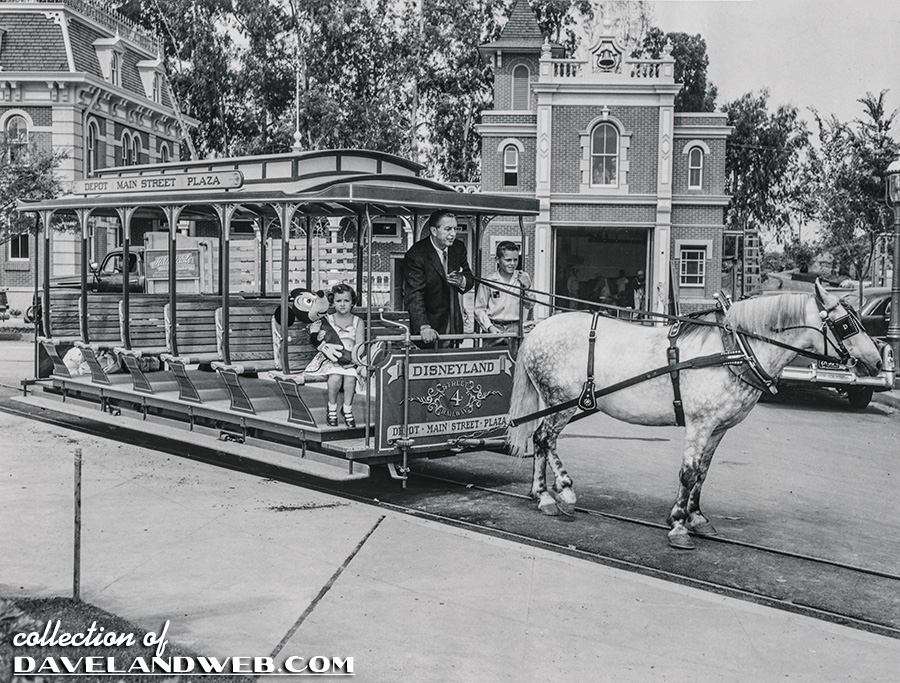 IN CENTER: THEY TAKE A JAUNT ON A HORSE-DRAWN STREETCAR THROUGH ONE OF THE MODEL STREETS OF THE WONDERLAND WITH DISNEY AT THE REINS.
You'd think little Sybil could at least muster a smile. I mean really...how many tots got the chance to take a tour of Disneyland with the master himself? C'mon Sybil...you even have a life-size Mickey Mouse to cuddle with. Just a teensy smile?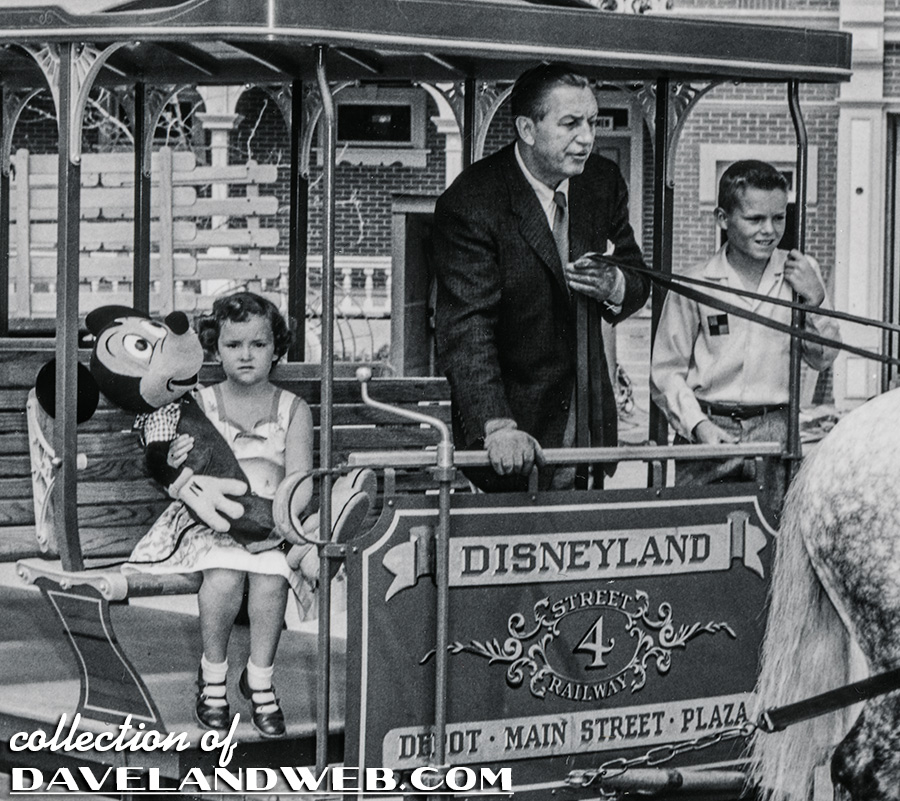 I felt the need to zoom and pan in on the truck lettering; anyone familiar with this company?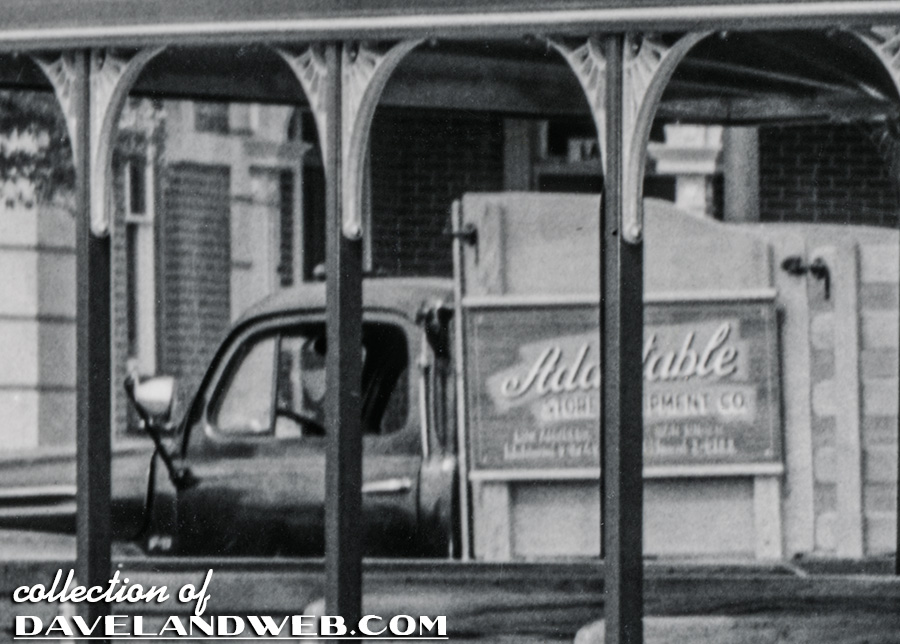 My favorite part of this photo shows workmen up in Walt's apartment, watching the proceedings below. You can also see an empty Firehouse and the workmen inside, rushing to meet their construction deadline. Note also that the Town Square gate is wide open.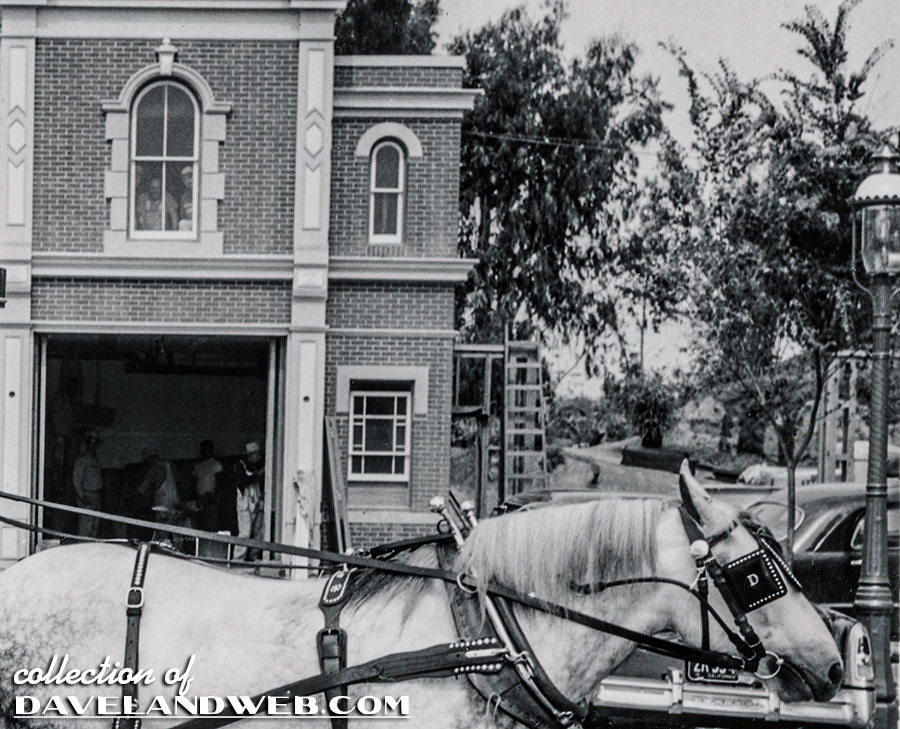 AND AT RIGHT: ANOTHER TYPE OF TRANSPORTATION - PACK MULES AND BURROS TAKE THE YOUNGSTERS AND THEIR FAMOUS GUIDE THROUGH A BIT OF DISNEYLAND. NOTE DISNEY'S FAVORITE CHARACTER, MICKEY MOUSE, ON THE STEED AT LEFT. DISNEYLAND WILL BE FORMALLY OPENED ON JULY 18. 7.11.55

This last photo seems the most staged to me; the stuffed Mickey on the horse just seems odd. I wonder how long it took to set this one up with cooperation from the Mules?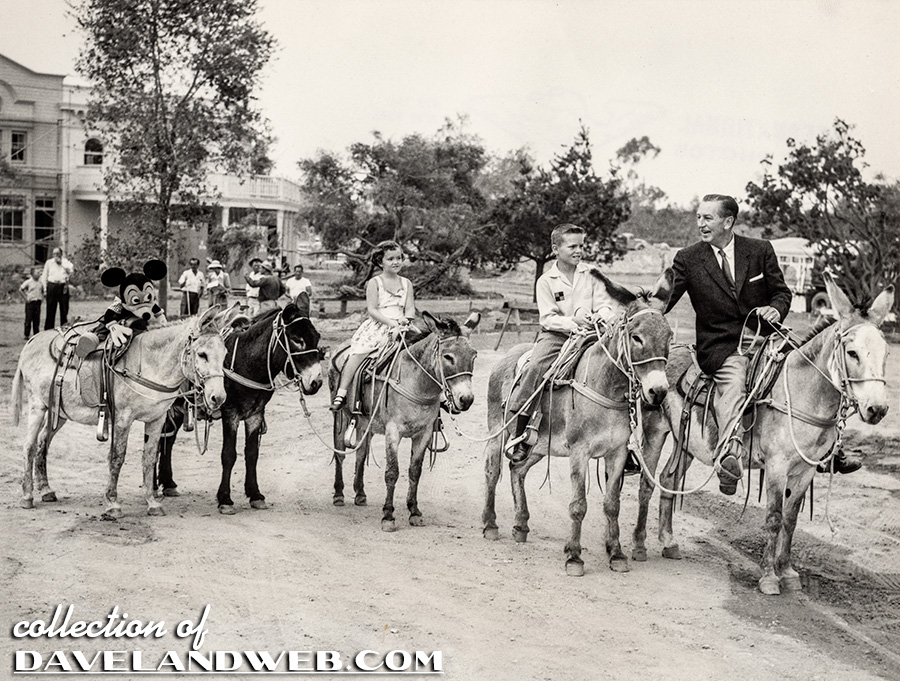 See more vintage & current Disneyland photos on my
Disneyland web pages.