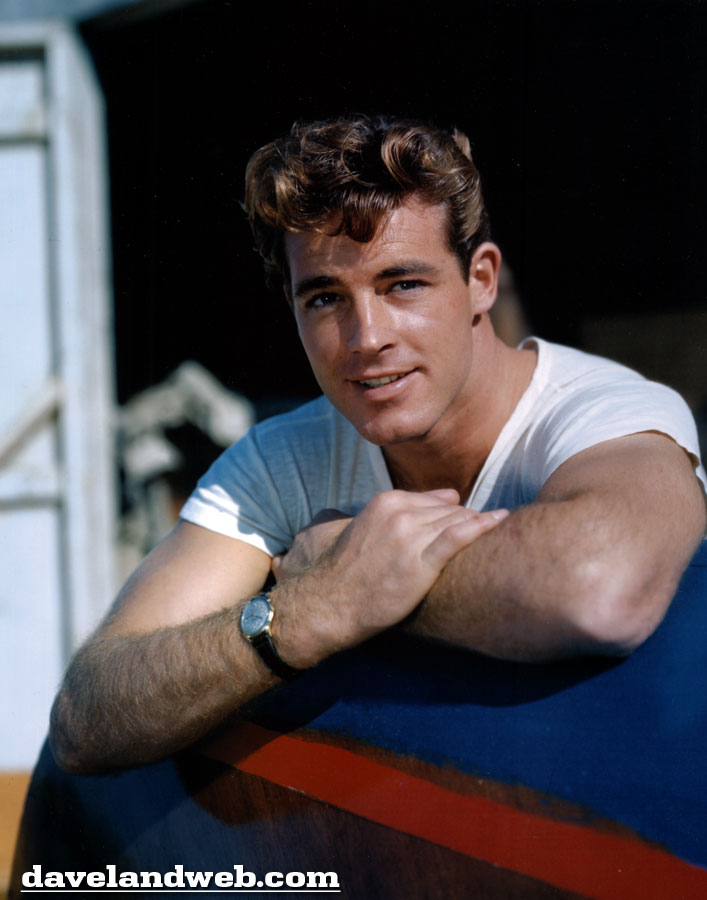 I am sure that in Hollywood, nobody knows who Robert Ozell Moseley was. However, the name Guy Madison might still bring back a few memories for movie fans of the 40's and 50's. Robert Moseley was just one of the many good-looking slightly-wooden acting gents represented by Hollywood Agent Henry Willson. Willson was the head of talent at David O. Selznick's newly formed Vanguard Pictures and is "credited" for renaming Roy Scherer (Rock Hudson), Arthur Kelm, (Tab Hunter), Merle Johnson, Jr. (Troy Donahue), Raymon Lee Cramton (Chad Everett), Orison Whipple Hungerford Jr. (Ty Hardin), and Francis McCown (Rory Calhoun).
Moseley was discovered by Willson in 1944 while he was on leave from the U.S. Coast Guard, visiting Hollywood. The renamed Guy Madison was given a bit part in Selznick's "Since You Went Away" and a deluge of fan mail hit the studio shortly thereafter, resulting in a contract with RKO Pictures. Here's Madison with Shirley Temple at a premiere.
This publicity still is from the 1946 movie, "Till The End of Time," starring (left to right) Guy Madison, Robert Mitchum, and Bill Williams.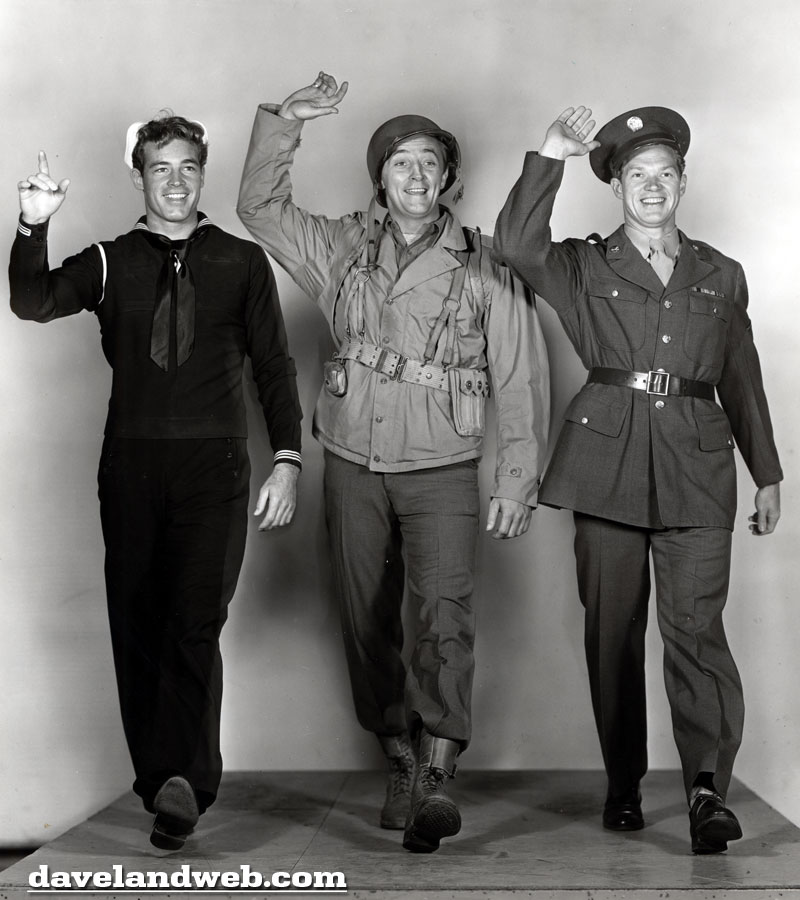 It is the tale of three former U.S. Marines and the difficulty they have readjusting to civilian life. This was Madison's second film and first starring role. Here you can see the mob scene in San Francisco with Guy Madison & Bill Williams getting some lovin' from their adoring fans.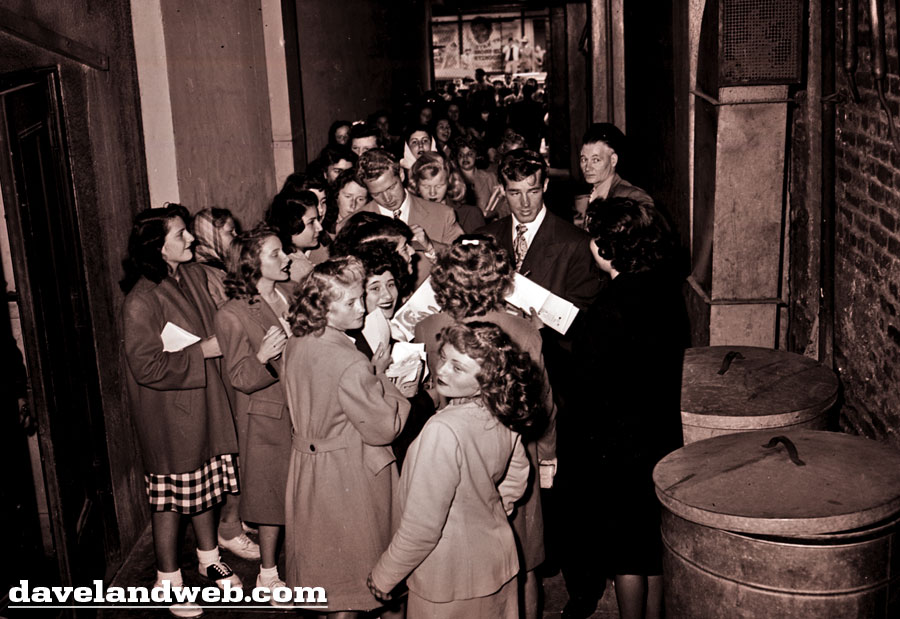 This rather odd photo, also taken in San Francisco, is most likely supposed to represent the two heartthrobs recovering from the mob scene. The shot does nothing to stop the rumors about Henry Willson and his stable of male stars.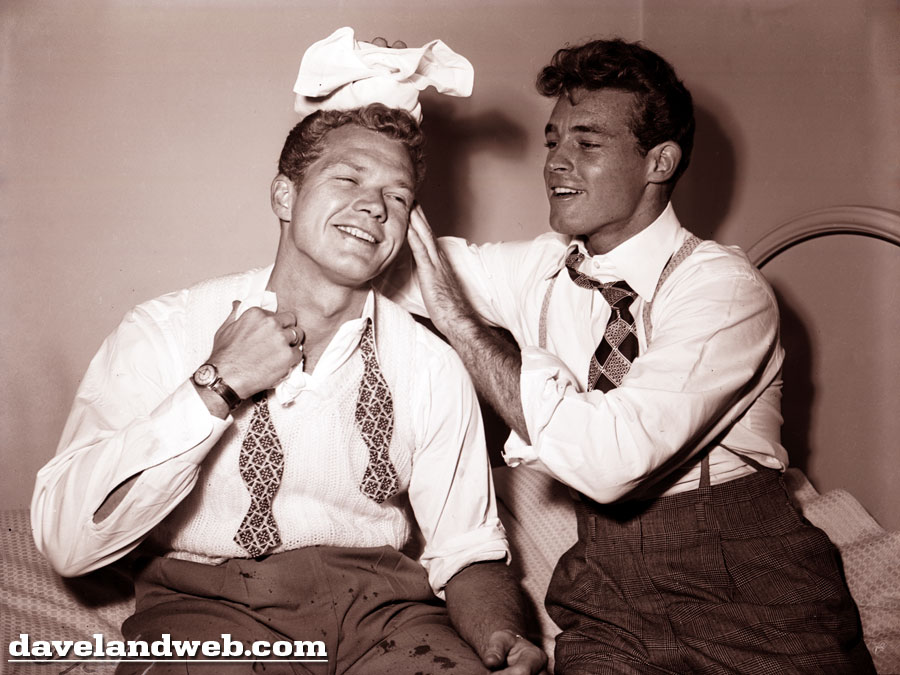 Despite a promising start, Madison's less-than-natural "acting" style hindered him from having a stellar movie career. He eventually achieved his 15 minutes of fame though by starring in the TV series "The Adventures of Wild Bill Hickok," which ran from 1951-1958.
Last one for today shows Guy Madison with costar Shirley Temple in the somewhat stale romantic comedy, "Honeymoon."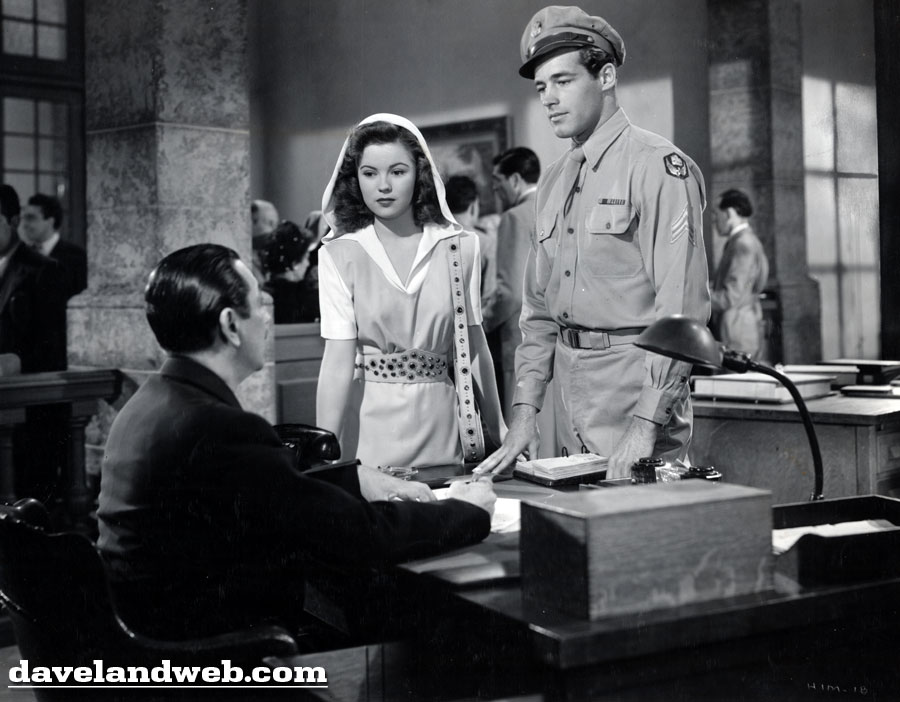 To see more Guy Madison photos, visit
my main website.