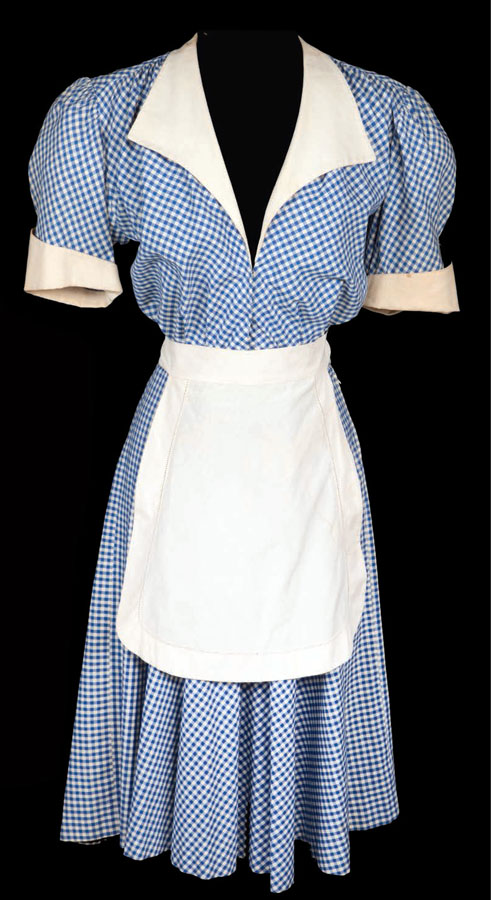 More from the amazing collection that Debbie Reynolds amassed over the last 30+ years. The first two costumes shown are from the Joan Crawford classic, "Mildred Pierce."
From the catalog:
Joan Crawford "Mildred" waitress uniform from Mildred Pierce. (Warner Bros., 1945) Blue and white checked gingham waitress uniform with ivory collar and cuffs, and simple cloth apron. Bears the internal label "WARNER BROS. PICTURES, INC./ A 18865-638" and "CRAWFORD. J." written in fountain pen on zipper lining. Gingham cleavage insert has been removed. Worn by Joan Crawford as "Mildred" in her first job to support her two girls after her divorce in Mildred Pierce.
$22,500.00 for a waitress uniform. Maybe I should have kept my shirt from Denny's!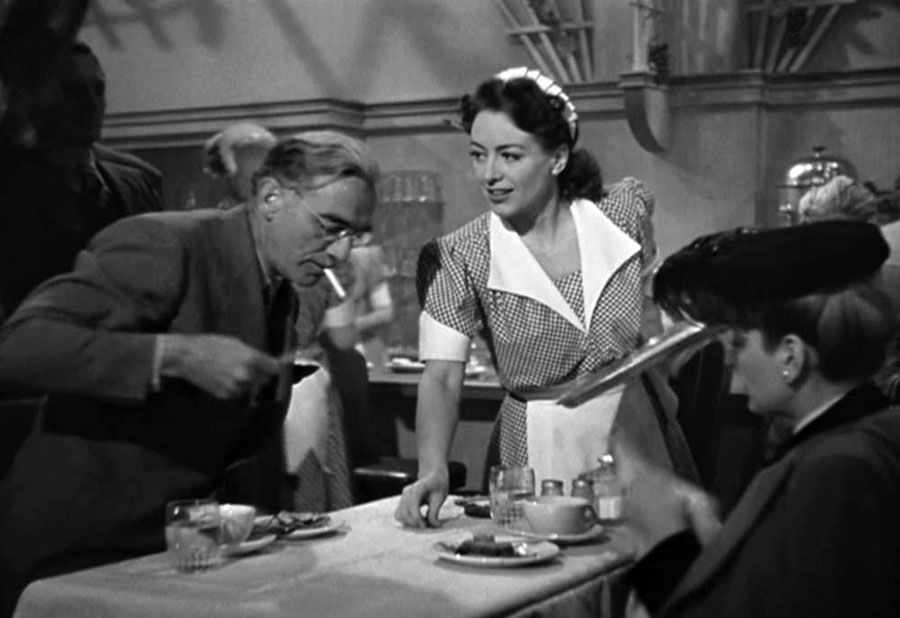 And that little snot of a daughter; Ann Blyth was chilling as Veda.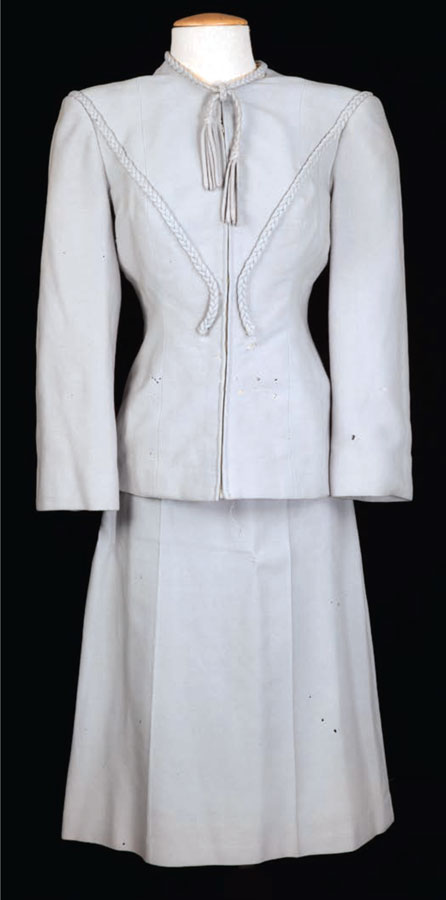 Ann Blyth "Veda Pierce" light grey two-piece suit from Mildred Pierce. (Warner Bros., 1945) Light grey wool two-piece suit with braided accents. Warner Bros. Pic. Inc. label handwritten "A 17209-405" in the jacket and "B 17209-405" plus cleaning tag N9530 IUF in skirt. Both pieces have holes and discoloration. Braiding around collar is detached. Worn by Ann Blyth as "Veda Pierce" in the scene where Mildred gives her a new car for her birthday in Mildred Pierce.
Shockingly enough, the little twit's costume went for more than her mother's: $5,000!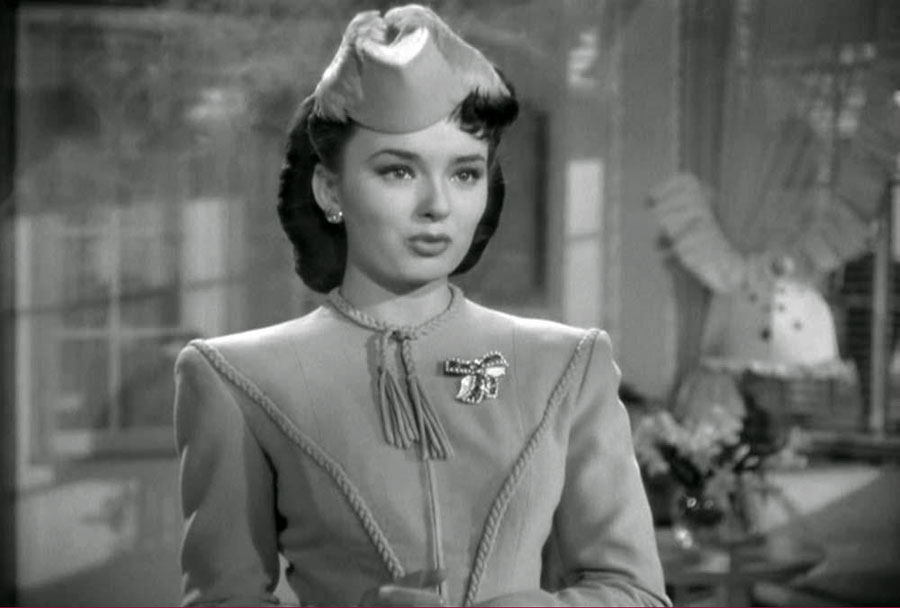 For lounging around the house, how about a Vivien Leigh worn "Streetcar Named Desire" robe?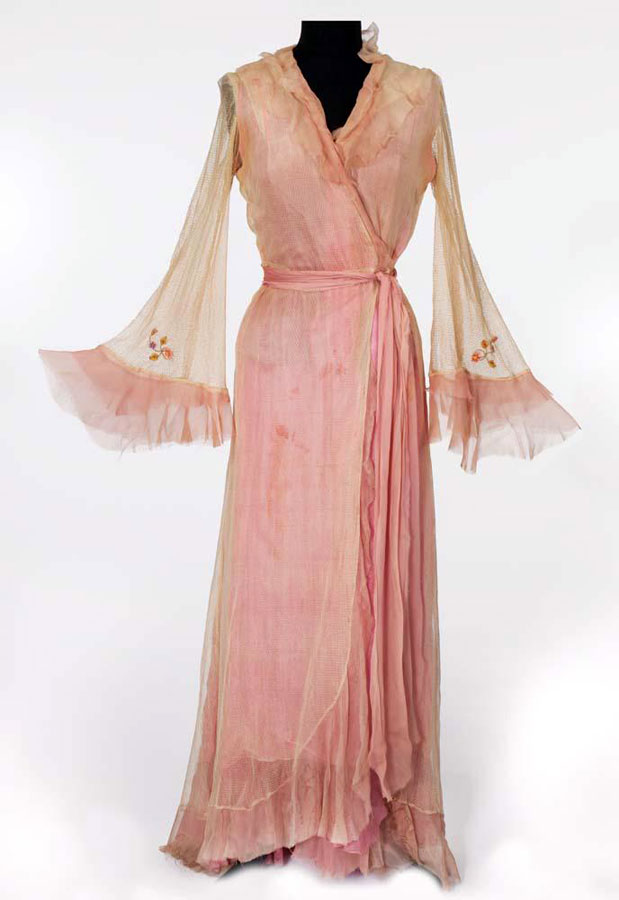 Vivien Leigh "Blanche DuBois" ivory and pink chiffon robe from A Streetcar Named Desire. (Warner Bros., 1951) Hot pink silk robe with delicate ivory lace covering, pale pink chiffon belt and trim on collar, cuffs and train. Silk floral accents at cuffs and parts of chiffon are missing. Very fragile condition overall. Worn by Vivien Leigh in her Academy Award-winning role as "Blanche DuBois" in the scene where Karl Malden confronts her and tells her he does not want to marry her in A Streetcar Named Desire.
Stained, damaged, and extremely fragile, it still sold for $18,000.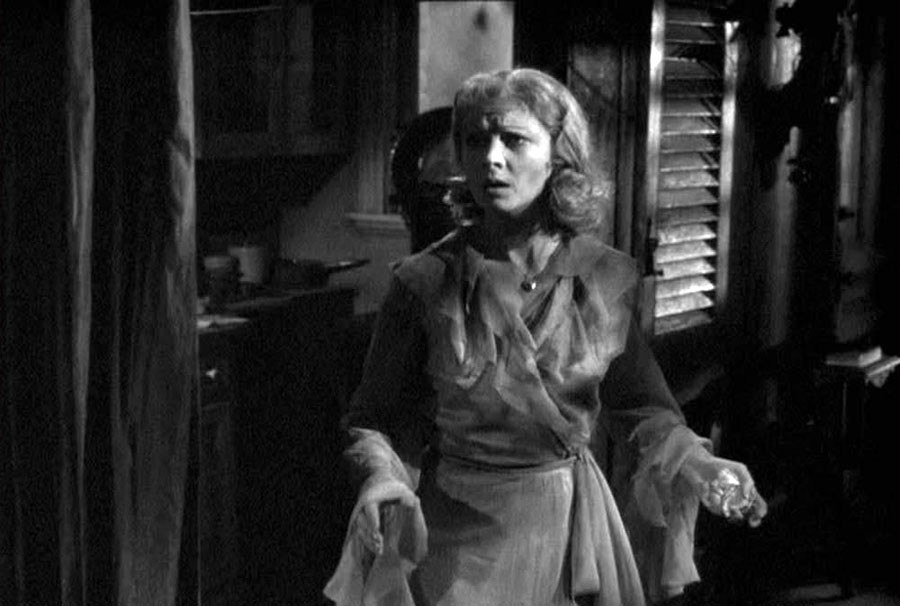 "I Love Lucy" is a classic BW TV show. If you want to see Lucy & Desi in living color though, MGM's "The Long, Long Trailer" is the one to watch!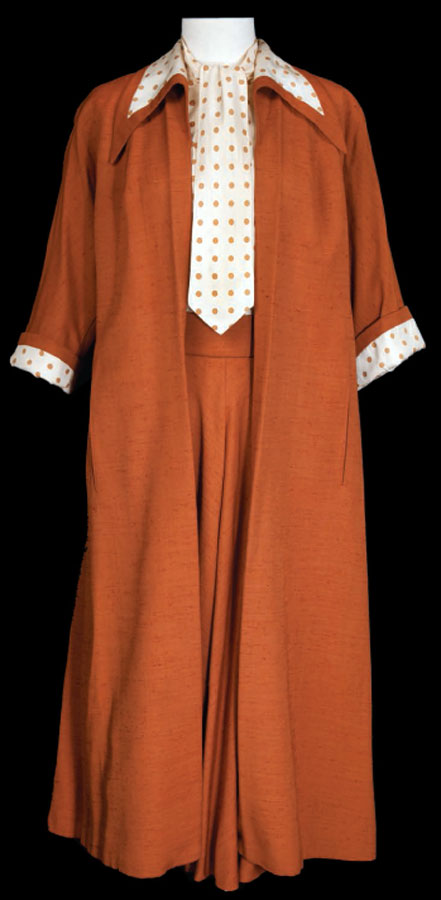 Lucille Ball "Tacy Bolton-Collini" Brown skirt, blouse and coat from The Long, Long Trailer. (MGM, 1953) Brown raw silk coat lined with ivory and brown silk polka dot material, matching short sleeve shirt with bow at neck and coordinating skirt. All three pieces have handwritten label "1632 3190 Lucille Ball." Worn by Lucille Ball as Tacy Bolton-Collini when she and Desi purchase their "home on wheels" in The Long, Long Trailer. A historic costume from Lucy and Desi's first feature film, worn at the height of their popularity.
One of Lucy's fans shelled out $16,000 for this one.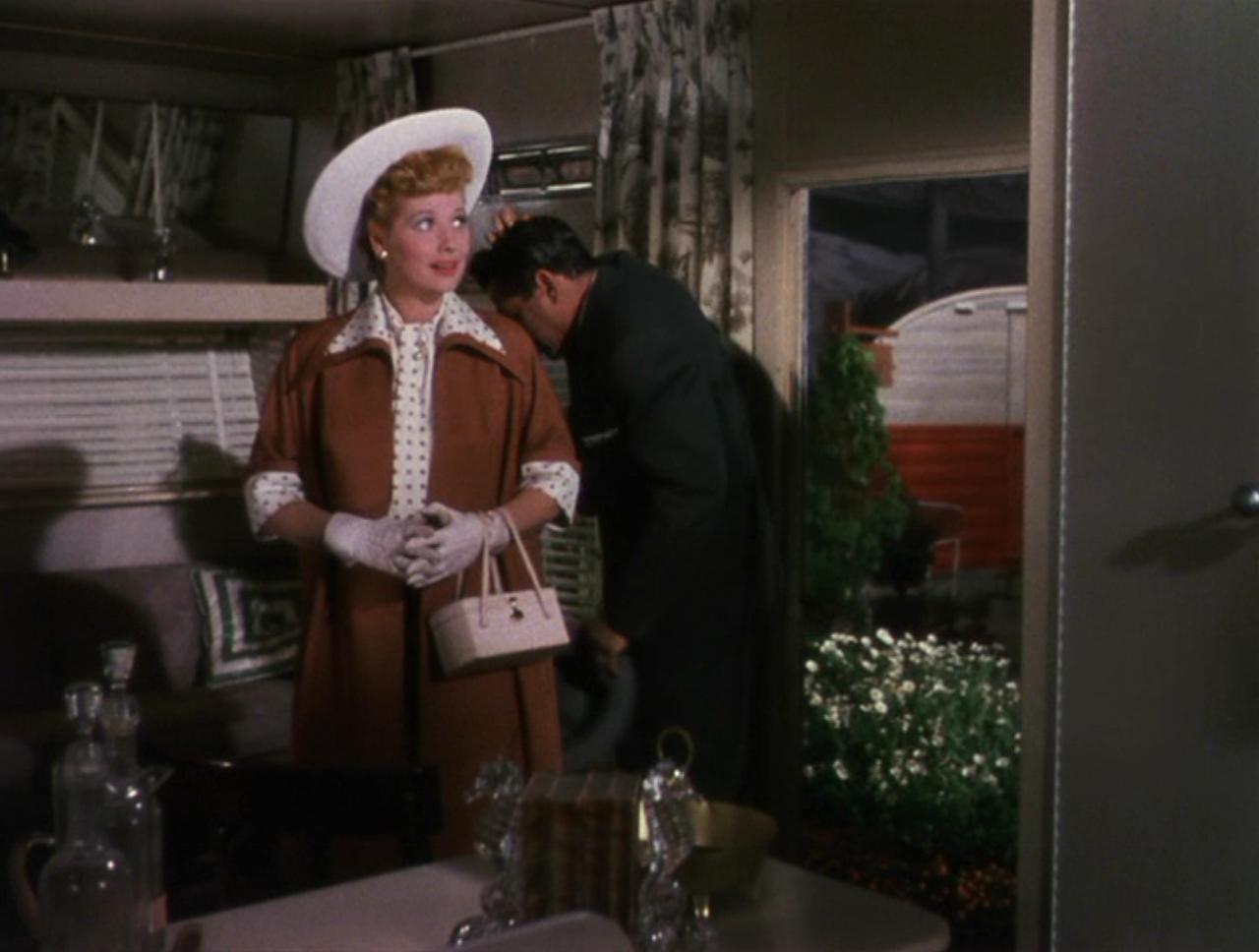 Although a little on the dark side, "Carousel" is one of my favorite musicals. Shirley Jones sang the haunting "If I Loved You" while wearing this plain frock: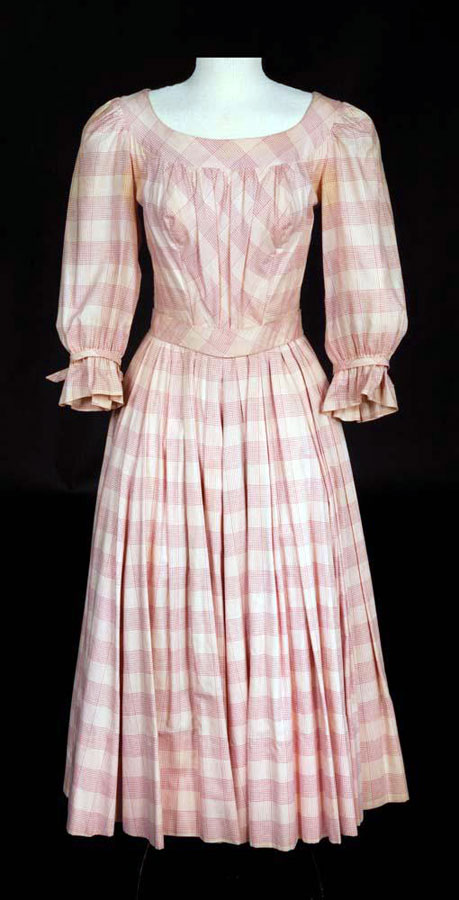 Shirley Jones "Julie Jordan" signature dress from "If I Loved You" number in Carousel. (20th Century-Fox, 1956) Signature outfit of a light and medium rose checked cotton two-piece dress with belt and back-lacing, worn by Shirley Jones as "Julie Jordan" for the "If I Loved You" musical number in Carousel. Internal 20th Century-Fox tag reads: "4-757-11/ Shirley Jones."
It sold for a respectable $4,500.00. Too bad Debbie didn't have a Shirley Partridge tux; bet that would have sold for a lot more!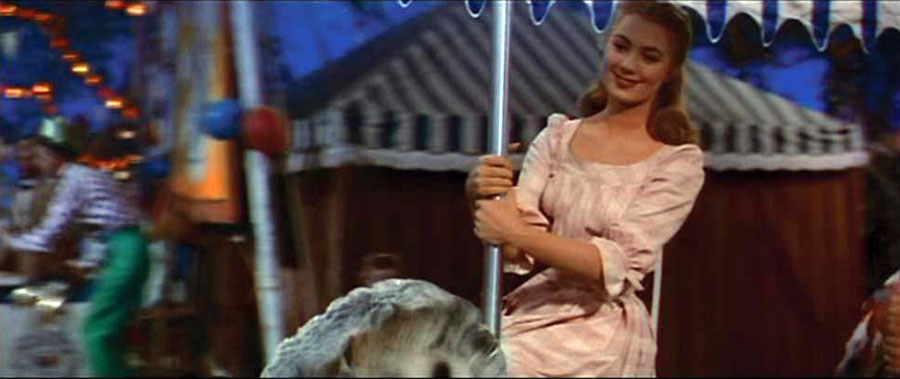 This costume from "My Fair Lady" is probably the most famous one from the film: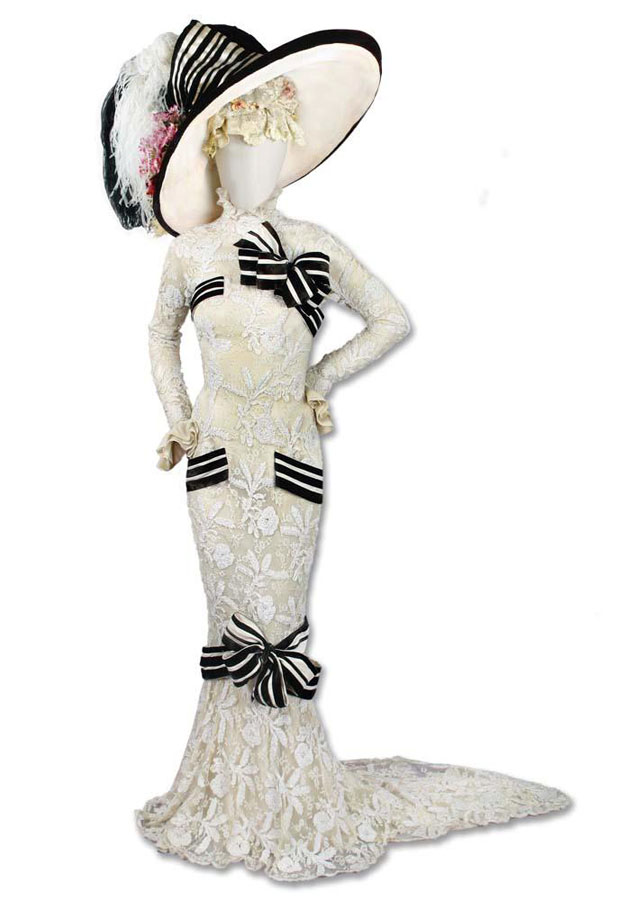 Audrey Hepburn's iconic Ascot dress from My Fair Lady – Designed by legendary costume designer Cecil Beaton. (Warner Bros., 1964) When George Cukor was selected to transform the successful Broadway play Pygmalion into a lavish silver-screen extravaganza, one of the most important personnel choices he faced was the costume designer. However, it soon became clear to him that there could be no other choice other than Cecil Beaton, who had designed all of the costumes for the stage version of the musical, and whose beautiful fashions had nearly out-shown Rex Harrison and Julie Andrews. A runaway success, the play garnered several awards, including a Tony for Beaton. He later remarked (somewhat tongue-in-cheek): "The success of the Pygmalion musical was beyond all expectation… It made success seem easy and now, when I am stopped on all sides to receive compliments, I wonder why it never happened before. It has not come too late, but I am perhaps a bit bitter that some of my friends in the theatre (if there is such an anomaly) did not spot my talent years before…" For the film version of the play, which became the most eagerly anticipated film since MGM's Gone With the Wind, Warner devoted significant financial resources. This presented an exciting opportunity for Beaton, whose love affair with turn-of-the-century fashion had germinated for over thirty years. He had written an article for Vogue in 1930 entitled "Ascots of the Past", and as one writer put it, had been preparing for such an Edwardian fantasy since childhood. As both the costume designer and art director for My Fair Lady, Beaton was responsible for both the costumes and sets – essentially the entire production sans acting and story. Perhaps the most challenging scene was the Ascot race, which required an enormous, custom-fabricated set along with extraordinary formal attire deserving of Eliza's first appearance in public. For the set, Beaton based the Ascot grounds on a tent designed for the film Anna Karenina, and a marquee decorated for a 1959 society ball. The costumes were another matter entirely. The four hundred women in the scene each required magnificent gowns designed for them individually. For this, Beaton consulted his mother on her own early wardrobe and asked his friend Diana Cooper what her mother, the Duchess of Rutland, had worn for Ascot. She replied, "Certainly cream, a straw hat trimmed, of course, by herself with little bits of bird's breast and/or ribbon in dirty pink; wide-ish brimmed and fairly shallow, and the Sarah Bernhardt fringe in front. Good beige gloves. Very high heeled shoes she hoped didn't show. Parasol, of course!" For his film designs, Beaton took these eyewitness accounts and infused them with the historical description of the famous Black Ascot of 1910, the first Ascot racing season after the death of King Edward VII. At this somber event, society dressed from head to foot in black mourning clothes, styled in the Ascot fashion of the day. Beaton made some key departures from the historical and idealized Ascot fashions, and arrived with a wonderful cinematic spectacle intended solely for the camera. Audrey Hepburn's dress is certainly one of the most impressive examples of Edwardian finery ever stitched. It is constructed of a silk linen undergarment with back zipper closure, overlaid with fine lace which is hand-embroidered in a delicate flower motif. The dress is trimmed in black velvet striped ribbon, with a large bow at the left breast. Inside the left cuff, a bias label is written in blue ink (which has faded over time), "814 10-4 W. Bros." The large picture hat is constructed of a lightweight cotton burlap, trimmed in black velvet with white and black ostrich feathers on one side, as well as a small sprig of faux lavender pansies attached to the crown. Finishing the ensemble is the obligatory white parasol of matching lace fabric. According to one biographer, "My Fair Lady represents Beaton's masterpiece, the apotheosis of his whole personality, of all he had ever hoped for. 'There is no formula for success,' he once said, 'the element of the unknown is always present to make or mar your effects; but when all the elements fuse and an entity is created, then all the heartburns seem to have been worth while.' Costume design should be 'at its finest an opulent cornucopia showering the spectator with golden illusions not to be found at home.'" And to audiences around the world, indeed it was. My Fair Lady garnered eight Academy Awards, including Best Picture, Best Costume Design, and Best Art Direction/Set Decoration, the last two of which were conferred upon Beaton. This gorgeous gown, which is featured in nearly every image associated with the film, is considered to be Cecil Beaton's magnum opus. Worn by the lovely Audrey Hepburn in the most memorable scene of the film, it is without question one of the finest screen-worn garments ever made.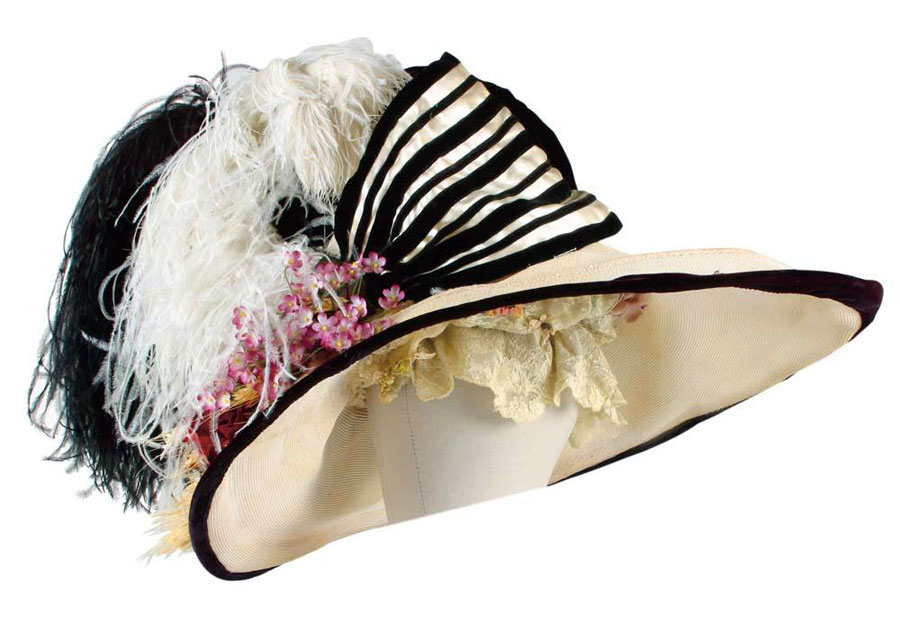 Not surprisingly, this Cecil Beaton design went for a cool $3,700,000.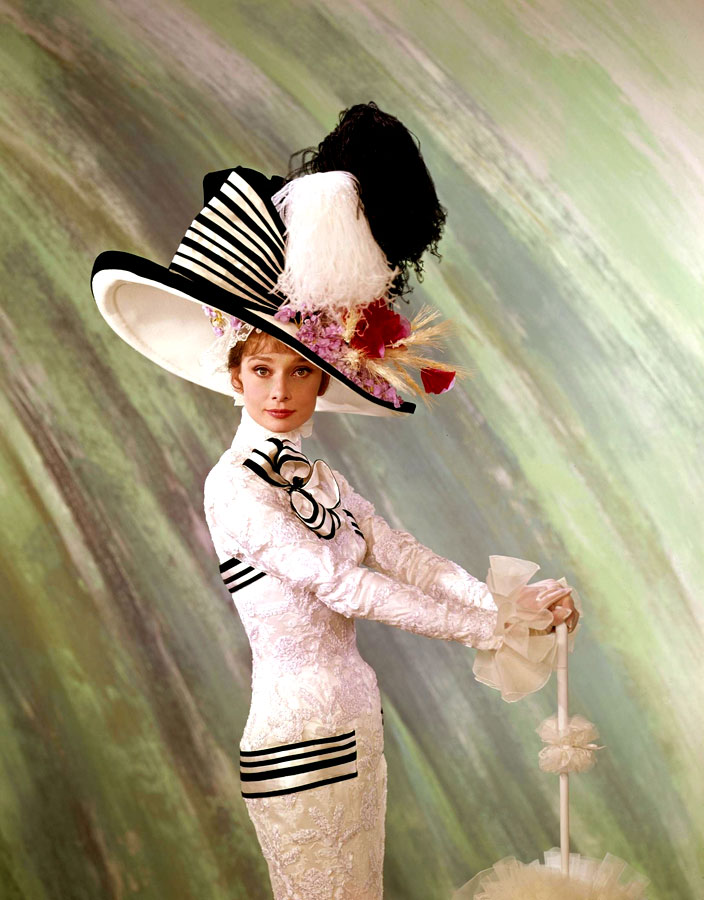 "The Sound of Music" is known as one of the most beloved films of all time. Here's an original poster from the film's initial release in 1966.
The Sound of Music original roadshow U.S. three-sheet poster. (TCF, 1965) Linen-backed original 41" x 84" U.S. special "roadshow" three-sheet poster for the premiere reserved-seat run of the Julie Andrews musical. Very Fine to Near Mint with a minimum of retouching.
It sold for $6,000. I hope that includes a frame!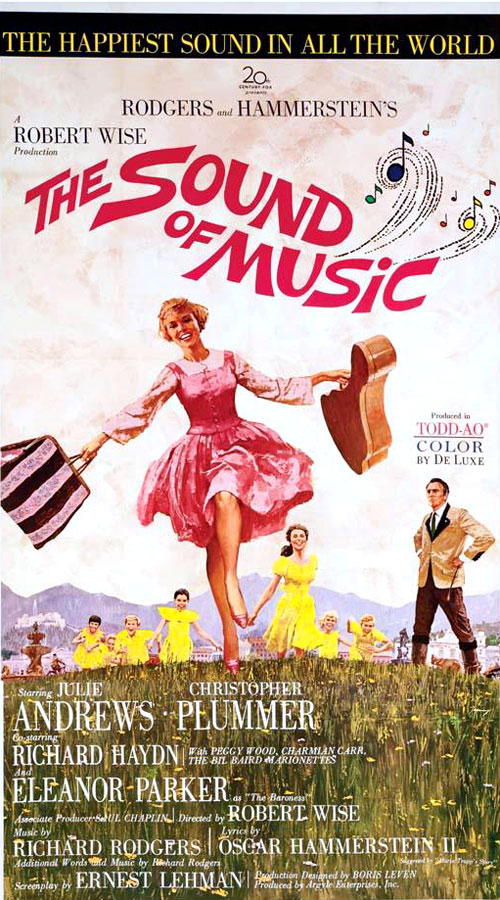 Who could forget Julie Andrews as Maria taking a set of curtains and turning them into playclothes?
Pair of Trapp family children's "drapery" costumes from The Sound of Music. (TCF, 1965) Frustrated by the rigid rules and conditions imposed by her employer Capt. Von Trapp concerning the care of his children, Julie Andrews as "Maria" in The Sound of Music takes it upon herself to liven up their lives by fashioning these bright and fun uniforms for them from the draperies in her room. The jumper top and shorts were worn by Debbie Turner as "Marta" and is marked so in both pieces with TCF label; the bib overall with polo shirt was worn by Kym Karath as "Gretl" and is marked so in the overall; (polo shirt is presumed screen worn, and is vintage Saks Fifth Ave.)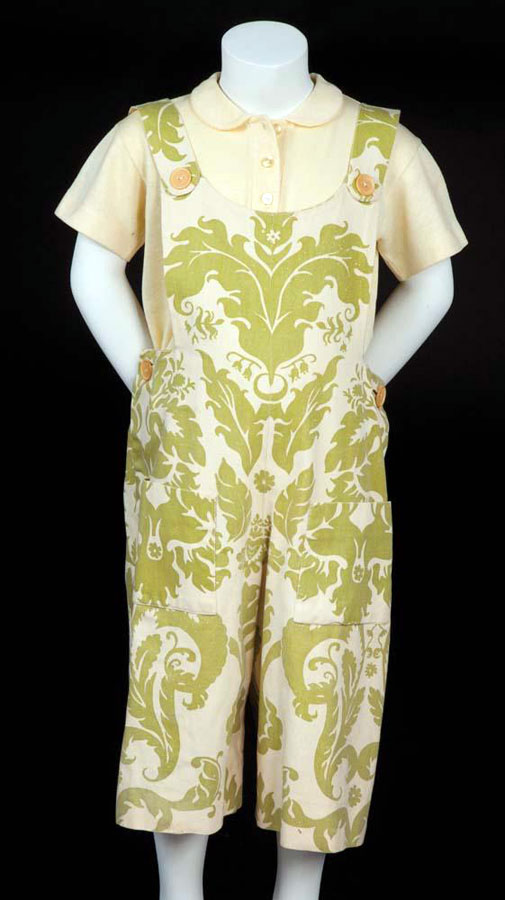 $35,000 was the final price for these two; not bad for window coverings!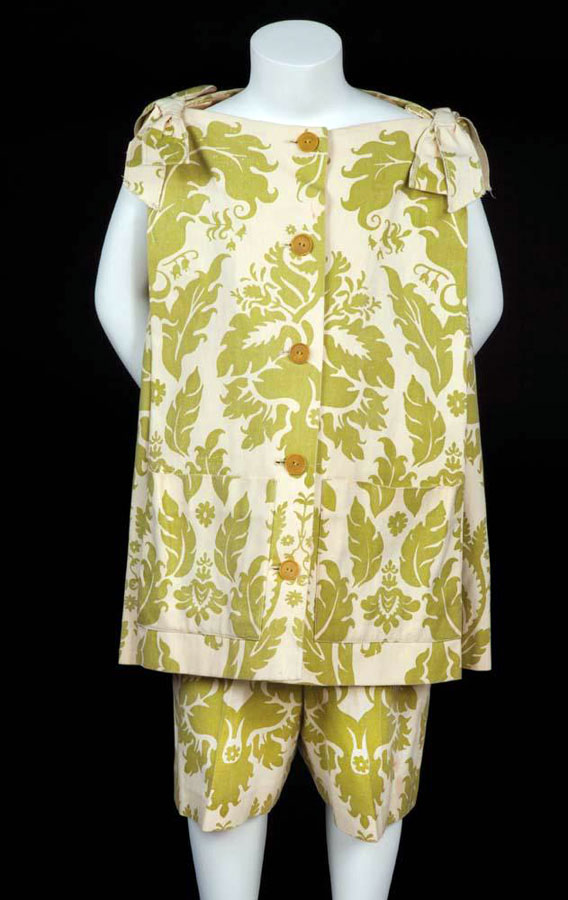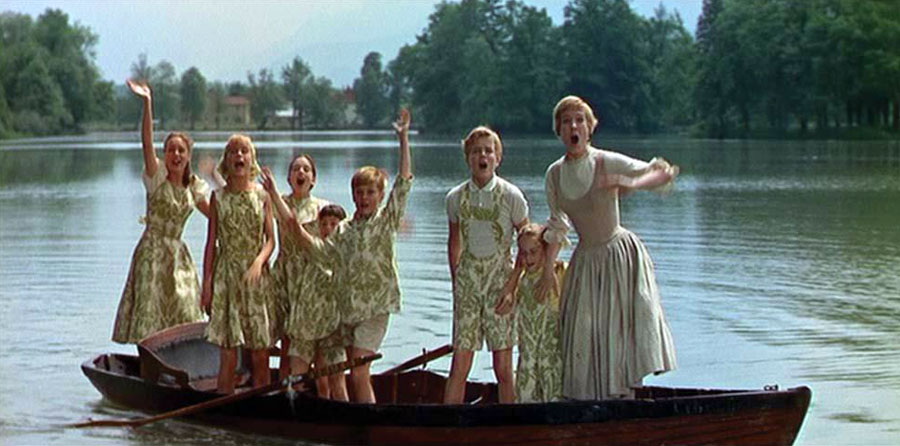 When Maria decides she must "climb every mountain" and return to the Von Trapps, she wears this little number.
Julie Andrews "Maria" turquoise and green dress from Sound of Music. (TCF, 1965) Turquoise and green cotton leaf pattered dress with leather trim on collar, cuffs and belt. 20th Century Fox label handwritten "2- Double 909-24 J. Andrews." Belt has 20th Century Fox label handwritten "Double Chg-24." Worn by Julie Andrews as "Maria" when she returns to the Von Trapp's after running away to the Abbey along with a reprise of the song "My Favorite things" in The Sound of Music.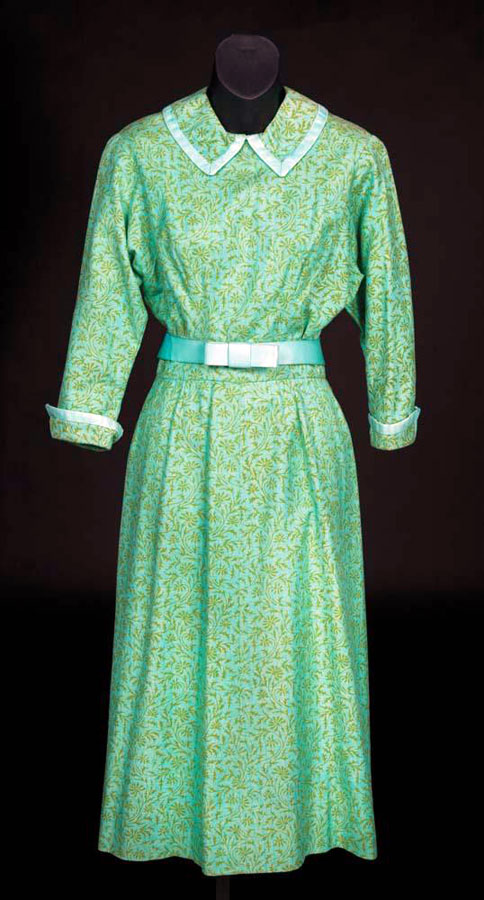 $45,000 for this one; no wonder the Baroness was jealous of her!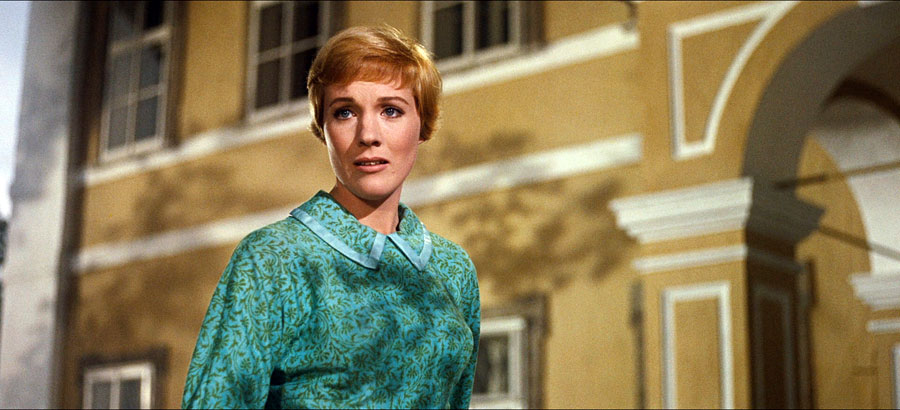 This little peasant dress got quite a bit of screen time.
Julie Andrews "Maria" peasant dress from Sound of Music. (TCF, 1965) Heavy ecru cotton dress with light blue pattern on skirt and tan vest. 20th Century Fox label "F1". Worn by Julie Andrews as "Maria" in the musical number "Do-Re-Mi" number and when the boat flips over in The Sound of Music.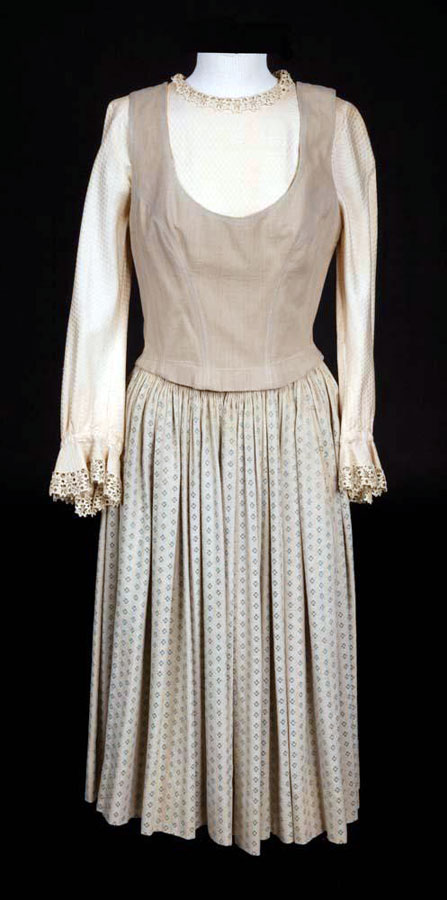 $42,500 was the final bid on that one.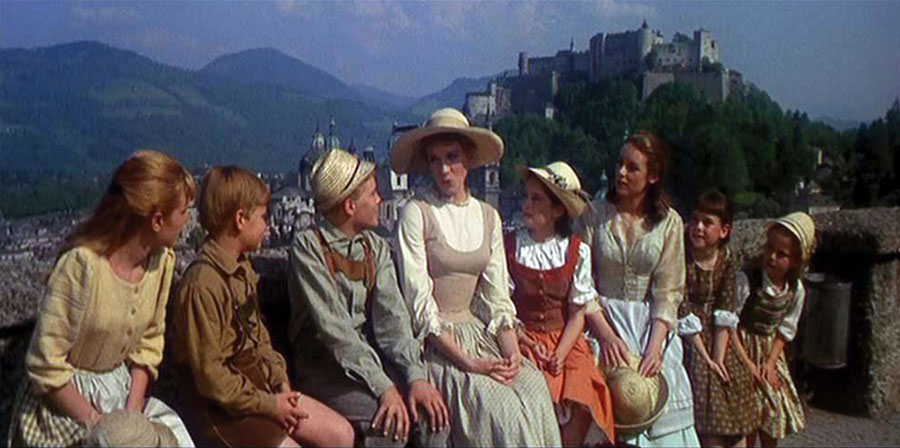 It doesn't matter that the Captain didn't care for Maria's clothes; this ratty old thing sold for $550,000.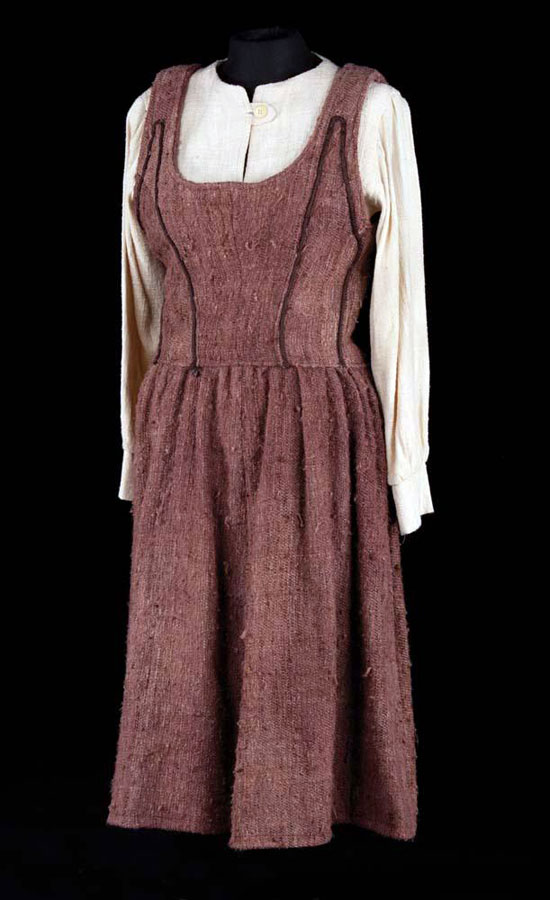 Julie Andrews "Maria" red-brown nubby jumper with white blouse from "Do-Re-Mi" number from The Sound of Music. (TCF, 1965) Red-brown nubby jumper with ivory raw linen blouse. No label. Worn by Julie Andrews as Maria when she signs Do-Re-Mi in Sound of Music.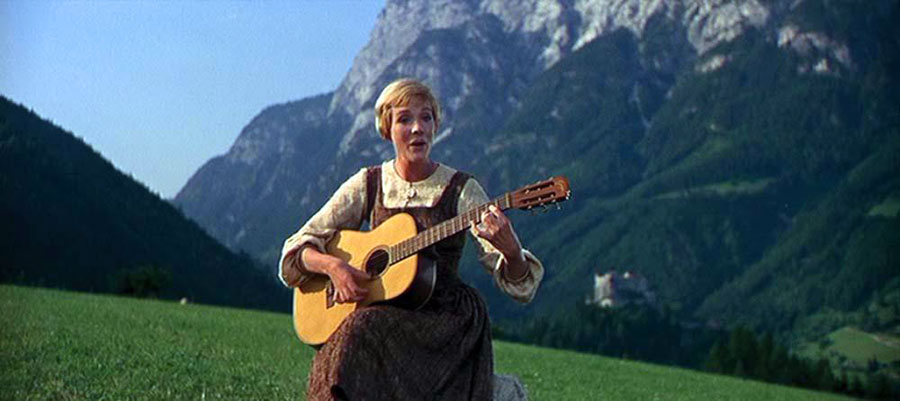 If you REALLY want to be a good Maria at Halloween, then you MUST have her guitar. At only $140,000, it's quite a bargain.
Julie Andrews "Maria" acoustic guitar, autographed by Andrews, from The Sound of Music. (TCF, 1965) Goya acoustic guitar serial number 1 70025. Autographed by Julie Andrews. Case is velvet lined and once owned by Stan Freberg. Used by Julie Andrews as Maria in Sound of Music.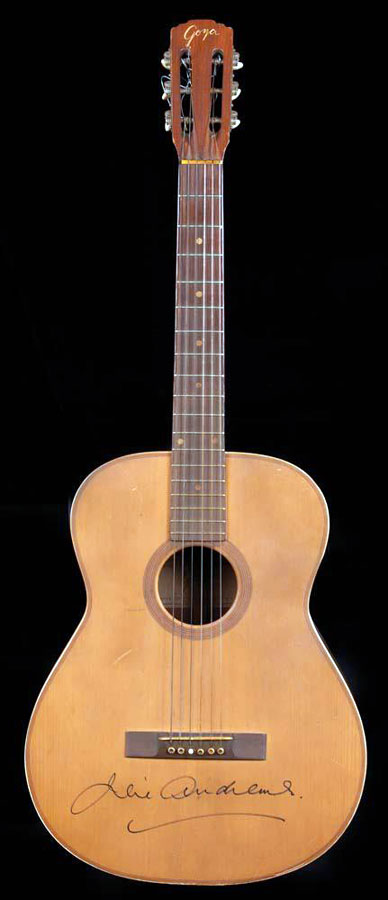 Even though Janet Leigh's "singing" leaves a bit to be desired, I still enjoy "Bye Bye Birdie." Sadly, this racy little number didn't sell.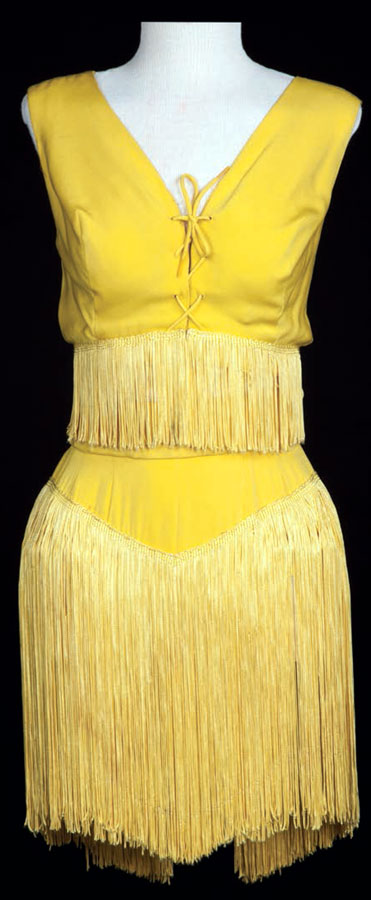 Janet Leigh "Rosie DeLeon" two-piece fringed goldenrod "cooch dance" costume from Bye Bye Birdie. (Columbia, 1963) To bring boyfriend Dick Van Dyke's attention back to her previously subdued sex appeal, Janet Leigh as "Rosie DeLeon" wears this skimpy and rather revealing two-piece goldenrod yellow, long-fringed halter and brief for a most remarkable "cooch" dance. Easily one of the most enticing costumes Miss Leigh was privileged to wear in her long and impressive career. Halter bears internal Columbia Pictures label marked "Janet Leigh #4" and brief is merely hand-marked "#2."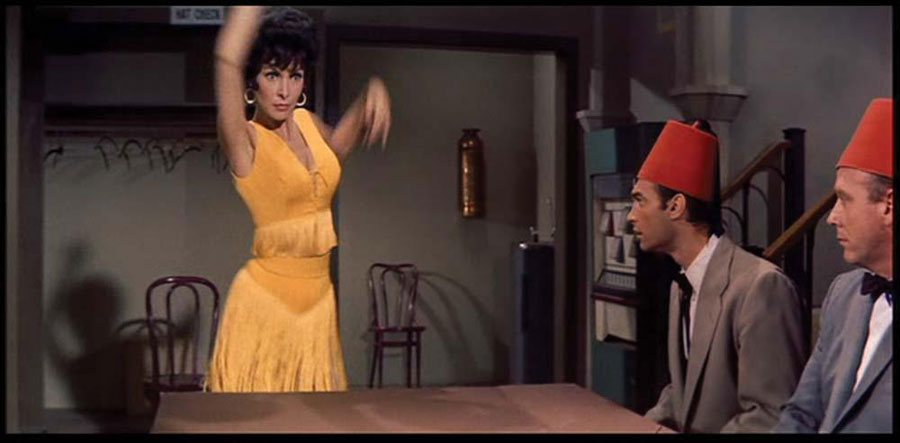 Conrad Birdie's robe DID sell; for $1,800.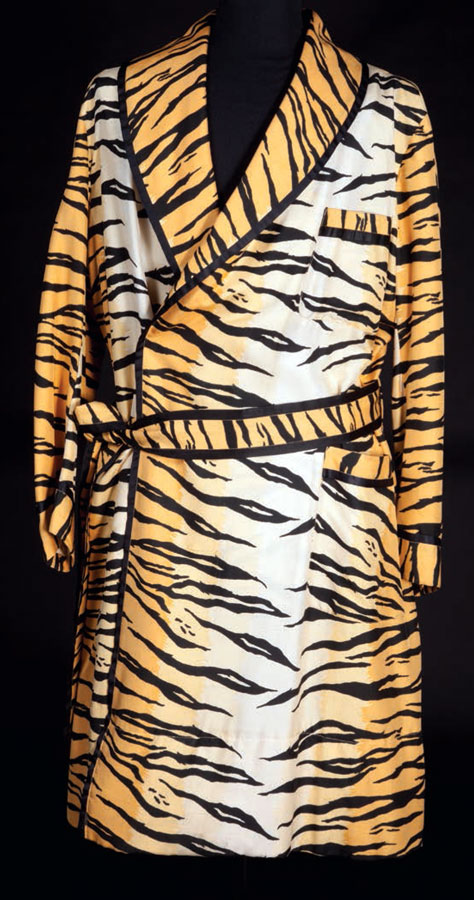 Jesse Pearson "Conrad Birdie" tiger-striped dressing robe from Bye Bye Birdie. (Columbia, 1963) Worn by Jesse Pearson in the title role as the flamboyant and charismatic rock and roll star being drafted into the army, based very closely (from a humorous perspective) on the reaction of hundreds of thousands of teenage female fans to the induction of Elvis Presley a few years before. With two identical matching belts, and Internal label "Machim Shirtmakers", Columbia Studio cleaning tag, and elaborate embroidery in chest pocket "Birdie", though layered over for final screen use.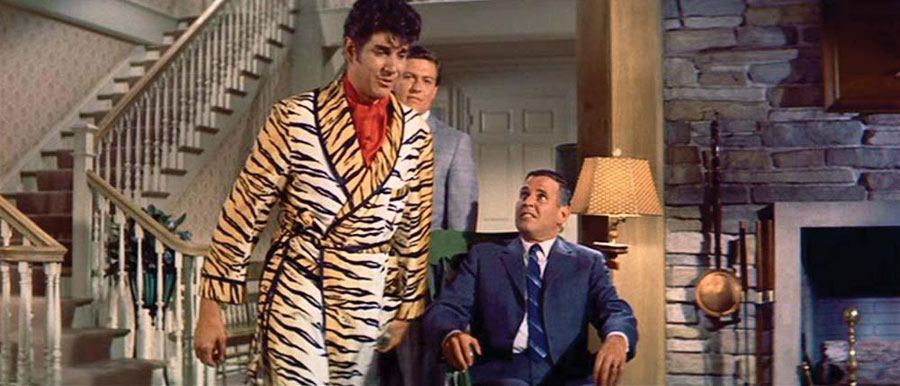 Last one for today is Tom Hanks' white tux from "Big." I loved watching him spit out the caviar at the big shindig while Elizabeth Perkins attempts to talk biz with him. Surprisingly, it sold for a mere $12,000.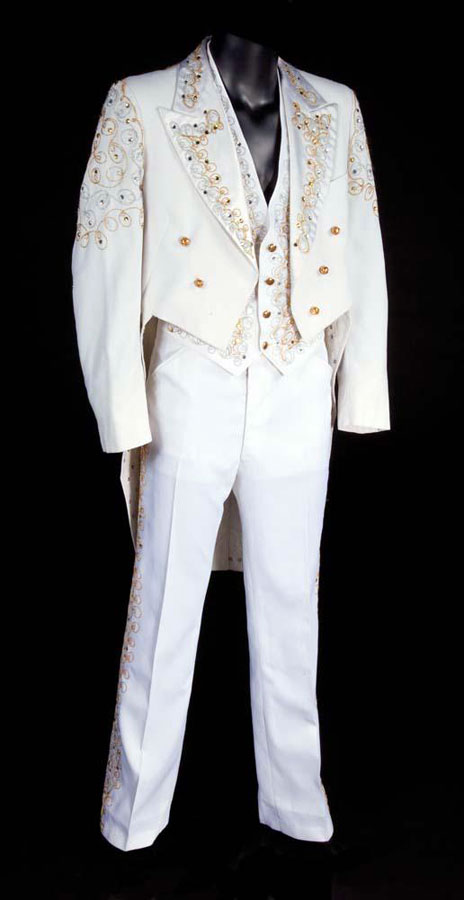 Tom Hanks "Josh Baskin" white tuxedo from Big. (TCF, 1988) Ivory polyester tail coat with gold and silver embellishments, matching pants and vest. After Six Tuxedo Center label. Handwritten "WWC #12 Suit 3 pc." Worn by Tom Hanks as "Josh Baskin" at the office party in Big.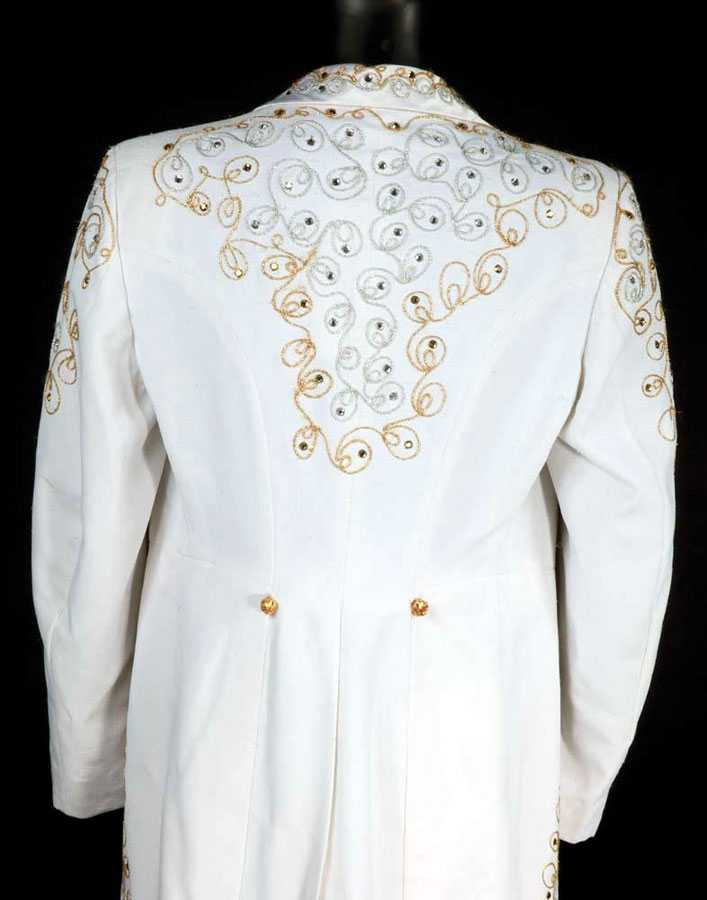 What an entrance!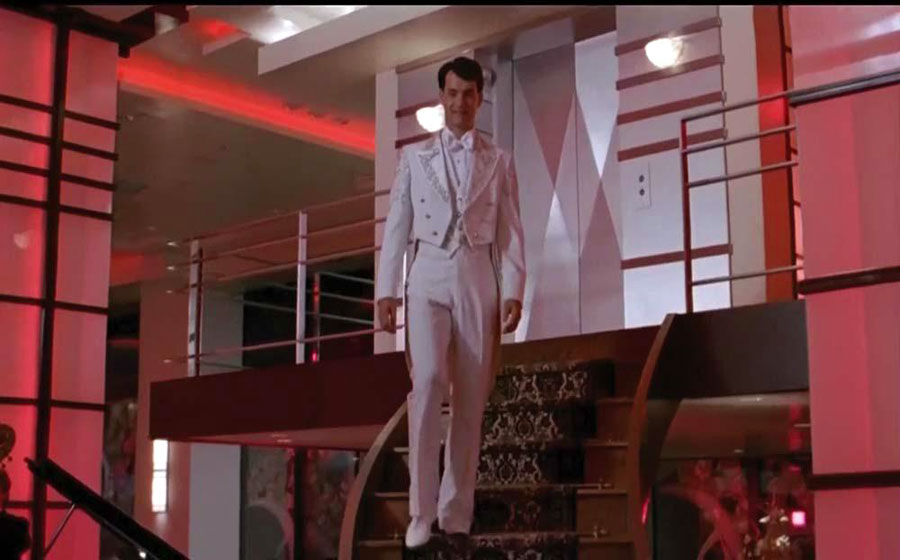 Hope you're not bored yet; there's still more to come! To see more classic Hollywood photos, visit
my main website.