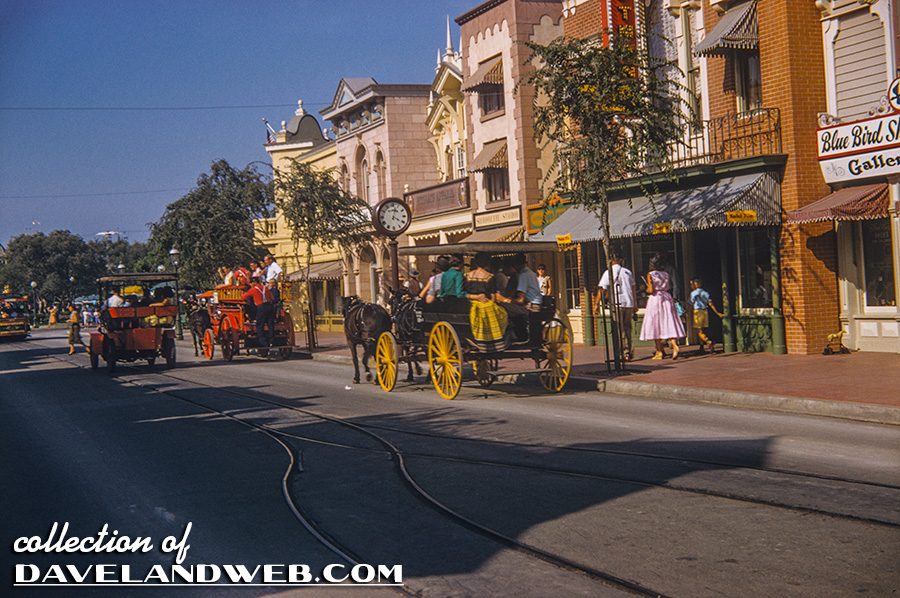 For those of you sick of Main Street U.S.A., my Time Machine stroll down that fabled chunk of pavement is almost over. This 1956 photo gives you a nice view of the next section of MSU that we'll be visiting. Zooming in, you can see Intimate Apparel, The Silhouette Studio, Timex, and The Kodak Shop, with the short-lived Gallenkamp Blue Bird Shoes off to the right.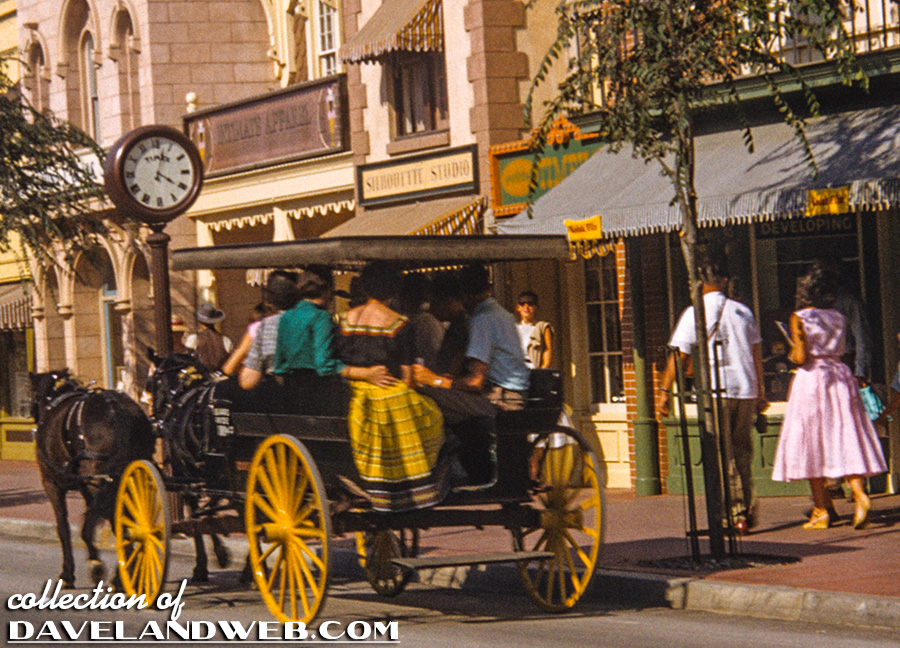 From August 1956 comes this similar view, with an improved angle: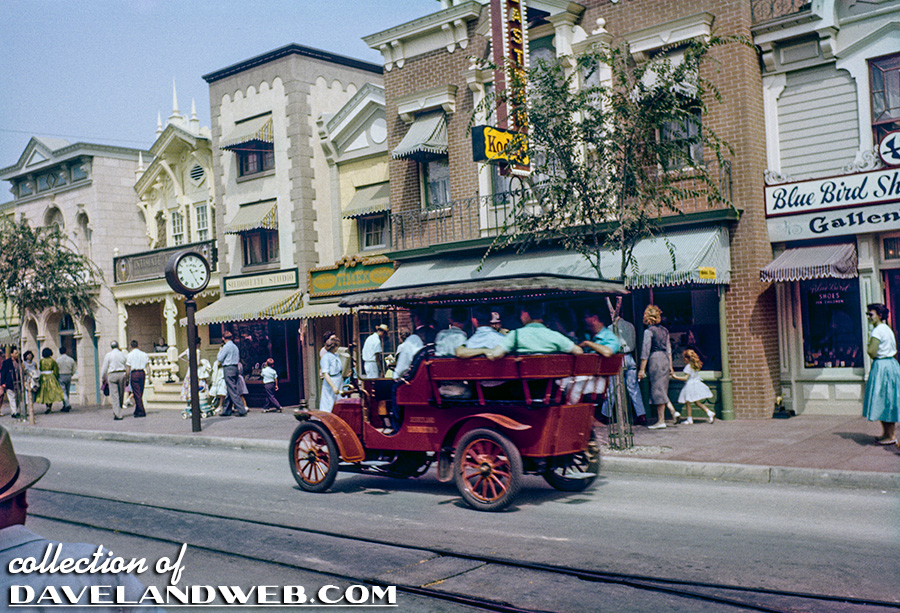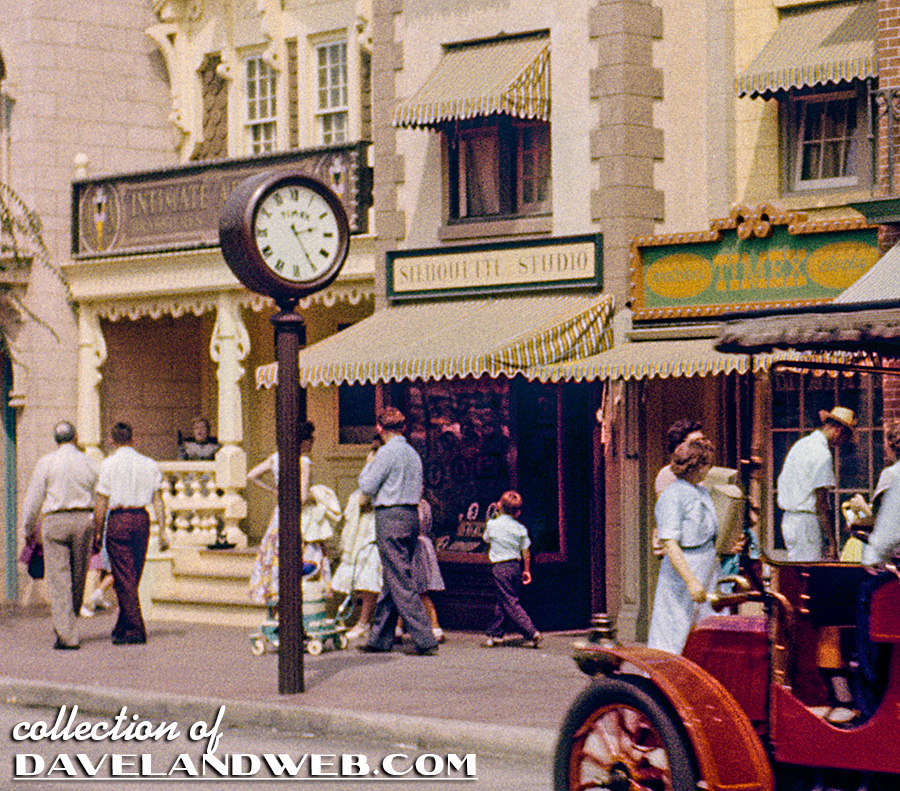 This rare 1955 image shows part of the exhibit inside the Kodak Shop: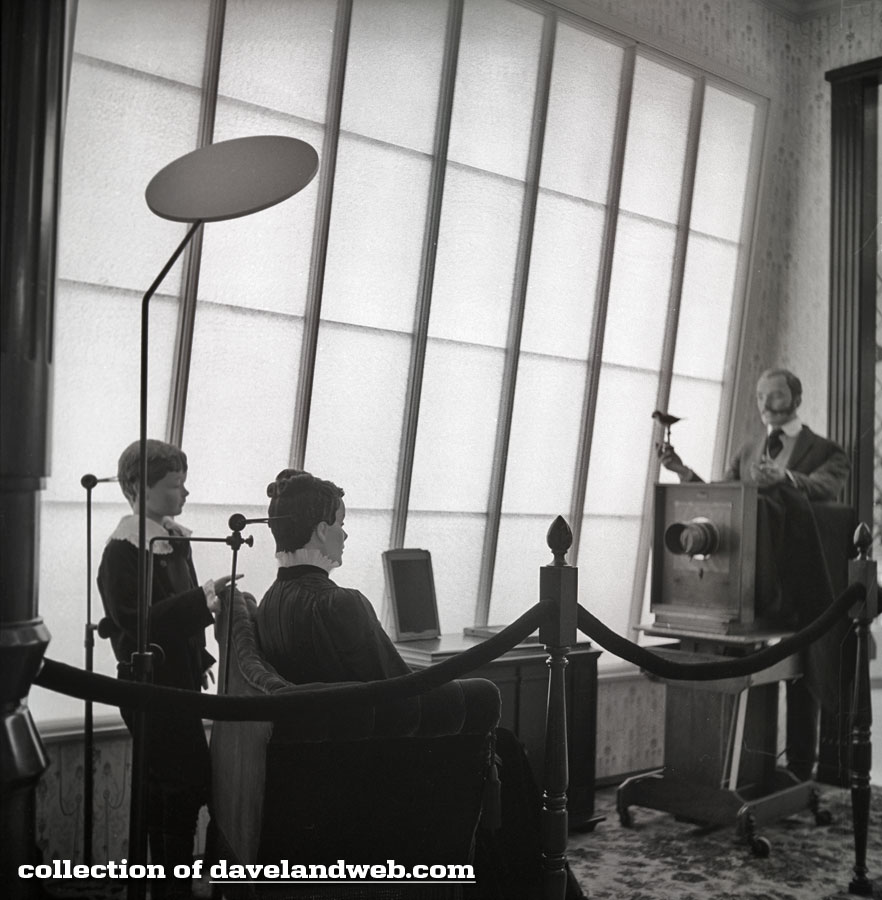 Outside, a Keystone Kop checks the time; looks like this Frontierland Cast Member is out of place.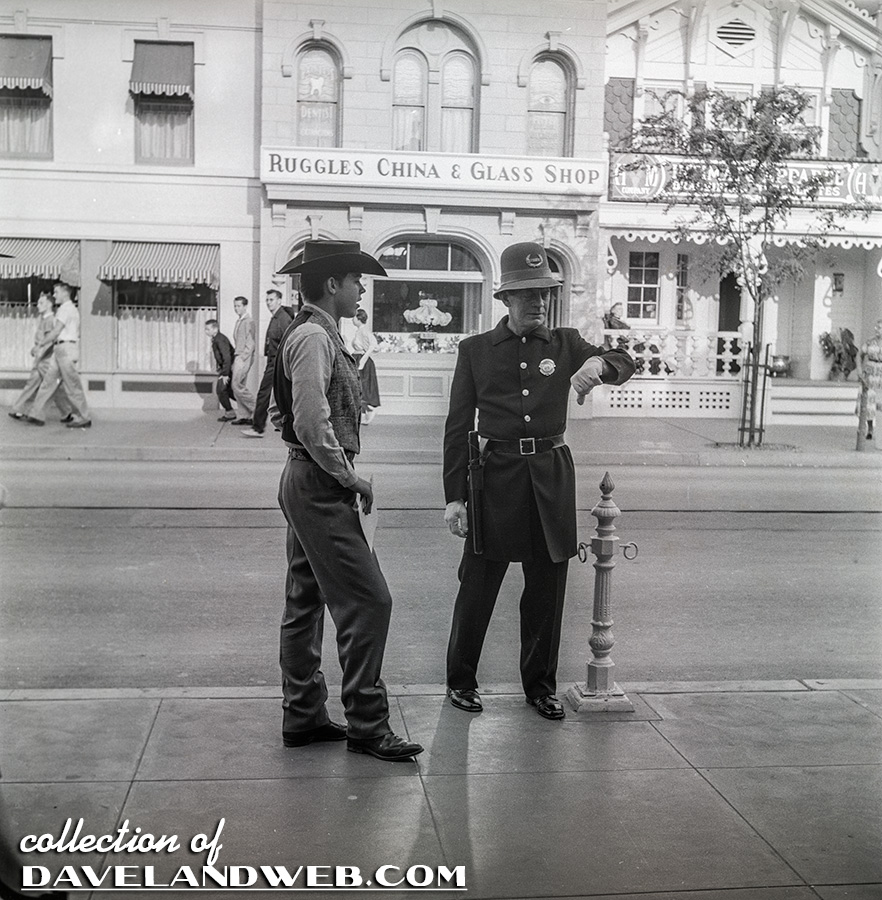 Zooming in, you can get a better view of the Ruggles China & Glass Shop as well as the Intimate Apparel Shop, complete with a dummy grandma sitting on the front porch. Today, real live dummies sit on this porch which provides top-notch parade viewing.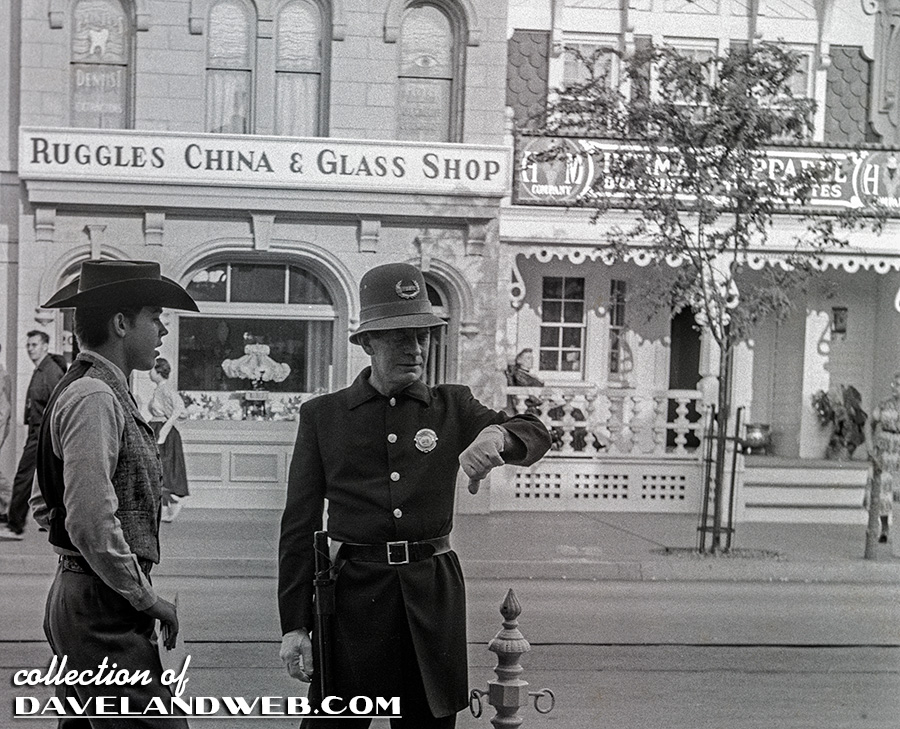 Zooming in yet again, an interesting detail is revealed. The number on the Kop's badge is 33. Was he psychic or just an early hint of the famous Club that was to be built in New Orleans Square?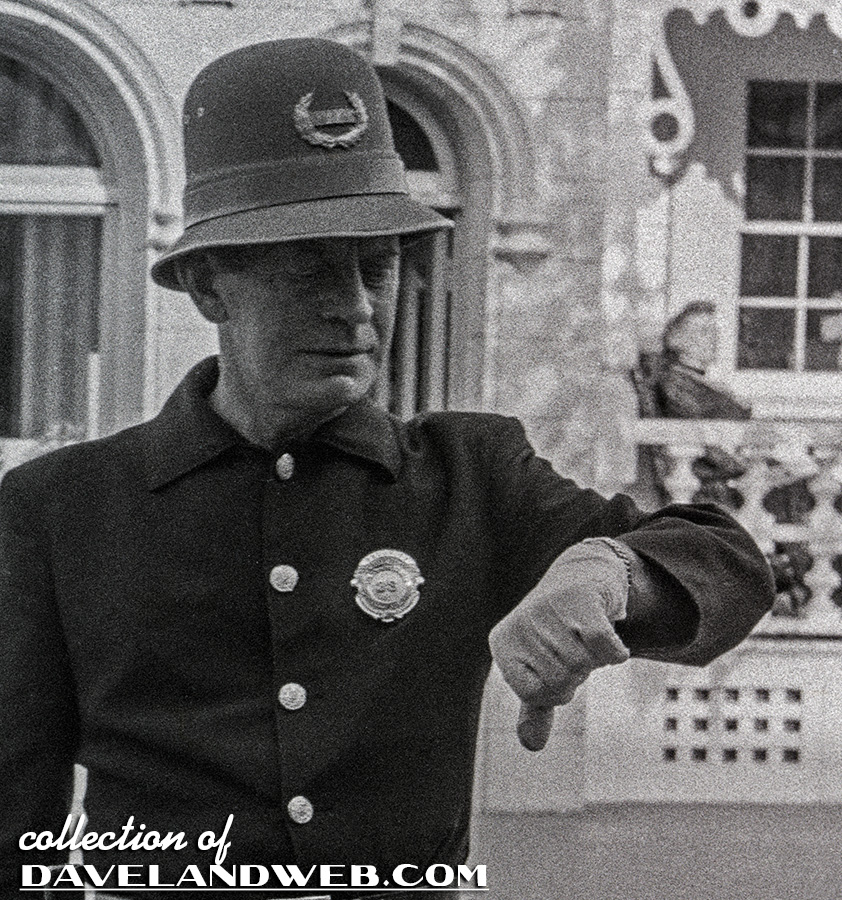 This Eastman Kodak Shop sure looks pretty at night; I better stop inside to stock up on film for my special vintage journey through Disneyland.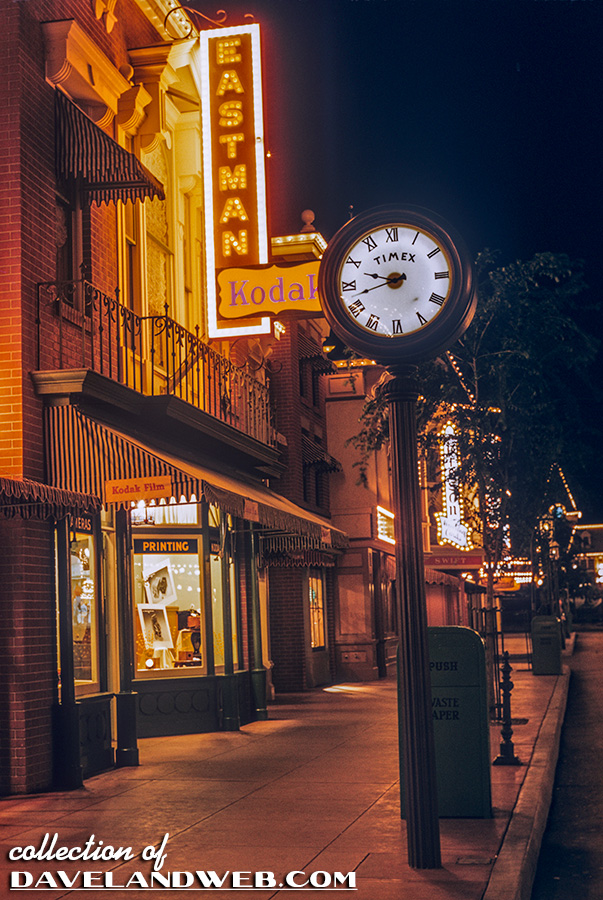 How about those vintage cameras in the window?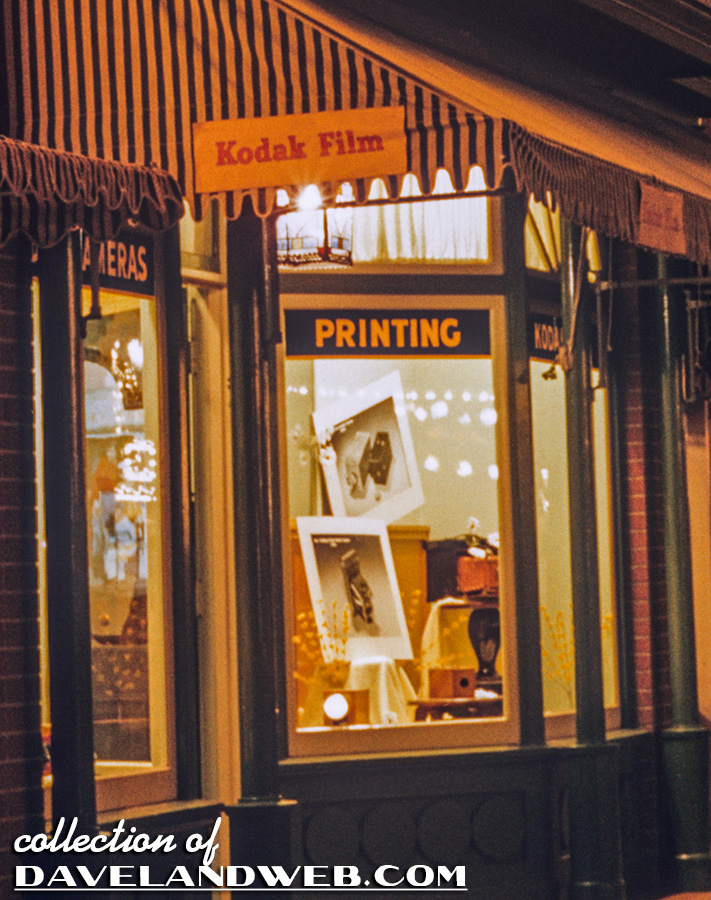 10 years later, you can see the same store...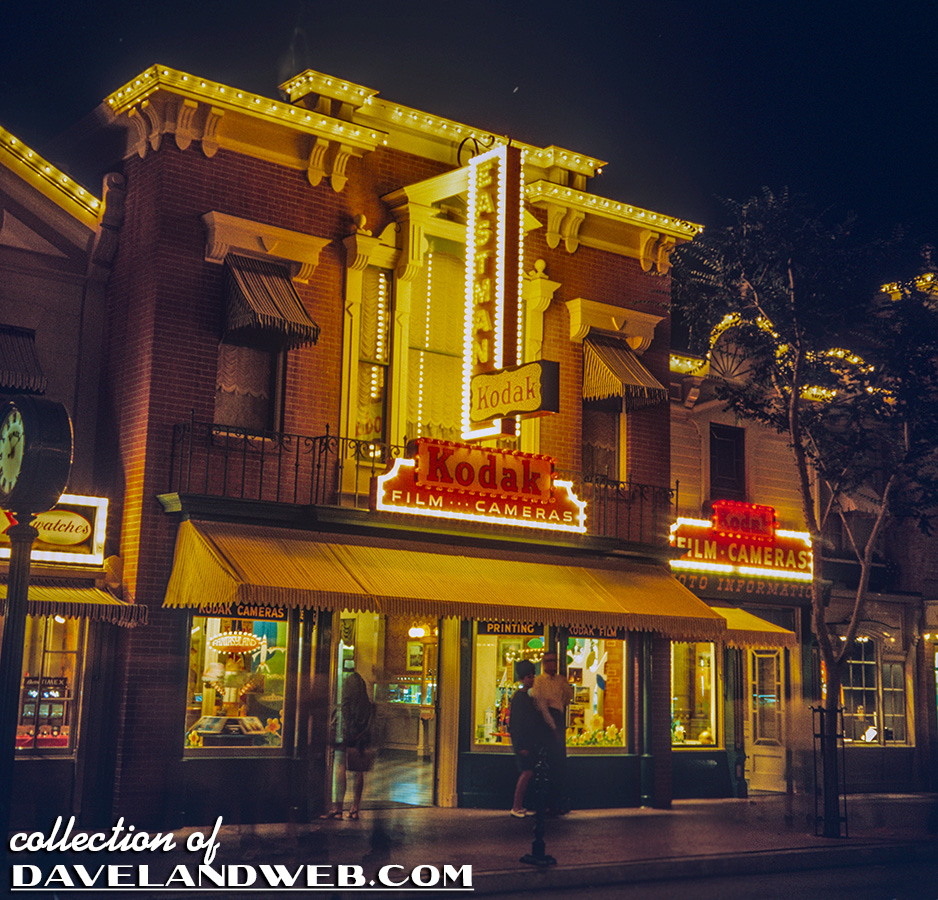 but with different window displays: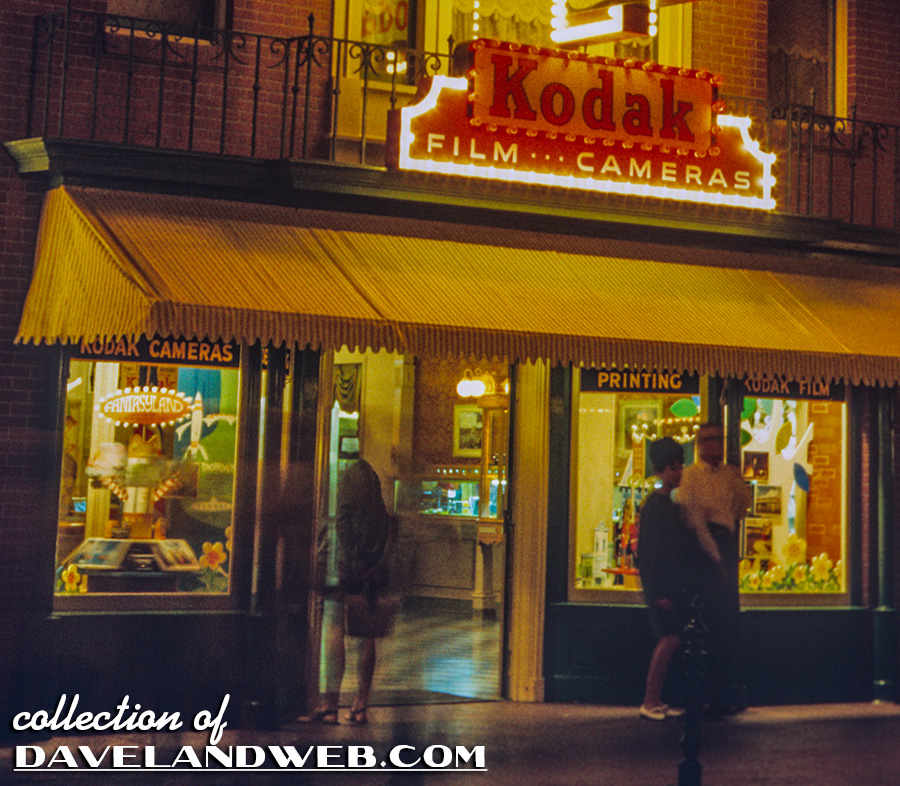 I believe that it was inside the Kodak Shop that you could have your picture taken with these fun cutouts: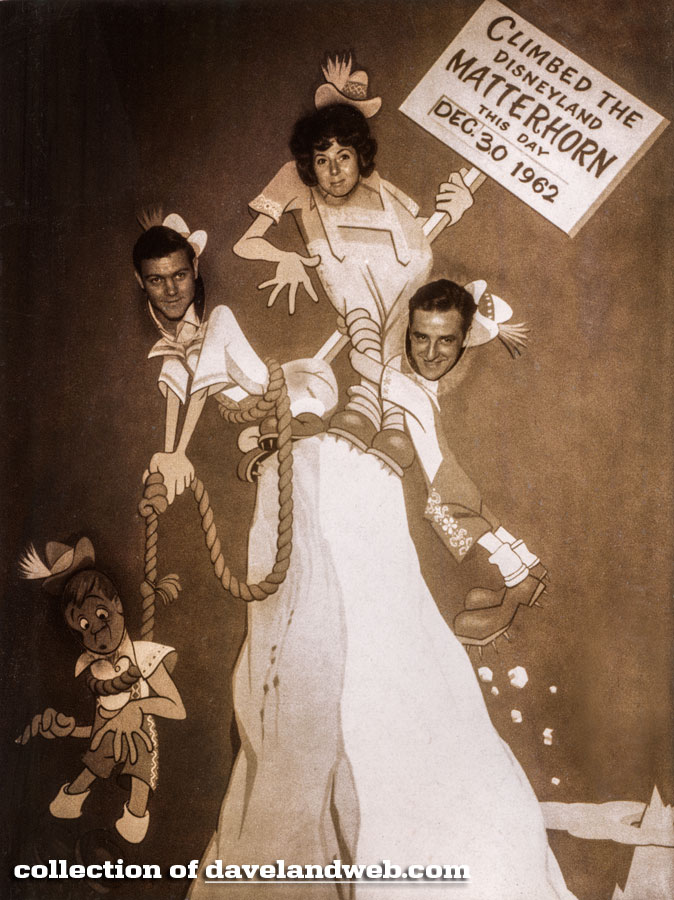 Taking that photo, I pulled a Ted Turner to create a color version of what the cutout might have looked like: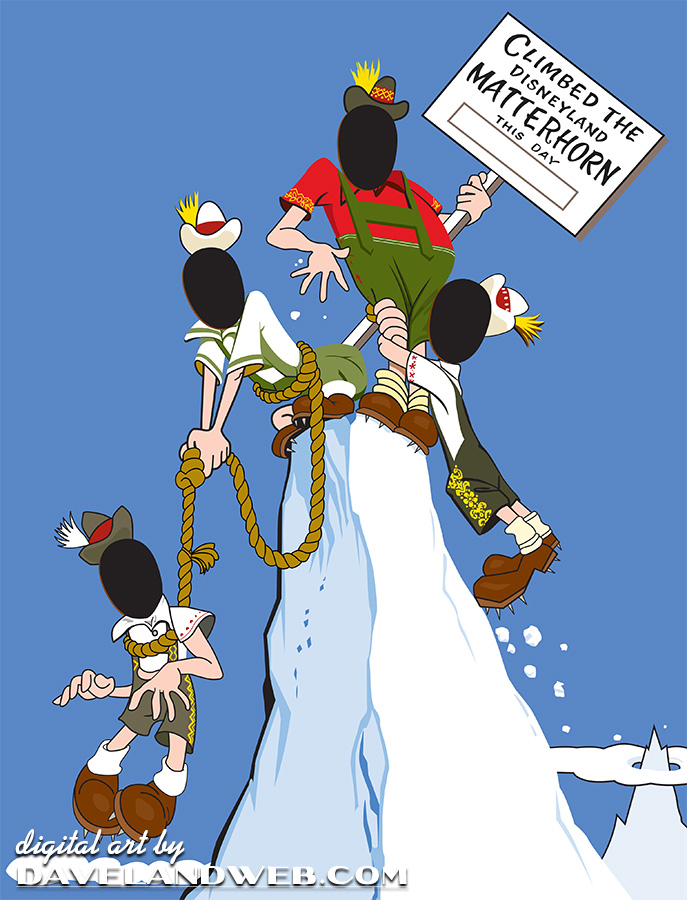 The Monorail version: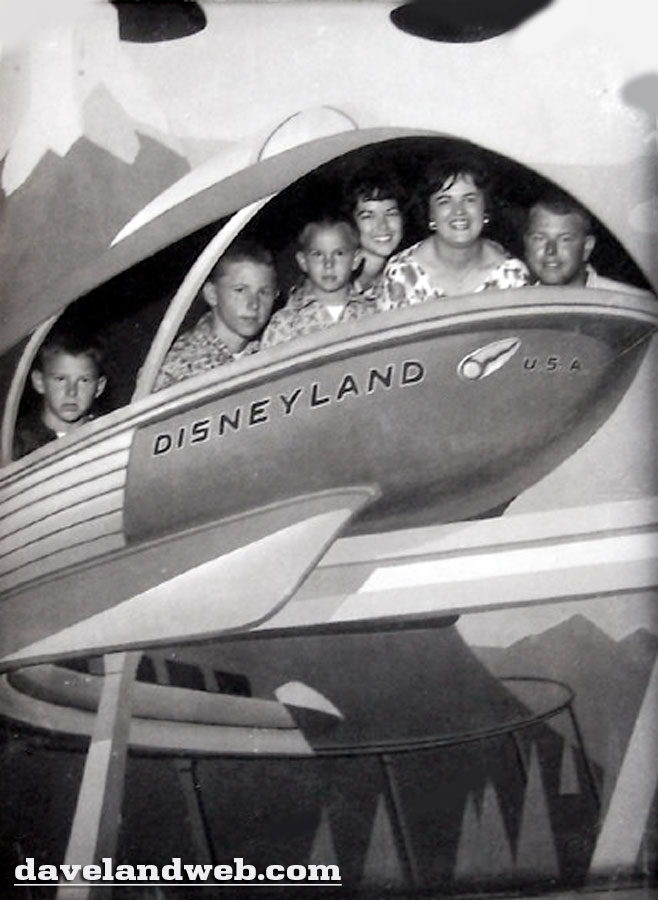 And the color version:
One of these days when I am extremely bored, I might try to do the same thing with this one: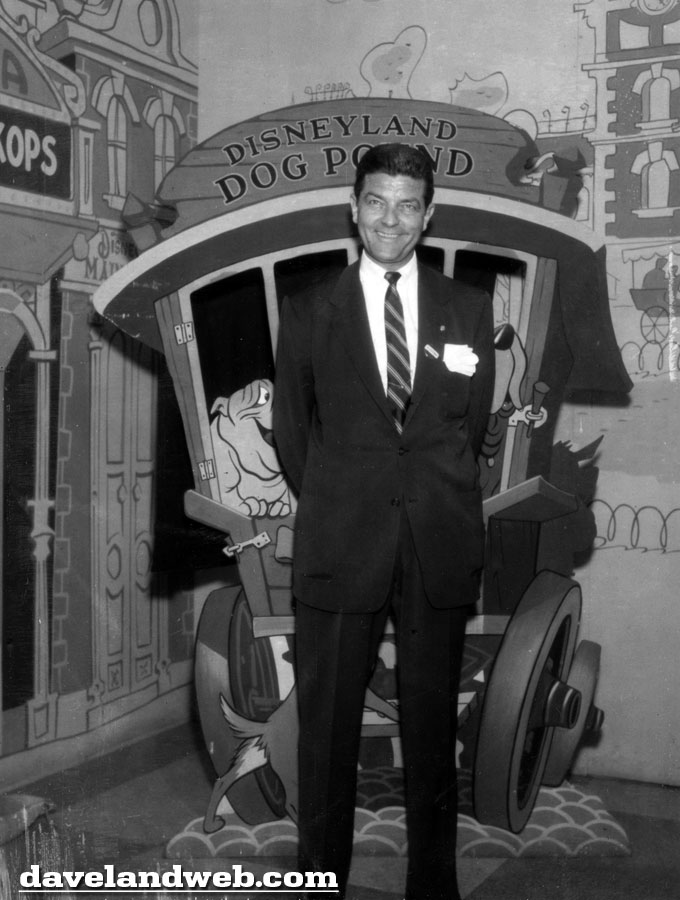 For a time, Wonderland Music could be found next to the camera shop: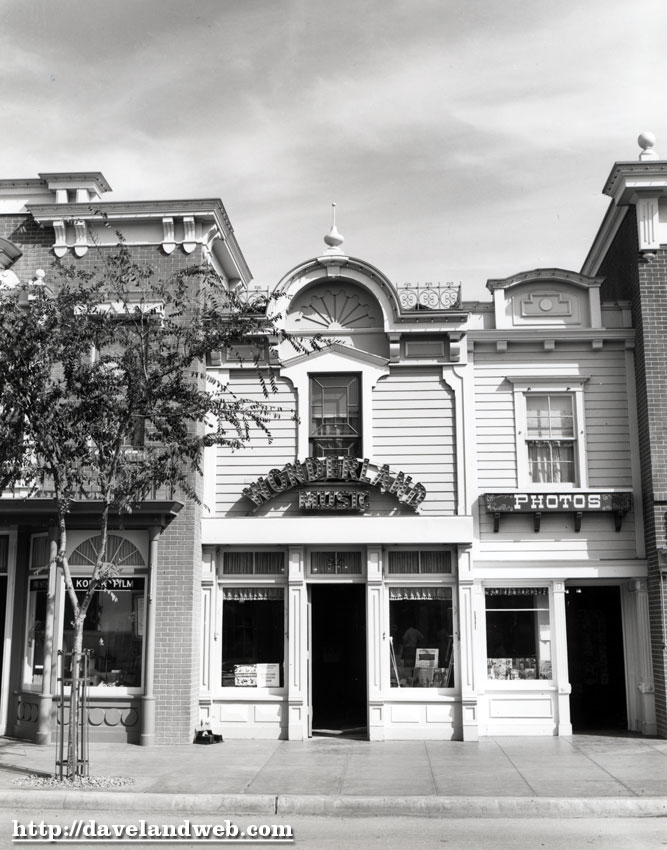 I can't help but get all Gladys Kravitz-y and check out what's in the windows: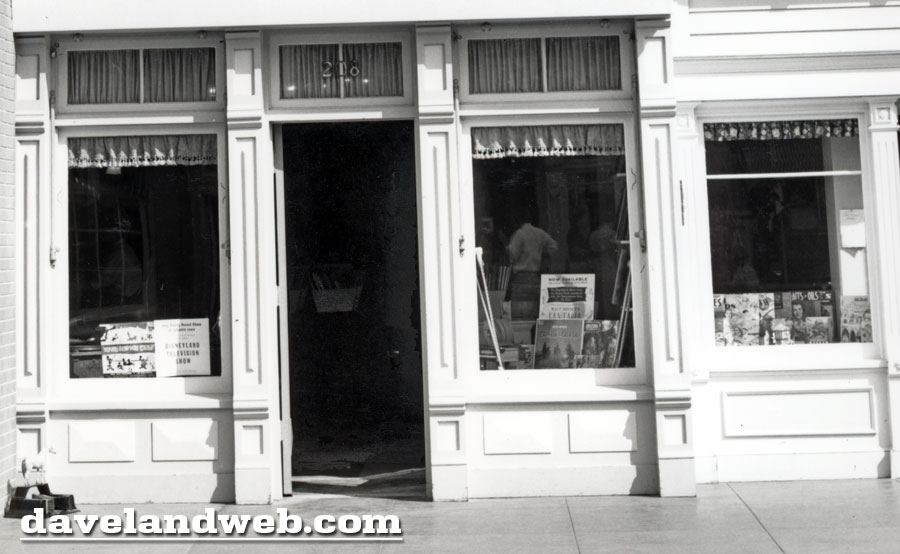 I am so glad that the Silhouette Studio (which opened in 1956) is still around on Main Street. It is an (almost) lost art that needs to be maintained amongst all of the mass-produced souvenirs. From the Disneyland Line Newsletter, April 27, 1978, comes this interesting article titled:
Of Shadows and Smiles…The Main Street Silhouette Studio
When Walt Disney first conceived his Main Street entryway to the Magic Kingdom, he desired that each details, each characteristic trait of that turn-of-the-century period be recreated in the most authentic manner. One of the most prominent examples of this duplication of 19th century life lies within the door of the Main Street Silhouette Studio. Today an almost obsolete art form, the craft of cutting profile likenesses found its roots in the mid-18th century. Étienne Silhouette, a French finance minister, originated the commercial production of the craft. During that time, the privilege of personal portraiture was reserved for the very elite, and Étienne began his campaign to generate the production of the "poor man's" portrait…the Silhouette. Eventually this innovative art form caught on even in the wealthy circles and became one of the most popular portrait devices in Europe.

The invention of the camera cast a lasting shadow over the art of silhouette creation, and today only about 25 full-time silhouette artists exist in this country. Harry Brice is Disneyland's artist in residence, and tells an interesting tale of how he came to be an artist of such rare talents. "I was being interviewd by Disneyland's former artist lessee, and he asked me if I'd had any experience with silhouette portraits. I didn't even know what a silhouette portrait WAS, but told my interviewer that I was experienced int he field. Within a week, I had taught myself the craft, and was working in the Sihouette Shop."

Since that time over 10 years ago, Harry has become an accomplished duplicator of Disneyland guest profiles. 60,000 silhouettes were created by Harry last year alone, and it's been estimated that he's the "fastest snip in the West"…and the world at 30 seconds per portrait. Harry has scissored some unusual profiles, as horses, cats and dogs are now a part of his repertoire. One of his most memorable portraits is a silhouette of a departed husband, described th Harry by the man's widow.

Although Harry is the shop's full-time artist, Laurie Myers and Bonnie Elliot share the responsibility on party nights and during the summer and peak seasons. A Silhouette Cart in New Orleans Square relieves some of the pressure during the busier periods.

More than artistic talent, however, is required to be a creative silhouette cutter. Showmanship, patience and an infinite sense of humor are prerequisites to the success of the craft. And in every aspect of this art, Harry and his staff of artists are a difficult group to over-shadow.

OK - I need to duck inside to get my silhouette done. Hope they leave off my double chin!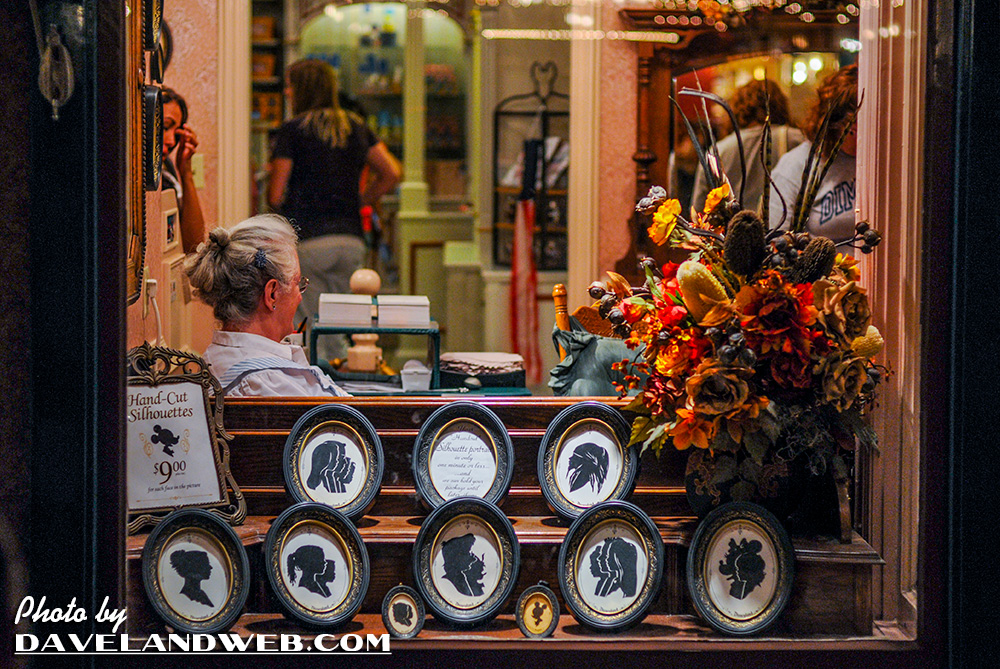 See more vintage & current Disneyland East Main Street U.S.A. photos on my East Main Street web page.