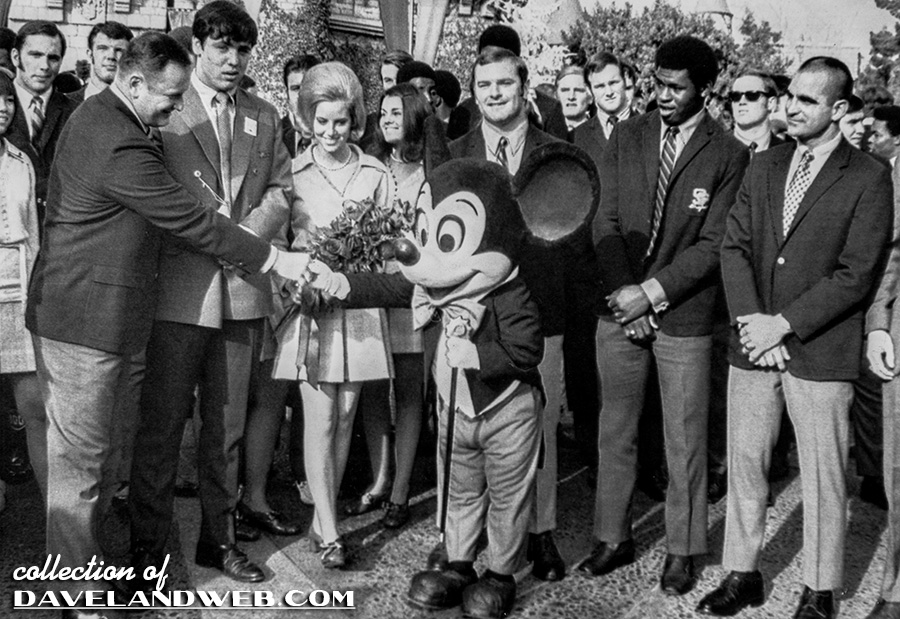 Forty-two years ago today, USC defeated Michigan University in the 56th Rose Bowl Football Game. 10-3. The score was tied 3–3 at halftime; with three minutes to play in the third quarter, USC quarterback Jimmy Jones threw a 33-yard touchdown pass to Bob Chandler to give the Trojans the 10–3 victory.
12/22/69-ANAHEIM, CALIF: The University of California and Michigan U. football teams pose in front of the castle at Disneyland. L-R, Michigan head coach Bo Schembechler, shaking hands with Mickey Mouse, Captain James Mandich, TE, Rose Queen Pamela Tedesco, USC Captain Bob Jensen, LB, Jim Gunn, co-captain and assistant coach Marv Goux. The two teams clash 1/1/70 at the Rose Bowl. UPI TELEPHOTO.
Pamela Tedesco, the 52nd Rose Queen of the 81st Tournament of Roses, was from Arcadia and a student at Pasadena City College. Interviewed 30 years later, she was quoted as saying, "every little girl growing up in California dreams of being Rose Queen. You grow up watching the parade, reading about it in all the papers."
Disneyland & The Rose Bowl have been connected since the 1959/60 season when the Rose Queen and Royal Court began visiting the park annually. In addition, Disneyland hosts college football teams visiting Southern California to compete in the Rose Bowl game.
See more vintage & current Disneyland Castle photos at my regular
website.