Here is my final installment showcasing the second auction of Hollywood Memorabilia from the Debbie Reynolds collection. Although not quite as stunning as the first auction, there are still a few gems in this lot.
"SHOW BOAT," 1951; CLASSIC MGM MUSICAL
Howard Keel grey three piece suit and hat designed by Walter Plunkett from Show Boat. SOLD FOR $1600.
Light grey wool three piece pin striped suit. Designed by Walter Plunkett. MGM label handwritten "HOWARD KEEL 1520-7797" in all three pieces. Jacket exhibits a few small holes. Ivory cotton shirt with front ruffles. Harris label with "H. K." and handwritten "47 17-6". Ruffles on cuffs have been added for repurposing. Pale grey felt top hat with handwritten label "H. Keel Ch. #2 and Bob Holden Ch 1". Section of interior band is detached. Worn by Howard Keel as "Gaylord Ravenal" when he replaces the leading man in Show Boat.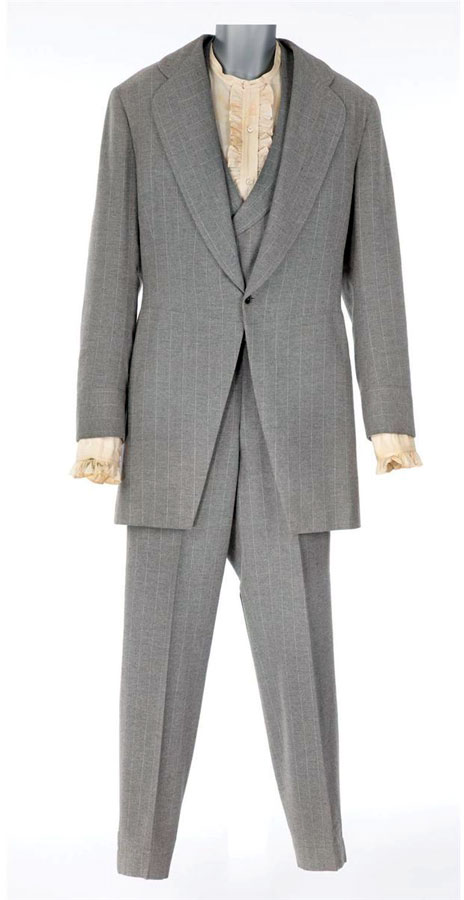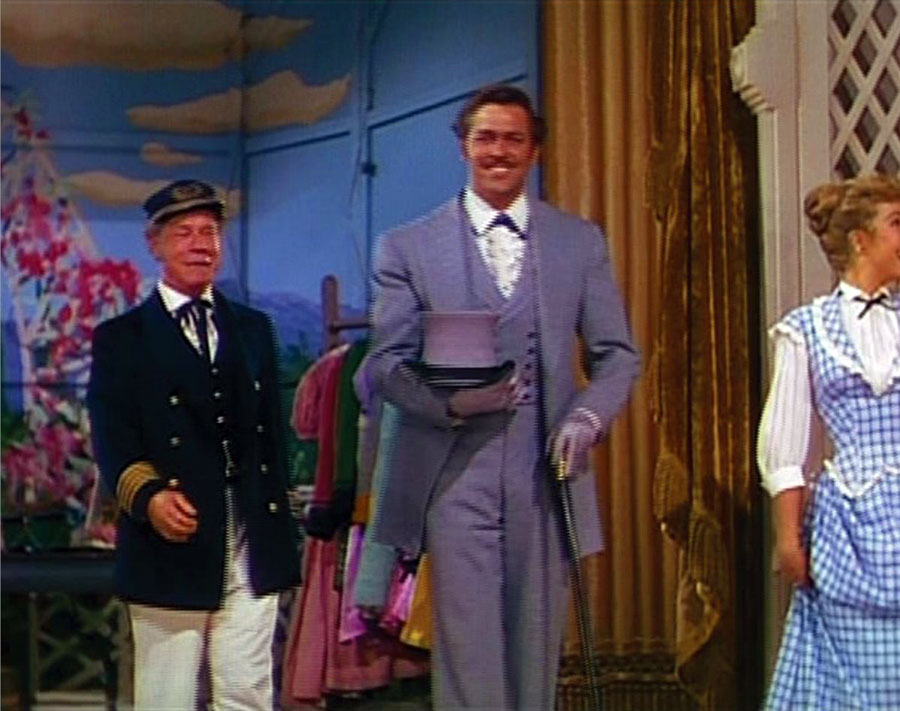 Ava Gardner "Julie LaVerne" period gown designed by Walter Plunkett. SOLD FOR $10,000.
Gold satin period dress with black sequin diamond pattern. Original green satin has turned to golden yellow. Handwritten label "1520 7932 Ava Gardner". Some sequin loss. Designed by Walter Plunkett. Worn by Ava Gardner as "Julie LeVerne" when the sheriff comes to arrest her in Show Boat.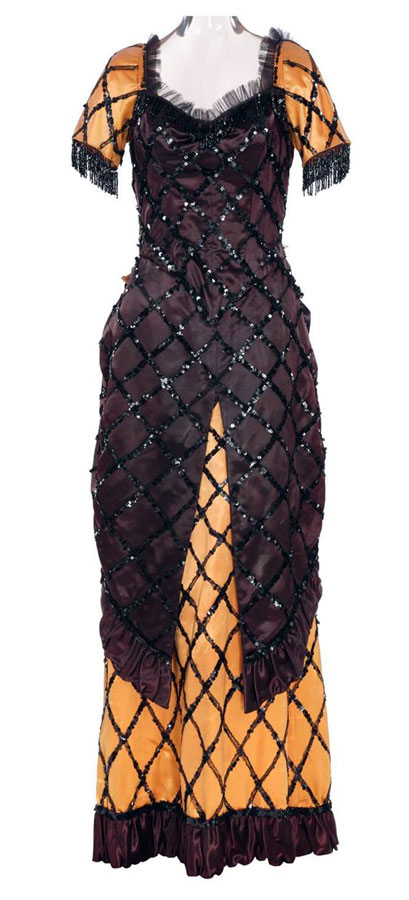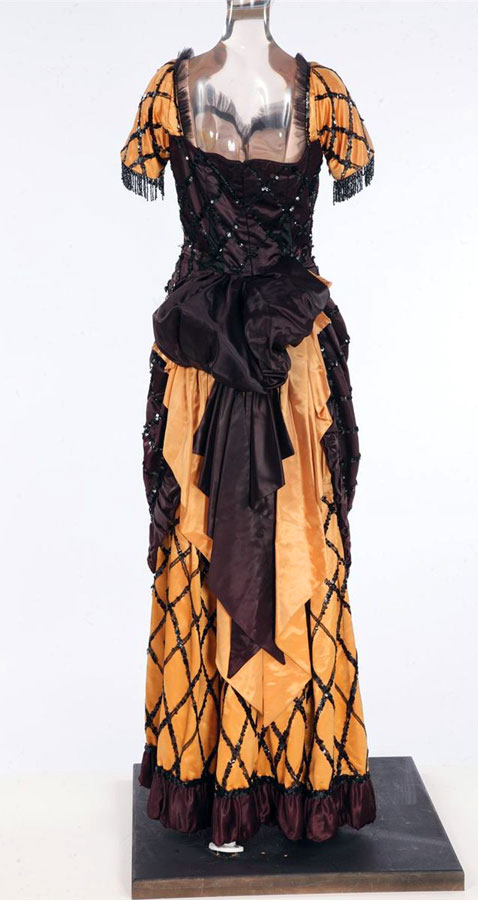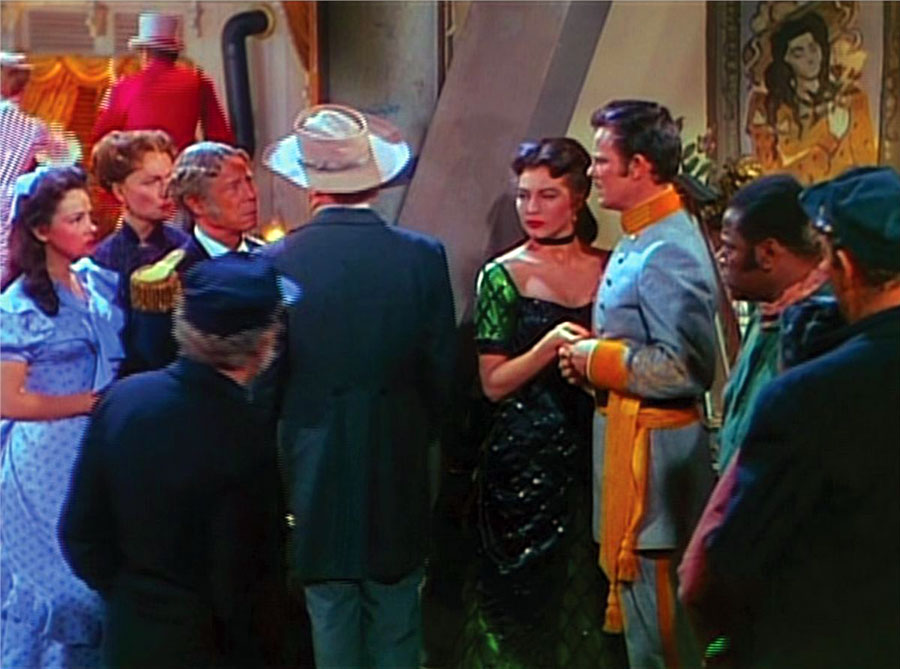 Marge Champion and Gower Champion red outfits designed by Walter Plunkett. SOLD FOR $5,500.
Red and ivory striped period dress with matching parasol. No label. Black and white leather button up period boots with black fringe. Stamped Hand Made 5 ½ B on bottom. Dark red wool cutaway coat with grey satin lapel and coordinating vest. MGM label handwritten "G. CHAMPION 1520-7847". Jacket has two minor holes on back. Designed by Walter Plunkett. Worn by Marge Champion as "Ellie May Shipley" and Gower Champion as "Frank Schultz" in the "I Might Fall Back on You" number in Show Boat. Also included is a pair of green and black leather period button up boots. Handwritten label "Wilson 3 ½ C 2160". Worn by an extra in the opening number as the showboat arrives.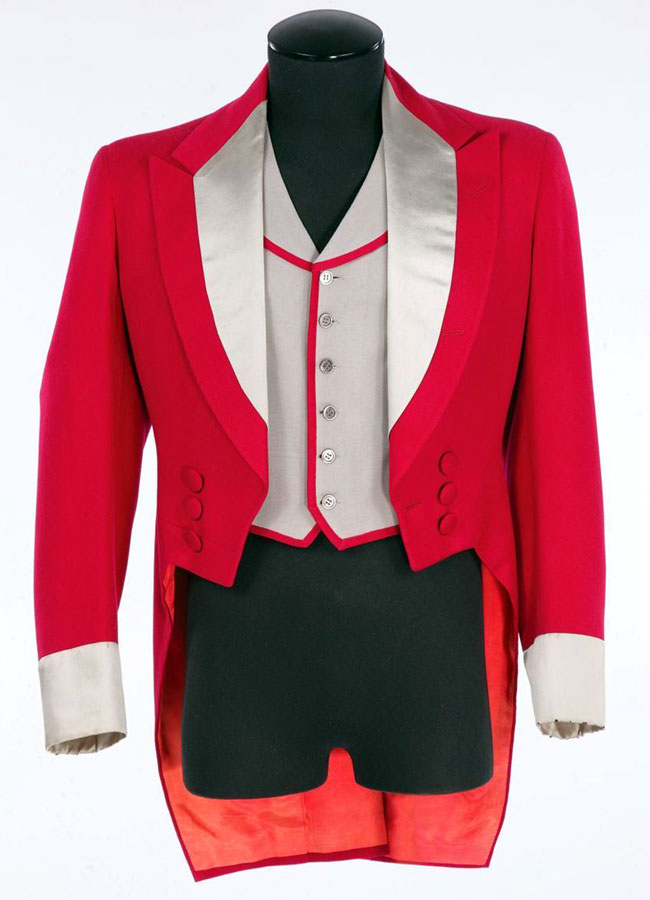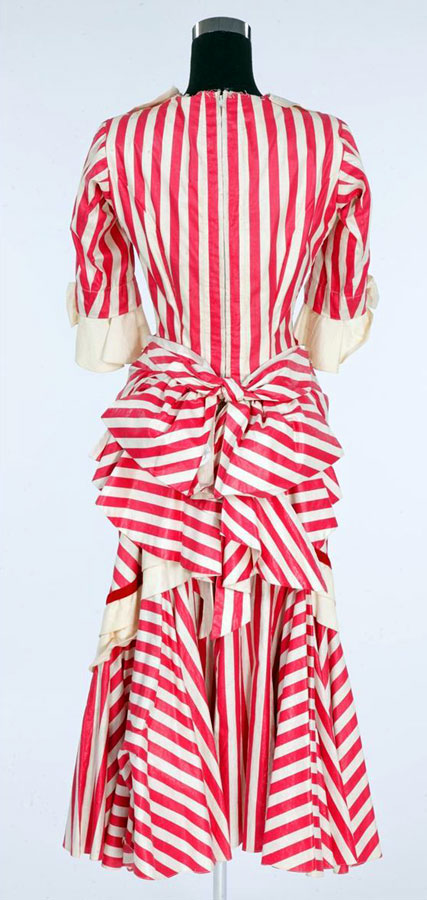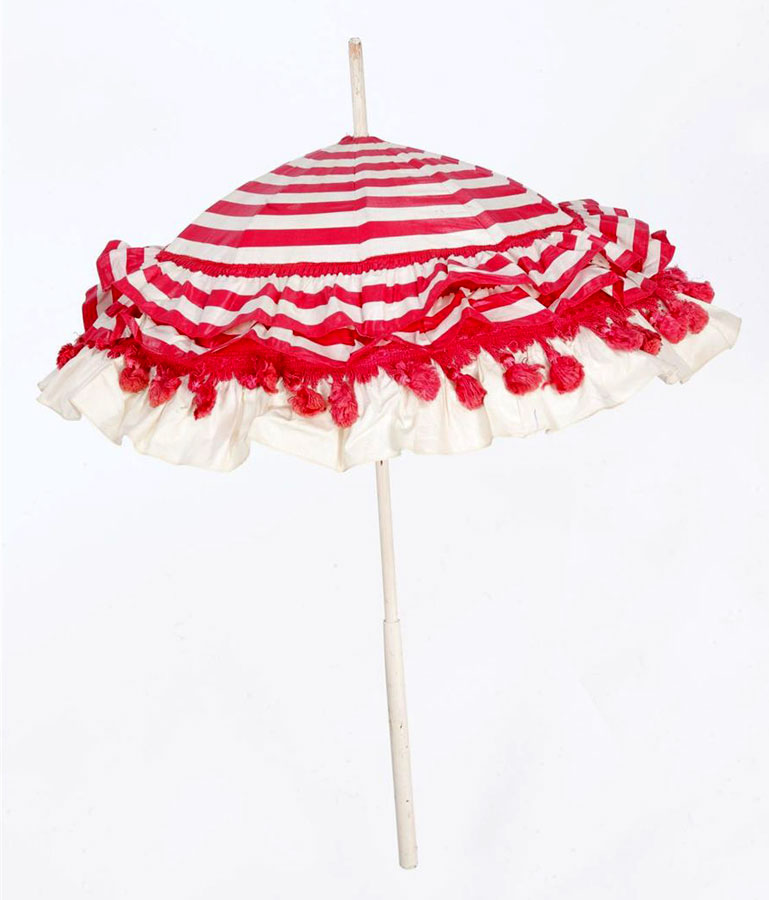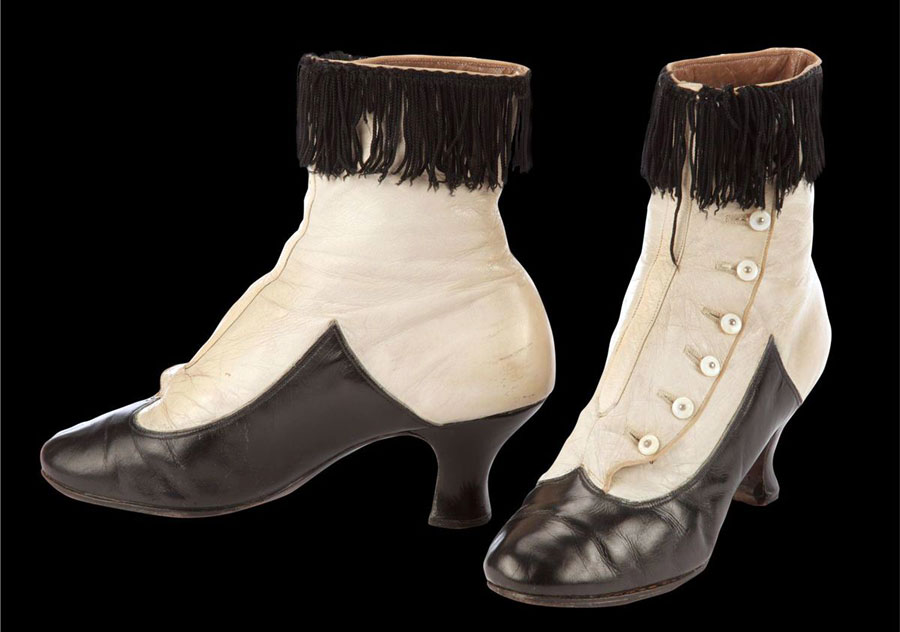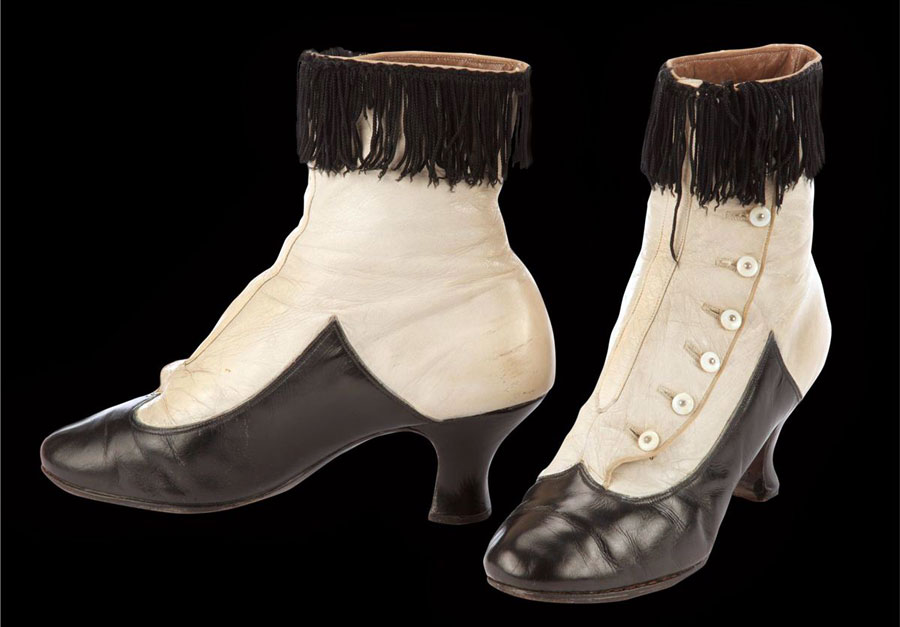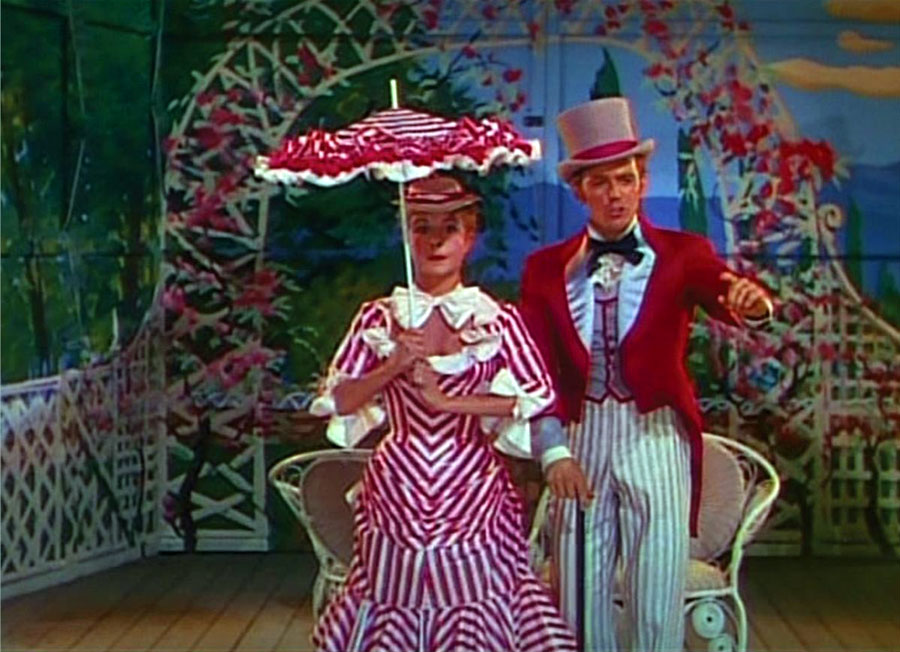 Kathryn Grayson brown velvet period dress designed by Walter Plunkett. SOLD FOR $3,250.
Brown silk velvet period dress with red, grey and black striped skirt and matching caplet. Designed by Walter Plunkett. Handwritten label "1520 7307 Kathryn Grayson". Dress has been heavily altered for repurposing. The skirt has been replaced and the capelet is relined. Worn by Kathryn Grayson as "Magnolia Hawks" when she and Keel arrive in Chicago in Show Boat.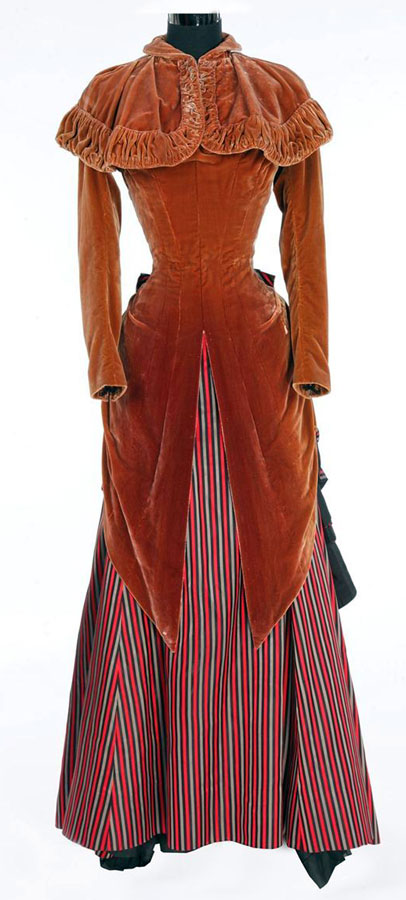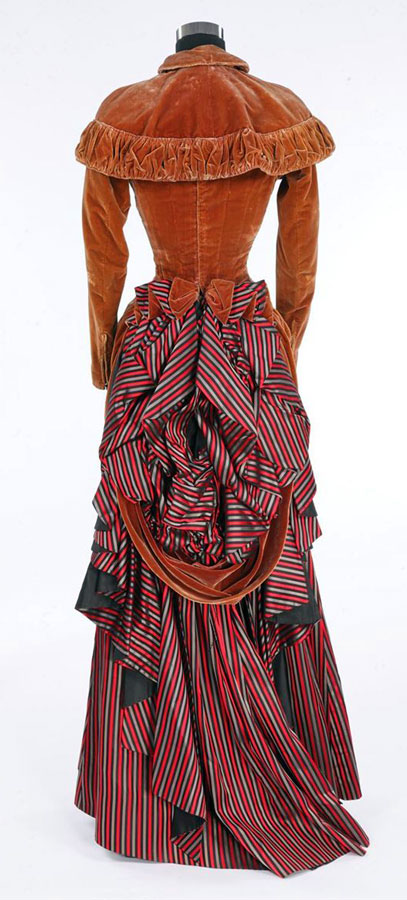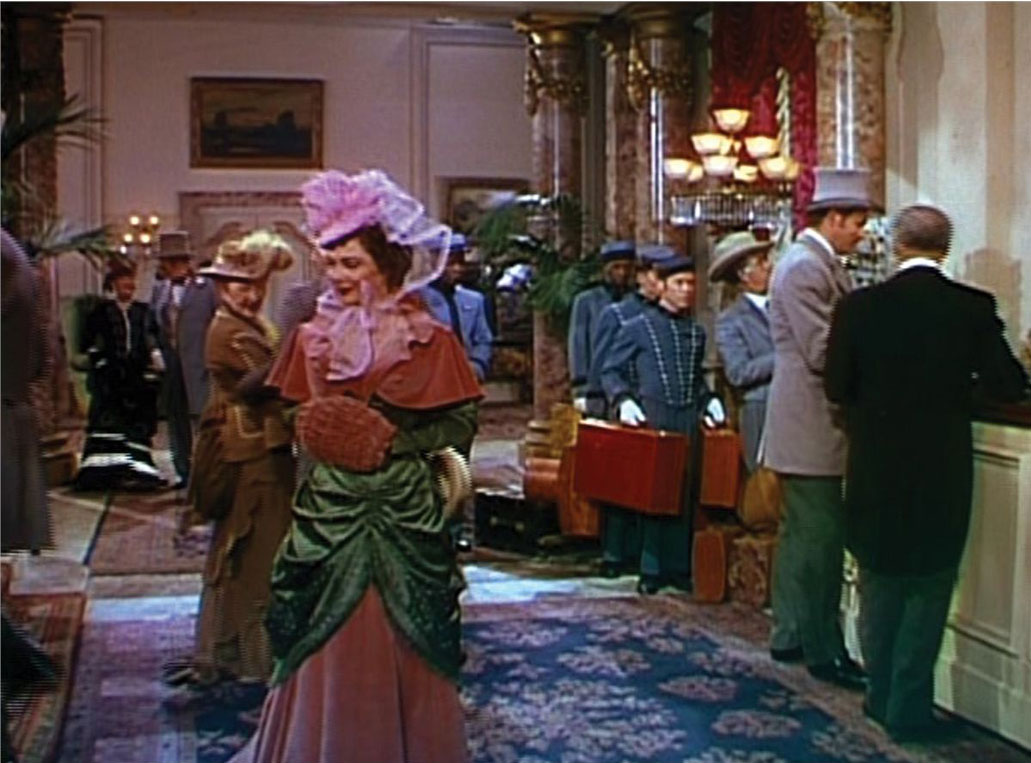 Marilyn Monroe
Marilyn Monroe original Golden Dreams 1953 nude calendar with embossed-box set of nude playing cards. SOLD FOR $1,900.
From the infamous nude photos of Marilyn Monroe taken by Tom Kelly in the late 1940's (though not publicly exploited until 1952) came a range of calendars (the most popular one represented here) and other artifacts, most notably a double-deck set of playing cards of Marilyn in the nude, both in the seated "Golden Dreams" pose like the calendar, and the reclining "A New Wrinkle" pose. Not only are both decks totally complete including two jokers each, they are housed in the original black velvet, gold-embossed "New Wrinkle" box and sleeve, which we have never before seen in over 35 years experience. Box and cards are Fine, showing only slight age and handling; sleeve and calendar show staining, chipping, creases, etc., and are in Fair only condition.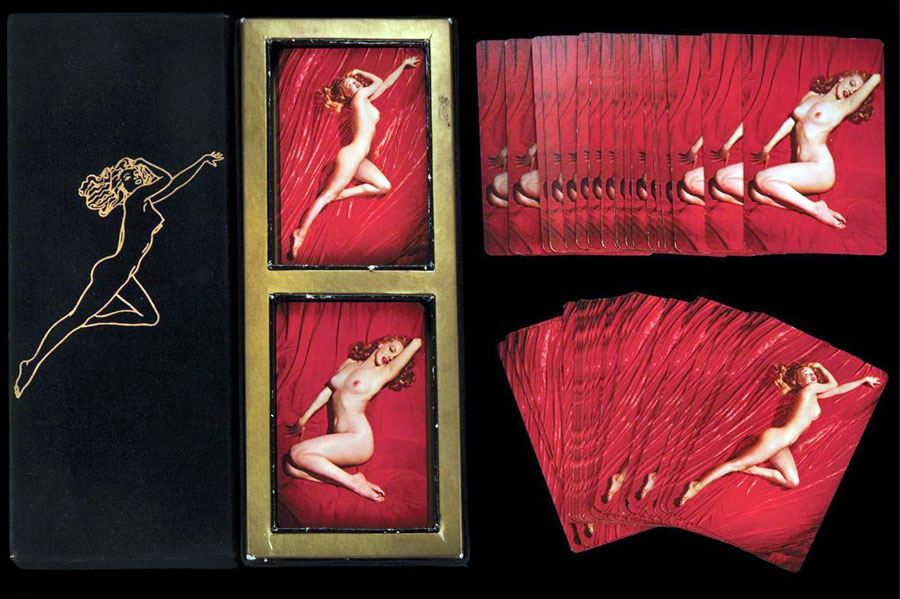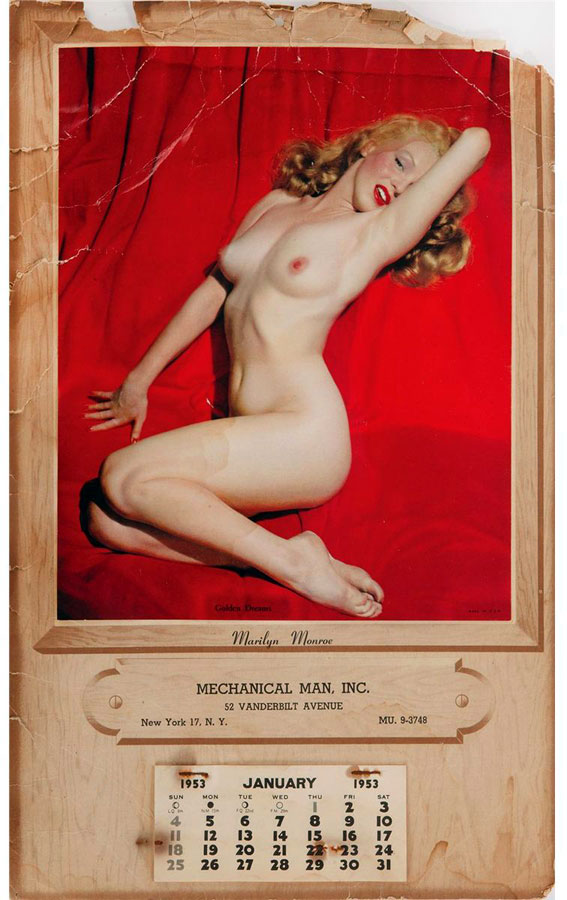 How to Marry a Millionaire 1953 original U.S. six-sheet poster on linen. SOLD FOR $2,750. Approx. 81" x 81" U.S. six-sheet poster on linen depicting Marilyn Monroe with her co-stars Betty Grable and Lauren Bacall. Appears to have had some chipping and losses at folds prior to backing, and shows modest background and fold retouching, generally Fine.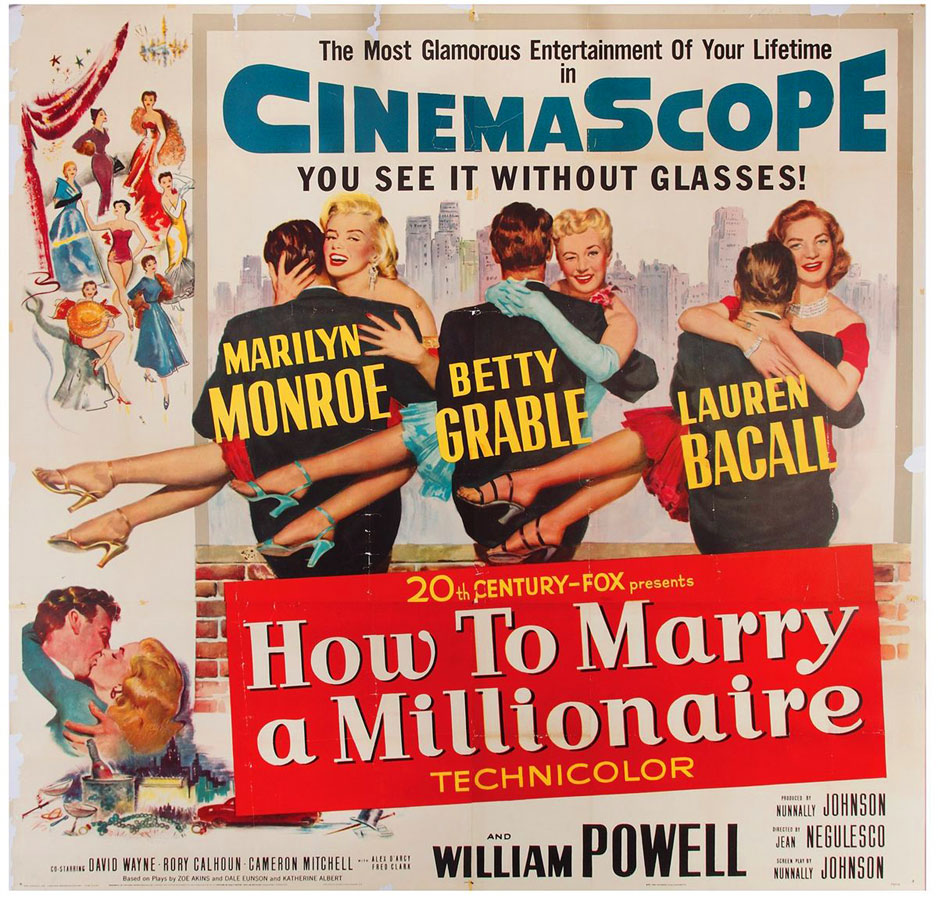 Marilyn Monroe aubergine gray evening dress & Bolero jacket by Travilla for Gentlemen Prefer Blondes, 1953. SOLD FOR $260,000.
Elegant, two-piece evening gown designed by Travilla of an aubergine steel gray couched in meandering-pattern braid and accented by two aubergine satin trains flowing from the waist. Handwritten studio tag inside dress reads "1-27-3-7914 M. MONROE A-698-53," and jacket has handwritten label "1-41-2-0570 Marilyn Monroe A-698-16." Worn quite memorably by Miss Monroe for several scenes, from her clever efforts to remove Elliot Reid's clothes in order to search them, to being stuck halfway through a porthole, requiring rescue by her youngest suitor Mr. Henry Spofford III (age 9, going on 21). Material on waist is detached two inches, else Fine as screen-worn.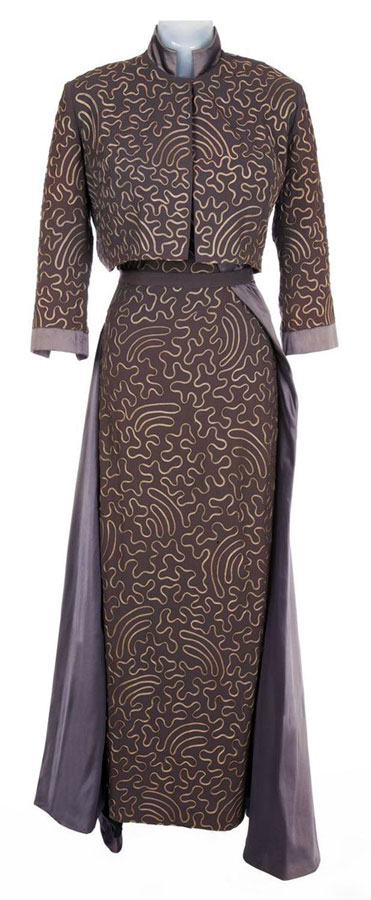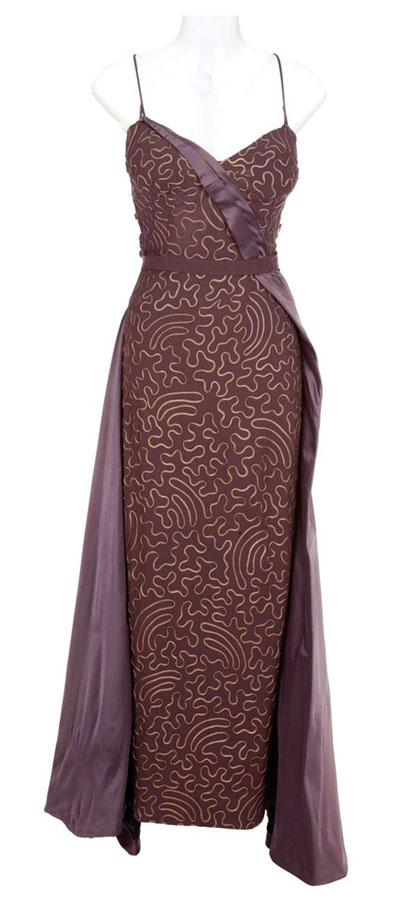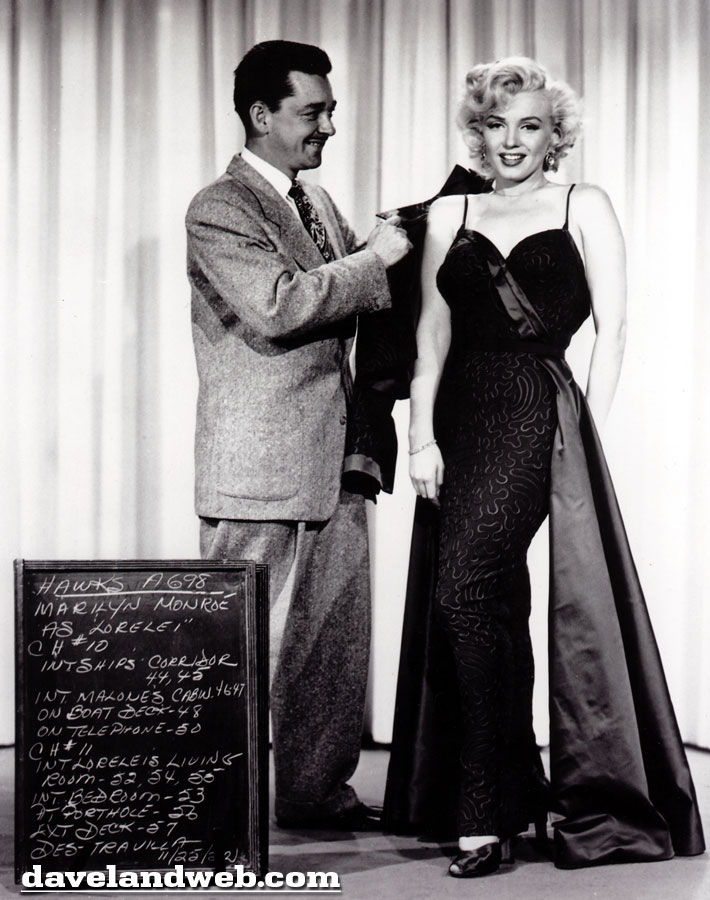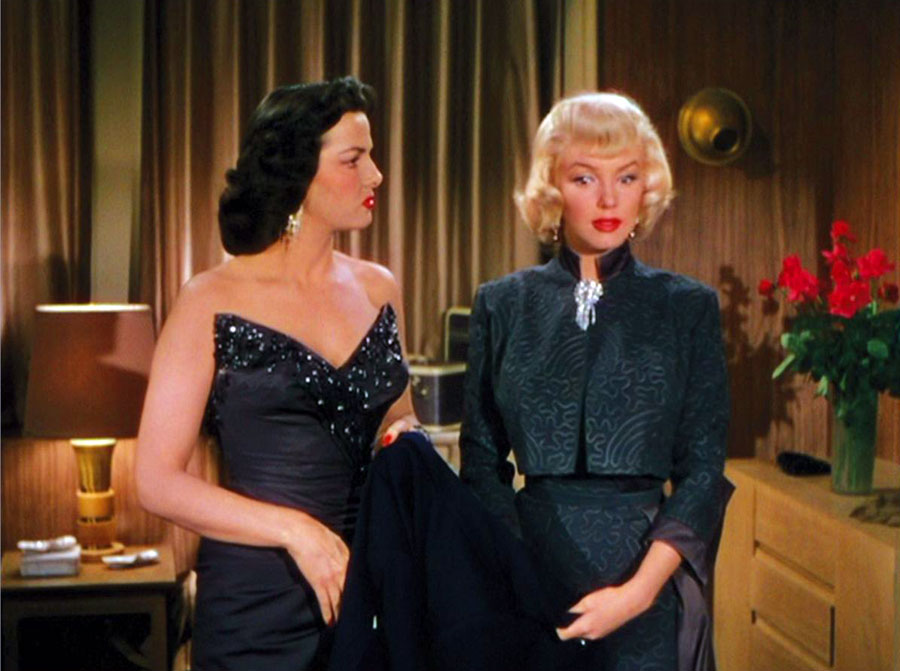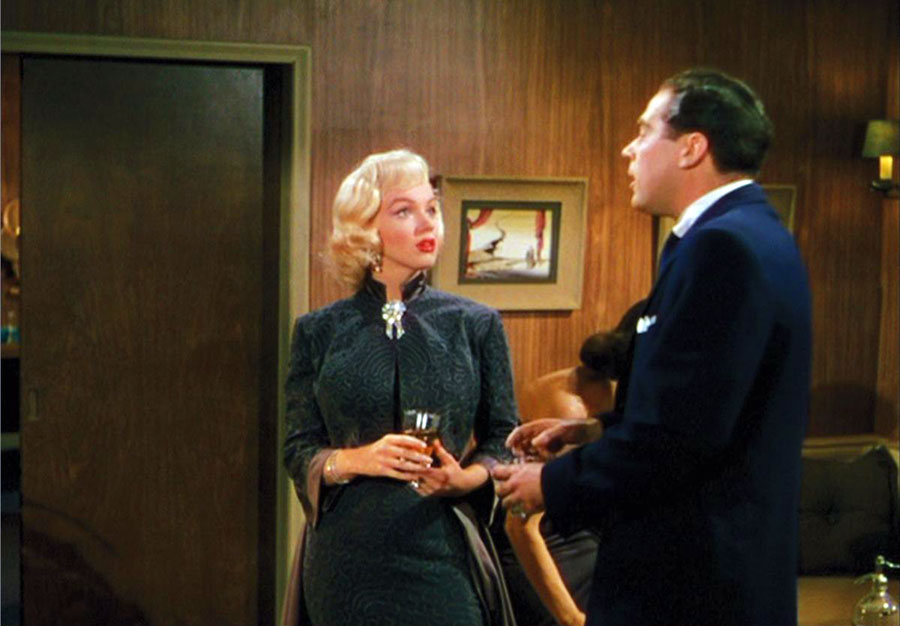 Marilyn Monroe "Rose Loomis" light aqua suit designed by Dorothy Jeakins from Niagara, 1953. SOLD FOR $210,000.
Light aqua two-piece raw silk suit with Monroe Lloyd of California label. A rather conservative look for Marilyn, which was deliberately chosen by her character as Joseph Cotten's unfaithful wife, off to an illicit rendezvous with her lover under Niagara Falls in Henry Hathaway's Niagara. The indelible image of Marilyn's hips swinging as she walks away in this form-fitted outfit is considered one of the great "sex in cinema" sequences released during the height of the censorship Production Code. This 2-piece suit was modified under Dorothy Jeakins' direction from an off-the-rack couture ensemble. Shoulders exhibit light soiling, and skirt has 2 in. tear at split, otherwise Fine as screen-worn.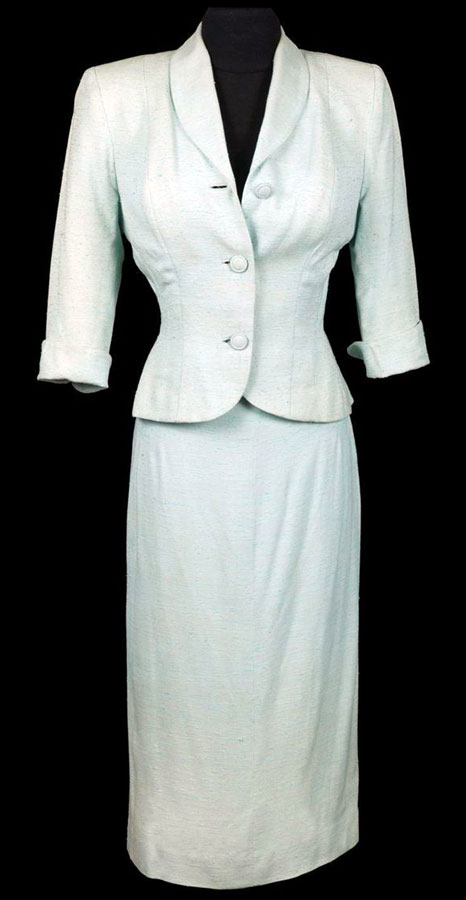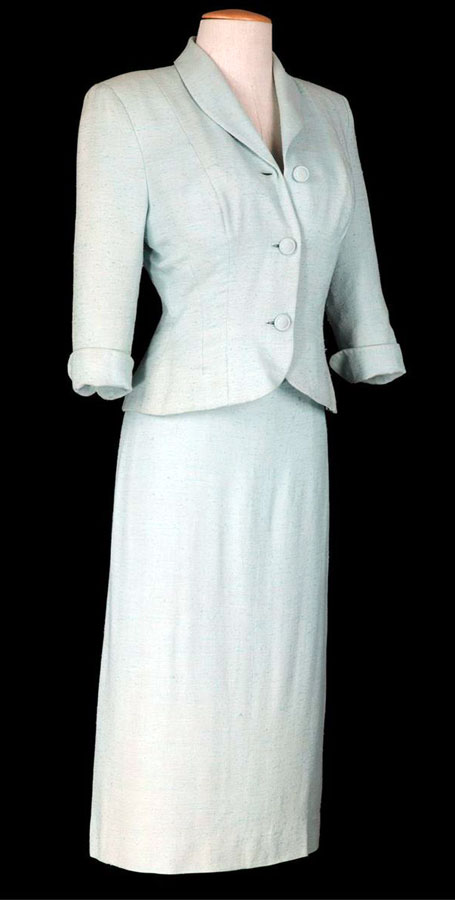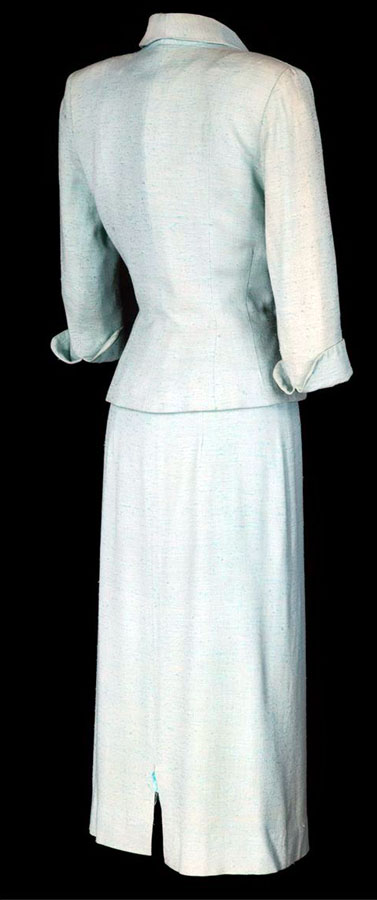 Niagara original 14" x 36" insert poster for Marilyn Monroe film, 1953. SOLD FOR $700.
Linen-backed Fine to Very Fine U.S. insert-sized poster depicting Marilyn Monroe four times. Appears to have had normal light folds prior to backing, and shows only modest background retouching.

Marilyn Monroe strapless pale green silk Empire gown with rhinestone trim from Let's Make Love, 1960. SOLD FOR $240,000.
Pale green silk pleated strapless dress adorned with rhinestones (a few of which are missing). TCF label handwritten "F-13 M. Monroe". Designed to be unbearably sexy without also being un-releasable due to censorship, a condition several earlier costumes designed for Marilyn suffered from. Worn for the title number, in which Marilyn offers herself upon a mid-century-modern stage of cross-rotating apartment flats, first to Frankie Vaughan, then Yves Montand (in his fantasy sublimation). This timeless creation by Dorothy Jeakins remains one of the most attractive costumes ever created for this legendary actress.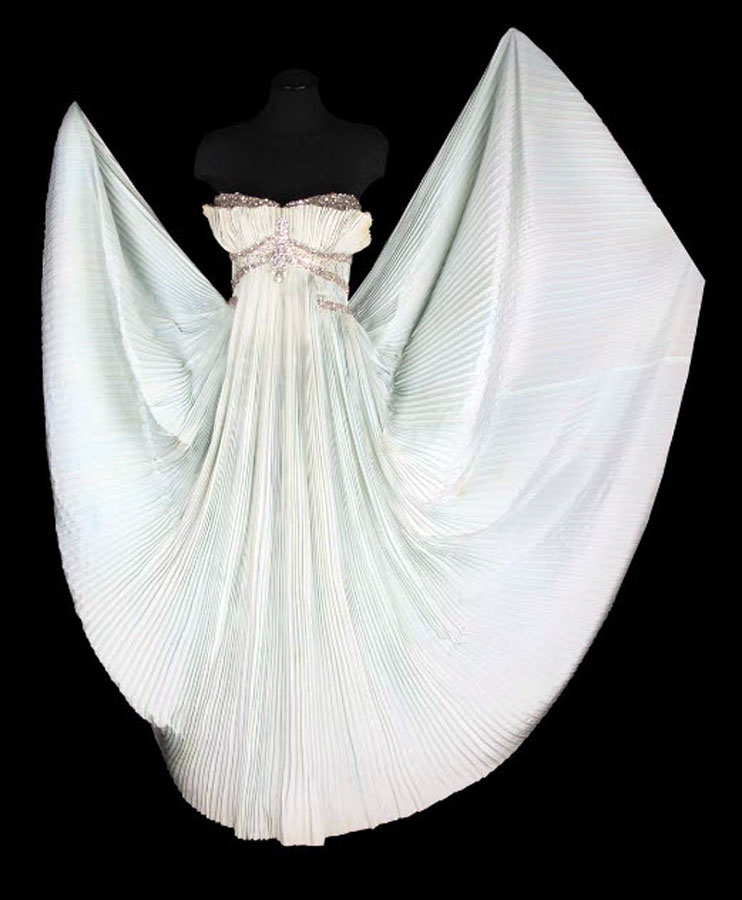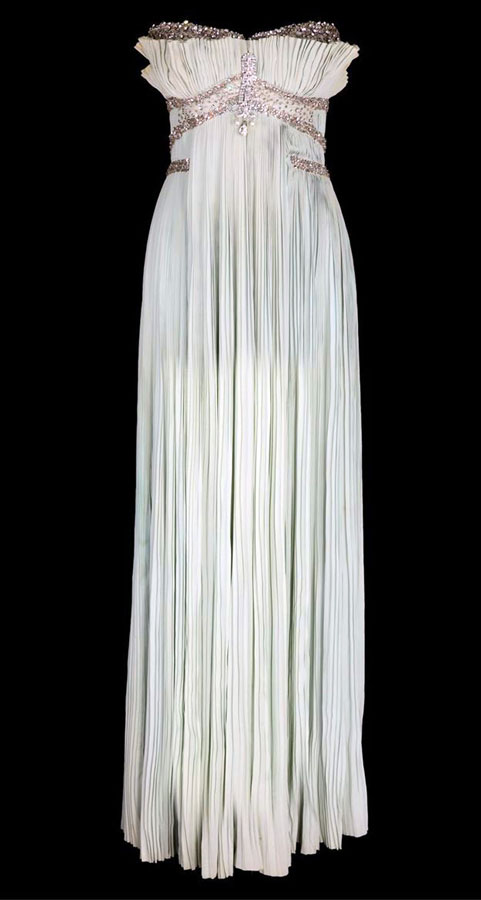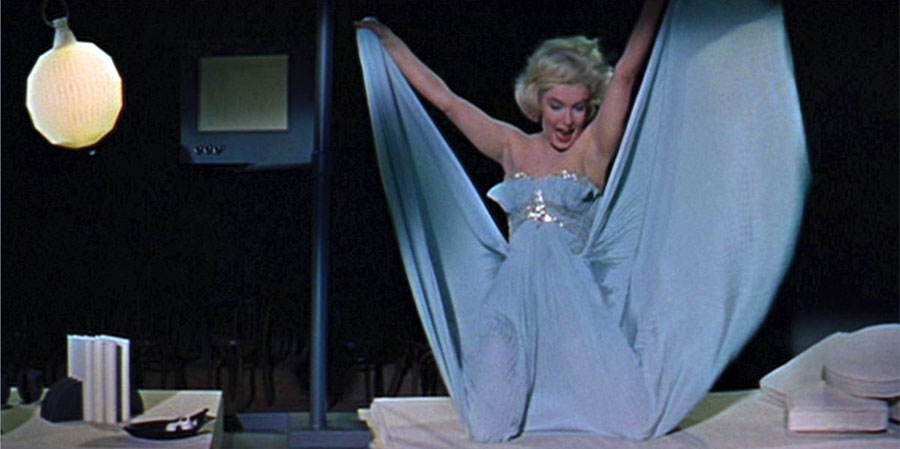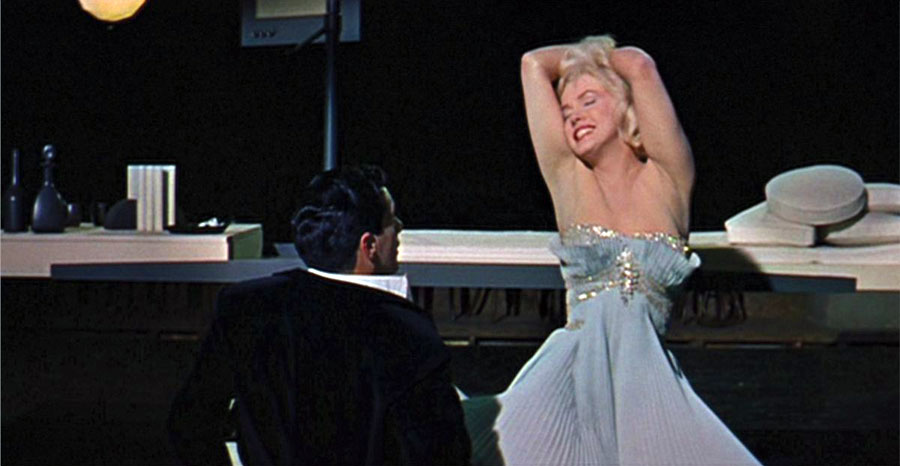 Marilyn Monroe "Cherie" iconic green and black-sequined leotard designed by Travilla for Bus Stop, 1956. SOLD FOR $230,000.
This is the signature costume for Marilyn's character "Cherie", the naïve yet determined saloon singer heading for Hollywood in Joshua Logan's romantic Western from the play by William Inge, Bus Stop. It is also one of the most iconic and indelible looks from her entire career, being a top choice for publicity images of Marilyn even to this very day. In it, she performs (intentionally naively) "That Old Black Magic", winning the heart of the handsome and rather eager cowboy played by Don Murray. This was to be the last of the great collaborations between Marilyn and her favorite costume designer, William Travilla. TCF handwritten label "Marilyn Monroe A-769-03". Exhibits sequin loss along neckline and minimal sequin loss on bodice, and straps have been replaced.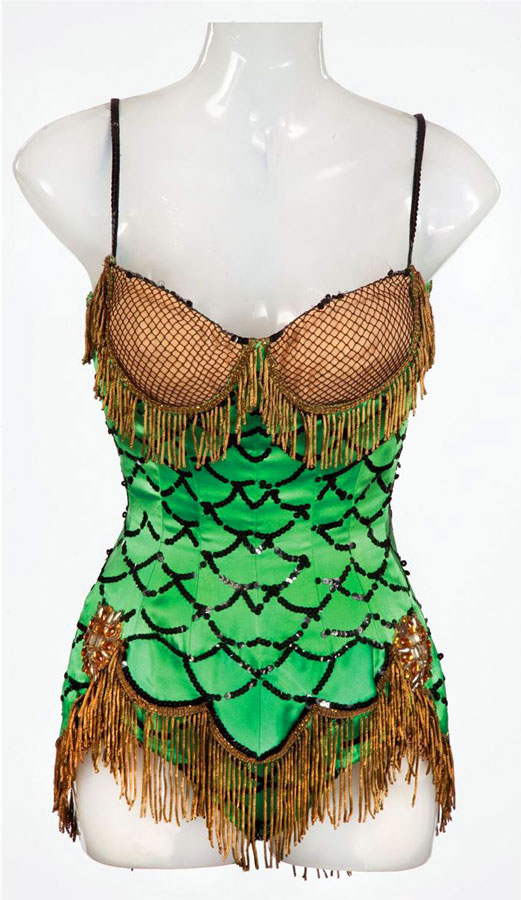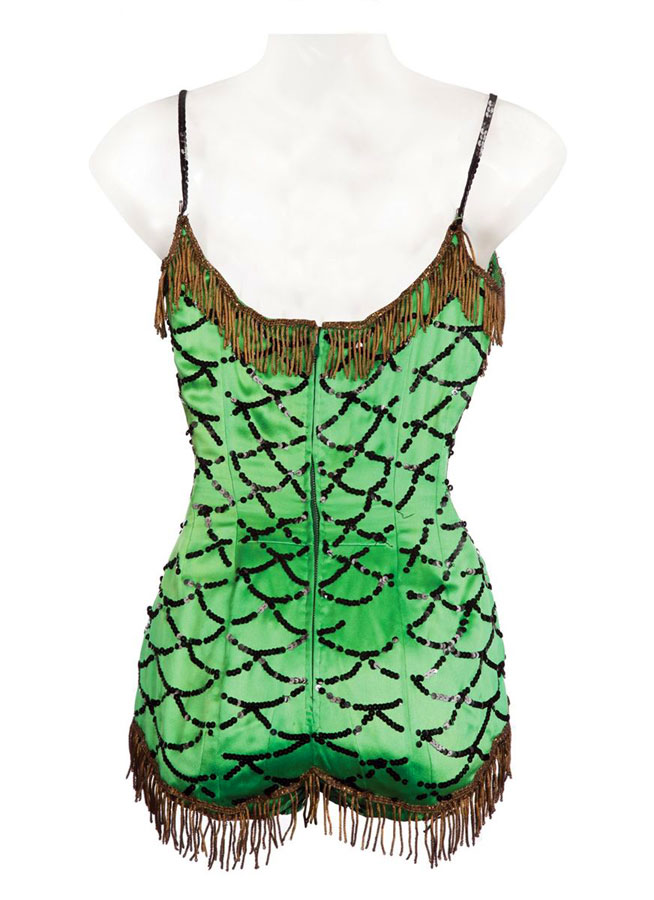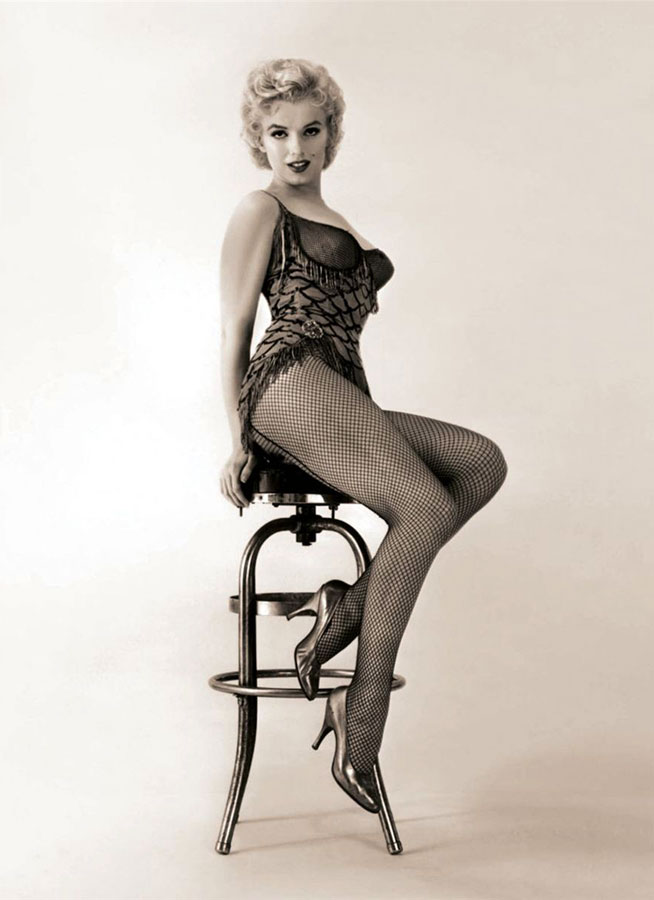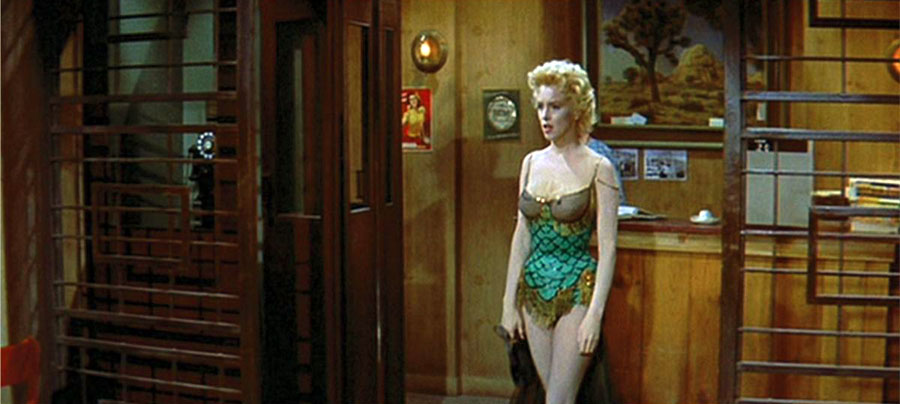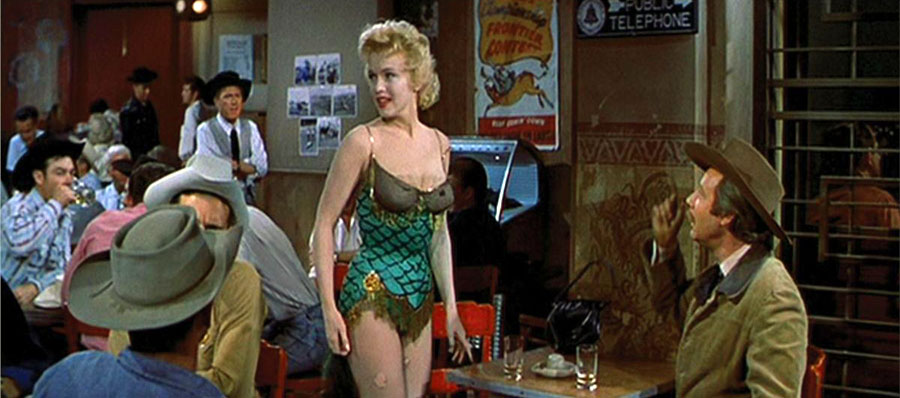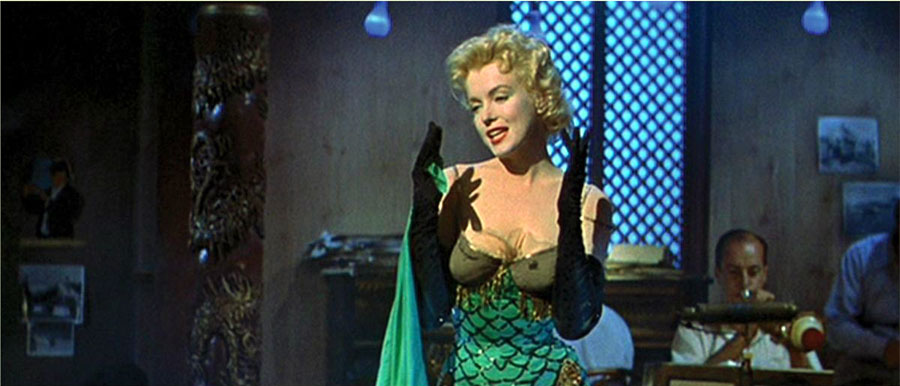 Eva Gabor portrait and gown. UNSOLD (estimate was $12,000-15,000).
Oil painting of Eva Gabor by Americo Makk circa 1965 and housed in a painted gold wooden frame. Measures 90" tall and 48" wide. Included in the lot is the green chiffon strapless dress worn for the sitting. Designed by Nolan Miller. Exhibits a small stain on the back of dress.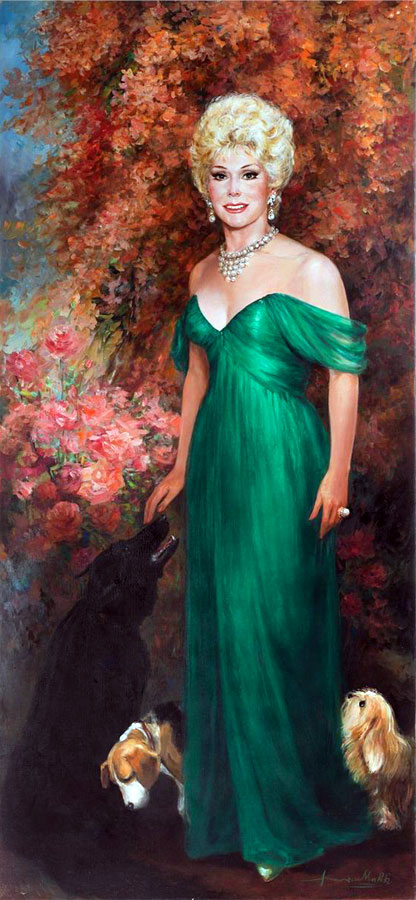 In this photo that I shot, you can see the Gabor painting as it hung in the William S. Paley center before the auction: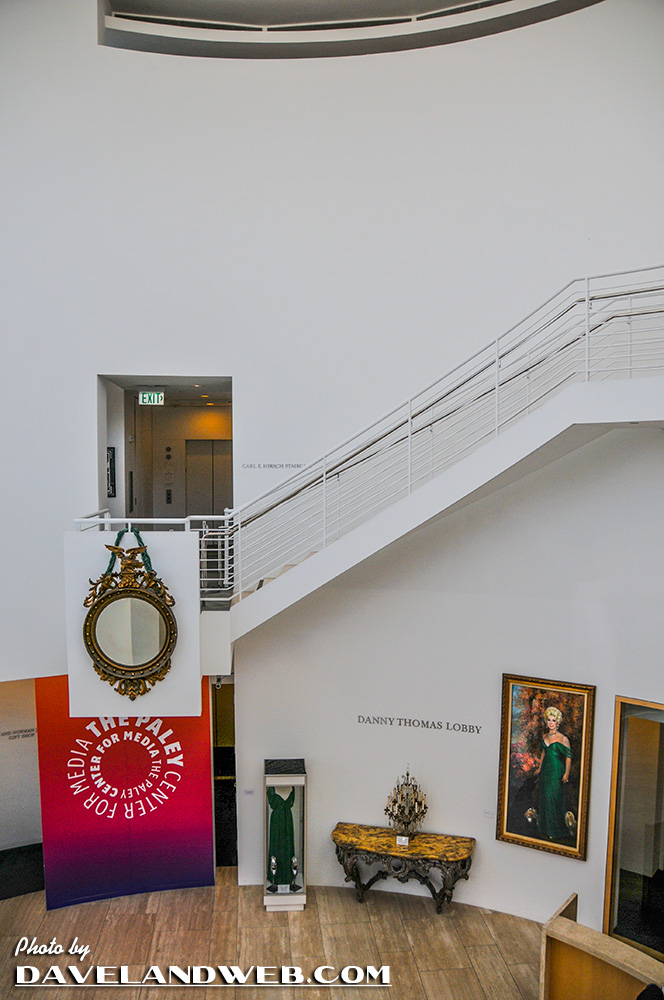 Stand Up and Cheer original Danish Shirley Temple poster. SOLD FOR $450.
Danish 24" x 34" folded A1 size original release stone-lithograph poster for an early Shirley Temple vehicle, also significant in depicting legendary African-American comedic character Stepin Fetchit, who became one of the richest actors of his time, the so-called "King of Central Ave." in 1930's Los Angeles. Extra folds and tiny tatters, yet remarkably well-preserved and entirely unrestored.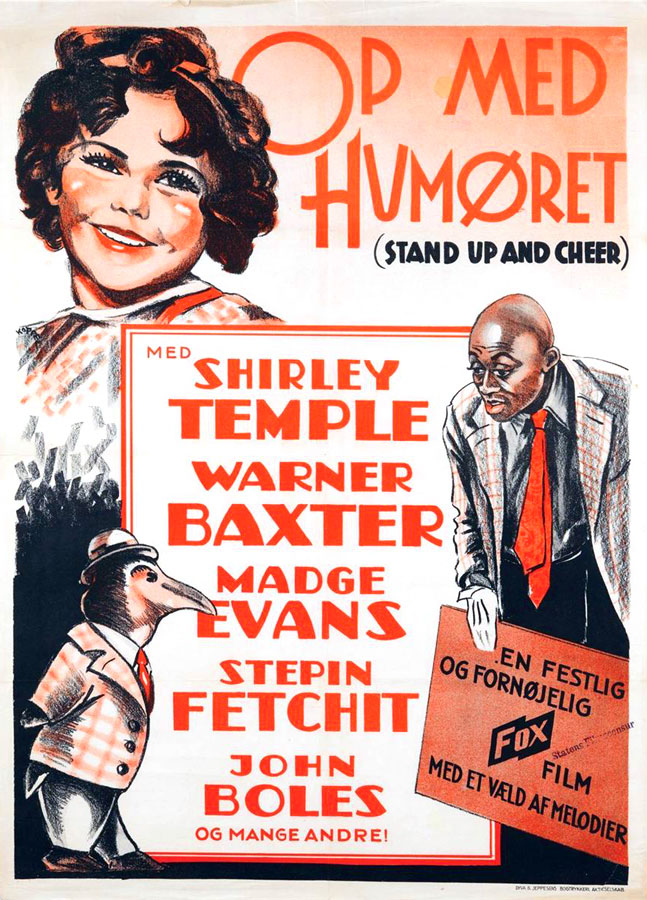 The items I was most anxious to learn about were the "Gone With The Wind" (1939) hats; for some reason, I didn't see the results for them listed on the auction website.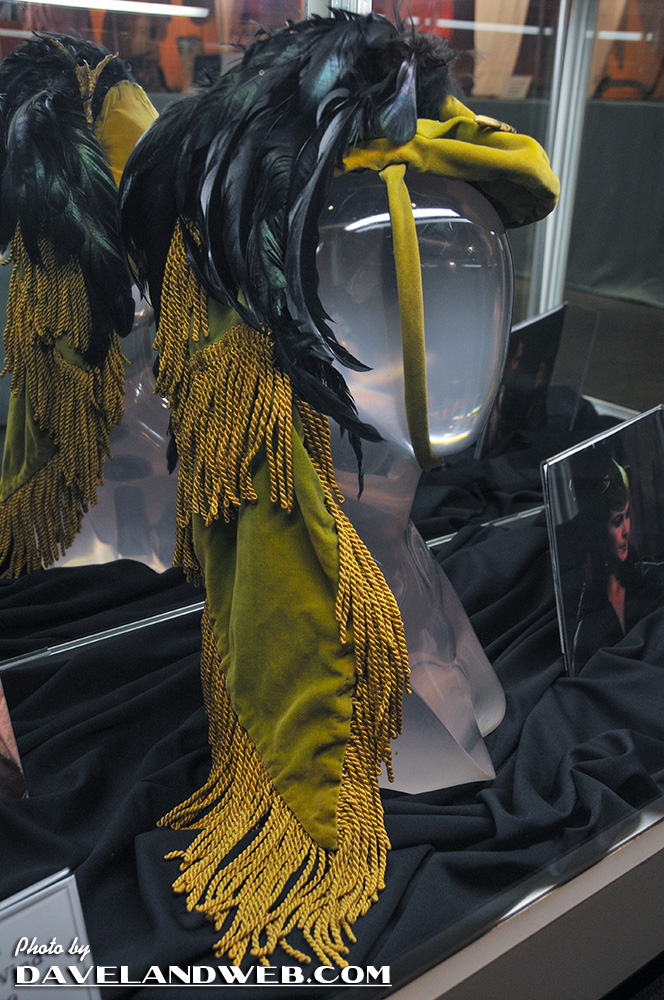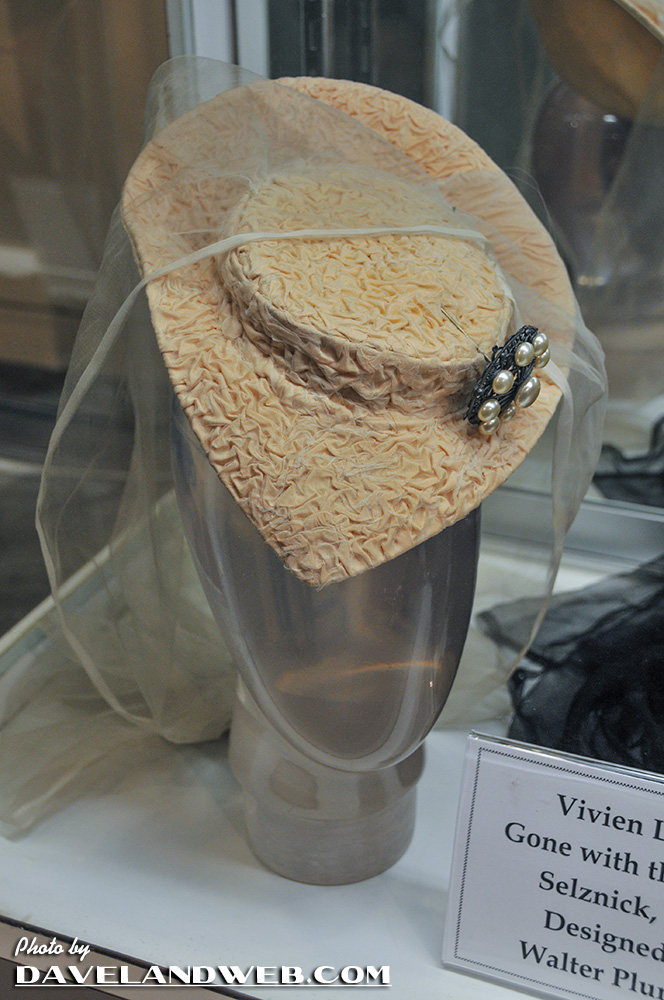 Nor did I see the results for this set of suits worn by the famous Rat Pack: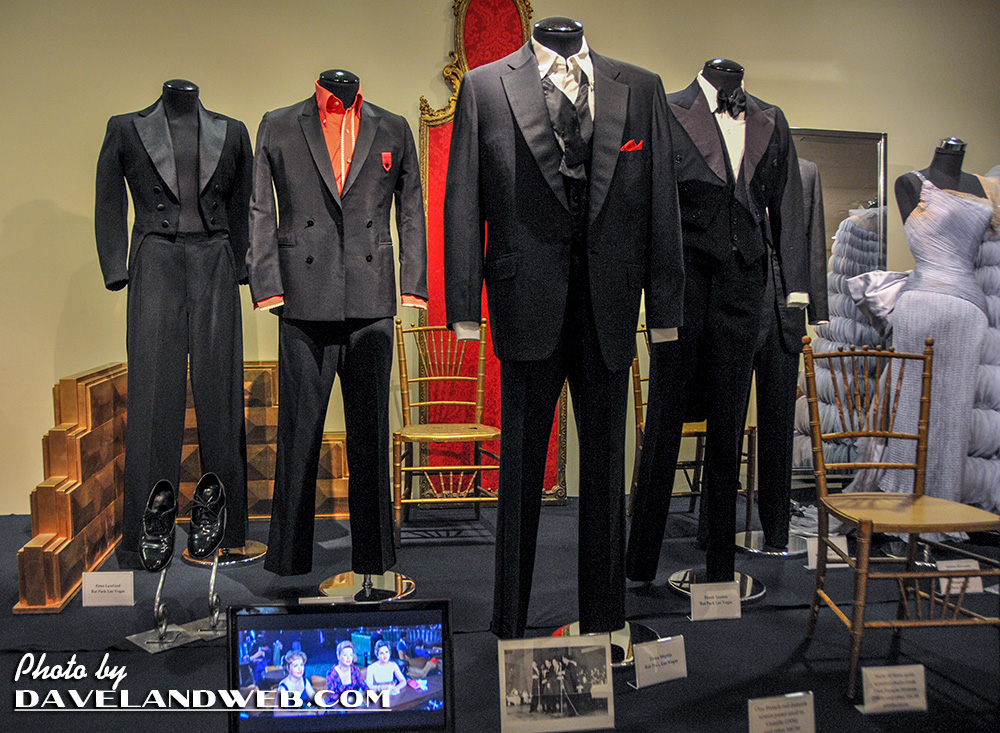 See more Classic Movie & TV and photos on my
Classic Movie & TV web page.