Time to visit a golden oldie from Tomorrowland, Adventure Thru Inner Space, that corny but lovable attraction that is still talked about today. From Vacationland Magazine, Summer 1967:
World of Molecules Theme of Tomorrowland Adventure

One of the most unusual adventures in the world will thrill Disneyland guests this summer in the Park's new Tomorrowland — Monsanto's "Adventure Thru Inner Space." Visitors will experience the "miracles of molecules" and "shrink" for "miracles of molecules" and "shrink" for a trip into a world of snowfalkes, molecules and atoms.

Guests feel as if they are shrinking as they journey aboard the highly versatile "Atomobile" — a new transportation vehicle designed by WED Enterprises — and glide into this fascinating microscopic world.

The adventure begins as passengers board "Atomobile" and enter Monsanto's "Mighty Microscope," emerging into a world of gigantic snowflakes. Guests feel themselves become smaller and smaller while the snowflakes appear to increase in size. As they pass through huge walls of crystal-like ice, visitors enter the snowflake and observe large molecules all around them. Growing "smaller" yet, they move into the molecules and emerge into a world of atoms, where the nucleus of a tiny oxygen atom resembles a giant sun.
This photo is from the opening of the attraction. Look at that crowd! You'd think it was for Star Tours...which is what is in the same space today.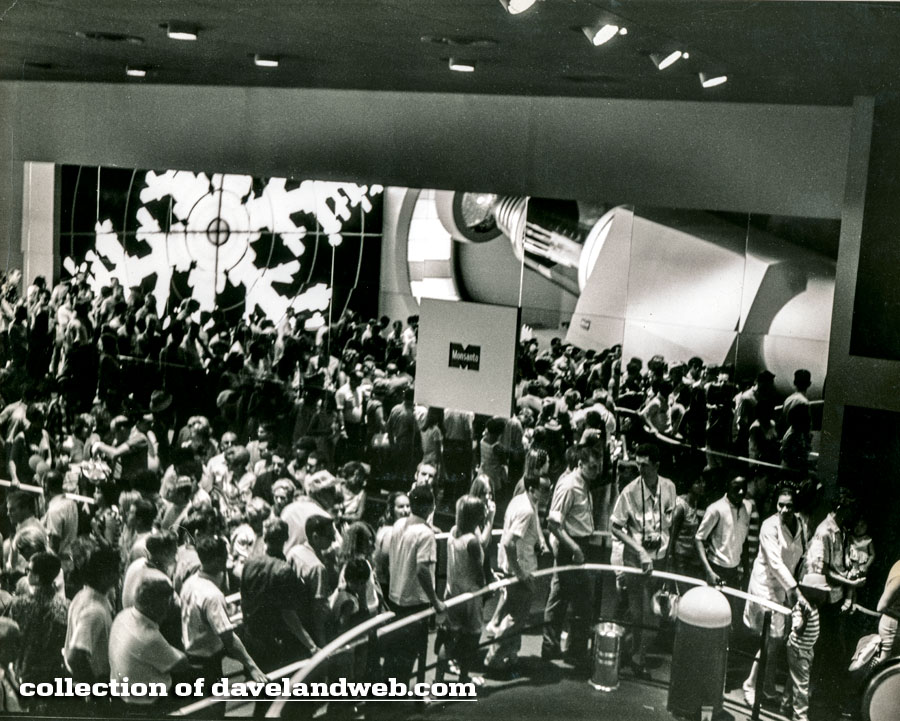 See more vintage Disneyland Adventure Thru Inner Space photos on my
Adventure Thru Inner Space web page.