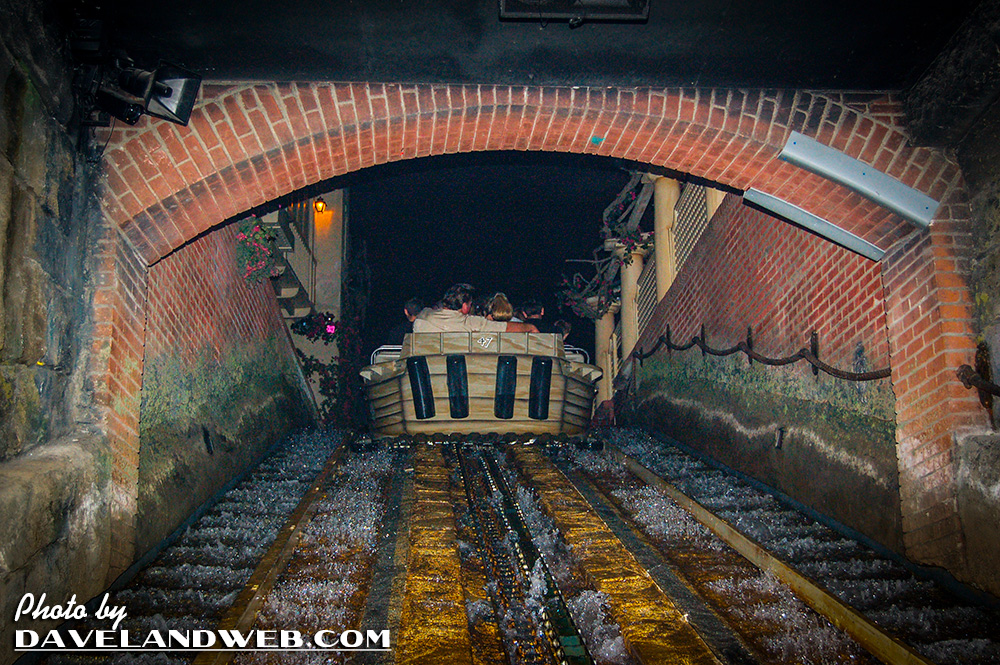 It's the saddest part of the trip—time to leave reality folks and head back to dry land. Going up this steep hill and feeling the chains underneath the boat straining for all their worth...always gives me somewhat of an uneasy feeling each time I ride.
I have learned that with the plastic flowers and plants, NOT using a flash definitely enhances photos from this attraction!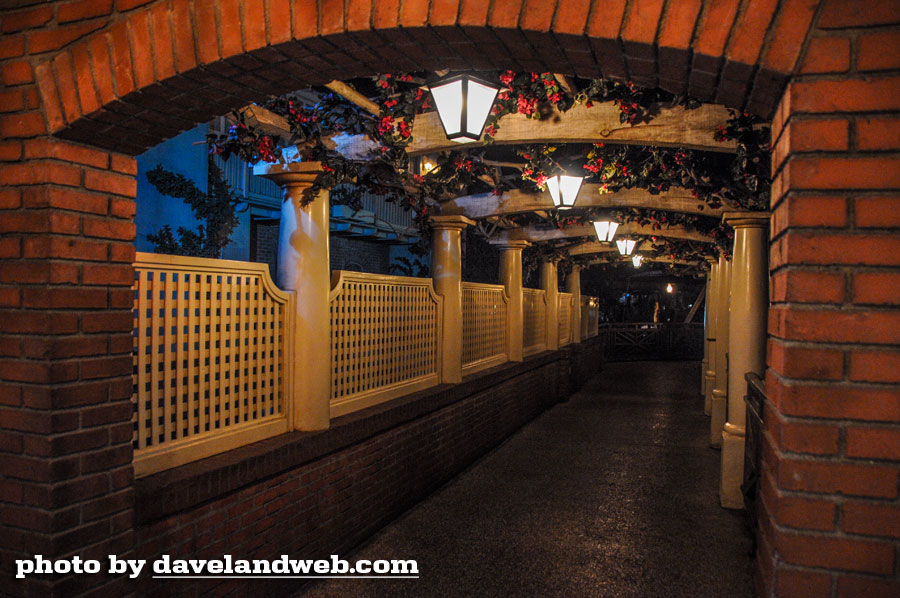 This sign plugs the nearby gift shop, Pieces of Eight.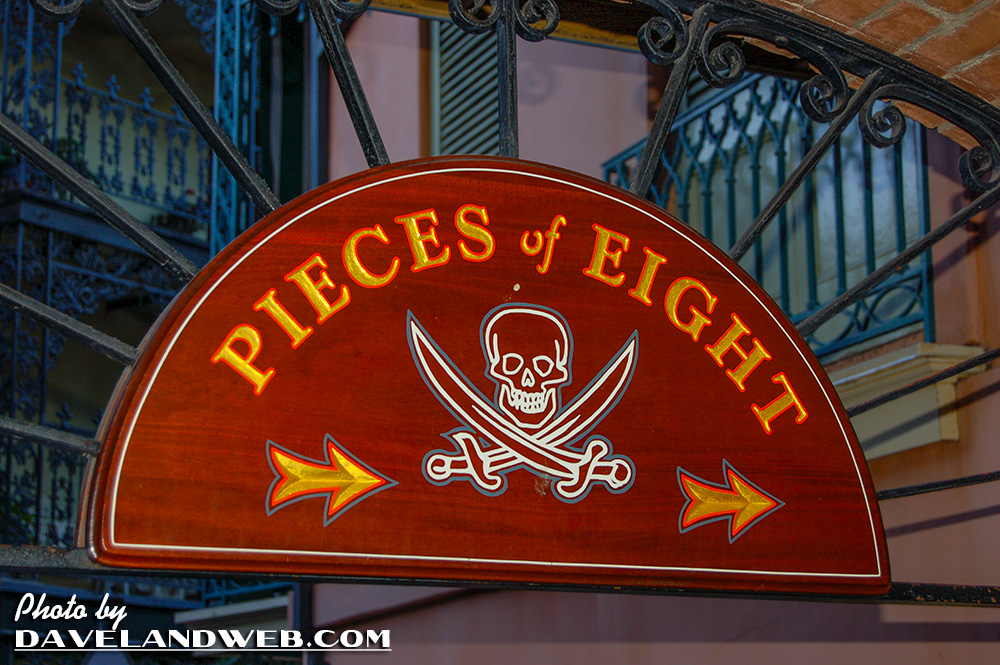 Here's where you return to daylight. Of course, after your Pirate adventure, you'll have to have lunch at the Blue Bayou next door. Hope you made reservations!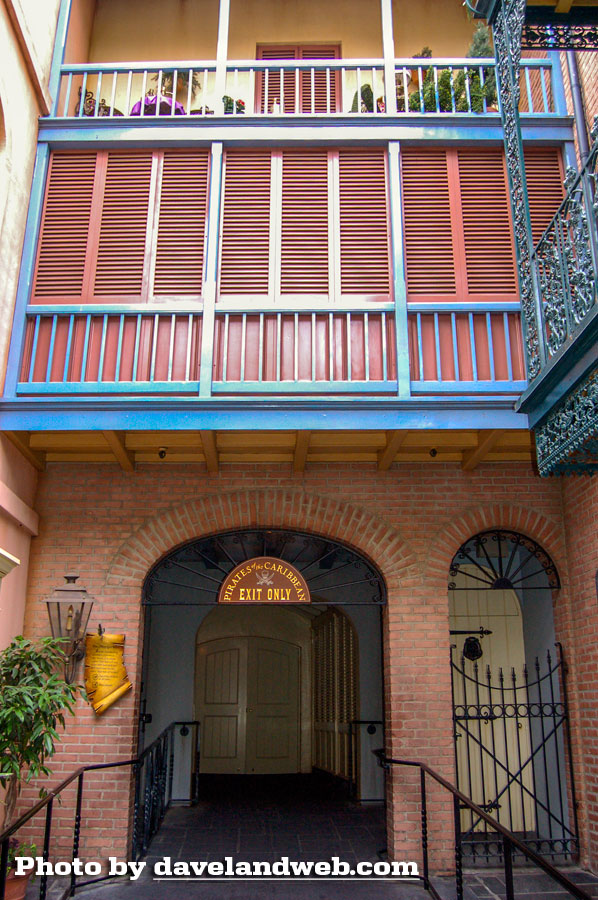 This window can be found immediately outside the exit of POTC.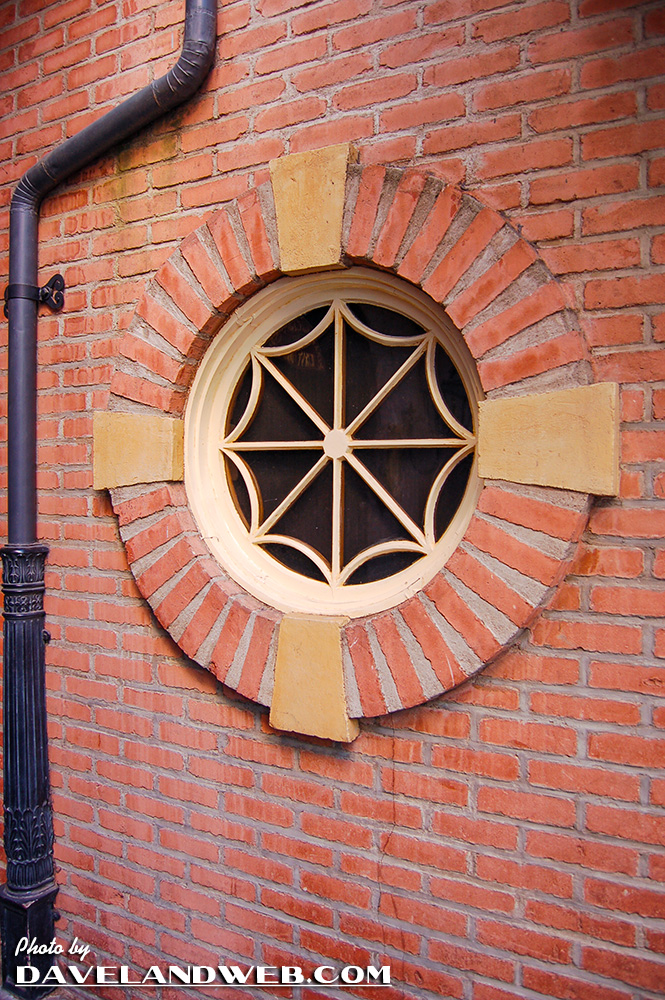 And if you're not ready for lunch, you can always return to the entrance and ride it again. The POTC queue moves pretty quickly, and often, people rush through this area without noticing the architecture and design; Disney focuses on details that most would not. Check out the period-looking grates on the wall, the lantern, and the hinge on the wooden door.
Back to yesterday's Trip Report post, we continue with Christy & I consulting with Esmeralda in the Penny Arcade on Main Street U.S.A. As you can see from Christy's expression, she is AMAZED at the psychic powers being exhibited here.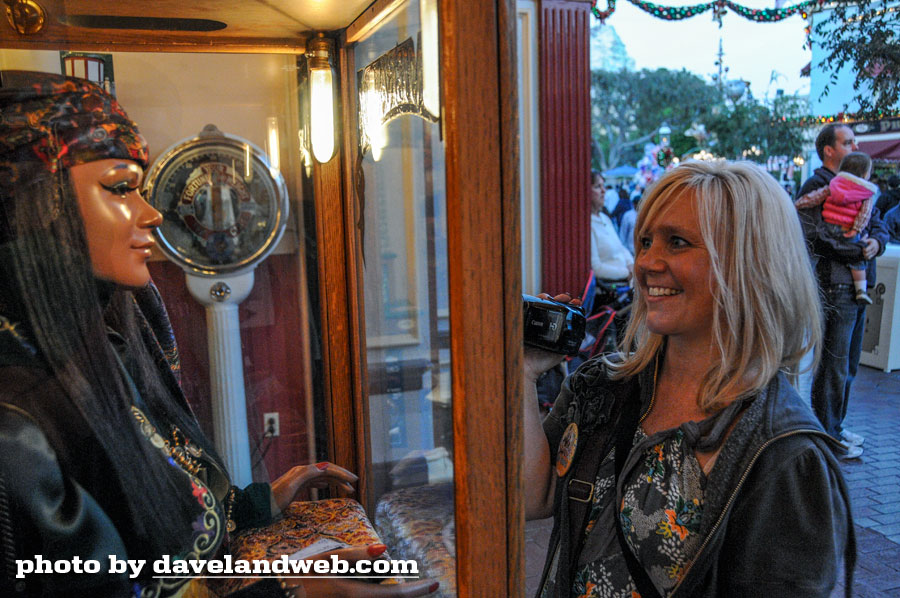 We had a 5pm appointment to board the Lilly Belle for a special Grand Circle Tour. I wanted to make sure she felt like a VIP, and with the informative presentation by one of the conductors, that was no problem!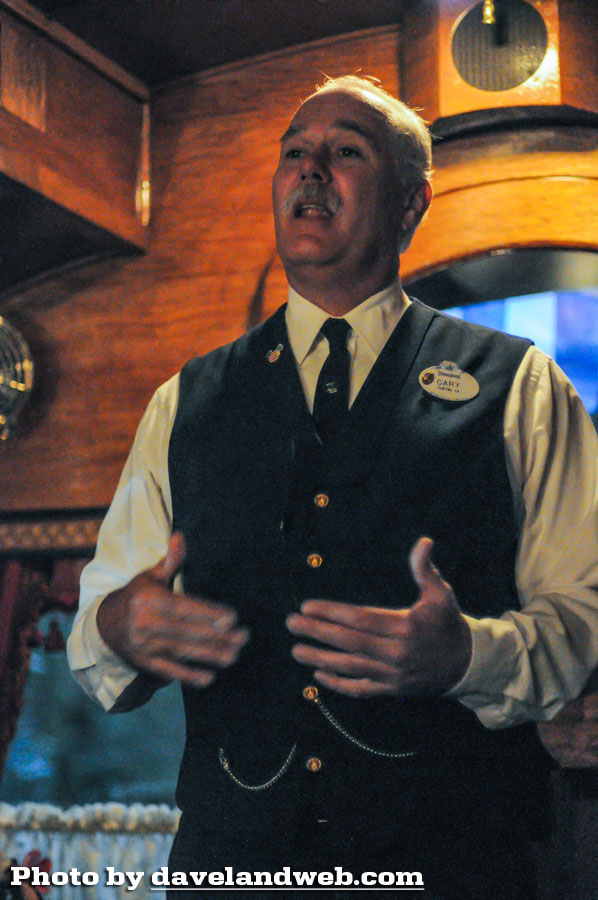 Once Christy recovered from her second trip through the scary Primeval World, we crossed over to the other side: Disney's California Adventure. As luck would have it, we made it to the Hyperion Theater just in time for Aladdin, with a stop for an obligatory photo opp along the way. Want to get good and dizzy? Stare at the center of this mural as you walk by—guaranteed to make your stomach churn a little!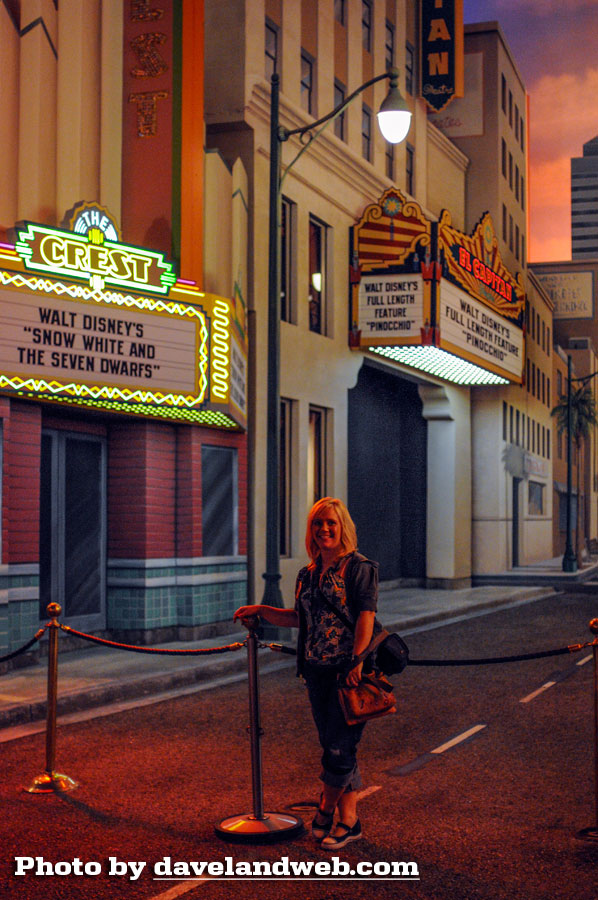 If you've never seen the Aladdin show at DCA, get your butt over there. It is truly amazing.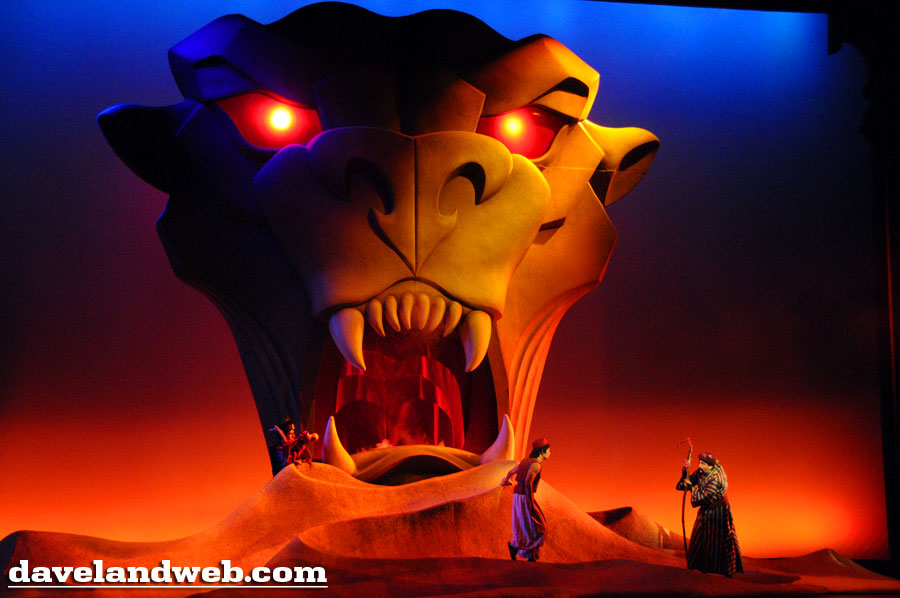 Time was running short...dinner at The Blue Bayou was quickly approaching. Naturally, D-Tours had to squeeze in a few more attractions to make sure Christy had the best time possible! Monsters, Inc. was an easy choice due to its proximity of the Hyperion Theater: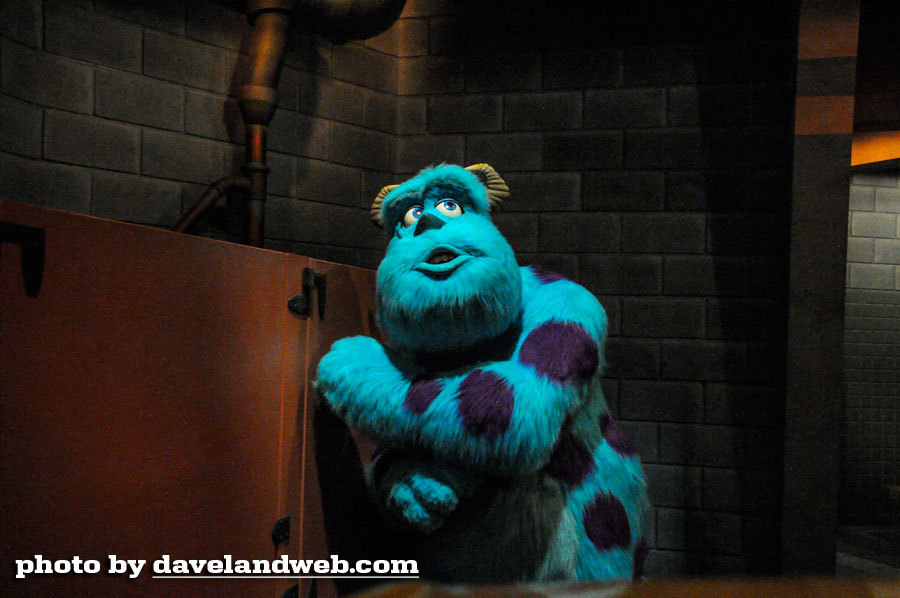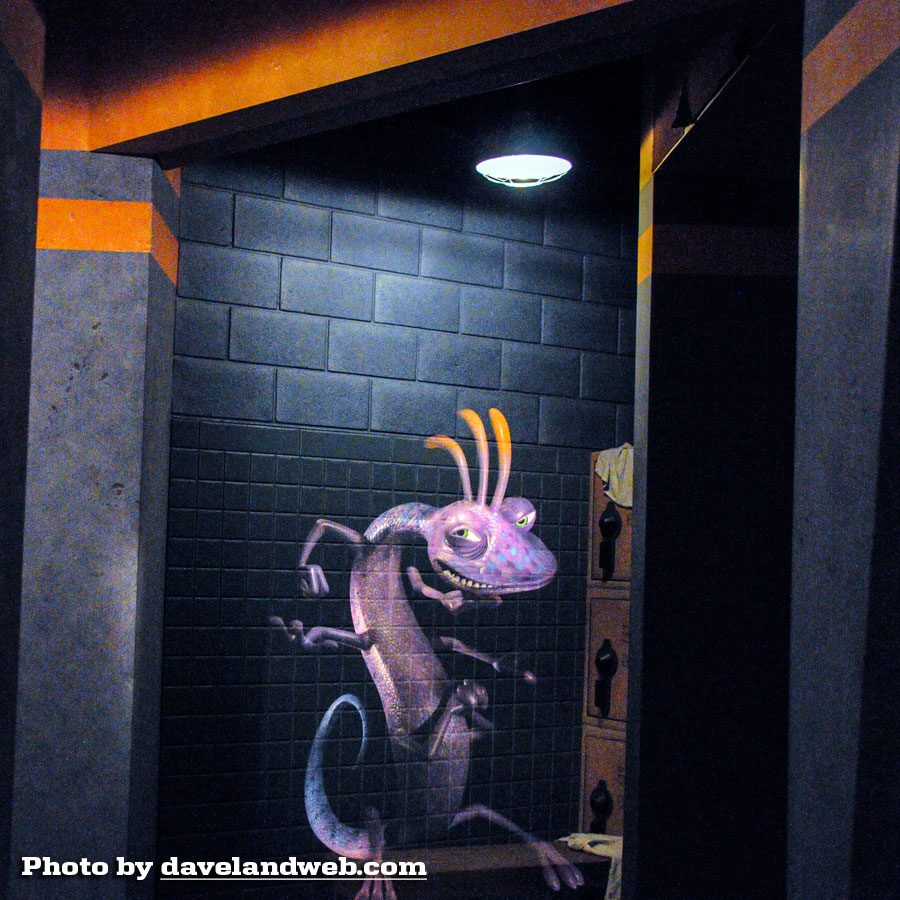 Christy is a huge Toy Story fan, so before hitting the Toy Story Midway Mania, we dropped by The Art of Animation to watch the Zoetrope. She stood there mesmerized for at least two go-rounds. Pretty much the same look on her face as when she was in consultation with Esmeralda.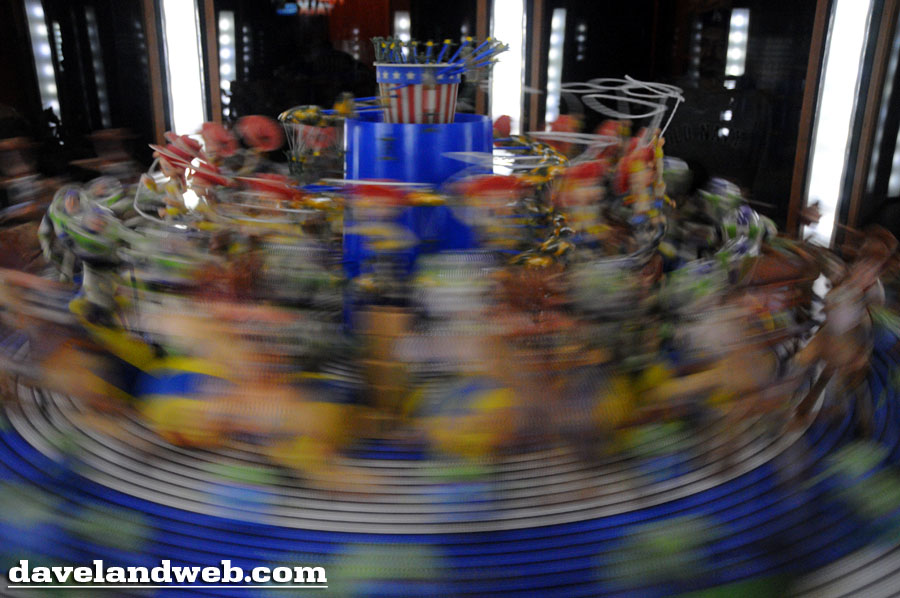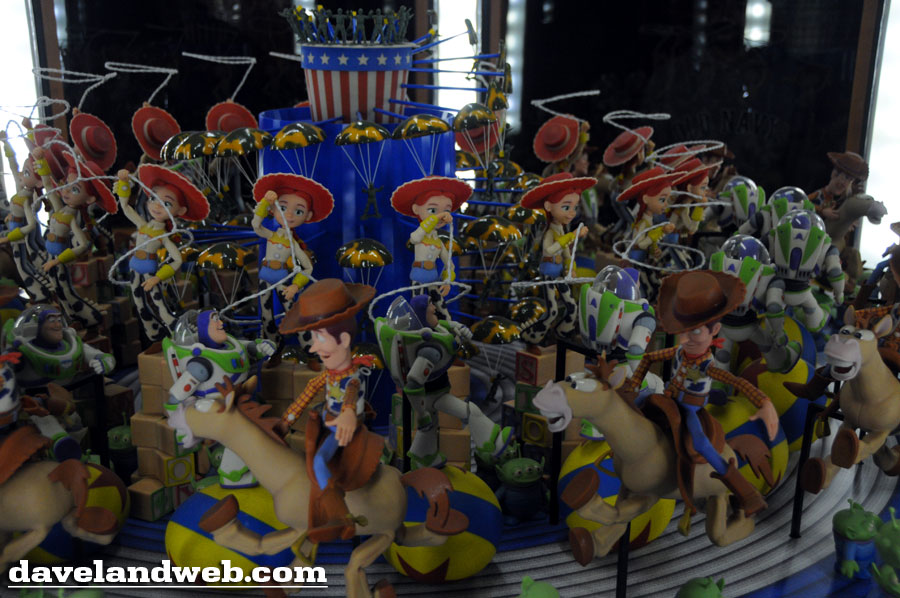 On the way we marveled at the nighttime beauty of Mickey's Fun Wheel!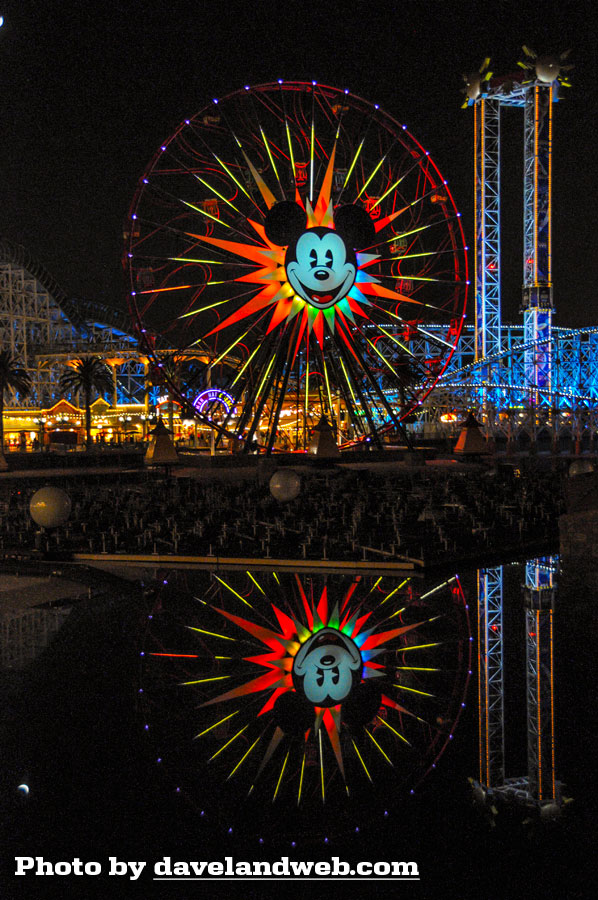 Once we got to Paradise Pier we had another friendly competition at the Toy Story Midway Mania. This was the only long line we encountered all day; it took about 30 minutes, but we had fun anyway, watching Mr. Potato Head and perfecting our camera techniques...in 3D no less!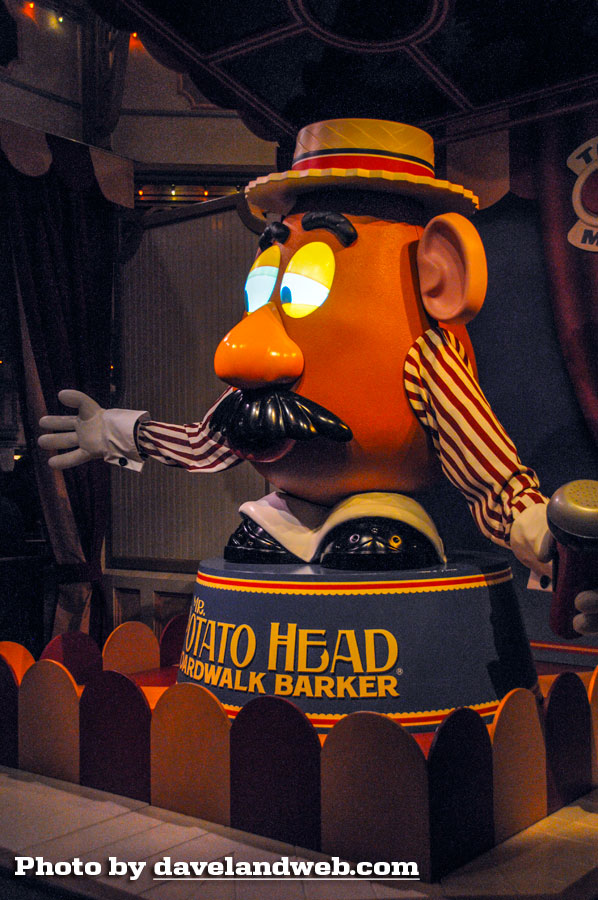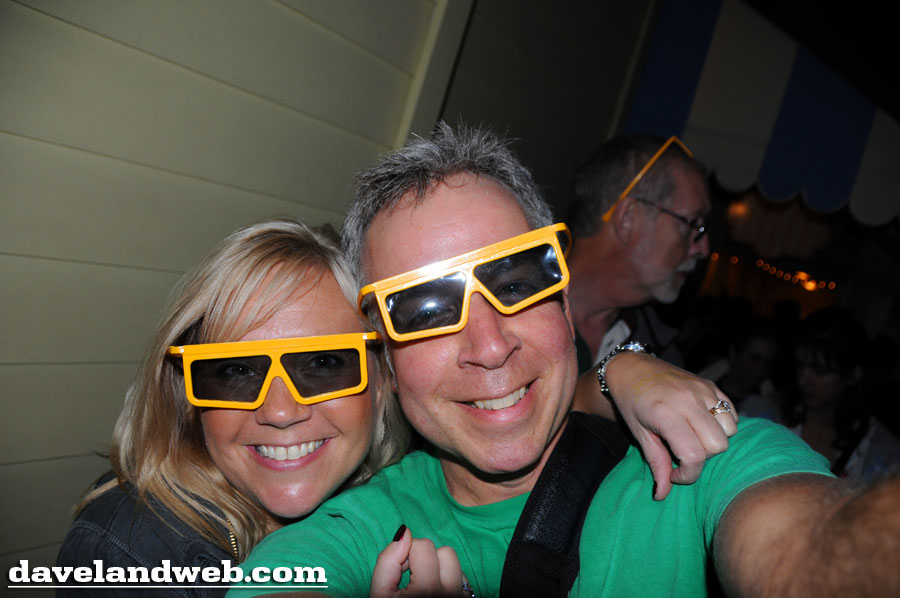 Now we REALLY had to run! Zooming past all the construction walls (and noting that she'll have to return for World of Color and The Little Mermaid attractions), we were on a mission to get to the Blue Bayou Restaurant on time. We were slightly late, but the Cast Members greeted us warmly just the same. Christy was in seventh heaven, soaking up the atmosphere and the delicious dinner. It really is a special place in the park. The hats were included at no extra charge—what a value!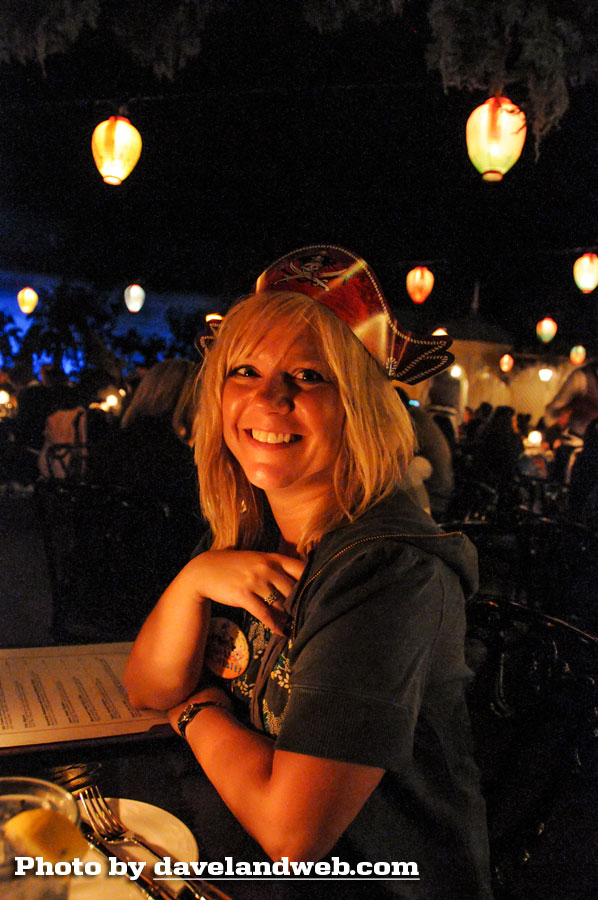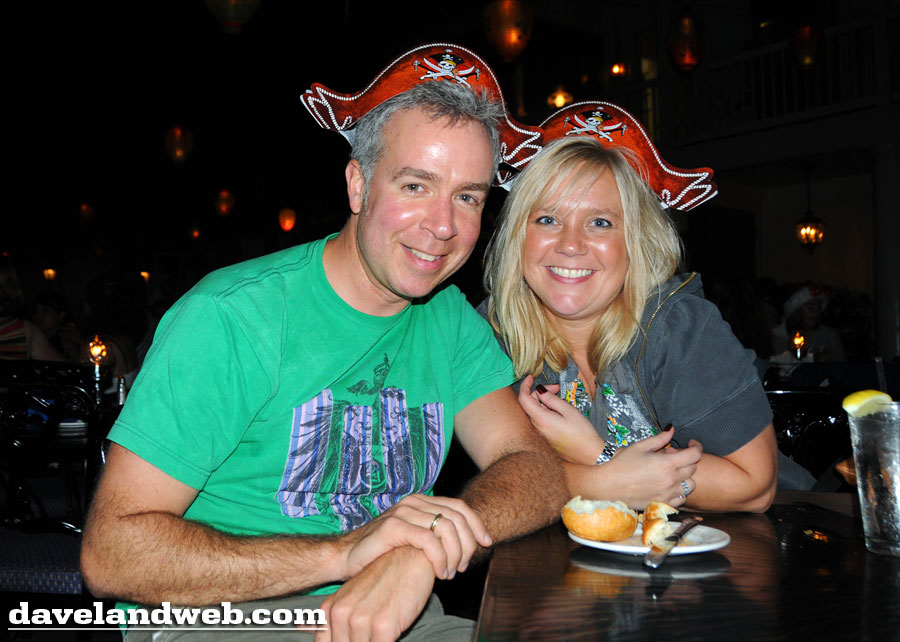 At this point, we were in somewhat of a food coma, but soldiered on to more attractions anyway. We did take time to appreciate the beauty of New Orleans Square with all of its festive Holiday decor: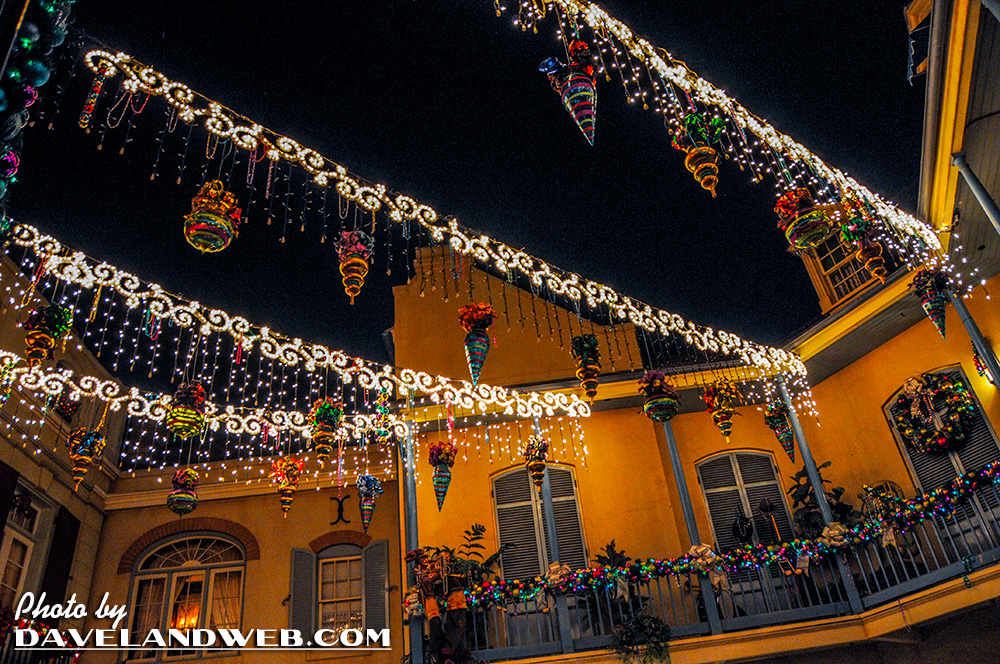 Christy is not much of a rollercoaster or thrill attraction person, so we skipped Space Mountain and Big Thunder Mountain. However, we did fast-pass Indiana Jones. Walking through the queue, she began to get nervous, thinking I'd tricked her into an attraction that had huge drops or possibly some kind of roller-coaster track. Well...not exactly! The Eye On The Globe film didn't help put her fears at rest (note to self: this is why Disney attraction queues can actually be fun!):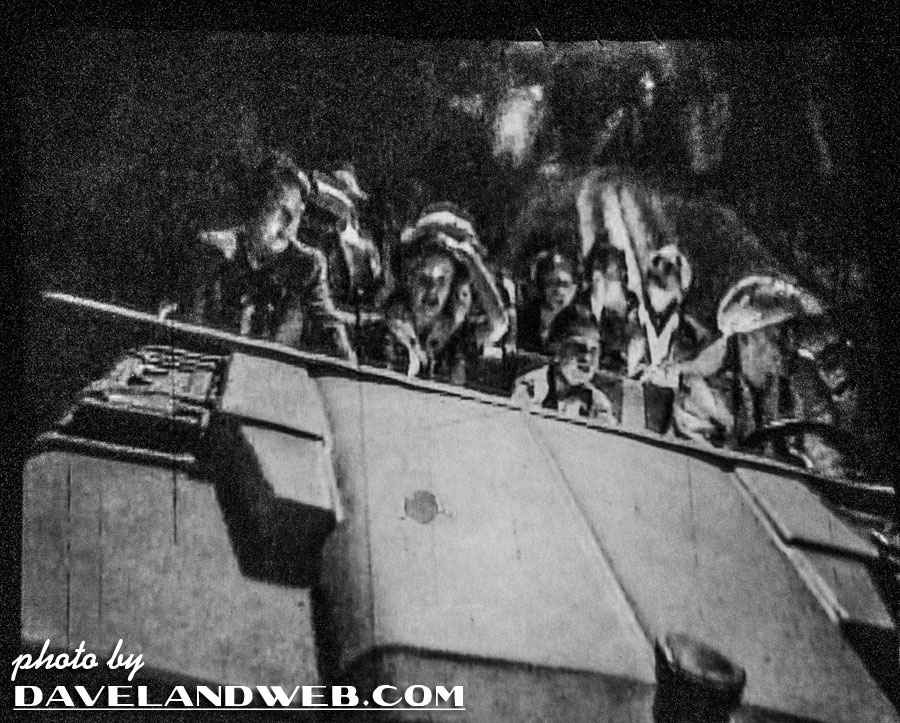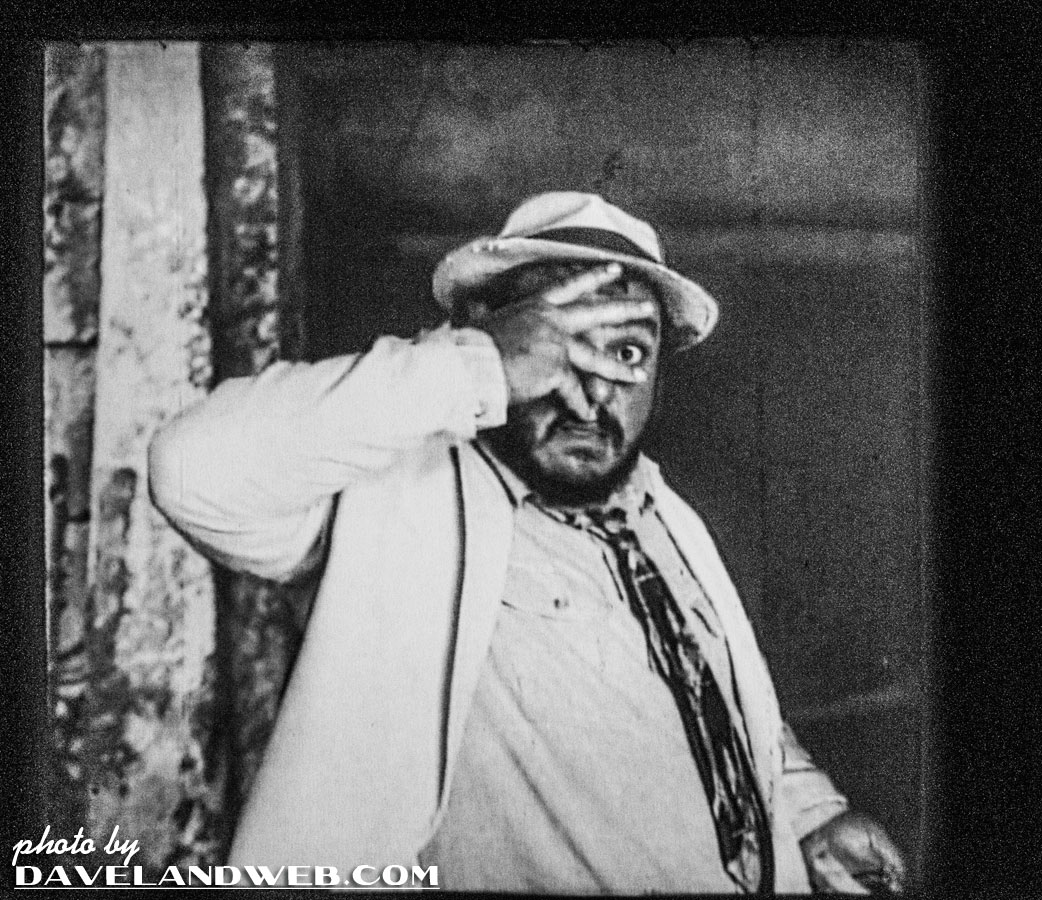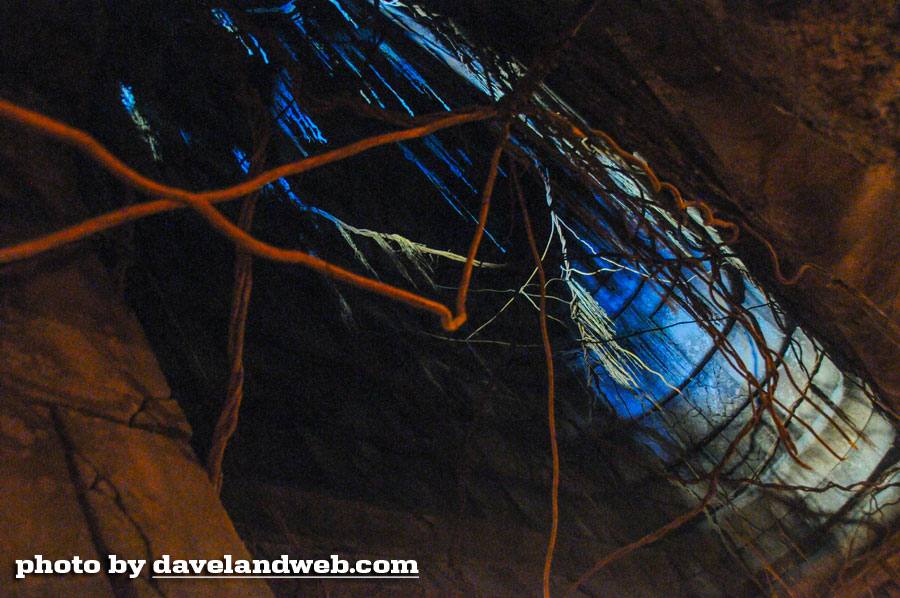 She giggled throughout the entire attraction...I wasn't sure if she'd gone nuts or really loved it. Turns out she loved it. By this time it was getting late and most respectable parents with tiny tots had left the park, so it was definitely a good window of time to enjoy Fantasyland. The Castle sure looked purty at night in all of its Holiday finery: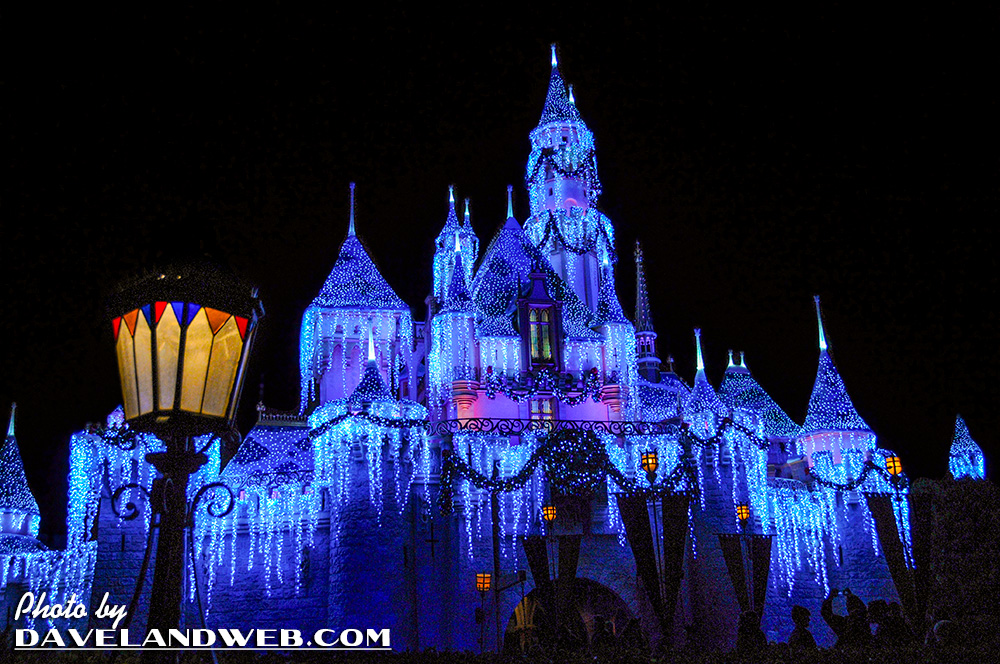 Peter Pan left her speechless and Mr. Toad's trip through hell helped warm us up (the steam could almost be advertised as a mini spa effect!). Although daytime provides better detailed viewing at Storybook Land, nighttime does have its advantages of showing certain areas in a more magical light: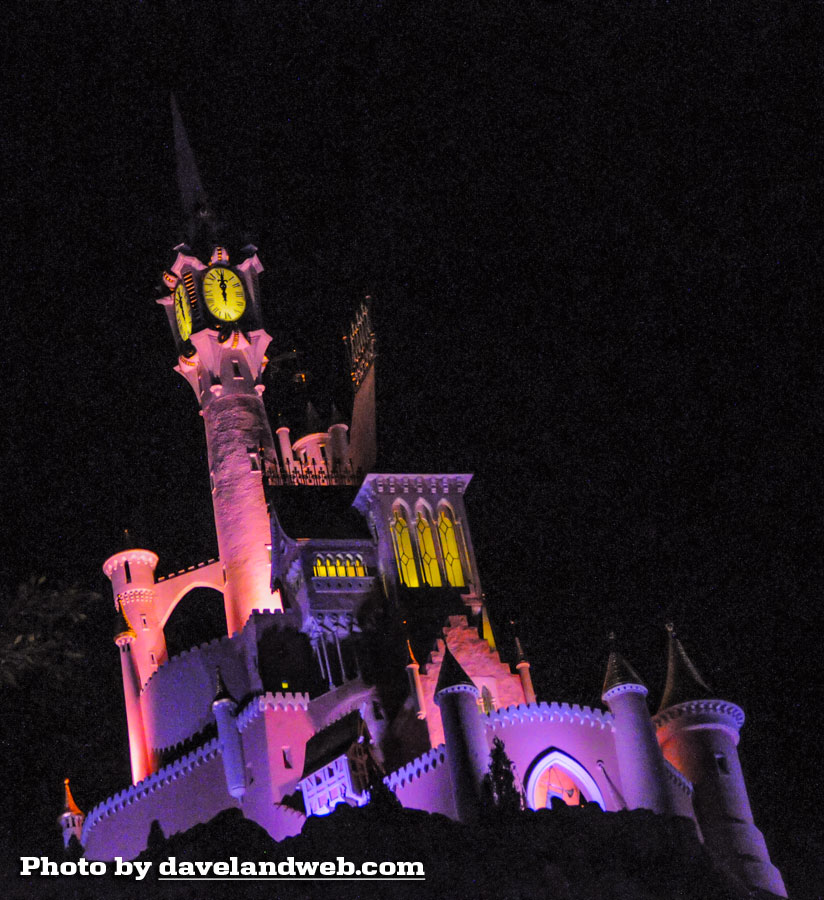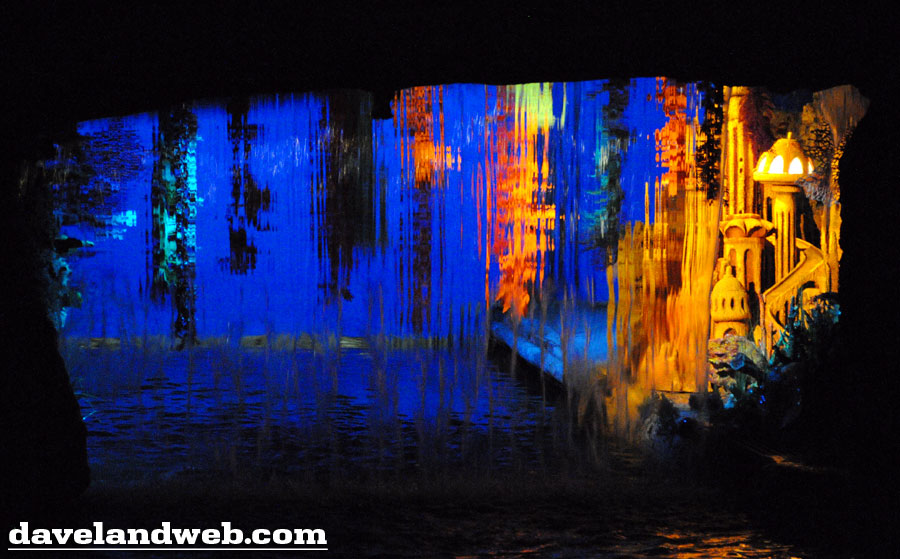 Alice sent Christy back to the land of giggles with its crazy hallucinatory imagery. She pointed out this sign to me so I allowed her to enter the Caterpillar vehicle before me. Sometimes, being shorter does have its advantages!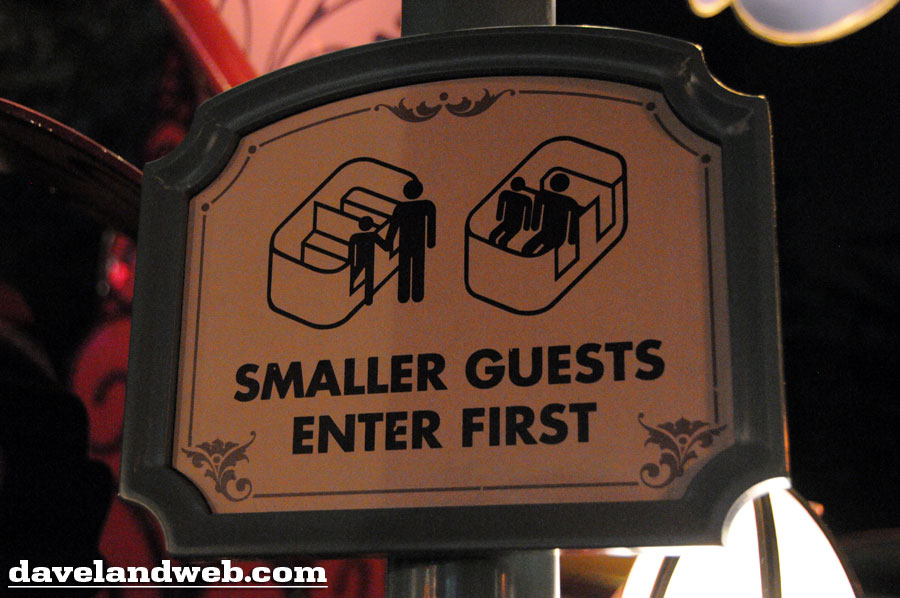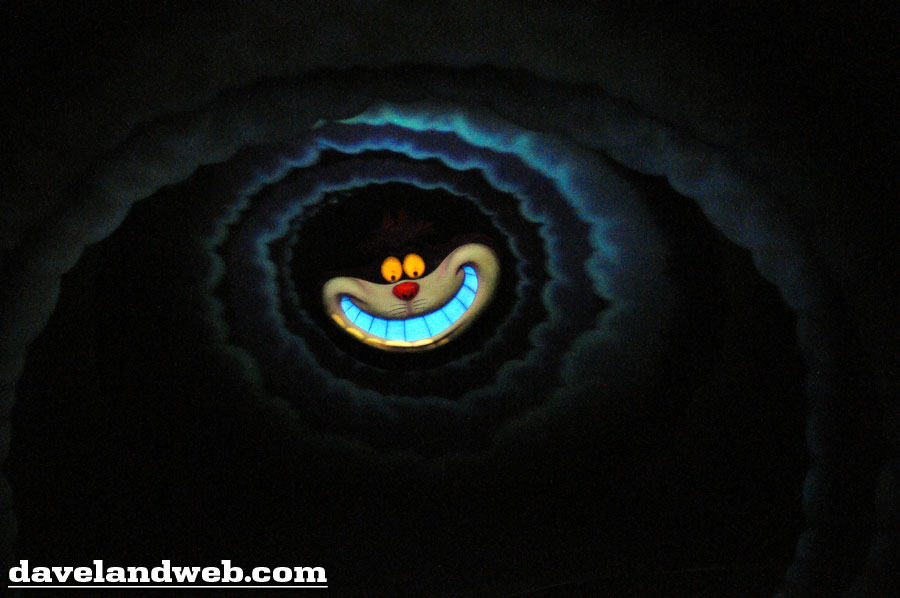 A stop at the Mad Hatter was absolutely mandatory as Christy needed a little retail therapy before leaving Disneyland. Her childhood dreams of becoming a Mousketeer came true!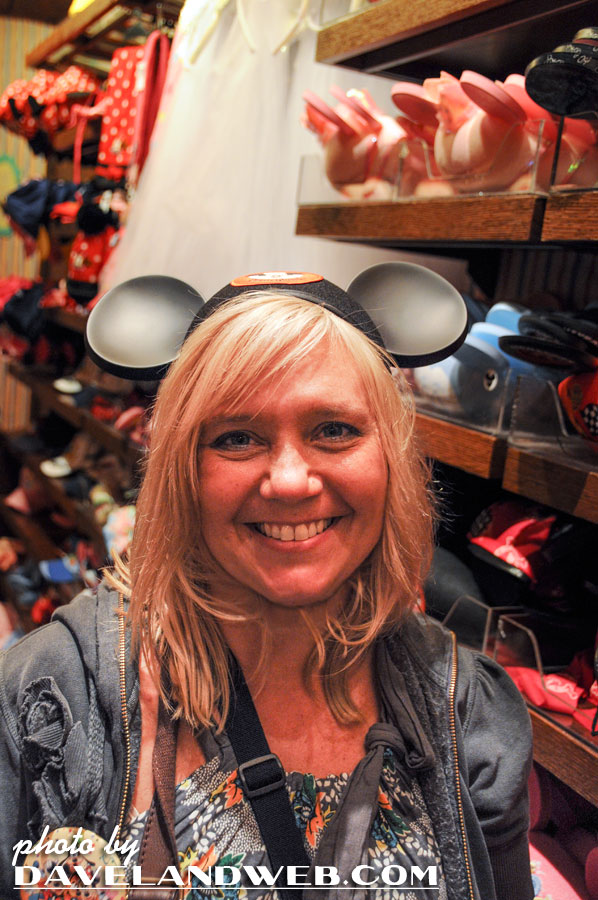 For our last attraction, I saved the Enchanted Tiki Room. Figured it would be a great way to end the perfect day. I'm sure Christy is still struggling with getting that song out of her head!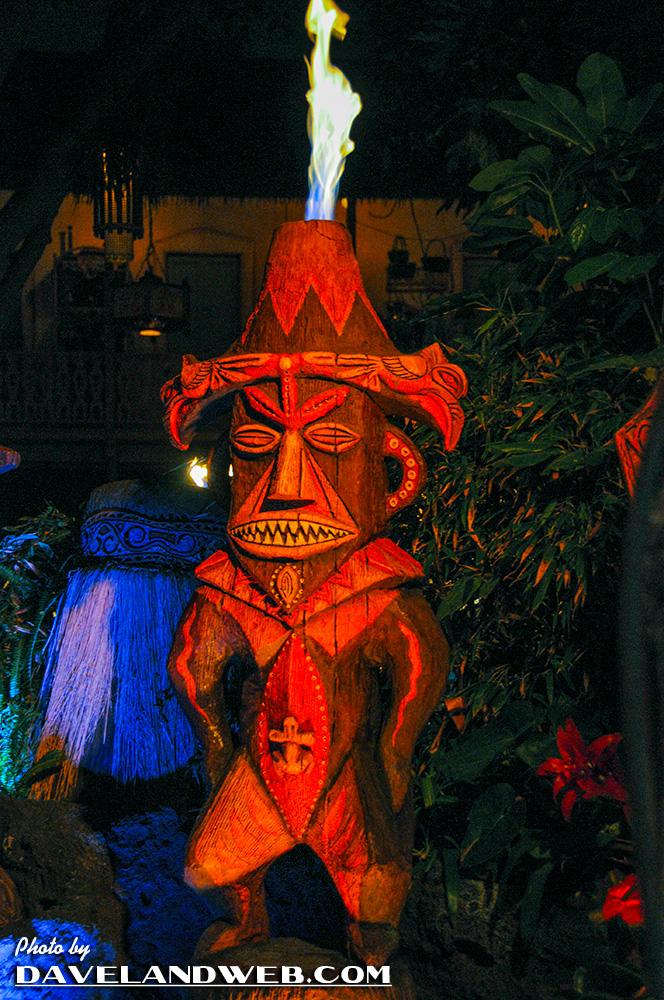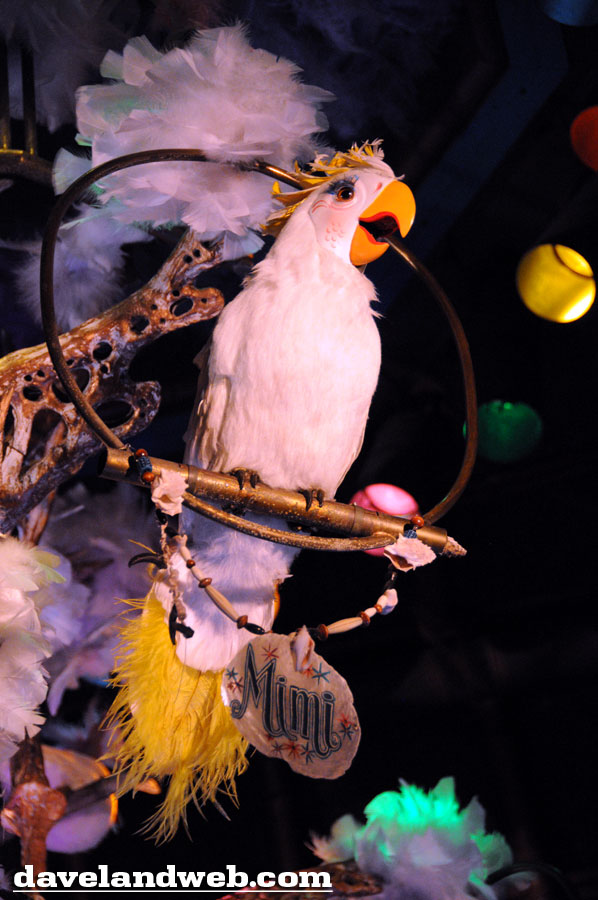 By this time, it was almost 1 am...sadly, we had to leave. On the way out,we had our last look at the Holiday decor as we sauntered down Main Street.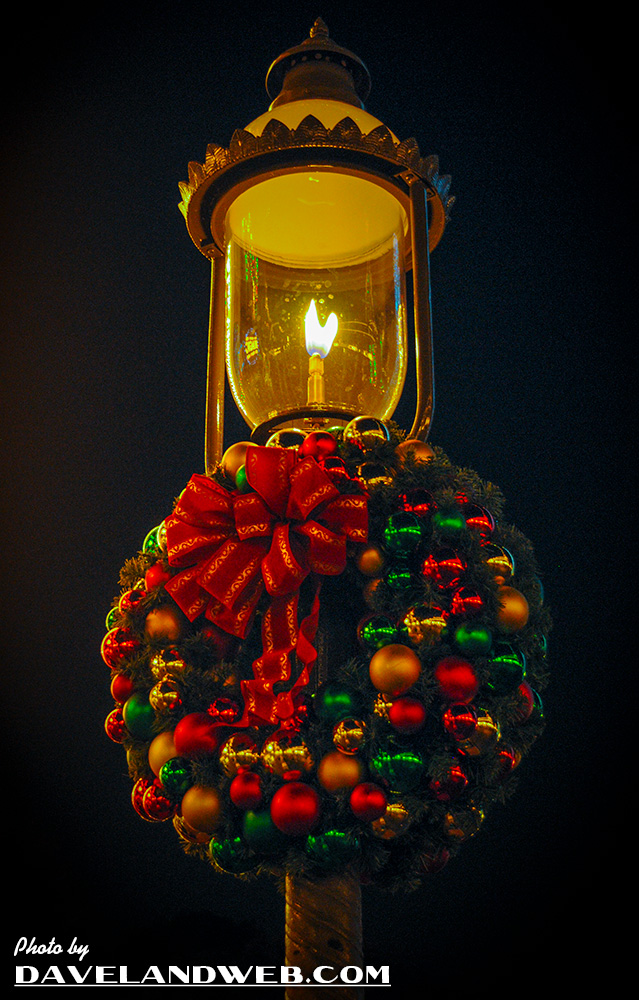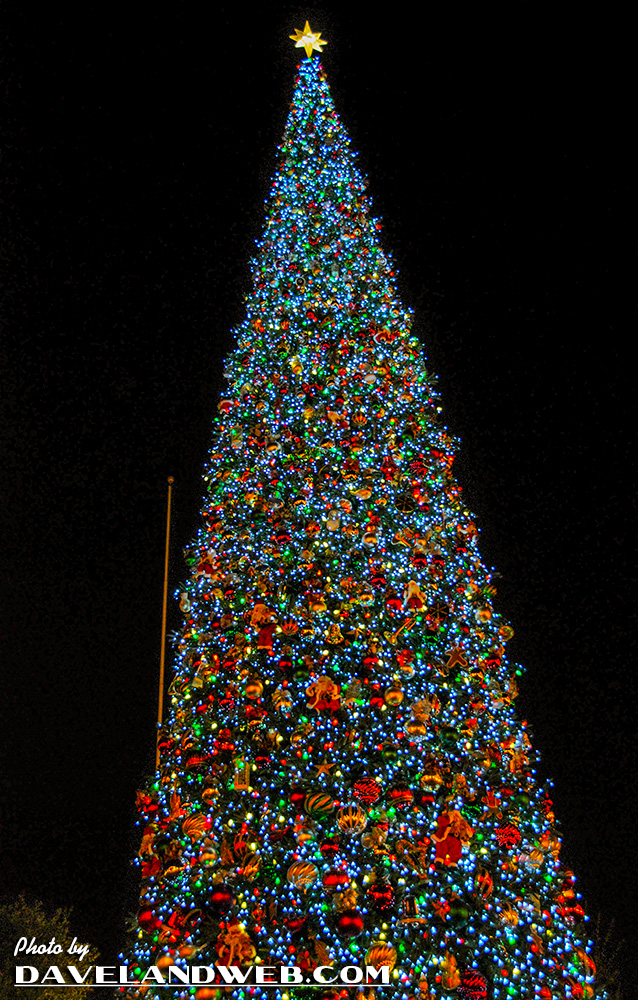 For our parting photo, I leave you with this appropriate image. Hope you enjoyed our day in the park as much as we did!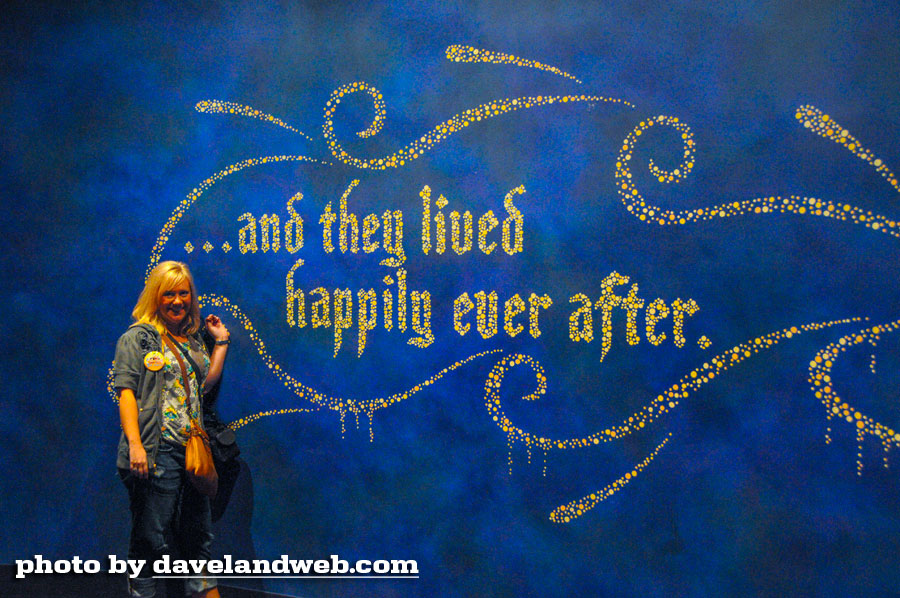 See more Disneyland Pirates of the Caribbean photos at
my website
.