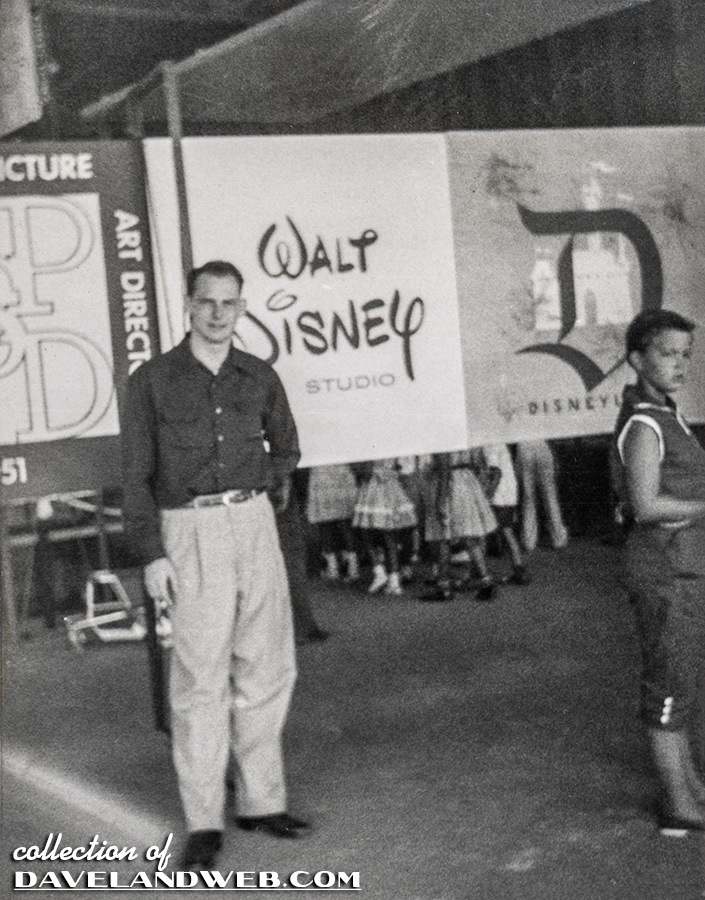 Hard to believe but today is my 500th post...oh yes, and also Christmas Morning! Merry Christmas to all of my readers who celebrate this awesome season, and to those who don't, Happy Holidays for however you do choose to celebrate (because life should be celebrated). In the spirit of the season, I am releasing this little gem of a series from August 1955. Our female photographer never names herself on the back of the photos (but she looks like a Betty, so that's what I'll call her), but her honey is named Bob. I am presenting these in the order that they would have most likely been taken. However, I am starting off with a mystery photo. Betty's inscription says, "Exhibit of Disney Studios." Photo 2 is a model of Main Street; note that the Band Stand is located in Town Square, where it was originally placed until Walt noticed it blocked the sight of the Castle. Interesting to see the original intended design for the Mickey floral as well; guess Mickey didn't care for this profile shot!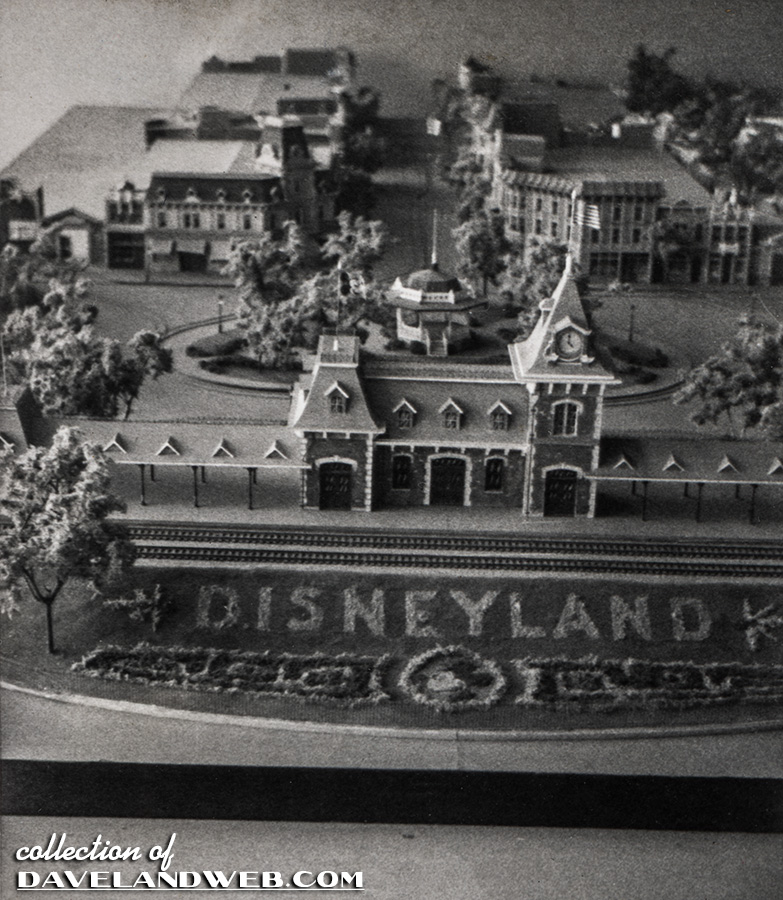 Starting out in Town Square, Betty got a nice shot of this Surrey Ride.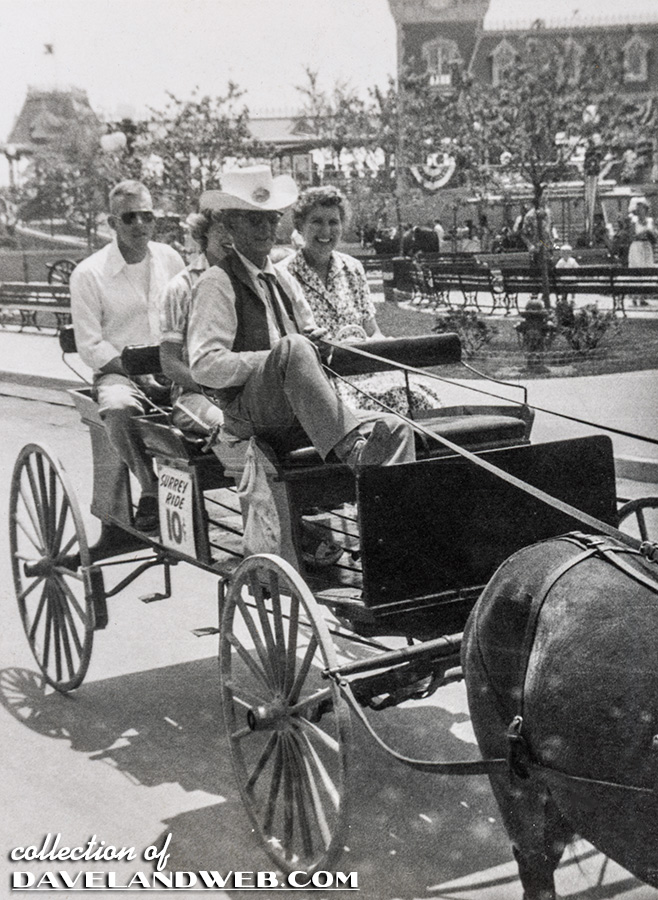 Last one for today (but more to come): Betty and Bud in front of the Tobacco Shop. She writes, "Our Indian friend on Main Street."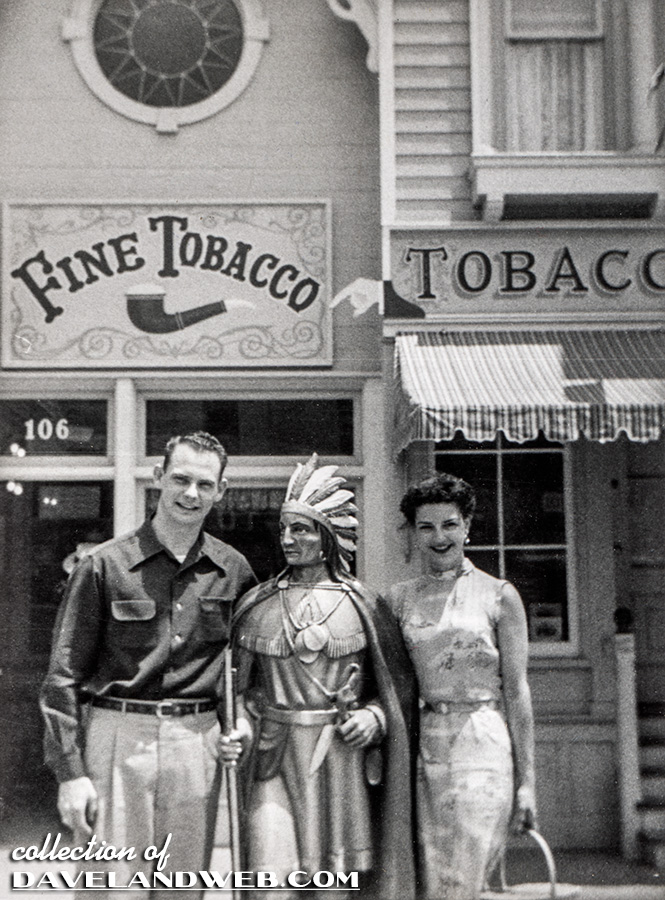 As you know, I love seeing and collecting these rare images, but it also makes me a little sad and more than a little curious. Whatever happened to these young, vibrant people who seem to be having so much fun in the park? And what made them give up these photos? Weren't there any relatives who would cherish them and pass them down to other generations? I've had one instance so far of a relative contacting me to identify a person in the photo. It would be great to have that occur with these 2. And as for my 500th post, big thanks go to: Matterhorn1959 who had the first Disneyland vintage photo blog that I still devour each morning; and Chris Merritt, whose snippy comment on that blog encouraged me to start posting these (and he turned out to be a really great guy, too!). Thanks to their inspiration, you now have 500 posts to savor and hopefully many more to come. Thanks to the readers who leave all the great comments, and let me also say how cool it is been for me to meet so many awesome people because of this blog. The Disney fans and collectors are second to none!
See more vintage and contemporary Disneyland photos at
my main website
.