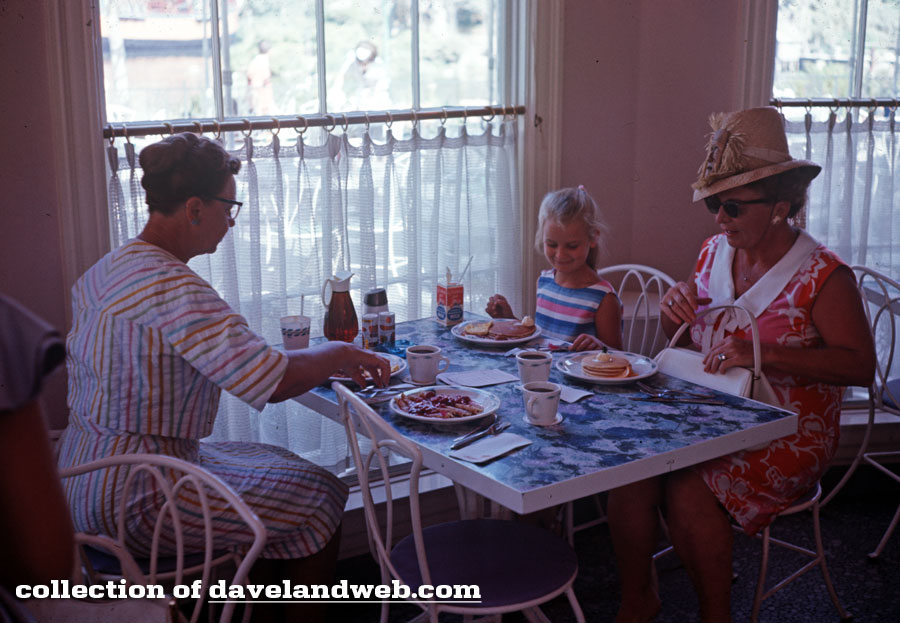 This 1960's image truly shows a breakfast of champions at Aunt Jemima's Pancake House on New Orleans Street at Disneyland. At first glance the photo may seem boring, but when zooming in...oh I can feel the pangs of hunger! Those pancake rollups with fruit look tasty.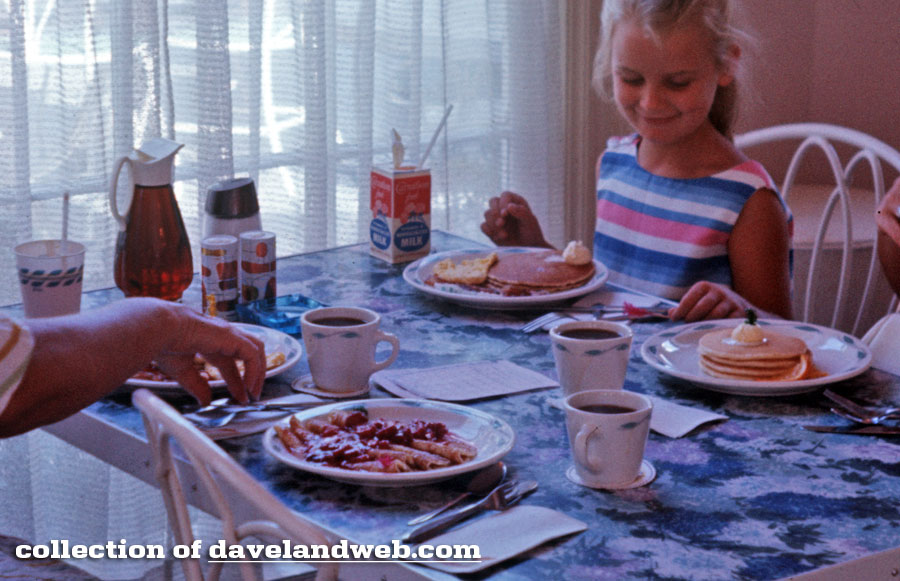 Daveland reader M. Hulme graciously shared a photo of this certificate given to Aylene Lewis for her portrayal of Aunt Jemima at Disneyland: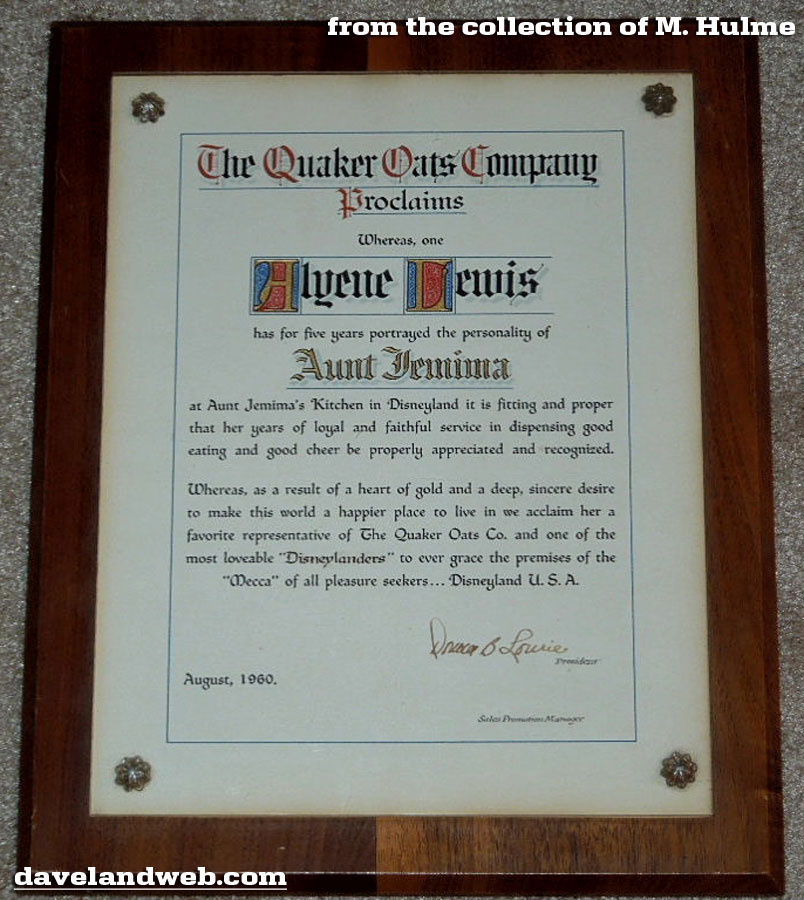 Another Daveland reader David Gristanti recently shared some fantastic first-hand memories of his visits to the park and of his grandfather who managed Aunt Jemima's Restaurant:
My grandfather was Raul Grisanti, and he managed several eating establishments in the park, Aunt Jemima's included. I would go to the park often, and one day, when I was 15, I was with my grandfather, having dinner in the Polynesian Restaurant. A couple of tables over was Walt! I was introduced to him, and I have never forgotten that memorable event. Because of my grandfather's involvement from the very beginning (he was a friend of Walt), my parents were present on Opening Day. In fact, my mother still has black and white photos from a Polaroid camera of some of the activities and some of the dignitaries present, such as Danny Thomas, Ronald Reagan, and more.

So, from an early age, I was taken to the park countless times. On one occasion, maybe around 1957 or 1958, I was there with my family. As we were getting ready to watch a parade, someone from Disney came up to my parents and asked if my sister, probably 8 or 9 at the time, would like to ride in the parade. She ended up riding in the Grand Marshall's carriage, with Jimmy Dodd and some of the Mouseketeers (it may have been Karen and Cubby).

Another time, my grandfather introduced me to Aunt Jemima at the pancake house. For several years I was convinced that I had met the REAL Aunt Jemima!

As I got into high school, I would occasionally call my grandfather and request tickets to be left for me at the will call booth. He would always oblige. I would take a date there and, when it was time for dinner, I would go to whichever restaurant he would be at, and ask for him. It was usually either The Red Wagon or the Polynesian Terrace. There would often be a long line of people waiting for a table. I would always tell the hostess, "Please let him know his grandson is here." That would invariably get the attention of the hostess, and she would scurry off to get him. He would come out and warmly greet us, take us right in and sit us at a nice table and tell the wait staff to "take care" of us. It never failed to impress my date!

Back in the early 1980's, one of my close friends was in management at the Disney Channel, and his young daughter was one of the regulars on one of the daily shows (can't remember the name of the program). He invited me to go with him to the park and have dinner at Club 33. It was a very hot day in July. So, after spending several hours there and fighting the crowds, we went to the door-knob-less entrance, spoke through the intercom (felt like we were going into a speakeasy), and we were let in. Wow! The oak and brass elevator, the beautifully appointed furnishings, and the many gifts given to Mr. Disney from heads of state, it all was quite impressive. We were also given a tour. As we sat and ordered our steak, we looked out our window at the mass of humanity, eating corn dogs and popcorn, and just sat back and savored the outstanding meal we enjoyed in air-conditioned luxury! Of course, we were shortly again part of that mass of humanity, but grateful for the memorable experience.

We have taken our children there more times than we can remember, and, now that they are married adults, they continue the tradition. In fact, in February, we rented a home in Anaheim for a week with our children and grandchildren, and went to the park 4 times! We all love the place, and if we lived in Southern California, I am certain we would each have an annual pass.

I have been to Disney World in Orlando and we have been to Euro Disney and Tokyo Disneyland, but none of the other parks have the magic of the original. It is the best!

Some of the fondest memories I have of Disneyland are: seeing the incomparable Wally Boag many times at the Golden Horseshoe; riding on the Flying Saucers in Tomorrowland; getting a Daniel Boone Coonskin Cap when I was a boy; marching in a parade down Main Street as a teen when I was in a marching band; getting into the park via the Monorail from the Disneyland Hotel in the late 60's because I had long hair, and "hippies" were not allowed in (or we would wear hats that would conceal our long hair and go through the front entrance). Once we were in, they never made us leave. On Saturday nights back then, there were dances at the Tomorrowland Terrace, and they always had some good bands and there were lots of girls!
Thanks for sharing those great memories, David!
See more vintage and current Disneyland Aunt Jemima Restaurant photos on my
Aunt Jemima photo web pages.