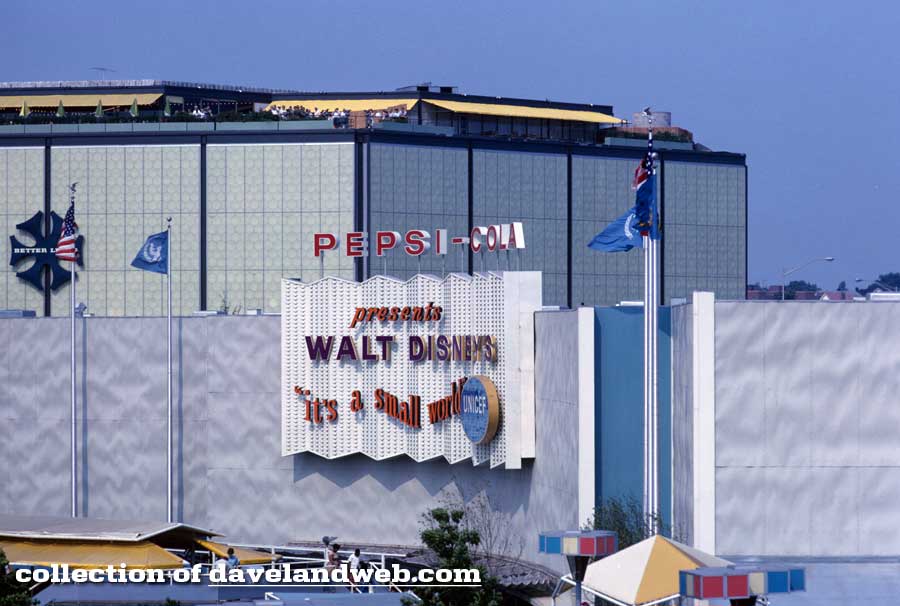 After almost a year of anticipation, it's a small world (iasw) has reopened amidst another storm of heated rants and raves from the online community. This time though, there is a large counter-wave from those guests who have actually been on the attraction; the supposed desecration "leaked" by armchair Disney enthusiast Al Lutz last year has not turned out as reported.
Originating at the 1964/65 New York World's Fair, small world came to fruition when Pepsi (yes, a corporate sponsor—oh no! those actually existed back then?) and Joan Crawford approached Walt Disney about doing an exhibit for their company that would be a tribute and benefit to UNICEF. Disney had to fit the attraction to the NY World's Fair building, as it was constructed before the ride had been created. Pepsi was not happy with small world; sponsorship for the attraction at Disneyland was picked up by Bank of America (another "evil" corporate sponsor—how did Walt let this happen?!?) and the show was expanded to fit the new larger building in Anaheim. Please note the logo prominently shown on the marquee in this 1968 photo, with not a mention of UNICEF: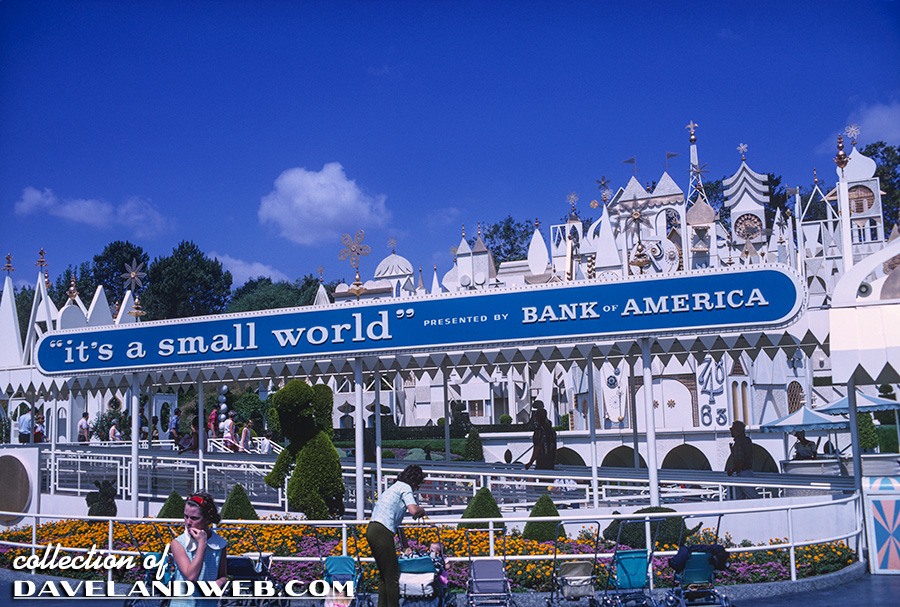 One of the things that has really rankled me about this iasw debate is that Mary Blair has been trotted out like a sacred cow, given sole credit for this attraction, while people bemoan that her memory is being trampled on because of these changes. MANY others deserve just as much credit for this attraction as Blair; Rolly Crump, Marc Davis, Leota Toombs, Blaine Gibson, and Alice Davis, pictured below tending to the costumes that she created: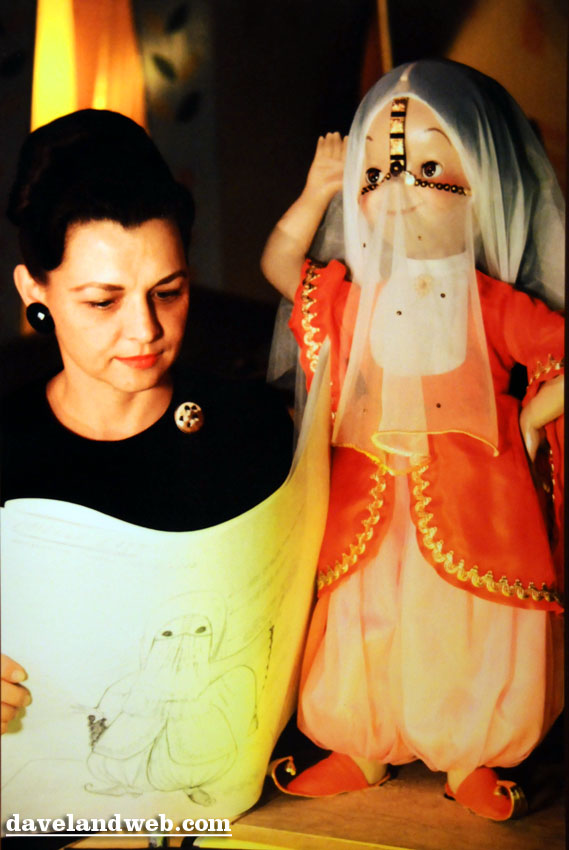 Below is a photo of Disneyland Ambassador, Connie Swanson, pointing to the construction of iasw: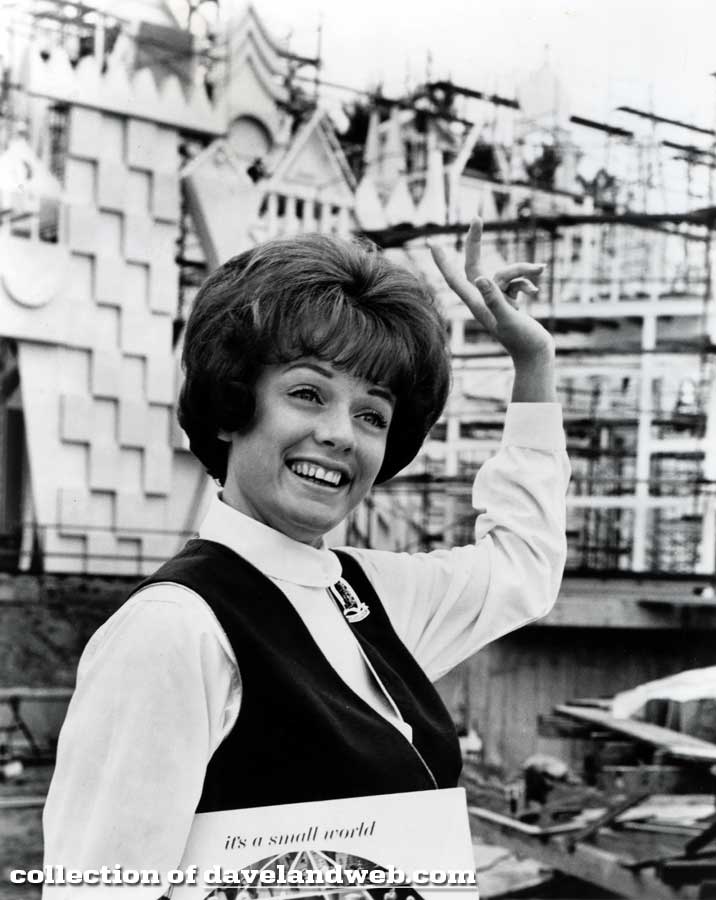 These two photos show Walt himself on iasw on opening day, May 28, 1966: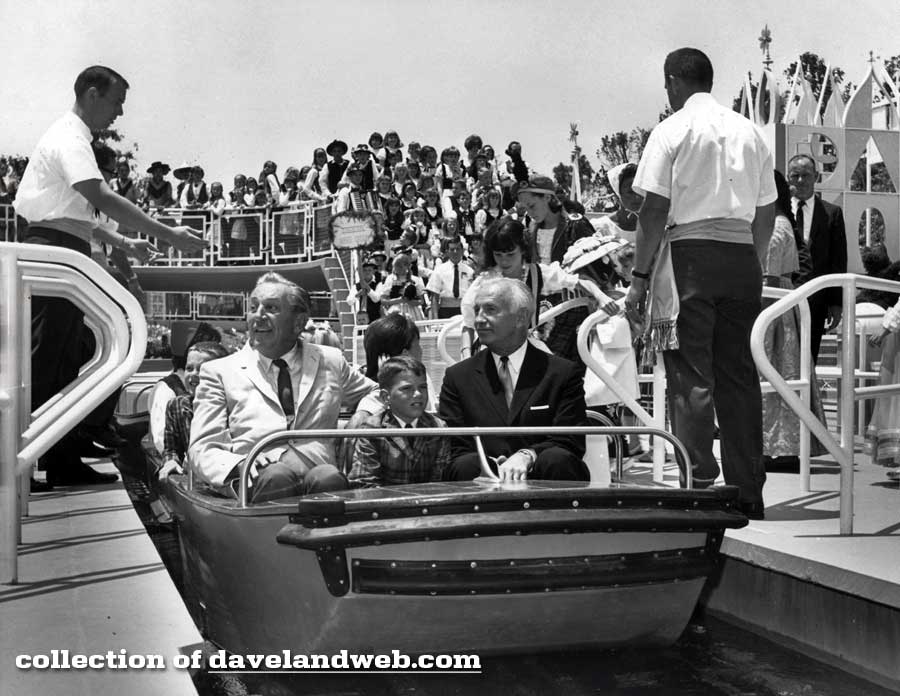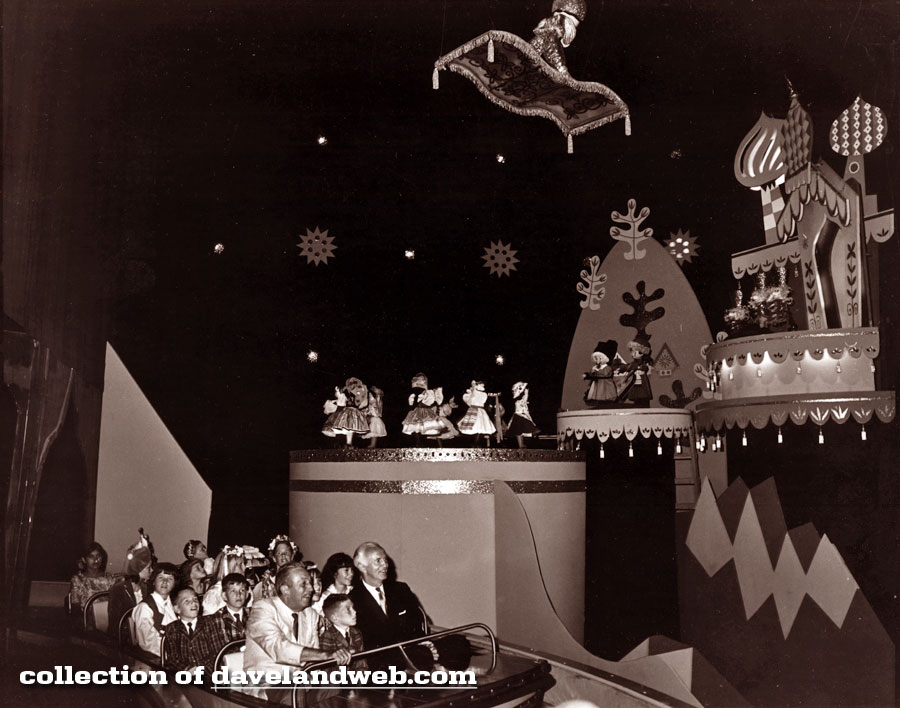 Flash forward to present day, and iasw has been refurbished to look brand-spanking new. The light effects at night are incredible, making the exterior look even more magical: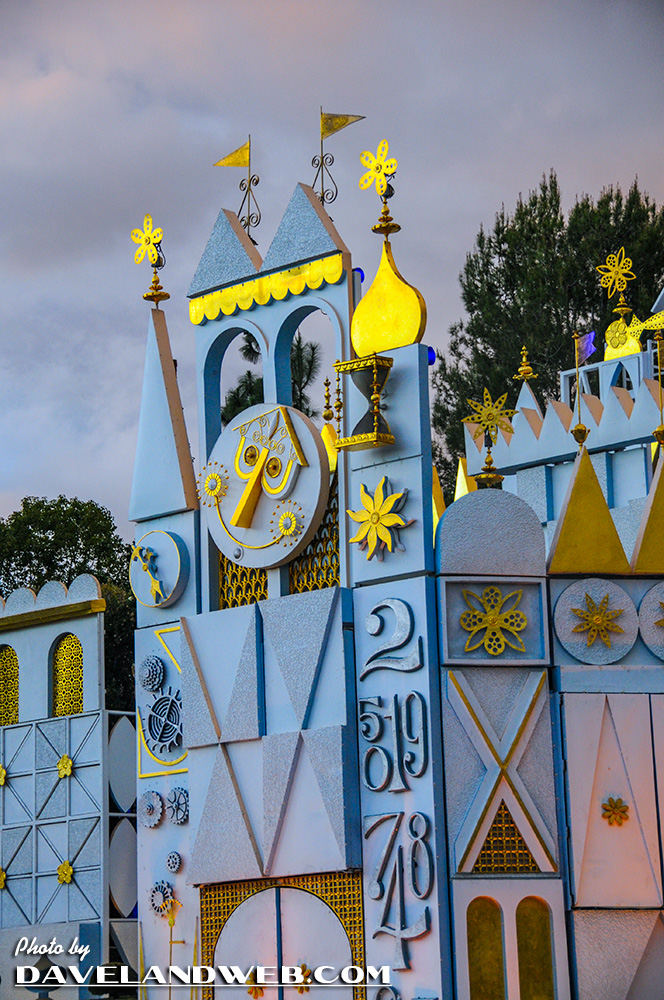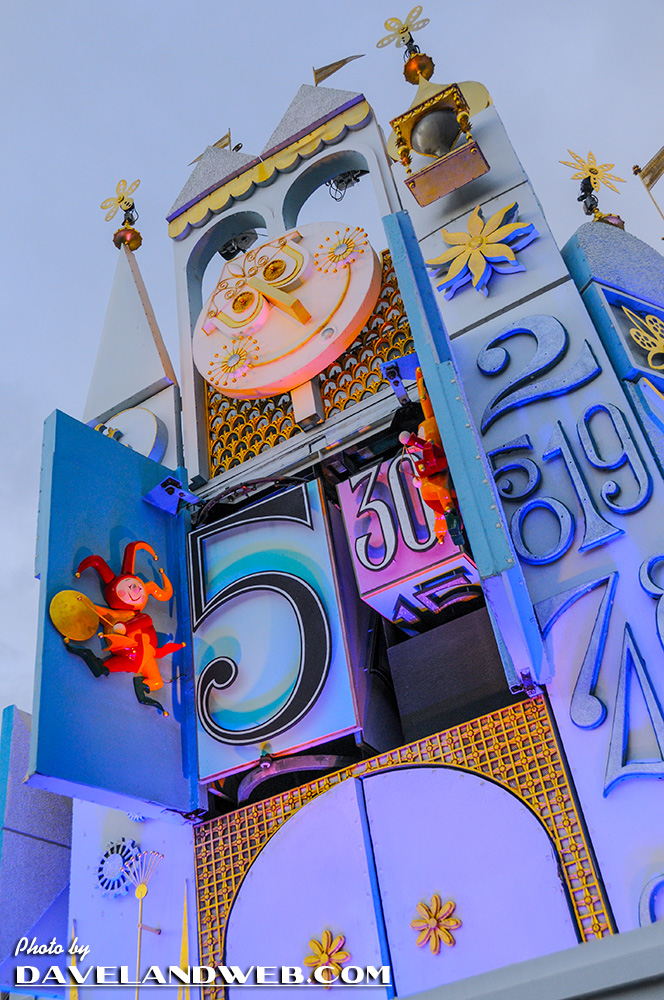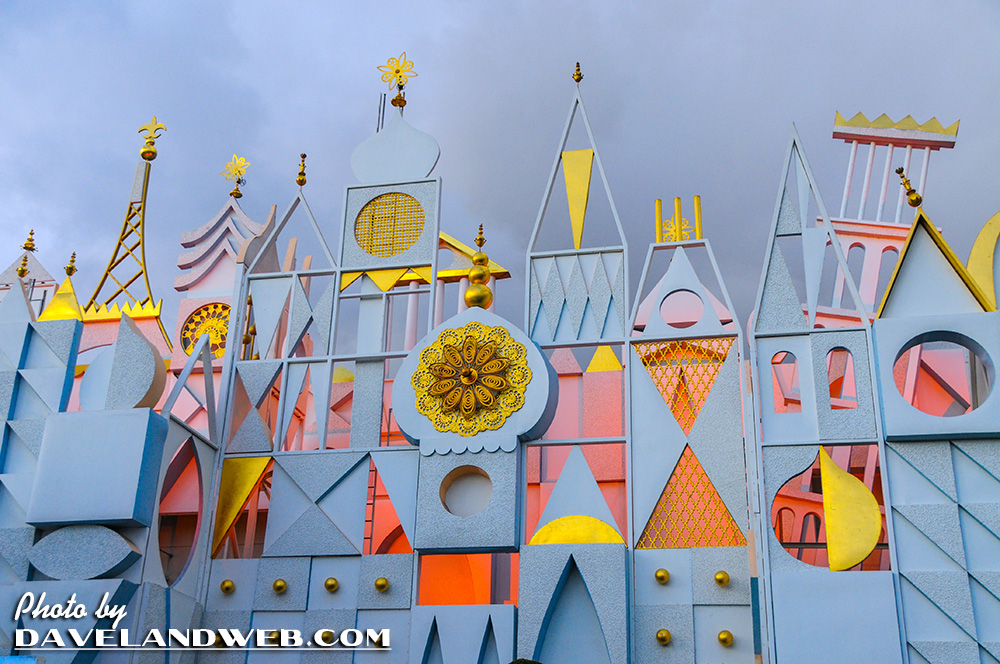 Next up are a few shots from the interior, looking better than ever with new paint, lights, and an improved sound system: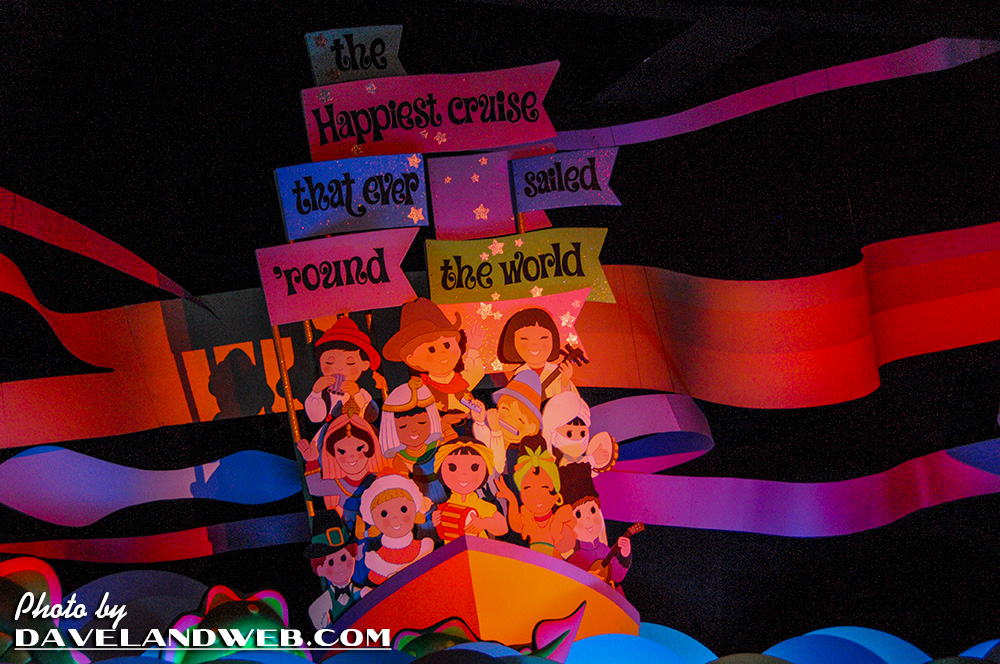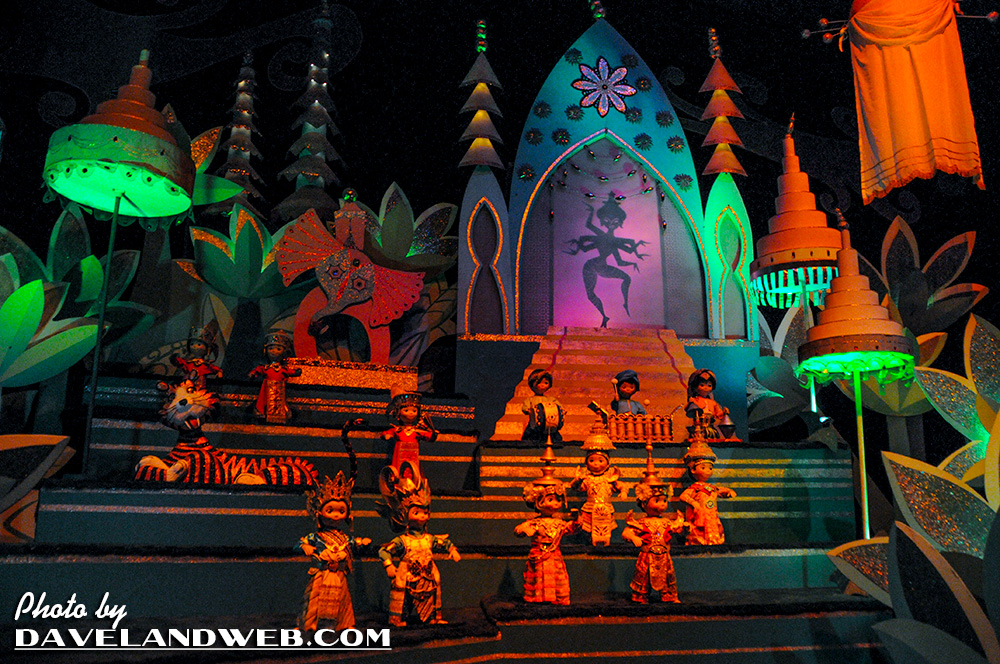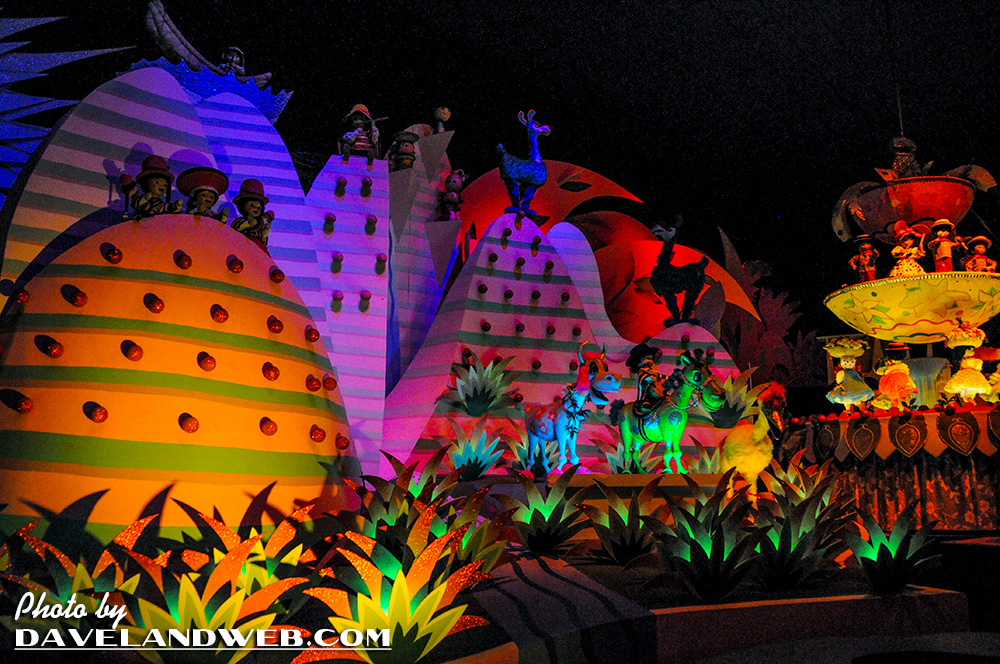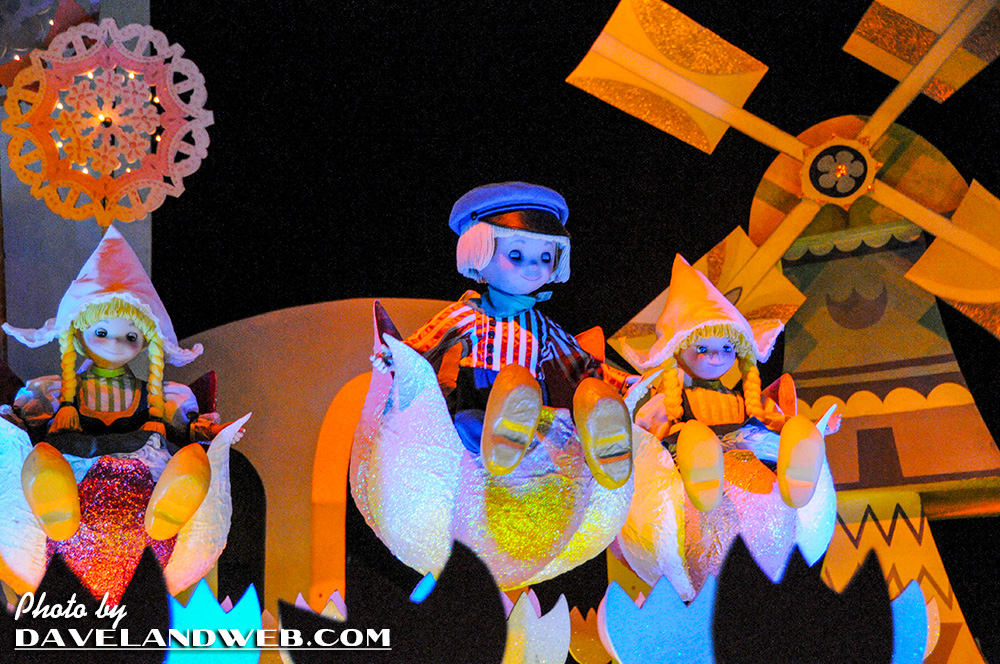 Disney Expert & Blogger, Al Lutz, proudly headlines his MiceAge site with the statement "small world's makeover is awful, photos don't begin to capture what a misfire it is. The $75 character pin sets sold at the exit prove this was a merch[andise] move. AP has a video up with yours truly quoted at this link." In another section of his site, an additional report on iasw states: "None of the new dolls installed feature blinking eyes and moving lips, in fact, most of the "Disney" characters do not look like the original Mary Blair dolls." And yet, when I rode this attraction on Saturday, the eyes of the new characters blinked as can be witnessed by these photos: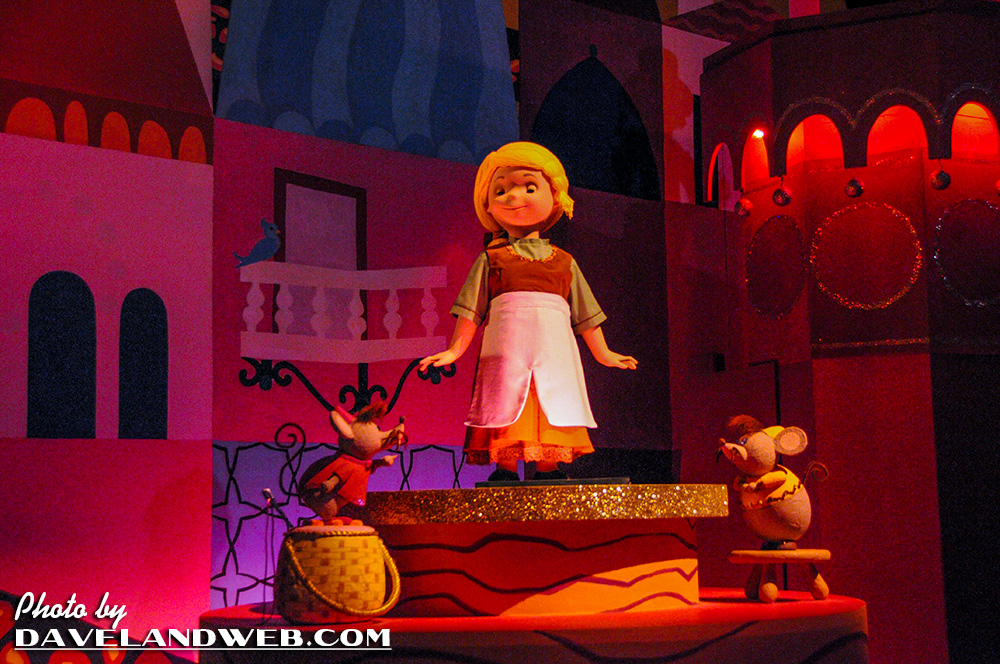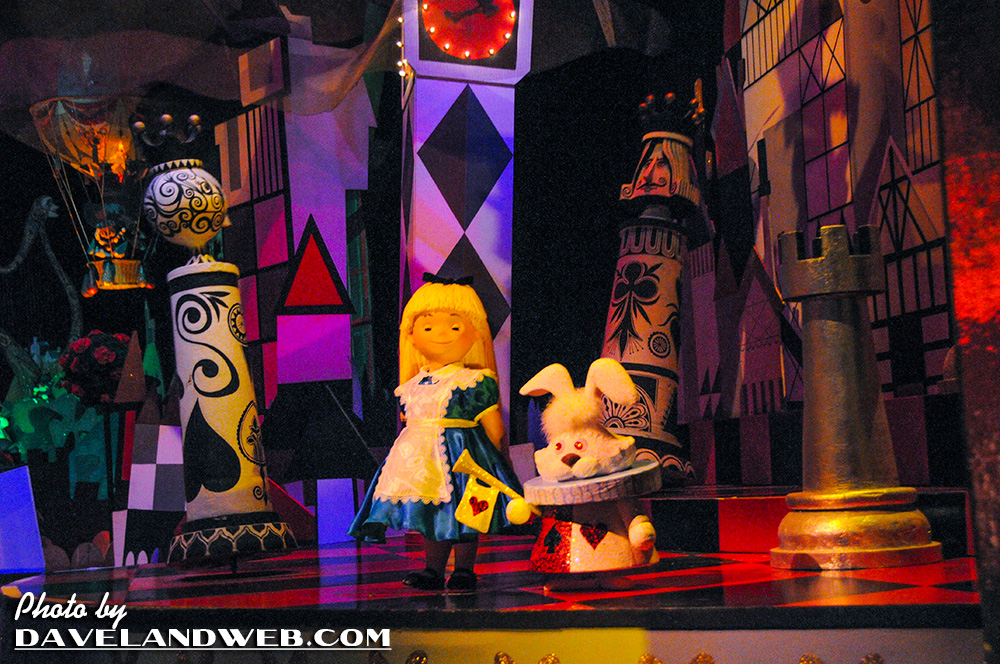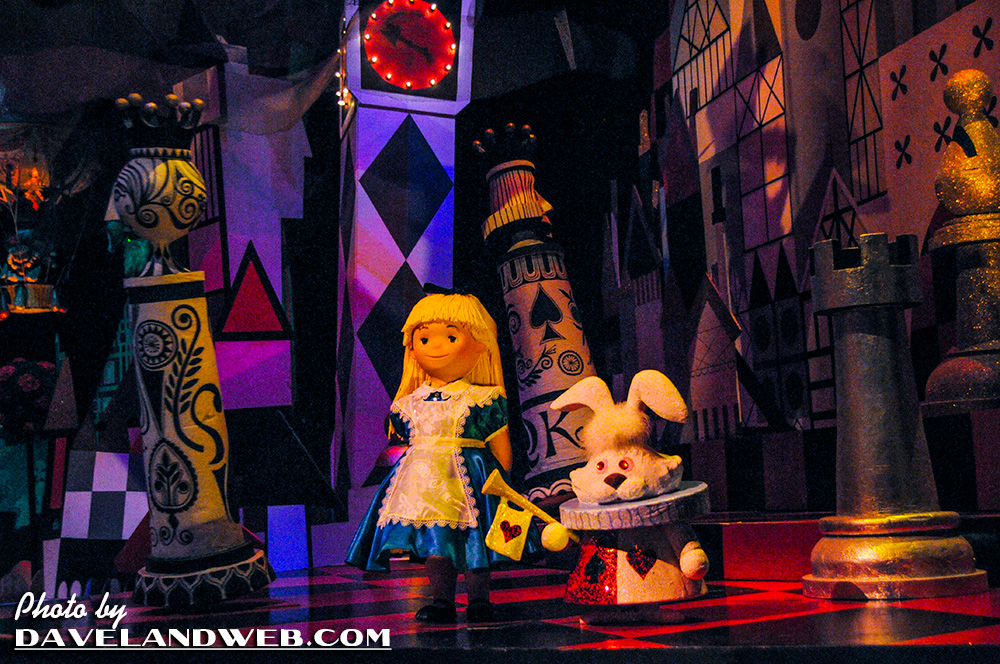 Based upon this shoddy reporting, I can only conclude that Lutz has used the iasw refurb as a marketing ploy for his site to drive up the numbers. The Disney characters that have been sprinkled throughout amount to not much more than Hidden Mickeys; fun little surprises along the way that would increase the possibility of riding iasw more than once, giving the guest something else to notice. If these characters either hide or ruin the original message of a plea for peace by children of the world, then today's world is a lot dumber than I thought. For those that say Walt would never have added Disney characters...folks, I hate to break the news to you, but Walt passed away not too long after iasw opened. We will NEVER know what Walt would have done, but we do know that he "plussed" almost every attraction in the park while he was alive and that the majority of attractions at Disneyland had their origins in Disney entertainment. While the current Disney-Detractors cry out in pain that Disneyland has become nothing but a marketing cash machine, they conveniently seem to forget that Walt was the one who signed off on Tomorrowland's Bathroom of Tomorrow by Crane, Frontierland's Casa de Fritos (complete with gigantic Frito-Lay vending machine), and practically had to sell his soul to ABC-TV just to get the park opened. Walt knew his way around the marketing machine as well.
Lutz also reported that the rainforest scene was to be removed: "That eclectic collection of furry animals in shimmying plastic rain showers and a small quartet of masked musicians and dancers representing Papua New Guinea are now set to be replaced by an entirely new scene representing the good old United States of America." And yet, here it is. Yes, it has been moved to a different location, but still there nonetheless: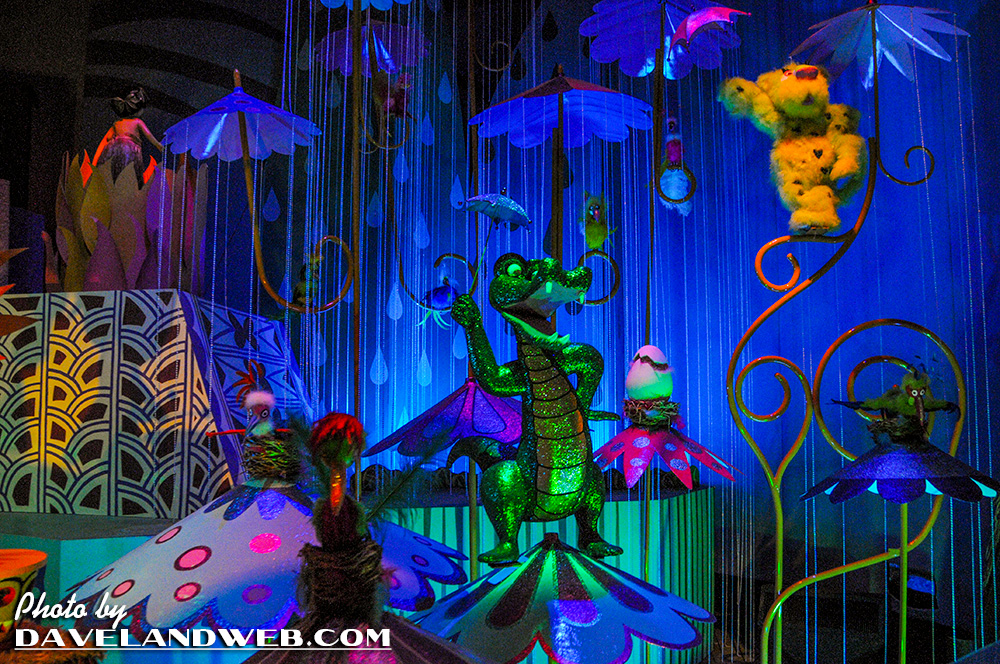 I can see Lutz now, patting his back with one hand while savoring his cupcakes and mocha with the other, taking the credit for the rainforest scene still being in the attraction because of his ace reporting last year.
The new "Spirit of America" scene can be viewed in the following photos; Disney has stated that original concepts by Blair herself were used to create this room. Yet, the same negative online bloggers/writers have crucified the Disney reps, saying it is an underhanded ploy to justify this new scene.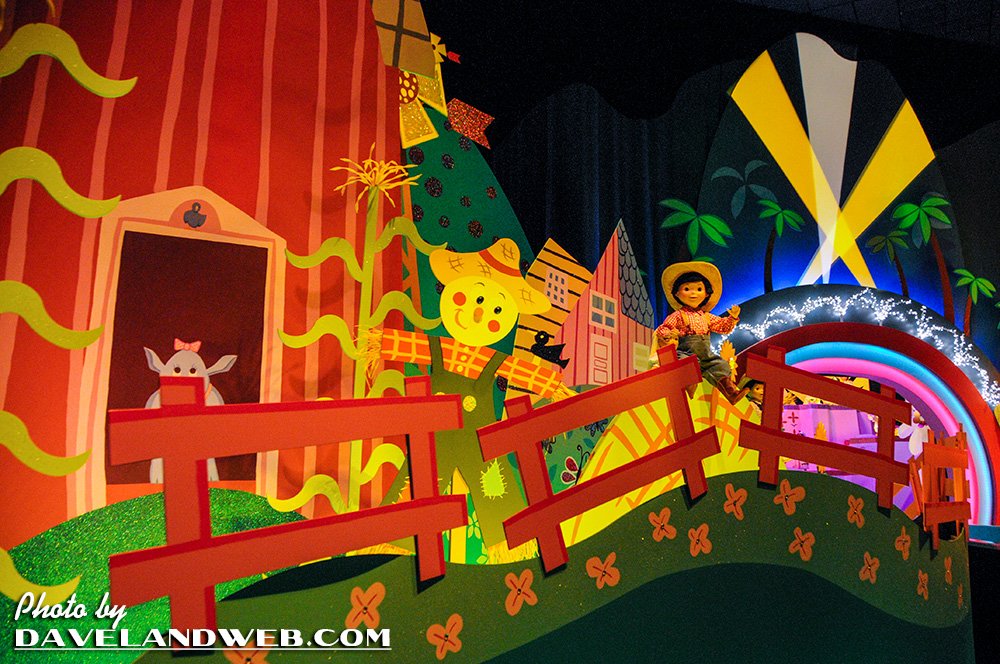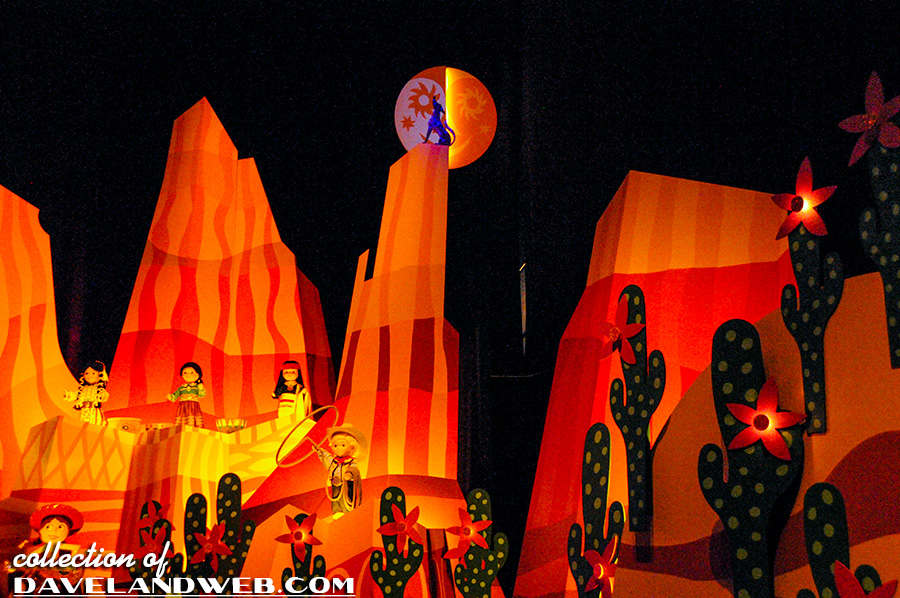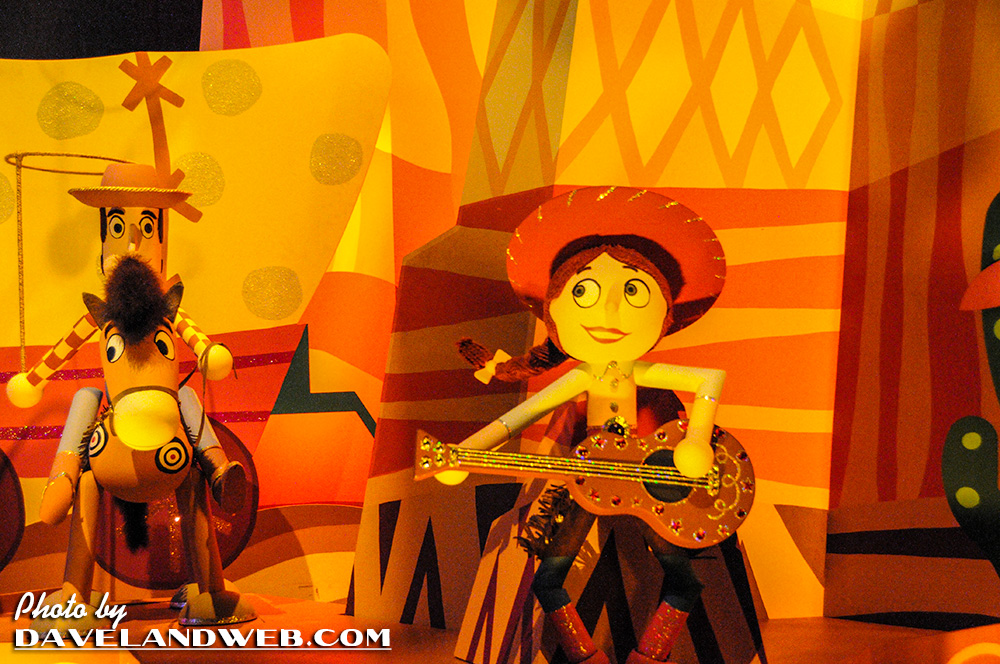 This particular scene contains my one gripe; the Woody and Jessie characters in this scene are pretty bad. They do not have the same look as the other Blair-inspired characters. In short, they look like 2 stuffed dolls who have lost their way to the toy store. That is my only negative comment about this refurb. And now before I finish up this post, I'll leave you with three more present-day images: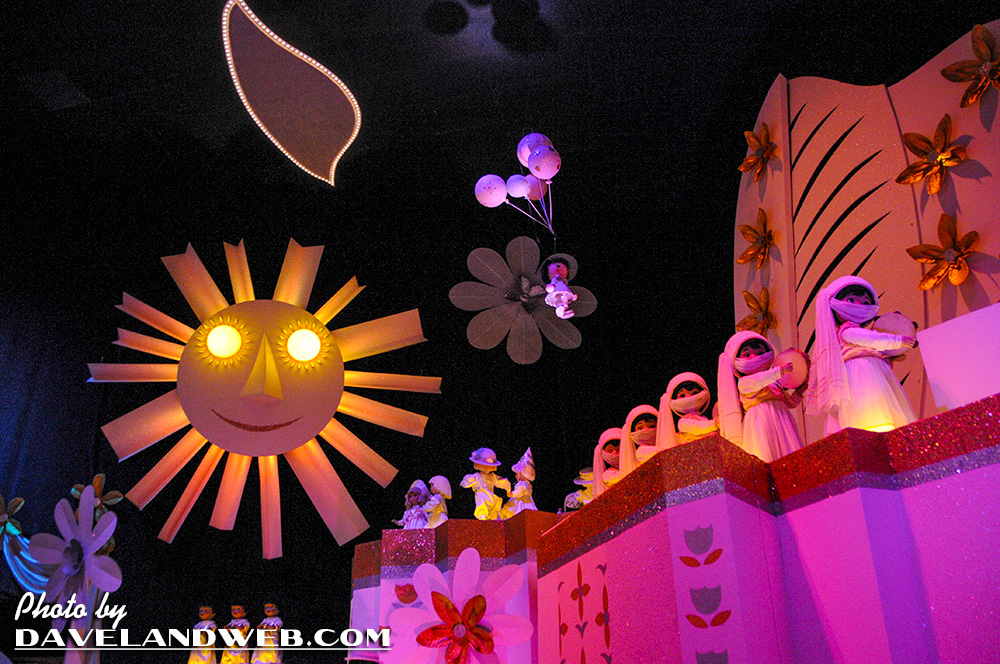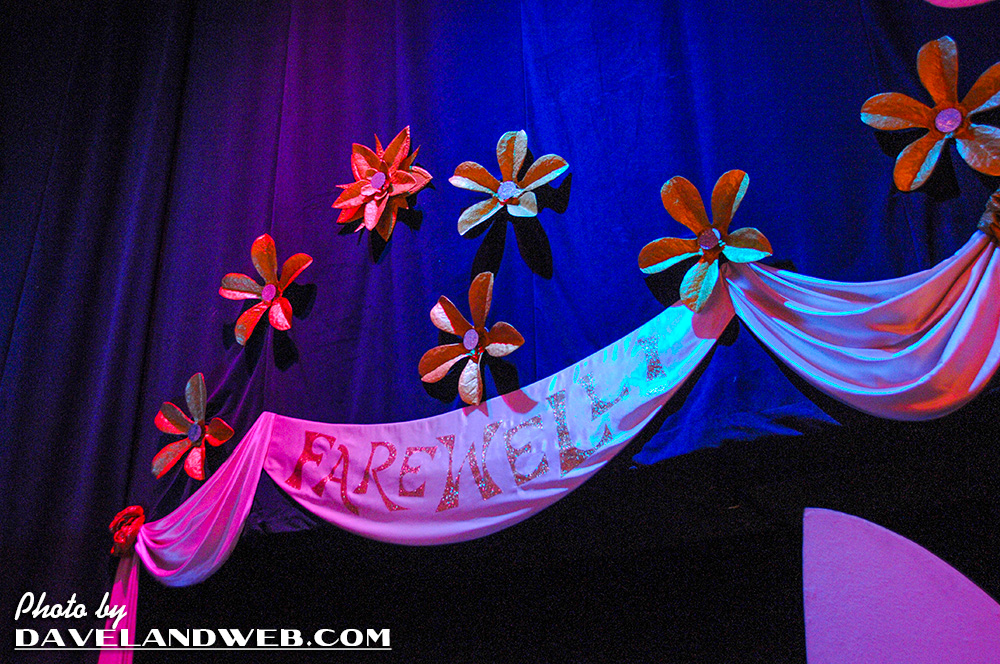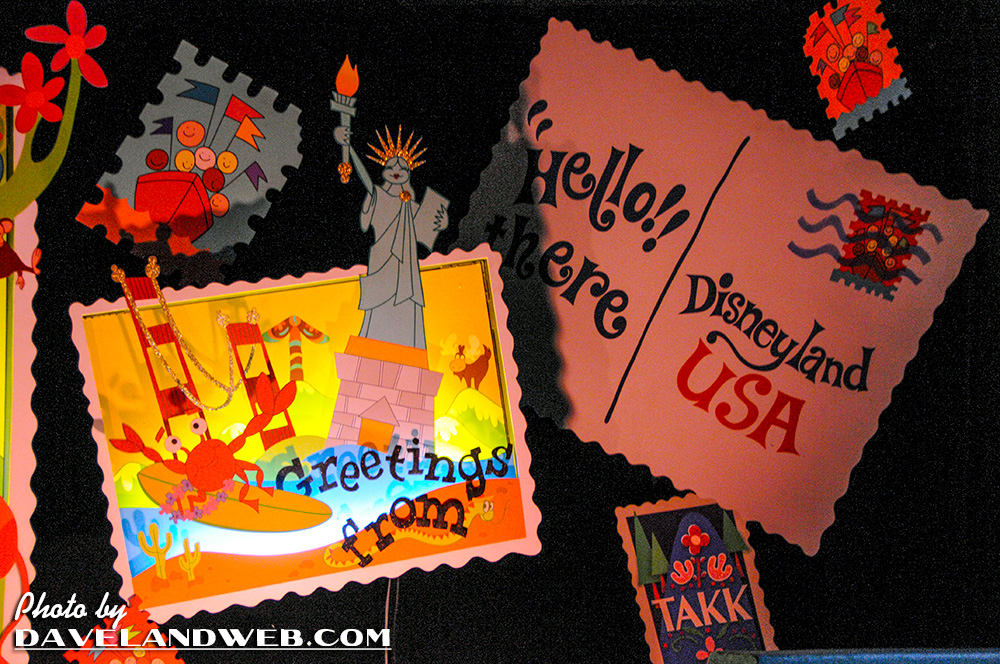 I am really puzzled as to why so many are quick to villify the Disney Corporation for the "new" iasw. One blogger went so far as to say that the rain on opening day was a sign from the Gods that they were not pleased with the changes. Instead of slinging the mud at Disney for ruining this and other attractions, why not turn your attention to the guest. Compare the guest from 1955 with the guest of 2009—talk about change! But so as not to bore you, I think that topic will have to wait for another column. Please: check out this attraction for yourself and give it a fair shake; don't let the mud-slinging on the web and the crappy-quality YouTube videos deter you.
See more Disneyland it's a small world photos at
my website
.