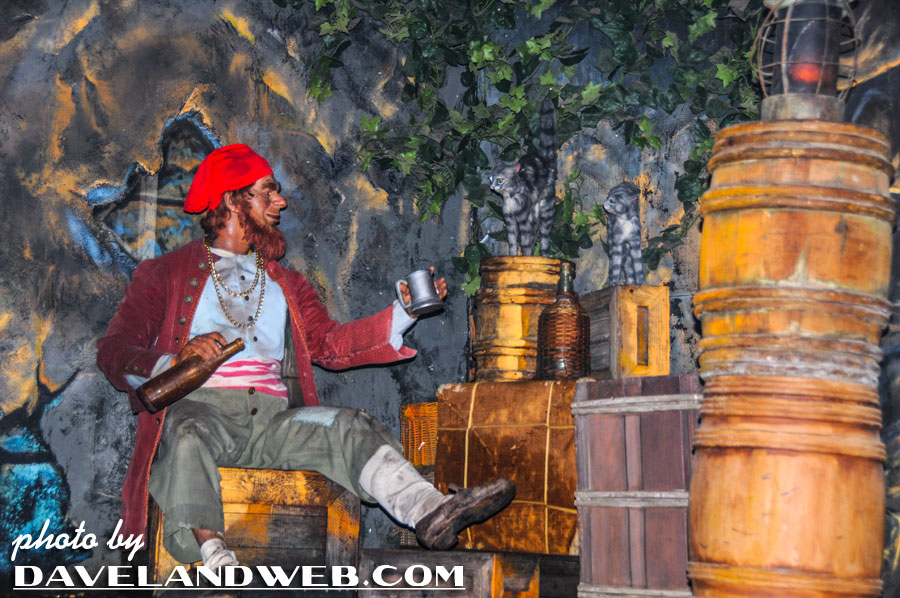 I hated to admit it, but I goofed yesterday. I realized that I left out a scene; one of my faves in fact. The drunken pirate who perpetually calls to the mangy alley cats, "Here kitty kitty" is a grim reminder of my crazy next-door-neighbor who yells the same thing every day...from about 7pm until 3am. Yup she's crazy. The POTC pirate has been missing lately, hopefully just for rehab. I wish he'd take my next-door-neighbor with him. For ToykoMagic, I am displaying this close-up of the "dreadful" cat/fish in the barrel from 1997: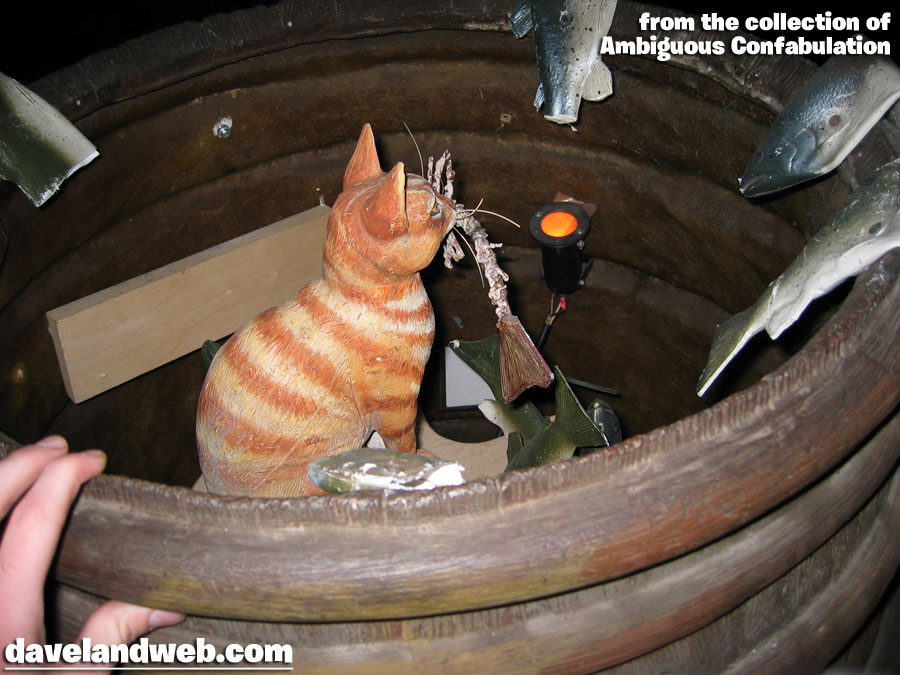 OK...that's it for catch-up; now we can get back to the business at hand, which is this scene of two drunks finding it more fun to talk to animals.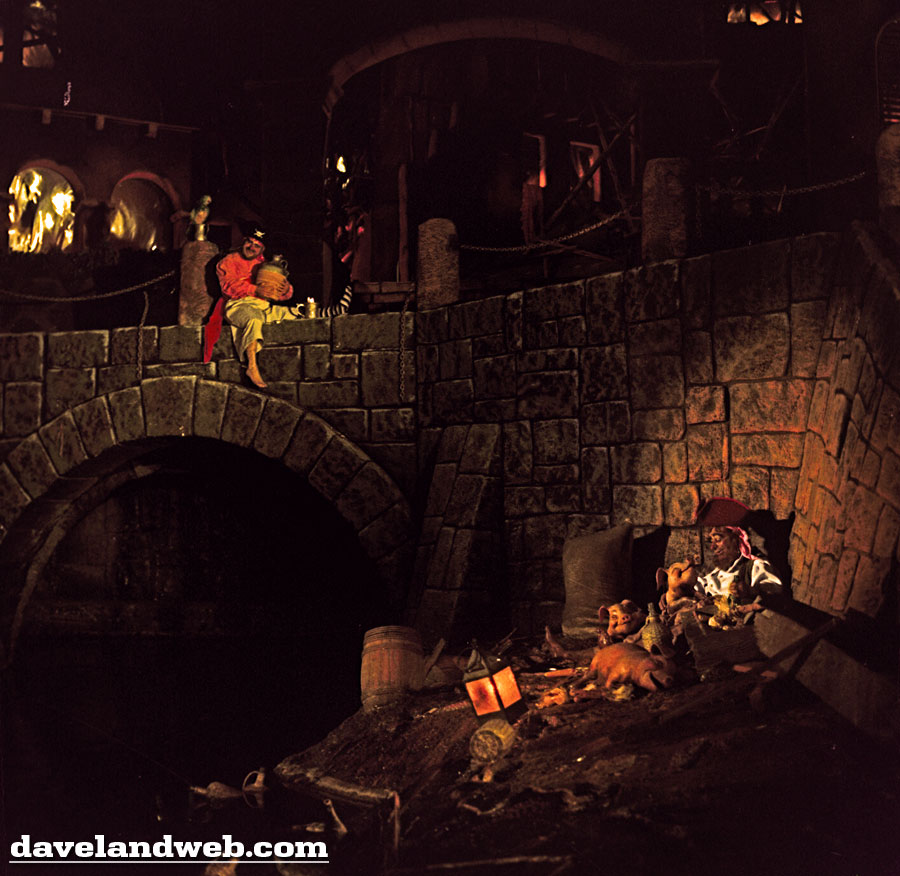 In the mud below, we have the pirate telling his deepest darkest secrets to a few pigs.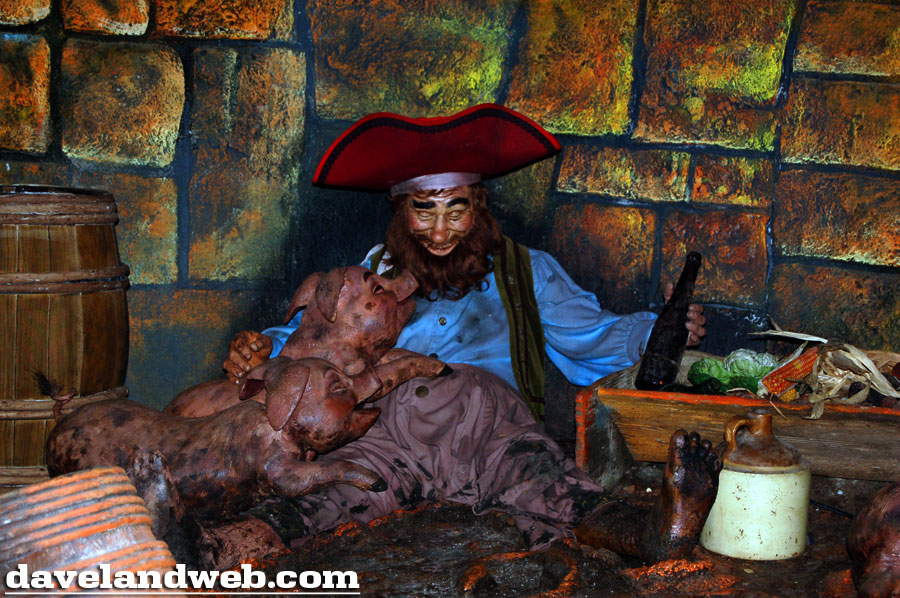 Above our boat is another drunken idiot who is talking to his parrot. Check out this vintage shot and how hairy this pirate's leg is: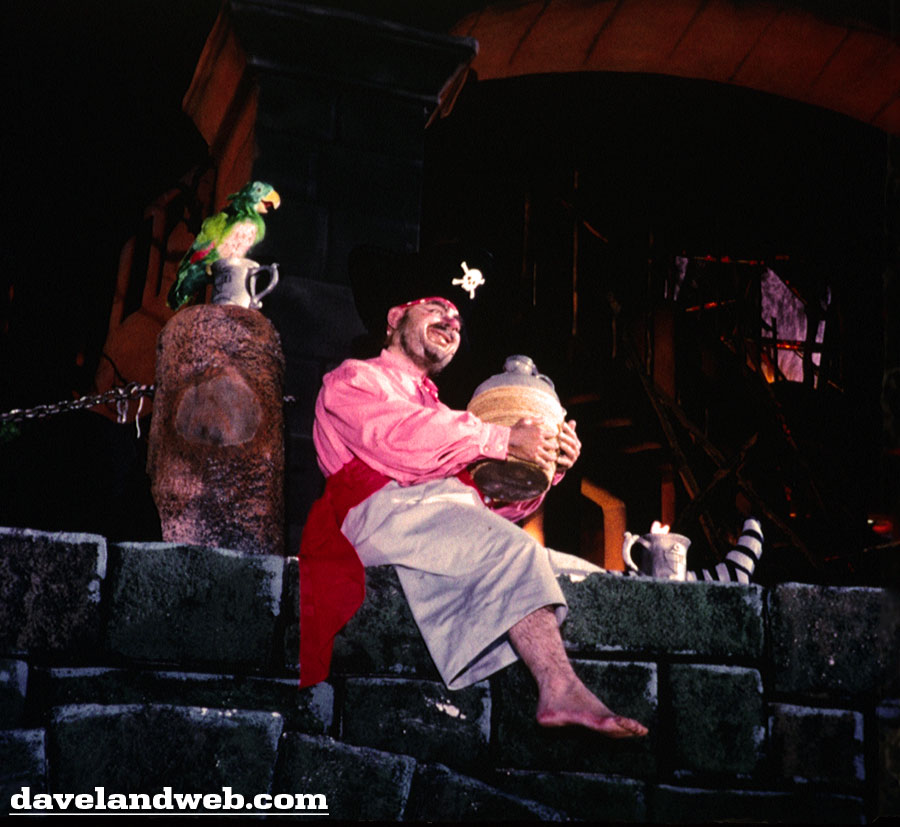 Flash forward to the present day and it would appear that this guy has either discovered Nair or the joys of a razor on his gams.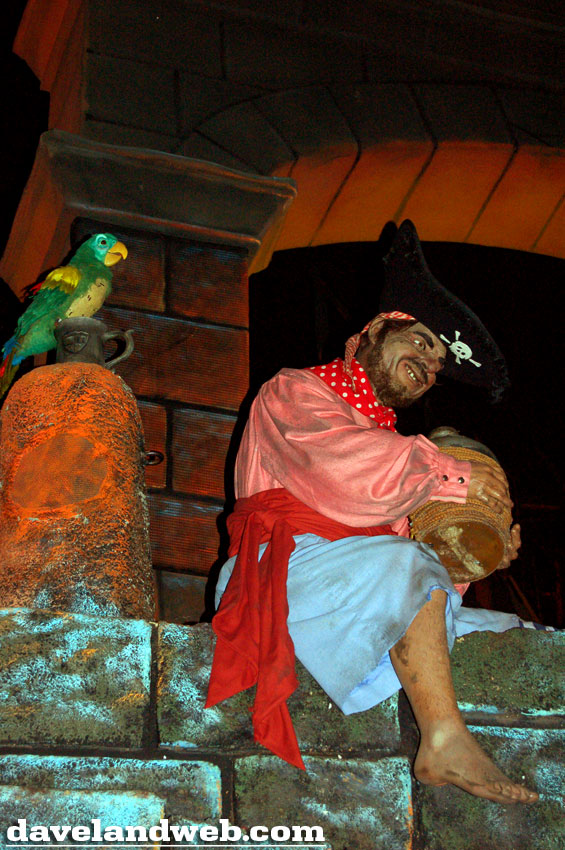 Next to the auction scene, this one is probably the most iconic of the entire attraction. These poor 3 saps are eternally locked in a prison with the key to freedom just out of reach, in the mouth of "a mangy mutt." Notice the guest kindly offering a box of popcorn in this vintage still...I don't think the prisoners really care about the popcorn at this point.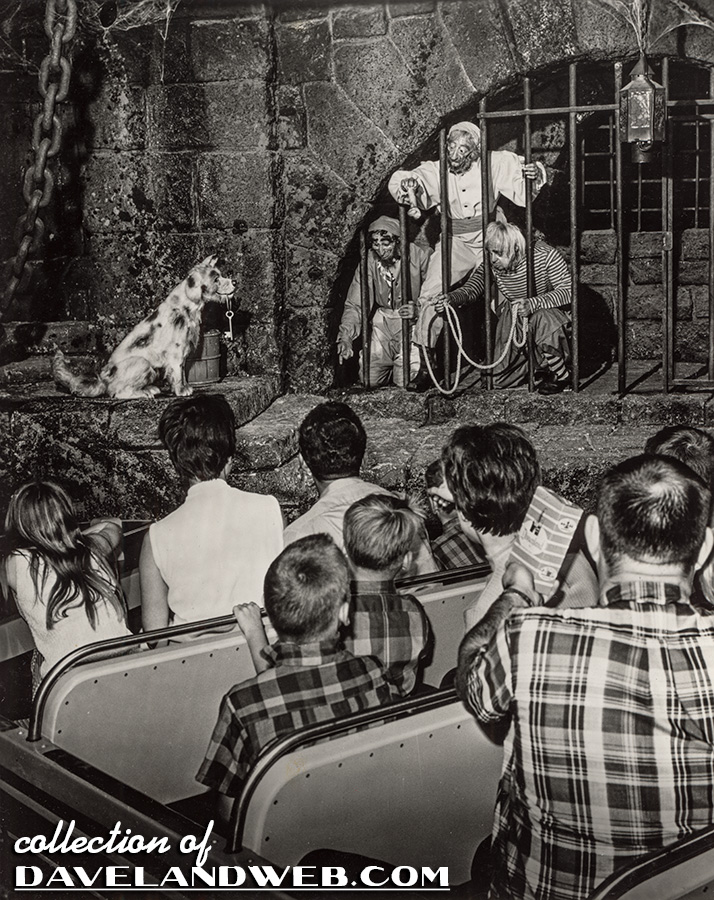 A vintage color shot: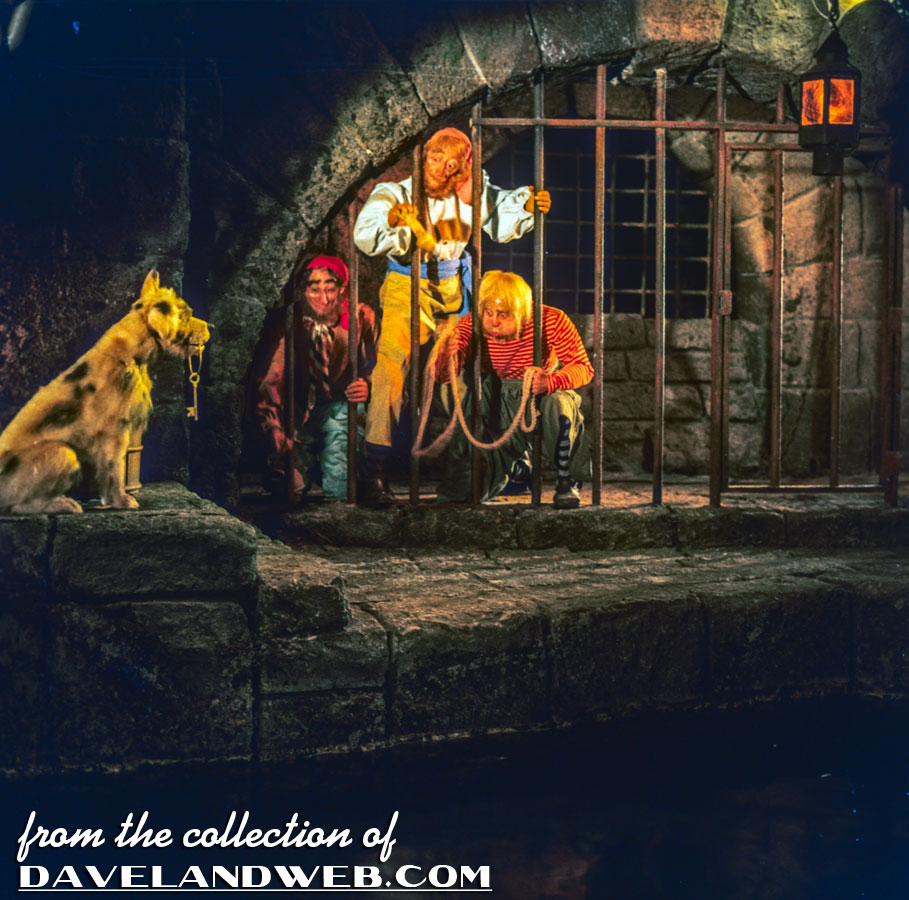 Here are some current shots of the same scene, showing that very little has changed: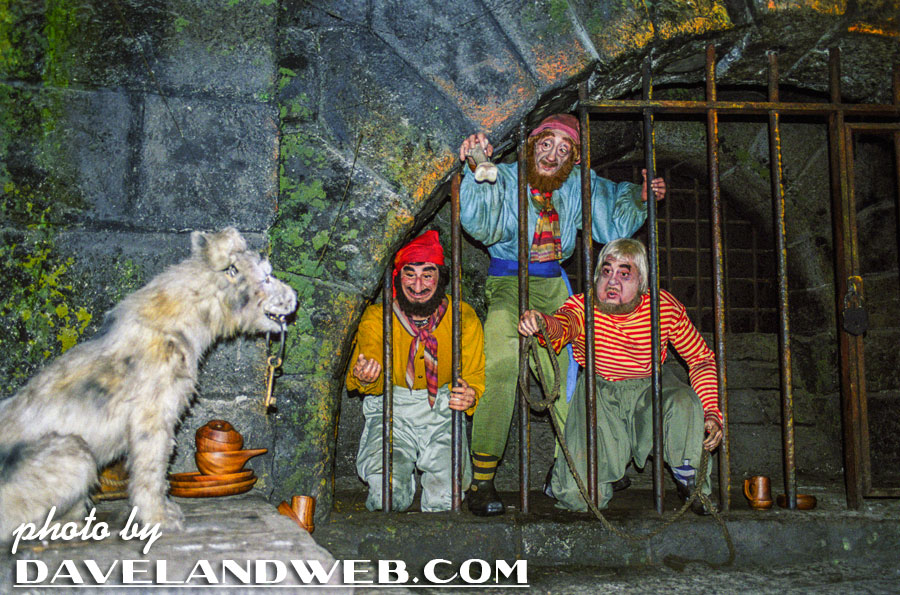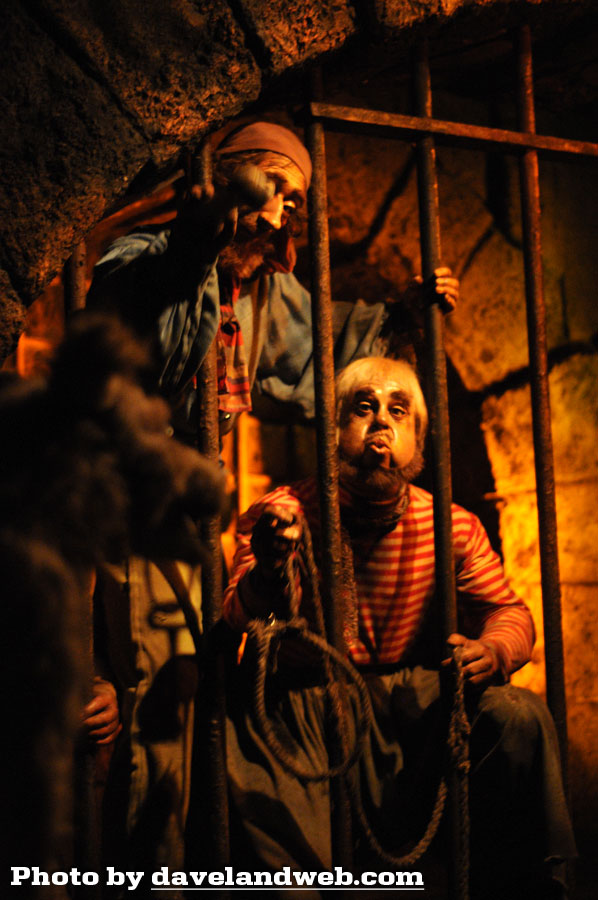 And now the saddest part of this little vignette. These other three chaps are also in prison, but they are never featured in promotions, toys, or collectibles. You can almost hear them saying, "Marcia, Marcia, Marcia." Yes, this unfortunate group of forgotten prisoners would be known as the Jan Brady Trio.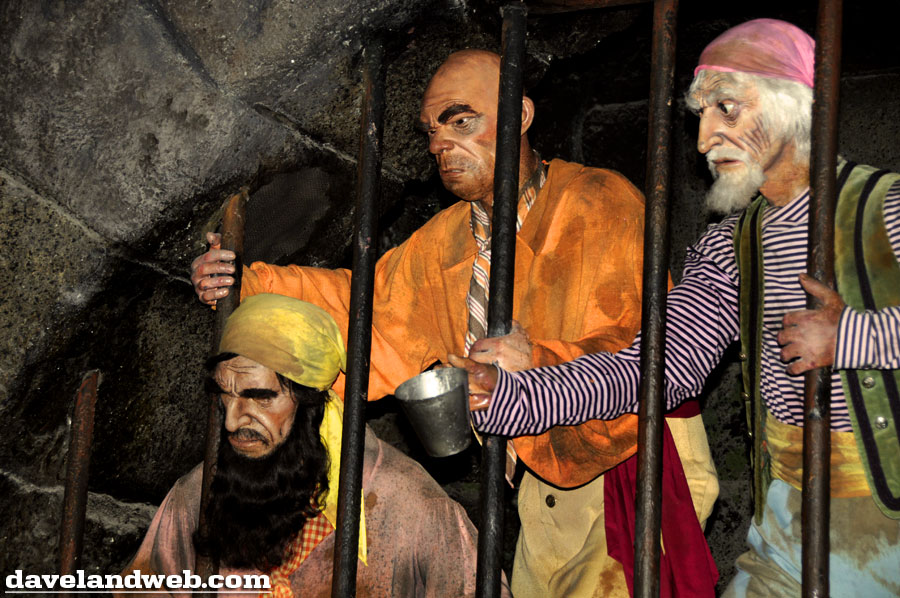 As we travel onto the next scene, beware of the burning timbers and assorted unstable proprs overhead: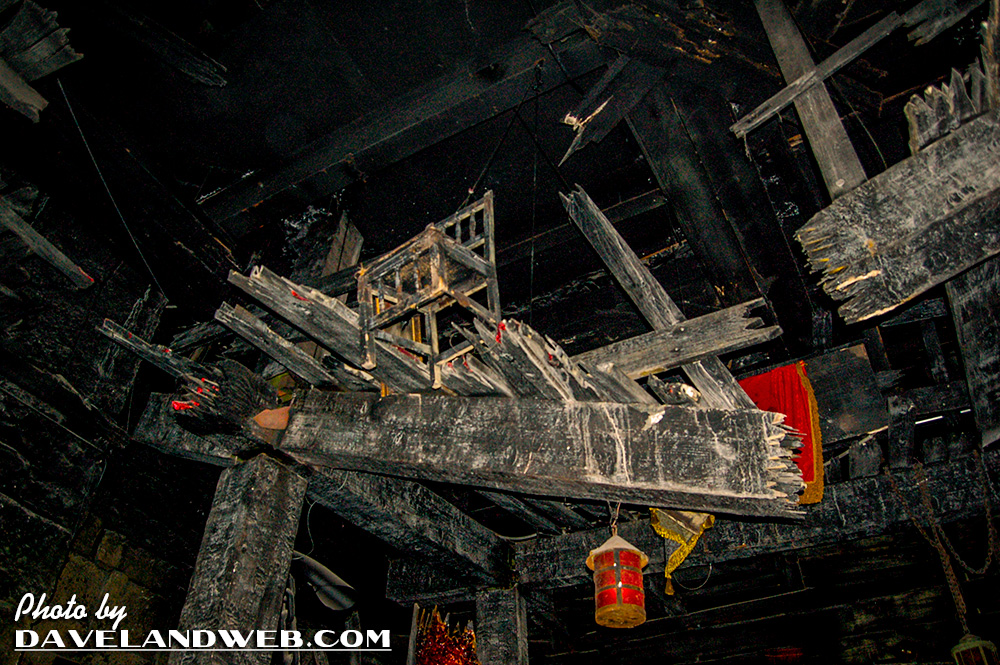 More Marc Davis humor is evident in the pistol duel section of Pirates. Our boat has gotten caught in the crossfire between a few happy drunken pirates. Here are 3 vintage shots of this scene: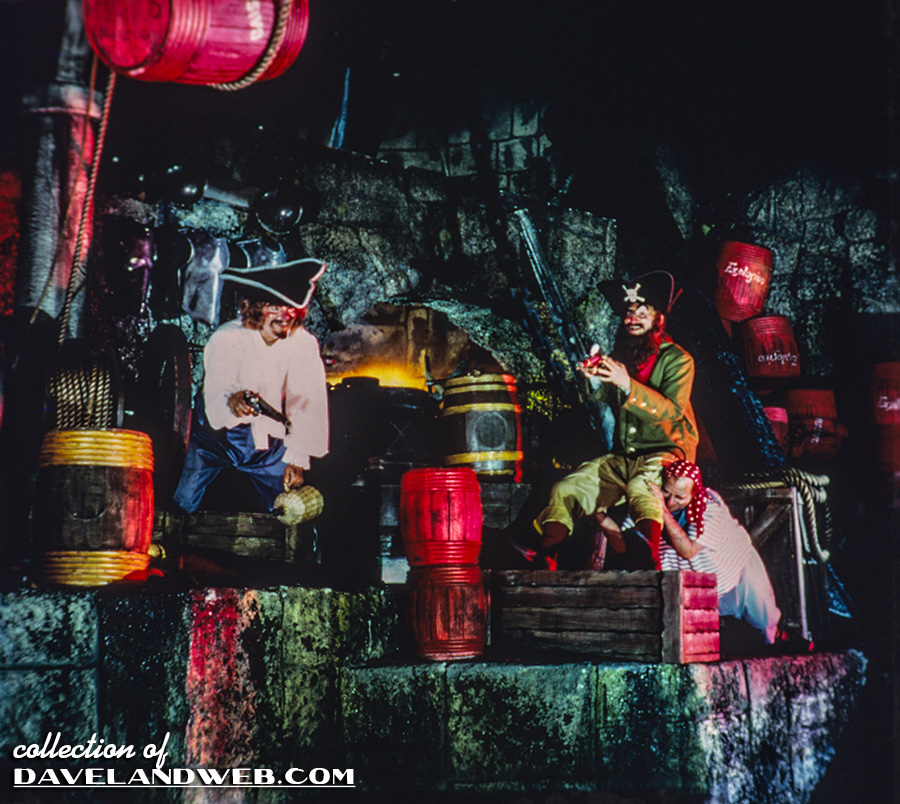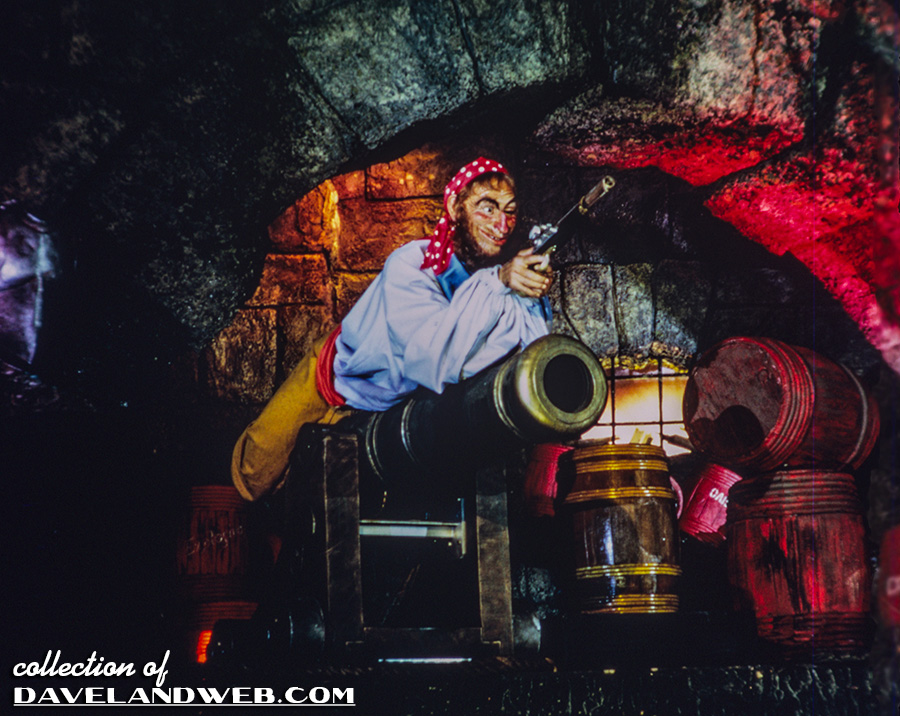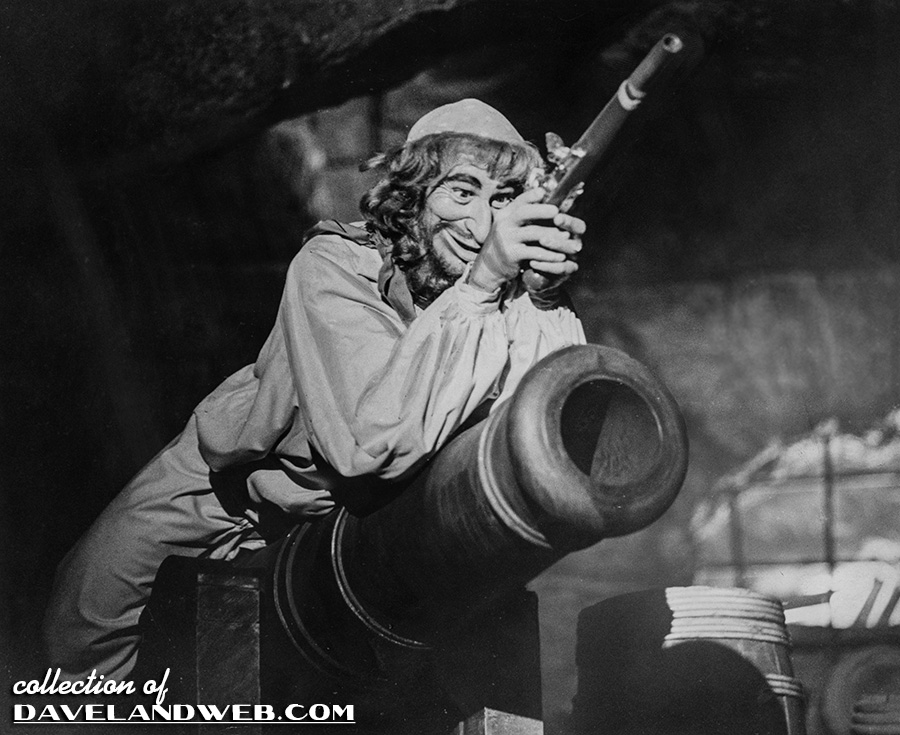 Other than a few small costume changes (and the need to cover up some of the mechanics on the AA's), this scene has also undergone very few changes.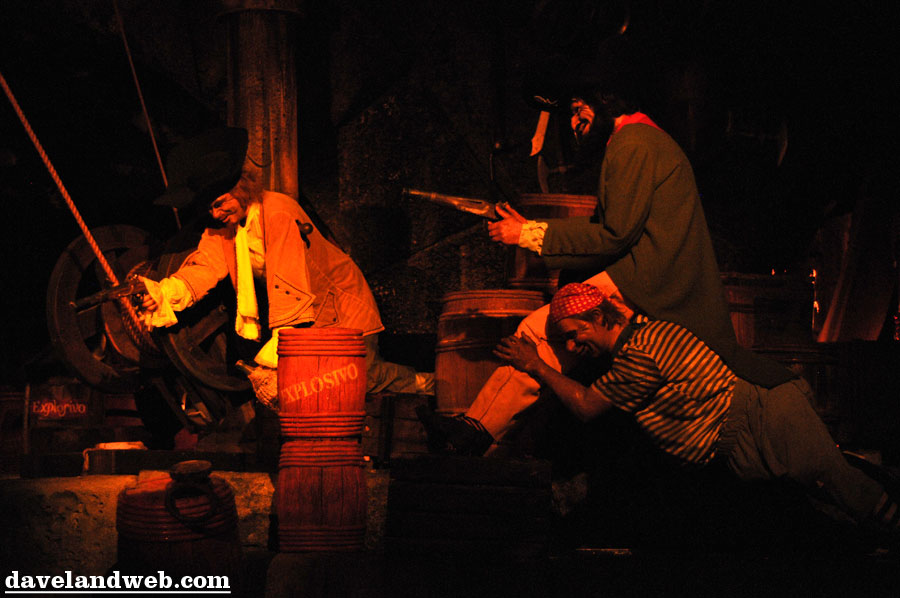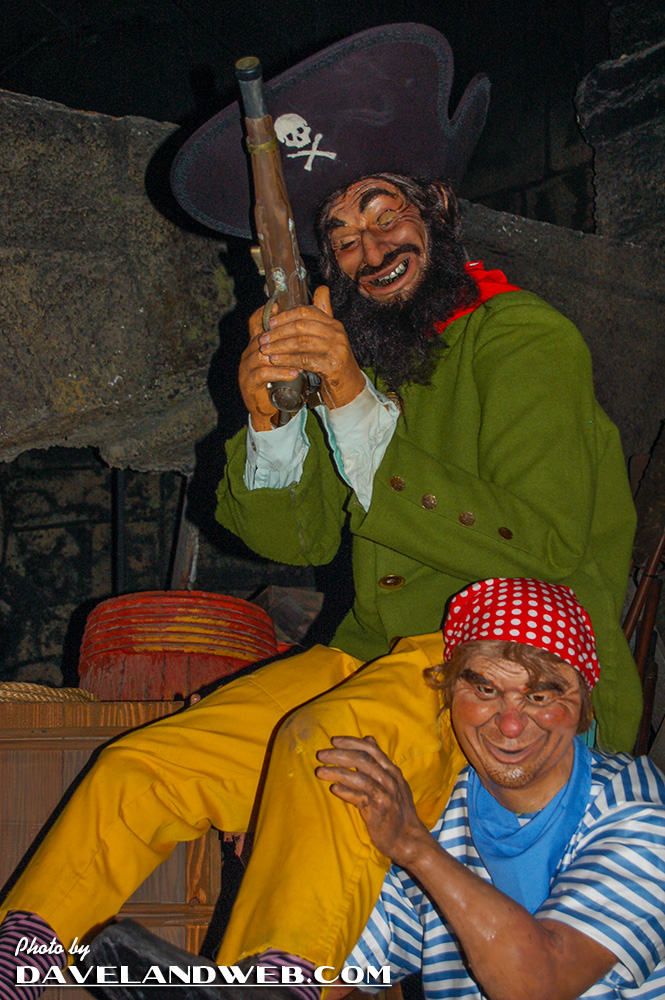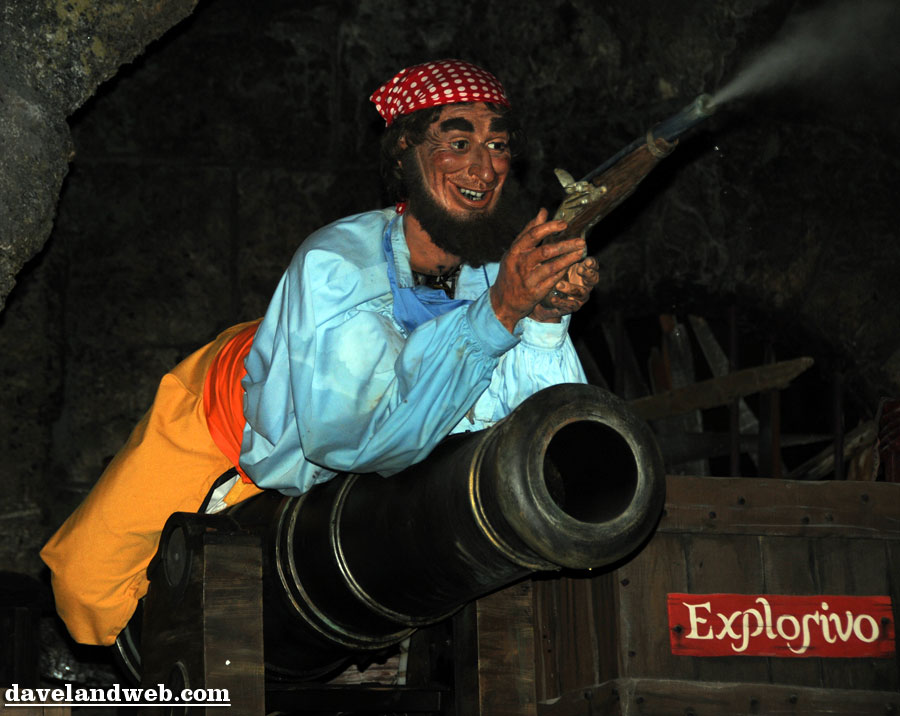 Time for our boat to rise back up to the surface again. I always get a little nervous about just how strong the pulley system is that hauls the boat up the final lift...it always seems to be straining beyond its means. Before Jack Sparrow came to town, the final scene on the attraction was a pirate attempting to haul away his loot, with a skeleton hanging on for dear life (or would it be "death" in this case?!?).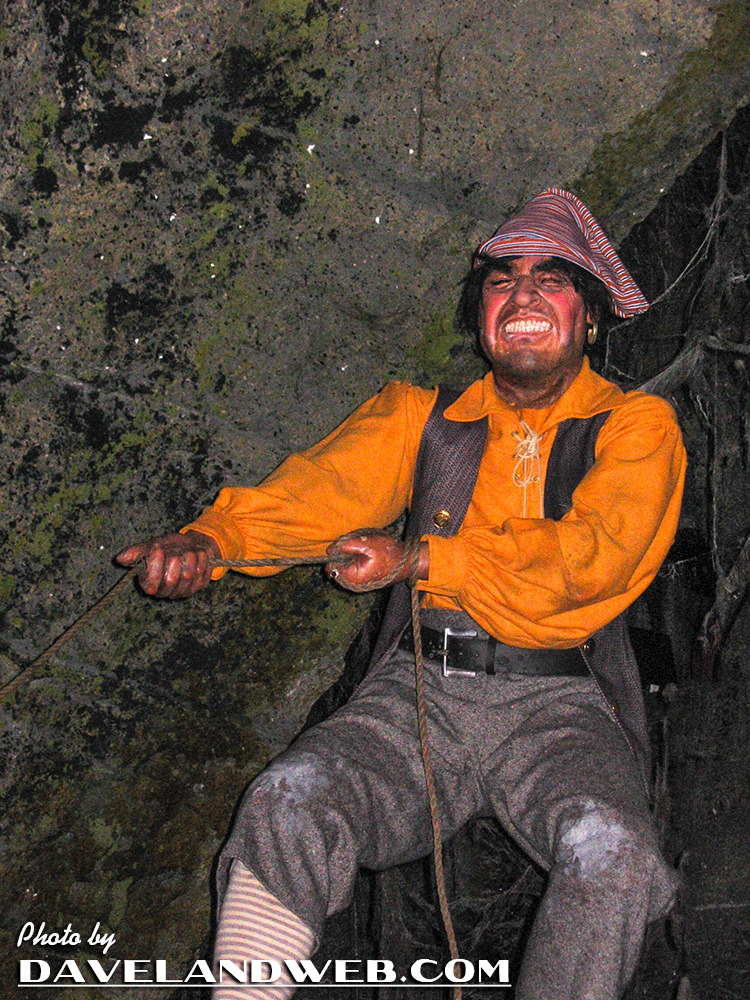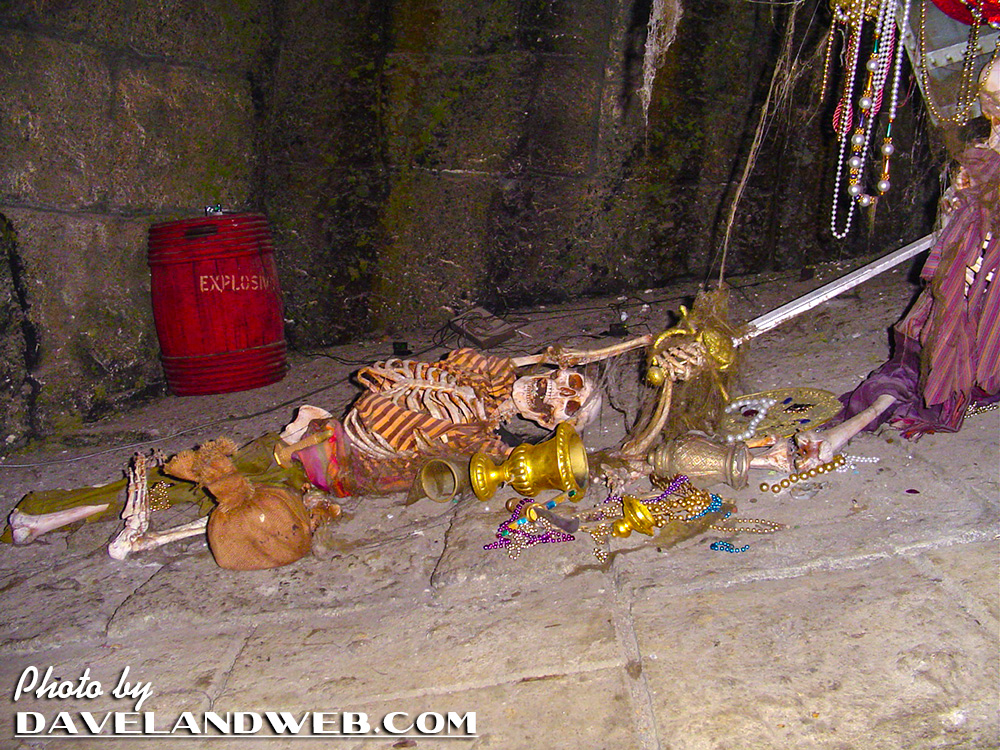 And now we come to the one disappointment for me in the Jack Sparrow overhaul. Although this scene and the AA figure are technically and visually spectacular, they just don't fit. Sticking a room of treasure at the end of the attraction makes it look like, well...they stuck a room of treasure at the end. The scene appears as if it was crammed into a space that it barely fits, unlike all the other previous vignettes that literally flow together. Note: in Sparrow's left hand, apparently he was to roll a coin between his fingers, but the mechanics proved too difficult, so another trinket was placed in his palm instead.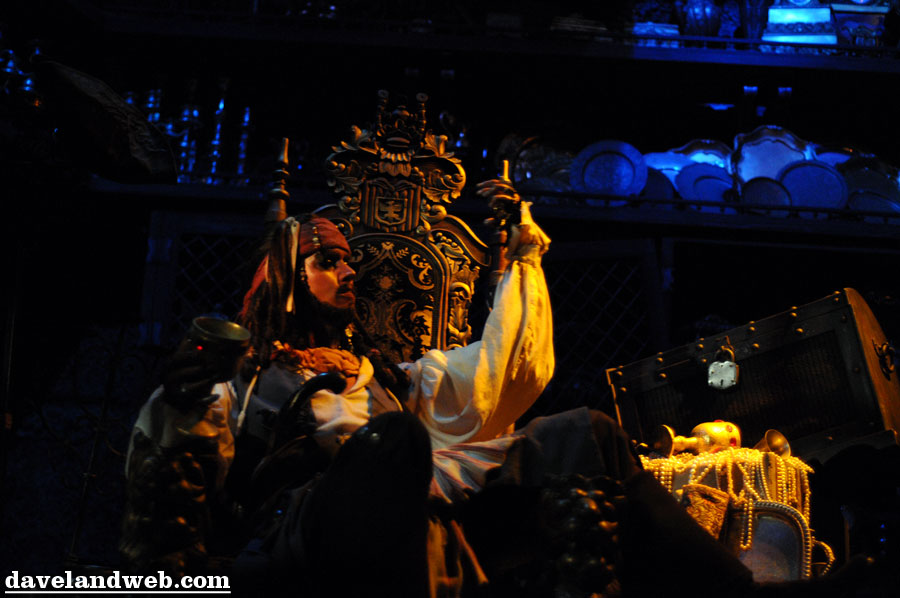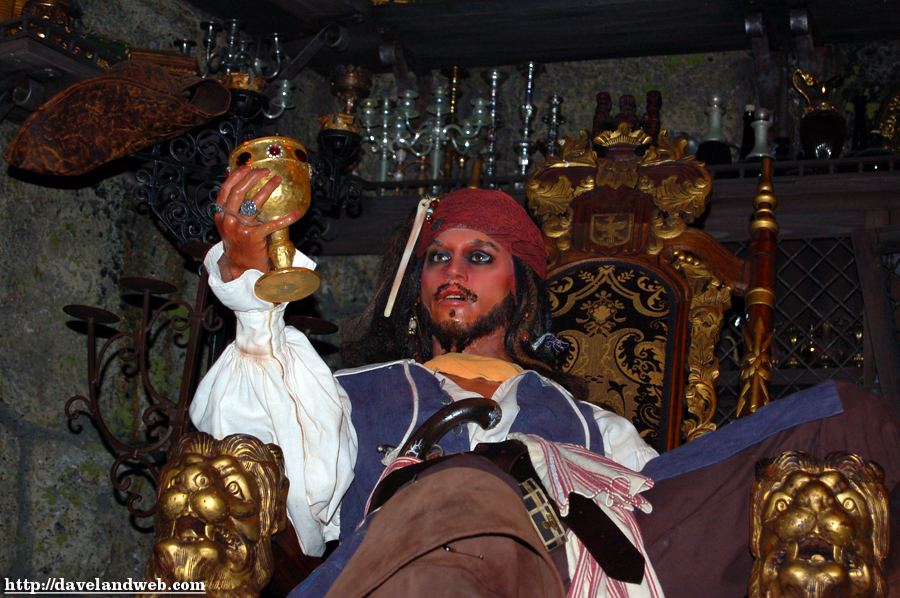 As we head up the lift, notice the beady green eyes that blink at you: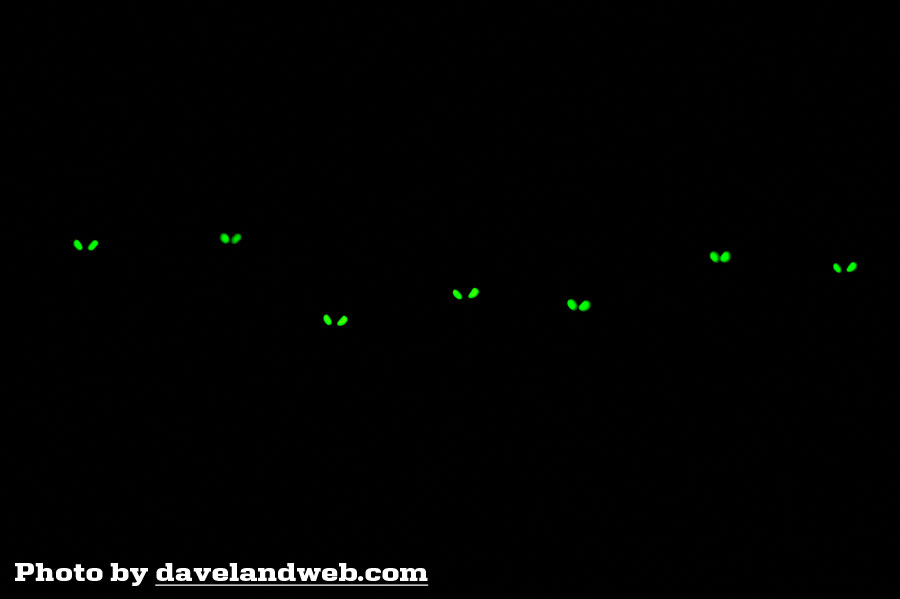 And if it be treasure that you're after, the exit queue has the map AND a heckling parrot to lead the way. Not sure that I'd believe either one of them.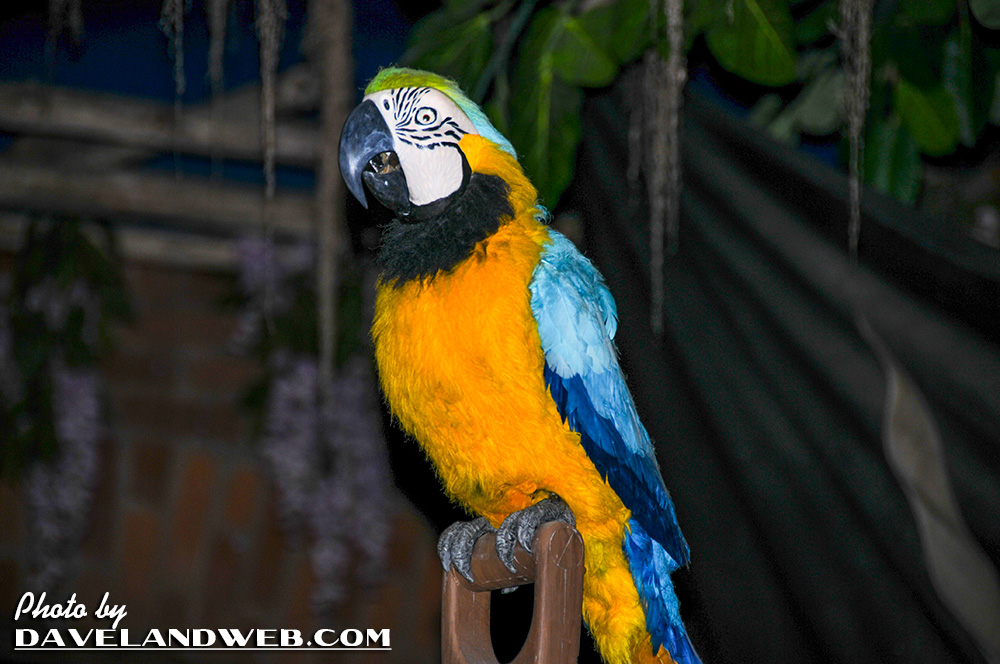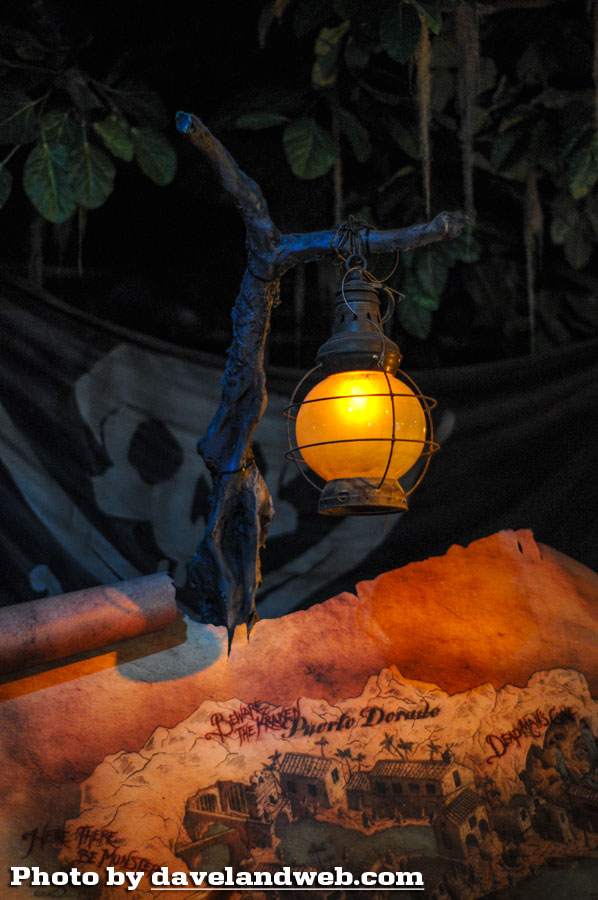 As you exit the attraction, please be careful!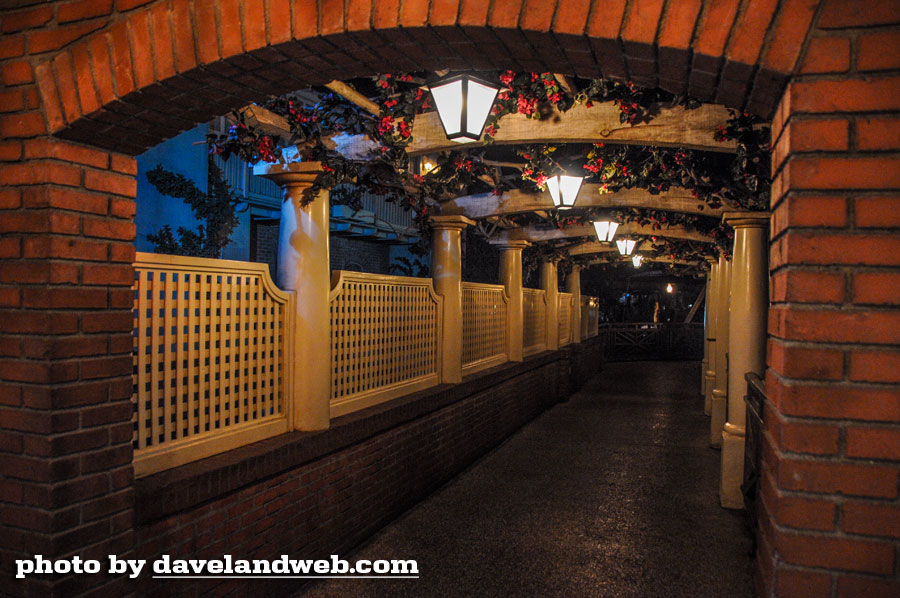 I hope you enjoyed your tour of one of Disneyland's most beloved attractions.
See more Disneyland Pirates of the Caribbean photos at
my website
.