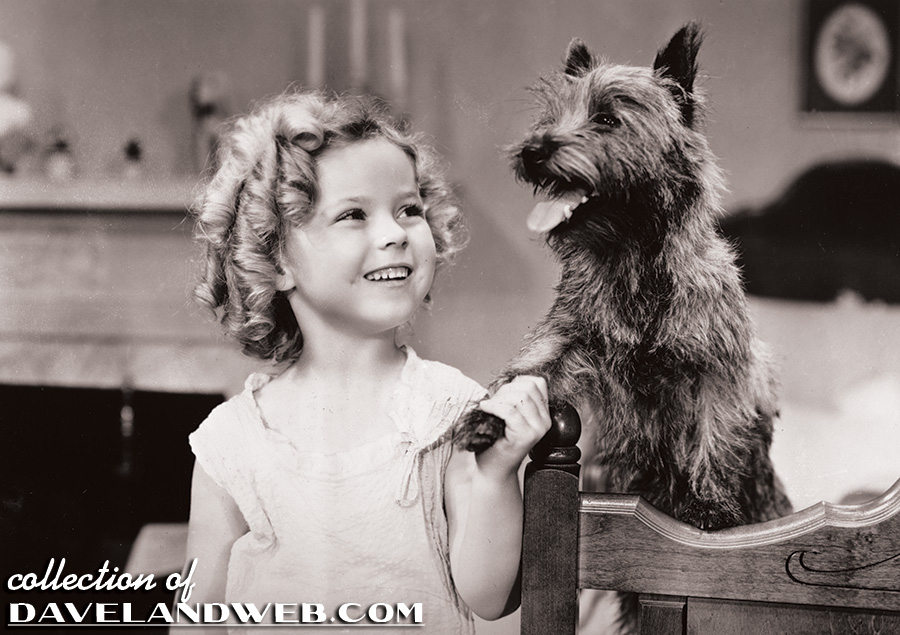 Terry, a Cairn Terrier, is probably best known for her gender-bending role of Toto in the 1939 classic, "The Wizard of Oz," but her first major role was in the 1934 Shirley Temple movie "Bright Eyes." In that movie, Terry played Rags, the lovable companion to Shirley.
Terry was trained and owned by Hollywood dog trainer, Carl Spitz. Spitz developed the method of using silent hand signals to direct an animal. Spitz was a German immigrant and student of Colonel Konrad Most, widely considered to be "The Father of Dog Training in America." Carl opened the Hollywood Dog Training School in 1927. Carl Spitz would later go on to become the man responsible for setting up America's WWII War-Dog Program.
Terry, who did her own stunts, almost lost her life during the filming of The Wizard of Oz when one of the Winkie guards accidentally stepped on her, breaking her foot. She spent two weeks recuperating at Judy Garland's residence, and Garland developed a close attachment with her. A second dog had to be used while Terry healed. Garland wanted to adopt her, but Spitz refused.
Her salary, $125 per week, was more than that of many human actors in the film (the Singer Midgets who played the Munchkins reportedly received $50 to $100 a week), and also more than many working Americans at the time. She attended the premiere of "The Wizard of Oz" at Grauman's Chinese Theater; because of the popularity of the film, her name was changed to Toto in 1942. Her last film was "Tortilla Flat" (1942), in which she was reunited with Oz director, Victor Fleming, and the "Wizard", Frank Morgan.
Altogether, Terry appeared in 13 different films. Terry died just after the end of World War II on September 1, 1945, (at about age 10 or 11), in Hollywood, and was laid to rest in a pet burial area behind the Spitz's residence & kennel. During the expansion of the Ventura Freeway in Los Angeles, the property was obtained by Caltrans for construction purposes. The facility and the small burial grounds were razed.
On June 18, 2011 a permanent memorial for Toto was dedicated at the Hollywood Forever Cemetery in Los Angeles. Carl Spitz (1894-1976) is buried in Glendale's Forest Lawn Memorial Park Cemetery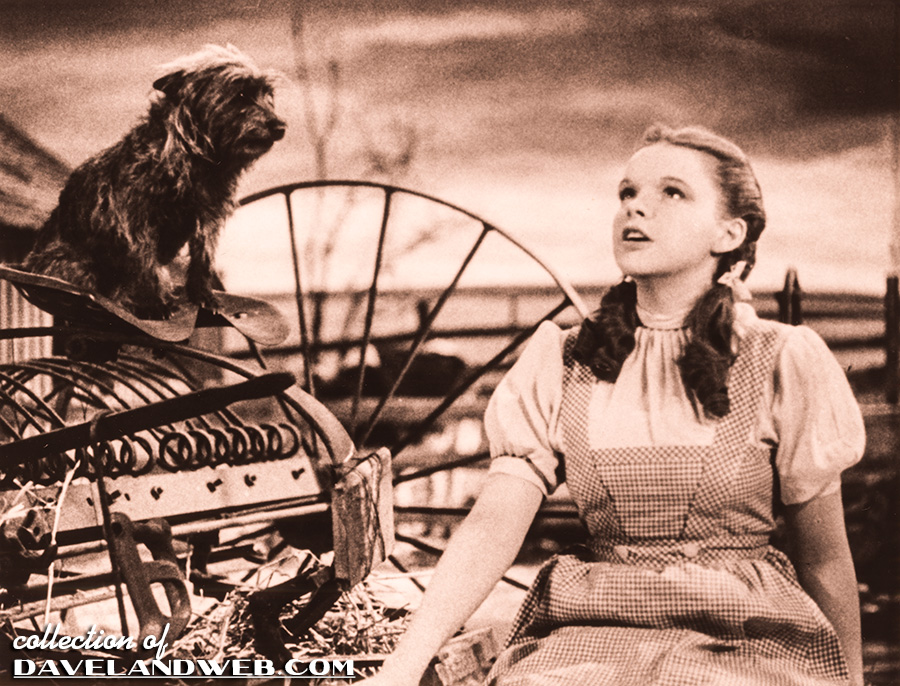 Terry was the first major cast member from "The Wizard Of Oz" to die; Frank Morgan (Professor Marvel & The Wizard) died next in 1949.
See more vintage & current Classic Movie & TV star photos on my
Classic Movie & TV star web page.