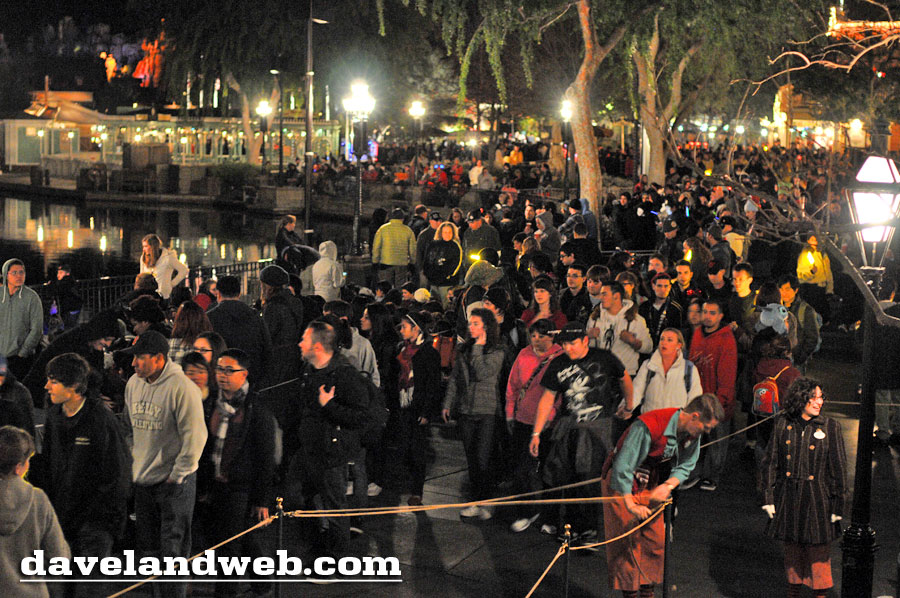 Good fortune reared its beautiful head on us for the 1 a.m. showing of Fantasmic. The Rivers of America were swarming with guests as cast members did their very best to keep the foot traffic moving.
Two hours before the show, all of the good standing spots were virtually gone. As Stacy & I attempted to put together a game plan, two guests got frustrated with waiting and left their prime viewing spot on the footbridge by Pirates of the Caribbean. I made a beeline and voilà, we were set. For two hours. 120 minutes. I have NEVER waited for a show or parade for that long. But at 1 a.m., what are you going to do? Well, for one thing, you people watch. Stacy had seen Holly Madison earlier in the evening, and while waiting for Fantasmic, I spotted her sidekick and former Broadway "Tarzan" star Josh Strickland.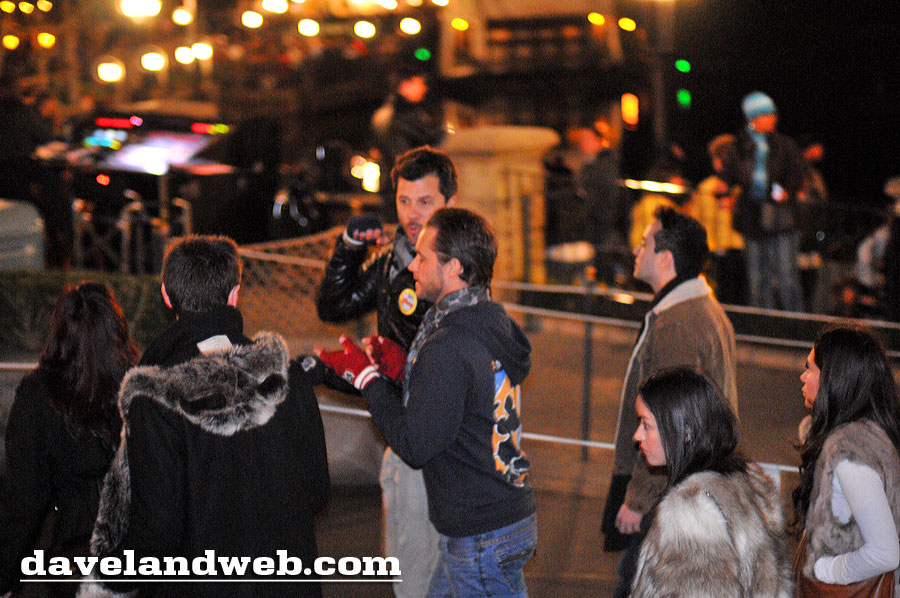 We made new friends with the people standing next to us, a young couple who had flown in from San Francisco (both were in college) just for this event. They had no regrets and were having a great time.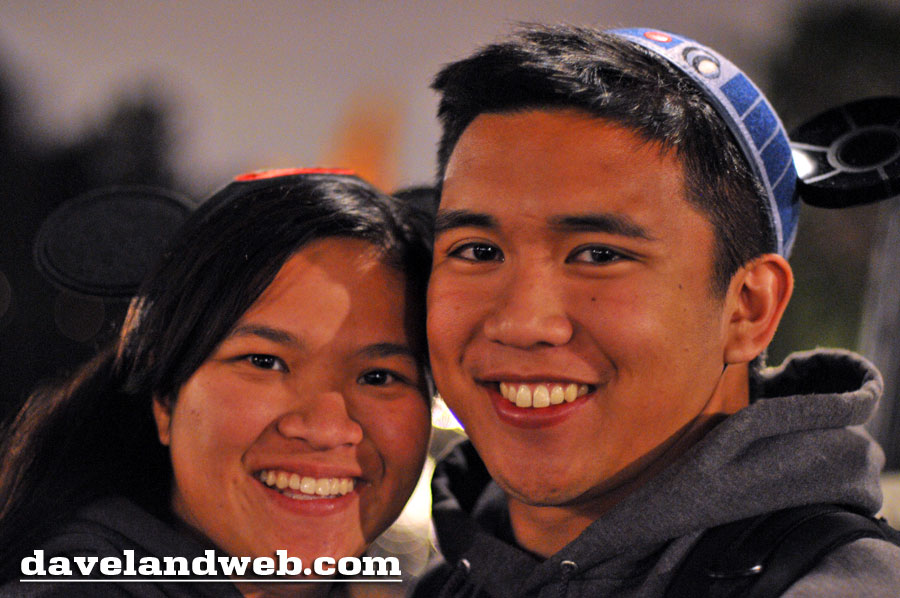 While Stacy guarded our cherished viewing spot, I made a beeline through the crowd to the French Market Mint Julep & Beignet window, ordering up a bag of six to tide us over til dinner. As if we needed any "tiding" after all the stuff we'd been noshing on throughout the day.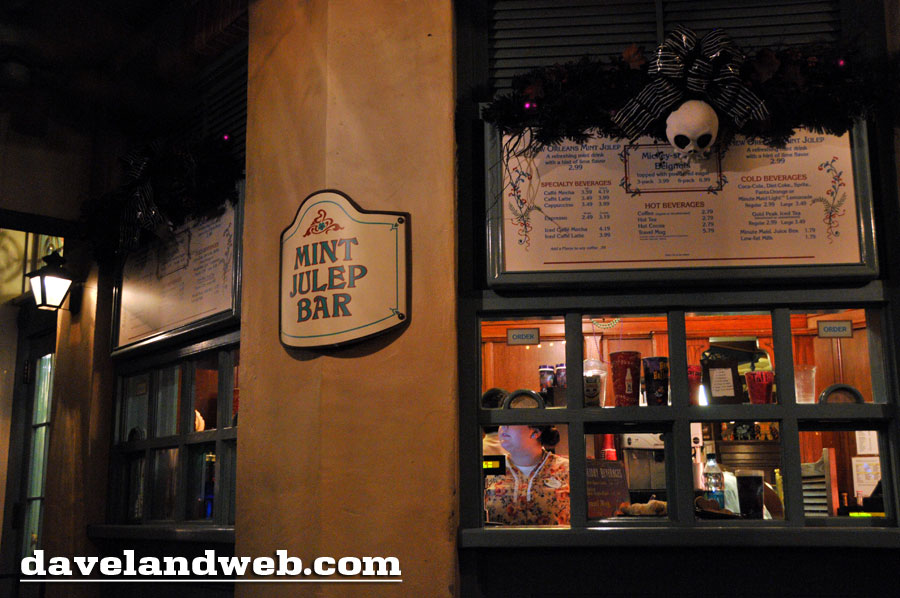 Walking back, I saw that KIIS was broadcasting live from the Disney Dream Suite.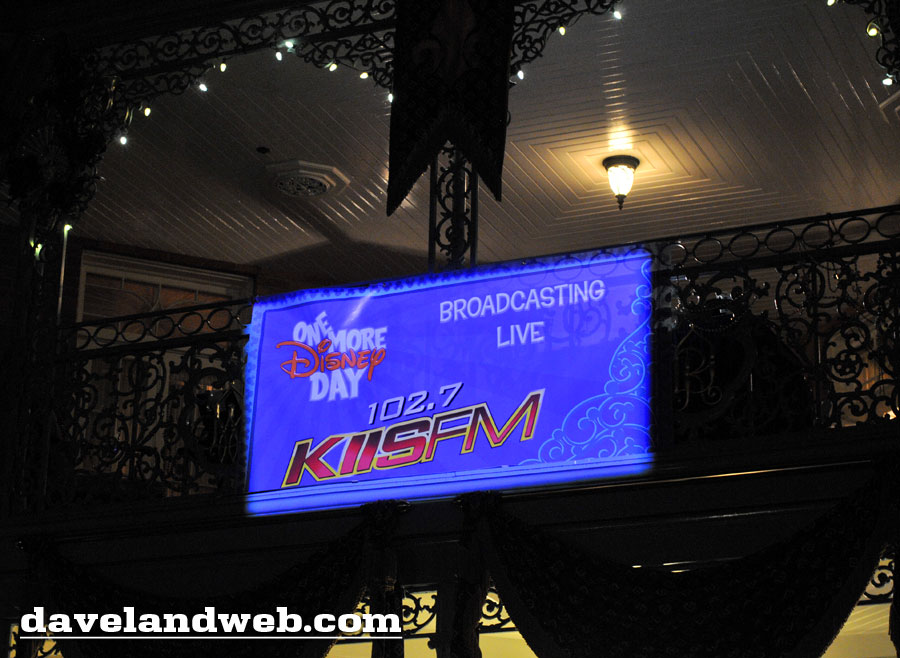 While shooting that photo, I was "recognized" by a reader of my blog. What do you do when you get spotted by a "fan"? You take a photo, naturally! Turns out Eric has used my blog as a guide to visit Disneyland with his friends for year-specific visits, riding only the attractions that were around for the chosen year. What a great idea.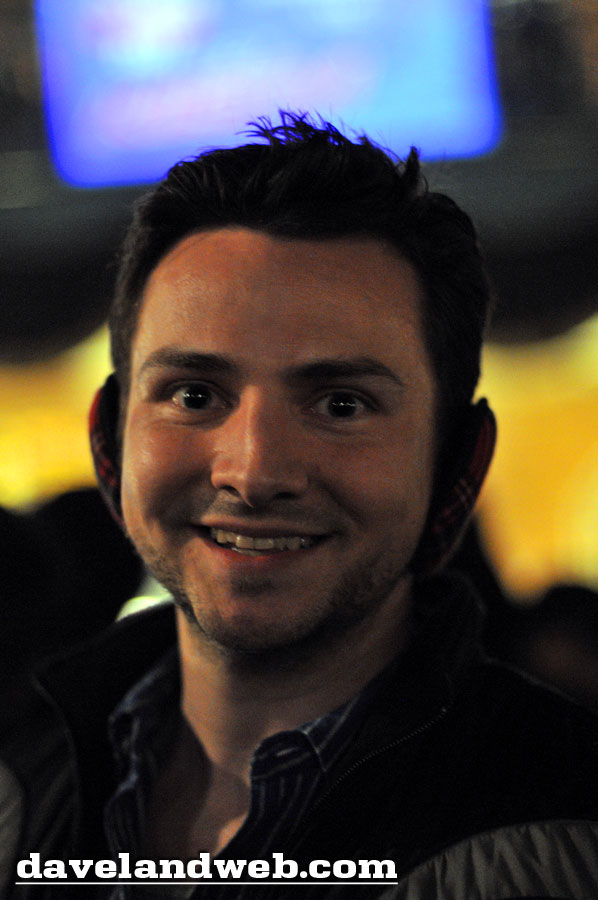 Stacy & I ran into people from work again. At least we weren't the only ones who had taken off from the job that day.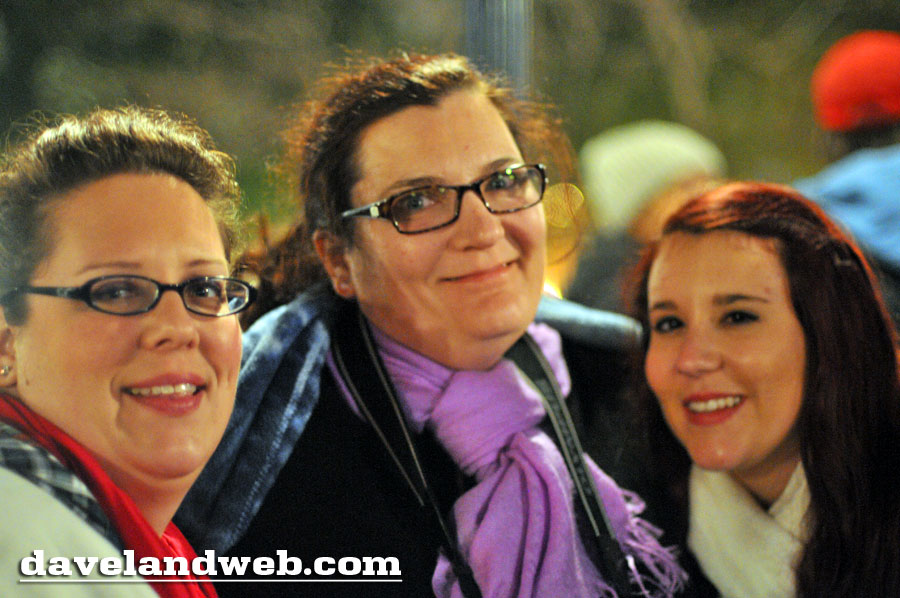 Finally, after standing for two hours, the show began promptly at 1 a.m. Peter Pan fought the villains aboard the Columbia: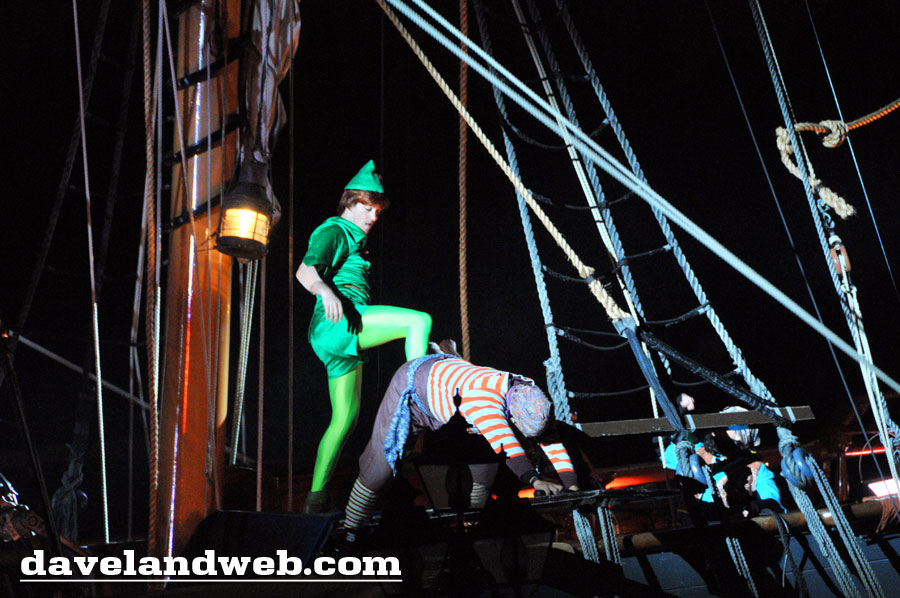 Ariel & Eric floated by on their private barge: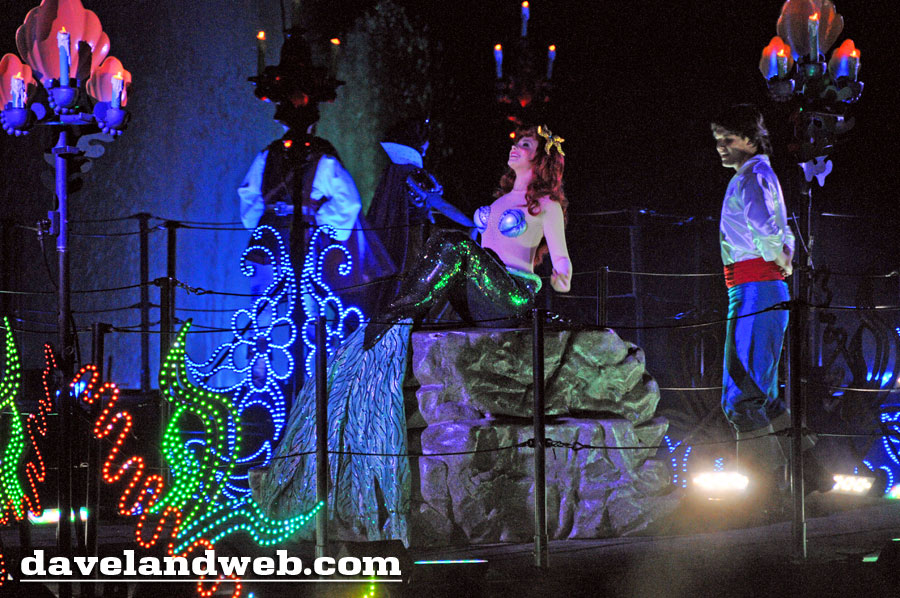 Pinocchio danced with his showgirl friends: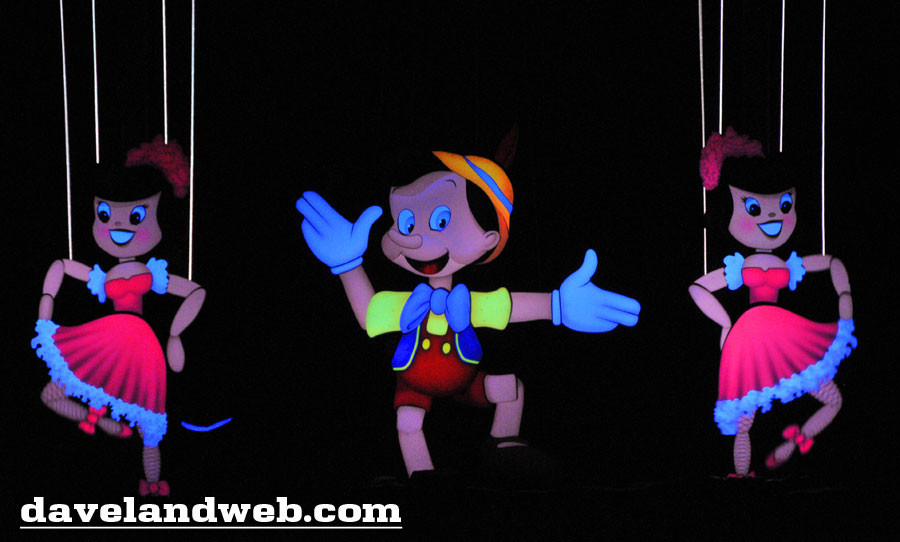 When the Magic Mirror gave the wrong response...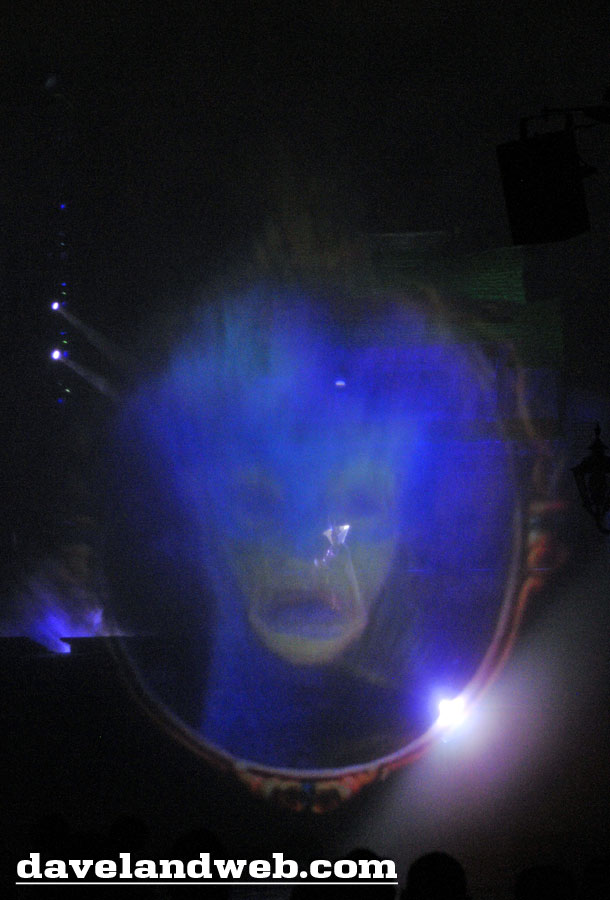 The Evil Queen summoned all kinds of mayhem & foolishness: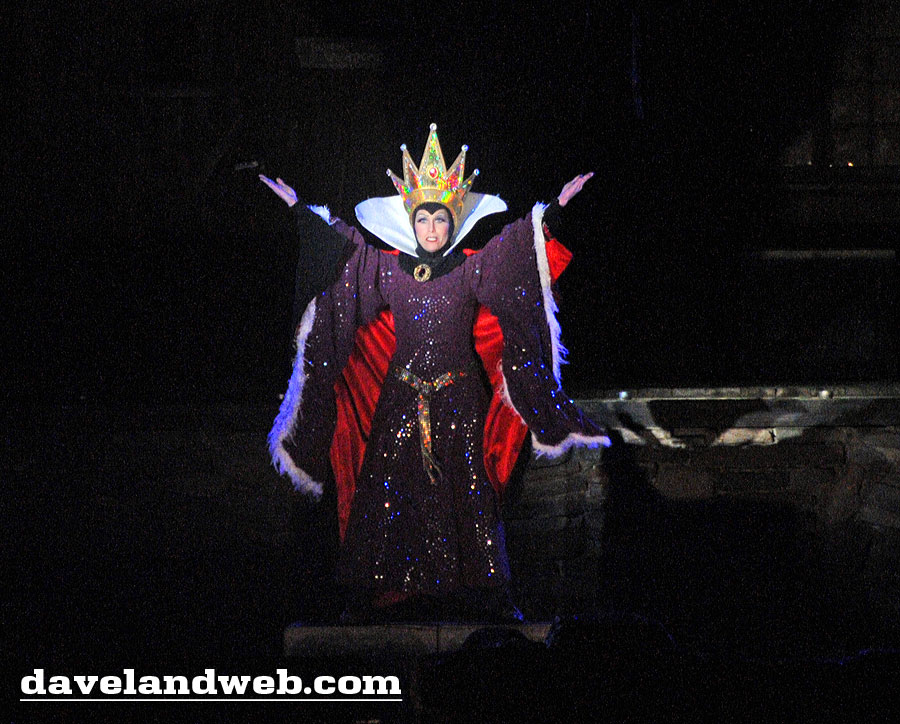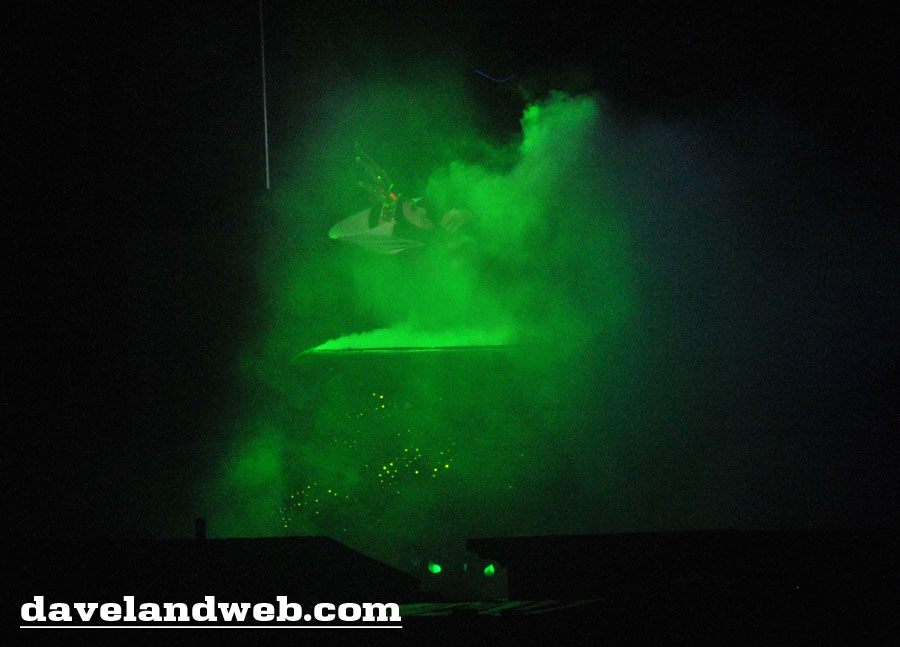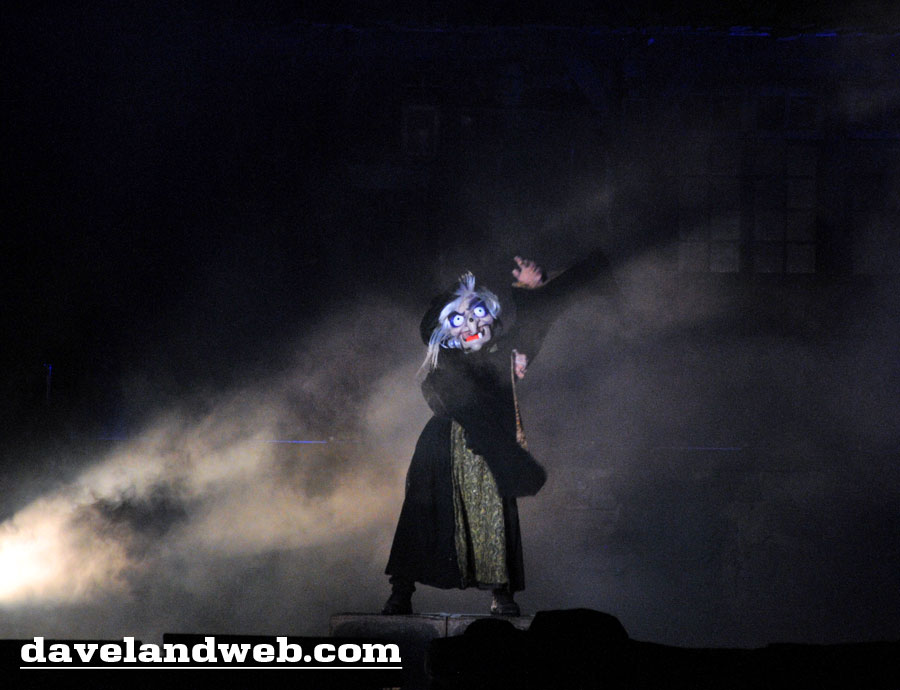 Ursula joined in the villainy: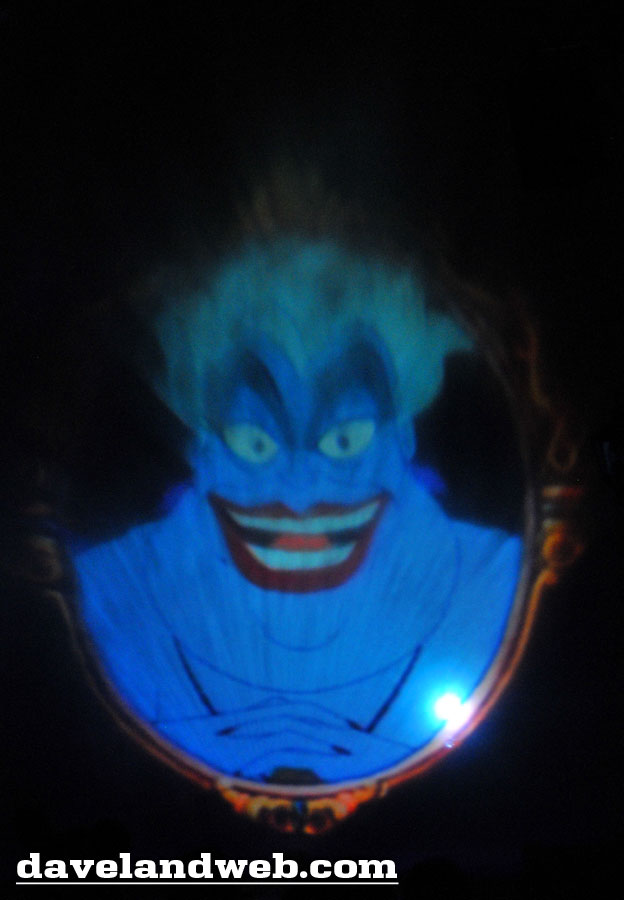 And before we knew it, the infamous Fantasmic dragon had risen out of the depths of the River, entertaining guests like never before!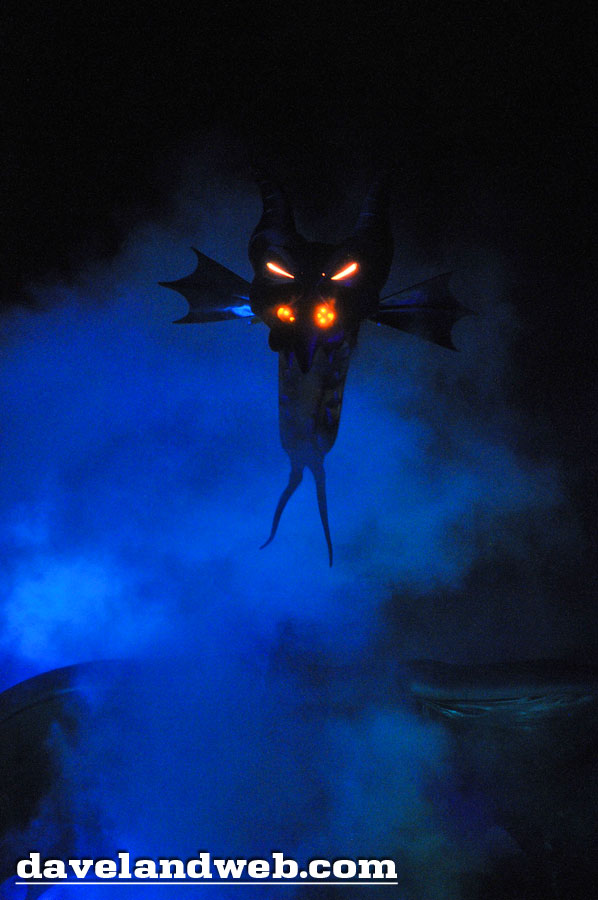 He was no match for Mickey though: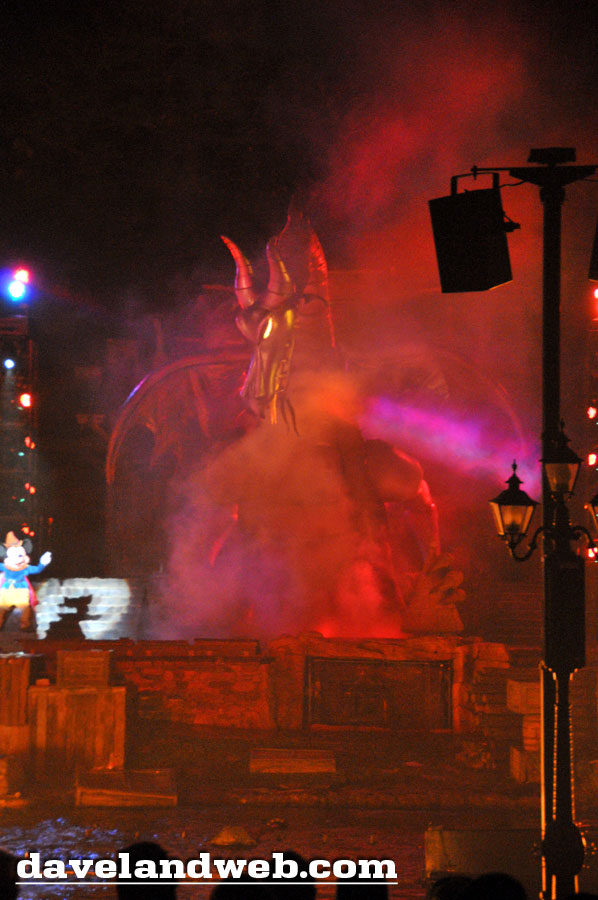 All the favorite Disney characters appeared on Tom Sawyer's Island to celebrate, as the Mark Twain was still under refurbishment. Not quite as rousing, but still very festive.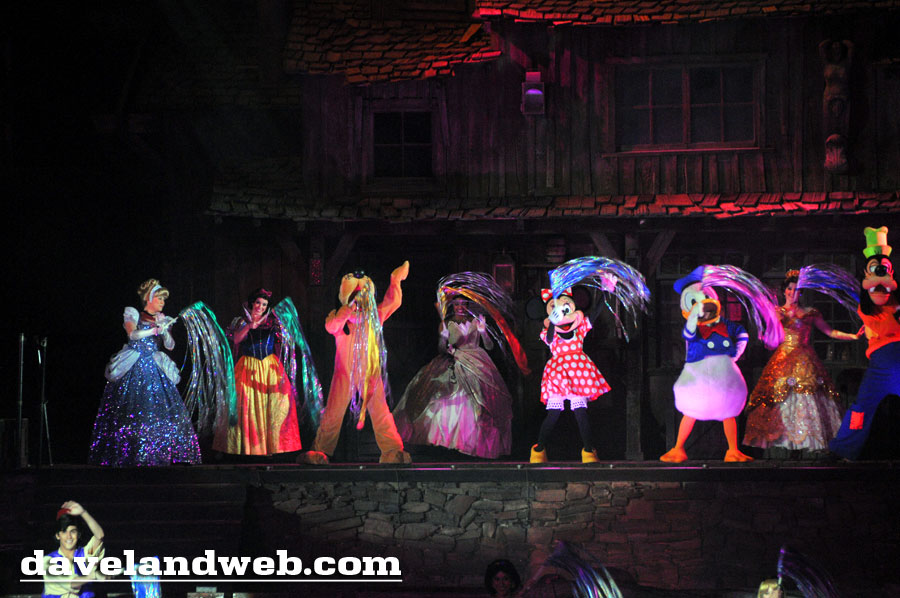 And then with a colorful blast of pyrotechnics, it was over.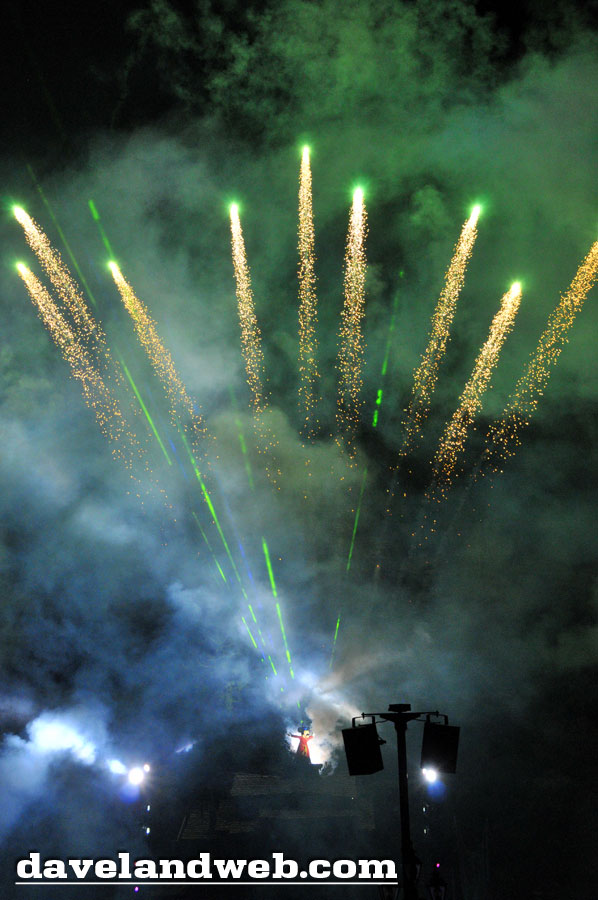 Now what? We let the crowds disperse for a bit to avoid getting trampled, and then we moved our tired feet over to the French Market for a 1:45 a.m. dinner with their Late Night Specials.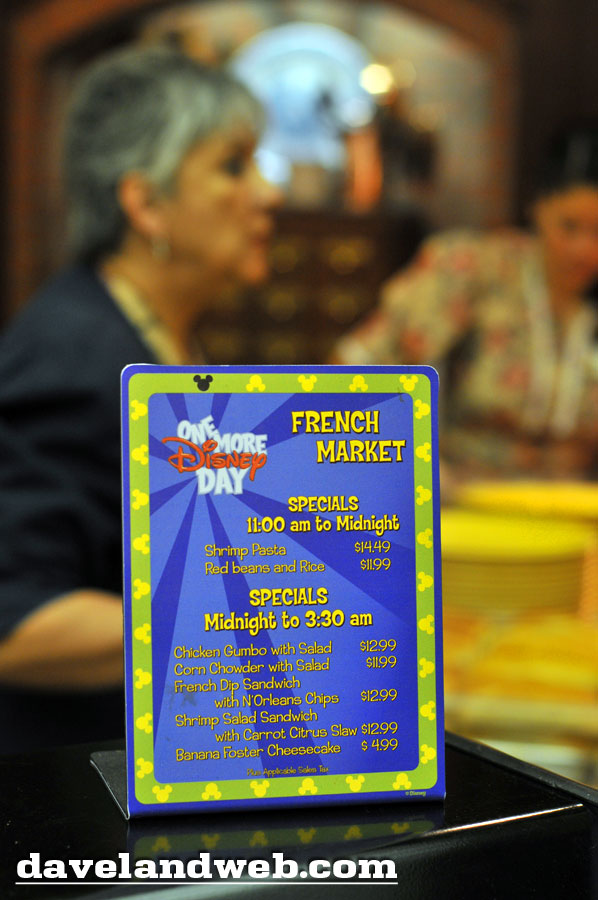 French Dip sandwiches, chips, and finally the Banana Foster Cheesecake I'd been looking forward to all day.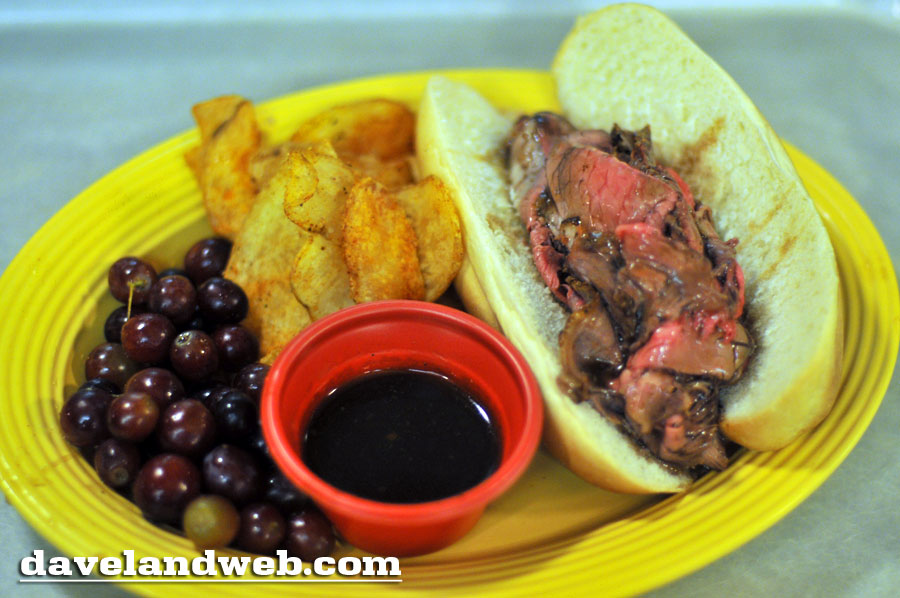 My master plan of riding the train over to Fantasyland was nixed when I saw that the line in Frontierland went around the bend. No thanks. I'll walk.
As luck would have it, this allowed us to see the Country Bears over in Zocalo Park. That was worth a few more blisters.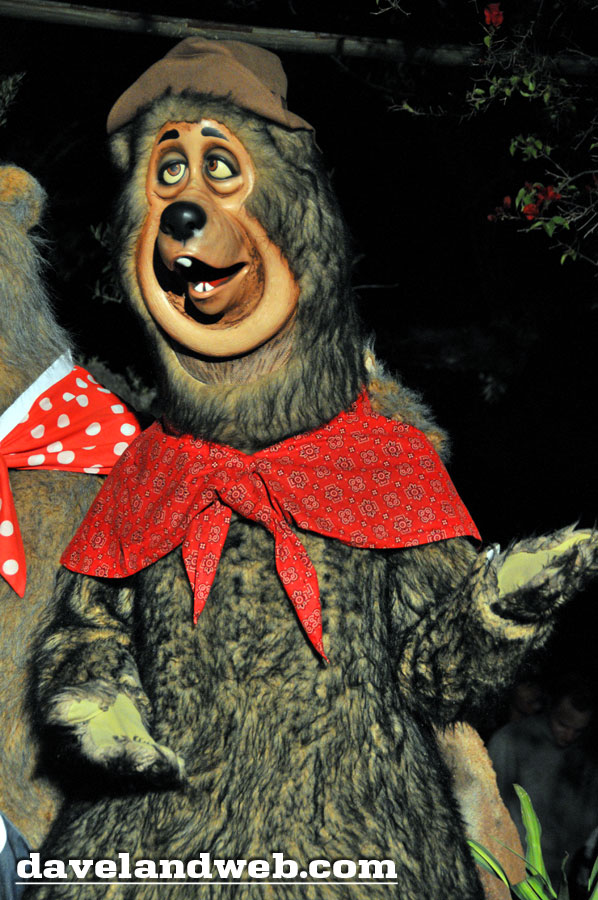 as well as Mickey & friends in their jammies at the Carnation Plaza Gardens: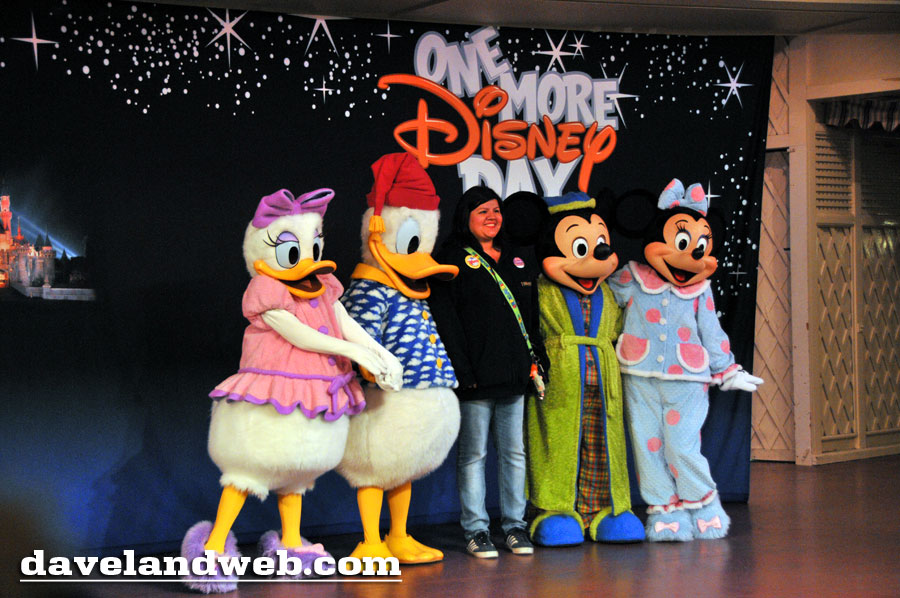 Even at 2:30 a.m., Fantasyland was crazy. Long lines, large crowds...we both knew that we wouldn't last until 6 a.m. We decided to ride "small world" and call it a day. Although I was pleased that there were only 4 strollers in sight at small world, I was still baffled that parents would have their little tots at Disneyland at 2:30 in the morning.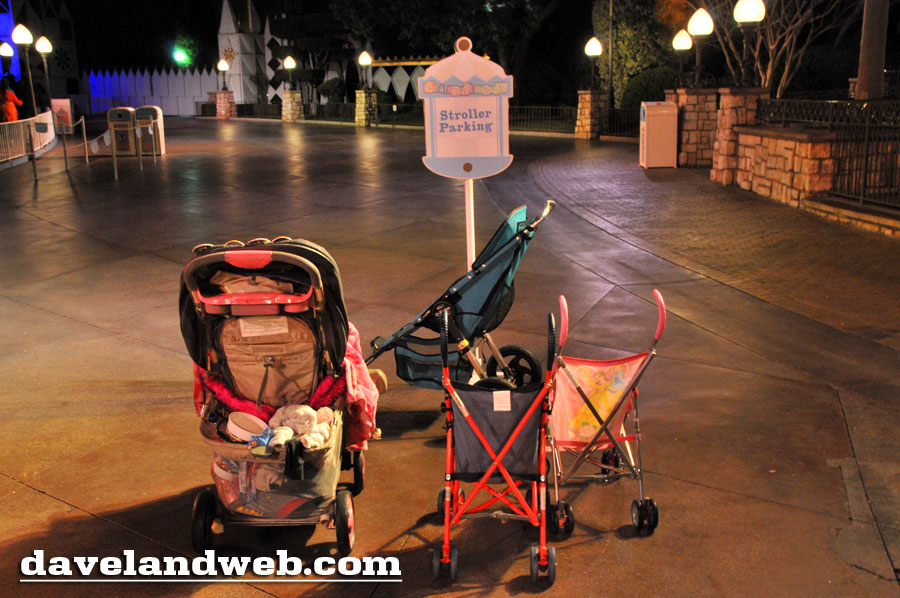 Even though the song sticks in my head for days, I have to admit it was a welcome relief to sit down in the ride vehicle and give my feet a rest. The attraction façade sure looks beautiful at night.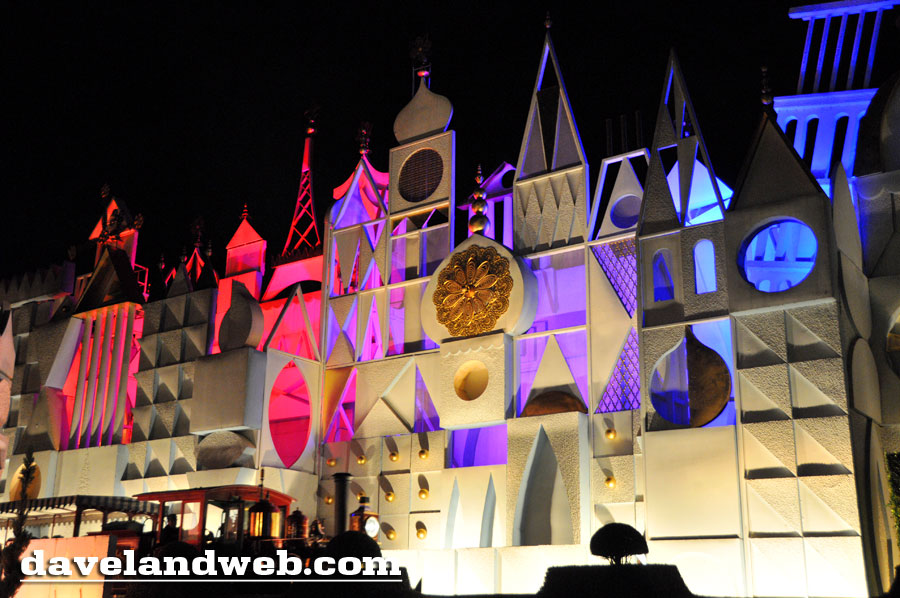 Afterwards, we ventured towards Tomorrowland with the crazy idea that we might ride Buzz Lightyear. The Tomorrowland Terrace was thumping like a rave. The demographic of the park had definitely gotten younger.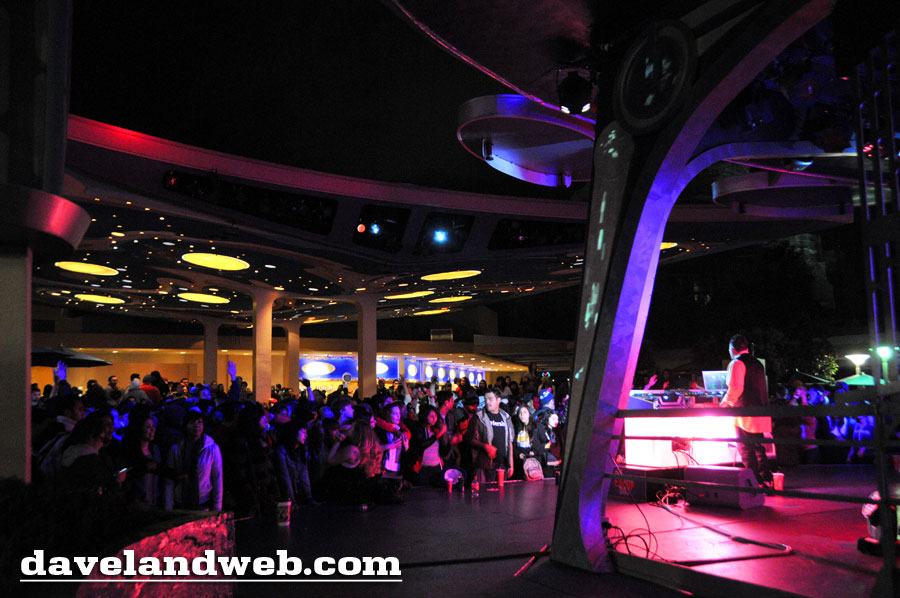 It was at this point that we mutually decided it was time to call it a day. A parting shot of the crowds on Main Street at 3:30 a.m.: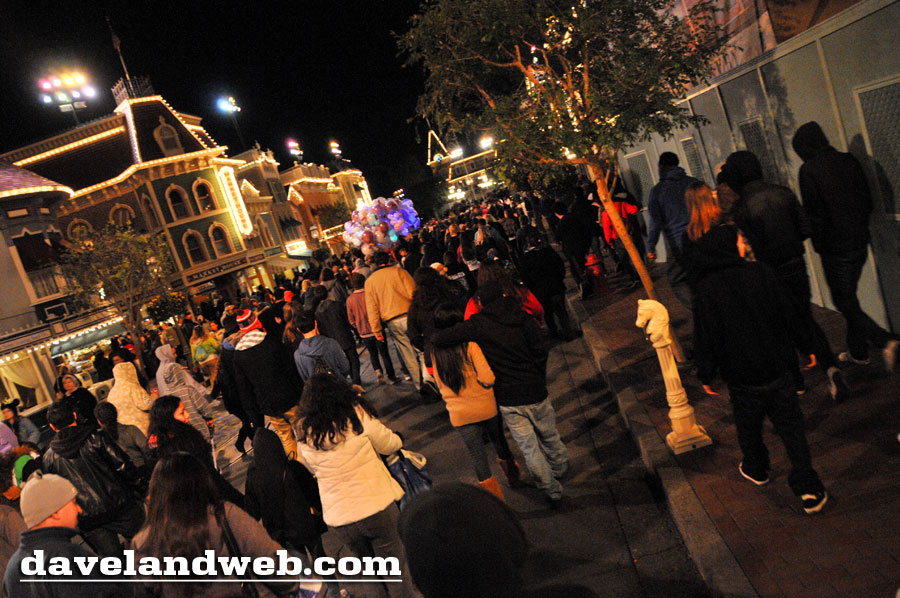 And a view of the clock to commemorate my exit: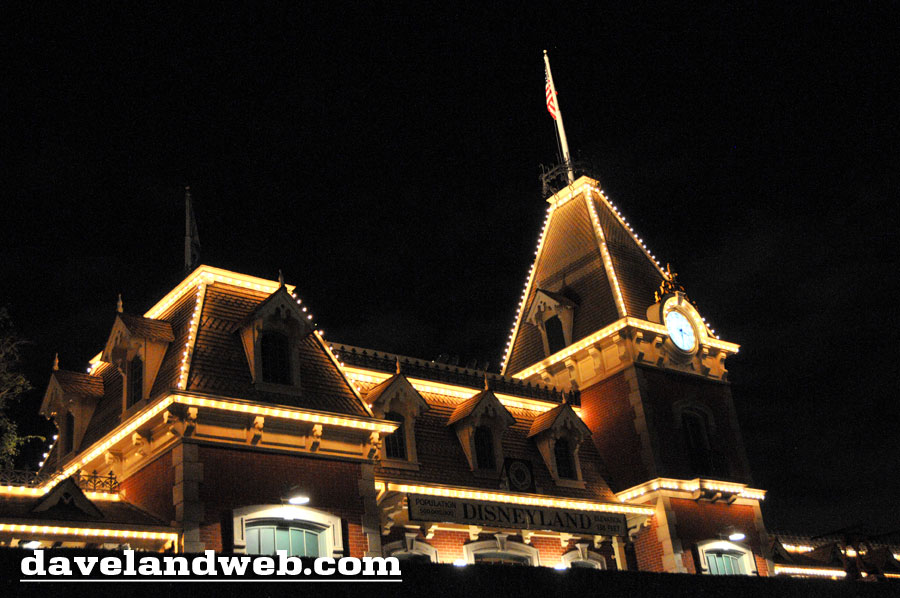 Would I do it again? Probably not. Disney would really have to pull some cool stuff out of their Sorcerer's Hat to entice me to brave those crowds again. But I'm not saying never, either!
See more vintage & current Disneyland photos on my Disneyland photo website.