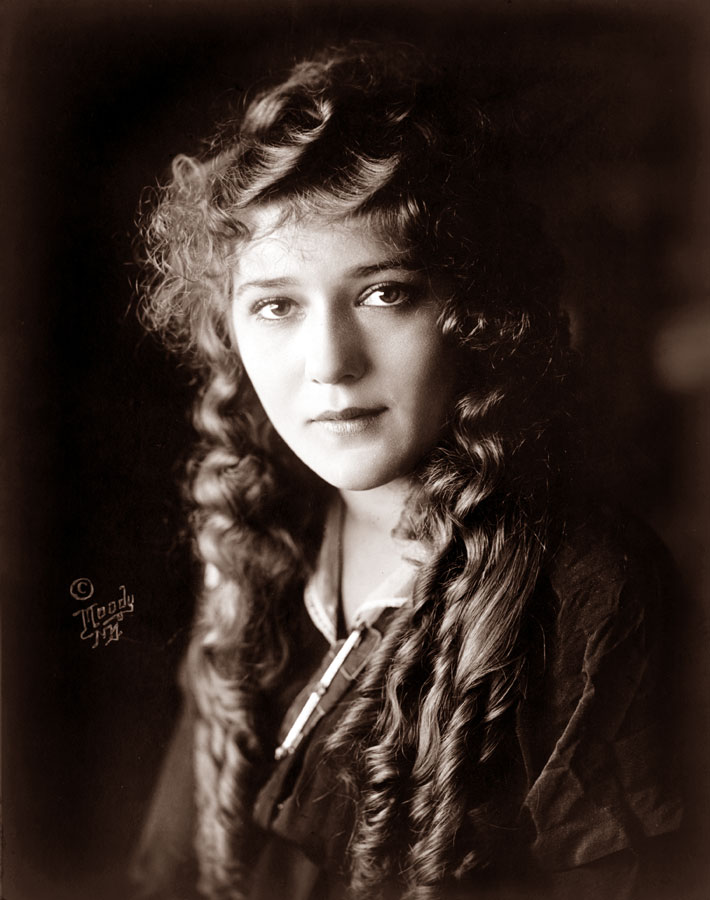 Ironically, America's Sweetheart, Mary Pickford, was born in Canada. Best known as the sweet-faced blonde with ringlets, Pickford was a pioneer both in front and behind the cameras. Here is an ad for her 1923 movie, "Rosita," released by United Artists, a company that Pickford herself helped put together. It marked her first real attempt to stop playing children (which she had continued to do at the ripe old age of 30) and sink her teeth into an adult role.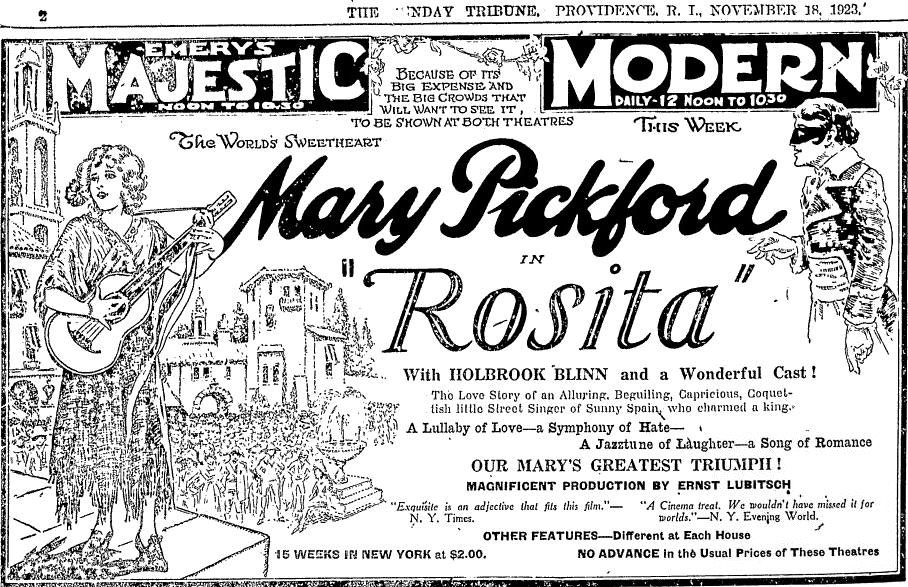 Earning over a million dollars, the film was a success; however, Pickford disagreed and did her best to destroy all surviving prints. Here she is in Balboa Park with Director Ernst Lubitsch and the crew of "Rosita." The Casa de Balboa served well as a Spanish Castle for the film.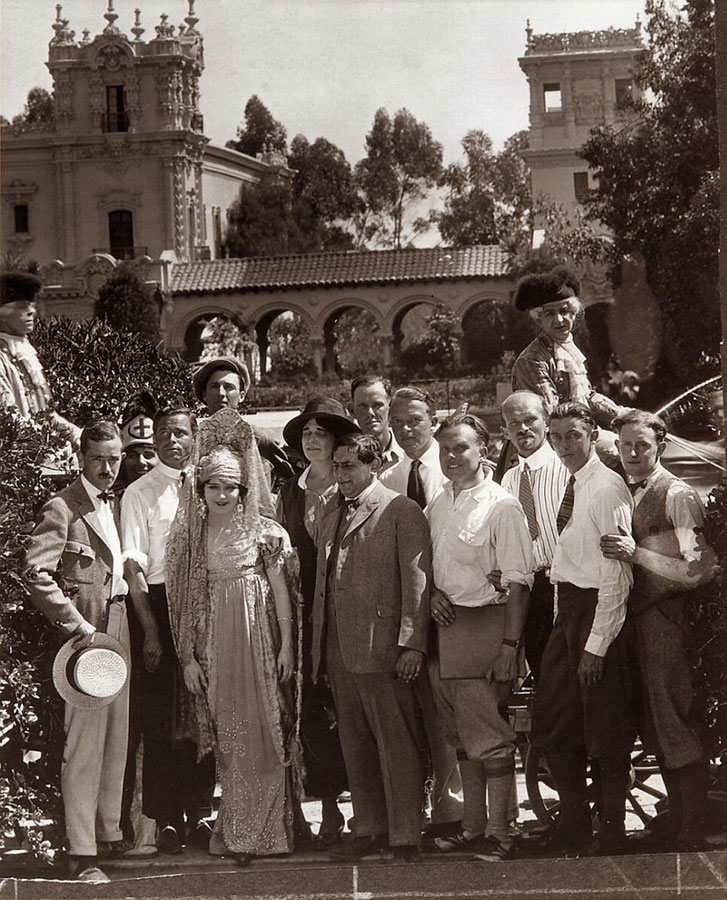 Today, you can still see Casa de Balboa and the lily pond that Mary posed in front of some 89 years ago.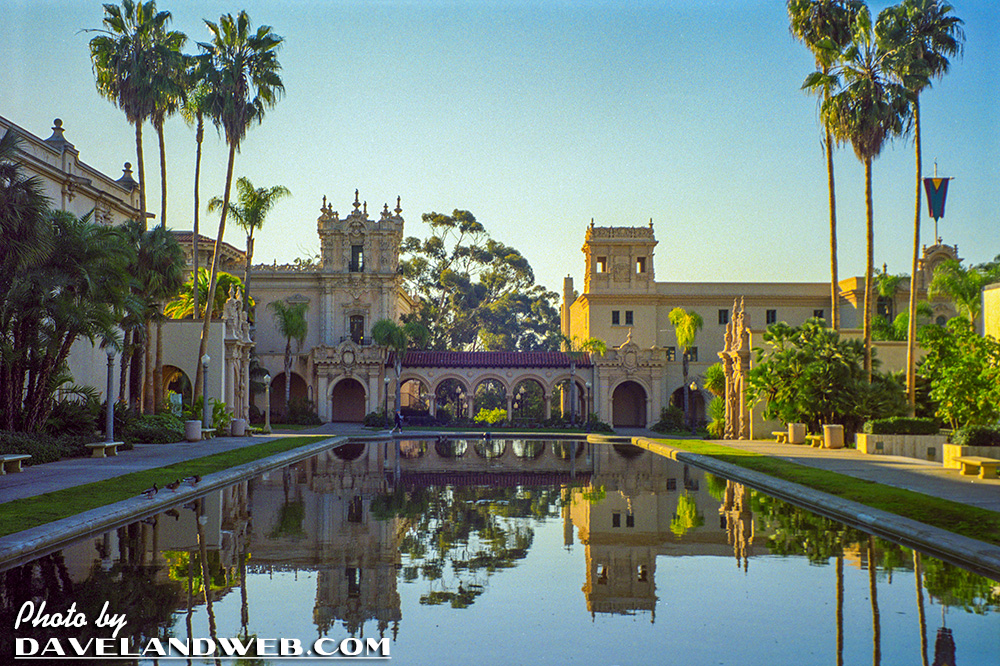 Pickford retired in 1933, staying behind the camera for the most part. Shortly thereafter, Shirley Temple took on the role of America's Sweetheart, as her own curly locks put smiles on the faces of Depression-weary audiences. Shirley even filmed a number of remakes of Mary's most famous films, such as "Curly Top" (known as "Daddy-Long-Legs" for Mary), "Poor Little Rich Girl," "Rebecca of Sunnybrook Farm," and "The Little Princess." Just like Mary did before her, Shirley committed the unpardonable sin of growing up, and audiences began to dwindle.
For Shirley's first screen-kiss in 1942, the property chosen was the low-budget "Miss Annie Rooney," which bore little resemblance to the 1925 Mary Pickford classic, "Little Annie Rooney." According to Elaina B. Archer, manager of the Mary Pickford library, one of Mary Pickford's worst business decisions was to sell the rights to some of the stories she had filmed to Shirley Temple. Archer explains, "She always played roles of women who were younger than her actual age. After a while, you just can't do that. Shirley Temple remade a lot of Mary's films. If a grown woman can pull off playing a little girl, it's because she's such a talented actress. A little girl playing that role is just too darn cute and sickly sweet. I think Shirley Temple ruined Mary's name because it pinpointed her then as the sickly sweet little girl. It was the worst business decision of her life."
Famed Hollywood Gossip columnist Louella Parsons didn't seem to agree. From Hollywood, Calif., on April 25, 1941 came this tidbit:
The brightest idea so far...for 12 year old Shirley Temple is to develop her into another Mary Pickford, and...Edward Small plans to do [that] when she joins United Artists in the fall. You see, Shirley has just been signed on a term contract by Small, and "Little Annie Rooney" one of Mary's best known pictures, and other Pickford stories that were so popular when the curly haired Mary was the darling of the movies, are being suggested to Mrs. Gertrude Temple, Shirley's mother.

Another story held in reserve for the Temple child is "Lucky Sixpence," child story by Emily Brown Knipe and Allen Arthur Knipe. Mary wasn't much older than Shirley when she started making movies, so Shirley can bring back many of the Pickford classics.
"Miss Annie Rooney" fizzled at the box office, killing the possibility of any Pickford remakes by Shirley. A year later, Shirley's career was all but dead when she began filming the David O Selznick blockbuster hit, "Since You Went Away." Mary Pickford visited the set, and this photo was shot of her with Shirley, providing headlines for the magazines of the day.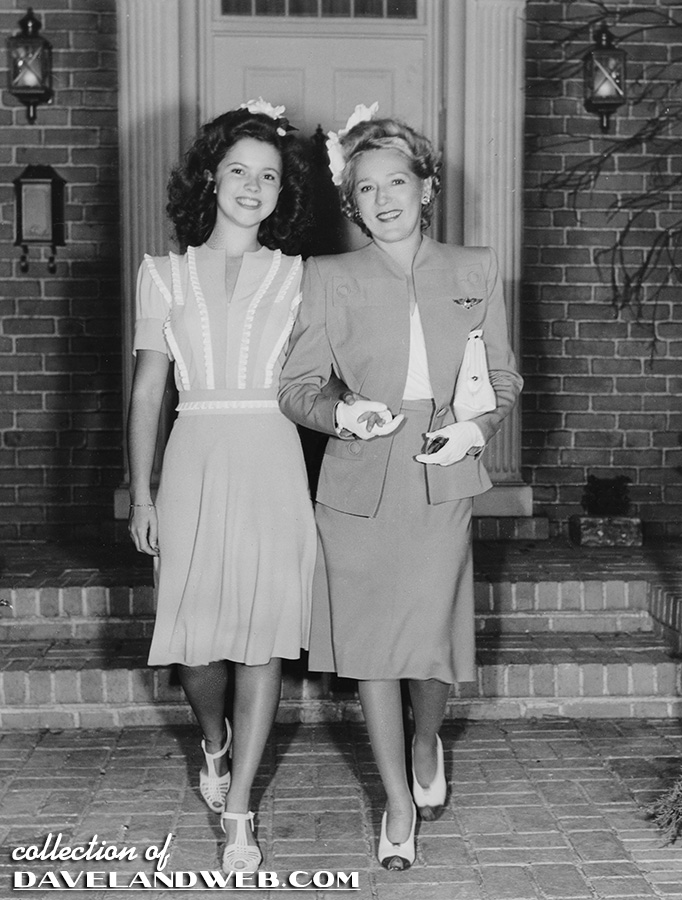 Here is the accompanying caption:
Here is the picture that has Hollywood tongues wagging. Note the striking similarity between the winsome sweetness of Mary Pickford and Shirley Temple. Mary was just 15 when she scored her first success in "The New York Hat," Shirley is just 15 and about to play her first, real, dramatic role in "Since You Went Away.:

Mary, who rarely appears at studio parties, attended the informal 'housewarming' given on the Hilton Home set of the David O. Selznick picture, linked arms with Shirley and walked toward the guests. An alert photographer snapped his shutter.

The resulting picture shows that Shirley, while growing up, has kept the childlike innocence that brought her stardom in childhood. Observers thought that Mary Pickford, who ruled so long as "America's Sweetheart," was deliberately and publicly nominating her own candidate for the throne which has been vacant since she retired.
LIFE Magazine ran the photo and story in their Oct. 4, 1943 issue. They were much crueler in their caption:
TWO GREATEST HAS-BEENS

Shirley Temple and Mary Pickford are seen here on a Hollywood movie set. Miss Temple is 15. Mary Pickford is 50. They are almost of a size. Their combined careers almost span the history of the motion-picture industry. Mary Pickford has appeared in 60 full-length movies. Shirley Temple in 28. They are Hollywood's two greatest has-beens.

They are has-beens in the same peculiar way. Both of them have finished great movie careers. Mary Pickford as "America's Sweetheart"; Shirley Temple as the screen's greatest child actress. Miss Temple, for many years a top box-office draw as a curly-headed moppet, is now taking on her first real dramatic role. When Mary Pickford was her age she was appearing in David Belasco's "Warrens of Virginia."

The occasion for their meeting was an on-the-set party to celebrate the first day of shooting on Shirley Temple's new picture, United Artist's "Since You Went Away." Miss Pickford, a part owner of United Artists, is also beginning a new movie career. Recently she paid $110,000 (the top price for a Broadway play) for the screen rights to "Junior Miss," which she will soon produce. It is rumored that Shirley Temple will have one of the leading roles in the movie.

Pickford never produced the movie and Shirley went on to a respectable adult career before she got weary of Hollywood and retired in 1949. Pickford retired to her famous estate, Pickfair (a combination of Pickford and Fairbanks, Mary's second husband), with her third husband, Charles "Buddy Rogers." Pickfair can be seen here in this 1954 image: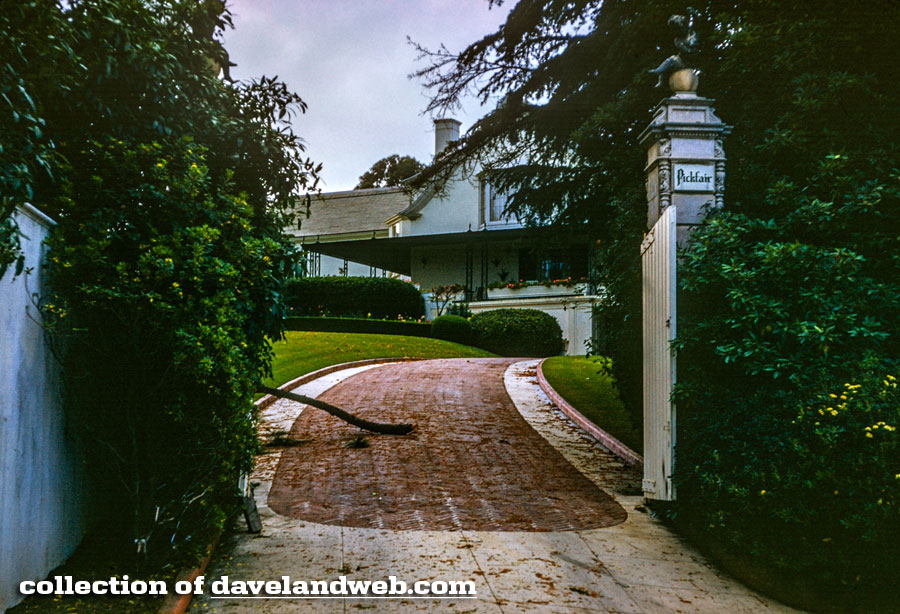 As Mary got older, her public appearances became fewer and fewer. In this previously published photo on Daveland, you can see her with Rogers at Disneyland outside of the Main Street Cinema: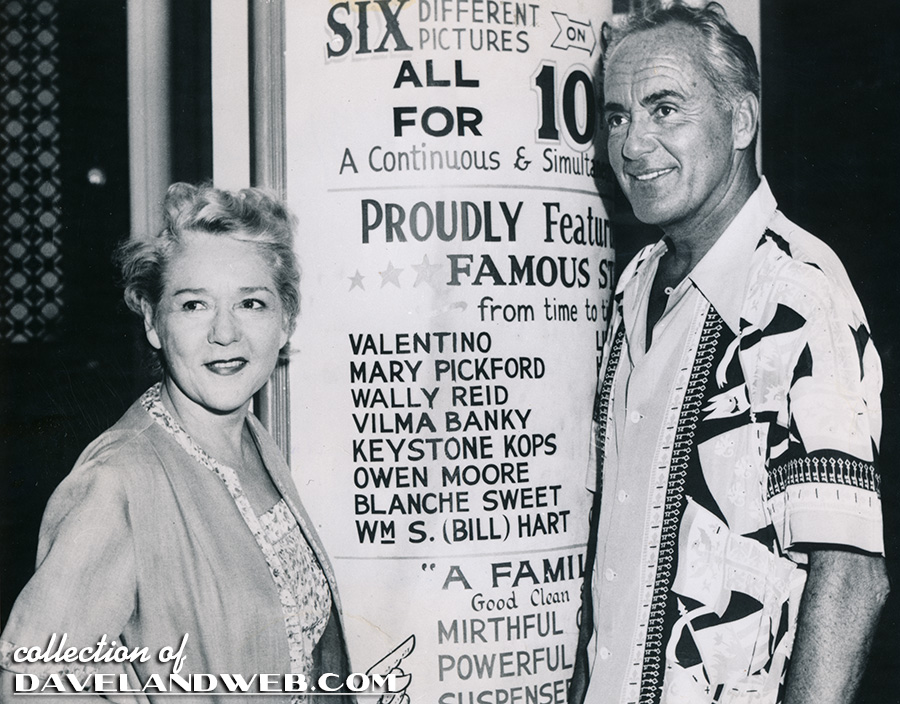 Here's to Mary Pickford; one of the greatest legends of the movies. To quote Norma Desmond in "Sunset Boulevard": "We didn't need dialogue. We had faces!"
See more movie celebrity photos on my main website.