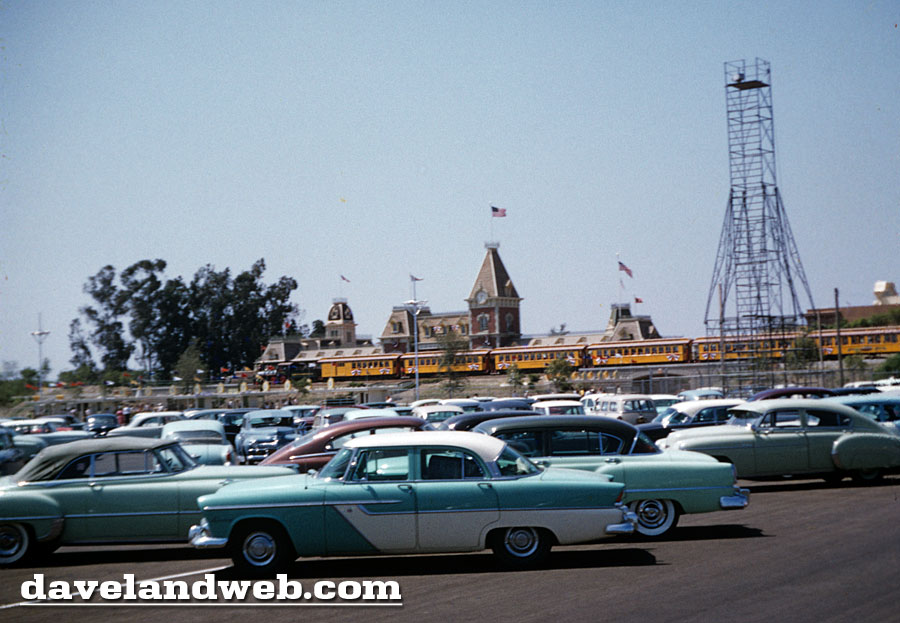 All of you young whippersnappers...the ones who think you know everything about Disneyland...I'll bet these images are a strange sight to you. This first shot, taken during the initial month of Disneyland's opening back in 1955, shows a parking lot. Not a multi-tiered concrete eyesore, but a flat paved lot full of yummy vintage autos. If you were standing in this spot today, you'd be somewhere near the Hollywood Studio section of Disney California Adventure, or maybe just outside the gate near the shuttle/tram area.
This next shot is from the 1960's; I would happily take any of those retro cars! This photo was taken from the approximate location of the DCA entrance turnstiles, recently retooled to resemble the Pan Pacific Auditorium.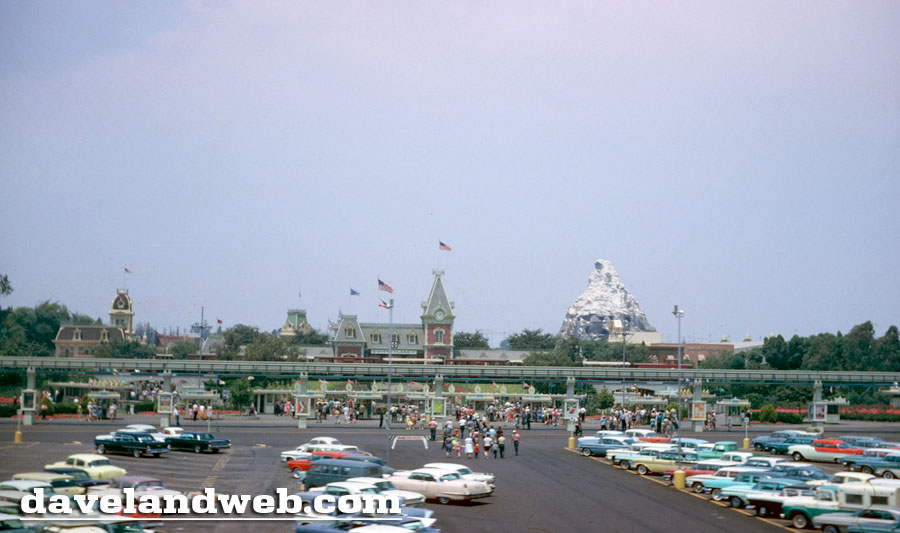 Must...get....closer...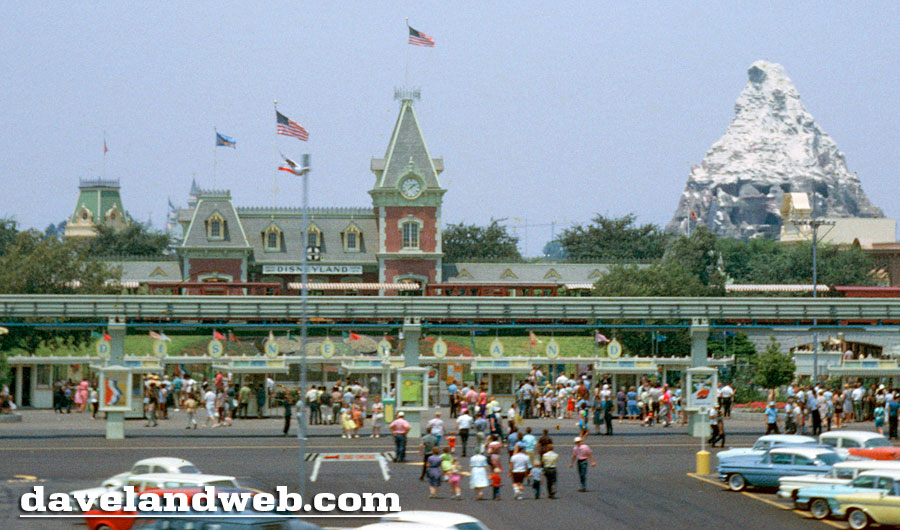 Jumping ahead to August 1977, the parking lot looks amazingly empty; must be early morning.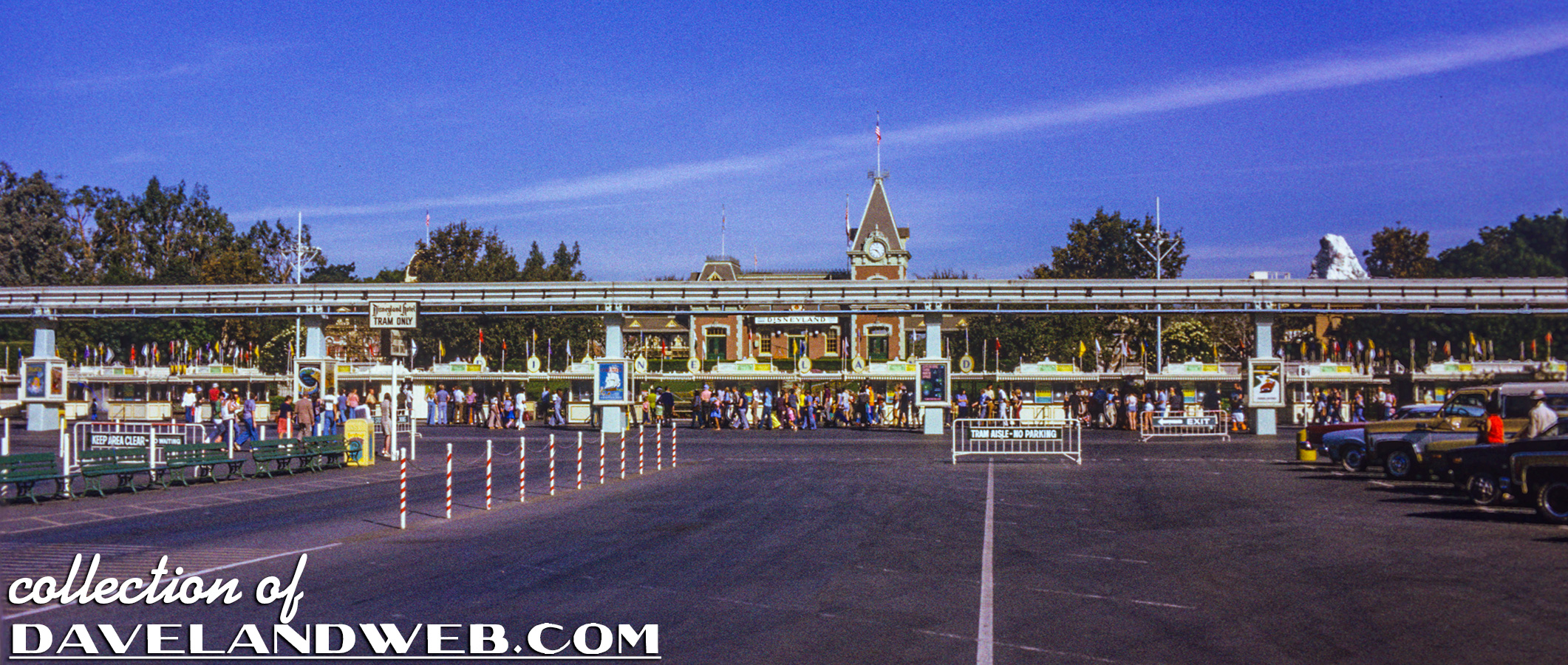 This last photo is one I shot myself out the window of my car (I think I still had one hand on the steering wheel!) during an October 1995 visit. This was probably the last time I parked in this lot and was able to walk right up to the gate.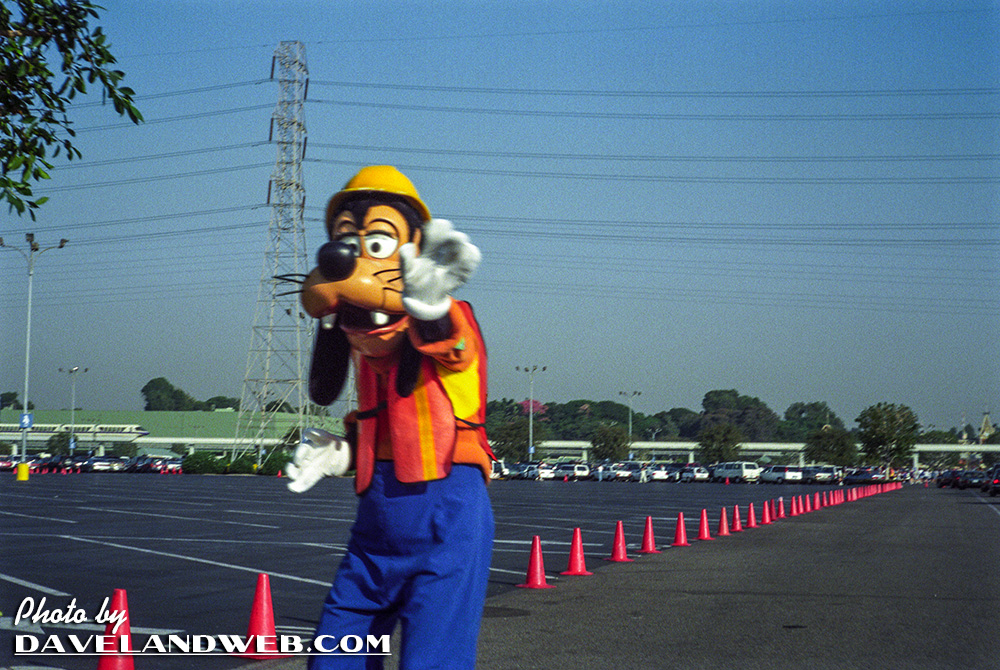 On a sad note, Marion DeFore, beloved wife of the late Don DeFore (of
Silver Banjo
& "Hazel" fame) has recently passed away. Here she is at the restaurant with husband and daughter Amy: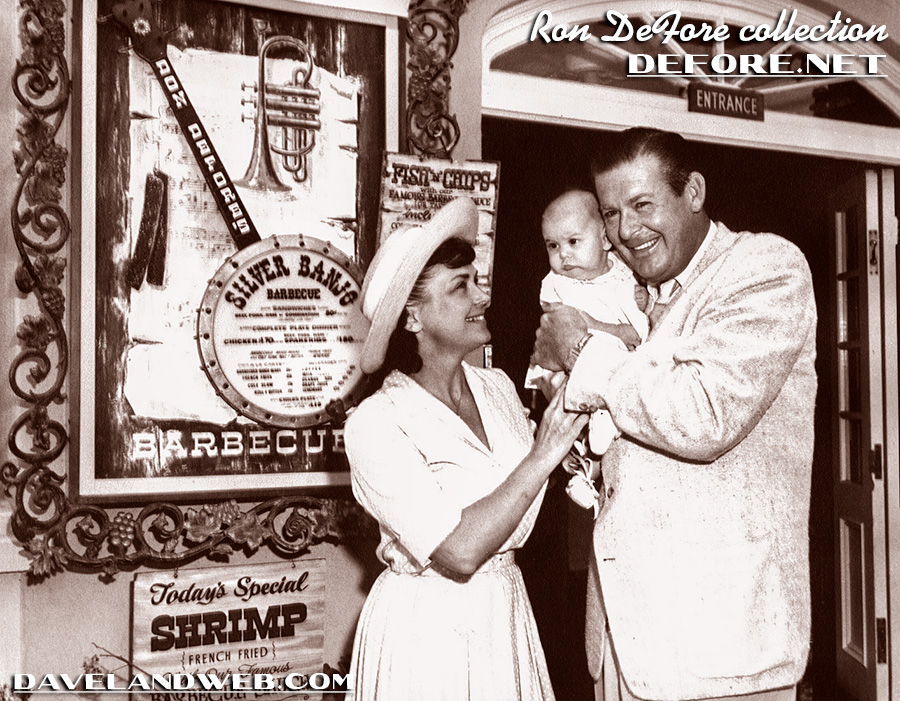 From the
L.A. Times
:
Marion Holmes DeFore, wife of late actor Don DeFore (1913-1993), died November 17, 2011 at age of 93 in Santa Monica, California. Born Marion Holm in Chicago, Illinois in 1918, Marion began a singing career at age 17 while in her junior year at Kelvin Park High School by winning a WJJD Radio singing contest. She competed against more than 600 girls and won the opportunity to be the female vocalist with Frank Master's Orchestra in Chicago. She was also the songstress for Jule Styne, Maurie Sherman and the Buddy Rodger's band, with drummer Gene Krupa. Marion recorded several songs with the Henry Busse Orchestra, toured the Mid-West and sang at the famous Coconut Grove in the Ambassador Hotel in Los Angeles. Marion joined Chicago-based Art Kassel and his Kassel's-in-the-Air, recording and making famous, "I'm A Little Tea Pot" and performed live broadcasts on WGN radio every Saturday night from the Walnut Room in the Bismarck Hotel, where she met Don while he was in Chicago starring in the "Male Animal". They married in Los Angeles on Valentine's Day, 1942 with Marion's matron of honor, Judy Garland. Although Marion gave up her singing career, her life in the celebrity spotlight increased as husband Don acted in more than 20 feature films in the '40s and '50s.
Don DeFore is best remembered for his television roles (for which he earned a Star on Hollywood Boulevard) as Ozzie and Harriet's next-door-neighbor "Thorny" and as "Mr. B" in the 1960s TV sitcom "Hazel" co-starring Shirley Booth. He also served as President of the Television Academy 1954-55. Marion and Don owned Don DeFore's Silver Banjo Barbecue Restaurant in Frontierland, Disneyland from '57 to '62, managed by Don's beloved brother Verne.
Marion was a devoted wife for 52 years and mother of 5 children who grew up in Brentwood, Los Angeles. She served on various committees at the First Methodist Church in Santa Monica and as a Board Member of the L. A. Chapter of the Freedom Foundation in the 50's. Marion was a Board member of the ARCS Foundation (Achievement Rewards for College Scientists), President of the L. A. Chapter from 1960-62, and National Chapter President from 1965-67.
Marion had an illustrious carrier as a residential real estate agent for over 30 years beginning in the early 70's. Many agents in Brentwood have fond memories working with her, enjoying her charm, warmth and friendly persona. Marion is survived by her five children, Penny Hill, David, Dawn Burdine, Ron, and Autumn Moore, and 12 grandchildren and 15 great-grandchildren.
In lieu of flowers please send a financial gift to BelAir Presbyterian Church (16221 Mulholland Drive, Los Angeles, CA 90049) in care of Marion Holmes DeFore Memorial. All contributions will go towards programs that assist inner city youth.
See more vintage & current Disneyland Parking Lot photos on my Disneyland Hotel & Parking Lot web page.