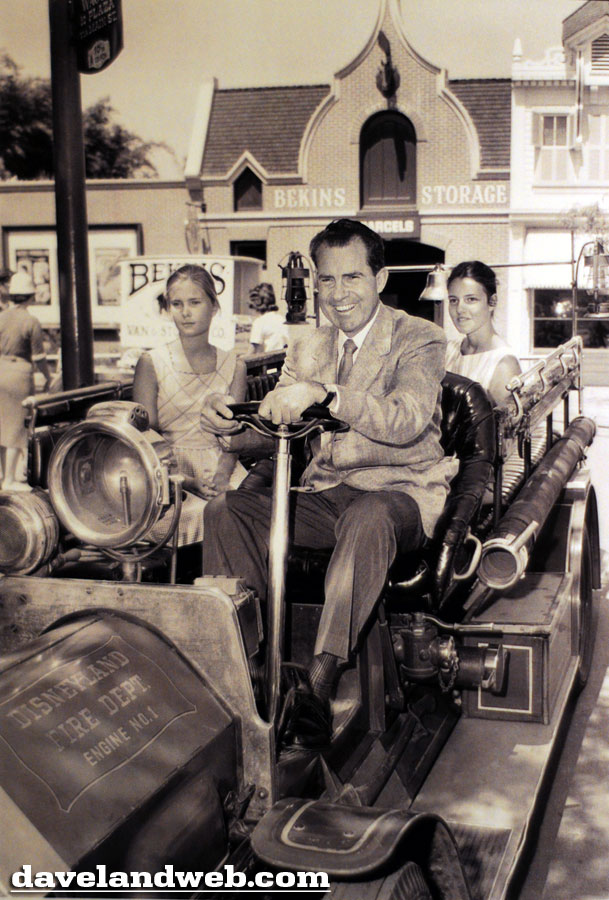 Shot #1 for today is from a 1961 visit; Nixon poses with daughter Tricia (on the left), driving the Fire Department Engine #1 around Town Square. The next big visit by the Nixons that was covered by the media was on August 16, 1968. Here are a number of color photos from that trip. Apparently, this trip through Disneyland was late in the day and there wasn't much time to ride the attractions.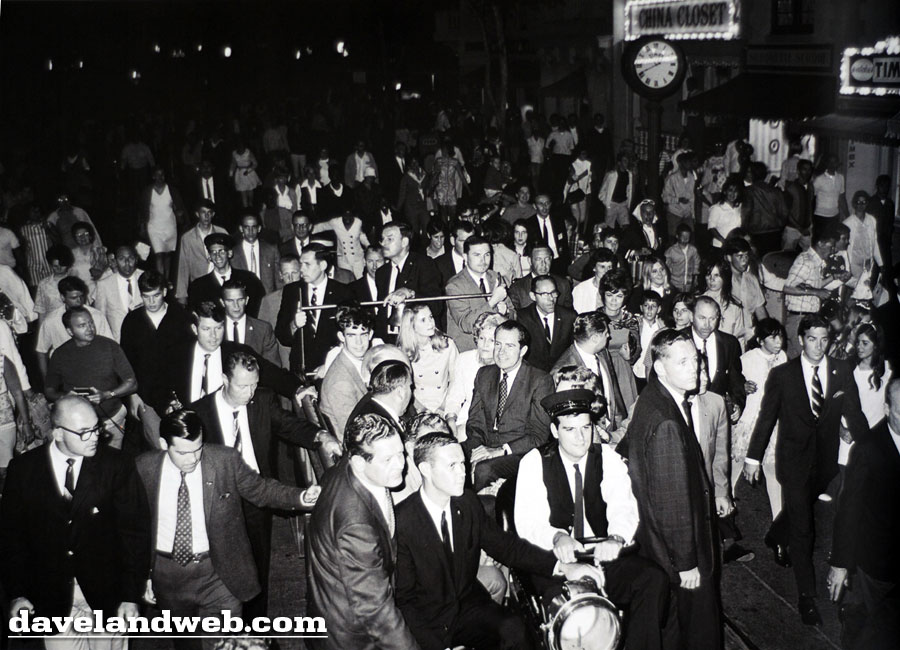 Here's Pat & Richard Nixon aboard the Disneyland Railroad; I believe the Disneyland Ambassador with them is Sally Sherbin (thanks to Progressland for the ID!). Daughter Tricia can be seen at far right.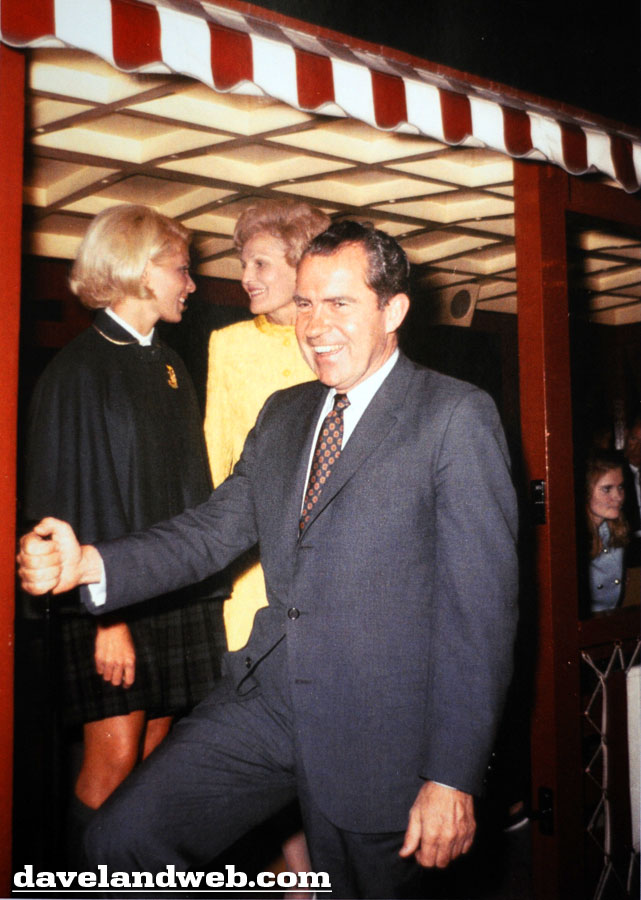 A few aboard the Mark Twain: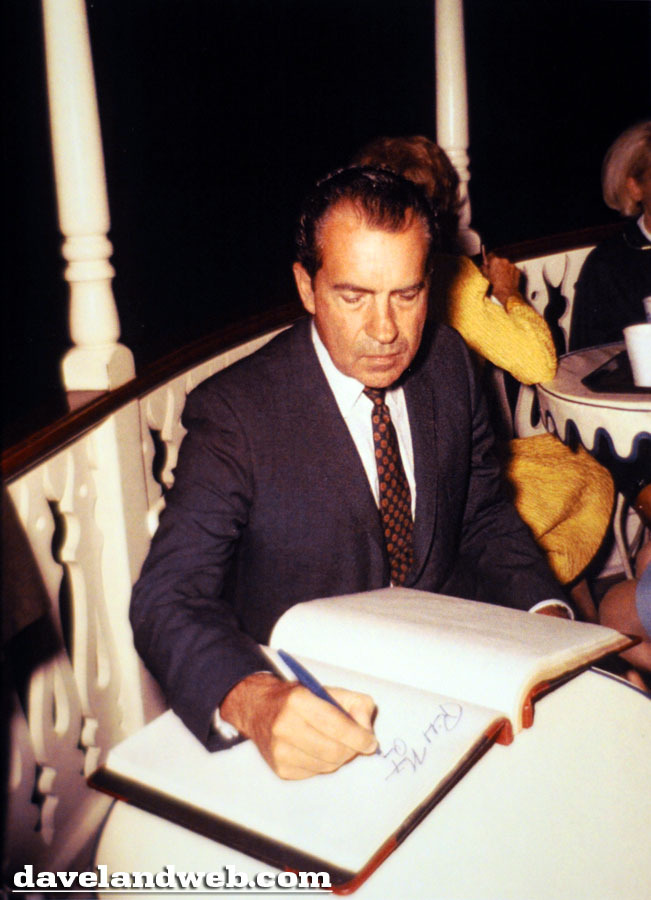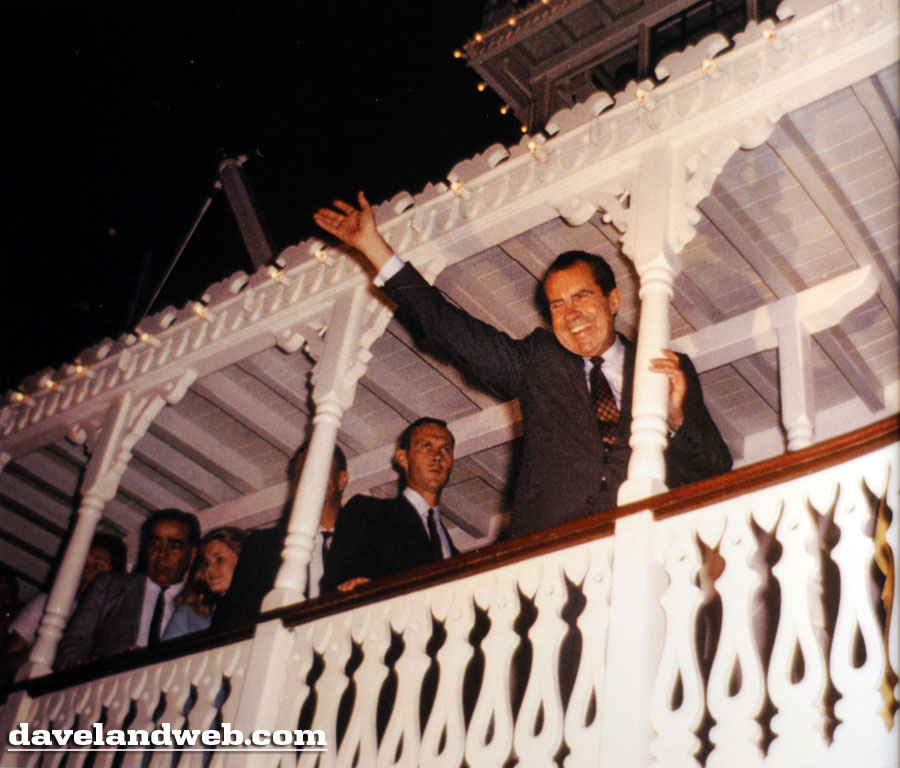 What was Julie's parents' favorite attraction? Small world! In 1968, on a late tour of Disneyland, Pat specially requested that they get to go on iasw, even though they didn't have much time at the park. The theme of world peace through children of the world struck a chord with Pat and her husband. The inscription on her tombstone fittingly reads, "Even when people cannot speak your language, they know if you have love in your heart." Both Nixons felt that you should respect other people and their cultures. This is part of what Julie also admired in Walt; his ideas about the future and bringing people together in an environment that both young and old could have fun together while learning and expanding themselves: "It was never a lecture with Disney." August 16, 1968. Sisters Tricia and Julie are in the front seat; Julie's future husband, David Eisenhower, is sitting next to her. David is the grandson of President Dwight Eisenhower.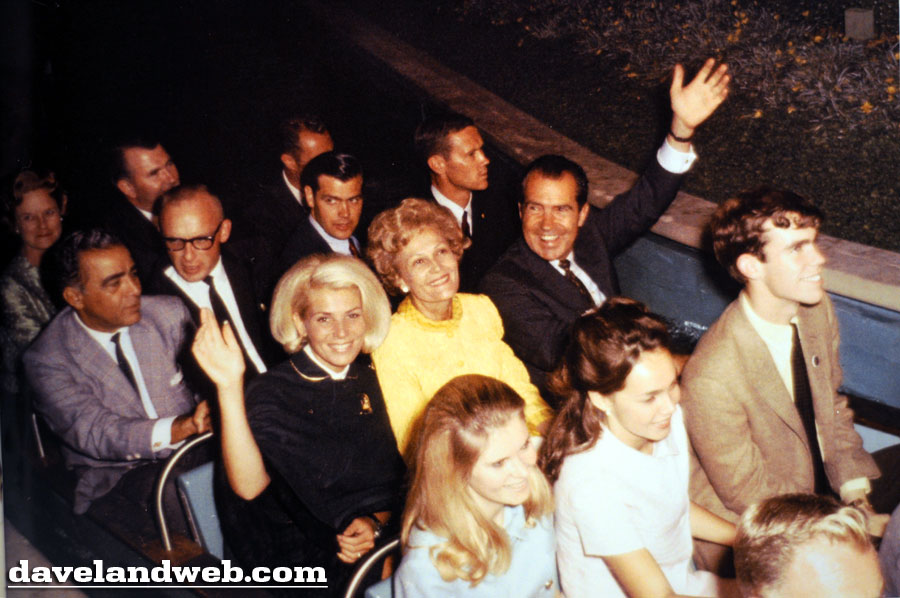 There are many oft-told stories about the Monorail christening, especially about how the ribbon did not cooperate with the ceremonial scissors. Julie remembers that they were made of wood, and more ornamental than functional. Try as they might, the Nixon girls (Julie & her sister Tricia) could not cut through the ribbon. Some writers love to poke fun at this little goof and tell how Walt cursed out his staff for not checking the scissors. However, Julie was there: "I don't remember it as being anything horrendous; actually, Walt saved the day. We were in front of hundreds, thousands of people that day, and Walt just tore the ribbon—he saved the day with his quick thinking. I don't remember him being upset over the ribbon."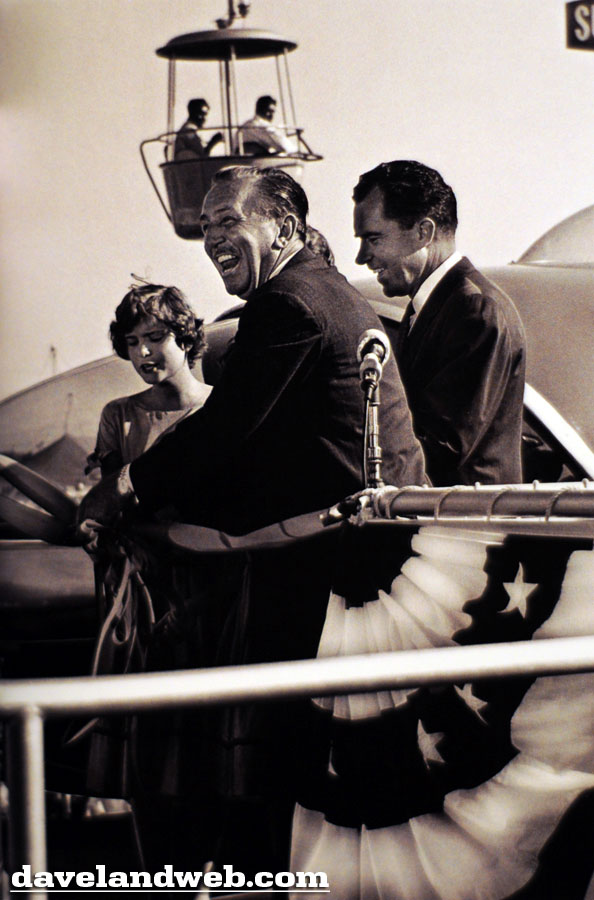 On March 25, 1969, President Nixon presented Lillian Disney with a Congressional Gold Medal honoring her late husband, Walt. What follows is the speech that Nixon gave to the audience of approximately 200 local schoolchildren that day in the White House State Dining Room:
"Many ceremonies are held in this White House, but none that I think will have more meaning to all of us, young and old, than this one today, because it is my great privilege to present to Mrs. Walt Disney, on behalf of the Congress of the United States, by reason of a joint resolution, and on behalf of all the people of the United States and, I think, of the world, a gold medal; a gold medal honoring Walt Disney for his service through so many years not only to the people of the United Sates, but to the people of the world.
"The medal and the resolution will speak for themselves, but in making this presentation, and before I do so, I would like to just add a word that I know all of you would want to say to Mrs. Disney and to her children and to Walt Disney's brother, Roy Disney, and their family who are here today.
"It is very hard to describe our feelings about Walt Disney. I say our feelings, because my wife and I had the opportunity of knowing him personally. He was ust as exciting and interesitng personally as he was in all of those wonderful movies that we remmeber through the years, starting witht he cartoons and then the real-life ones and then "Mary Poppins," and all of the rest.
"To know this man was to know that we had been fortunate to have a spirit with us that perhaps comes once in a generation to a fortunate people. But I think we are all very lucky that we still have Walt Disney with us. We have him in his movies; we see him on television sometimes when we see those wonderful creations rerun, and of course, those of us who have the chance can go to Disneyland in California or Disneyland in Florida when it is completed, and there it all is, this man so creative, so imagineative, so fine.
"You know in these days of entertainment when we do have on television and sometimes in the movies some kinds of entertainment that many think are not perhaps too constructive and to healthy—I was talking to Sentor Pastore about this problem in my office yesterday—we are very fortunate to have had a Walt Disney who recognized that what was important was to make people happy.
"You have heard some music today, and the theme of that music was 'Dreams Coming True.' If you think back about all of the music, the soundtracks from the Walt Disney films, looking ahead, dreams were coming true.
"That is why he leaves for us a very special place in our hearts. And in our hearts that means a very special place in our hearts for you, Mrs. Disney, and for your family.
"I once asked Walt Disney how I should describe him when we went out and dedicated the monorail at Disneyland. He said that he was an 'imagineer,' which means he was an engineer with imagination. But he was more than that. He was a great artist. He was a perfectionist. He was a wonderful human being.
"All of that he shared with us, not just with his family who loved him because they knew him, but he shared it with the world, and the world is a better and a happier and more joyful place in which to live because he was there.
"Could I say a word to the children that are here? Most people, when they think of Walt Disney, think that he created his various movies and cartoons and the rest, and Disneyland just for children. But he didn't think that at all. I once asked him about that, and he said, 'Oh, that isn't true.' He said: 'I don't create just for children. I never talk down to them.'
"The reason he was successful, you see, was that he respected children—young people of all ages—and because he respected them he was able to communicate not only with the young people, but with the older people as well.
"Perhaps that is what we all need today. When we talk about the problem of the genration gap, and how we are able to communicate with our children, we can learn from Walt Disney, a man who could communicate because he had that one quality which is so important. He had respect for an individual no matter how young he was, or how old.
"Thank you very much for coming. We are particularly happy to welcome all of our guests from California, and all of the schoolchildren from the Washington area. We hope that you will all get a chance to go to Disneyland sometime...because it is a wonderful treat....Thank you very much."
Final shot in the series is Julie on the City Hall steps with Mickey Mouse, February 1976.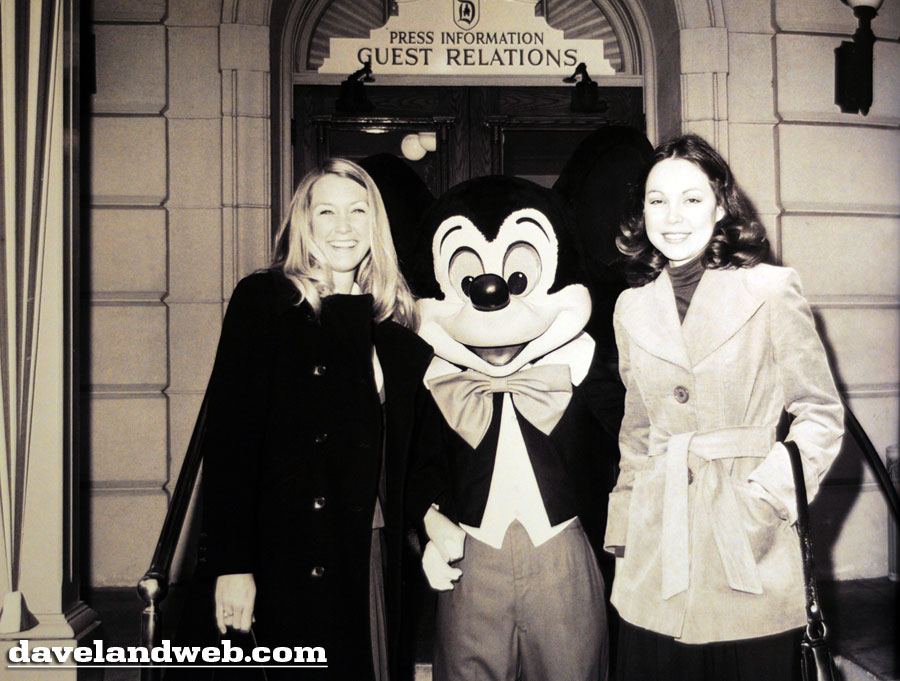 Many many many thanks to Julie Nixon Eisenhower for being so open in sharing her memories and photographs; I hope you have all enjoyed this series. See more Nixon family photos at
my regular website
.