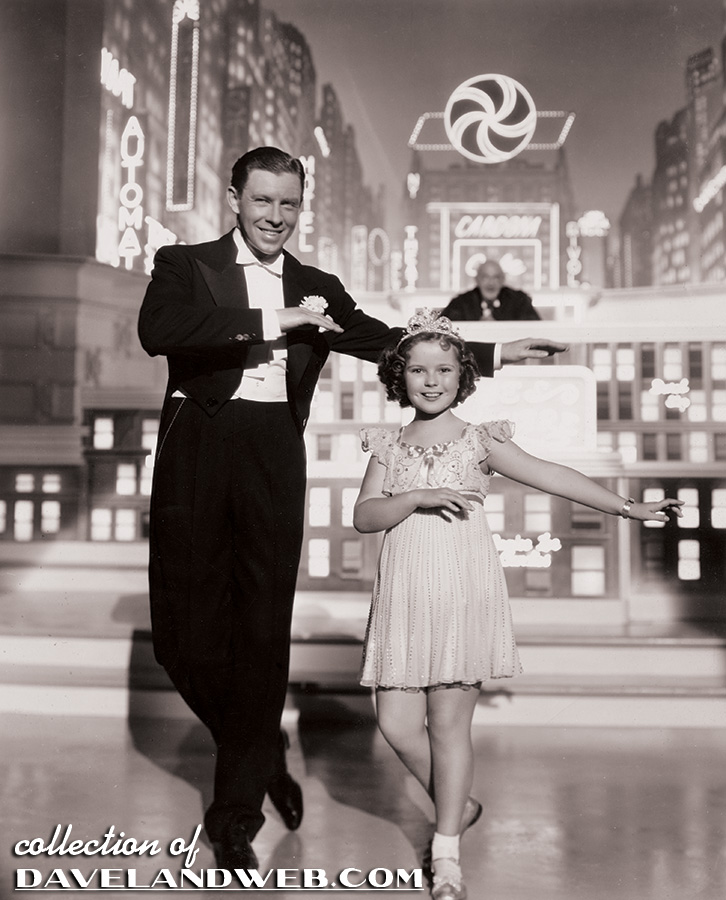 Although I hate to admit it, I will confess right now; I do watch "Dancing With The Stars."
There. I've said it.
For as long as I can remember, there has always been something about the joy of dancing that has fascinated and inspired me. One of my earliest memories of seeing somebody dance involved (not too surprisingly) Shirley Temple, as she tapped on top of a white piano in "Curly Top." The first photo for today shows her dancing with George Murphy in "Little Miss Broadway." There was something so surreal yet so liberating watching the two of them dance through a courtroom, covering every inch of the fanciful Broadway set with smiles on their faces the entire way. The most amazing part of watching a dance that is well done is that the dancers make it look effortless. At no point do you see the blood, sweat, and tears that often accompany the countless hours of rehearsal. How many of you have watched an extremely intricate routine and thought, "Hey, I'll bet I could do that!"
Here's one of my favorites from "Easter Parade" with Judy Garland and Fred Astaire: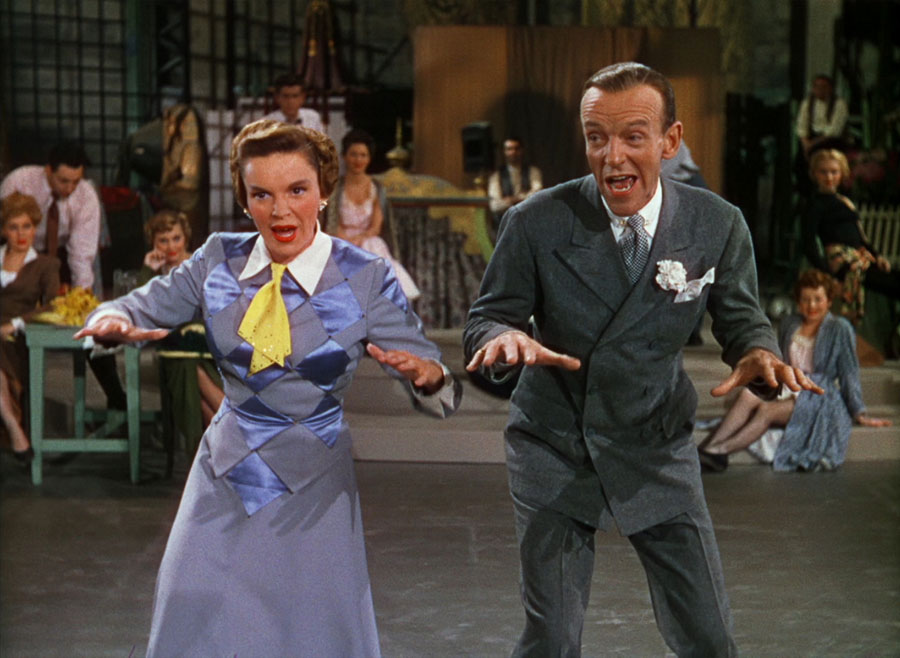 The most incredible thing about this number is that even though Astaire was a much better dancer, it is difficult to take your eyes off of Garland, whose joyful exuberance causes you to watch her instead.
From the same movie, Ann Miller stole the show with her tap number, "Shaking The Blues Away":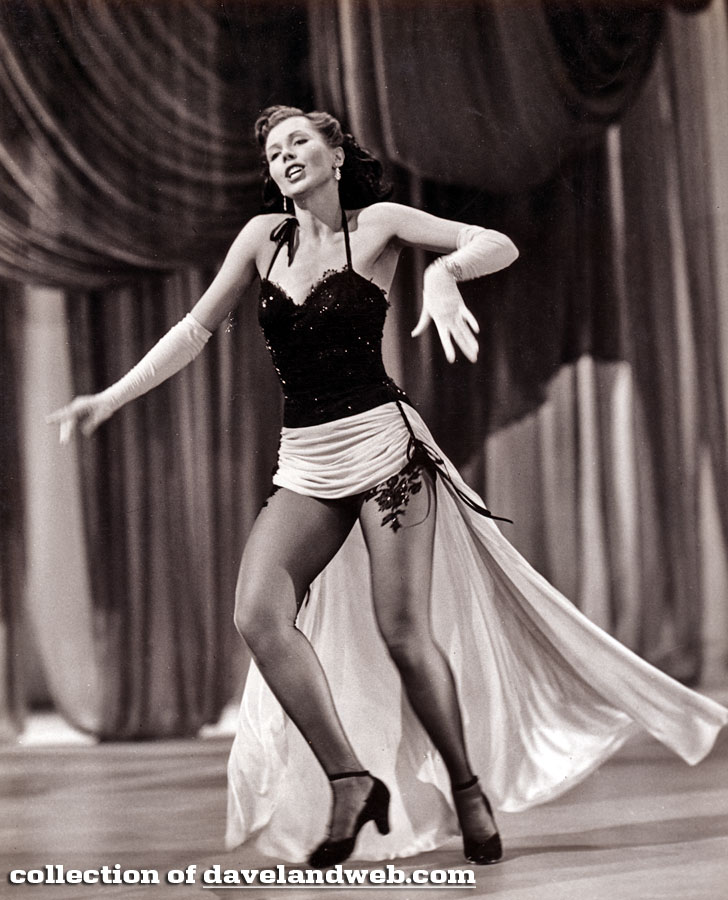 "The Varsity Drag" number from 1947's "Good News" is a great example of how a dance is seamlessly woven into the narrative. It's not part of a show-within-a-show, but rather a musical number that serves to move the plot along by showing that the two leads have finally admitted their feelings for each other. Because the number features June Allyson, the All-American-Girl-Next-Door, it is easy to imagine yourself in her place, doing the routine along with Peter Lawford. This is key for a good musical number to succeed; drawing you in, it gives the false sense that it is entirely effortless and natural.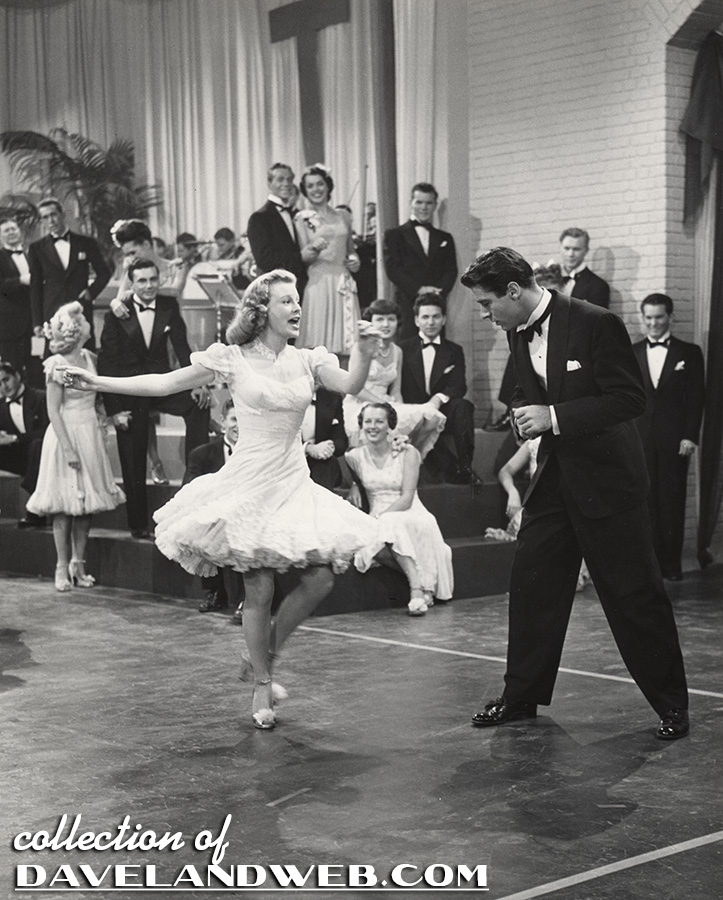 Fred Astaire was a debonair dancer; aloof and well-dressed, it was often hard to imagine yourself in his place. Although he appeared to dance with ease, not one time would the average audience member mistake themselves for Astaire's well-dressed and hard to approach characters. When Gene Kelly entered the scene, he opened up the possibility of dance to men everywhere.
He dressed like the average Joe, while playing characters who typically had an abundance of machismo.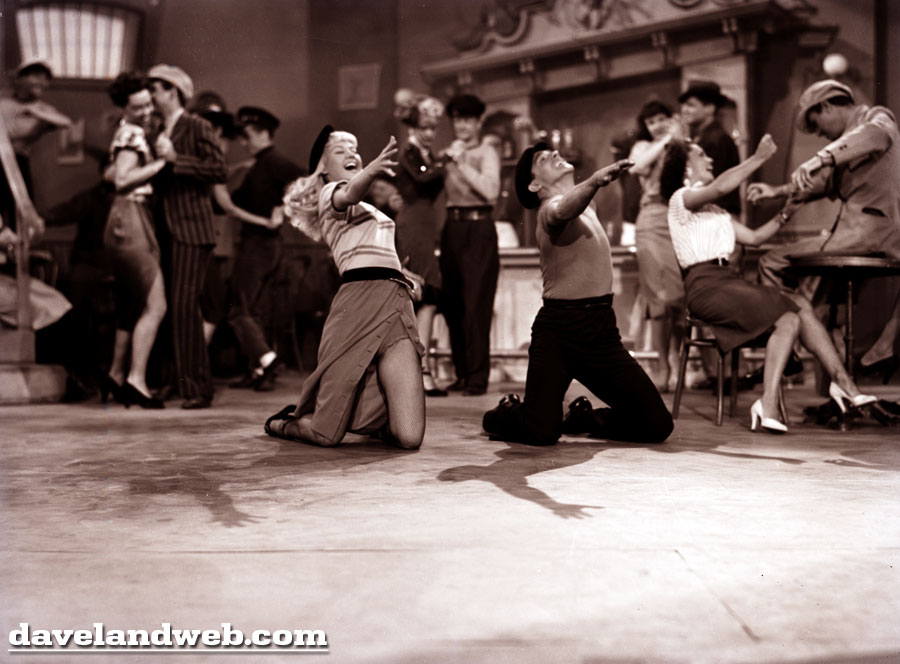 A favorite Kelly number is from "Singin' in the Rain," in which Kelly, Donald O'Connor, and Debbie Reynolds celebrate their early a.m. brainstorm session with "Good Morning."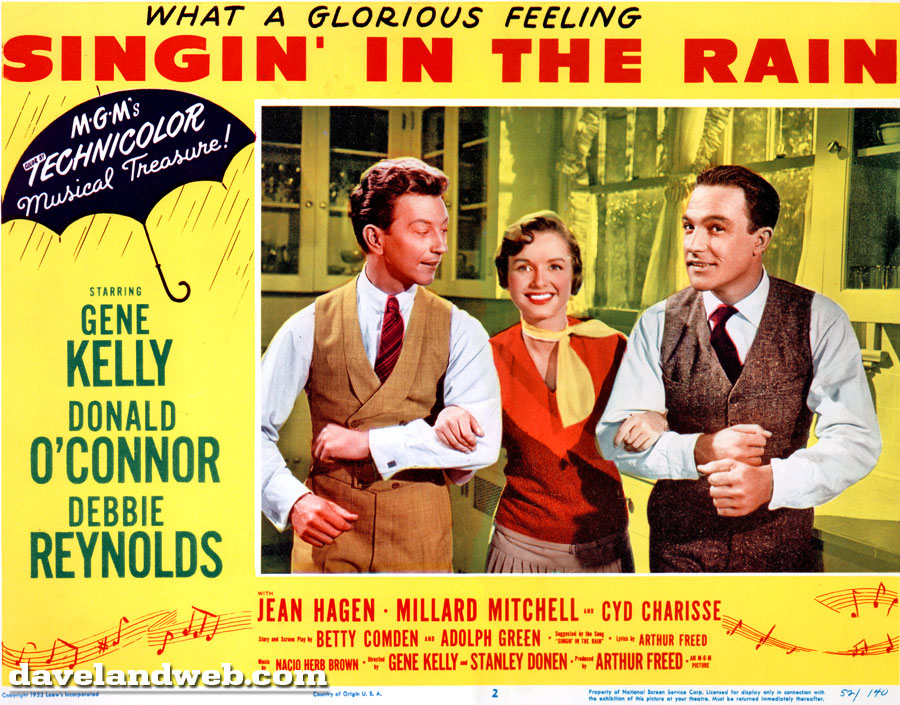 Like "Little Miss Broadway," they make use of every inch of the set, dancing through multiple rooms and utilizing every prop at their disposal. As with all good dances, it seems so natural, as if it spontaneously erupted from the plot without any rehearsal.
The legendary Marilyn Monroe performed the oft-imitated number "Diamonds Are A Girl's Best Friend" in the 1952 musical, "Gentlemen Prefer Blondes." I remember reading that she was not comfortable dancing, as she did not have much confidence in that arena. Supported by a group of male dancers, Marilyn does a more than capable job, gliding across the stage in her hot pink satin costume.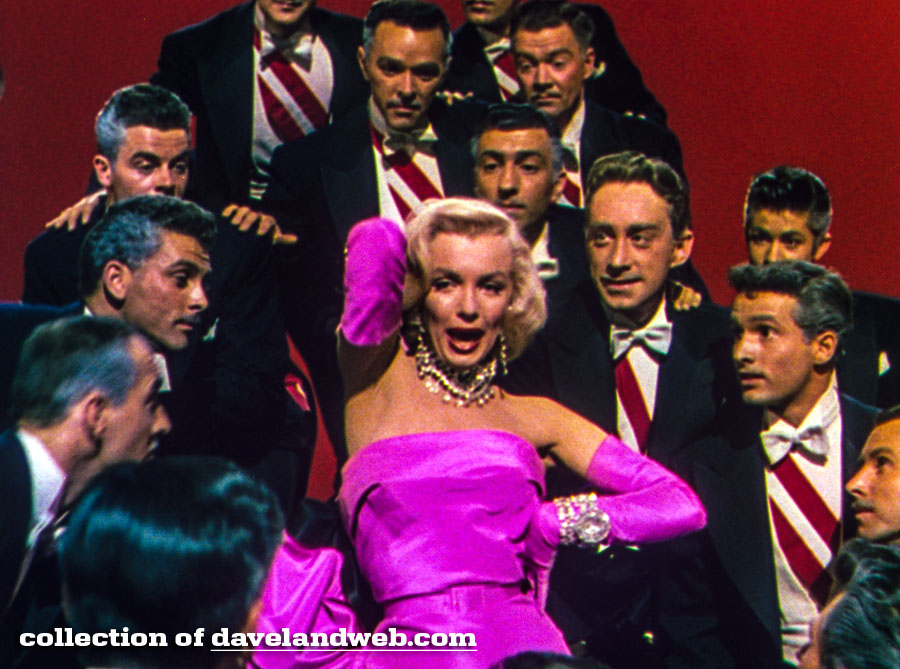 Later in my life, I achieved an appreciation for more classical dancing. The 1948 British film, "The Red Shoes" is a wonderful Technicolor primer on the world of ballet.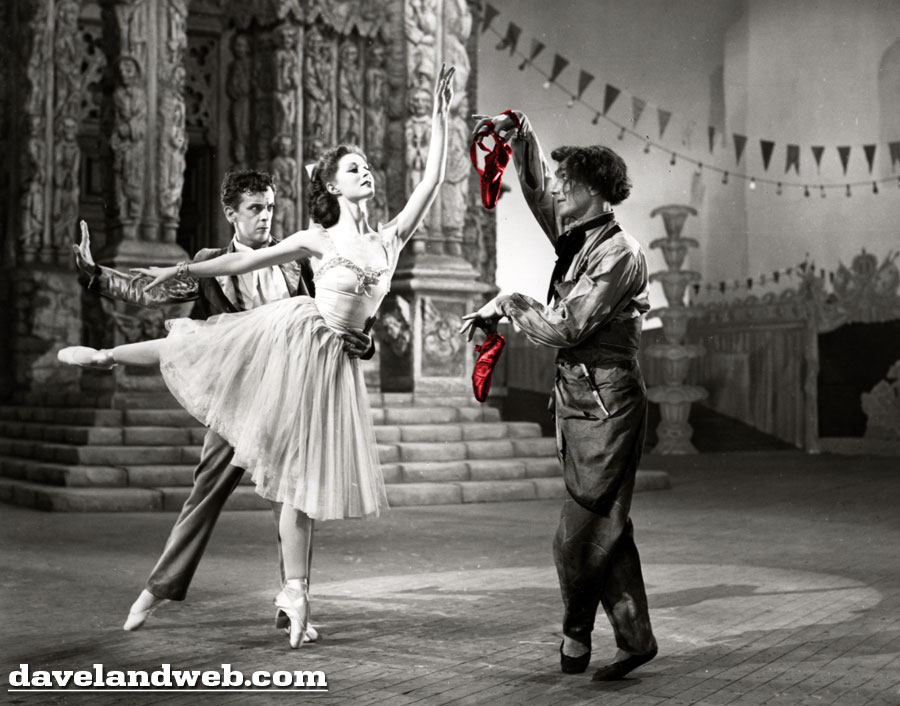 In the 1960's, swingin' sensation Ann-Margret teases all the boys with her suggestive dancing during the "Gotta' Lotta' Living' To Do" number from "Bye Bye Birdie." The plot is moved along as her character attempts to make her boyfriend jealous, but ends up empty-handed with her unsuccessful (yet sexy) squeeze-play maneuvers.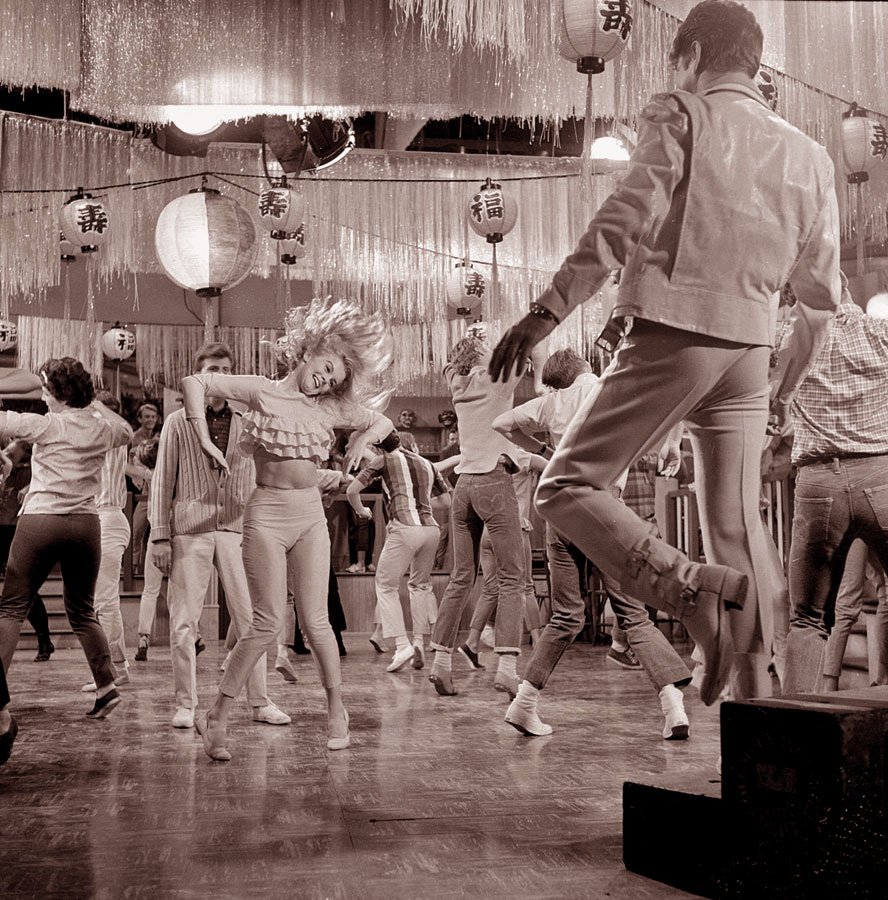 Musicals made a comeback in the 70's, thanks to two blockbuster John Travolta films, "Saturday Night Fever" and "Grease." It was during the disco era that I first began to dance myself. I will never forget the Junior High Dance where a girl (appropriately nicknamed "Disco Sara") grabbed my arm and pulled me into the Disco Dance Contest. I was definitely NOT a dancer, but by letting her take the lead and attempting to mimic what she was doing, the two of us won. I was hooked! That summer, I went to the theater at least 5 times to catch Travolta's dance moves in "Grease."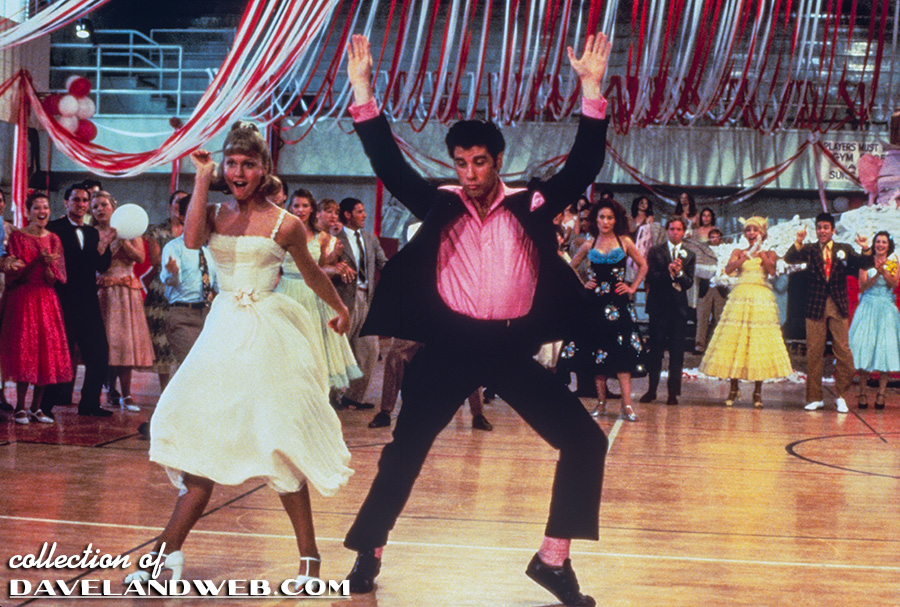 In the 90s, I discovered George Balanchine's choreography when I first saw his ballet "Serenade." Bathed in a haunting blue light, this number generated a series of deep emotions in me that had never been elicited from a dance before.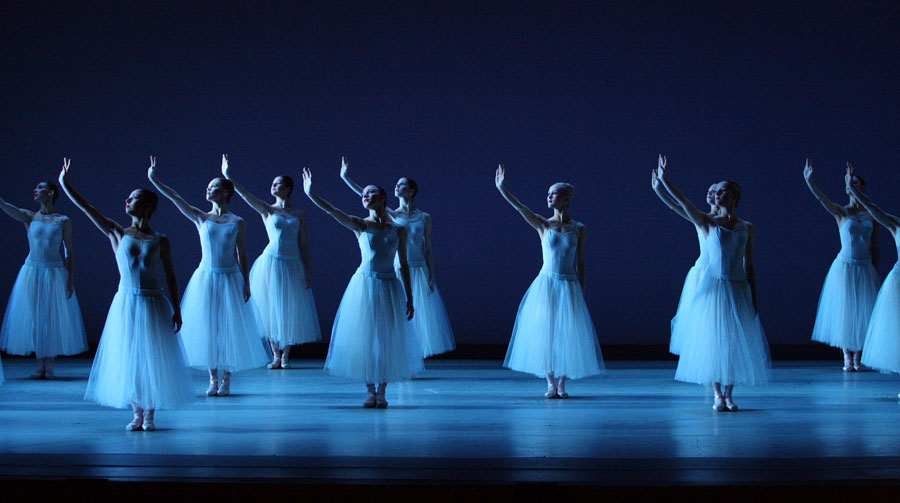 I was inspired to create this painting, using my favorite phthalocyanine blue color in an attempt to capture the feeling of the dance.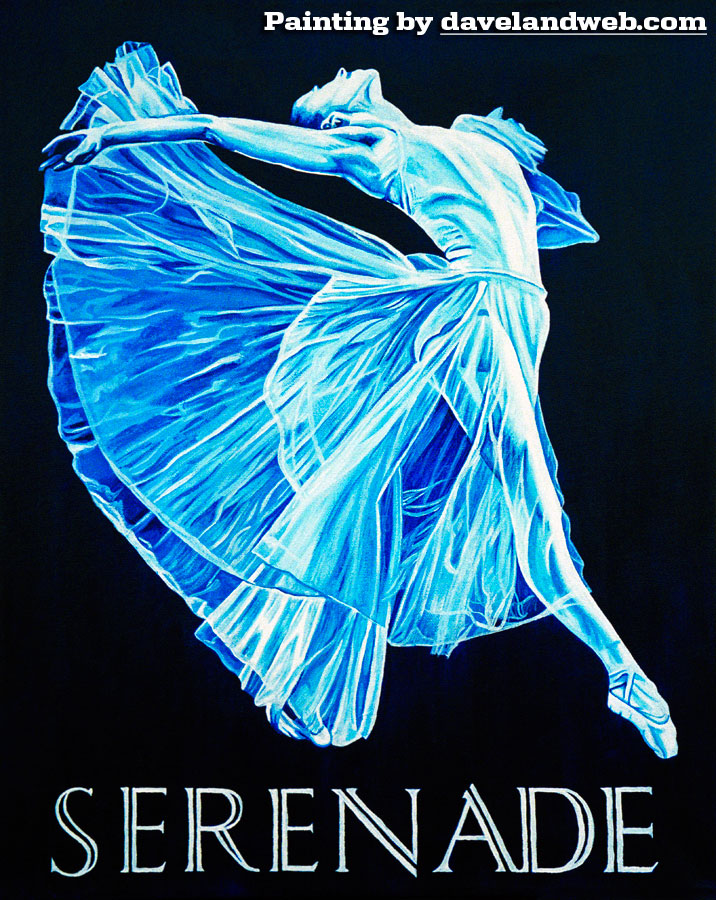 I will end this post with the number that inspired me to write today's post. On Monday night, Charlie White & Sharna Burgess danced to the uplifting song "Happy." I defy anyone to watch this piece and not feel joy in their heart.
See more Daveland photos on my
main website.