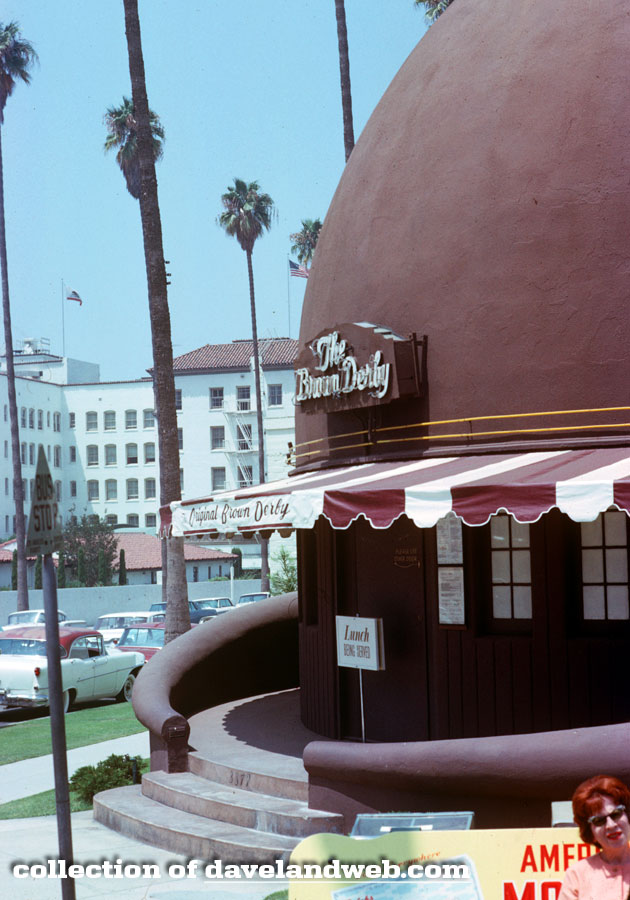 This August 1963 photo shows the original Brown Derby Restaurant, located at 3377 Wilshire Boulevard, across the street from the Ambassador Hotel. Once again, I call on
Martin Turnbull's website
for more information about this legendary Hollywood eatery:
Opened 1926. Phone DUnkirk 4-4147. Stayed open until 4am and invented the Cobb Salad and the Shirley Temple. Opened by a group of East Coasters not happy with the standard of fare in Los Angeles. Led by ex-husband of Gloria Swanson: Herbert Somborn, Wilson Mizner and silent partner Jack Warner. The name was probably inspired by the favored headgear of Mizner's heroes: Bat Masterson and Alfred E. Smith (New York governor in the 20s). Each booth featured a signature light fixture in the shape of a derby. Rivaled the Montmartre in late night popularity; was open until 4am. Instituted the custom of paging customers and bringing a telephone to the table, at the Vine Street Derby, the custom was raised to an art form. It was featured in "What Price Hollywood?" in which Constance Bennett plays a waitress who is discovered while working at the original Brown Derby.

Somborn died in 1934 and it was taken over by Robert H. Cobb after whom the Cobb salad was named. The salad was popular with the Hollywood stars who were continually watching their waistlines. Equally popular at lunchtimes was the more caloric pan-fried corned beef hash. Also popular was the grapefruit cake. On top of it was a sign that said "Eat in the hat".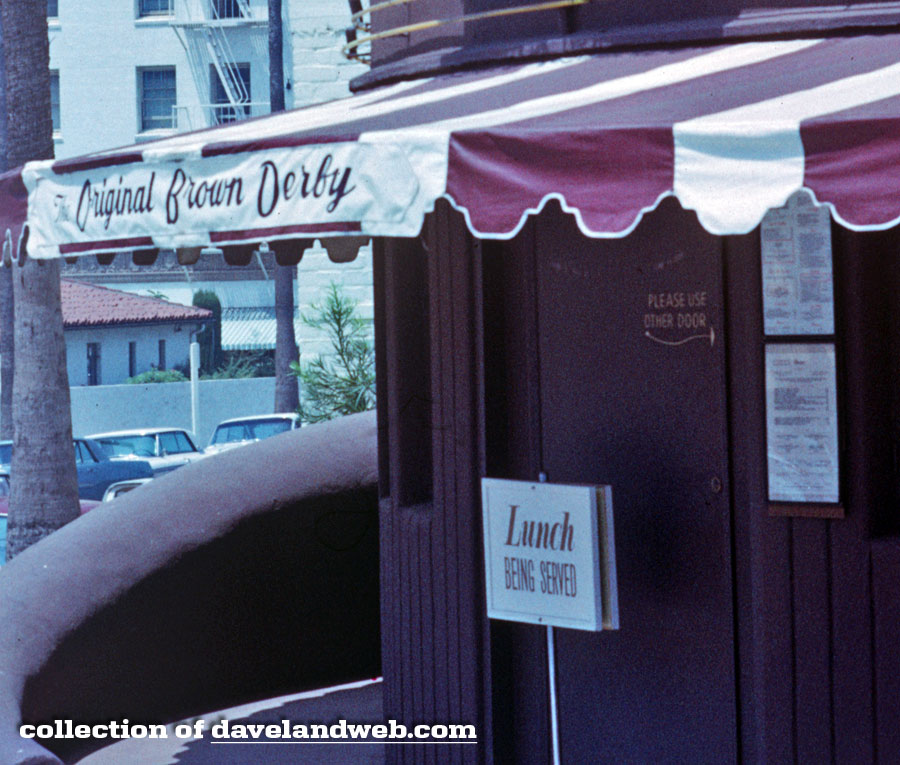 This 1954 photo gives a nice overall view of the huge Derby that made this particular location so iconic.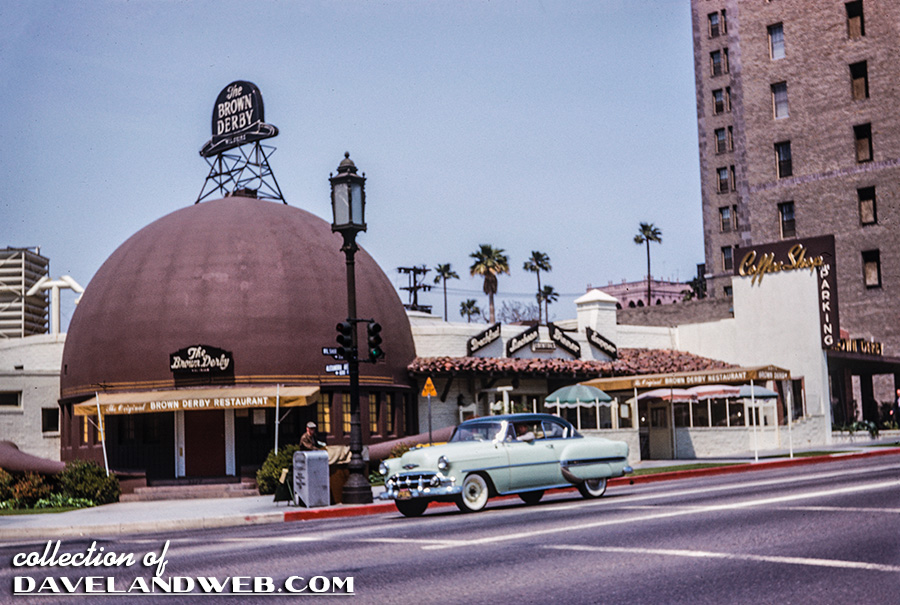 This publicity blurb accompanied the interior photo below:
THE STARS DINE OUT. Shirley Temple and her mother, Mrs. Temple, study the menu at the Brown Derby before ordering their luncheon, April 8, 1945.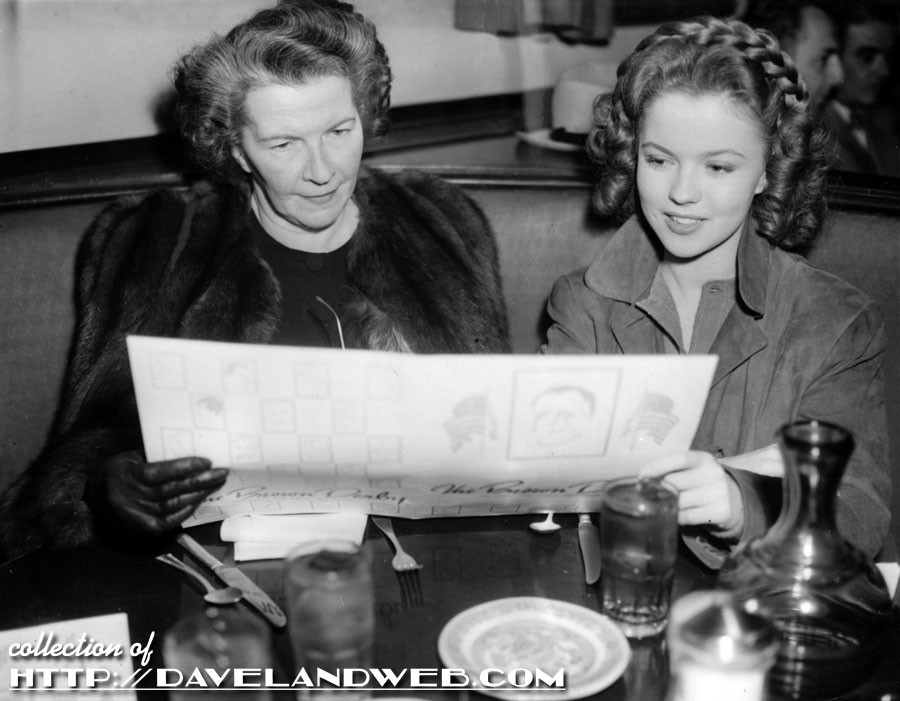 Of course, souvenirs were available that tourists could purchase to commemorate their visit to The Derby: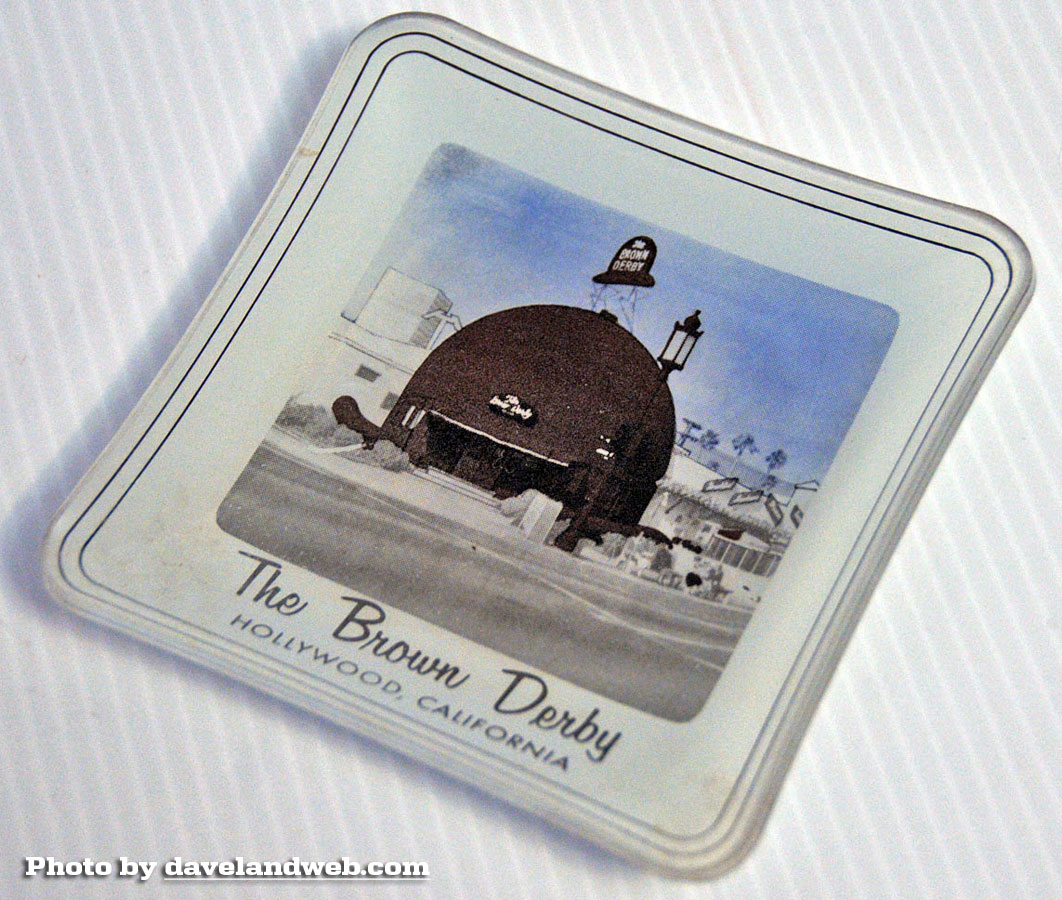 Although none of the original locations are still open, those who miss the fare can recreate them at home, thanks to
The Brown Derby Cookbook
.
See more vintage Hollywood Brown Derby photos from my collection on my
main website.