Besides Country Bear Jamboree, Disney World in Orlando also has The Carousel of Progress. This was another "must see" on my last trip to Orlando back in 2010. As a child, I marveled at the rotating theater and the amazing animatronics that blew my mind with their sophisticated movements.
From July 2, 1967–Sept. 9, 1973, General Electric sponsored the Carousel of Progress which began at the 1964 World's Fair in New York. The circular theater rotated, showing scenes documenting the progress of conveniences in the American home from the 1890's–present day.
A brand spanking new theater was built as part of "New" Tomorrowland, replacing the Space Bar restaurant.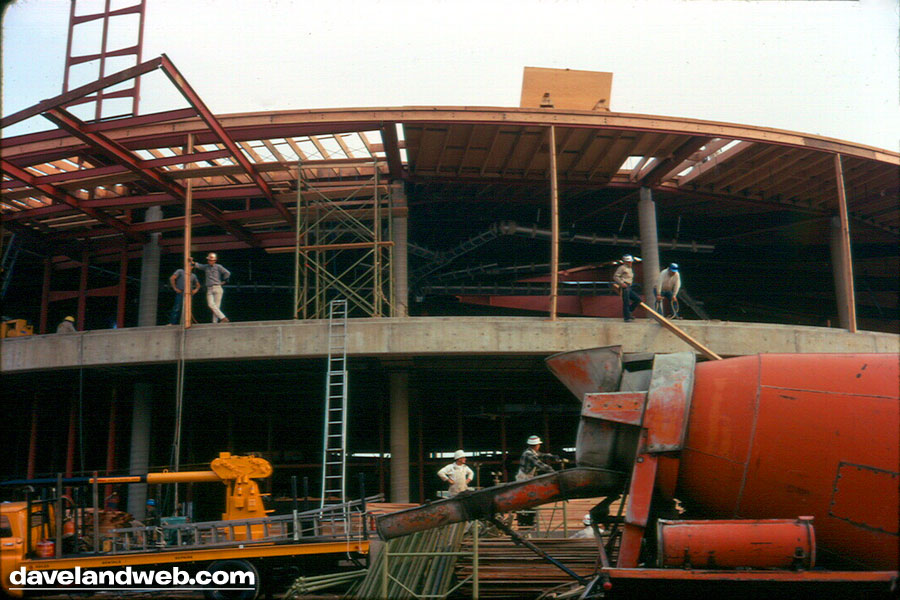 For an extremely touching story about The Carousel of Progress, be sure to get a copy of "Four Decades of Magic: Celebrating the First Forty Years of Disney World," compiled by Chad Denver Emerson. According to one of the stories by Michael Scopa:
WDW Cast member Elizabeth Meyer was working at the Disney Reservation Center and had received an e-mail from Joanne Stolberg-Alger. In the letter Alger talked about her father who was a former executive at General Electric. Apparently, back in the early 1960s when GE and The Walt Disney Company were in the initial stages of putting together their World's Fair venture, Alger's father was approached by the Disney Imagineers and asked if he would serve as the model for the animatronics host for the eventual Carousel of Progress.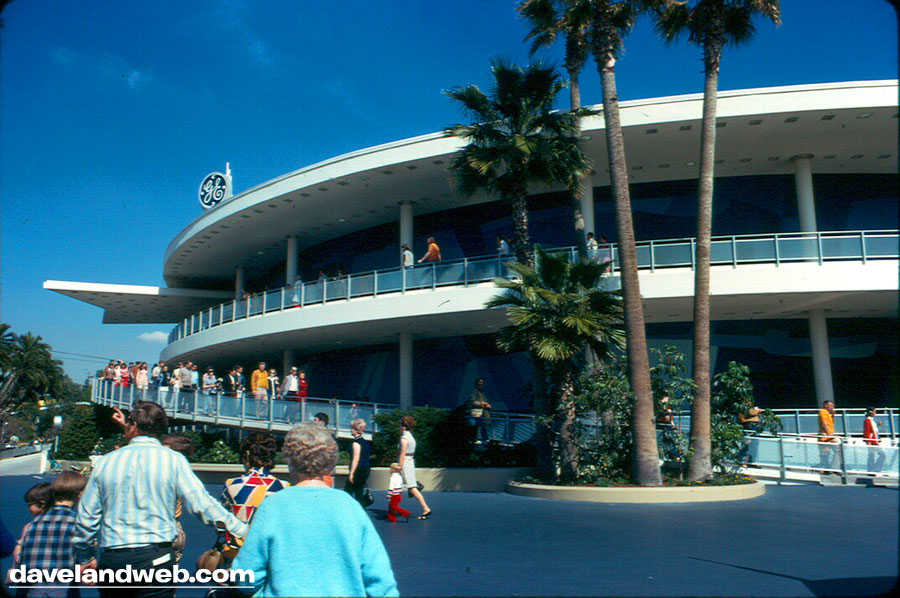 He agreed but asked that it be kept a secret. He did not want very many people knowing he was "starring" in the exhibit. After all, wouldn't it be quite an experience to bring his family to the New York World's Fair and surprise them?

His plan was to bring his family to the pavilion on opening day and enjoy seeing their reaction when they saw him, or should I say his animatronics self, on stage. Unfortunately, an illness came on quickly and not only robbed him of this opportunity but also his life as he became deathly ill and passed away at the early age of 40. He had never told anyone in his family of his secret. It was buried along with him and sadly, the family never made it to the New York World's Fair.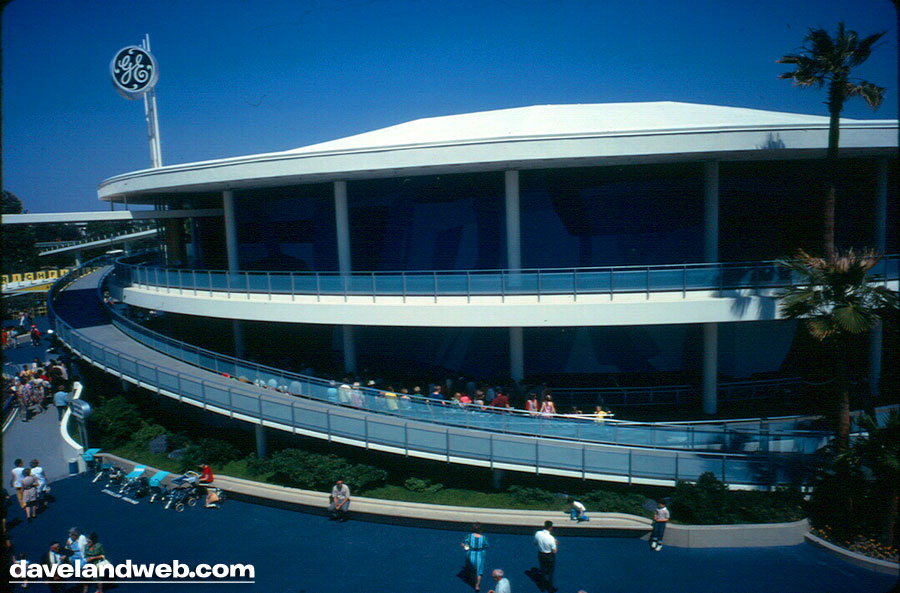 However, it was his brother's interest in the New York World's Fair that would lead to the unveiling of this secret. One visit to Progressland was all it took to reveal the secret.

Some 36 years later Joanne Stolberg-Alger visited WDW with her children and found her father sitting center stage at the Carousel of Progress. Unfortunately her 77-year-old mother, Doris Stolberg, had not made the trip but Joanne knew she had to return to Florida with her mother. She knew that there was some unfinished buisness that would require her mother to visit The Magic Kingdom and in particular the Carousel of Progress.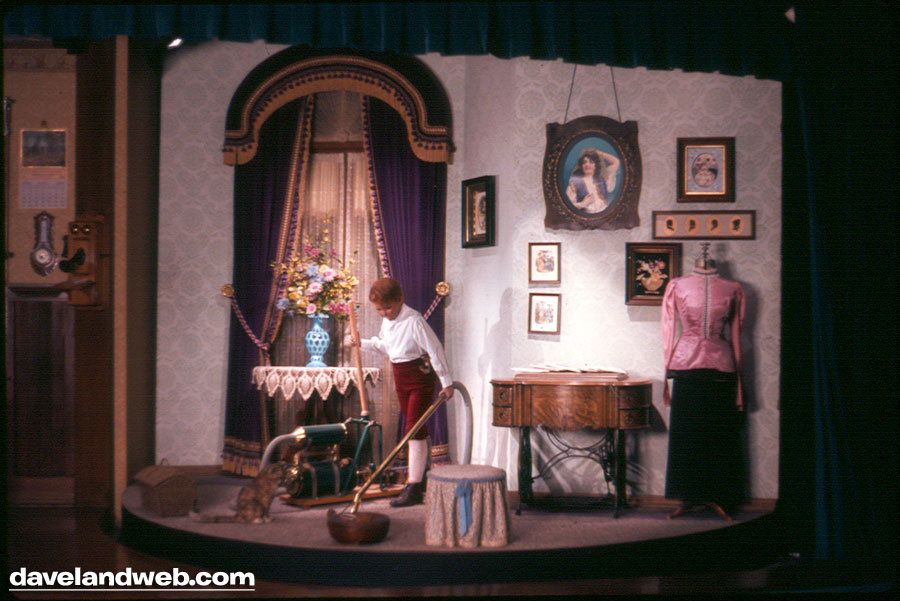 In her e-mail to the Disney Reservation Center, Joanne mentioned that she was planning on visiting The Magic Kingdom...and would be accompanied by her mother Doris and her daughter Shannon. She asked if she could purchase a ticket just to see the Carousel of Progress.

Reading this email, Elizabeth Meyer...contacted the Event Group to ask if there was anything special they could do for these guests.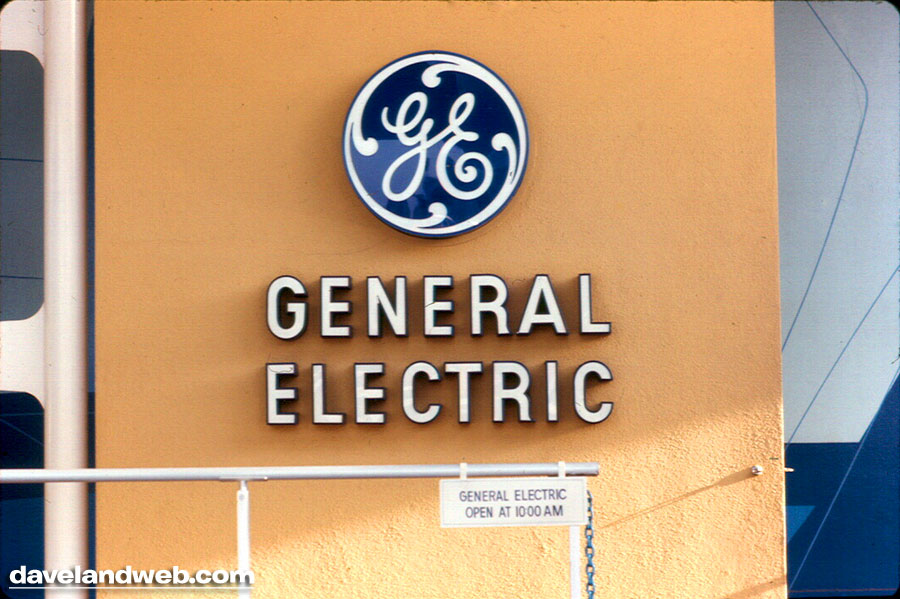 On that day Elizabeth and several cast members from the Event Group were there to welcome Joanne, Doris, and Shannon. Marvin Smith, Operating Manager of Magic Kingdom Guest Relations, had arranged to have special One-Day park hopper tickets waiting. Joanne and her family were escorted to Tomorrowland and outside the Carousel of Progress where they found a Disney photographer waiting for them.

Judy Paulsen, a Tomorrowland Guest Services Manager,...had arranged for the family to have their own private showing.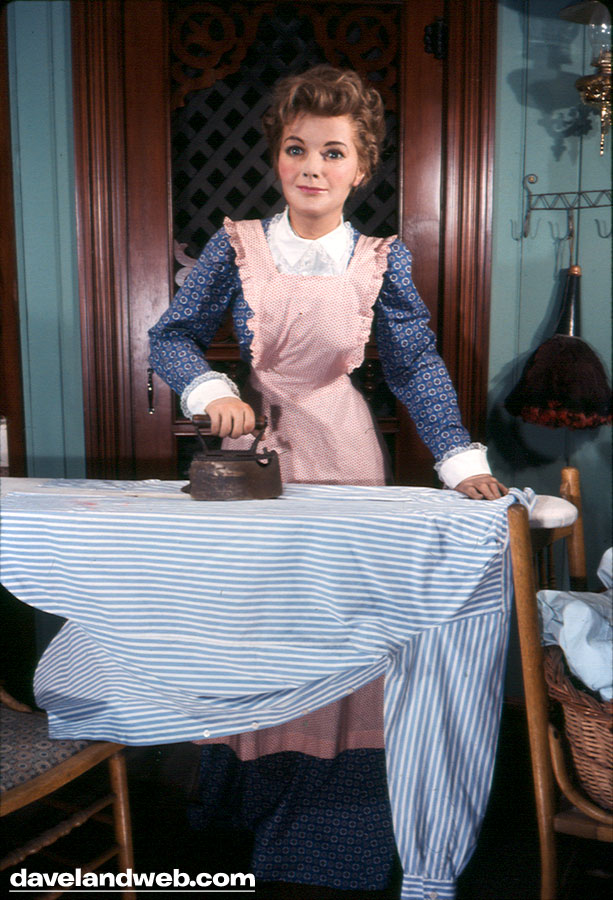 As the show started and the audience section began to rotate...to the first scene, Doris caught a glimpse of the show's "host," the animatronics figure modeled after her husband. She immediately placed her hand to her mouth. As her eyes remained glued to the animatronics figure, Doris started to smile and began to beam and said, "He looks exactly as I remember him!" and her eyes began to well up with tears...followed by everyone else in that audience. It was truly a very magical moment for all who witnessed this special event.

At the end of the show, Doris took out an old photo of her husband...and everyone was amazed at the resemblance. As the group exited the theater, Doris took Elizabeth Meyer's hand and said, "Thank you! You have no idea what this means to me!"

For the rest of the story (and yes, there's more!), be sure to get Chad Emerson's book, "Four Decades of Magic: Celebrating the First Forty Years of Disney World," compiled by Chad Denver Emerson.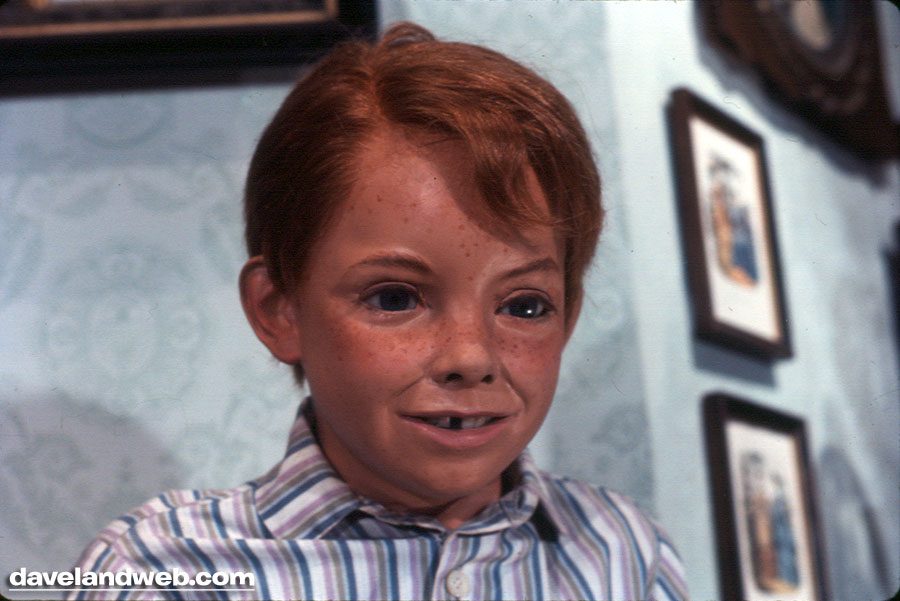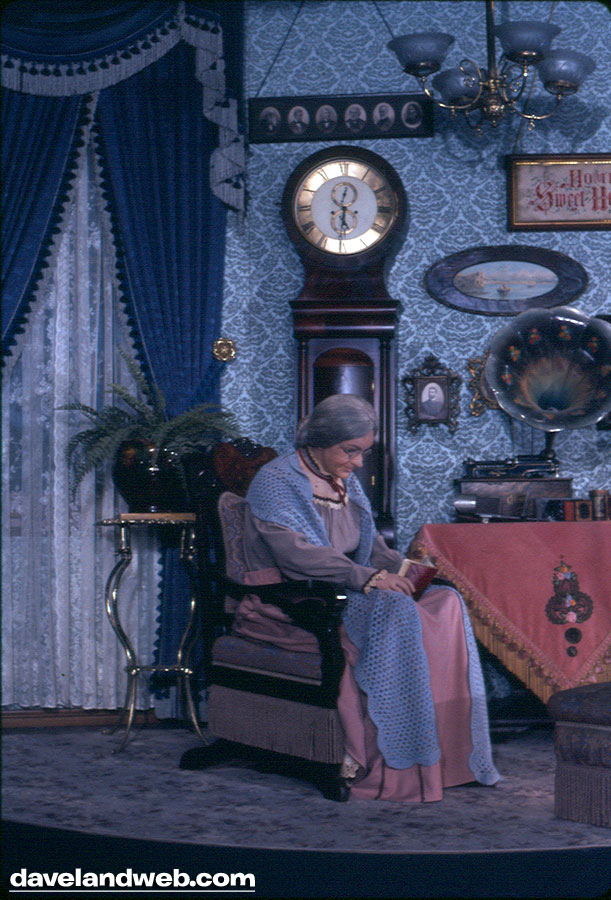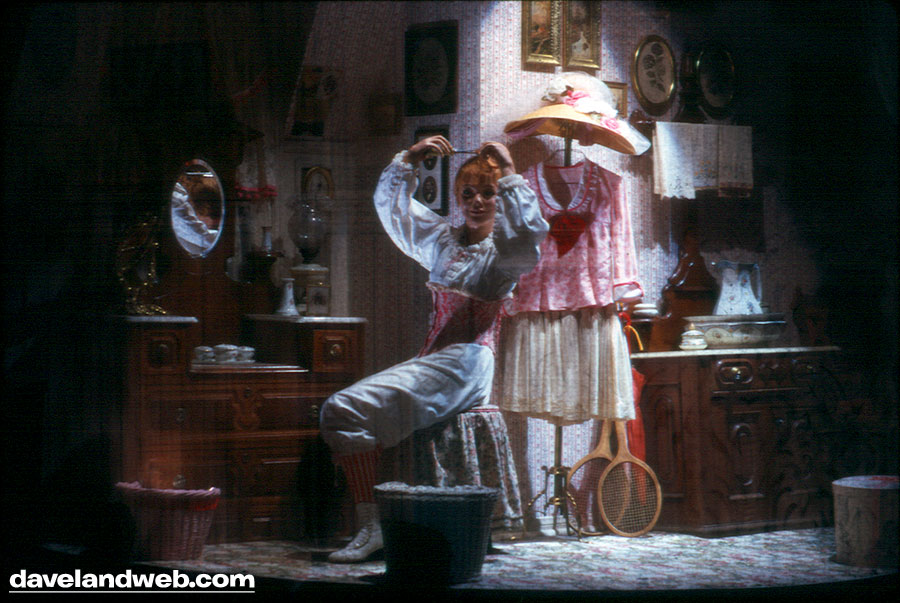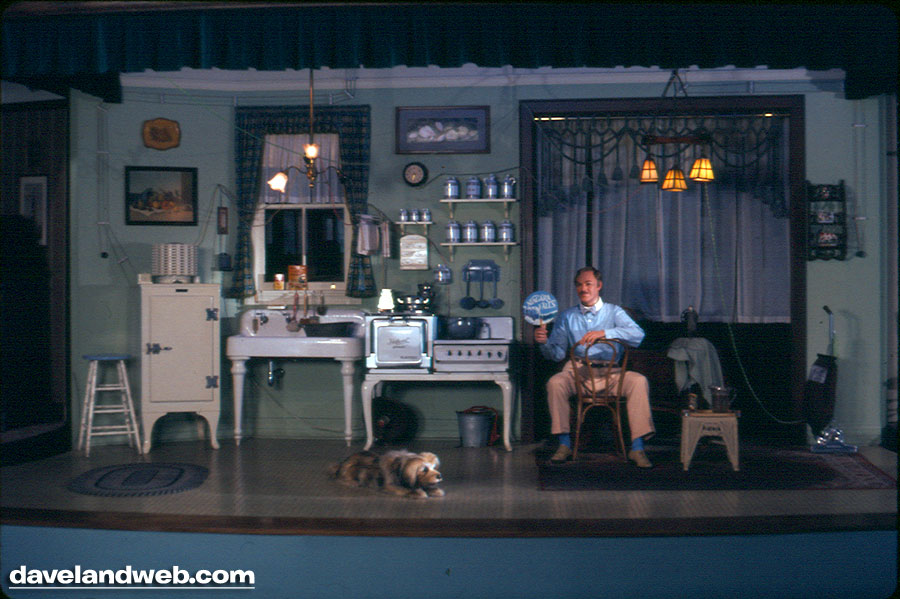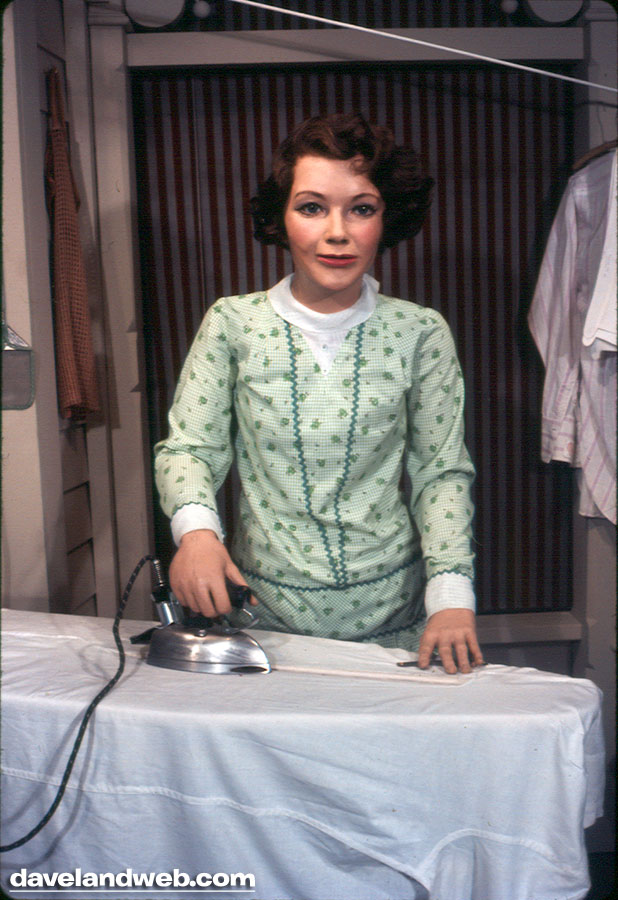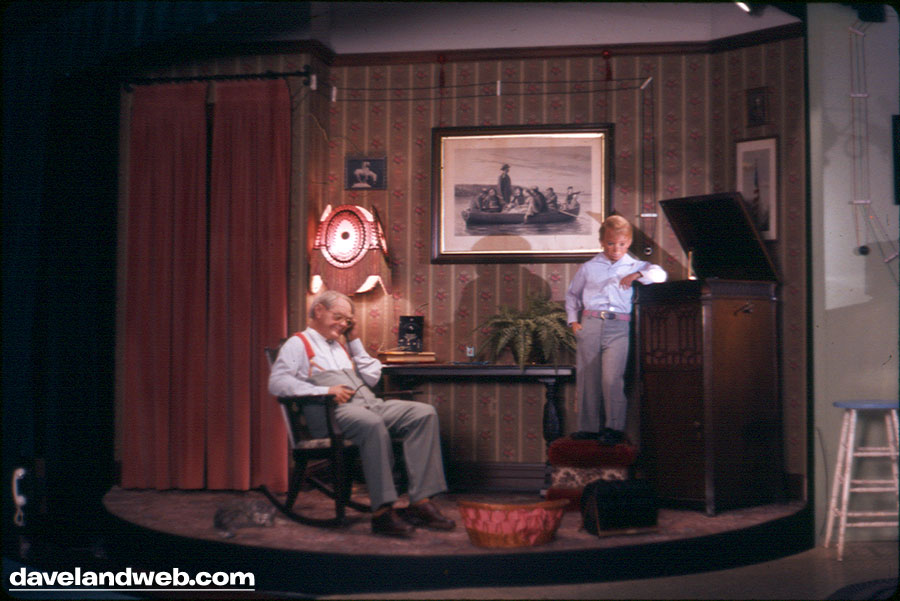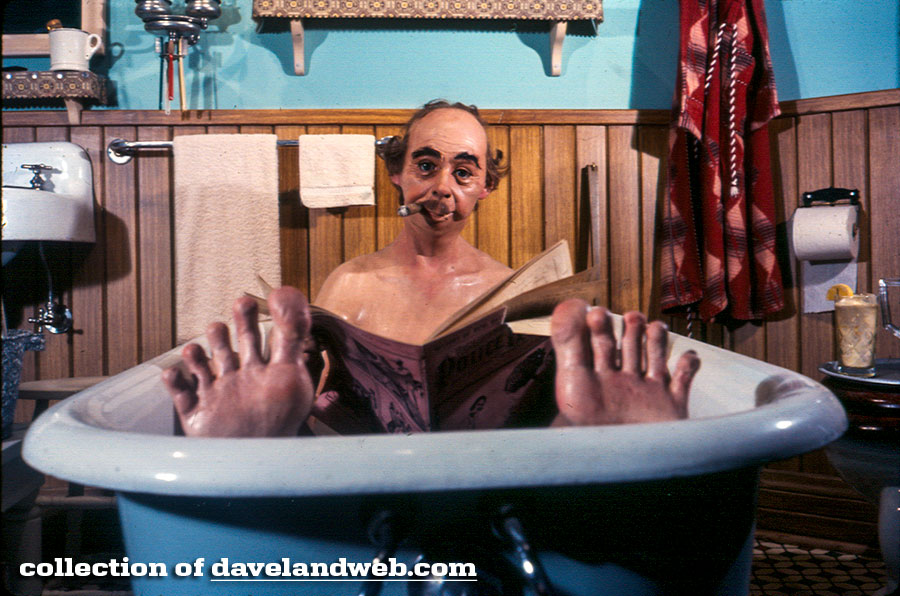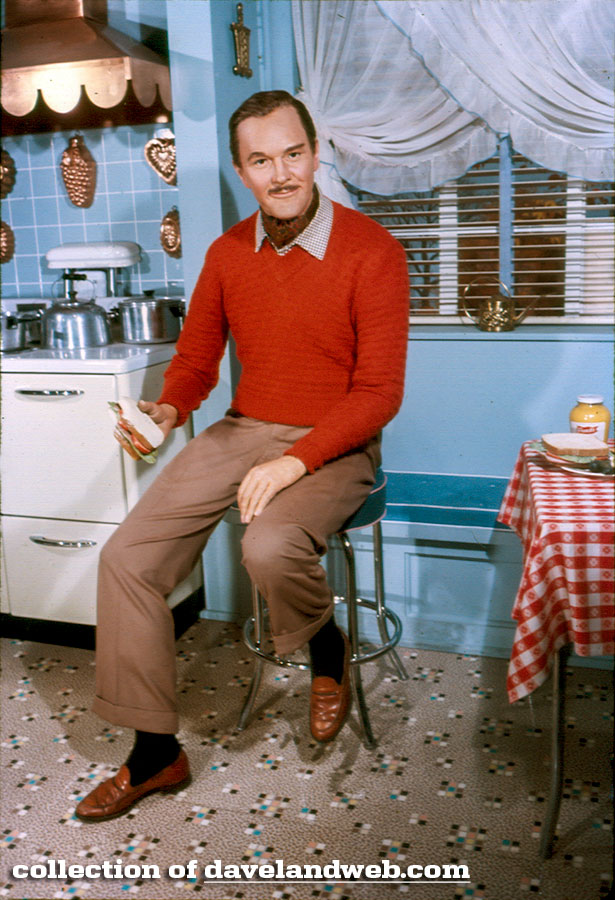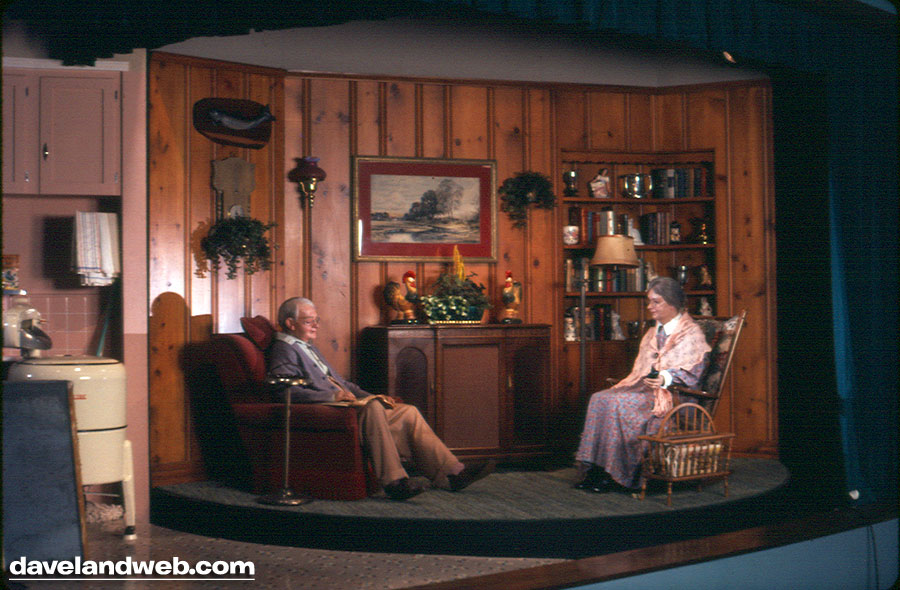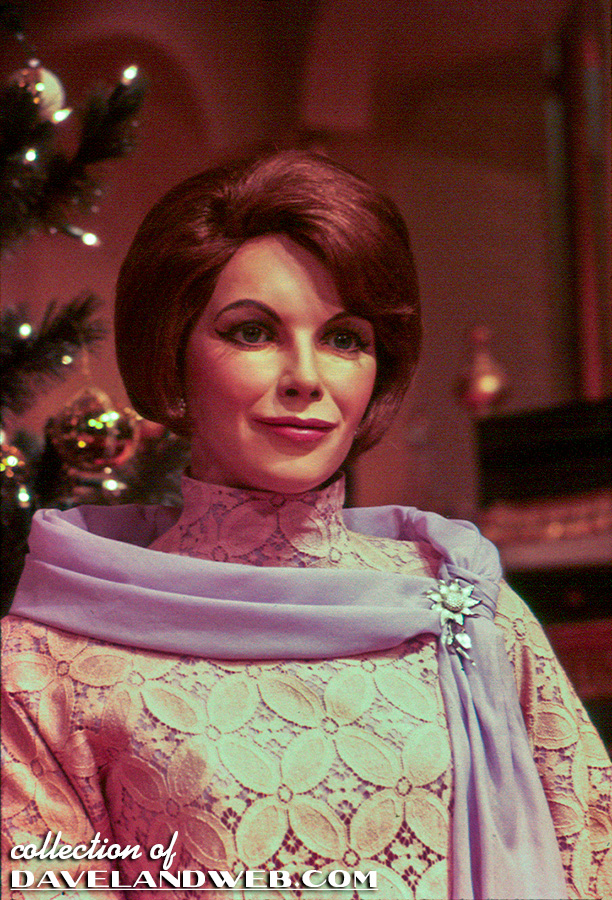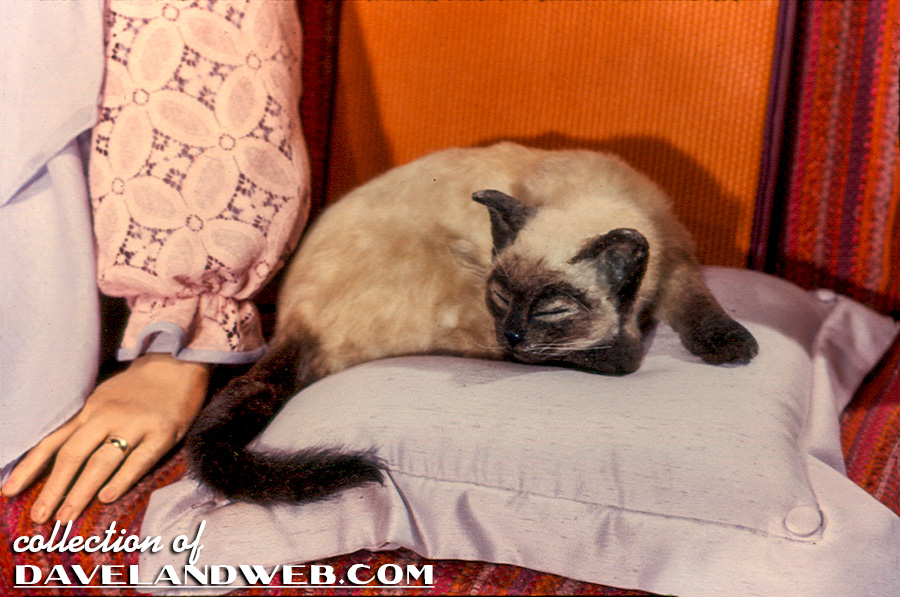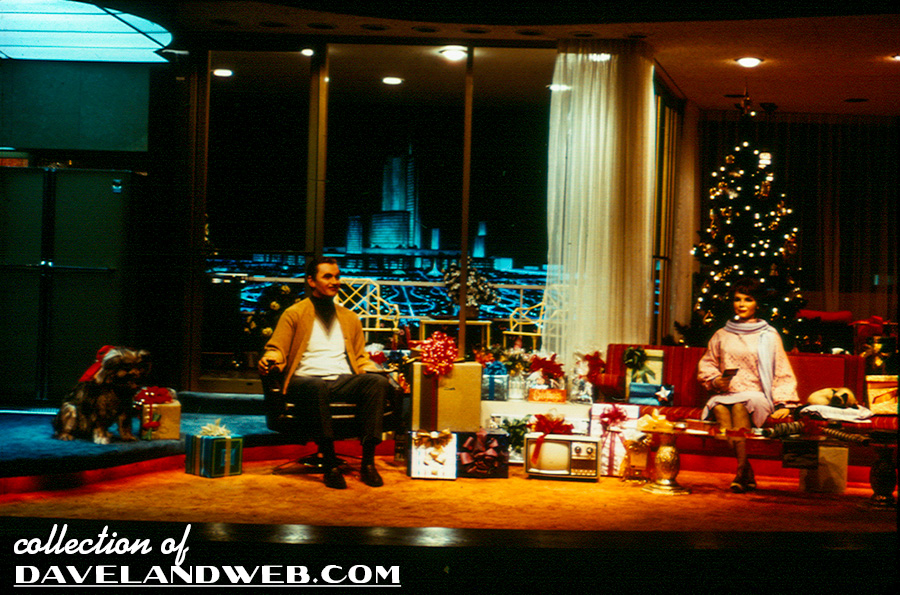 If these birds look familiar...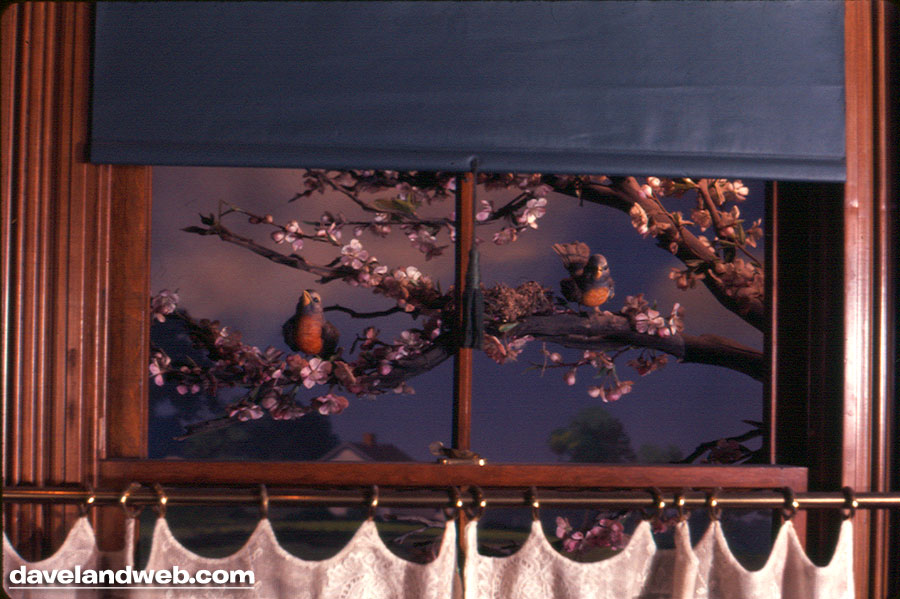 it's because you also saw them in "Mary Poppins."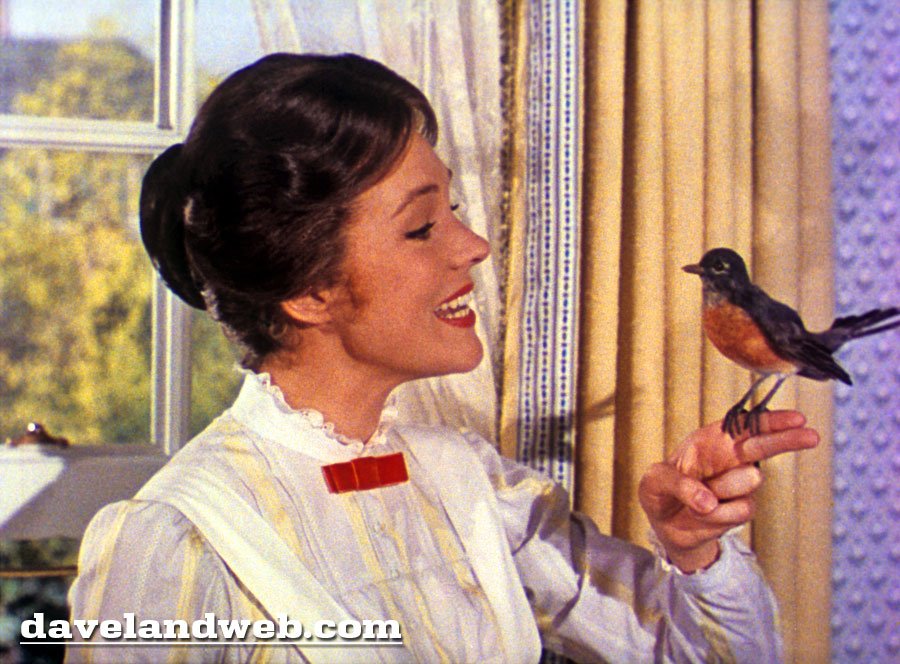 After the show, guests boarded a speedramp that would take them to the second level of the building. On the upper level, a 4-minute post show coincided with guests gazing at an enormous model of Progress City.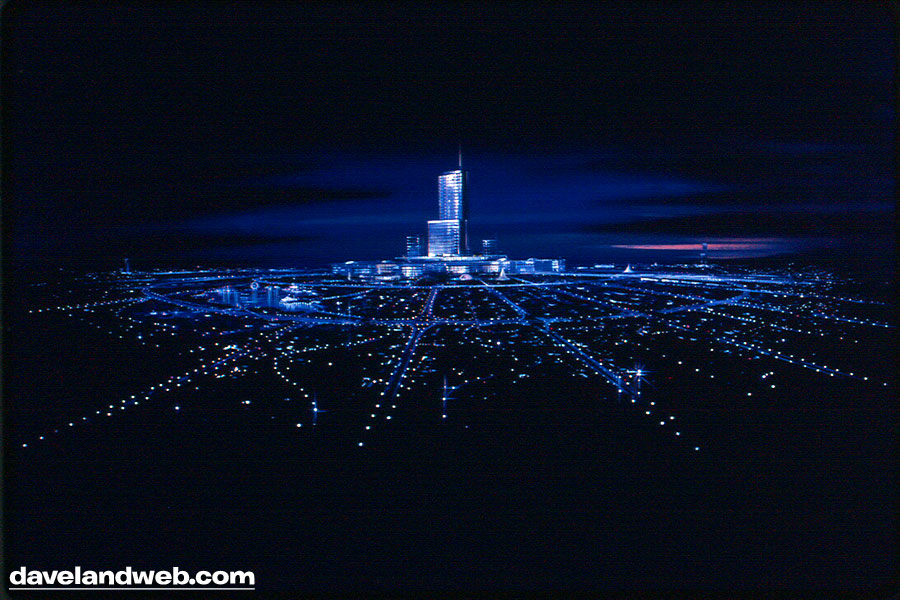 Progress City was based on Walt Disney's original concept for EPCOT and the WDW property.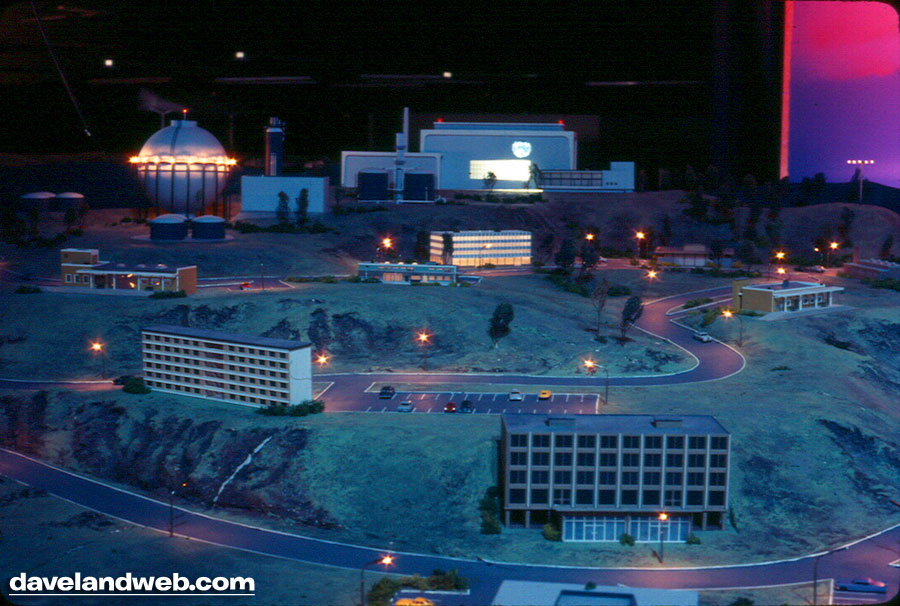 By the 1970's, GE asked Disney to move the show to Walt Disney World due to dropping attendance in Anaheim. The Disneyland show closed on September 9, 1973. America Sings, a salute to American music, opened in 1974, replacing the show that moved to WDW.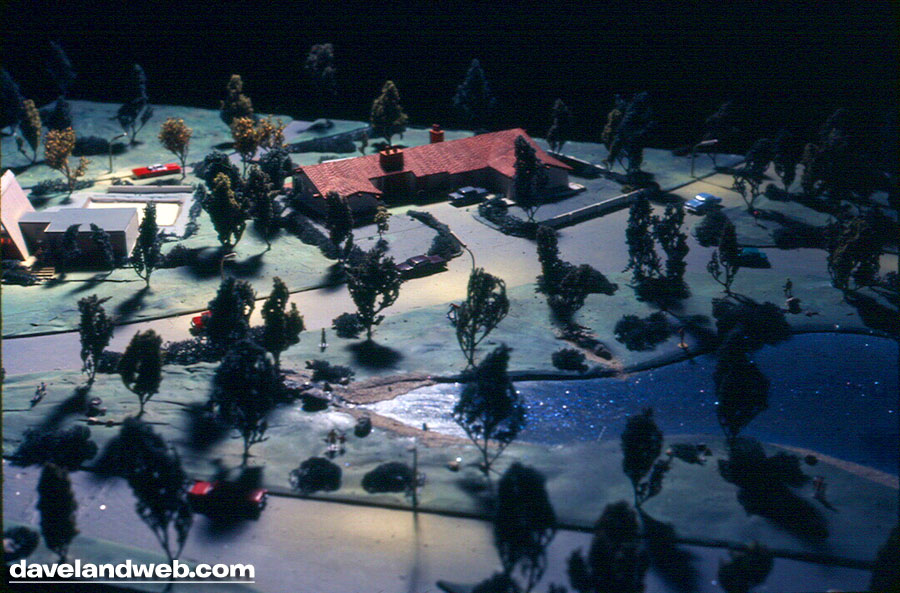 See more vintage Disneyland Carousel of Progress photos on my
Carousel of Progress web page.