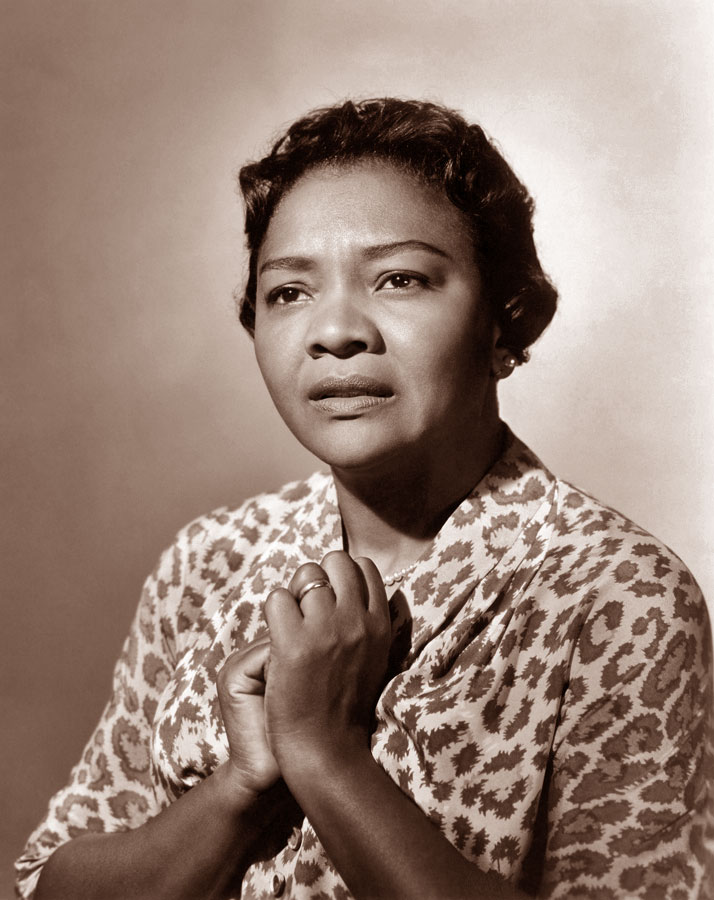 It was with great sadness that I read on the
Dougsploitation blog
that actress Juanita Moore had passed away. If you've never seen the 1959 Douglas Sirk classic "Imitation Of Life" then you might not know her.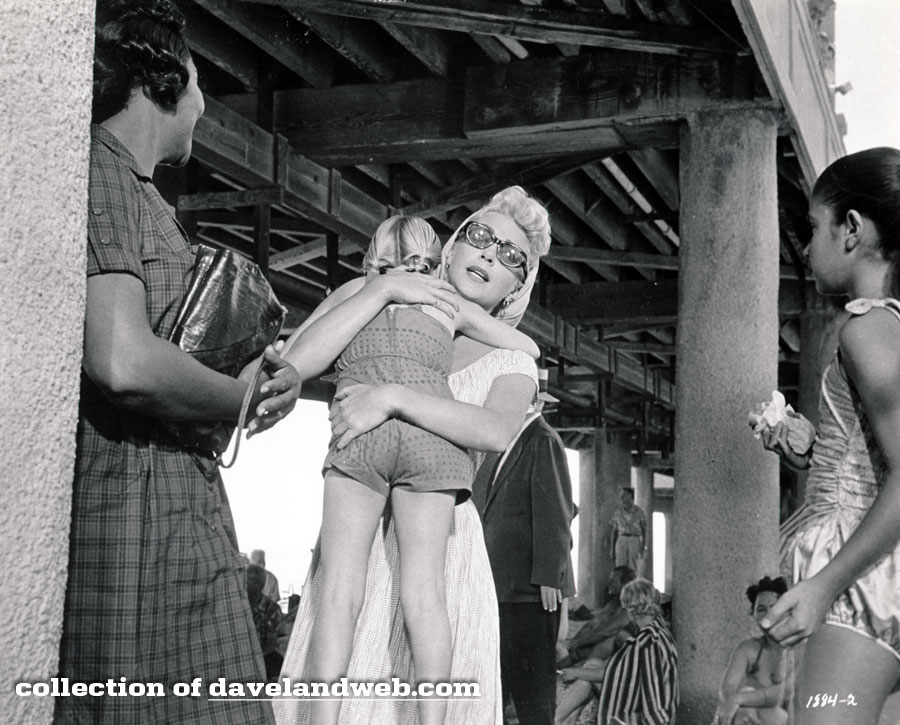 "Imitation of Life" was based on a Fannie Hurst novel of the same name and a remake of a 1934 Claudette Colbert film. Over the course of many years, it tells the story of an ambitious white actress, Lora Meredith (Lana Turner) and her friendship with a black woman, Annie Johnson (Moore) who meet by chance when their two daughters become playmates at Coney Island Beach. Lora allows the homeless Annie and her daughter to stay with her for the night.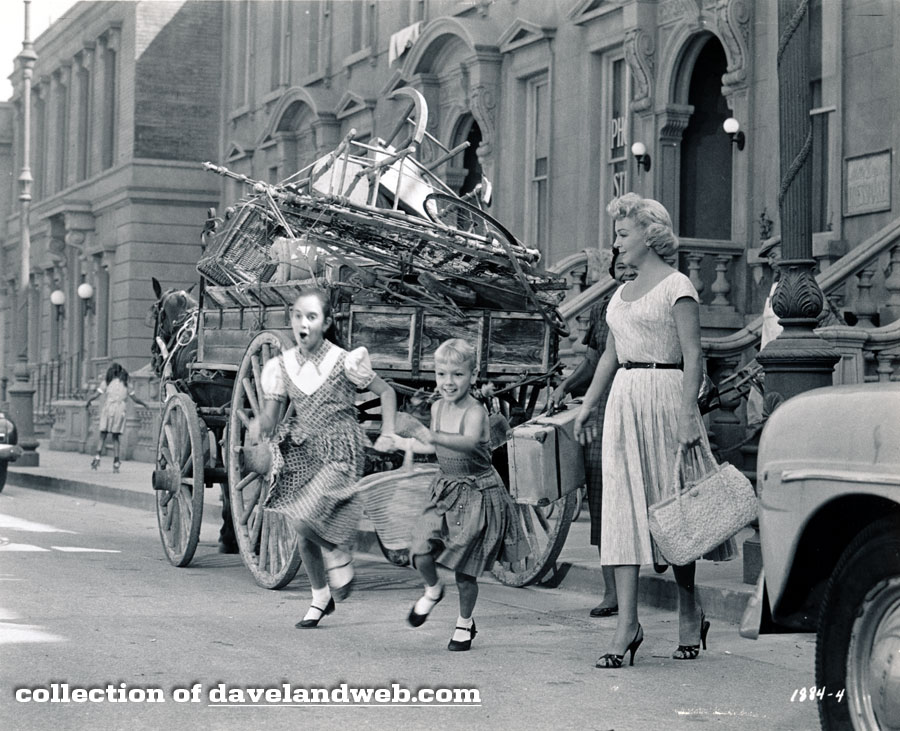 Annie makes herself indispensable to Lora, organizing the apartment and tending to her child while she is out on auditions. Lora "hires" her (initially for just a place to stay) and the two forge a life-long working and personal relationship.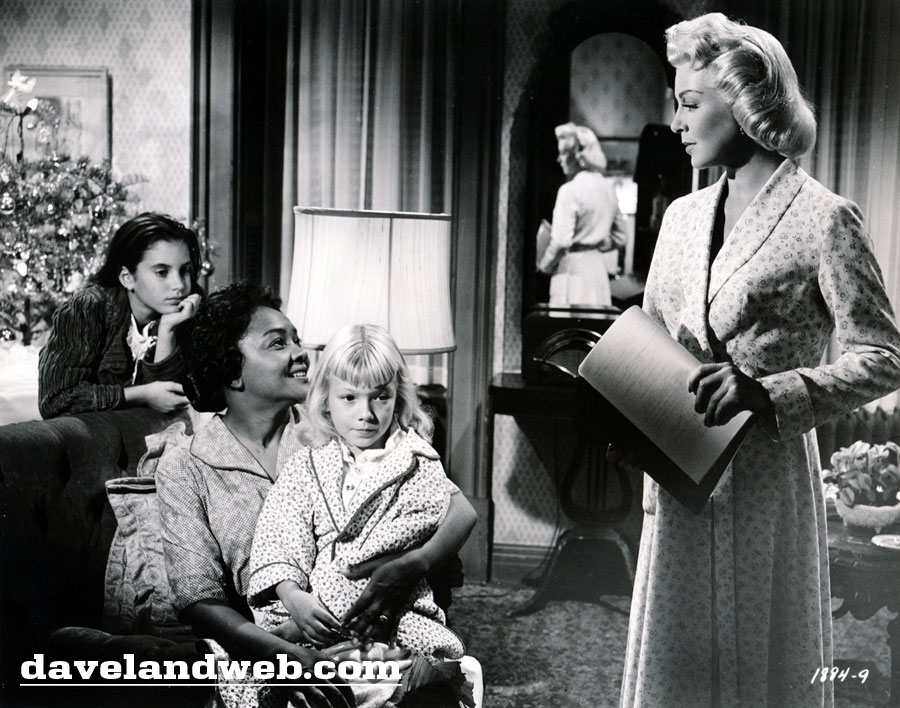 Johnson's daughter, Sarah Jane (Susan Kohner), is light-skined enough to pass for white, something the girl attempts to do as she gets older and becomes more disgusted with the lack of opportunities available to blacks at the time.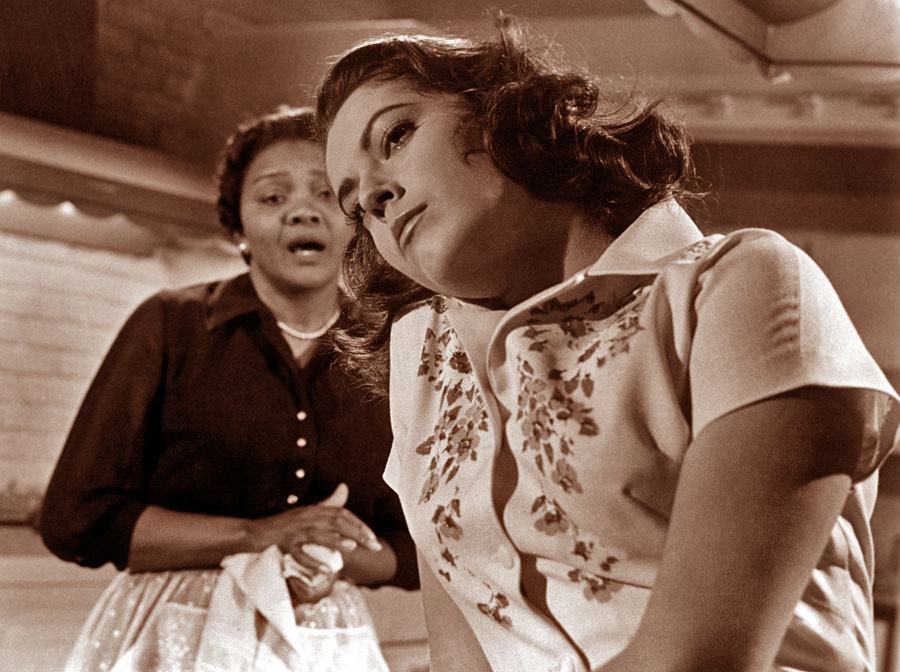 Both Moore and Susan Kohner (daughter of a Mexican actress and a Jewish film producer) earned Oscar nominations for their work. At the time, Juanita Moore was only the third black performer to be nominated for an Oscar. Moore and Kohner provide the framework for the most touching yet gut-wrenching scenes in the film.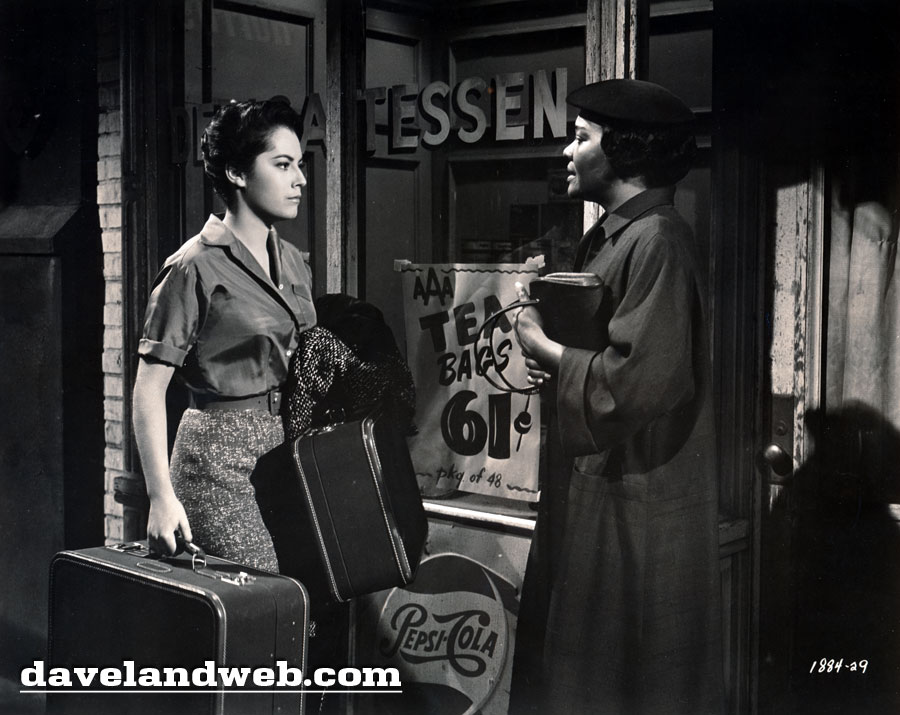 Sarah Jane grows tired of her mother's supposed acceptance of being treated like a second-class citizen and decides to strike out on her own, living life as a white woman.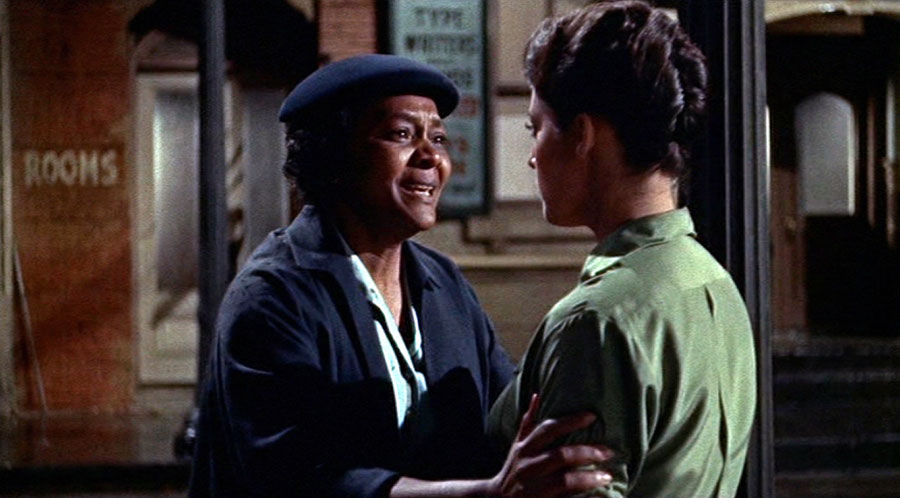 Annie attempts to teach patience and tolerance to her daughter, hoping she won't run away, but to no avail. Much later, when Annie is able to find her wayward daughter (now a showgirl), the two have a final confrontation that will rip your heart out. Sarah Jane obviously has a deep love for her mother, but her immaturity and desire for acceptance wins out, forcing her to publicly denounce Annie and tell her friends that she is only her mammy.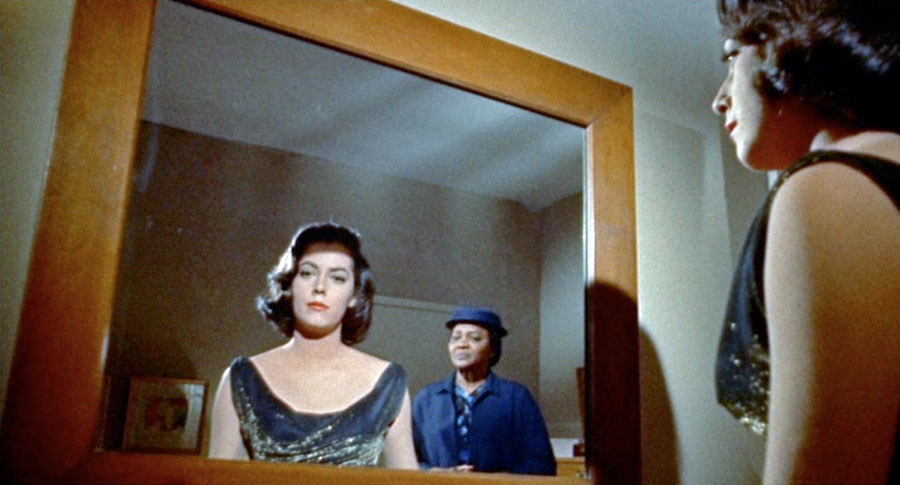 Many who take the film only at face value have dismissed it as typical 1950s melodrama, while pointing out the stereotypical nature of Moore's character. Those that take the time to examine the film will be richly rewarded by Moore's performance and its subtle yet powerful nuances. During a low-key reflective scene between Annie and Lora, Annie talks about her friends and her church. "It never occurred to me that you had any friends...I didn't know." Lora's self-absorbed ignorance about her best friend is not necessarily race-driven, as her treatment of her own daughter (annoyingly portrayed by Sandra Dee) is not much different. Annie could have made a very dramatic scene by calling her friend uncaring and selfish; instead, she subtly lets her know with one very simple line, delivered without anger or sarcasm: "Miss Lora, you never asked." It is the writing for Annie's character and Moore's natural performance that creates the core of the film, keeping it from going over the edge of artifice.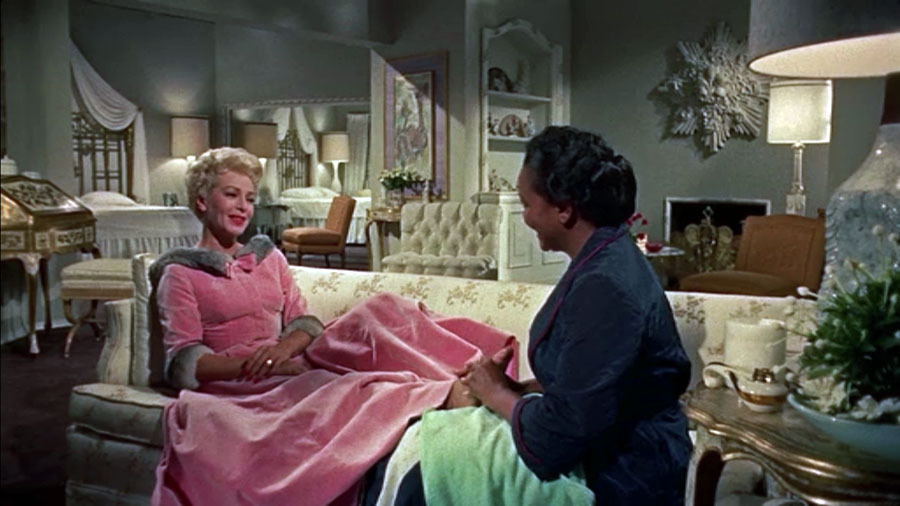 Towards the end of the film, when it becomes apparent that Annie is dying, the somewhat dimwitted Lora finally realizes all of the true riches that she has in this friendship. The final scene between these two is one of the most emotionally charged ones ever put on celluloid.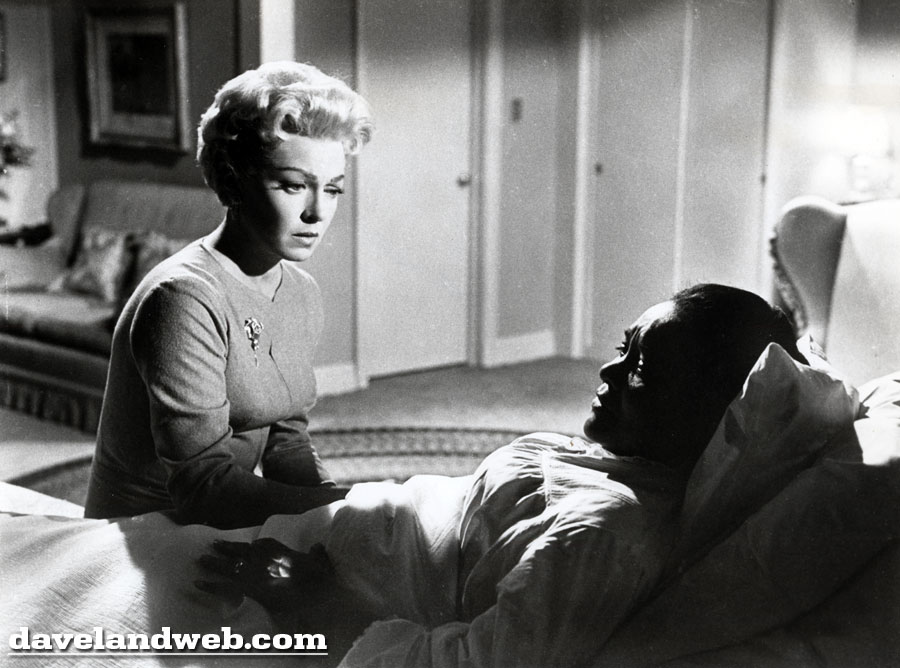 For a year after her 1960 nomination, Moore didn't work, as casting directors assumed she'd never play servants again. "What can you do?" Moore asked. "They're not going to pay me a lot of money for carrying a tray. That's all we did in movies at the time. The Oscar prestige was fine, but I worked more before I was nominated. Casting directors think an Oscar nominee is suddenly in another category. They couldn't possibly ask you to do one or two days' work. You wouldn't accept it. And I'm sure I would have." She went on to do a number of supporting roles, but the early promise of her acting career in "Imitation of Life" was sadly never fulfilled.
On youtube, you'll find this fantastic 3-part series of Moore vividly recalling her work with Lana Turner on "Imitation of Life":
See more "Imitation of Life" photos on my
Lana Turner web page.
Follow my Daveland updates on
Twitter
and view my most recent photos on
Flickr
.