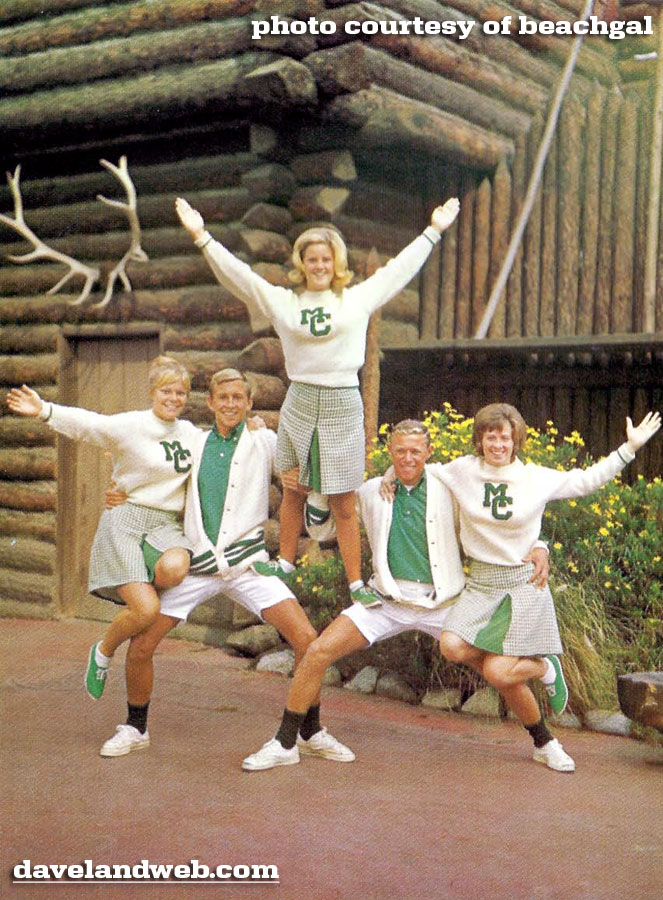 Daveland reader Beachgal was kind enough to send me two photos and accompanying backstory. Seems like she has many fond memories of visiting Disneyland during its early years. As she recalls:
"I had lots of fun times growing up in the Southland - I remember very well meeting Walt Disney at Disneyland in '55 and again in '56 and getting to shake his hand. I also remember meeting Annette and other Mouseketeers at Disneyland in 1956. Annette made a lot of appearances to sign autographs at various Broadway Department stores around the Southland in those first early years as a Mouseketeer. Tim Considine and David Stollery also made appearences at Disneyland in 1956 after they had made such a hit that first year on "Spin & Marty." I had my photo taken with Tim on one of those appearances.

"The High School I went to was Mira Costa in Manhattan Beach; we were known as the Mustangs and our high school was often referred to as MiCoHi. The first photo here is from 1964 and shows the MiCoHi Yell Leaders near the Frontierland Gates.

"This second photo (from our 1963 school yearbook) shows the girl flag team atop the Nautilus submarine in Tomorrowland.





"Disneyland used to invite different High School spirit teams and some local other non paid/non professional teams like baton/tumbling to appear in the park for a day. I seem to recall a few glee singing groups too. There were no competitions for this, it was all by invite from Disneyland management. I recall a lot of excitement 'round the Southland about who would get invited next. The troupes never appeared at a formal entertainment venue in the park like Carnation Plaza Gardens, but instead were just set up in open areas and they rotated to a few different spots during the day.

"My cousin was in High School when the park opened and I recall her being envious that this program was not going when she had been a High School yell leader. I think it started in the late 1950s around the time Annette began to make movies like "The Shaggy Dog." I also remember seeing various troupes there, running around in their uniforms and performing; as a kid, I was sort of envious because they seemed so much cooler than I was, being able to run around in cool uniforms AND without their parents close by!"
Many thanks to Beachgal for sharing today!
See more vintage & current Disneyland photos on my
main website.
Follow my Daveland updates on
Twitter
and view my most recent photos on
Flickr
.