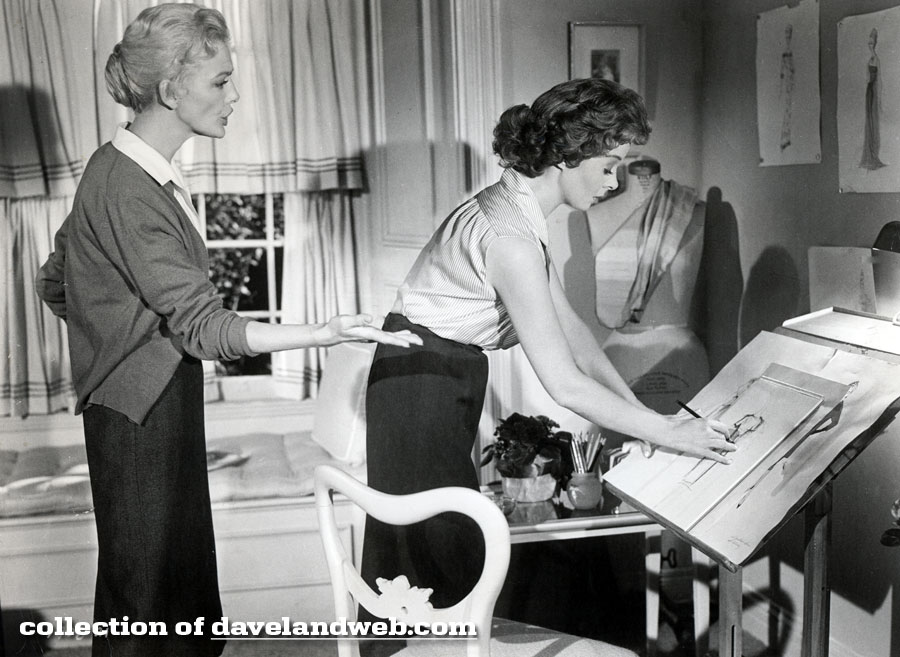 Fashion and film have always gone together, especially during the 1950's/1960's. In the glossy 1961 Ross Hunter melodrama, "Back Street," costume designer Jean Louis created a number of sumptuous designs for star Susan Hayward to wear. Her character just happens to be a budding fashion designer. What better excuse to increase the wardrobe budget and have the star wear even MORE amazing dresses? In the first still from the film, Rae Smith (Hayward) is being told by her sister, Janey (Virginia Grey), to move to the big city and let everyone see her talent. Let's zoom in and check out those sketches...do you think she's good enough?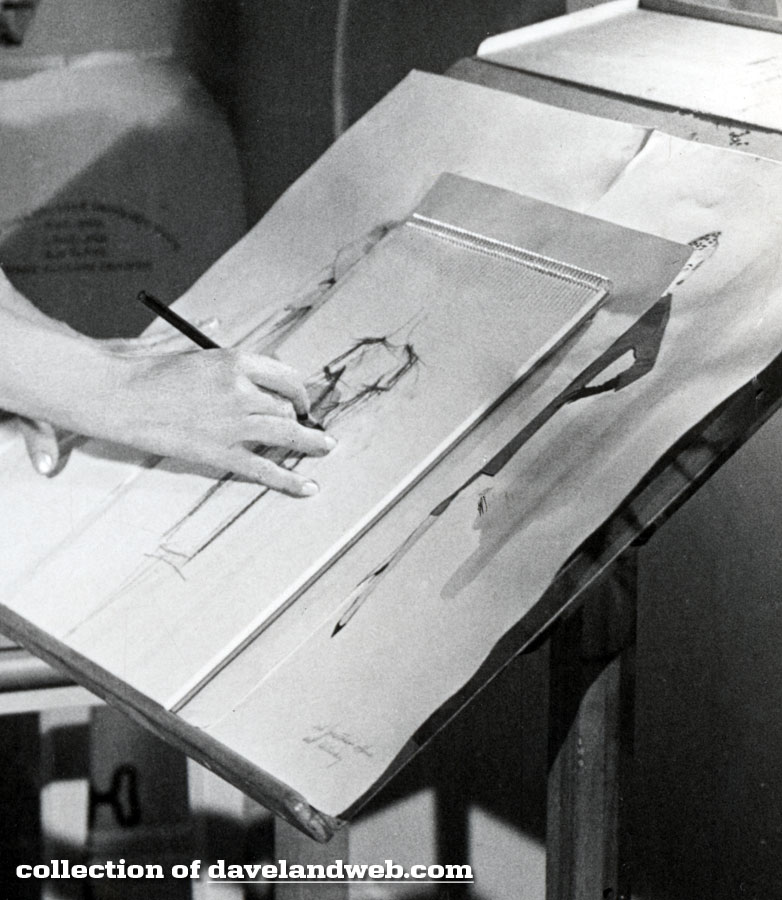 In this scene, Rae shows her assistant how to drape fabric.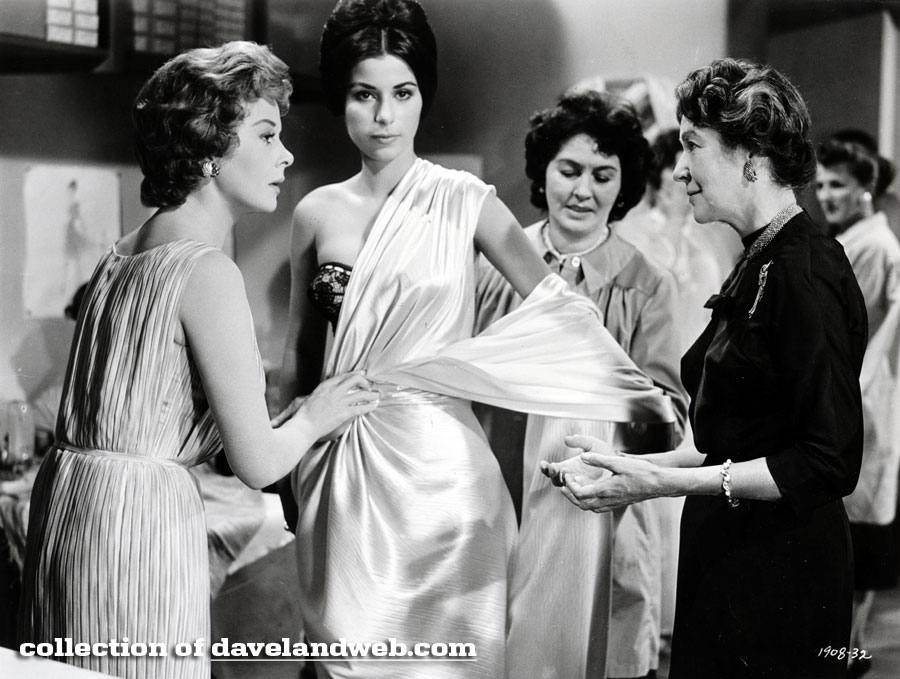 The visual highlight of the movie is the fashion show, where Rae gets to show off her new line of clothing, including this bridal ensemble. The woman who buys it turns out to be the alcoholic wife (Vera Miles) of Paul Saxon, the man Rae has been seeing on the side (John Gavin). Saxon also happens to own a number of department stores. Are you following along?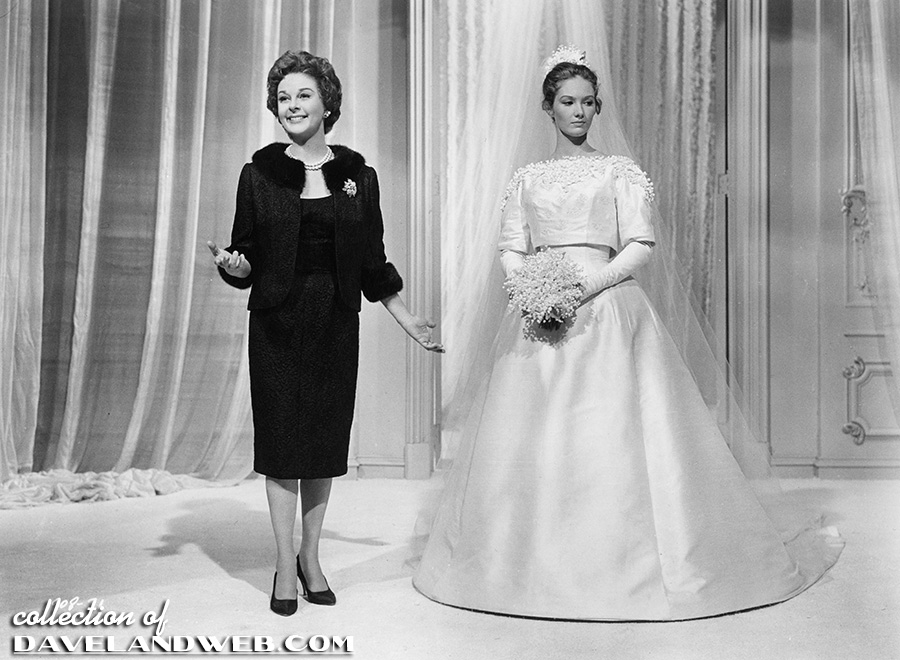 In this publicity shot, John Gavin poses with fashion show models Melissa Weston, Joanne Betsy, Vivianne Porte, & Gertrude Felder. Obviously, Jean Louis had his hands full for this movie.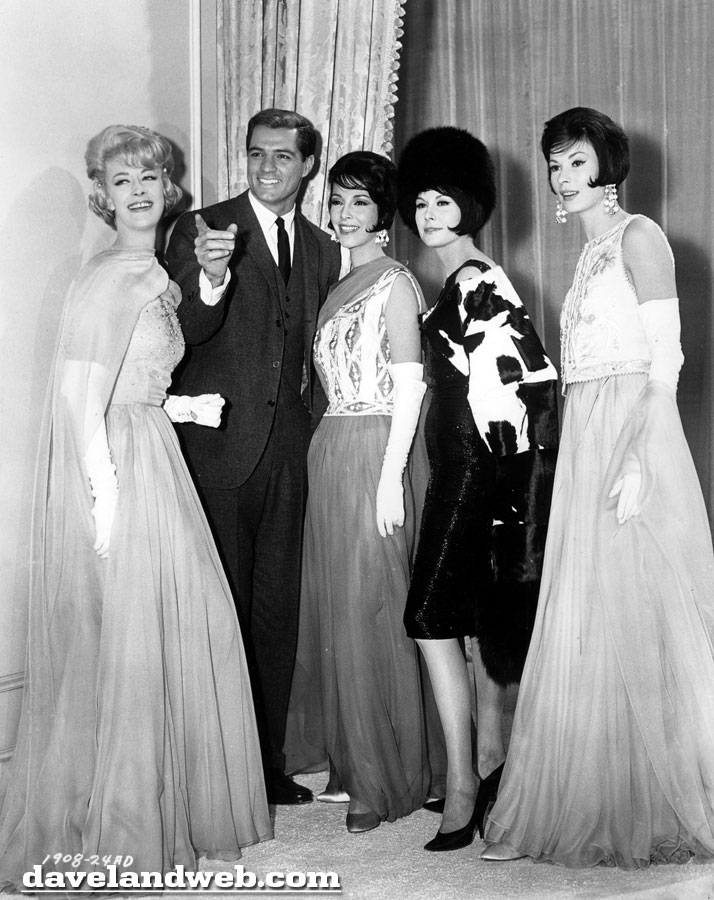 Here Vera Miles models yet another Jean Louis creation. We don't get to see too much of this gown because she wears it in the scene where she has a car crash. What a waste of a good gown.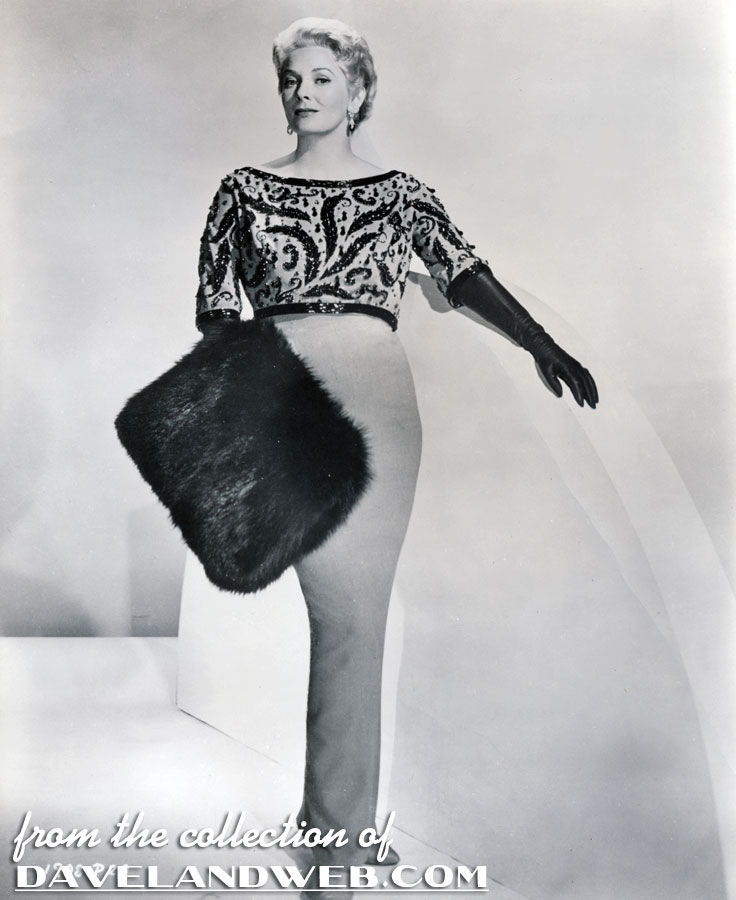 How about this fur-trimmed set for Susan Hayward, worn in the scene where Paul Saxon's kids give her the stink-eye at the airport. Those smart little varmints are onto her man-stealing ways!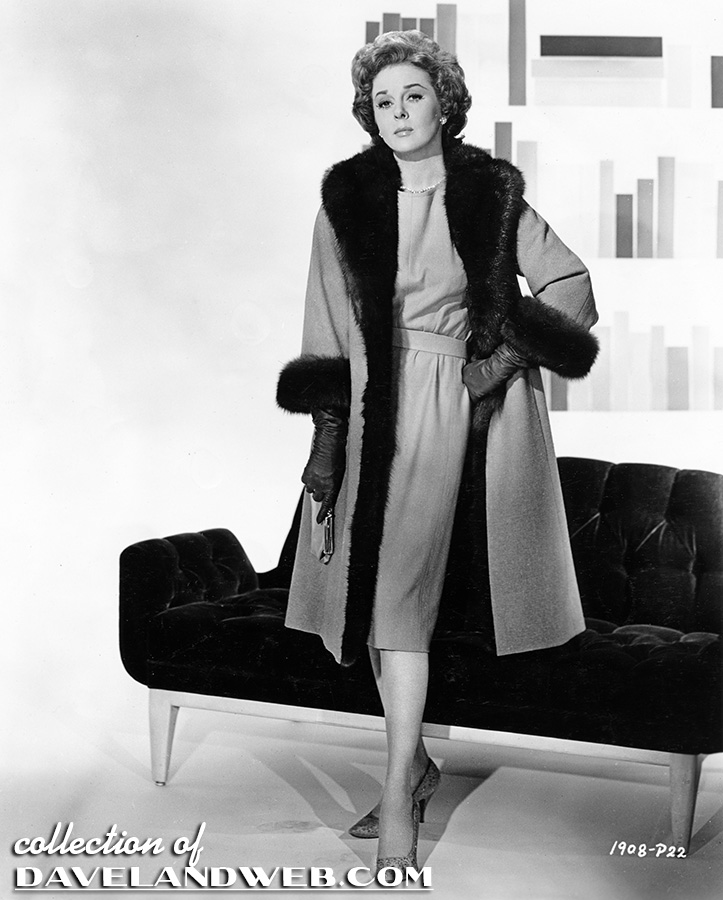 For "Back Street," Jean Louis received an Oscar nomination for Best Costume Design in a color film. He was beat out by Irene Sharaff for "West Side Story." Another famous Hollywood designer, Edith Head, was also in the running that year, having been nominated with Walter Plunkett for "Pocketful of Miracles."
In 1955, Edith appeared as herself in yet another fashion show within a film, this time for "Lucy Gallant," starring Jane Wyman as the title character. Naturally, Lucy Gallant is a talented fashion designer. Surprisingly enough, this film received no Oscar nods for its fashion; at least Edith got a nomination that year for another film she did, Hitchcock's "Rear Window." Here's Wyman posing in one of her Edith Head creations for "Lucy Gallant":
Another Head design. That is one large furry purse!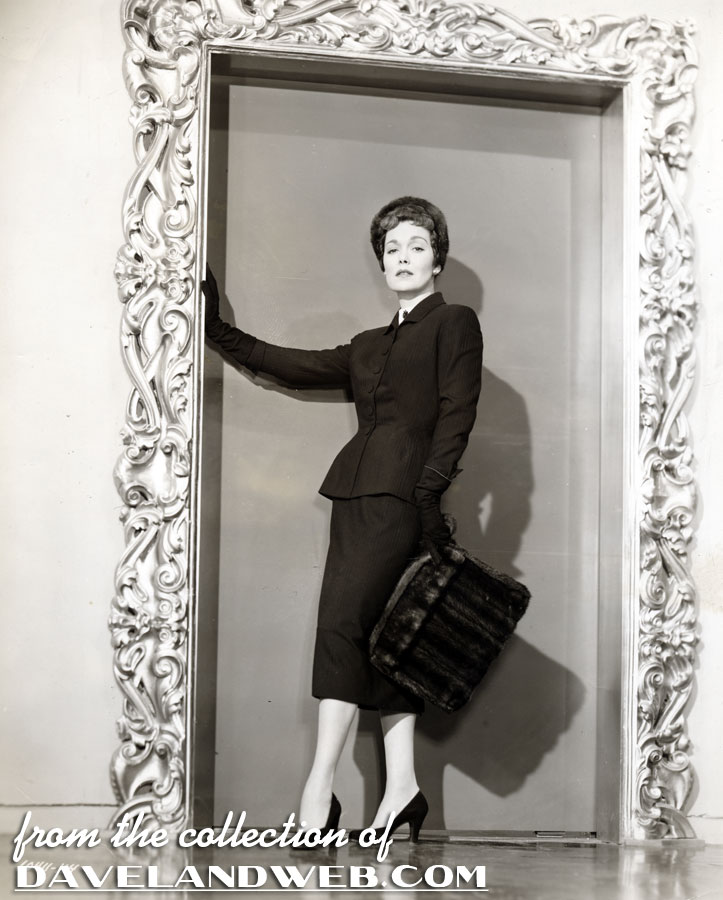 In 1953's "Let's Do It Again," Jean Louis was in charge of outfitting Wyman: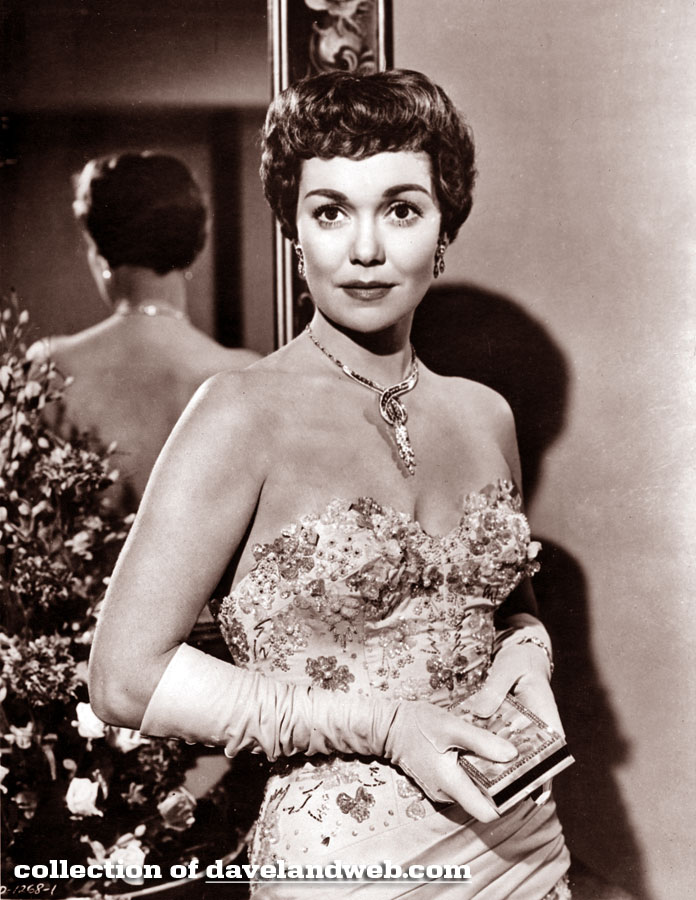 The appeal of putting so much effort into what the female leads wore in these films was because of the appeal it had for women all over America. Just like today, many are influenced by what they see the stars wear. But where would the average American Woman buy her fashion "back in the day"? One option was B. Altman's, a department store that had the foresight to move into the suburbs back in the 1930's. Going to a big city wasn't the only choice anymore for the average housewife. I remember as a little boy accompanying my mother on a few of her trips to the local B. Altman's. Here's a postcard from the New York City store's famous Charleston Garden restaurant and tearoom, which featured a southern plantation façade and murals simulating an outdoor garden...INSIDE the department store. Fashion shows were a staple of the restaurant, allowing women to both eat and shop. What a time-saver!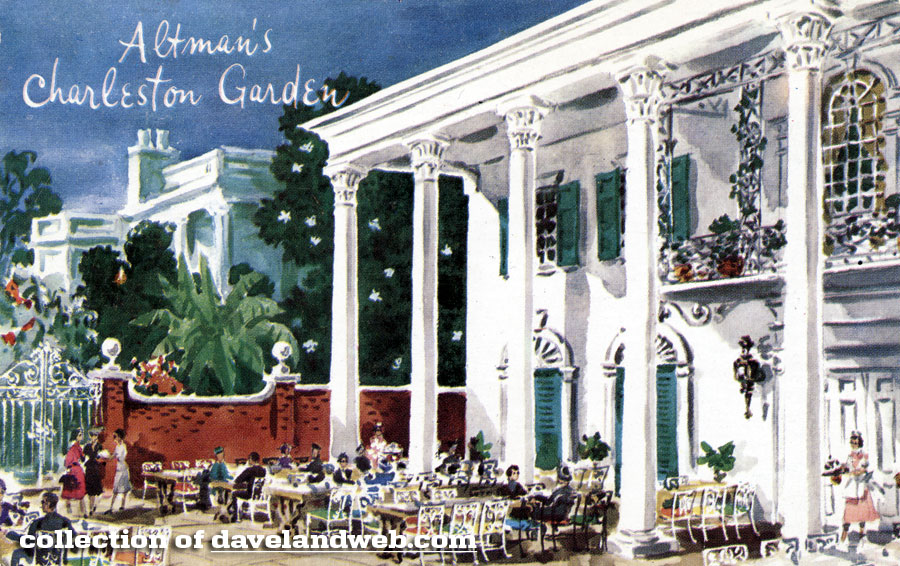 Here's what Mary, the sender of the postcard, had to say about her visit to the Charleston Garden: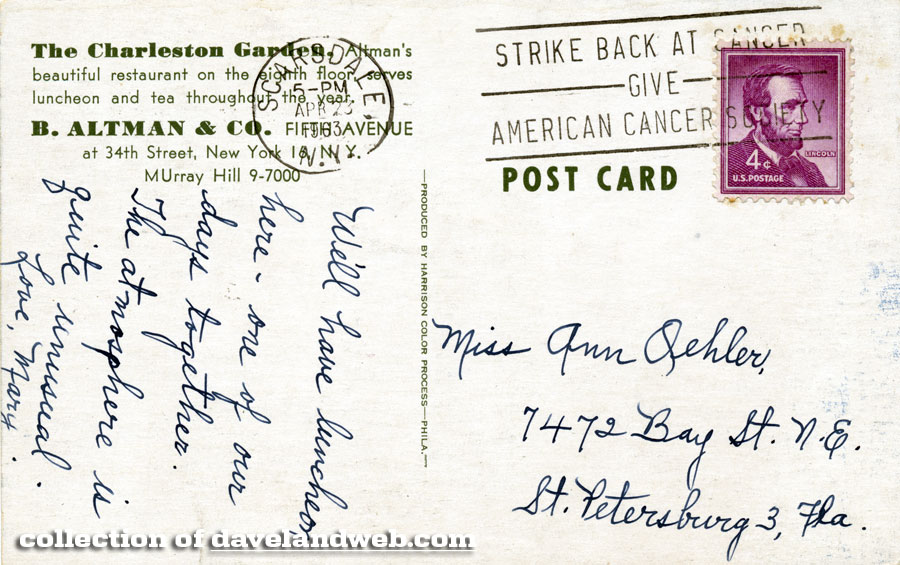 I remember what a treat it was to eat at the St. David's location near Philadelphia with my mother. It was also my introduction to Pink Lemonade! As the years went by and the demographic of B. Altman's aged along with the store, it garnered the nickname "Menopause Manor," as it fell out of fashion with the younger set, closing down in 1989.
Have you ever been influenced to buy an outfit that you saw worn in a film?
See more classic film and television photos on my
main website.