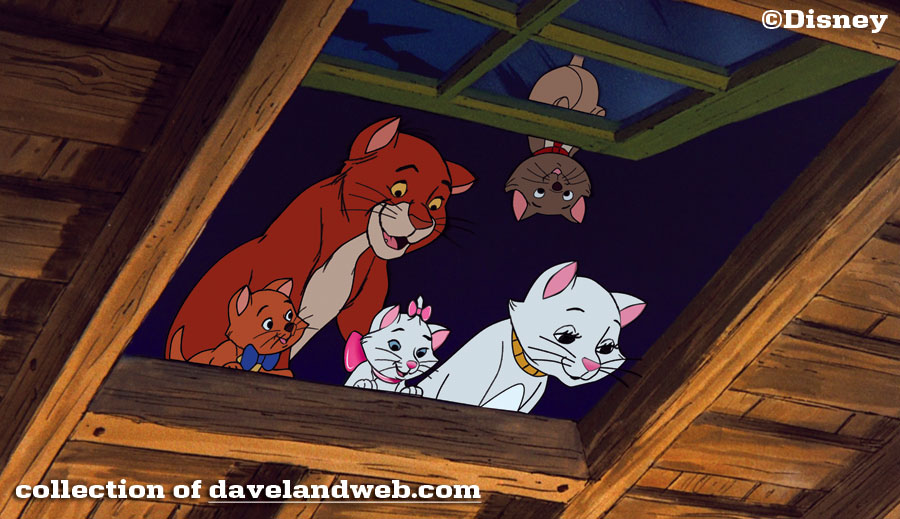 Just a little filler post to bring everyone down out of the cotton candy box that was March 1956. I will not be posting again until Tuesday morning; time for a little break. Today's post is about upcoming Disney DVD releases; 1970's "The Aristocats" is due out this Tuesday, 2/5. I hadn't seen this little gem since its first release. It's still a wonderful film, even though there is no supervillain and the plot is fairly predictable. What makes it so enjoyable (besides the first-class hand-sketch look style animation) are the main feline characters of O'Malley & Duchess, voiced by Phil Harris and Eva Gabor. In addition, Sterling Holloway is on hand voicing Roquefort, a mouse who actually helps bring the lost kittens home. The rest of the supporting cast is solid too: Thurl Ravenscroft (a Disney vocal legend), Scatman Crothers, Paul Winchell, Hermione Baddeley, and Nancy Kulp (aka Miss Jane Hathaway), and Ruth Buzzi. If those talents weren't enough, the unforgettable Louis Armstrong lends his unique vocalizations to the jazzy Sherman Brothers song, "Everybody Wants to Be A Cat."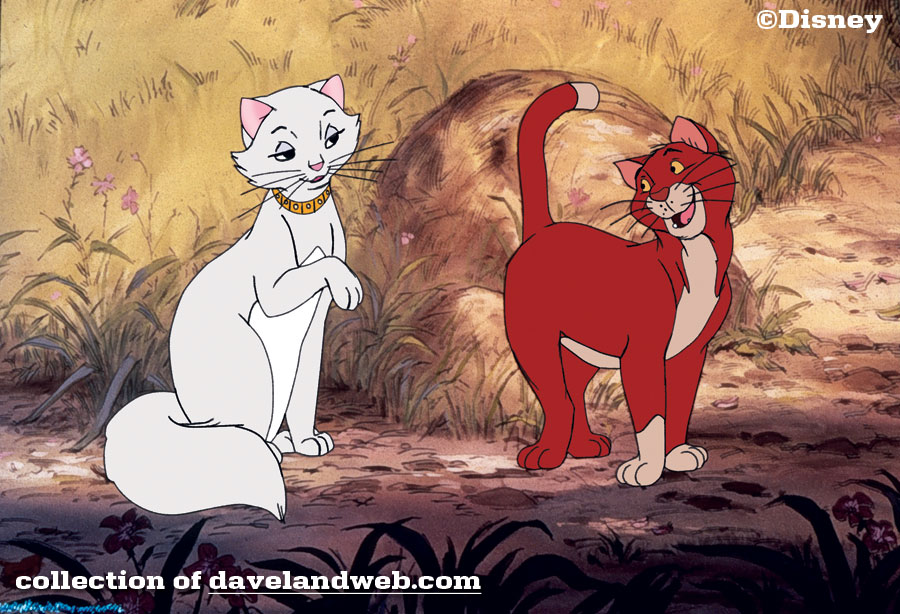 Even more exciting is the recent announcement that "Saludos Amigos" and "The Three Caballeros" are to be released on DVD April 29. Goofy, Donald Duck and Walt Disney himself visit Latin America in 1942 with "Saludos Amigos." Walt and his team of artists, musicians, writers and animators explored the heart and soul of Latin America, from the Bolivian Andes to the Argentine pampas. This film earned three Academy Award nominations in 1943 including Best Musical Score, Best Sound, and Best Original Song. In "The Three Caballeros" (1944), Donald Duck and his friends Joe Carioca & Panchito blend live action and classic Disney animation while doing their tour of Latin America. The film received two Academy Award nominations for Best Musical Score and Best Sound Recording. Bonus features include: "South Of The Border With Disney" Featurette – Tag along with Walt and friends on a tour of Latin America • Walt Disney Interview • "Contrary Condor" & "Don Donald" (Donald Duck Cartoon Shorts).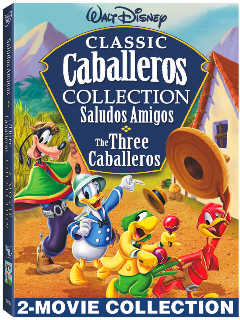 For you "Aristocats" fans, here is a transcription of an interview with Disney songwriting legend, Richard Sherman:
Q:
How critical is music – and specifically songs – to the success of classic animation? Especially at Disney?
A:
Walt Disney was a great believer in the use of song to convey story. He was primarily a storyman & story-driven songs were his 'pets.' He always asked what was going on with the song – he hated 'singing heads.' He loved learning about character & motivation thru music & lyrics.
Q:
Richard, how excited were you to have Maurice Chevalier record this title track? He did a great job in Castaways as well as hailey and all those hits for Annette Funicello?
A:
It was an extremely gratifying day when Maurice Chevalier agreed to come out of retirement to record our title song for THE ARISTOCATS. My brother Robert & I actually had written songs for Maurice in 'In Search of the Castaways," and "Monkey's Go Home," prior to this. But our history with Maurice Chevalier goes much further back then that. Maurice had introduced a song our father – Al Sherman wrote in the 1930 film "The Big Pond." The name of that song was – "Living in the Sunlight – Loving in the Moonlight." It was a hit – twice. The first time w/ Maurice Chevalier, the second time with Tiny Tim revived it with his ukulele – Yes! A very big thrill!
Q:
Richard, what made THE ARISTOCATS a musical challenge as opposed to other Disney scores?
A:
The challenge in writing the songs for THE ARISTOCATS truly fell on the animators & director of the film. Robert & I wrote the initial songs for the film, just prior to leaving full-time employment at the Walt Disney Studios. Therefore, some of the songs we wrote for ARISTOCATS were never used. I believe, therefore, the challenge fell upon the makers of the film to select what songs made the final cut.
Q:
Could you talk a bit about your pre-Disney career and how you joined the Disney Company?
A:
Prior to becoming Walt Disney staff songwriters in 1960, Robert & I were popular songwriters in the Rock & Roll era. One of our songs, 'Tall Paul' was recorded by young Annette Funicello, who, as you all should know, was a star of Walt Disney's 'Mousketeers' Show. She had a big hit with 'Tall Paul' late in 1958. Throughout 1959 & 1960, Bob & I wrote a number of hit-songs expressly for Annette to sing. We were totally unaware that Walt Disney, himself, was very fond of Annette – having discovered her – and listened to all of her recordings. One day, he was going to put Annette in a film, 'The Horse Masters,' and because of her popularity, he decided to have her sing a special song in that film. Bob & I were asked to take a stab at writing a song for this film. Of course, we jumped at the opportunity. Walt liked it very much and the rest is history.
Q:
Have you managed to write a song in just one day? How is your composing process?
A:
My brother & I have always said that to write a song, it takes all the experiences of your life, plus the time it takes to write it! To be specific, yes, sometimes a song takes place in one session – together in one day. Sometimes, months elapse before we've completed the song completely. There's no set rule. Something inside of you says – 'now you can present it!' If one of us feels it's not quite right, lyrically or melodically, we don't present it.
Q:
What is your favorite song of THE ARISTOCATS?
A:
I love the title song. It's a mood & scene setter & accomplishes many things. First of all it's very French – very period… In words, this title song describes these very pampered pussy-cats…so it accomplishes what we set for it.
Q:
What is your favorite character in THE ARISTOCATS film?
A:
I think the two country hounds out in the country – Lafayette (voiced by George Lindsey) & Napoleon (voiced by Pat Buttram) – really got to me! They were hilarious! They were extraordinarily well voiced & beautifully animated.
Q:
Could you talk about some of the individual songs for THE ARISTOCATS and how they came about, and also, some of the songs that were to have been in the film but were discarded and why?
A:
All films created by Walt Disney at the time of his major outpouring of work were carefully crafted to fit scenes, characters, moods and situations. If these elements changed in any way, songs – no matter how good they were – were discarded. Others were written for the new scenes. Many times, character songs were dropped because characters were dropped…sequences were dropped etc., Naturally, in the course of creation of THE ARISTOCATS, some songs were eliminated. Robert & I had written a number of pieces that we were very fond of, but either the song was replaced by another song that the director & producers felt was more appropriate, or, as I said, the sequence was dropped. Specifically, in the case of a song that was retained in the film, the creation of 'Scales of Arpeggios' was written to a sequence where Duchess is instructing her young kittens to practice their music & art lessons. It seemed a natural for Bob & myself to create this piece to cover this situation. There was a song called 'We Can't Leave Her Alone,' which in point of fact ,was a reprise of 'Pourquois' a song which was to be sung early in the film by Madame Bonfamille to express her love for her kittens. It was a tender ballad which added a great deal of heart, but unfortunately, only a a few lines of the lyric were recited by Eva Gabor in the final film…You'll see it on the bonus feature which explains the purpose of the song fully.
Q:
How is the collaboration with your brother? Do you both write on the same songs, shifting it to each other to keep improving it, or do you have your own 'projects'?
A:
For over half a century, Robert & I have collaborated on hundreds & hundreds of songs, for many, many film, TV and stage projects, as well as special songs for Disney Theme Parks. Our process has always been to write story-driven songs. Therefore, we've always thoroughly discussed the period, the purpose, the character who sings it, the reason…before jumping into any lyric or melody ideas. We always feel there are 3 parts to the song. The most important part is the reason it should exist. Our process usually consists of me sitting at the piano & Bob hovering over it. We throw ideas out…I start to play something…he'll hum something to make it better. He'll throw a line to me, I'll twist it to make it better and we scramble around like that for sometimes hours & days, 'til we both agree we've got something to show! That's how it works!
Q:
What kind of music do you listen to personally?
A:
I personally adore fine, classical music. Mozart is my hero, but I love Rossini and Beethoven…they're pretty good too! I also love the great showtunes of Kern, Porter, Berlin, Gershwin, Rogers…and superb lyrics of Hart & Hammerstein, Porter, Berlin, Frank Loesser and so many others. Also, I adore Scott Joplin's rags & great Dixieland music, particularly played by Louis Armstrong.
Q:
How early into preproduction of a film like THE ARISTOCATS do you come in – after the script is written and insert songs, or at the scripting stage and do you contribute to the overall process
A:
With each film, there's a different process. In JUNGLE BOOK, we worked sequence to sequence. In SWORD & THE STONE, we worked from an overall storyline. In the WINNIE THE POOH featurettes, we worked with situations & character developments. Each project has its own scenario.
Q:
Have you seen any of the animated films nominated for this year's Academy Awards? Do you have a favorite?
A:
I believe RATATOUILLE is an extraordinary film and the music is superb!
Q:
Where do you keep your Academy Awards?
A:
My two Oscars are enshrined on an alabaster, crystal-domed plinth with several spotlights on 24 hours a day while incense burns and heavenly music is piped in on a custom THX sound system w/ 7.0 Surround Sound…while a band of trained penguins dance to 'Supercalifragilisticexpialidocious"!
Q:
Do you find it particularly challenging to write a song for an animated film? Did it limit your creativity, or did you feel the animation inspired you?
A:
There is absolutely no difference between writing a song for a live-action character of an animated character – be it a fluffy pussy-cat or a live bear. They are living characters and we treat them as such. Therefore, there is no difference whatsoever in our approach to writing for animation or live action.
Q:
Aside from writing the title song for Maurice Chevalier, did you write for actor's voices, or for the character, or both?
A:
In all cases, including the title song for THE ARISTOCATS, we wrote for the picture and the character in the picture. It just had the lucky coincidence that Maurice Chevalier, agreed to sing our title song. We did not write the song for Maurice, but as he always did, he made it his own. Rarely have we ever written songs for the actors portraying our work. All the songs in MARY POPPINS were written for Mary Poppins, not Julie Andrews. All the songs in THE JUNGLE BOOK, were written for the various animals who sang them, not for the likes of Louis Prima or Sterling Holloway.
Q:
What do you love the most about composing for children films?
A:
First off, we don't compose for 'children's' films, we compose for 'family' films. Adults, grandmas, moms & dads and the children all derive joy from a well-crafted story and I find it rather odd at this point in time, with the stupendous success of such pictures as RATATOUILLE and THE LITTLE MERMAID and THE LION KING, that anyone would think that these films are for children. As Walt used to say – 'they're for the child in every sophisticated adult who longs to return to the pure joys of innocence, away from worldly cares.'
Q:
You've written music and songs for so many films. Which project would you consider the most challenging of your career?
A:
MARY POPPINS was the most challenging career assignment that Robert & I ever had. We were working without a script, with a series of books with no plot and we had to cobble together a plot and please the most difficult authoress on the planet – P.L. Travers. With the incredible help of Walt Disney, himself, and screenwriters Bill Walsh and Don DaGradi, we put together what many consider Walt's masterpiece. I'm very proud to have been part of it.
Q:
You have a long and great career, what dream do you have yet to fulfill, regarding your work?
A:
I think I'll be writing songs and creating projects 'til the day I die. Currently, I have three musical plays in various stages of development. Within the next year or two, all three will see the light of day. I'm still in there trying!!
Q:
What's your fondest memory of your work with Walt Disney?
A:
Playing & singing 'Feed the Bird,' (Tuppence a Bag) for Walt on Friday afternoons after a busy week. We'd always talk about what we were working on and then Walt would look at me and say 'Play it!' He'd look out the North window of his office and when I was through playing he'd say, "Have a good weekend boys' and send us home. I'll cherish that memory forever.
Q:
How many arguments did you have with Walt Disney, concerning the songs and the way they were sung and played?
A:
Arguments? You don't argue with Walt Disney! You take another stab at it!
Q:
How involved was Walt when it came to composing the songs and music to those films? How was the nature of your collaboration with him and washe very critical, sending you back to the 'drawing board' more than once?
A:
Walt had a seat-of-the-pants approach on what he wanted musically. We kind of 'read' the boss and had a very high batting average, but there were occasions when he felt we had just written the wrong piece for the situation he wanted. We invariably listened to what he wanted – he was very descriptive in what he wanted and we could read him. We'd go back to the drawing board and work out what he wanted. He was a great inspiration, but a tough taskmaster.
Q:
Have you ever rescued songs 'from the trunk' and used them in other projects than the one they were originally intended for?
A:
Many times! Many a song has been rescued from the trunk. 'The Beautiful Briny Sea' in BEDKNOBS & BROOMSTICKS was originally written for a dropped sequence in MARY POPPINS. 'Trust In Me' in THE JUNGLE BOOK was a theme originally written for that same deleted sequence in POPPINS. There are several others – too numerous to mention.
Q:
Why does Maurice Chevalier sing in French in the last verse?
A:
My guess—in certain foreign countries, the added touch of having it in French seemed appropriate.
Q:
Who is your favorite Disney songwriter (other than yourself), in other words, to whom do you see yourself passing the reigns?
A:
I was very flattered, not too long ago when Alan Menken remarked to me that he was very influenced by the work Robert & I did when we worked on the Disney Lot. I think he's the current master composer of story-telling songs in entertainment.
Q:
What was the friendliest thing Walt Disney ever said to you?
A:
"How'd you boys like to work for me, here at the studio?" …and shortly before he died, "Keep up the good work, Fella's."
Q:
Do you have or did you ever have cats?
A:
My brother had a cat once. She made me sneeze all the time, unfortunately.
Q:
This (THE ARISTOCATS) was the last feature film started by Walt Disney before his death in December 1966. How was Walt at the end of his life/
A:
Up until six weeks before he passed away, no one knew he was even slightly ill. He was vigorous and energetic whenever I saw him and that was quite often. He was very much involved in THE JUNGLE BOOK – at all the story meetings. He was certainly in top form, creatively. Our involvement in the songwriting process on THE ARISTOCATS didn't begin 'til after Walt was gone, but his leadership was sorely missed.
Q:
What is your inspiration when you do you music? What do you think…character, person or something else?
A:
Story, character, situation… Story, character, situation…Story, character, situation…
…that's what gives you inspiration!
Q:
What kind of relationship do you have with your music? Do you love it when you hear one of your songs, regardless of which one it is and in what context, or is it the other way around? Or something in between?
A:
I'm very fond of my songs, when they're performed well…at any time of day…night…morning…or anything in between. They're like an extension of myself and if you look in a mirror, and you're all washed-up & dressed nicely – you feel pretty good about yourself. In the converse, if it's a terrible performance of something I've written, I can get very sick to my stomach.
Q:
Of all the animated films you've made the music for, who's your favourite character – except Rocky the Rhino, the deleted JUNGLE BOOK hero?
A:
I think Tigger. Tigger's my favorite character. I feel he's the most like me. I'm told that he's my alter-ego.
Q:
Have either you or Robert collaborated with other songwriters, or have you 'kept it in the family?'
A:
Over our long career, there was period when Robert & I did not work as a team – in the '50's, when I was in the service. But after that 5 year period, we closed ranks and for the most part, have been a duet over the years. Occasionally, as with Kenny Loggins on the song, "You're Heart Will Lead You Home' in THE ITGGER MOVIE, we have collaborated with a third writer, but that's very rare.
Q:
The animation genre in Hollywood evolved a great deal over the last decade. With the huge success of computer-animated movies, it was said that traditional animation was dead. What is your opinion on that?
A:
First of all, computer animation is certainly a tremendous and viable medium today. But the warmth and personality derived from 2-D animation, in my opinion, cannot be surpassed. Certain stories lend themselves well to 3-D animation and I won't labor this with naming them, but in my bones, I still respond more emotionally to the artists feel in 2-D. You feel the 'actor' in the animator more personally…it's hard to explain.
Q:
Can you tell us something about INKAS THE RAMFERINKAS
A:
INKAS THE RAMFERINKAS – is the story of a prehistoric bird, and is a pet-project of Bob's & mine that his youngest son, Robbie, is producing.
Q:
How do you feel about modern Disney…where the music element is disappearing?
A:
Depending on the story, I don't feel that the music is disappearing. I feel if the story demands songs, they'll have songs. If it doesn't demand songs, you'll have underscore.
Q:
We've said so many things about the Disney product, how do you feel about your time at the Walt Disney Studios?
A:
I consider every one of the Disney films that Bob & I worked on, to have been the luckiest break any two songwriters could have ever had. They all aimed at quality and timelessness. That's why they live over the years.
See more vintage and current Disneyland photos on my regular website.