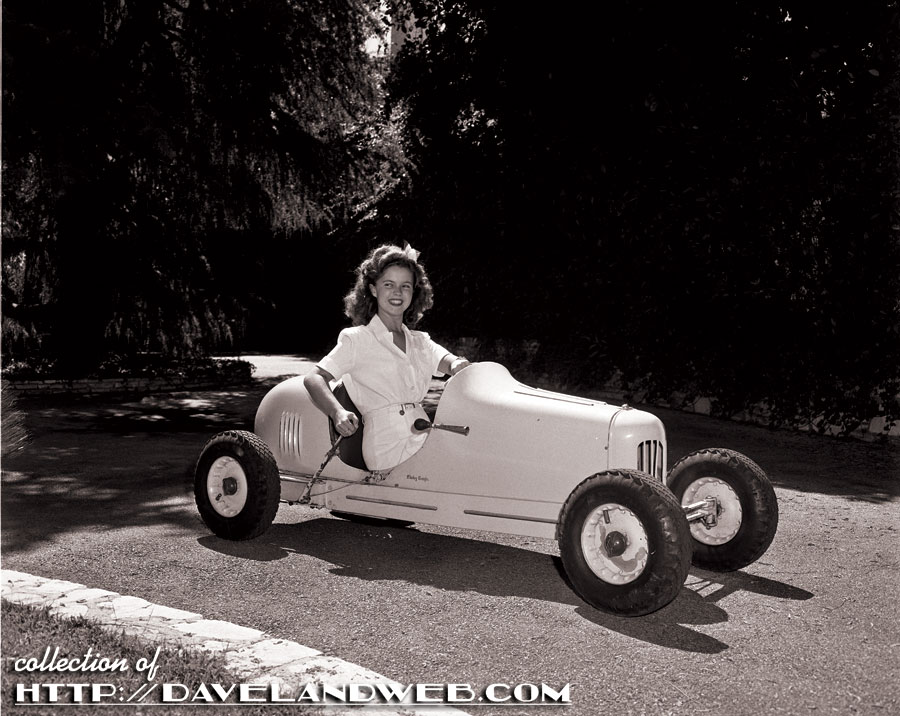 This 1940's image shows Shirley Temple at her Brentwood home, touring around the driveway for the publicity cameras in the miniature gas-powered Dreyer Racer car that was gifted to her by her beloved costar and dance partner, Bill Robinson. That tight smile tells you she was really wanting to hit the gas and race down the street!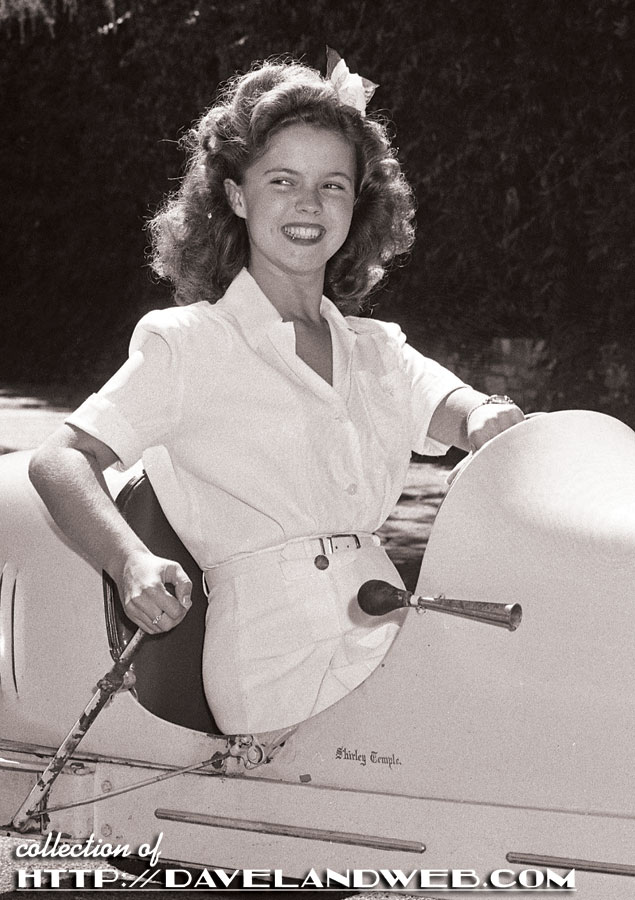 Zooming in, you can see that the hood ornament was missing. Was it broken? Removed for safekeeping?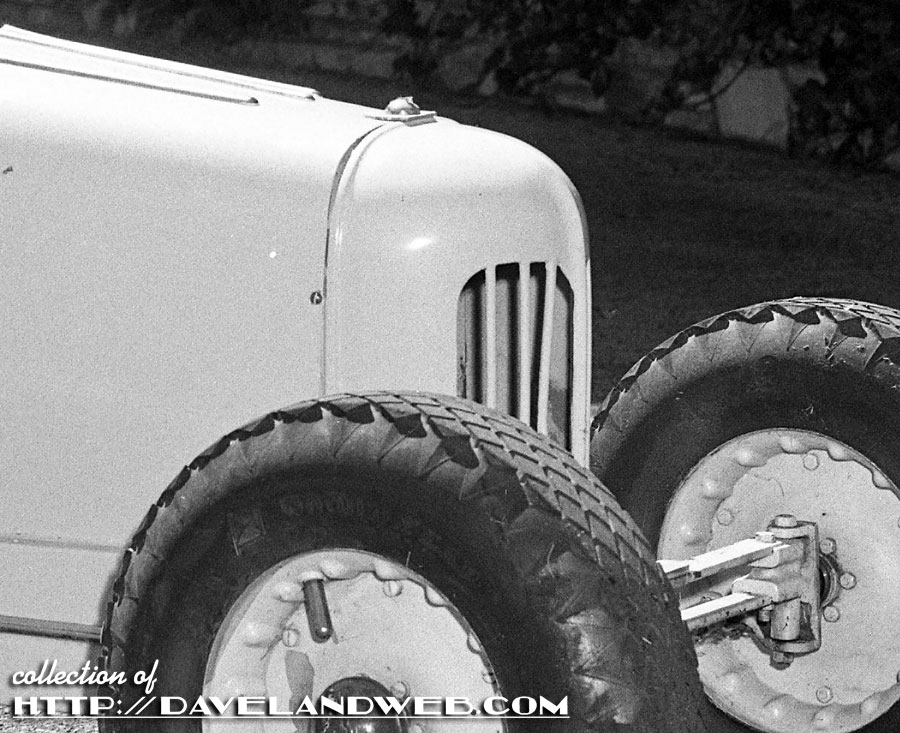 This shot found on the
justacarguy blog
shows Shirley and Bill driving around the Fox Studio lot when she first received the car (hood ornament visible!). Bill is holding on for dear life, as according to all accounts, Shirley was built for speed when behind the wheel of this car!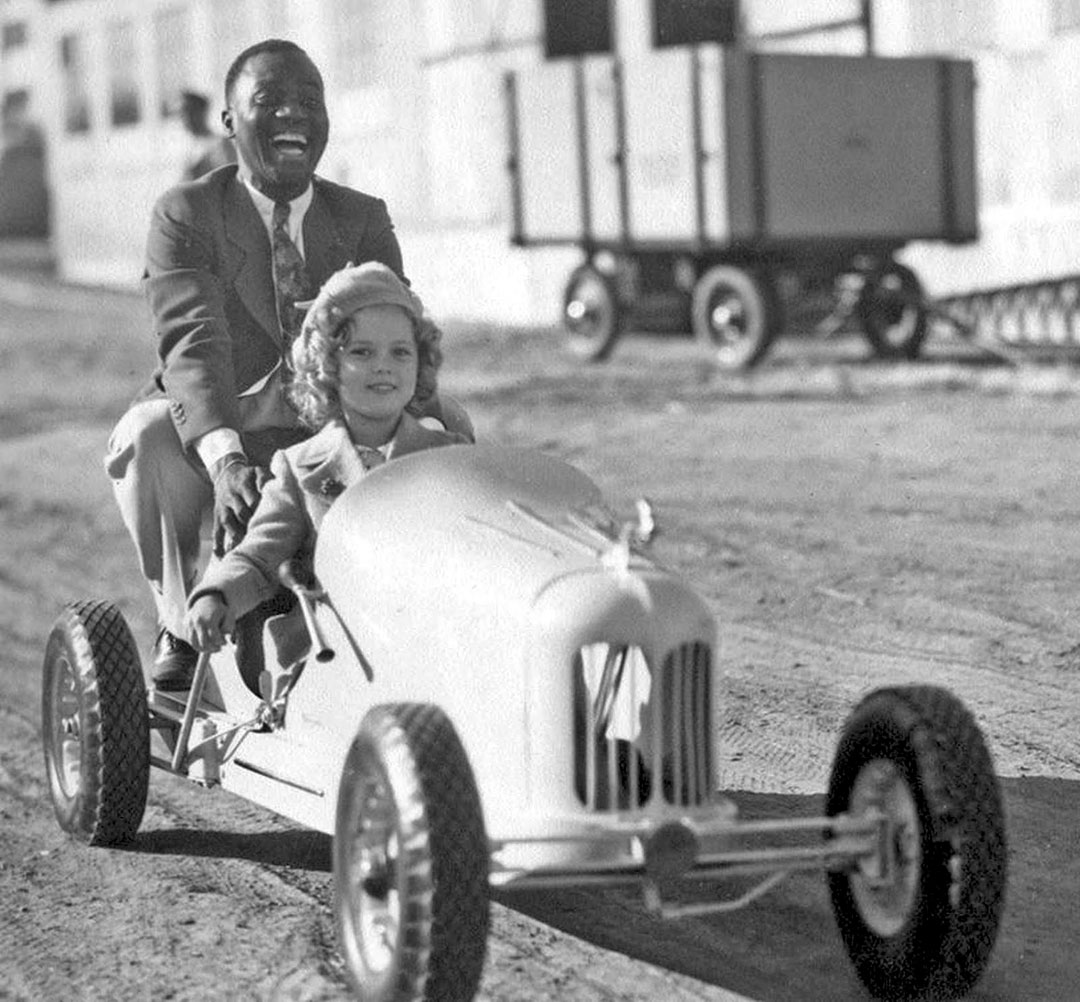 Floyd "Pop" Dreyer, a major race car builder throughout the 1930s, began building "Dreyer Racers" which were miniature race cars for children in 1933. The cars were powered by various small 4-cycle engines and used parts off production cars as well. At first, he was building them just for his own children but, as word got out, people starting coming to Floyd to build cars for their children as well. These cars became very popular and soon Floyd realized he had another revenue stream for his business. The price for a Dreyer Junior Racer was $150.00, but Floyd rarely sold one for that much. He sold one to a man with no legs, which he used as a motorized wheel chair. Child actress, Shirley Temple, bought one of the small cars and it appeared in an ad which Temple did for Quaker Oats.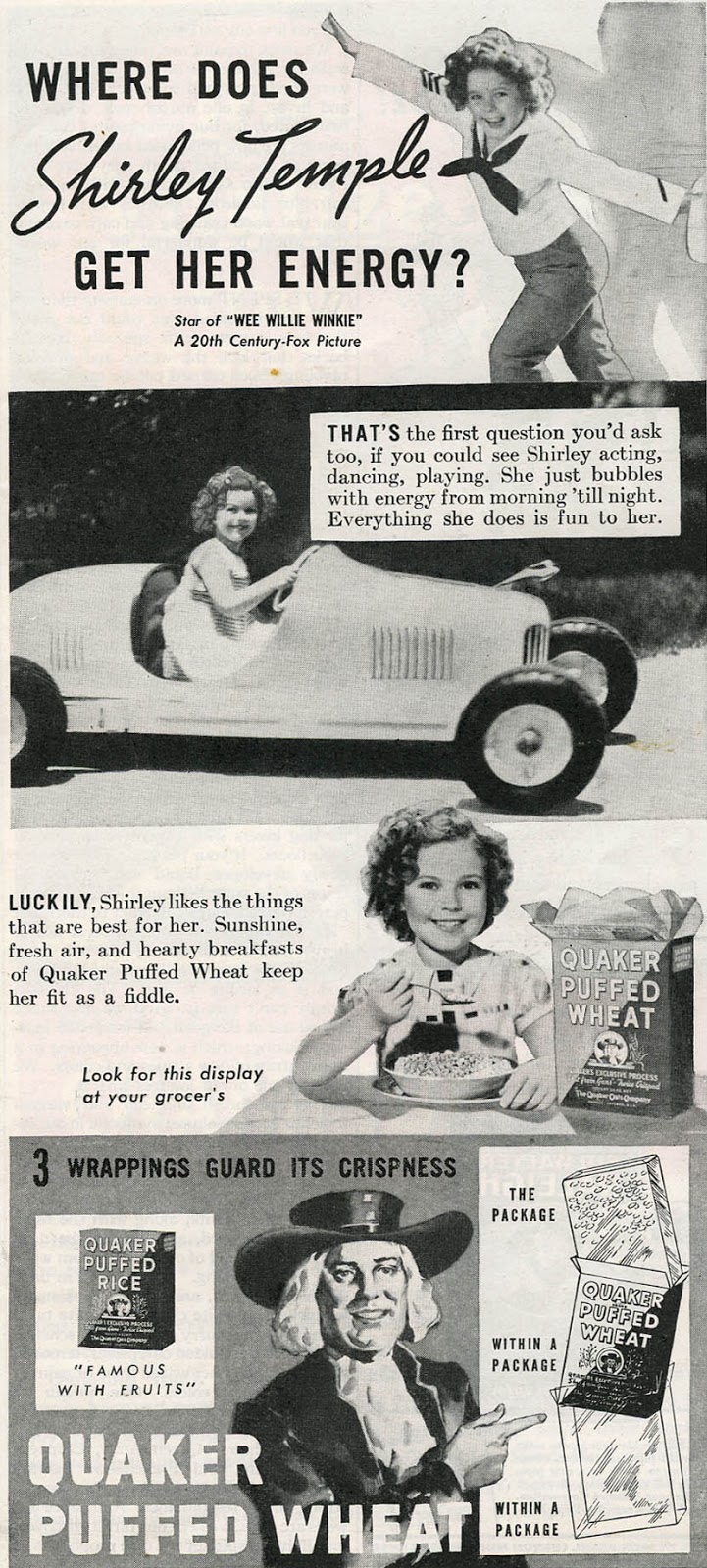 Years later, Floyd was watching the Academy Awards Show on Television when a special Oscar was given to Shirley Temple. During Temple's introduction, film footage of Temple at home as a child, driving her Dreyer Junior Racer was shown. That was quite a pleasant surprise for Floyd!
When the car was auctioned off in 2015 by Theriault's, this was the photo used in their catalog: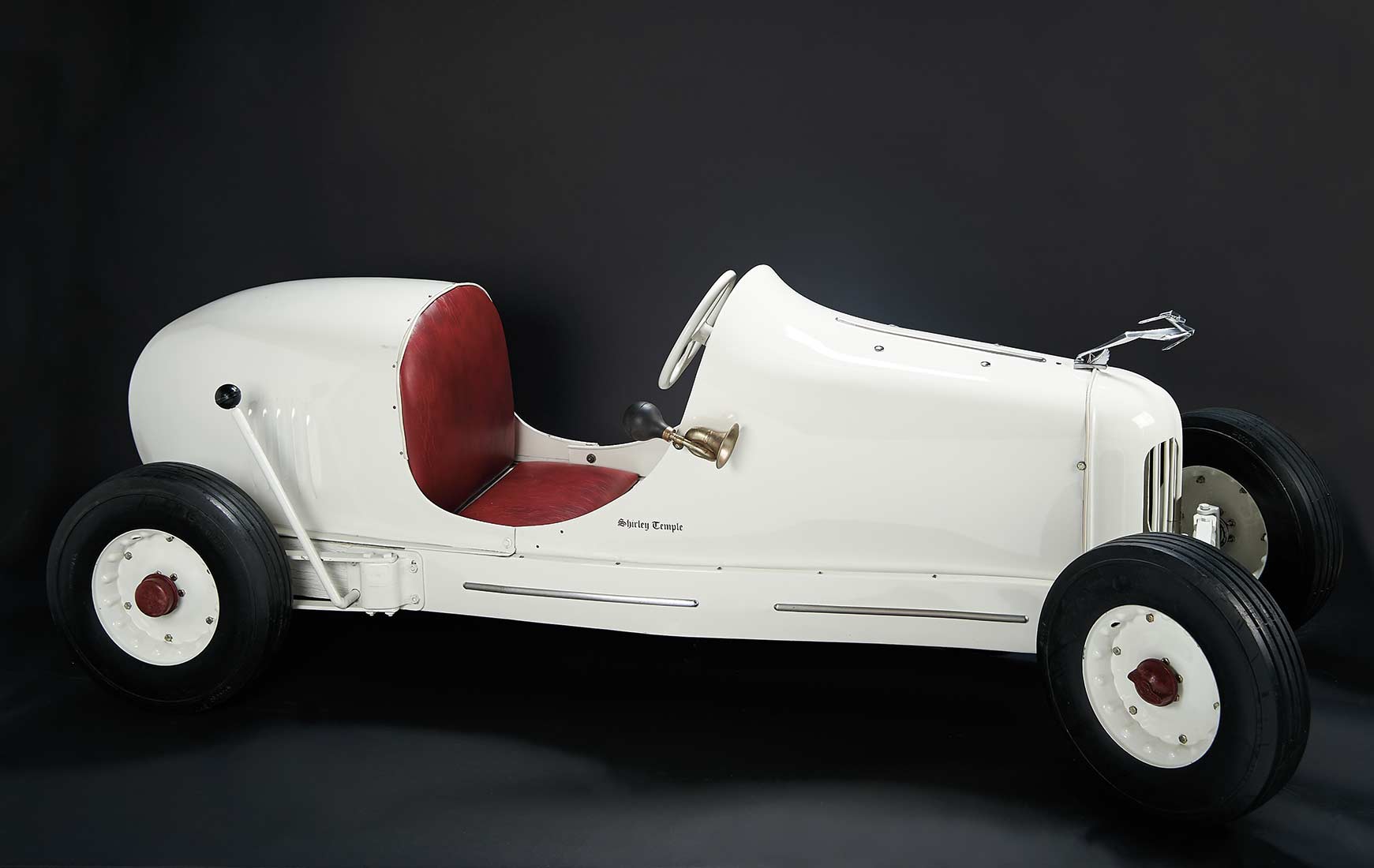 From the catalog description:
SHIRLEY TEMPLE'S CHILD-SIZED GAS-POWERED TETHER RACING CAR
The metal racing car with painted white enamel finish with Shirley Temple's name on each side, red leather upholstered seat, hood ornament, horn, brake handle, and a unique round license plate from Fox Studios at the front. Excellent condition with restoration to finish. Ranking at the top of Shirley's childhood possessions - and memories - was her model racing car, a gift to her in 1936 from "Uncle Billy Robinson" (Bojangles). In her 1988 autobiography Child Star, Shirley wrote "painted pure white with a red leather seat and chrome hood ornament of a leaping antelope, it was powered by a one-cylinder unmuffled lawn-mower motor...On my first solo run of studio grounds, Uncle Billy crouched on the back, showed me how to start, and we leaped forward. Veering into a nearby Fox publicist, I snagged a long tear in his trousers. My first traffic accident." Eventually the studio ordered the car removed to her own home where Shirley was "restricted to racing a circle around her own driveway, and soon lost interest".
Realized Price: $34,000 Presale Estimate: 10,000+
How the car looked when I saw it in person in Santa Monica: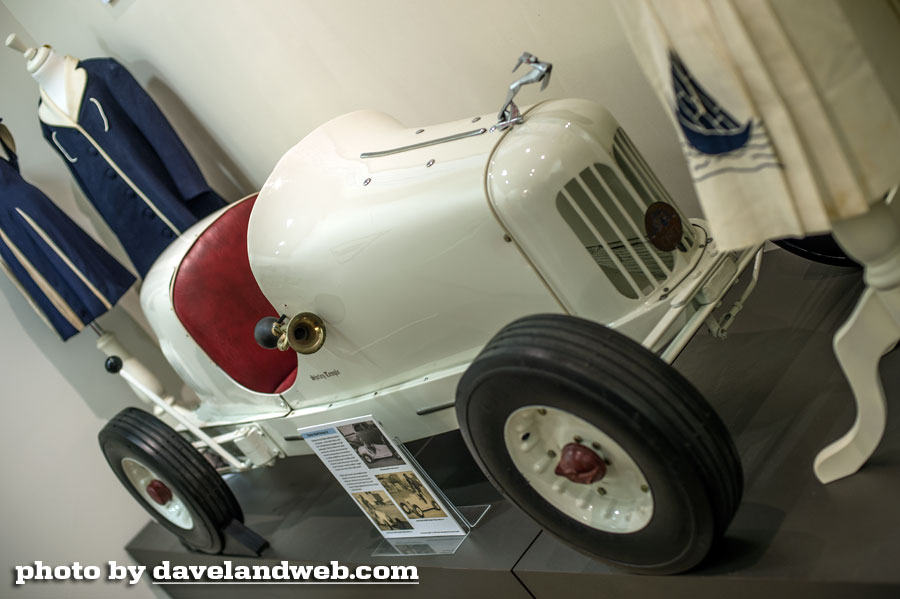 WITH the hood ornament!