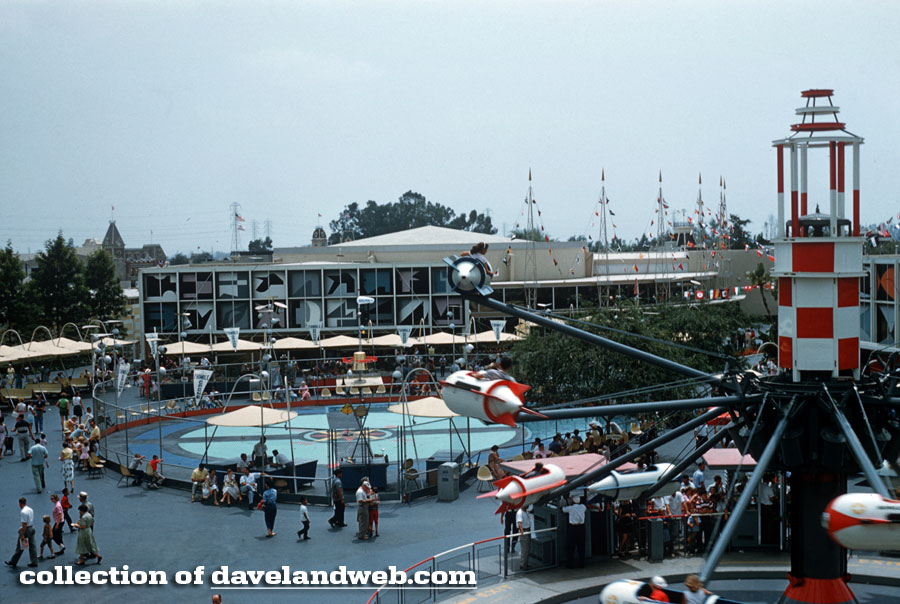 Many of you have been reading my blog for years are probably familiar with a frequent contributor and commentator, Cox Pilot. I knew him as Lee Heinly, the kind gentleman who worked at Disneyland during its early years and generously shared his memories and photos with me. I was greatly saddened when his daughter informed me recently that he had passed away. I never got to meet him, but it was still a blow to me, as he was my go-to guy when it came to first-hand knowledge of the park. And to boot, he was the nicest guy you could ever hope to correspond with. Today's post is dedicated to him.
As fortune would have it, Lee's Flight Circle friend and coworker George Molitor happened to email me wanting to know how to get in touch with Lee. George was saddened by the news, but still graciously offered to assist in today's tribute. The first photo for today is a July 1959 shot of the Tomorrowland Flight Circle. George supplied the caption: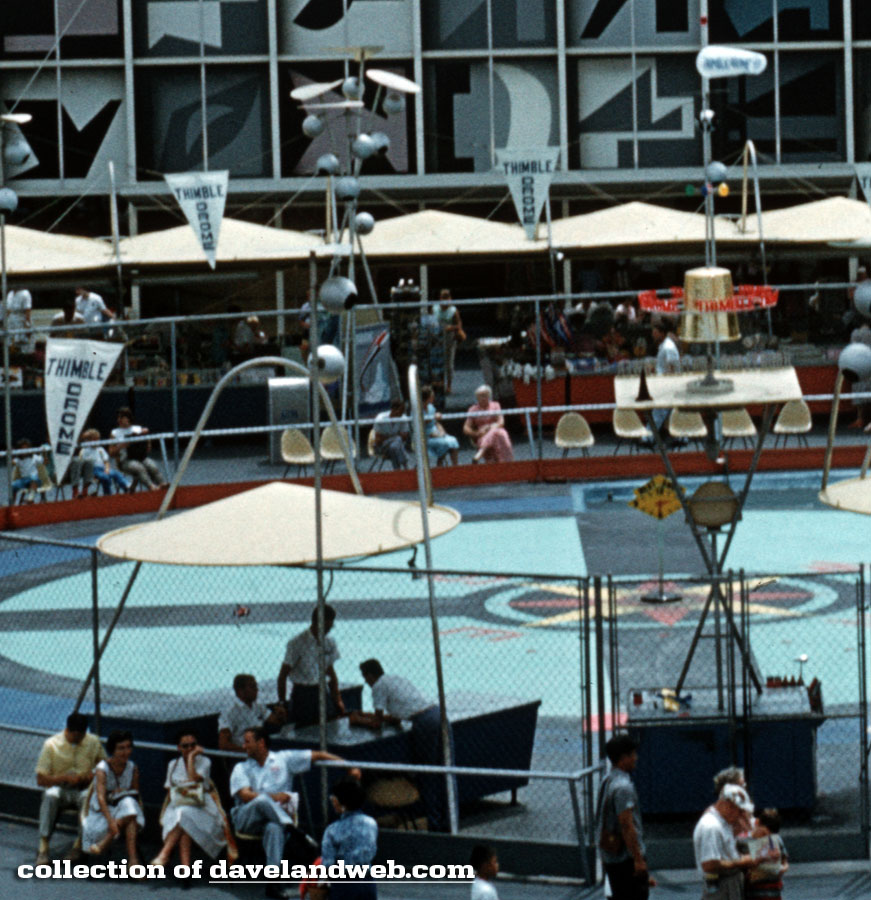 Keith Palmer is sitting outside with the ladies, Don Hatcher is on the left, and Bix Dunlavey is standing. I am leaning over the counter with back to camera. Looks like this was taken from the Skyway.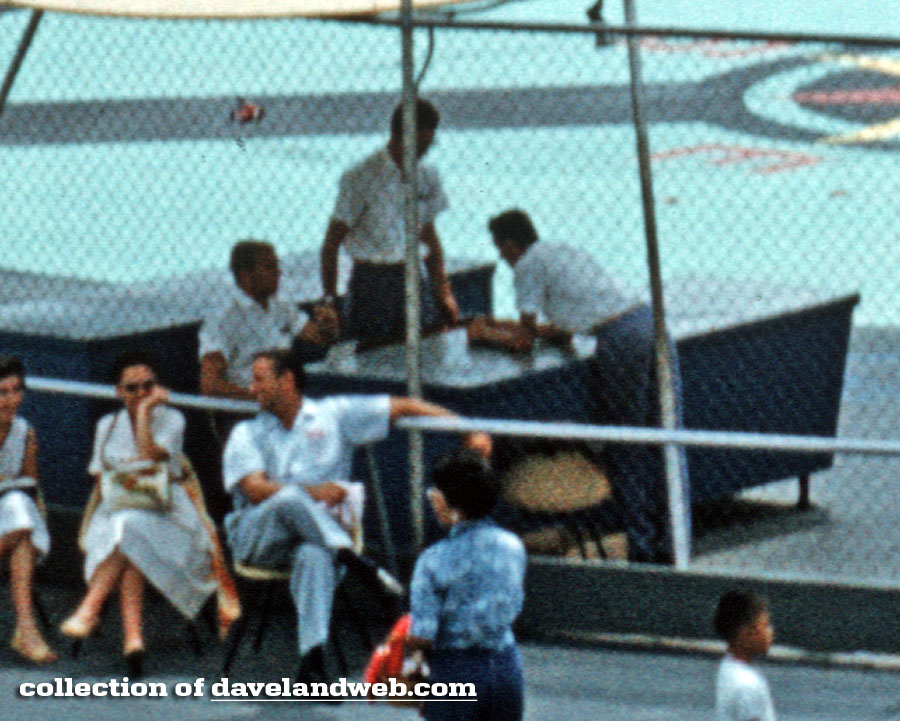 George was also kind enough to share these great memories about his time with Lee at the Flight Circle:
I have enjoyed this site for a few years now and want to thank my friend Lee for his recollections and Dave for putting them on the web. I recently contacted Dave and requested something from the site and he informed me that we lost Lee but asked if I would contribute something to the site. Lee has done a remarkable job of covering most of the history of the "Flight Circle" thanks to his job with Cox for so many years and also because he was there and his BFF was Keith Palmer. One thing I can see he was missing was the first few weeks so, I'll try to fill in some gaps!

Early Spring, 1958, I was finishing sophomore year, working for the Piper dealer at Fullerton Airport and taking flying lessons, and the President of Fullerton Model Club, sponsored by Leonard Oswald, owner of Fullerton Models. Mr. Oswald handed me a paper with the following information "Bill Selser, L. M. Cox" and a Santa Ana phone number. I made the call and was given an appointment for an interview. There were three others at the interview, Steve Loyal and two others I don't remember. It consisted of a short conversation and then flying several of the Cox products. Steve and I got the jobs! We were to fill the "crew" at the Flight Circle at Disneyland and would earn $1.00 hour. I think the only words I heard was "in Disneyland."

My first day was a "down day' for the park (Mon. or Tues.) and I met the Wen-Mac guys that came over to Cox. Don Hatcher was the lead man and did most of the early announcing. Travis Odom was a real cool guy from Arkansas and agreed to work the first Summer but wanted to go back home to his family. Bob Carlson was an engineering student at Cal-Poly and Cox agreed to keep him working through school. He offered Bob a job with Cox but Bob went into the construction industry. I actually ran into him on a couple of projects in the 70's. And of course Keith Palmer.

Our first few shows were, of course, a learning experience but we all seemed to click pretty well and adjusted the sequences until we found one that seemed to flow well and pretty much stuck to that for the rest of my 4 years there. Of course the "Grand Finale" was Keith flying three at once. He used the new P-40 for this and it was certainly a show stopper. I got to thinking that I could do that and was encouraged by Don, Keith, and Mr. Selser to try. The factory made me a mouth handle and I did succeed in mastering three at the same time. This gave our scheduling a great break for now we could perform the same show seven days with Keith & I overlapping one day.

I left Cox in October 1962 to enter the Ironworkers Apprentice program and spent 37 years putting up big buildings with a short time out (two years) for a stint in the Army including a tour in SE Asia 66-67. I also completed my flight training and earned a Private, Commercial, Multi-Engine Rating, Instrument rating and became a Flight Instructor in my spare time.

My memories of the Flight Circle days are very pleasant and one thing has stood out all of my life. Both the Disneyland people and the L M Cox people were more like family than employers. Mr. Disney, as Lee mentioned, came through the park frequently and used first names with his folks. LeRoy Cox did the very same. It is easy to see why Lee, Bart, Keith, and all the other Cox folks stayed for so long.

Dave, thank you for allowing me to bring up these fond memories of friends and events of my youth. I hope you can use some of it on your site. I also hope that maybe some of the others that worked there contact you and bring up there memories.
George Molitor

The last photo for today of an empty Flight Circle is a recently acquired image that seems eerily appropriate.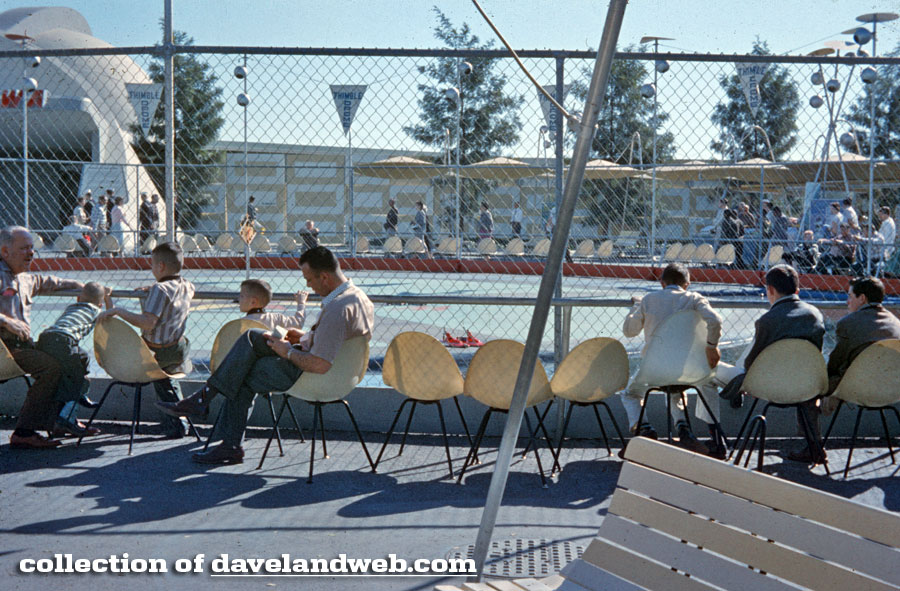 Lee, you are greatly missed.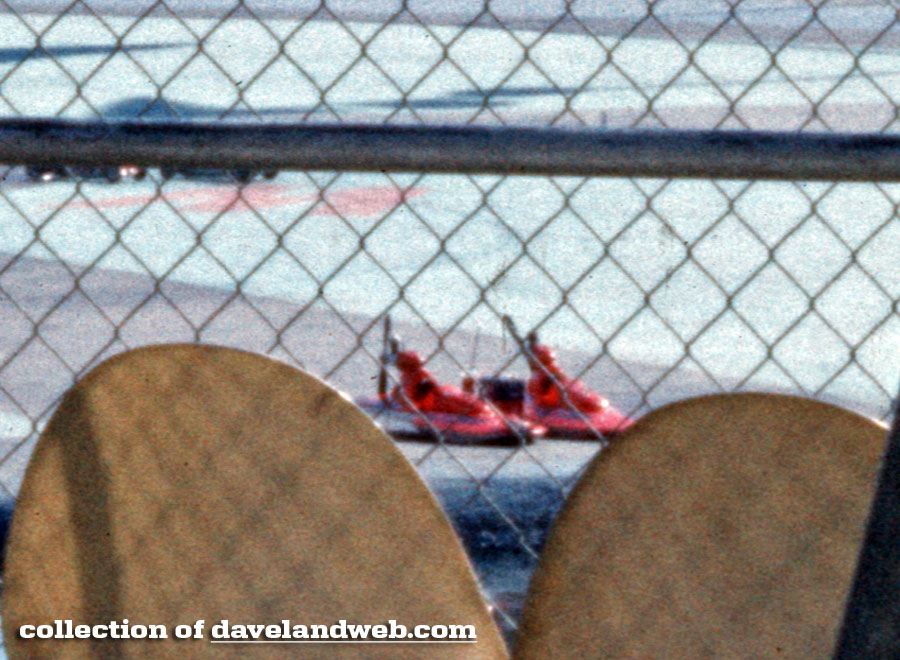 More Disneyland Flight Circle photos on my
main website.