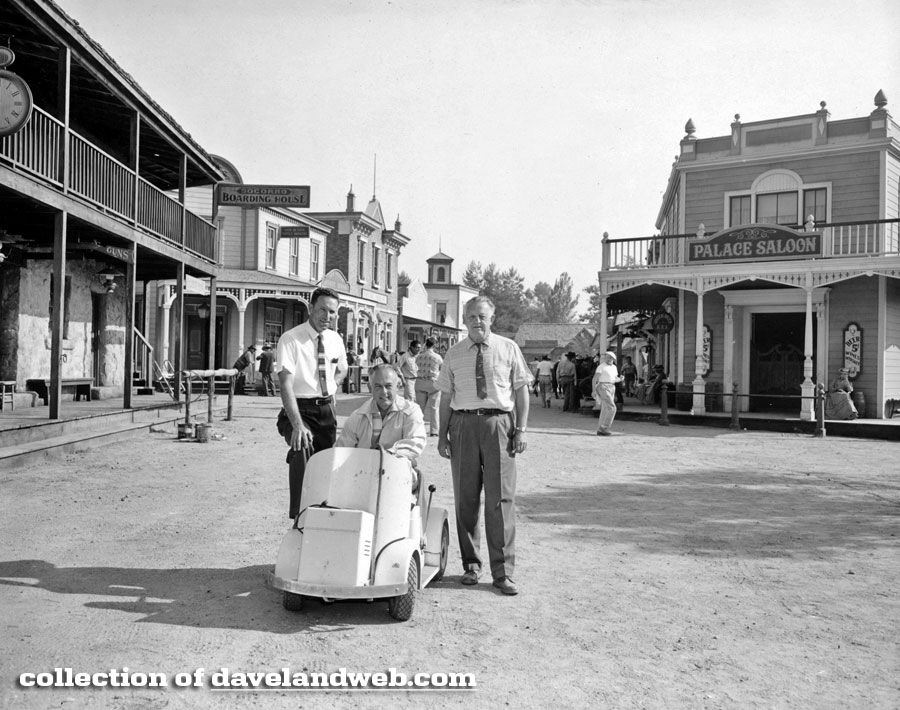 This July 1958 photo was shot during the building of "Western Street" at the Walt Disney Studios in Burbank, California and shows Western Street's designers/art directors: Stan Jolley, Marvin Davis and Carroll Clark. It was taken on a day that Walt Disney checked out the progress on the lot. Unfortunately, he is not in the photo!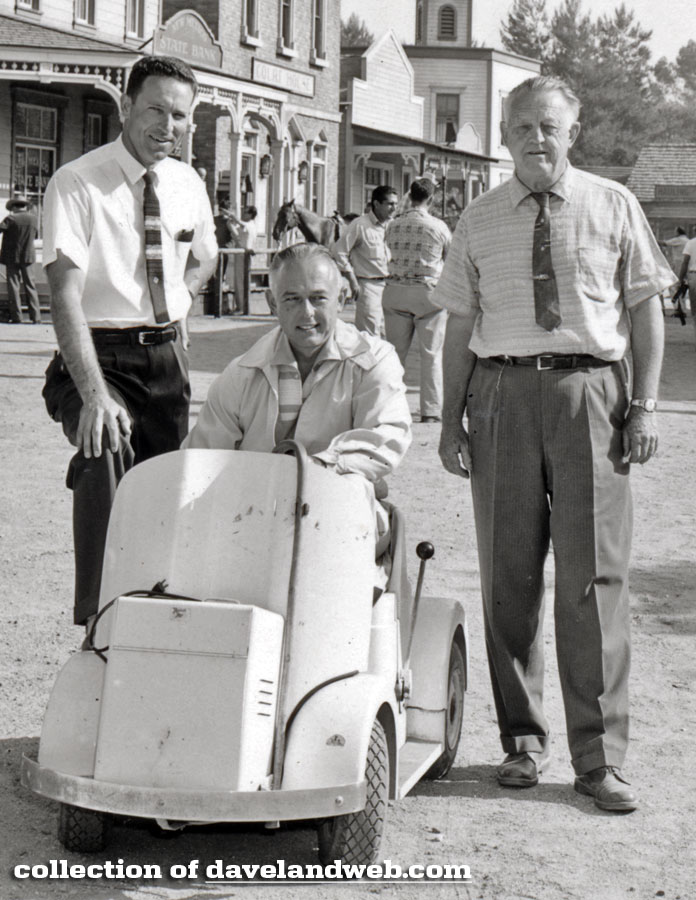 Most of the buildings on the Western Street were constructed in 1958 for the TV shows "Elfego Baca" and "Texas John Slaughter." Other productions which modified the structures for filming were "Darby O'Gill and the Little People," "The Love Bug," and "Those Calloways." The last major feature films to utilize the street extensively were "Hot Lead, Cold Feet" (1978) and "The Apple Dumpling Gang Rides Again" (1979). With the increased use of "on location" shooting, the back lot sets were gradually replaced by the Property building, the Zorro parking structure, the Frank Wells office building, and Stages 6 & 7.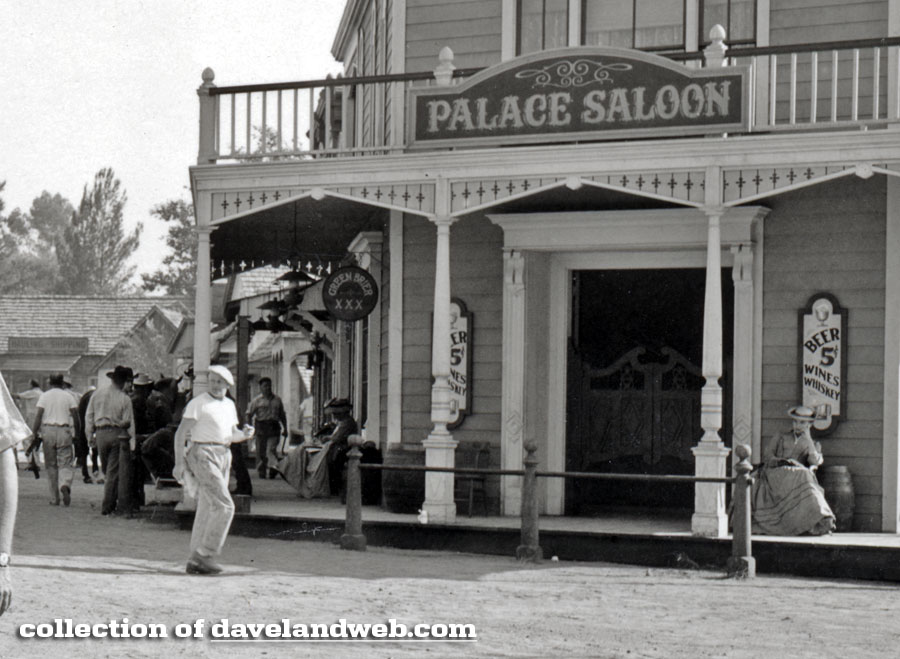 Stanford Jolley, Jr.,
known as Stan Jolley (1926-2012) was an art director and production designer who originally worked at The Walt Disney Studios on "Walt Disney's Wonderful World of Color" (1958-1964). He was nominated for an Academy Award in the category Best Art Direction for the Harrison Ford film "Witness" (1985).
Carroll Clark
(1894-1968) was an art director nominated for seven Academy Awards in the Best Art Direction category: "The Gay Divorcee" (1934), "Top Hat" (1935), "A Damsel in Distress" (1937), "Flight for Freedom" (1943), "Step Lively" (1944), "The Absent-Minded Professor" (1961), and "Mary Poppins" (1964). Clark also worked (uncredited) with Production Designer Van Nest Polglase on the original "King Kong" (1933). That's a pretty respectable list of films!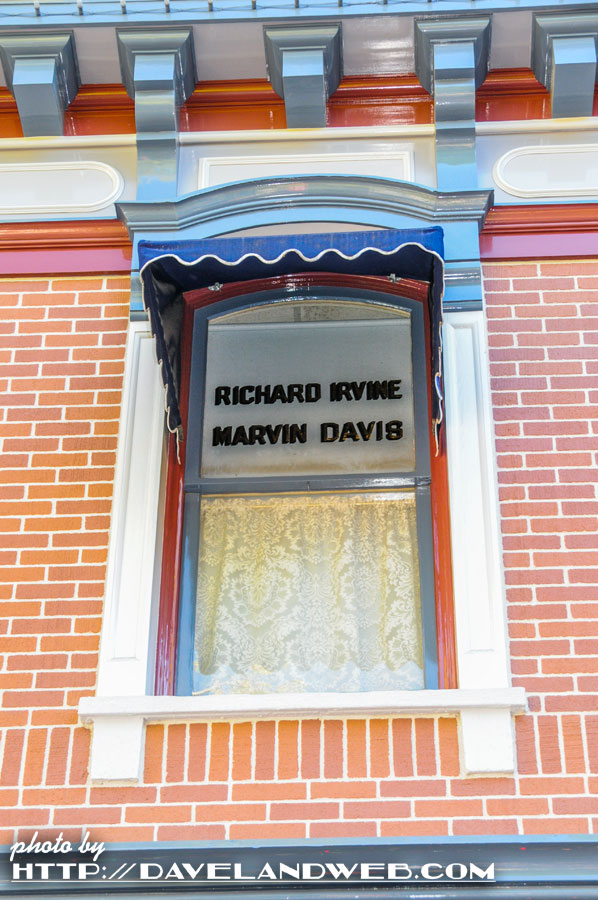 Marvin Davis
(1910-1998) was a master planner, art director and scenic designer. In 1953, he was invited by his friend, former Fox art director Dick Irvine, to join WED Enterprises (now Walt Disney Imagineering), the design and development arm of the Company charged with creating theme parks. Former Sr. VP of WDI John Hench recalled, "Marvin was very conscientious about developing the Park. He worked extremely hard to help bring Walt's dream to life, exactly as Walt envisioned it." At Disneyland, Davis designed the exterior of The Haunted Mansion, New Orleans Square, Sleeping Beauty Castle and the buildings on Main Street, U.S.A.. Davis had a famous argument with Herb Ryman as to which direction the top of Sleeping Beauty Castle should face. Davis' original front on the model of the castle was flipped backwards; Walt Disney walked into the model shop, liked Ryman's "front" better, and the design remains to this day. Davis became an Art Director with Walt Disney Studios after Disneyland opened, working on "Babes in Toyland," and television's "Zorro" and "The Mickey Mouse Club." Davis also won an Emmy for his work on "Walt Disney's Wonderful World of Color." In 1965, Marvin worked as a project designer on Walt Disney World, turning Walt Disney's ideas for WDW and Epcot into workable site plans, contributing to the design of Disney's Contemporary Resort and Disney's Polynesian Resort. Davis' window on Main Street is located above the Disney Gallery in Town Square.
See more vintage & current Walt Disney Studio in Burbank photos on my
Disney Studio web page.