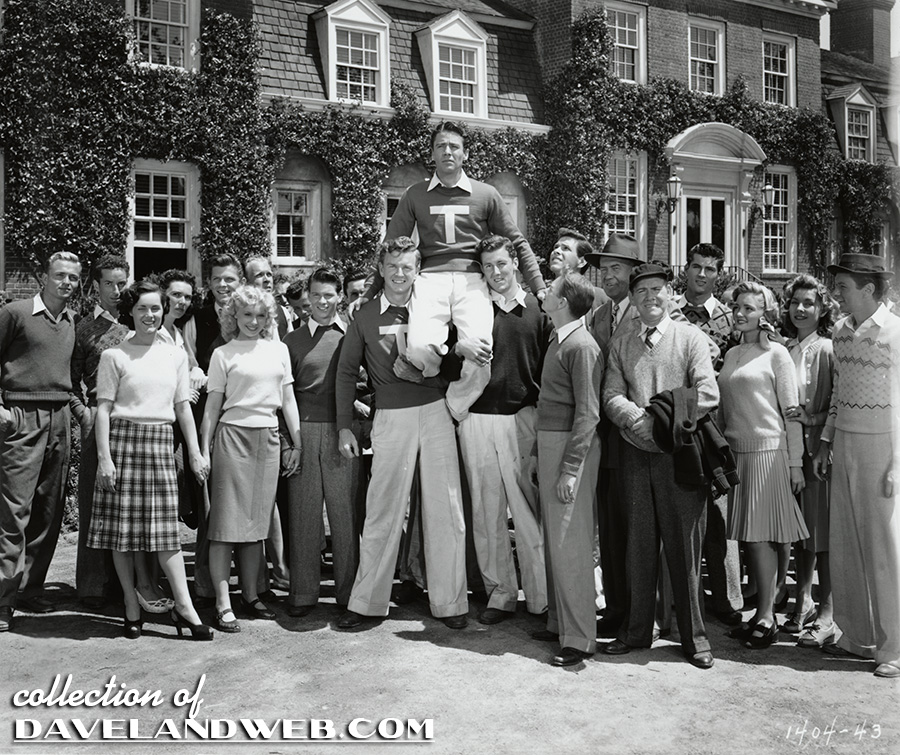 It doesn't have the splashy over-the-top production numbers typical of other Technicolor MGM Musicals, but "Good News" is still one of my favorites from that period. Star June Allyson also considered this to be one of her personal favorites, and it surely shows in her vibrant performance as a student working her way through college. Note: Allyson was 30 years old when she made this film, and costar Peter Lawford was 24. Her perkiness and youthful zest makes the whole thing totally believable...or at least acceptable!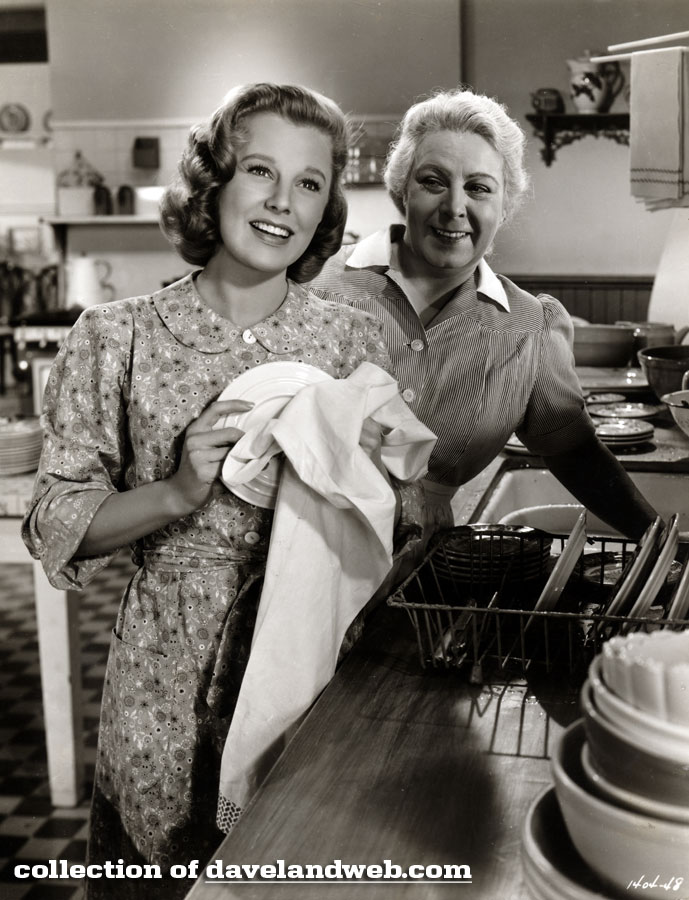 The plot is pretty simple: student librarian Connie Lane (Allyson) falls for Tait College's football star Tommy Marlowe (Peter Lawford) after giving him a lesson in French. A gold-digging vamp, Pat McClellan (Patricia Marshall), sticks her hooks in Marlowe when she mistakenly believes he comes from a wealthy family. Who ends up with Marlowe? Do you even need to ask?
Department of Irony:
Lawford spoke fluent French but Allyson did not, so he had to teach her how to teach him to speak French for their introductory scene, which you can see here:
As Allyson recalled: "No one made any effort to change Peter Lawford's British accent to American. For that matter, my French accent was atrocious and his was superb - he spent hours teaching me how to teach him French."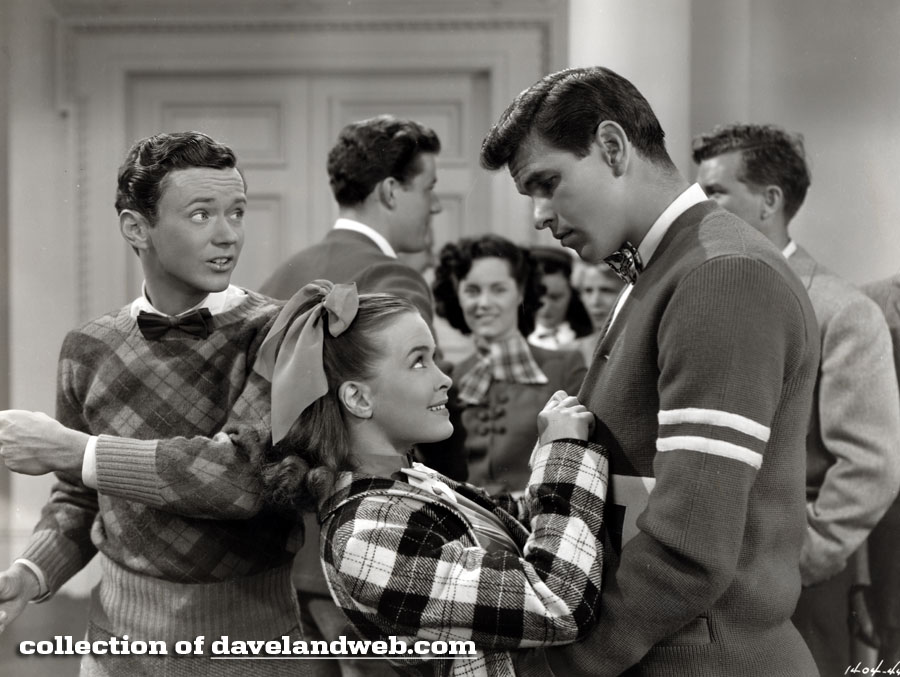 Originally, "Good News" was to be a blockbuster musical starring Judy Garland and Mickey Rooney, but instead, the popular duo filmed "Strike Up the Band" (1940). By the time "Good News" appeared on the MGM production list, Garland's popularity precluded her from being in a lesser vehicle such as this. Fortunately, June Allyson was on hand to play Connie. Her natural performance and chemistry with Lawford make the film a total joy to discover. Choreographer Chuck Walters earned "Good News" as his first directorial assignment; he did such a great job that he was given "Easter Parade" with Garland and Astaire as a follow-up. MGM contract player Gloria DeHaven was unhappy about the roles being given to her, and thus refused to play the part of Pat McClellan, which led to a brief studio suspension. Irony of ironies is that had she taken this role, it most likely would have helped her career. Instead, her next film was the forgotten "Summer Holiday" with Mickey Rooney.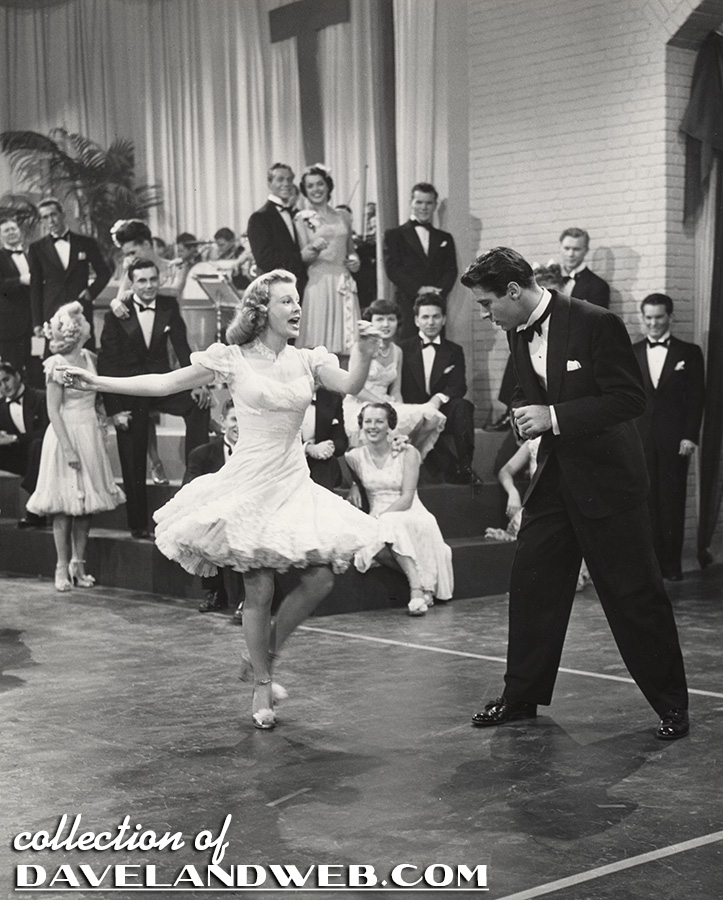 Lawford's singing leaves a bit to be desired (especially when compared to costar Mel Tormé's), but his dancing in the finale is top-notch, thanks to hours and hours of practice. When his former dance teacher saw the film, she exclaimed, "Anybody who could teach that boy to sing and dance in time has got to be a genius." You can see the fruits of Lawford's labor in the energy-filled finale, "The Varsity Drag." Are your toes still tapping?
Follow my Daveland updates on
Twitter
and view my most recent photos on
Flickr
. See more vintage Hollywood Move & TV star photos on my
main website.