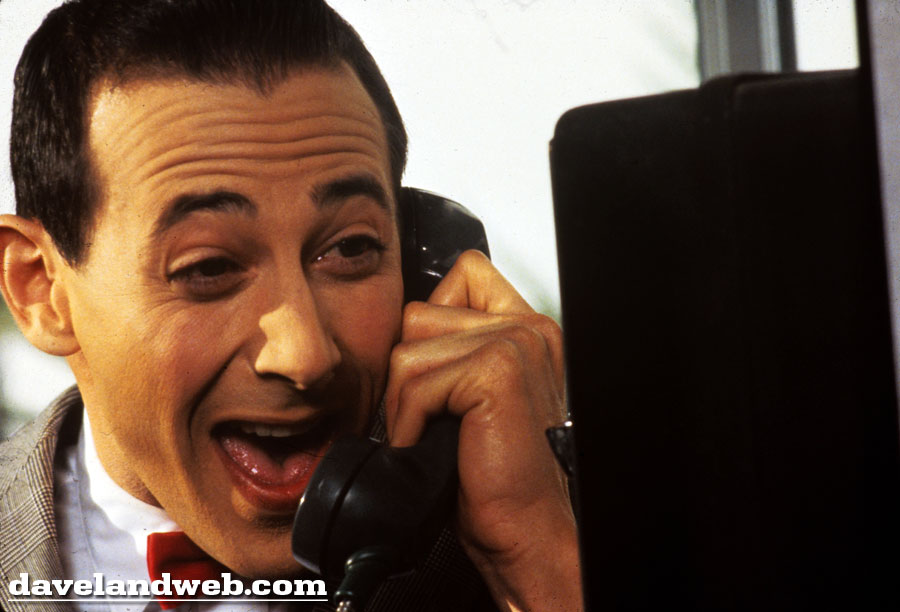 I'll admit I was somewhat annoyed and angry last year with Pee Wee Herman/Paul Reubens when he canceled his show at the Henry Fonda Theater and switched the venue & dates. Sure, we got refunds, but some people had already booked hotels and plane tickets to see the historic resuscitation of his Pee Wee's Playhouse TV Show "LIVE" and on stage. Despite the pain-in-the-ass process of getting new tickets, I went ahead and rebooked for the Club Nokia show, and damn, am I glad that I did!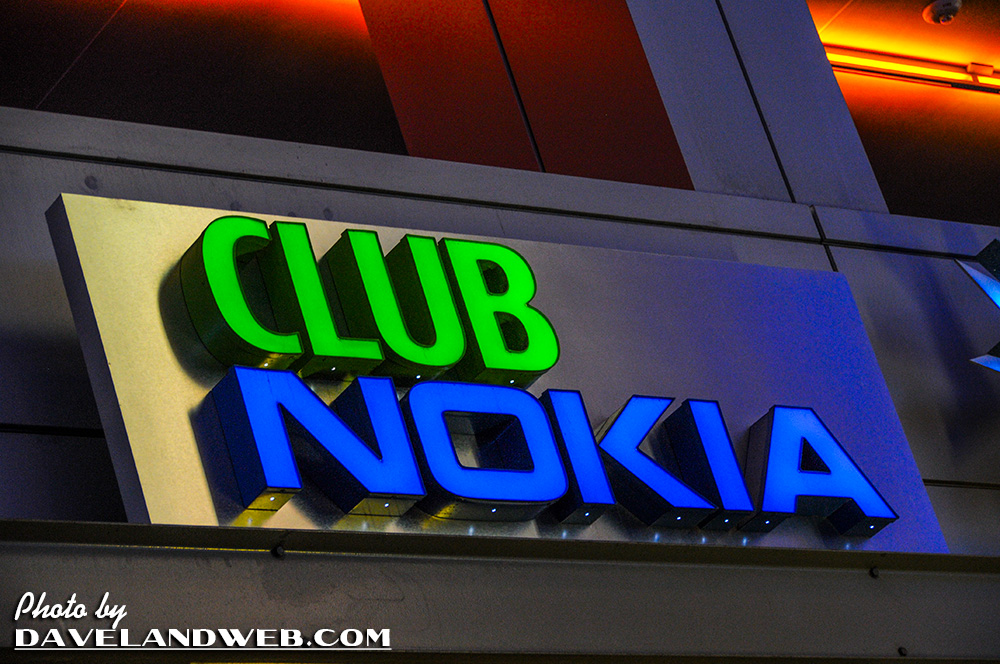 First of all, Club Nokia was a fantastic venue. Located in the vibrant Staples Center area downtown, there is so much going on there! Trader Vic's, ESPN, Katsuya, and the upscale Lucky Strike Bowling Lanes. The vibe at Nokia was that of an intimate club, making the audience feel like that they were right there on stage. I had to laugh as one couple attempted to bring a foil ball through security for Reubens to autograph.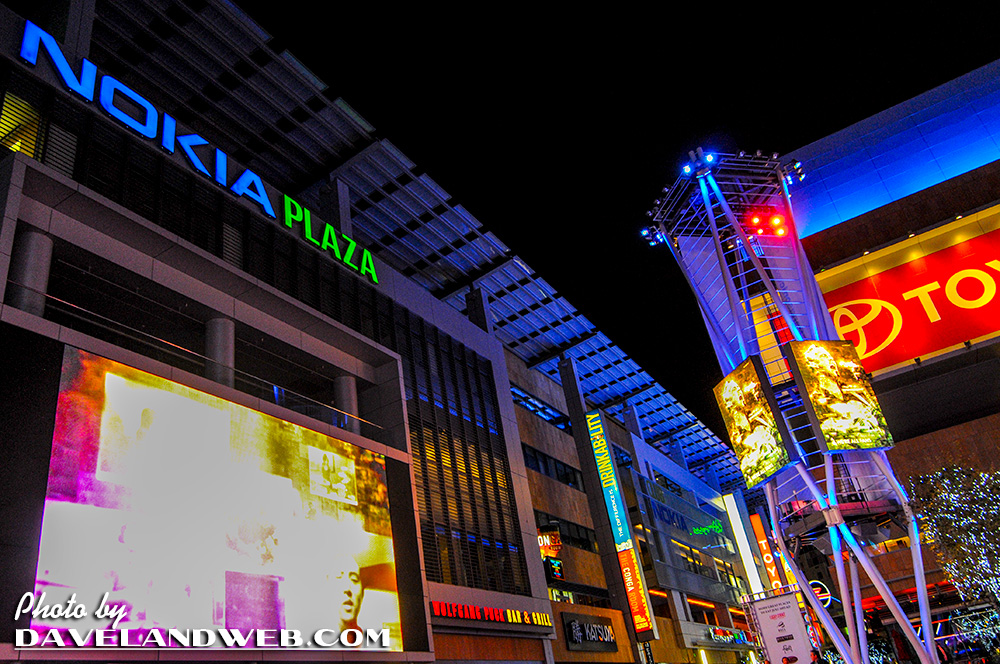 The show was fantastic; lasting over an hour, it was as if the clock had rolled back 20 years. Paul Reubens as Pee Wee looks ageless; the suit fit him perfectly and there were no awkward moments thinking, "Wow, he really shouldn't revisit this." The Playhouse set was spectacular; it was as if his TV Show had come to life. It was obvious that some money had been spent on putting this production together (about $2 million to be semi-exact—and it shows). Many of the Playhouse favorites were on hand, some still portrayed by the original actors, like my personal faves Miss Yvonne (Lynne Stewart) & Jambi (John Paragon). New actors tackled the roles of Cowboy Curtis and The King of Cartoons, and both did a fine job. Jesse Garcia portrayed Sergio, the electrician, and displayed fantastic chemistry with Reubens as he attempted to update the wiring, phone system, and computer at the Playhouse. John Moody returned from the original stageshow as Mailman Mike, joining new characters Firefighter (Josh Meyers) and Bear (Drew Powell). The show is still aimed at kids, with plenty of fun innuendo and thought-provoking humor to keep the adults having fun, too.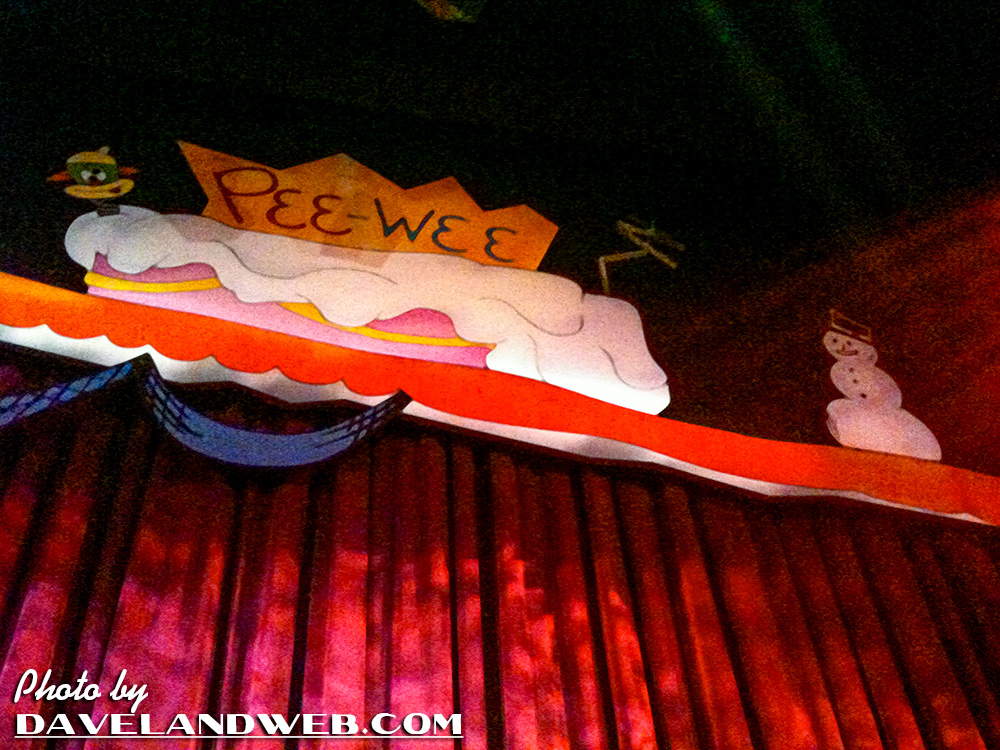 After the show, Reubens stayed true to his word and joined a small group for a "meet and greet" question and answer session for those of us who had bought tickets for the original show and were patient through the reticketing situation. When the L.A. Times was in the audience on a previous show, his PR folks had told him not to call us "angry fans," but he admitted that he knew it was a pain for all of us to go through that and that he was truly grateful for us to stick it out. he explained that the main reason he switched theaters was because the Henry Fonda/Music Box Theater could not give him a long string of consecutive dates; instead, he would have had to remove the show and props every three days, which would have added a great expense to an already expensive production. Reubens also let the audience in on his schizophrenia about doing the meet and greet; to the other castmembers, he openly groused about wishing he could just go home after the show. However in truth, he loved meeting the audience, answering their questions, and getting connected with the fans in a more intimate way.
Once that little bit of housekeeping was out of the way, Reubens came down off the stage and paced back and forth (he said it was a leftover habit from his prison days!) generously answering questions from the audience. He likened his pacing to the Deborah Kerr character from "The Chalk Garden," starring an early Reubens crush, Hayley Mills. It is discovered later in the film that Kerr's constant pacing is a result of her previous stay in prison.
Some of the questions were quick to answer: "Is your bowtie a real one or a clip-on?" In character, he quickly shot back, "Ma'am, you must be very naive! (followed by a Pee Wee giggle) It's a clip-on, with an elastic band around my neck to make sure it stays clipped on! I wouldn't even know how to tie one of these things!"
"Are you planning to release your series/movies to Blu-ray?" With a smile on his face, he said he couldn't answer that at this time. Possibilities of the show touring/Broadway were brought up, but again, nothing in stone. A few moments later, another audience member asked a similar question and Paul replied, "Some people might say that you're not a good listener!"
"What happened to make you decide to bring back the Pee Wee Herman character?" Immediately he responded with "Nothing. It just came to me all of a sudden and it wasn't triggered by anything. And besides, I wasn't getting any younger!"
"You look great—how did you get back into shape for this stage show?" It's true, the 57 year old Reubens looked much younger. Formerly a smoker, the weight was easier to keep off. Trying to quit was difficult; he even did an anti-smoking campaign as Pee Wee, thinking that would force him to stop. Not so. Finally, he quit smoking over 8 years ago, but admitted that like many others, he put the pounds on by eating more. It finally got to a point where he reached a crossroads of sorts: "I could have gone either way. I could have gotten back into shape, or I could have started shopping for caftans and moomoos. Really, it would have been easy to let myself go." Instead, spurred on by the upcoming stage production, he took the weight off.
"How did the 1991 MTV Awards Show appearance come about?" Reubens said that after his arrest and "disappearance," fans wondered what happened to him and if he was okay. He was told he needed to make an appearance somewhere and was given a list of shows/events to choose from. MTV was the lucky winner and his "Heard any good jokes lately?" broke the tension immediately.
In discussing his work with Cheech and Chong, it was early in his career, back when he was part of the Groundlings. Cheech and Chong utilized many of the Groundlings in the cast of their first two movies, subtly getting them to write much of the script yet only paying them and giving them screen credit for acting duties. So excited to simply be in a movie, the comedians from the Groundlings were naively accepting of this double duty for paltry compensation. When Reubens heard about the Cheech and Chong film "The Corsican Brothers" being filmed in France, he was all too anxious to be a part of it so that he could travel to Europe. His agent wisely advised him against it: "You've already done two Cheech and Chong films; go to France on your own!" Reubens heeded the sage words and in hindsight, knows he made the right decision.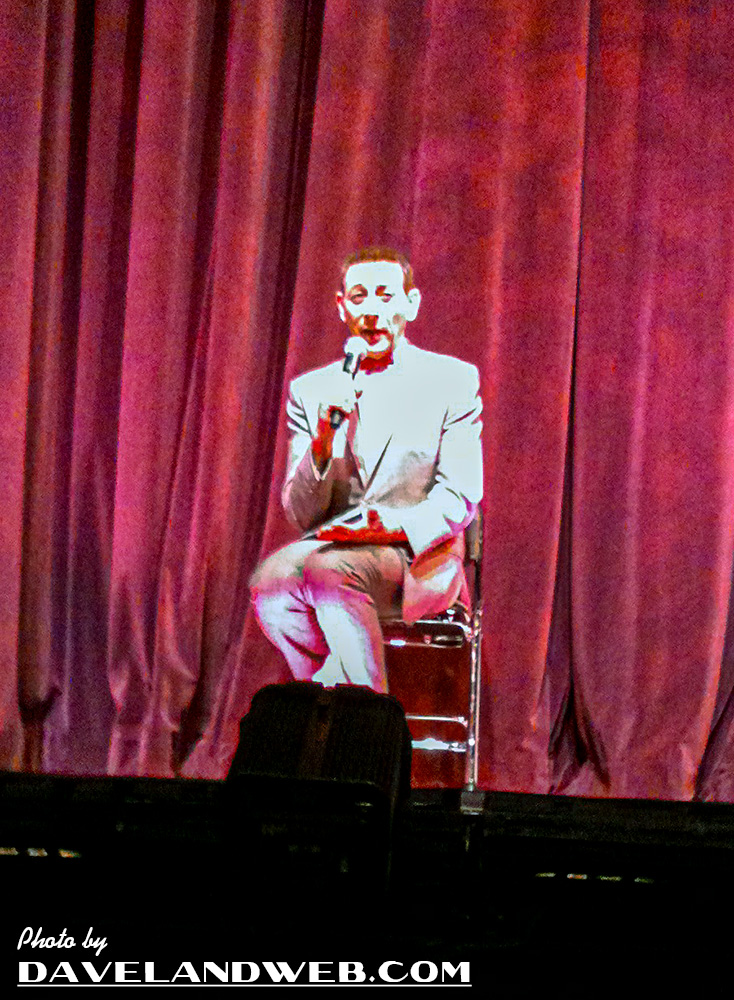 Reubens had nothing but praise for Tim Burton, the director of his cult classic movie, "Pee-Wee's Big Adventure." Only about 26 at the time (but looking like he was 12), Burton was personally selected by Reubens because of his obvious talent with art direction. Many execs questioned why he wanted someone with a skill for art direction with a low-budget film like this, and Reubens shot back to them, "It's not costing you any more money, why do you care?!?" He elaborated about the beautiful lighting of the dinosaurs in Cabazon that Burton achieved, and many other little details that kept the film from just being a throwaway. He shared the delight that he and fellow comedian/writer Phil Hartman shared when they saw their script come to life. They had written an Edsel into the script for the escaped convict scene, and lo and behold, two Edsels appeared ready for production. "The power of the pen!" laughed Reubens. Hartman enjoyed playing many different characters and was concerned that Reubens was only focusing on Pee Wee instead of the many other characters in his repertoire. This was never really a concern for Reubens, who said he had no problem going full steam ahead with Pee Wee. One audience member asked what the inspiration was for picking the song, "Tequila" from the classic dance sequence set inside the roadhouse/biker bar. He really couldn't remember anything specifically, but he did say that in the script for the new movie that he is working on, he hopes to have an homage to the "Tequila" scene. Set entirely in Puppetland, he has written a scene on a Pirate ship where he has to walk the plank. When the Pirate Captain asks for his last request, it's "Everybody Dance Now" by C+C Music Factory. Reubens hopes this scene makes it intact with that particular song.
Especially touching was the generous amount of time Reubens took to answer the question of Frances, a cute 13 year old girl. "I shouldn't have ANY problem remembering that name!" he quipped, which caused the audience to laugh as they remembered the obnoxious rich-boy Francis (Fran-SIS!) from "Pee Wee's Big Adventure." She wanted to know his career highlights and what advice he would give to aspiring young actors. Very genuinely, he told her that if acting was her passion and she couldn't live without doing it, then that's what she should do. If that wasn't the case, then find something else that you have a passion for and follow that. Reubens also keenly related to the audience that in his younger days, he was very conscious not to edit his hobbies or ideas just because they may have seemed weird or unrelated. This open and creative way of thinking paid off in spades for him and definitely contributed to his later success & appeal through his innovative TV show & films.
One of his best anecdotes was about Michael Jackson. Reubens was a little foggy about the details, but he said he was tapped to play Jackson's stunt double in a fake documentary that Jackson was filming. He remembered the title as possibly, "Moonwalker" (1988) and said that it also had other celebrity cameos such as Elizabeth Taylor & Sean Lennon in this supposedly still unreleased comedy (I did some checking and saw that it was in fact released and available on Amazon). Reubens still remembers the filming on the Universal backlot and said that when he finally met Jackson face-to-face, they were sitting across from each other in a trailer, both extremely silent. Overcome with fear of what to say, he kept talking to himself, attempting to get the conversation started. Initially, all he could think about was, "Who's wearing more makeup? Back in those days, you could write your name in my face with the amount of makeup I had on." Finally, Paul just blurted out, "So, do you like Prince?" Reubens did a letter-perfect imitation of Jackson's high-pitched voice when he related the later entertainer's response: "Prince was so mean to me! Prince was so mean to me! Prince was so mean to me! Prince was so mean to me! Prince was so mean to me! Prince was so mean to me!" No exaggeration; Reubens said he counted Jackson repeating this 6 times. Prince had gone out with sister LaToya, and when he came to pick her up at the Jackson house, according to Michael he was ill-treated by the pop legend. Even so, years later he named to of his children after Prince, noted Reubens. Despite the funny story, Reubens had nothing but respect for Michael Jackson's talent, mentioning how in his early days, he always had Michael's music playing in the background while he was working.
Brief picture interlude: the portrait I painted of Reubens as Pee Wee: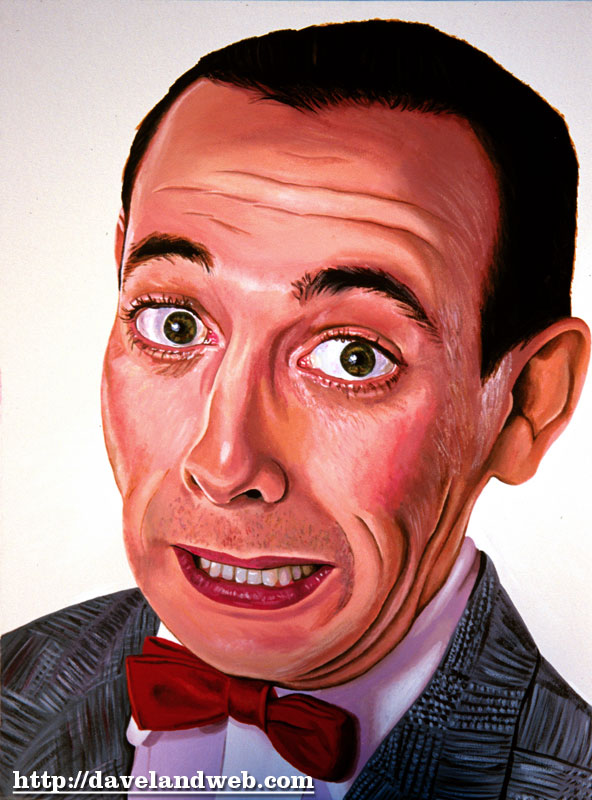 Both Reubens and Mel Gibson were born in the same city of Peekskill, New York. Reubens dreamed of the day that he would be able to meet Mel and tell him about this fact. When they did finally meet while working on a film short for Walt Disney World, before Reubens could get it out, Gibson said, "I know, I know, I know...we were both born in Peekskill!" Reubens happened to mention with a smirk that Mel had to stand on a box to appear taller during their scenes!
The audience was also given homework; for some of the most outrageous YouTube videos, we were told to check out The Hoff (David Hasselhoff) performing "Hooked On A Feeling":
Charro singing "Love Will Keep Us Together":
And the Gyrations of Flirty Girl Fitness:
Apparently, David Hasselhoff had attended the show with his daughter ("Not sure if it was the hamburger daughter" quipped Reubens) and all eyes were on him; never mind the plethora of other celebrities in attendance; The Hoff was the only one people cared about.
"Flirty Girl" was the inspiration for one of the two deleted segments from the stageshow that Reubens discussed. Miss Yvonne did a "commercial" in the show for Bumpits, showing the audience how to get fuller and higher hair (she even gave Chairry the Bumpits treatment!); this was to be followed up by Miss Yvonne doing some of the pole dancing gyrations and turns from the Flirty Girl infomercial. Due to a potentially younger audience and time constraints, the Flirty Girl bit was deleted. Another casualty of both time and money was a reference to the plethora of Medicinal Marijuana shops in Los Angeles. As Reubens told the audience, every child in Los Angeles has seen a few of these storefronts as they appear to be everywhere, so including some humor about them didn't seem to be inappropriate to him. The original Beatnik puppets were to make a reference to being more relaxed because of the Medicinal Marijuana and would then suggest that Pee Wee take some to reduce his anxiety; Pee Wee's response was to be, "No, I can't! Next thing I know I'd be doing Heroin!" The Heroin was quickly cut as the higher-ups felt it was too controversial for the Pee Wee character to utter; on top of that, the addition of the Beatik Puppets would have added another $6,000 to the budget. So, instead, the joke was given to Randy, and "Heroin" was changed to a "Just say no" pun. At this point, the joke became so watered down that Reubens wisely deleted it all together. Some of the deletions included castmembers, most notably famous comedian Edie McClurg. Reubens was truly regretful and felt horrible that his initial, "Hey, I want you in the show" had to be changed to "Hey, we can't have you in the show" for a few of the actors. On his day off (today), he said he planned to call Edie to make sure there were no hard feelings.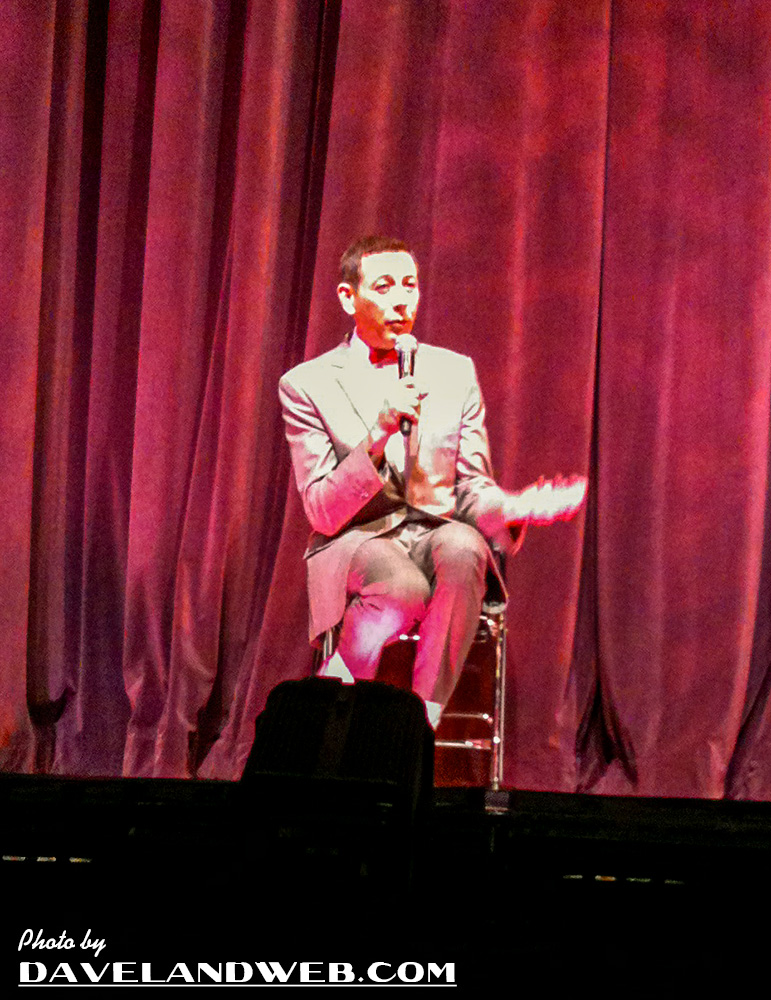 The last story for the evening was about a star-studded party thrown by George Michaels that Reubens attended right about the time his career began to skyrocket. He went with a few friends, and as it turns out, one of the girls was dating Bob Dylan. Reubens was tongue-tied when Dylan joined the group, carrying a few drinks. Dylan himself was starstruck with admiration as he admitted that Pee Wee was one of his idols. Tom Petty had apparently had too much to drink and passed out on top of Reubens at the party; the man who took Reubens' hand and helped him up was none other than Beatles guitarist George Harrison. It was almost too much for him to handle—MUCH better than the time Joey Ramone passed out on top of him "live" during a New Year's Eve MTV telecast!
Take a deep breath now as I know this is probably my longest post ever. And THAT is all that I can remember from a fantastic night with Pee Wee Herman. And to answer the one question on EVERYONE'S mind: the secret word was "FUN!"
In the meantime, Pee Wee went to Broadway and put his show on at the Stephen Sondheim Theatre from November 11, 2010 until January 2, 2011. Soon you'll all be able to see this show on an HBO special.
To see more Pee Wee Herman photos, visit my regular
website
.