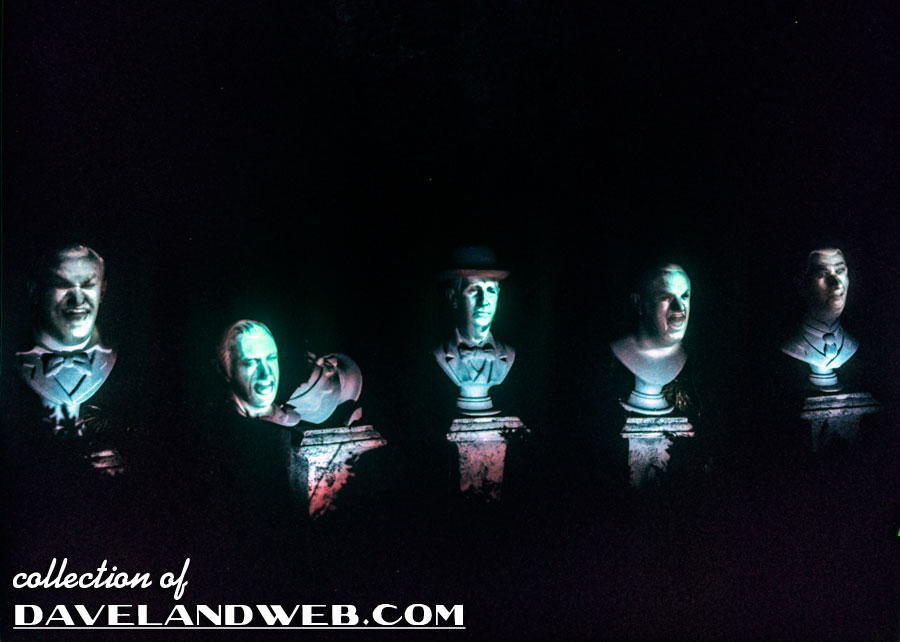 Here are the famous Singing Statues from the Graveyard. It's a pretty simple special effect, but damn does it look cool! I always loved entering the Graveyard in my Doombuggy and seeing these fellows mug and sing for the guests. The fact that the song "Grim Grinning Ghosts" is pretty catchy was just icing on the cake. Here are the Grim Grinning Ghost Singers with the film–effect rolling, and what the statues look like without it. Pretty damn tricky, huh.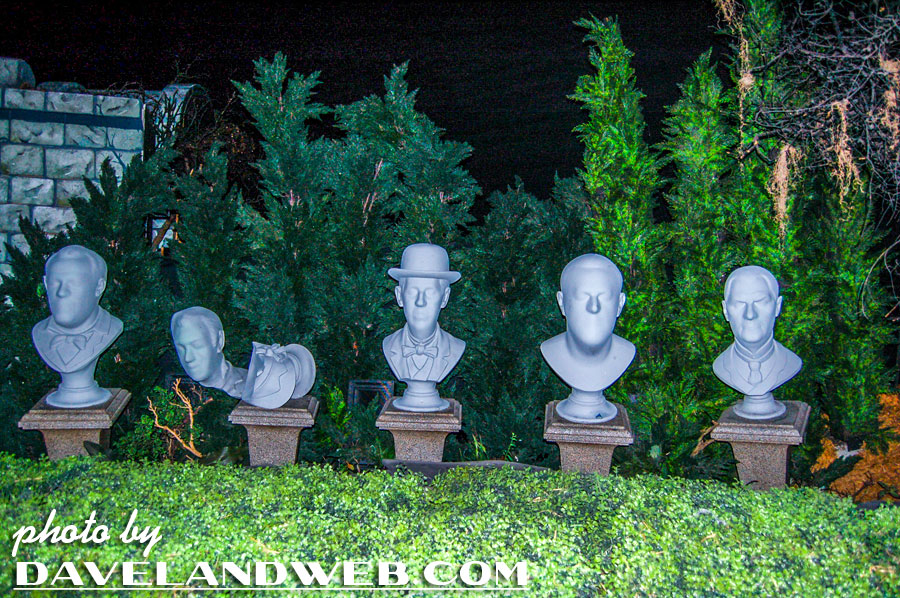 For me, these guys really symbolize the whole feeling of the original HM attraction; spooky, funny, weird, creepy, but loveable.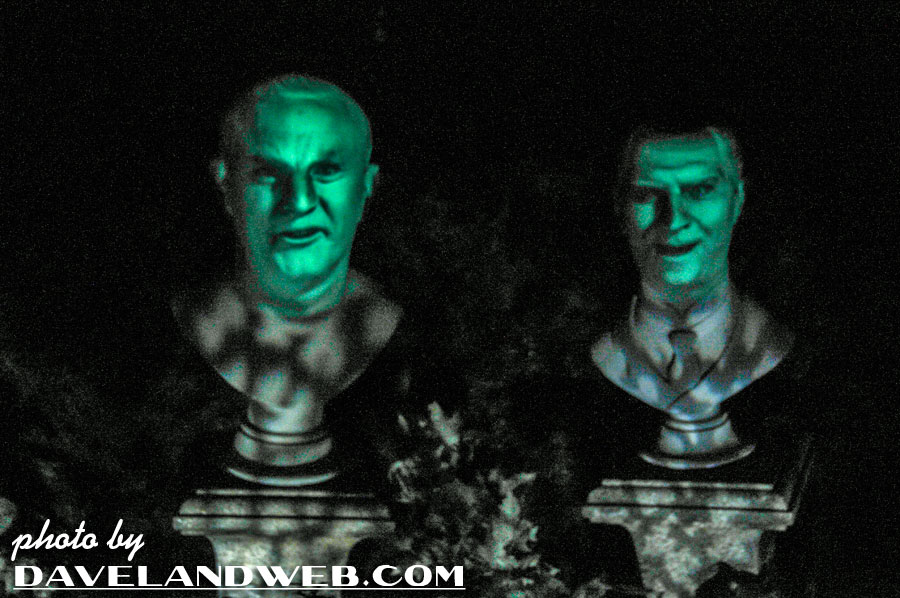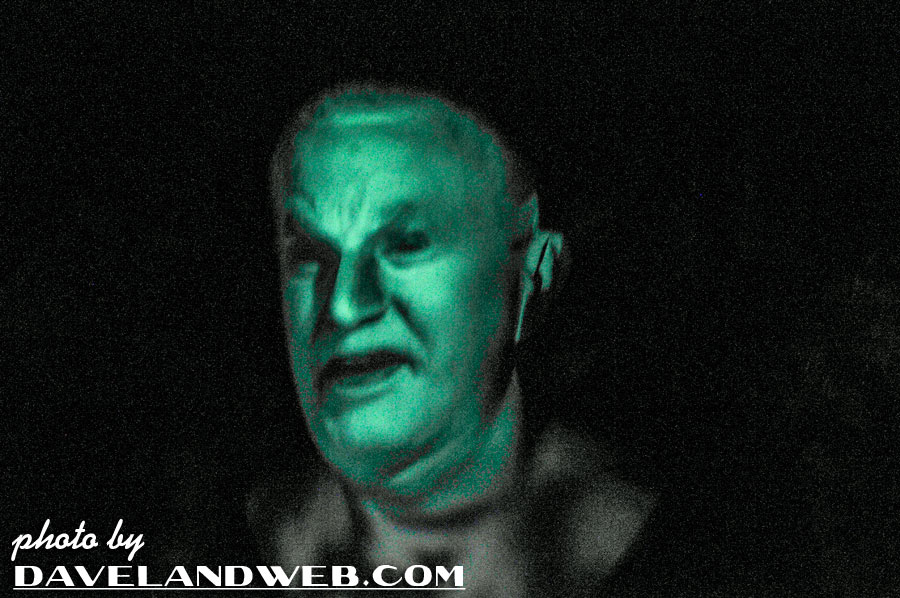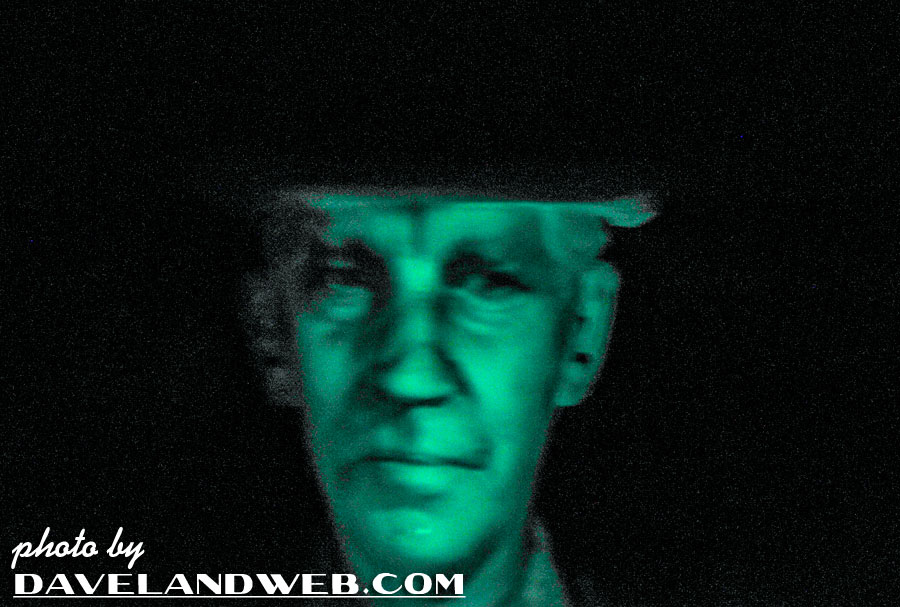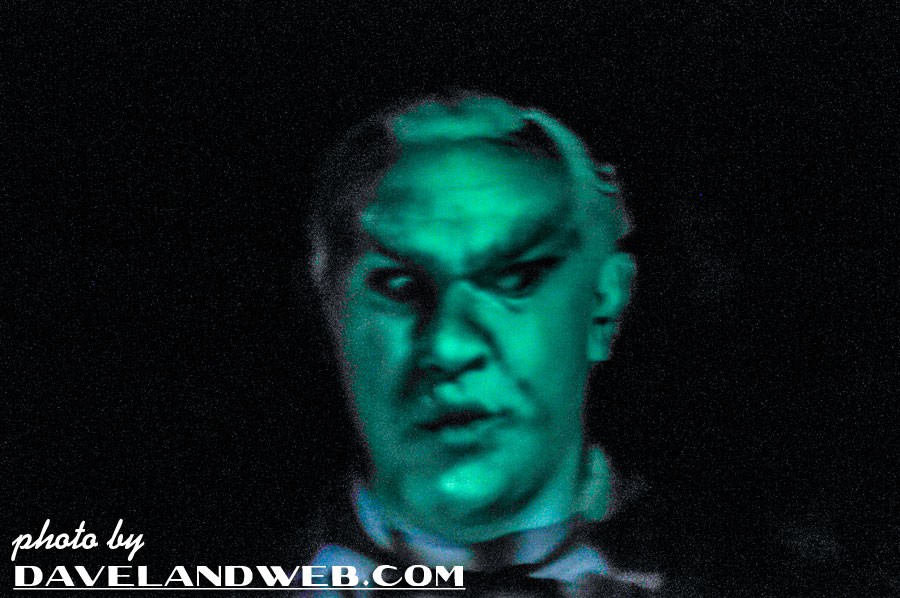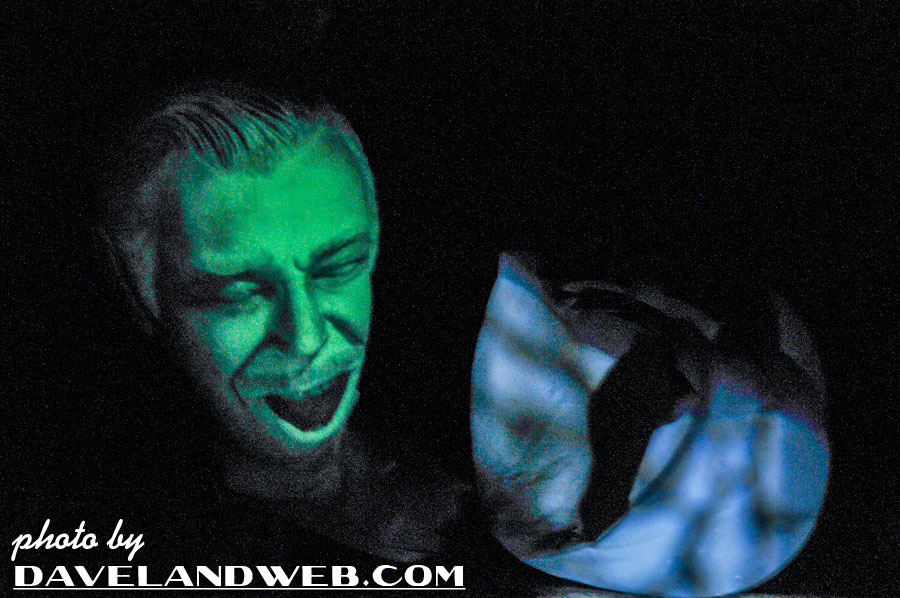 Jay Meyer, the last "living" Grim Grinning Ghost/Singing Bust from the Disneyland Haunted Mansion cemetery, passed away on January 18, 2009.
Jay is forever immortalized in every Disney park around the world as one of five singing busts in the Haunted Mansion attraction. His solo in the song "Grim Grinning Ghosts" is "Starts to shriek!" The quintet who sang the tune by Buddy Baker & X Atencio were Thurl Ravenscroft, Bob Ebright, Verne Rowe, Jay Meyer, and Chuck Schroeder; they recorded it on February 14, 1969. Jay is the bust on the right in the first 2 photos and the one on the left in the third: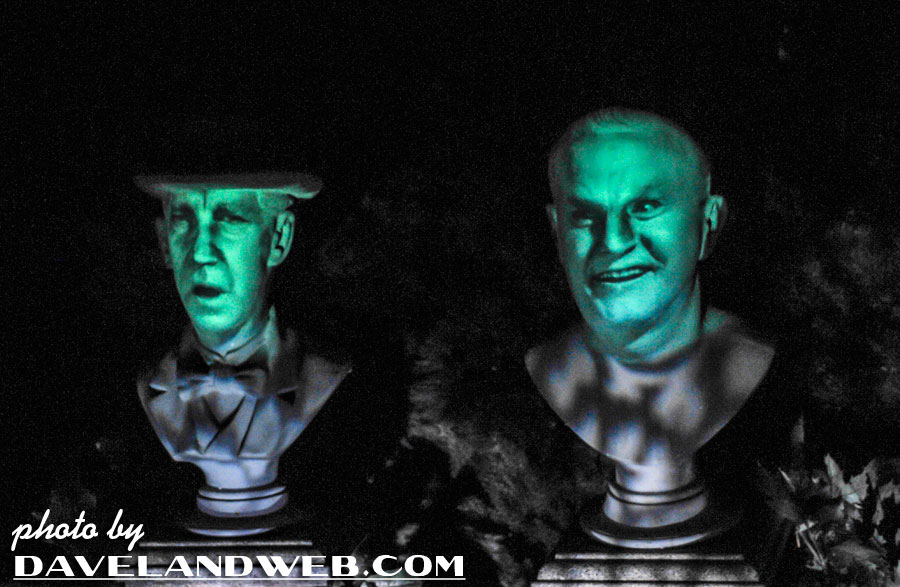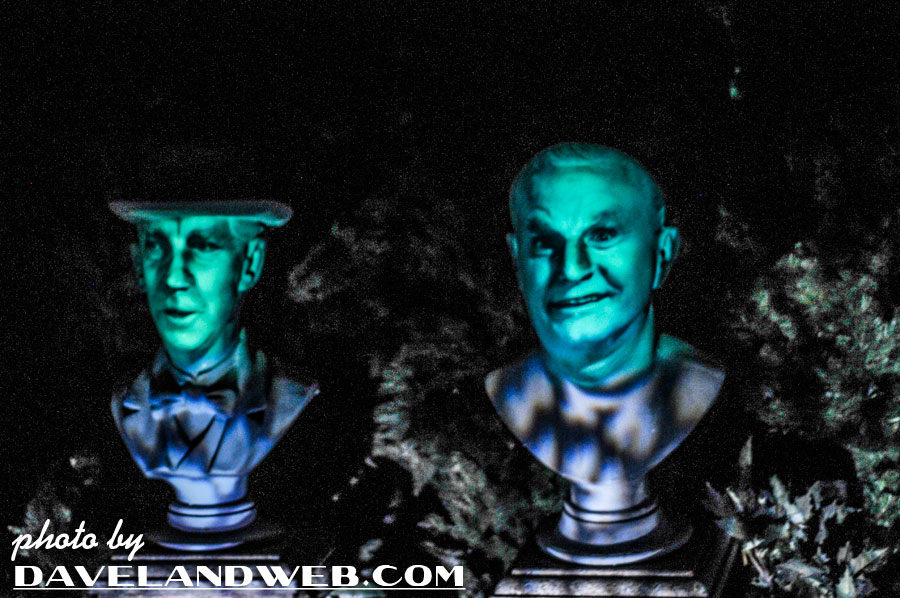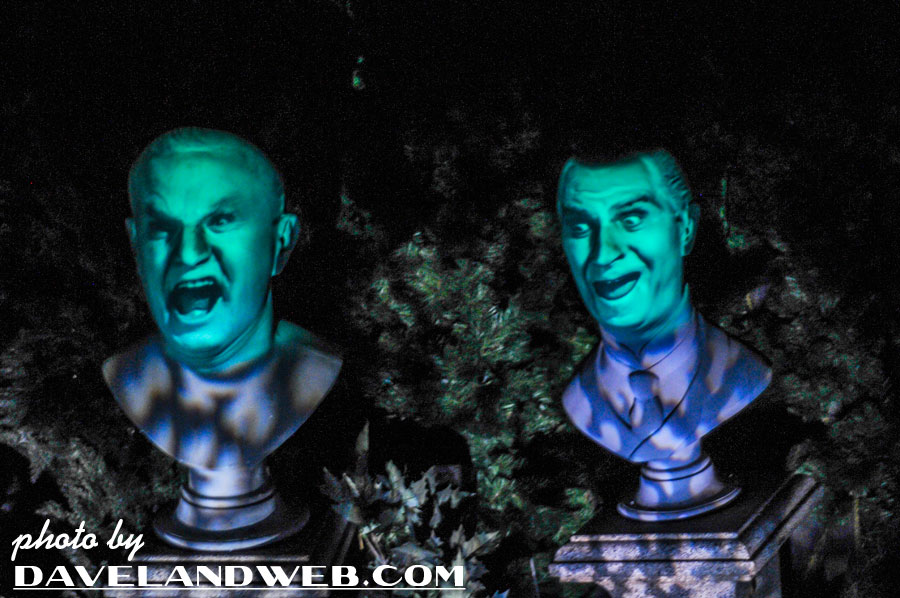 Jay also appeared on the TV shows of Ed Sullivan, Danny Kaye, Frank Sinatra, and Bing Crosby. He sang in the chorus of many films, including "Seven Brides for Seven Brothers," "Bye Bye Birdie," "The Sound of Music," and "Mary Poppins" (The "Step In Time" number). Jay started as a 3 week replacement with the Golden Horseshoe in 1972 and stayed on for 14 years! In 2007, during the filming of a special on Fulton Burley (with other Disney legends Katherine Beaumont, Wally Boag, Dana Daniels, and The Sherman Brothers), Jay was led up to the podium to sing "Too Ra Loo Ra Loo Ral" (which he always performed at The Horseshoe) and brought the house down; it was the last time he would ever sing in public. To access his last interview, click on this
link
.
As you exit the cemetery, this Raven above is watching you in your doombuggy with glowing red eyes.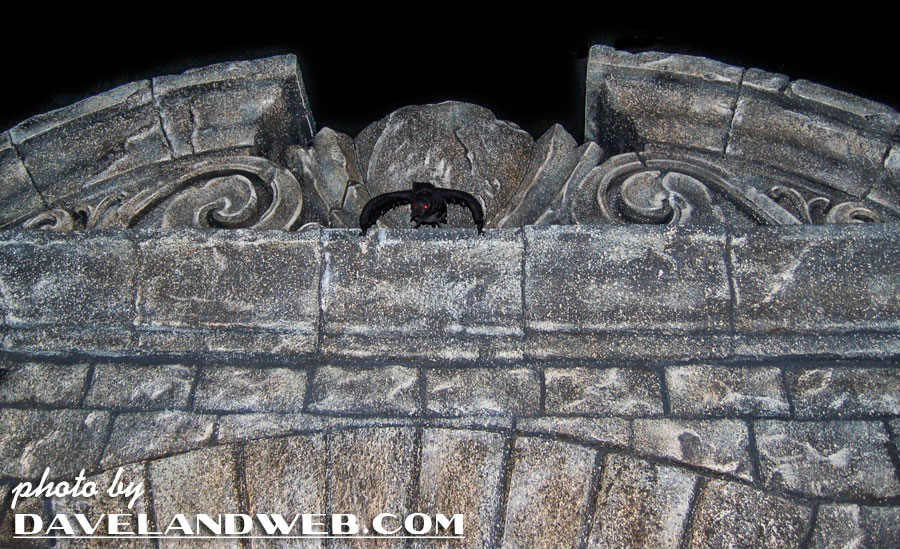 See more Haunted Mansion (regular AND NBC) photos at
my website
.