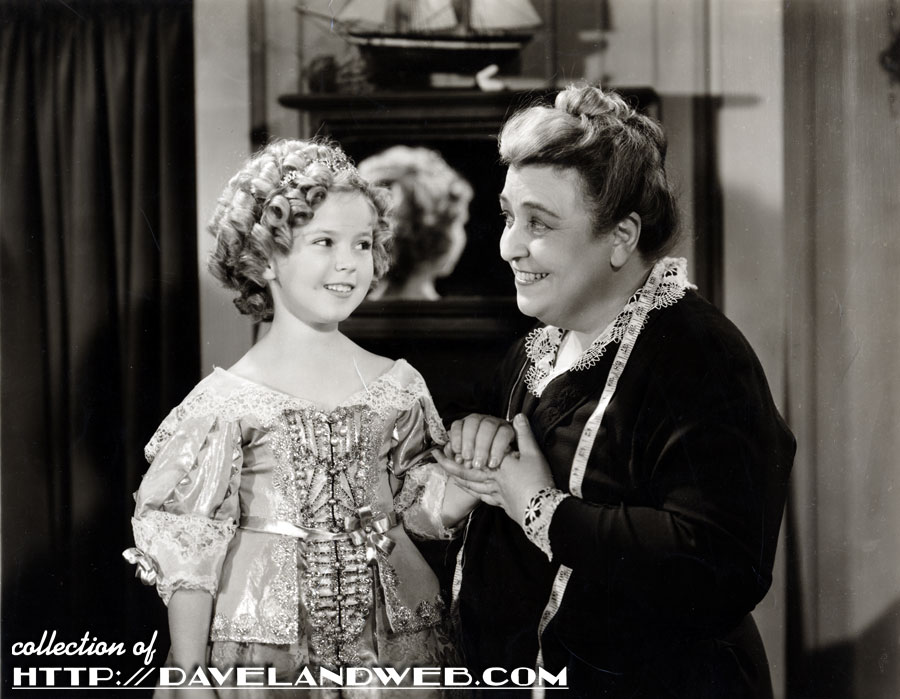 Today, it's back to "Captain January," where Shirley's character, Helen "Star" Mason, took a stab at Opera. The photo above shows her with the widow Croft (Jane Darwell), who has just finished altering the gown to fit Star. Found in a trunk when Star was rescued at sea as a baby by Captain January (Guy Kibbee), it is AMAZING how it fits Shirley perfectly! Designed by Gwen Wakeling, the detail on this costume is truly incredible.
Star dons the gown and proceeds to join January and Captain Nazro (Slim Summervile) in song. Doing their own version of the sextet from "Lucia di Lammermoor," it is a comic masterpiece. Both Summerville and Kibbee were dubbed, but Shirley did her own vocals. While the song was written as a sextet by Gaetano Donizetti, I don't think anybody missed the other three voices in Shirley's version! In the original opera, the sextet occurs in Act 2; the full title of the song is "Chi mi frena in tal momento." You can see the actual song being performed here:
I think I prefer Shirley's version. Does that make me lowbrow?
Even movie critic Frank S. Nugent couldn't resist the comic scene, as witnessed by his N.Y. Times column from April 25, 1936:
As a footnote to the operatic cycle, it must be recorded that Shirley Temple sings the sextet from "Lucia" in her latest picture, "Captain January," which was trundled into the Capitol yesterday after a preliminary brush with the law. It is an abridged version, of course, cut down to trio dimensions to suit the screen's favorite actress and her associates, Guy Kibbee and Slim Summerville. Mistress Temple skips the high notes but makes up for that later by tap-dancing the multiplication table when she runs—à la Bill Robinson—down a flight of steps. There is added compensation, too, in the rhythmic routine she steps with Buddy Ebsen, who yet may be her Fred Astaire when she has grown up to become a later-day Ginger Rogers.
Shirley's rehearsal sheet music from the film was sold in the 2015 "Love, Shirley Temple" auction: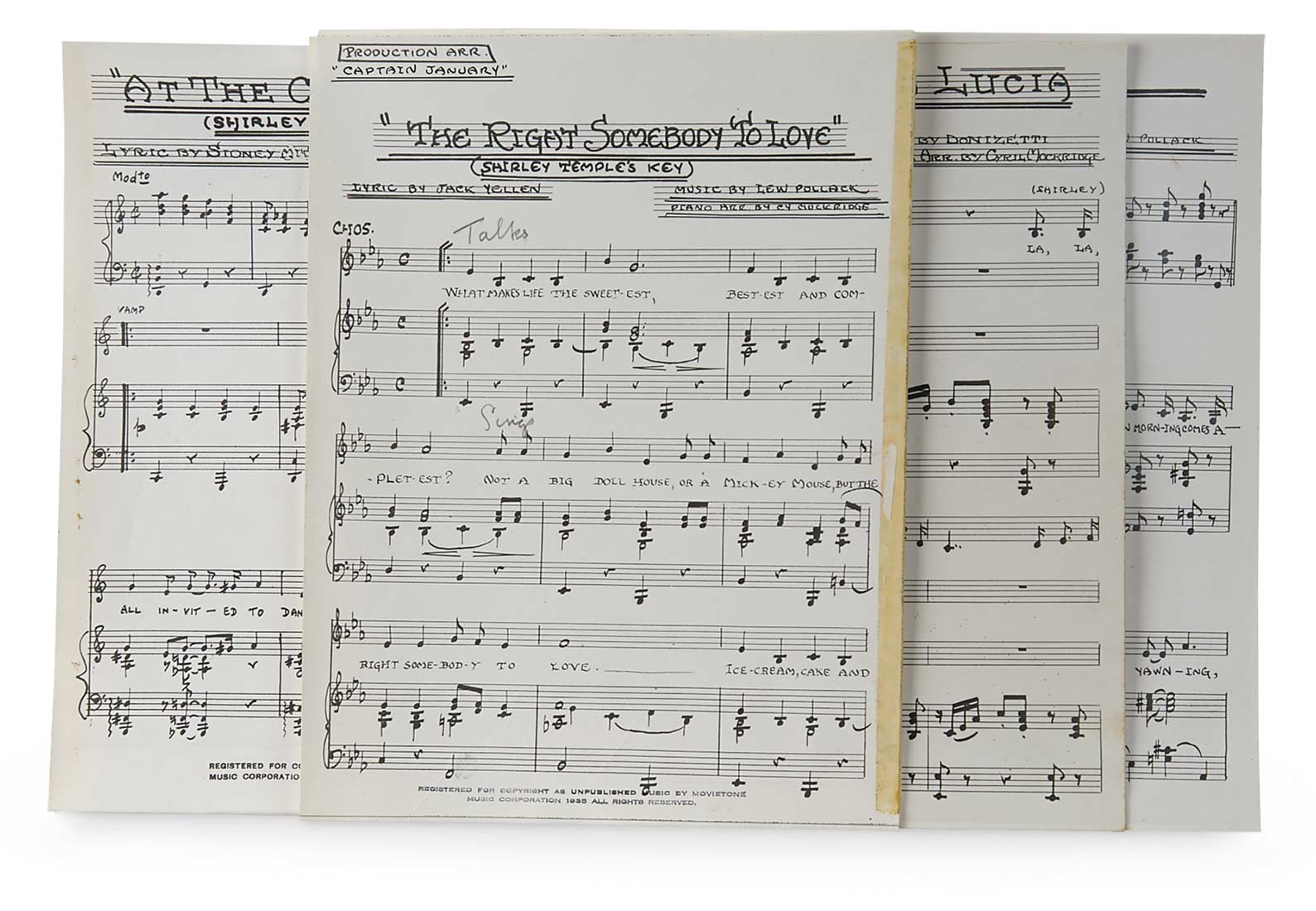 From the auction description:
Five accordion-folded sheets of music and lyrics from the 1934 film include "At the Codfish Ball" (labeled Shirley Temple's key), "Sextette from Lucia", "The Right Somebody to Love" (labeled Shirley Temple's key). "Malihini Mele" (which was written in 1934 by R. Alex Anderson, but was deleted from the final film), and "Early Bird". Circa 1936.

Presale Estimate: 200+ • Realized Price: $800
Below is the watercolor costume sketch done for this gown back in 1936: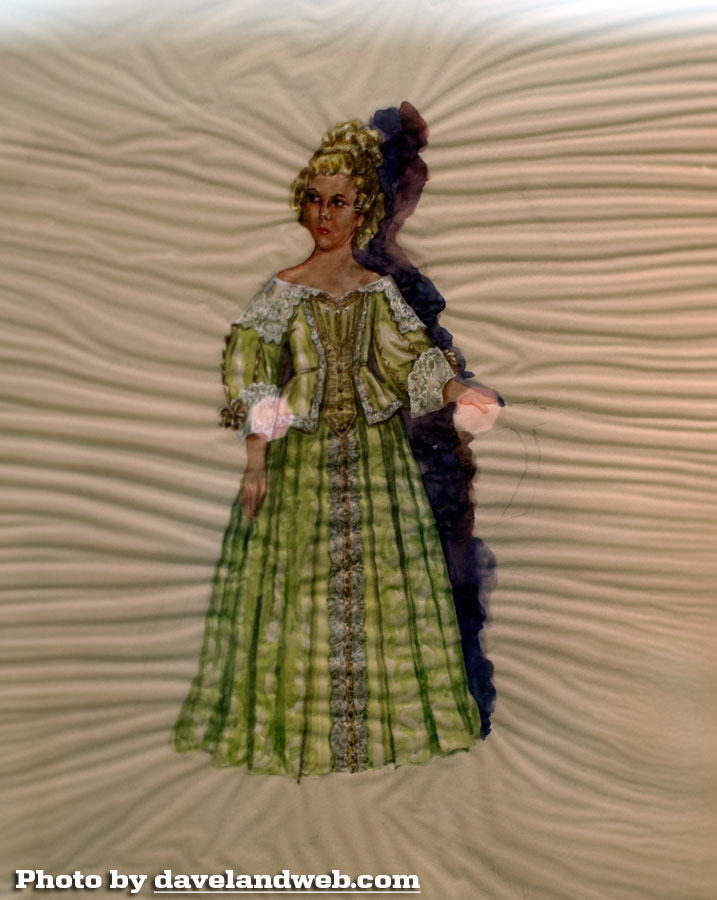 Want to see how Shirley's dress looks now? Here it is on display at the Santa Monica History Museum: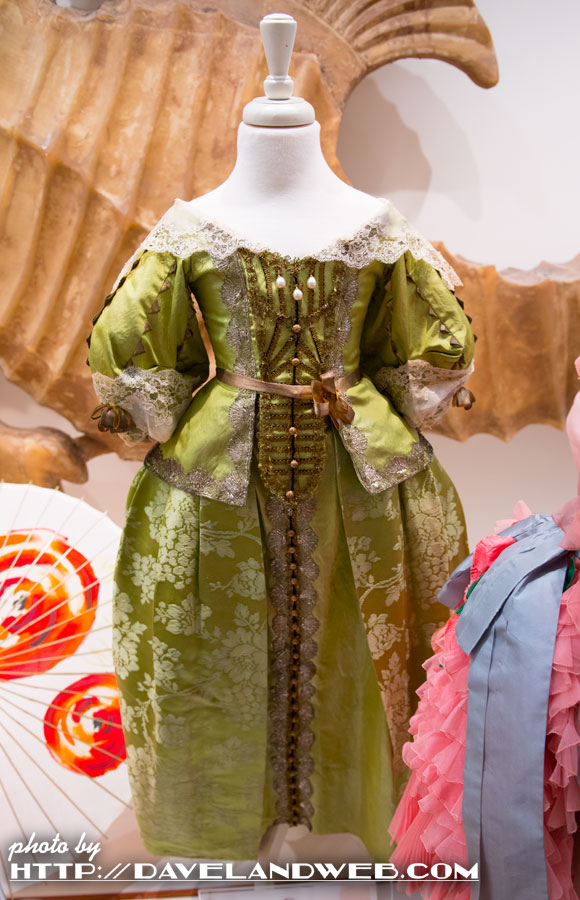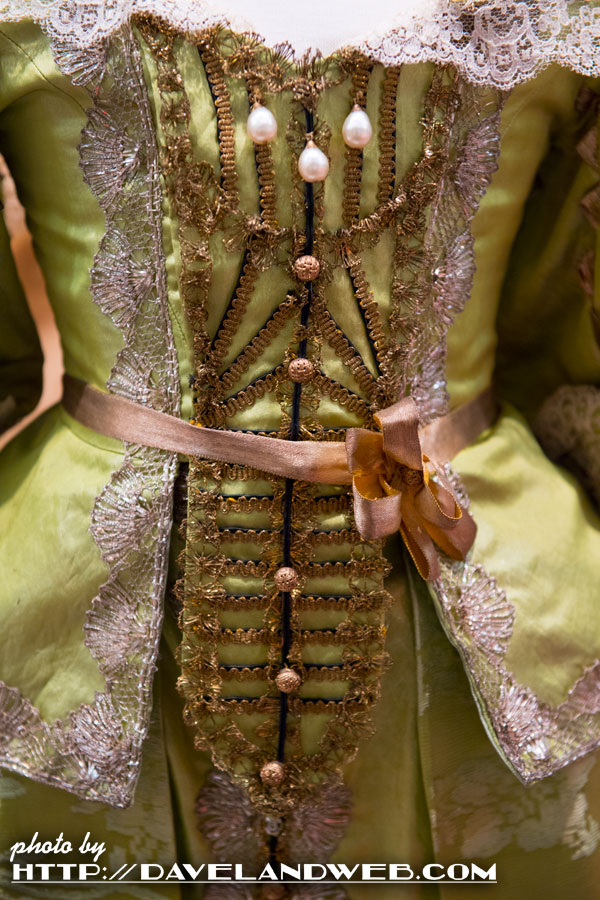 The back of the dress; just as beautiful!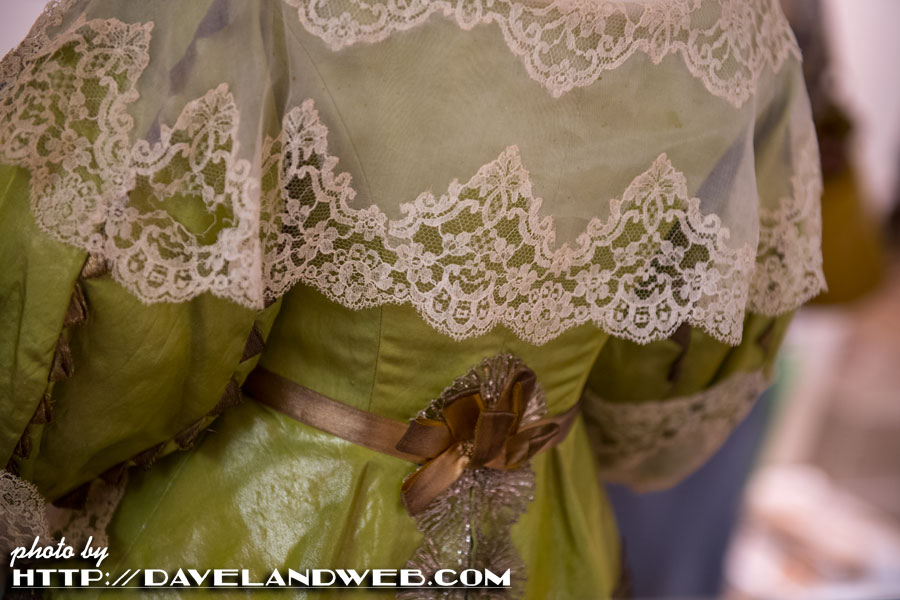 After Shirley's passing, Tim Smith from the Baltimore Sun recalled the Child Star and one of his favorite Temple scenes:
I do not hesitate to confess that some of my favorite times as a kid -- and, yes, in later years, too -- were spent watching her childhood movies. I didn't care how cornball or contrived the plots. I just loved her smile, her voice, her unpretentious talent. Not to mention the songs and the many vibrant actors who worked with her, helping to make even the silliest of the movies enjoyable and often quite touching.

Thanks to my pal Sebastian in Miami for reminding me this morning of a fabulous scene of Shirley Temple singing opera in the the 1936 film "Captain January." It's the well known "La La La" Trio from Donizetti's "Lucia di Lammermoor." OK, so it's supposed to be a sextet and have a whole lot of very serious words, but who needs 'em when you get a performance this delerious?
I couldn't have said it more beautifully myself!
I'll end the post with the clip of Shirley, Guy, and Slim performing the sextet. Sorry for the (incorrect) colorization!
See more Shirley Temple photos at my
main website.
Follow my Daveland updates on
Twitter
and view my most recent photos on
Instagram
.