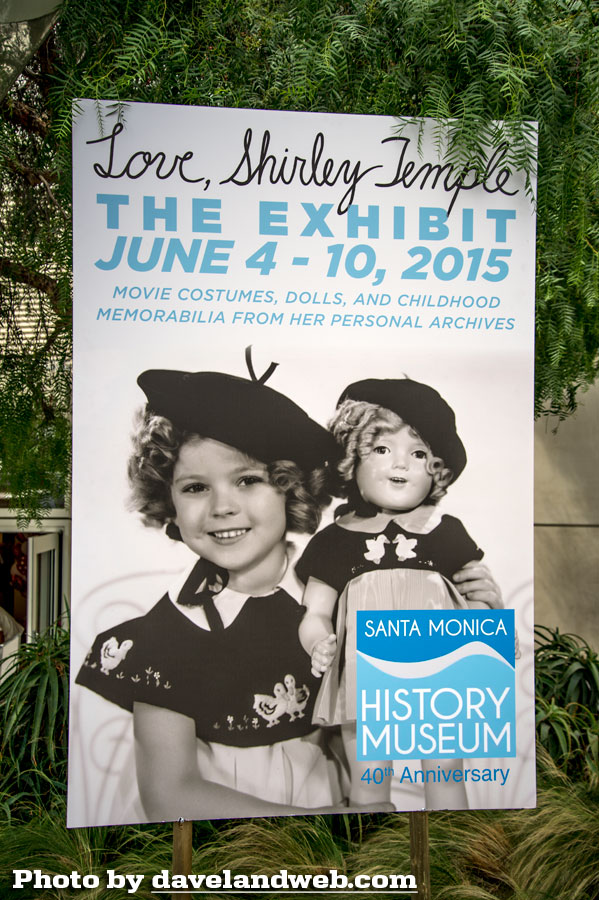 This week I had the honor of interviewing Stuart Holbrook, President of Theriault's, the famed auction house for antique dolls and childhood playthings that is handling the Love, Shirley Temple exhibit and auction. He was extremely gracious in answering all of the questions that I had for him about Shirley and the many items that are being sold off on July 14. If you've had the chance to see the items as they toured across the country, then you have seen what AMAZING shape they are in. I was stunned at how these beautiful costumes looked as if they had just recently been crafted despite being approximately 80 years old. How have they defied the ravages of time? Holbrook assured me that not a thing was held back. I asked him how was it possible that Gertrude and Shirley were so smart about the storage of these items? He replied that Gertrude definitely set the standard for how things should be preserved. "The depression-era generation was very cognizant of heirlooms and the saving of items. Everything had value and was cherished. Gertrude's standard was passed on to Shirley; the foundation was laid by Shirley's mother."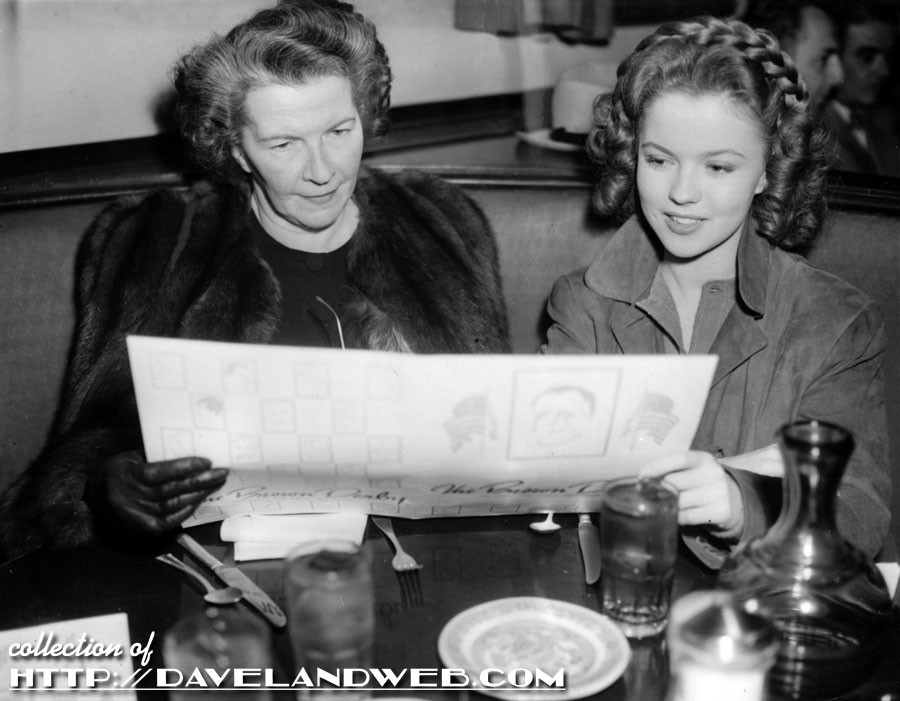 In the 1930s, Shirley was the top box office draw in the world. In order to keep the Temple family happy, 20th Century Fox gave Shirley's mother Gertrude whatever was within reason and she often asked for unique things. One of those things was that Shirley's contract allowed Shirley to take all of her costumes home with her. The Studio didn't really have much use for the outfits Shirley wore; not only were they designed for a child, but these costumes were very identifiable as Shirley's. Where else could they use them again?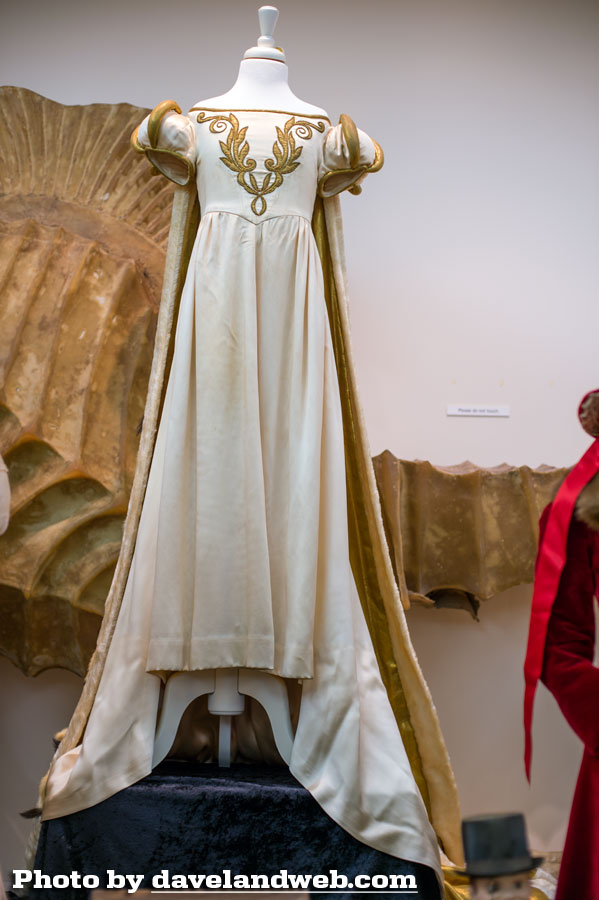 One thing that was NOT included with the costumes was the jewelry that Shirley wore. For instance, in the exhibit you'll note that Shirley's "Little Princess" crown and scepter are not on display with the dress and cape. Famous movie jeweler Joseff of Hollywood created those and their contract stipulated that they got everything back. Those two items are normally sitting in the Joseff archives, but it appears that they are on display in the San Francisco Airport International Terminal through July.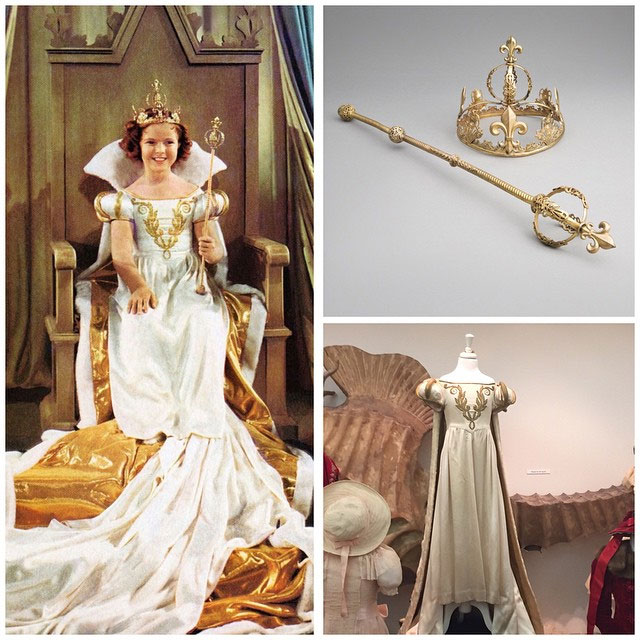 Everything that was part of this collection was in fantastic shape. No deterioration of any sort. The one item that looked like it might have succumbed to old age were the overalls Shirley wore during the "An Old Straw Hat" number in Rebecca of Sunnybrook Farm. When all of the items were found to be pristine, Holbrook was a little surprised that the Rebecca overalls seemed so dirty.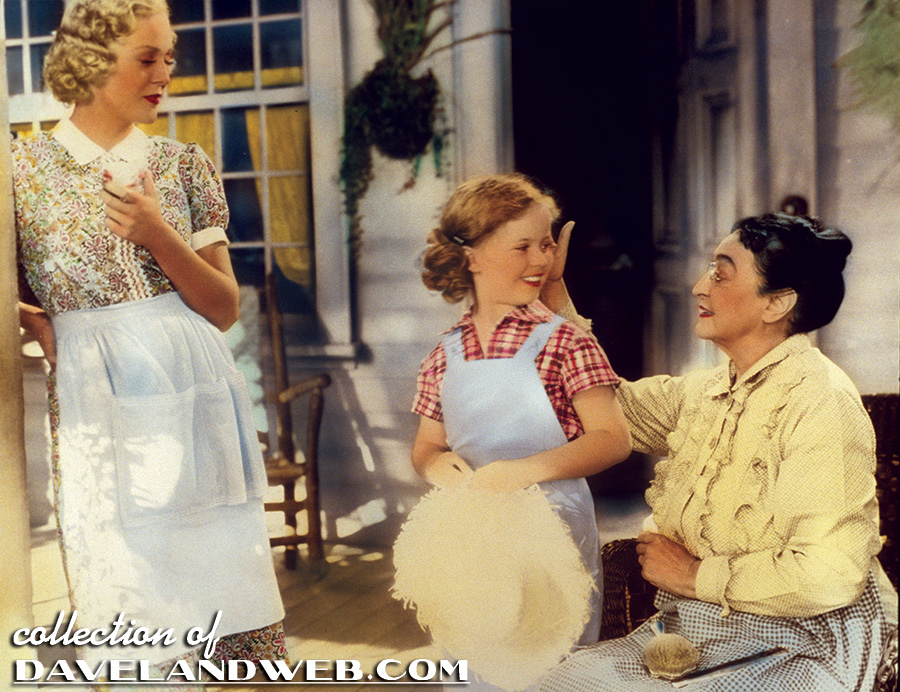 In looking at the movie, he discovered that the grime was intentionally added by the costume department to give Shirley a more authentic farm girl look.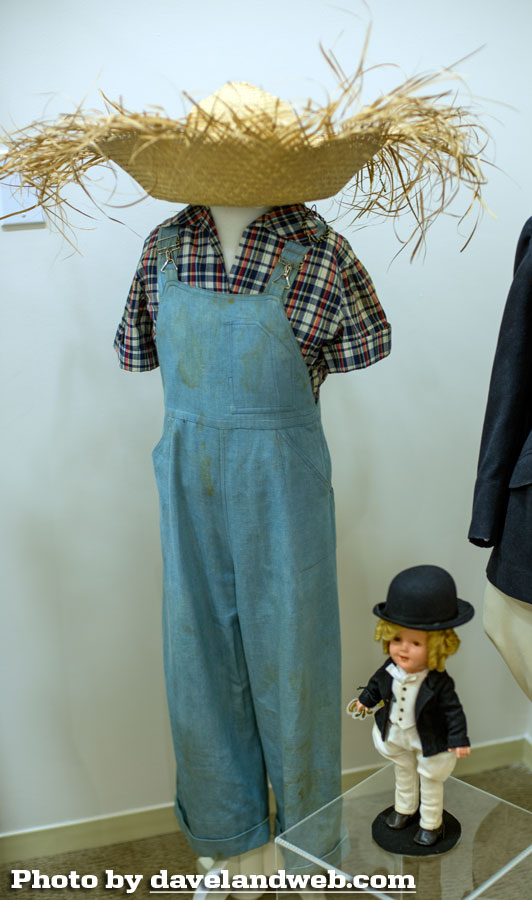 Vintage photos show Shirley at home in Brentwood with her rather large collection of dolls in display cases; I wondered if the costumes were held elsewhere? Holbrook answered that the costumes had never been seen by the public before. When Gertrude moved to Palm Springs in the 1950s, Shirley's doll collection (which had been stored in a climate controlled space in the Brentwood home) was loaned temporarily to a museum and put on display. Afterwards, they were packed up, stored in boxes and bins in a climate controlled storage facility. These pieces had the added benefit of California's mild climate.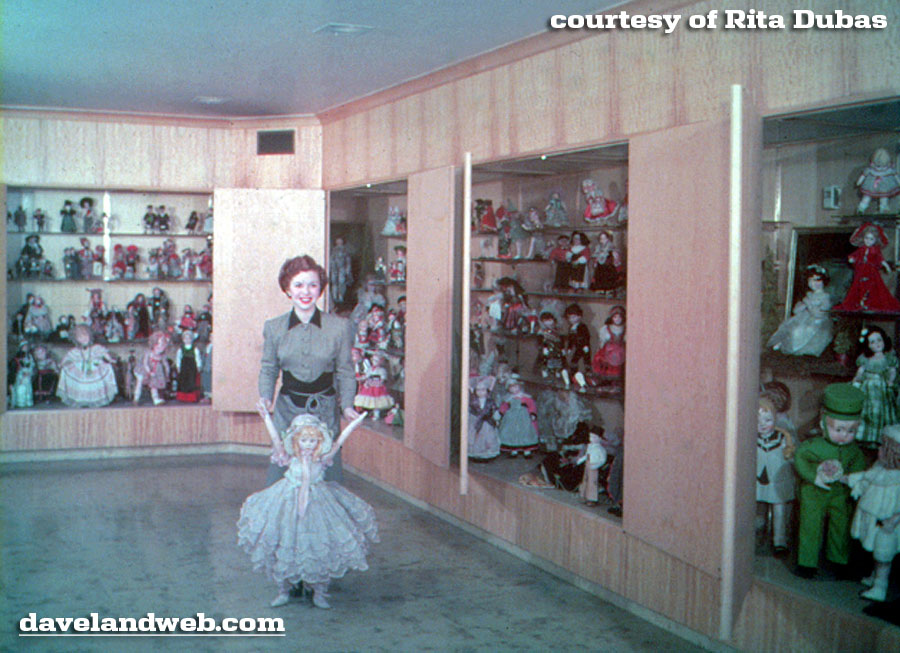 I was a little disappointed that I didn't get to see Shirley's Steinway Baby Grand Piano. However, given its size it is understandable that it did not get taken all over the country. Have no fear, it WILL appear in Kansas City for the big July 14 event. Inside the piano is a wonderful inscription: "I hope dear Shirley that you will like this piano as much as the Steinways like you! And that's a lot!" signed by Theodore Steinway himself.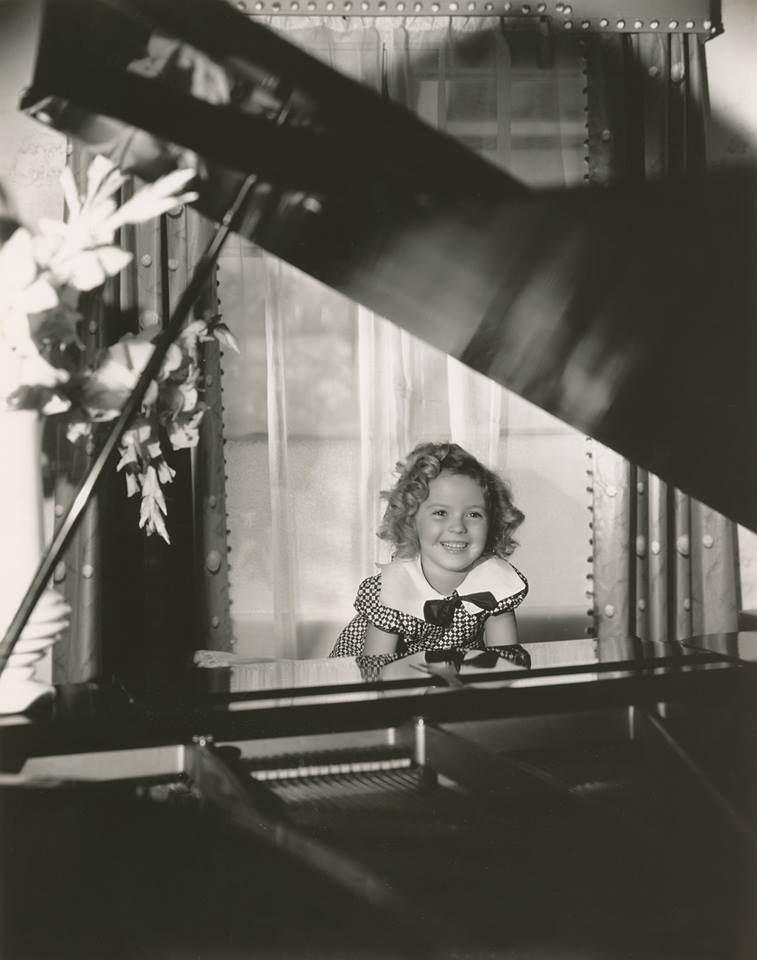 Shirley adored co-star Bill "Bojangles" Robinson. In Shirley's 1935 classic, "The Little Colonel," Robinson and Temple became the first interracial dance pairing in Hollywood history. They held hands and danced together without any thought or care about the difference in the colors of their skin. The scene was so controversial that it was deleted when shown in the southern states. Shirley's first stand-in, Marilyn Granas, remembers the complete awe exhibited on set when the staircase dance was being filmed...in one take! "Everyone was in a state of shock, wondering how did they just do that, while standing in complete silence." The last stop for the "Love, Shirley Temple" tour is the
Frazier History Museum
in Louisville, Kentucky from July 3rd - 8th. It was selected because of its mid-south location which draws from a vast region. It also has a connection to "The Little Colonel," which was set in Kentucky.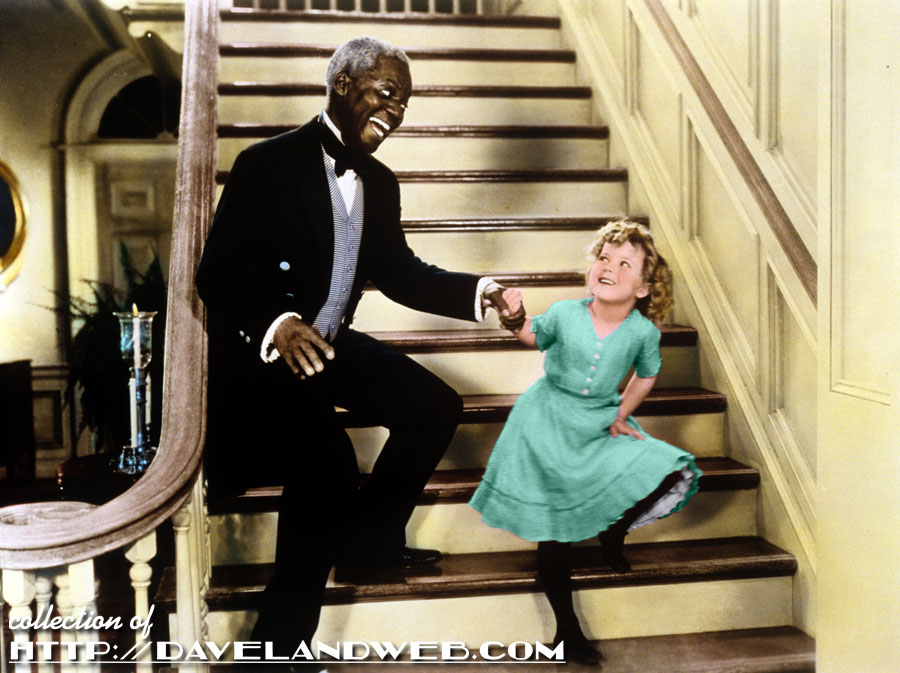 One costume that seems to have disappeared over the years is this "The Little Colonel" ensemble: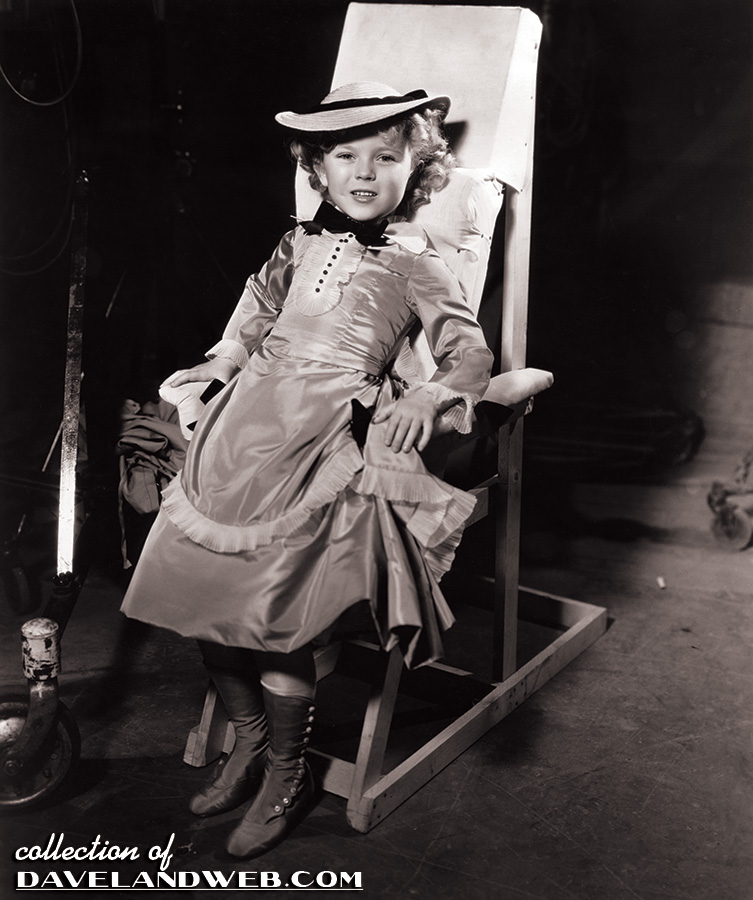 The hat and boots have survived, but Holbrook was unsure about what happened to the rest of the outfit. There are no records that show if Shirley ever had it in her possession.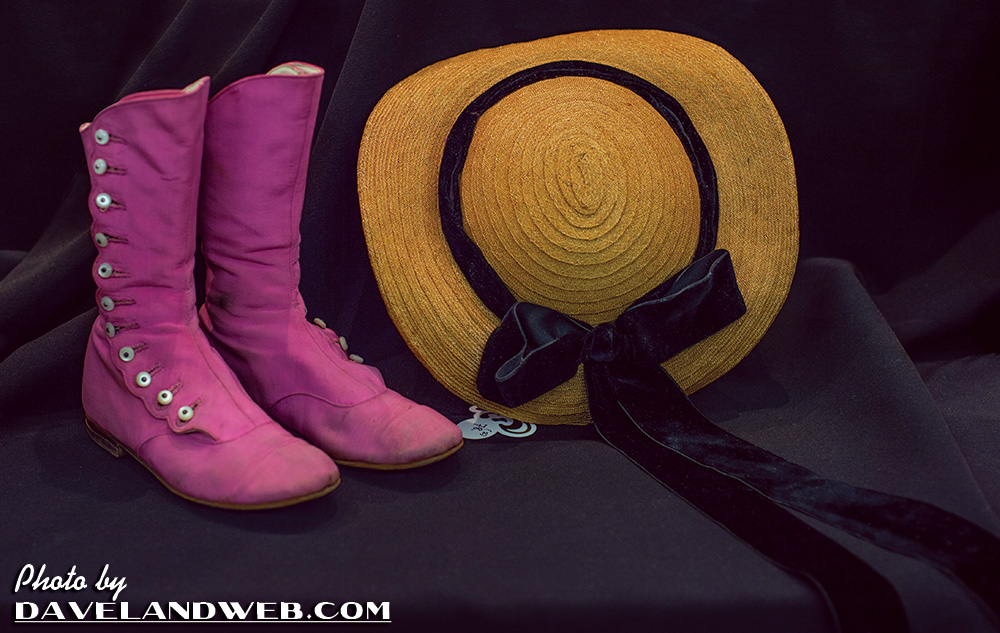 Bill Robinson was very protective of Shirley and her innocence, being careful not to explain why he would have to stay in different hotels than her. If you're wondering what was Shirley's most beloved item in the exhibit, most likely it was the model racing car given to her by Robinson.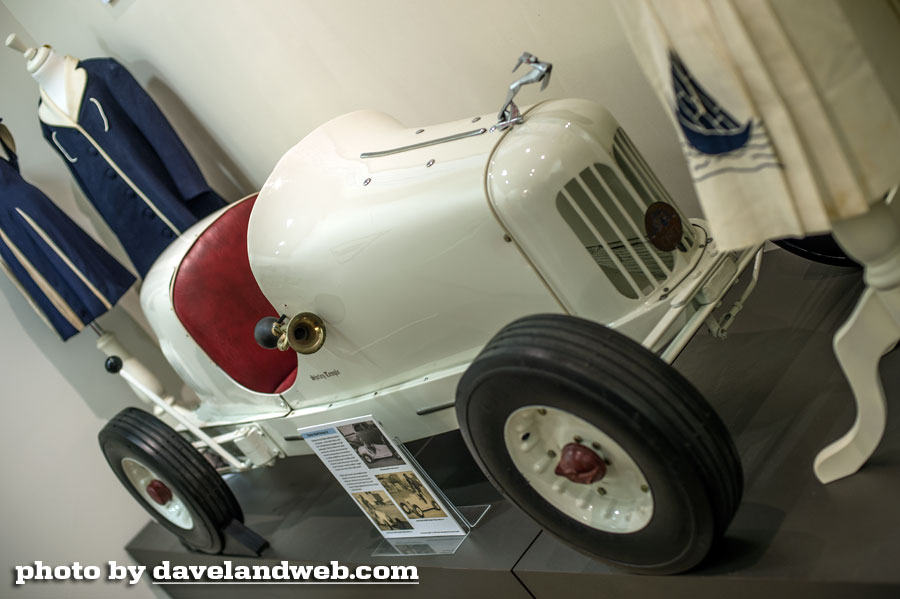 Because the car was a gift from "Uncle Billy," she loved it even more. He went to a lot of effort to get it for her. Even as an adult, the car had a special place in Temple's home. Her 2.5 car garage had space for Shirley's car, her husband Charles' car, and the model car from Bill Robinson. It remained a wonderful memory for her.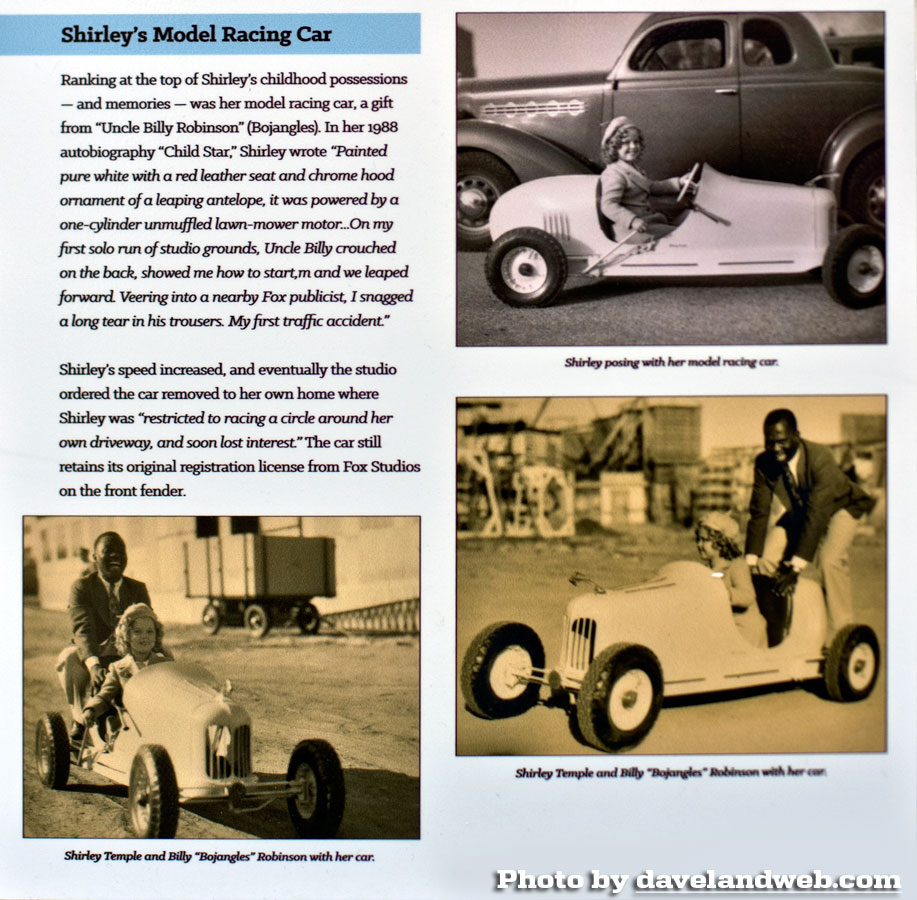 There is a photo in the exhibit that is quintessential Shirley in Holbrook's opinion. It shows her driving the car with Robinson on the back holding on for dear life. "The smile on her face is a true genuine Shirley Temple smile. Not an actress moment or a publicity smile. She was beaming ear to ear." I was curious if the car still ran, but Holbrook informed me that the engine had been removed.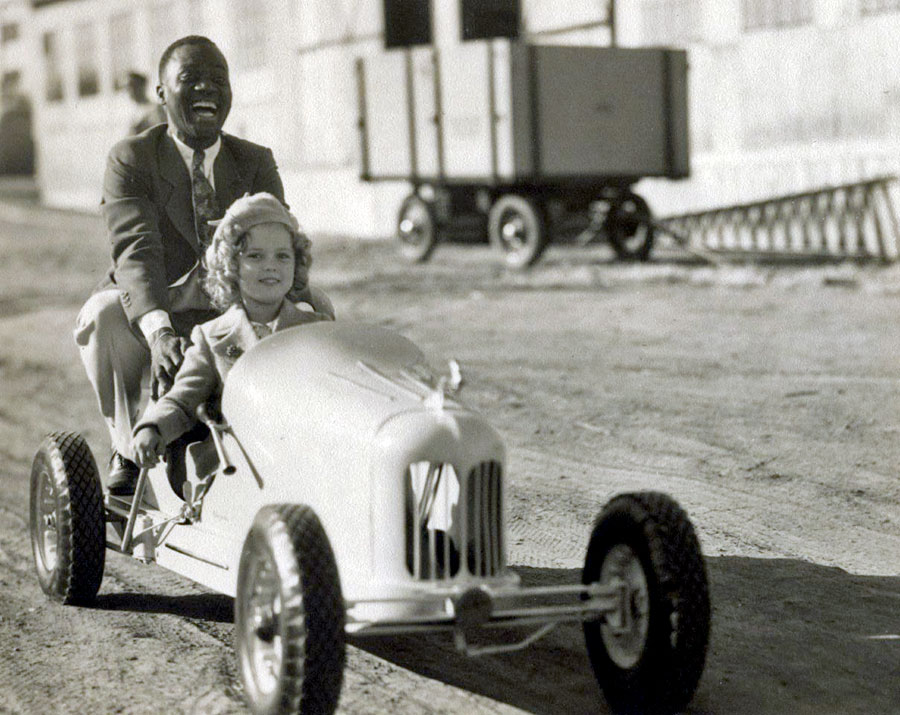 The two also performed together at the Will Rogers Memorial in 1935, dancing up and down the aisle to get donations.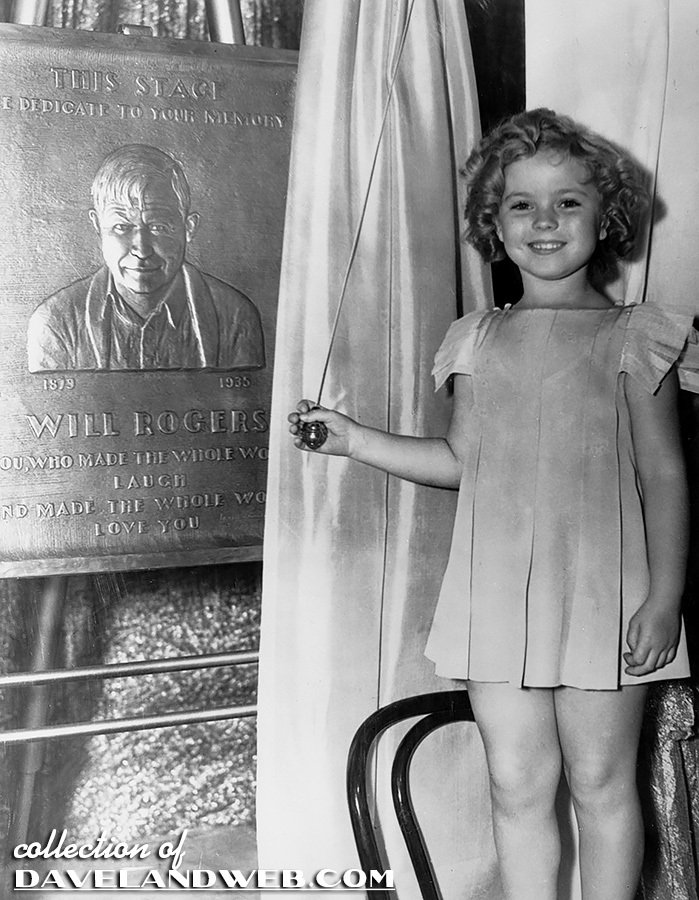 I also was curious as to what pieces were the favorites of Holbrook himself. "The things that evoke the most emotions in people, such as Shirley's Raggedy Ann, which was her very first doll."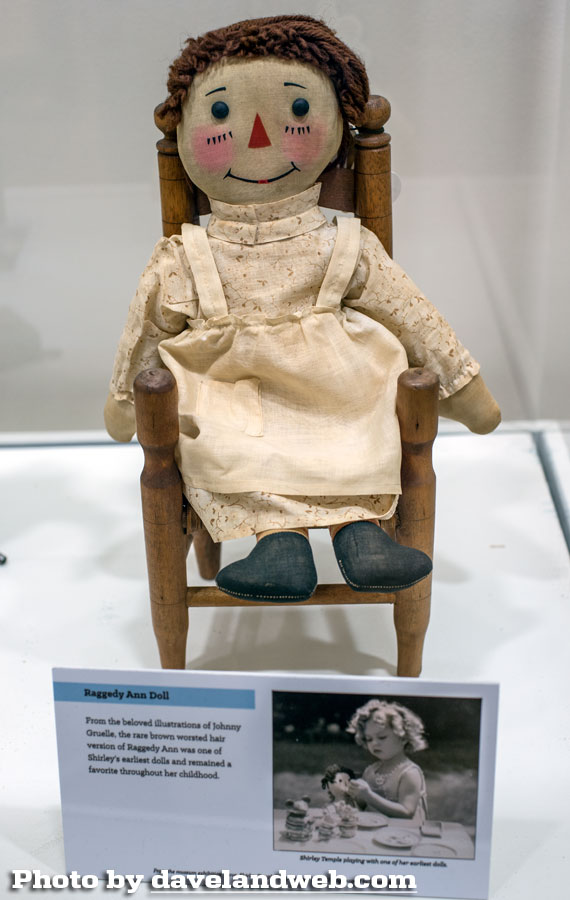 "There is a photo of her playing with it outside her Santa Monica home, just being a child, before she really made it big."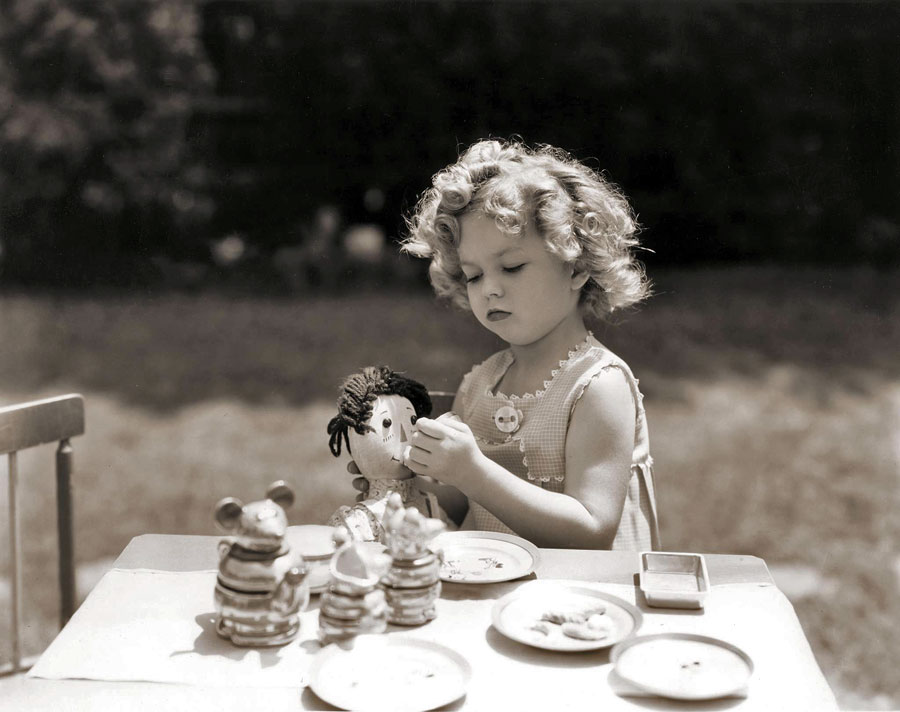 "I enjoy seeing anything from Bill Robinson; there is some personal correspondence from Bill to Shirley. Each note from him shows his heartwarming nature. He also gave her this pair of carved wooden dolls from Germany that whistle when keywound."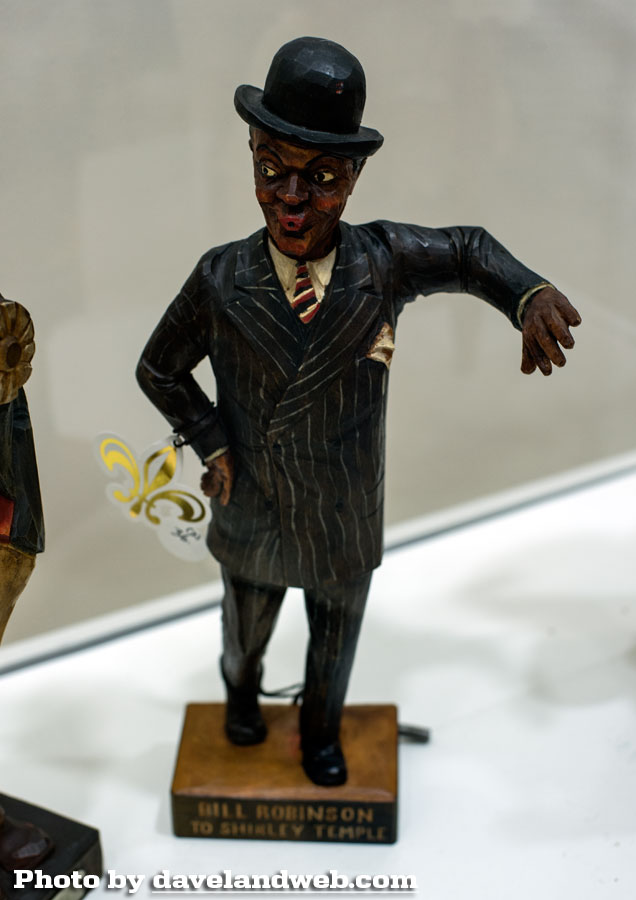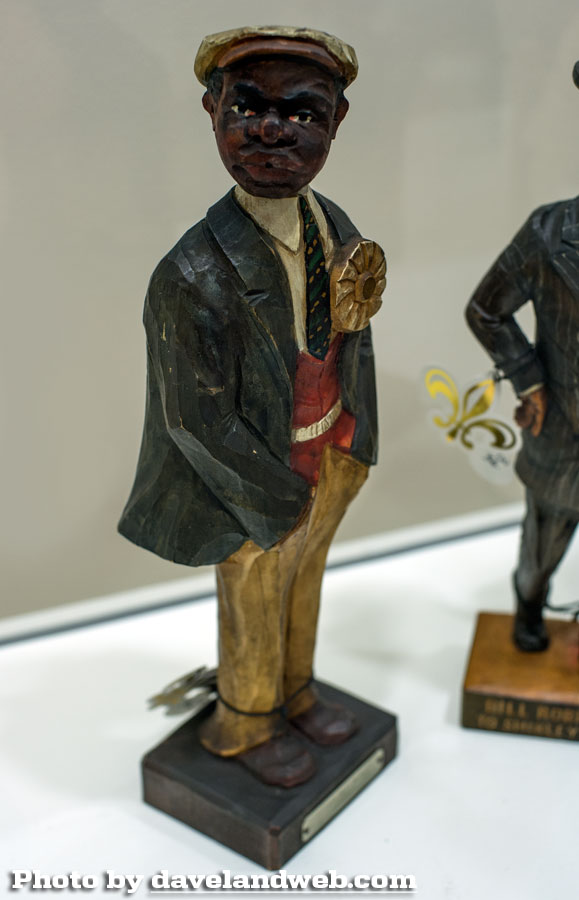 "Of the outfits, the polka dot dress from 'Stand Up And Cheer' is the Ruby Slippers of children's costumes."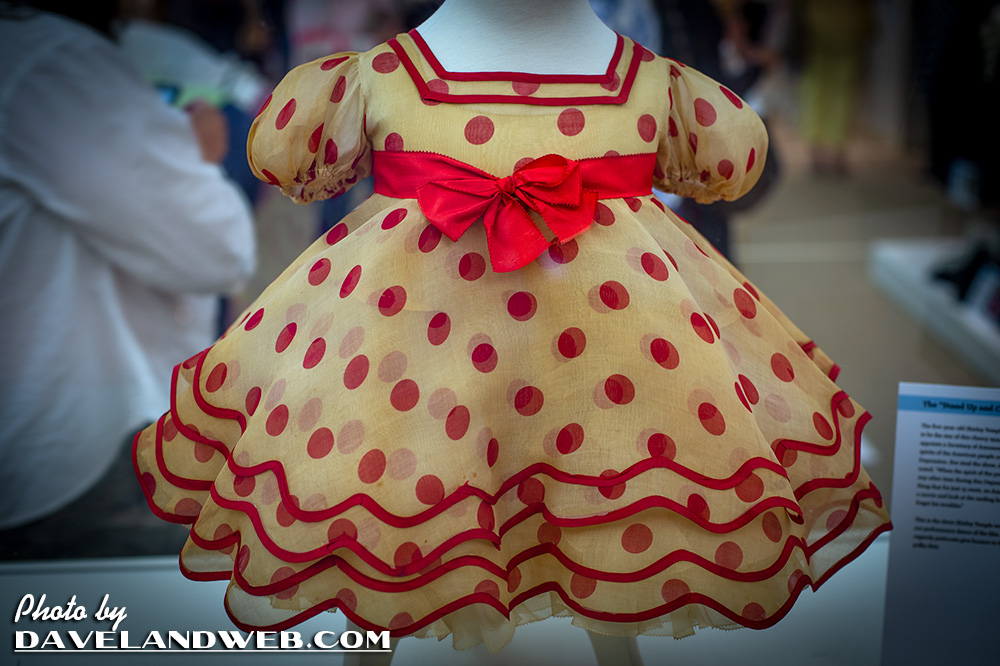 "The dutch costume from "Heidi" and all of its detail is another favorite. The emotions that these costumes evoke from people is astounding; they literally cause tears. These are some of the most memorable moments of the tour for me. When examining these outfits, it is obvious that the studio spared no expense in making sure Shirley's costumes were perfect. For 'Wee Willie Winkie,' the buttons and details in the hat were authentic Scottish Regimen."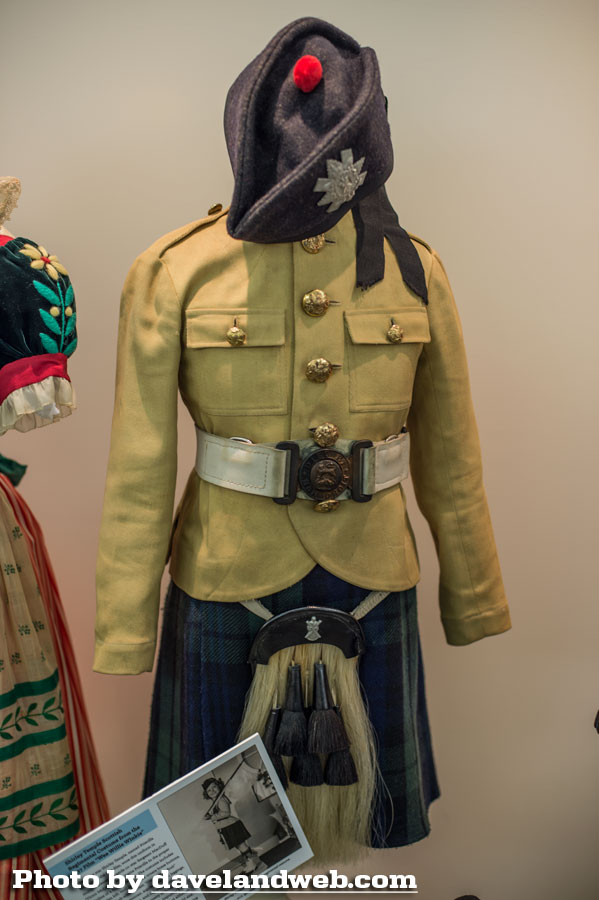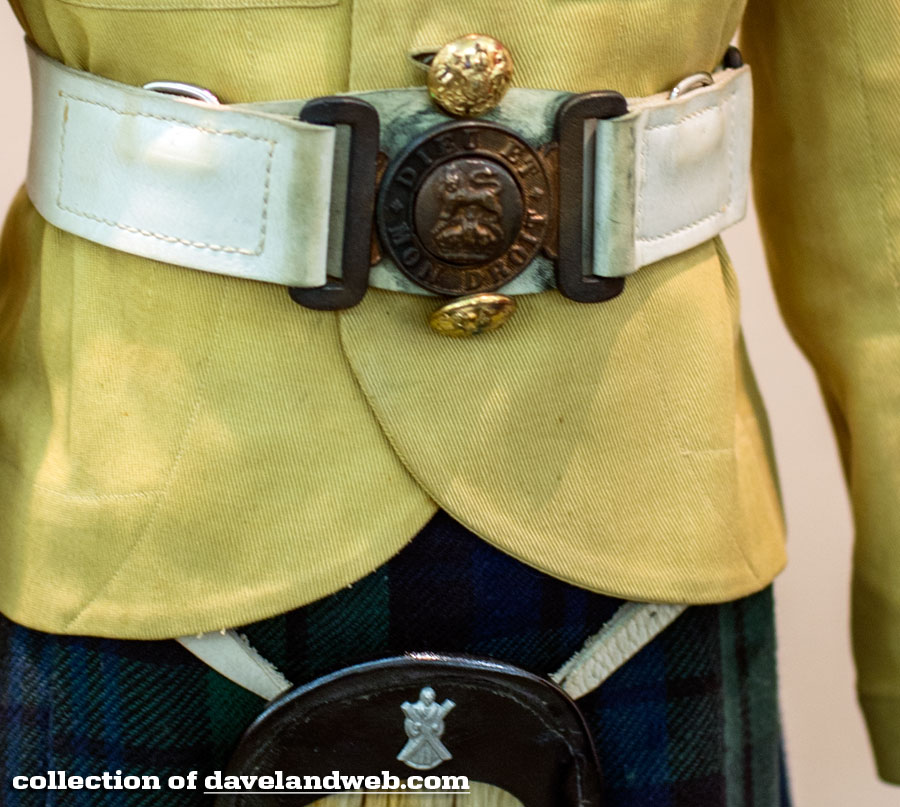 This film is a personal favorite of Holbrook's because it has more of a "manly John Ford feel to it; it is more of an epic. Victor McGlaglen was fabulous in it!" He also pointed out that it was wise of 20th Century Fox studio head Darryl Zanuck to change up the typical Temple format with this film to keep the public from getting bored with her. This is part of the reason Shirley had so many years at the top of the box office charts.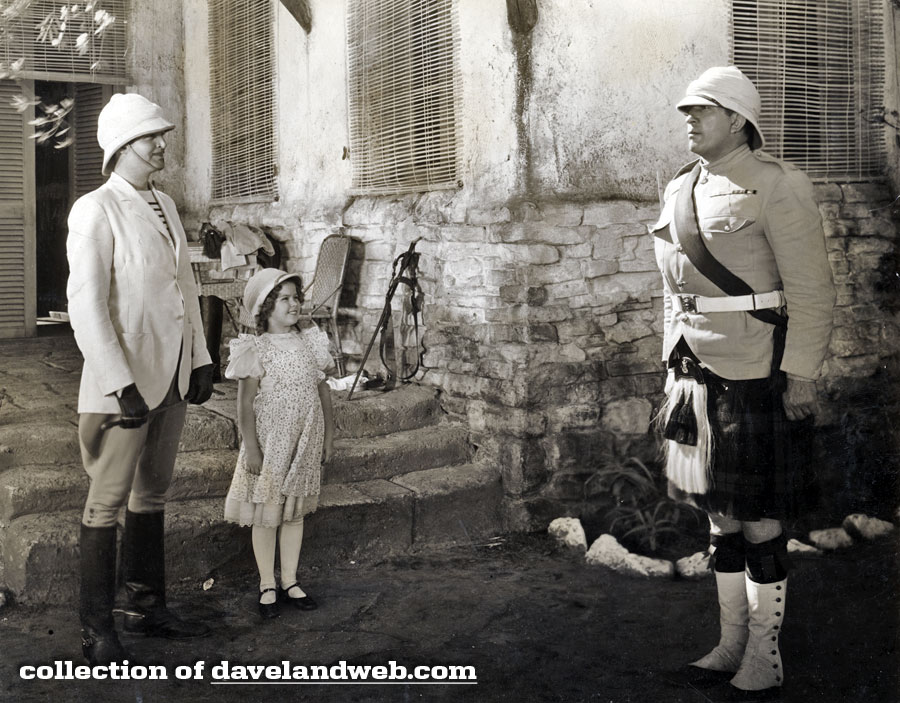 Although it is known as a box office flop, "The Blue Bird" (1940) is one of my favorite Temple films mainly because Temple was allowed to play (albeit briefly) against type. She relished playing a little brat for once, but the public just couldn't stand it. I noticed that there was nothing from this film on display. Holbrook assured me that the collection had at least 2 or 3 costumes from the movie. Since Shirley was older (and larger) in 1940, many of the costumes from this part of her career were left out because of their size/scale in relation to the other costumes, and simply put, they just were not as iconic as the ones that did make the exhibit.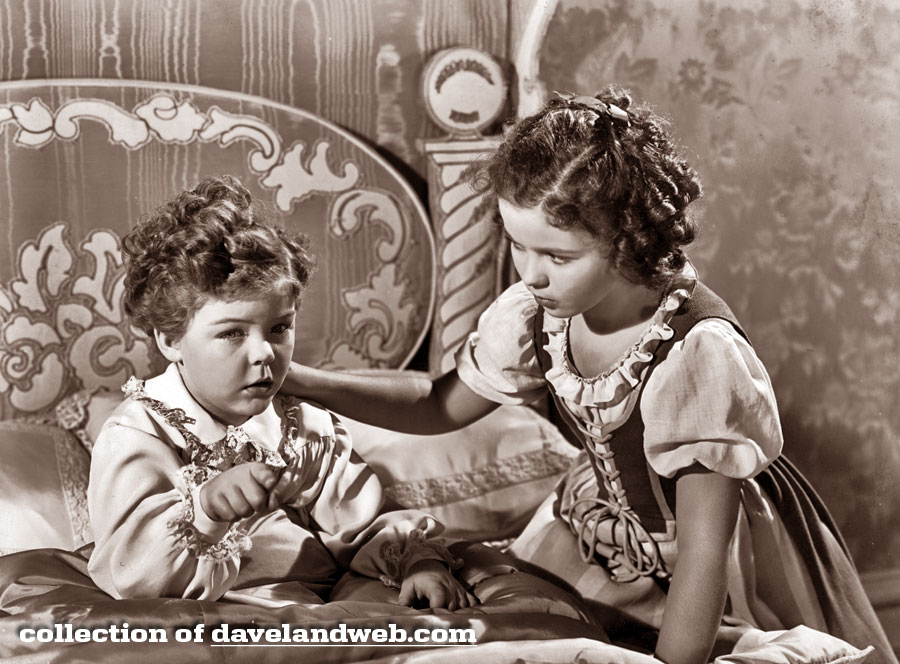 The "Love, Shirley Temple" exhibit has also attracted a number of amazing guests who have taken the time to share their memories of Shirley. Her first stand-in, Marilyn Granas was one of them. Although she didn't know Shirley that well on a personal level, she was around to see many of the historic moments of Shirley's early career (such as the previously mentioned filming of the staircase dance). Here are the two on the set of "Now and Forever," 1934.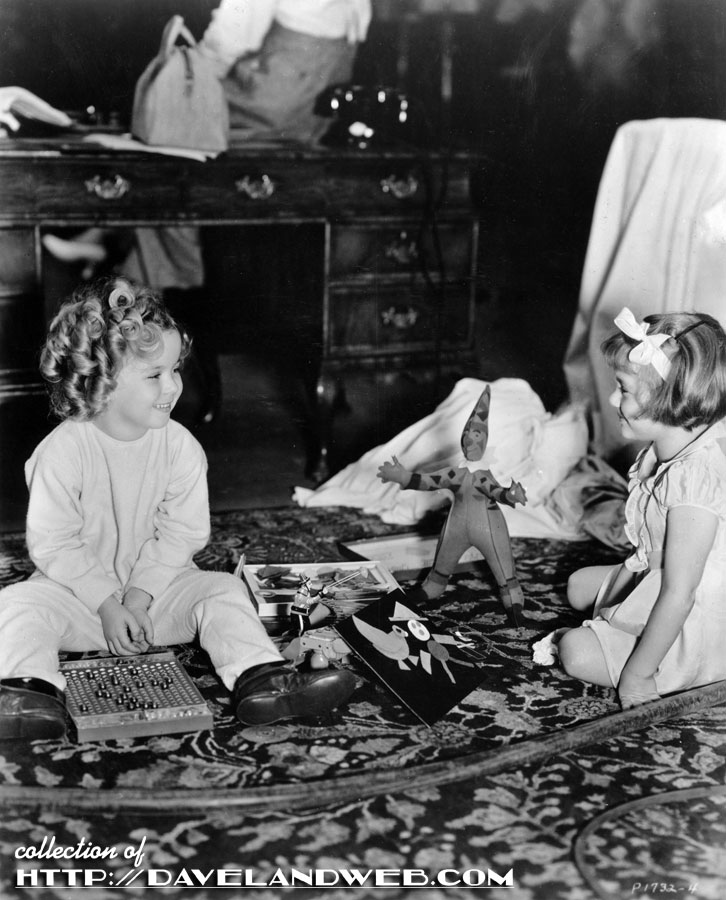 Marilyn's function was mainly to help the film crew set the lighting for Shirley. In Marilyn's contract she was supposed to have on screen appearances in Shirley's films. Unfortunately, those scenes were constantly being cut, as her contract didn't stipulate the filmed scenes had to be used in the finished edited version. In "Curly Top," Holbrook said it seemed like a natural that Granas would be at least one of the girls used in the orphanage scenes, but again, there is no trace of Granas in the finished film.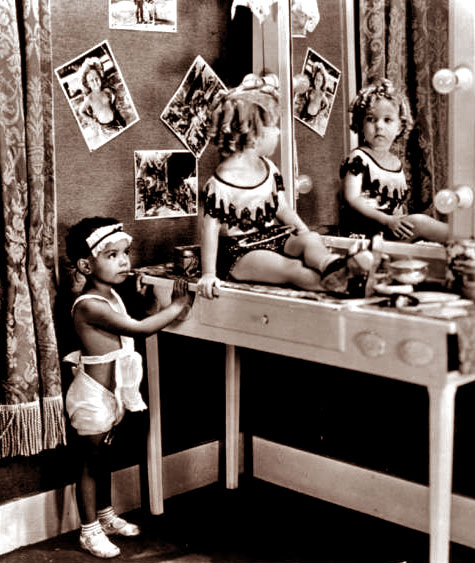 A few published sources have credited the above photo from 1933's "Polly Tix in Washington" as Marilyn's first appearance in a Shirley film. Marilyn vehemently denied this, stating that she was never in any of the Baby Burlesks. Her last time as Shirley's stand-in was "The Little Colonel." There were a number of factors that contributed to Marilyn leaving the role of Shirley's stand-in. One of the reasons was that she just wanted to be a little girl again; she really did not want to be an actress. "I wasn't talented. I had my hair in curls and was about the same height, but that was all." Probably the final blow was that the studio insisted she color her hair blonde to match Shirley's. She didn't want to dye her hair so after "Colonel" they parted ways. Back in "the real world" and living as a normal little girl, she was hit by a schoolmate and called a liar for stating that she was Shirley's stand-in. Nobody believed her, so she kept it a secret until her 50s. Even her own husband was unaware until he discovered the fact after seeing a documentary about Shirley where his wife was mentioned by name. Among other things, Marilyn went on to become a casting director. "I can tell you I casted many children throughout my career and there never was one who was as talented or as natural as Shirley Temple, nor will there ever be." Here is a shot of the two eating lunch between takes of "Baby Take A Bow."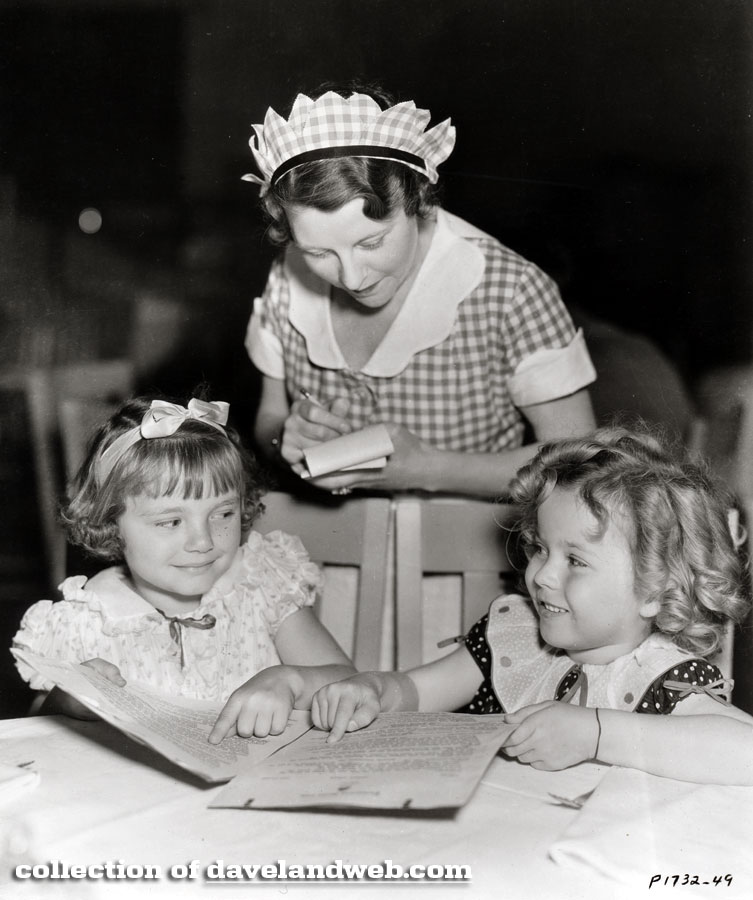 I have often wondered since her passing what will become of Shirley; will the public remember her and her contributions to film and politics? Will the family continue to "market" Shirley? Holbrook assured me that the partnership of Shirley's family is very intent on the preservation of Shirley's legacy. Just the other day he was looking at things from 1928 that were either born or invented, including Shirley, Maya Angelou, Andy Warhol, and Mickey Mouse. Shirley's is the only name (other than Mickey Mouse who obviously is not a real person) that you could go anywhere in the world and someone would know what it means. "She truly has unbelievable name recognition. You often hear the phrase 'six degrees of separation.' With Shirley, I truly believe it is one degree of separation. Everyone has a story that connects directly to her. Shirley's family wants to make sure that future generations will remember that this little girl was an angel who made us smile, laugh, dance, and saved this nation in its darkest hour."
One of Holbrook's favorite memories of the exhibit occurred on the first day, when two 85 year old twin sisters came in from Rochester and sang "On The Good Ship Lollipop" in front of Shirley's original dress and then spontaneously burst into tears, hugging each other. When I asked what was Shirley's appeal, Holbrook replied "The nostalgia of youth. The secret was that she was herself. We always saw the real Shirley Temple; we saw her every time. She was what we want our better side to be. She was always our best side." The recent Palo Alto exhibit saw nearly 5,000 people line up to see Shirley's memorabilia between Friday thru Sunday. For the 50 hours that the exhibit was open, that equals about 100 people per hour. Not bad!
In asking about the range of expected prices for the auction, Holbrook told me that he wants approachability for this sale. "There are amazing emotions all over the world for this little girl. We want it accessible to everyone. The breadth of items (about 600 pieces/lots) makes it possible to have something for everyone; there are items that are expected to sell for $100-200 and some that may go for $20,000 or more. No one who is a Shirley fan will feel that they are left out." Holbrook also speaks enthusiastically about the exhibit's coffee table book that consists of 360 pages in full color; it is a true commemorative work. "It will be considered one of the quintessential Shirley documents in her history. It is a beautiful memory of her with a forward from her family." At the time we talked, the book was getting ready to ship. I cannot wait to see it!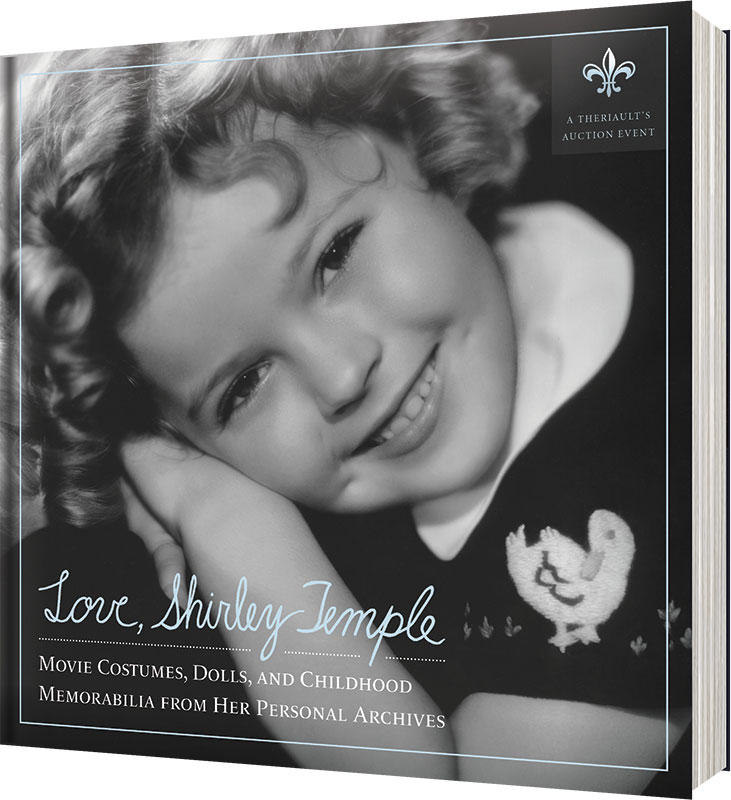 If you'd like to order your own copy, visit the
Theriault's site
. Don't delay, as this volume is sure to sell out quickly. As a final note, I know there has been much sadness and disappointment (myself included!) that Shirley's family did not want to keep these cherished items. Stuart Holbrook made it very clear that it was Shirley's wish that these items be shared with the public for future generations to be able to have access to them. When attempts made by Shirley and her family to donate them to museums failed, this became the best option to fulfill Shirley's desire. Many thanks to Stuart Holbrook for helping the legacy of Shirley Temple Black live forever!
See more Shirley at my
main website.