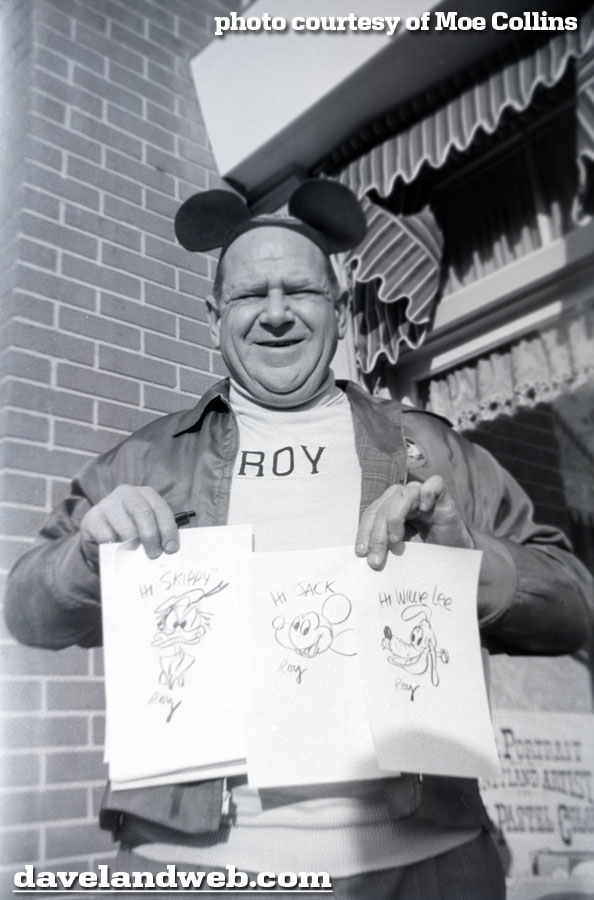 George "Moe" Collins began his career at Disneyland as a guidebook salesman back in the park's early years, riding his bike to the park down Katella Avenue, which was only a 2 lane street back then. He would return to Disney some 20 years later, working as a staff writer at WED Imagineering, hired by and working for Marty Sklar. "Moe" was kind enough to share this great photo of Disney Legend Roy Williams. As he tells it:
"This photo was taken on Main Street in 1957, while I was on a break from selling guide books out at the front gate. The original Mickey Mouse Club format and staff had changed, and evidently Roy was not involved in TV at that time. I would venture a guess that Walt Disney, himself, hired Roy to sign autographs and make sketches for the guests. He was exactly like this photo suggests.....a big, affable, lovable 300 pound kid with mouse ears."

Roy was initially hired by Walt Disney as an artist in 1930. He worked on animated shorts and then moved into the story department, specializing in gags. He also designed over 100 insignias for the U.S. armed forces during World War II, and is credited with designing the mouse ears worn on the Mickey Mouse Club. Roy traveled across the country to promote the re-release of such Disney films as "Cinderella," while in 1959, he served as goodwill ambassador for The Walt Disney Studios. Later, he worked as a Disney comic strip artist, cartoonist at Disneyland (as seen in the photo posted here), and consultant on the traveling arena show, "Disney on Parade." Williams died in Burbank, California, in 1976. He was posthumously inducted as a Disney Legend in 1992.
Many thanks to "Moe" for sharing this previously unseen photo!
See more vintage and contemporary Disneyland Main Street, U.S.A. photos at
my main website.