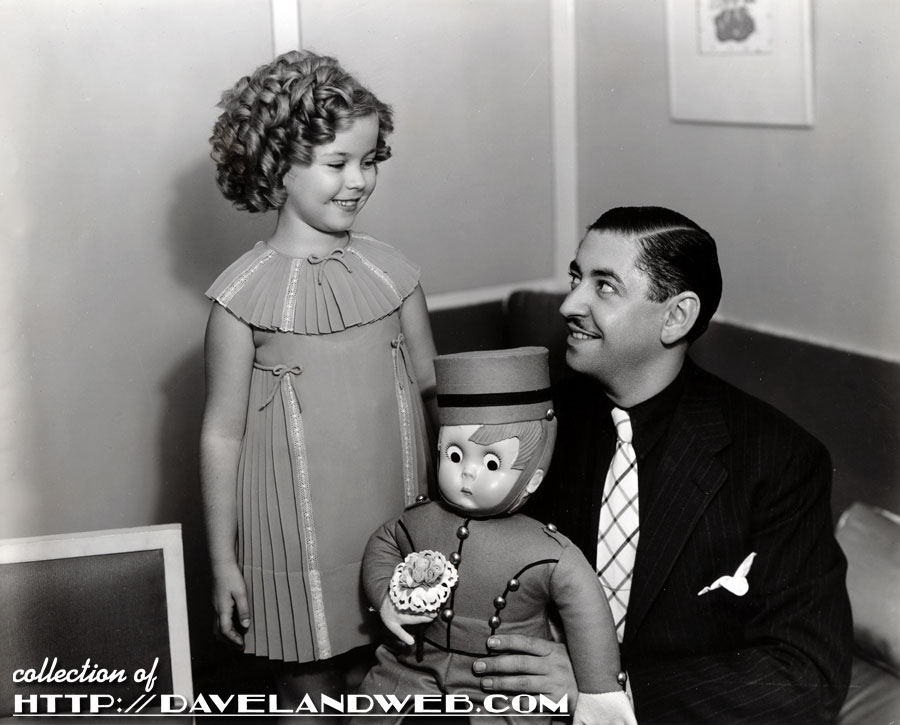 Today's image shows Shirley in her trailer at Fox in between takes of "Stowaway" with composer Harry Revel, who wrote the music for most of the songs she sang in that film. The story of the dress that Shirley is wearing can be found in
my previous post
.
This particular photo opportunity shows Revel gifting Shirley a Bellhop doll created by Lenci. These highly collectable dolls were made of pressed woolen felt, handcrafted in Turin from 1919 until 1944. I was able to see it in person in Santa Monica back in 2015 when it was part of the traveling exhibit for the "Love, Shirley Temple" auction.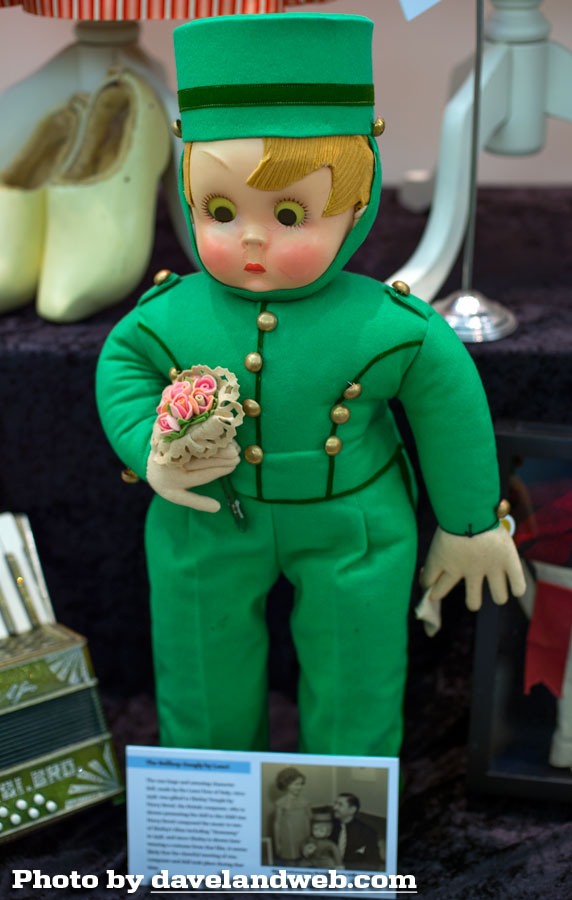 From the auction description:
ITALIAN CHARACTER DOLL, THE BELLHOP, BY LENCI, GIFTED BY HARRY REVEL

28" high including attached hat. All-cloth chubby doll with composition mask face, movable disc googly eyes, sun ray painted lashes, tiny closed mouth, glued-on felt hair with stitched brush-mark details, felt hands and shoes, wearing stitched-on bright green felt bellhop costume including stitched-on hat, darker green piping, gilt buttons, and carrying a posy of felt flowers and a felt folded "message". Excellent condition with light surface craquelure around the nose and mouth, and with brilliant vivid colors of costume. The mask face googly series was made in Lenci of Italy in the mid-1930s. Included with the rare large and captivating doll is a vintage photograph of Shirley wearing a costume from "Stowaway" (1936) with Harry Revel who is presenting the doll to her and a letter from Harry Revel to Shirley's mother. The British-born composer wrote scores for a number of Hollywood films of the 1930s including the Shirley Temple films of "Stowaway" and "Poor Little Rich Girl".

Realized Price: $4,750
Presale Estimate: 1500+

The doll surfaced again in November 2018 at another Theriault's auction. This time it only fetched $3,000...and mysteriously the letter from Revel to Gertrude Temple was not included.
See more Shirley Temple photos at my
main website.