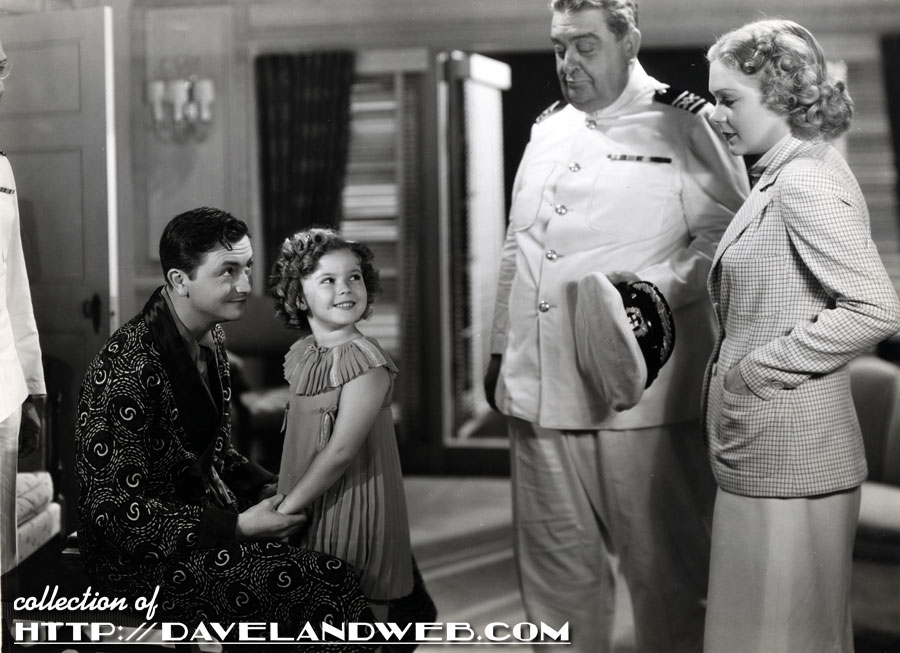 In the 1936 Shirley Temple classic "Stowaway," the curly-haired moppet is ably supported by Robert Young and Alice Faye. Naturally she's an orphan who plays matchmaker for her two costars. The costume shown here, designed by Royer, was worn by Ching-Ching (Shirley Temple) in the scene with Susan Parker (Alice Faye) when she changes from her Chinese costume to this dress, bought in the dress shop of the steam ship. Shirley exclaims, "I've never had a dress as nice as this" while twirling around, and then meets up with "Uncle" Tommy (Robert Young) where she exclaims, "I'm a stowaway, but I didn't mean to be."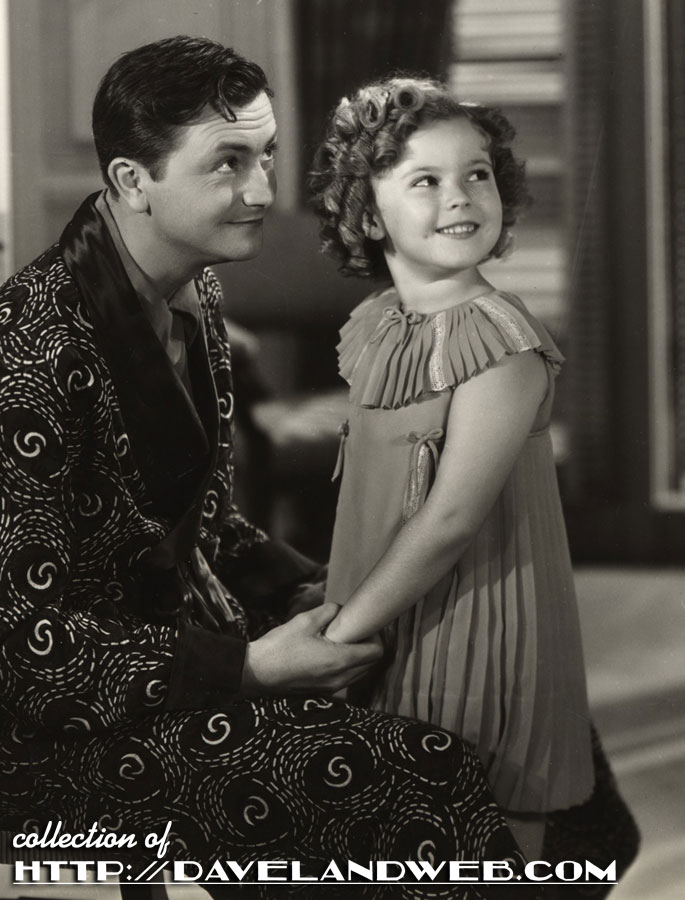 This dress was also worn in a deleted scene and musical number that followed. There are many existing stills from this deleted scene which can be pieced together thanks to a vintage storybook tie-in published by Saalfield.
There is a knock at Susan's stateroom door, and Tommy and friends enter. They're singing "Happy Birthday" and carrying gifts. When Ching says it's not her birthday, Tommy responds, "It must be mine." He opens a package with a dress. "But it doesn't fit me!" "You're fooling," exclaims Ching Ching. "It's a party!"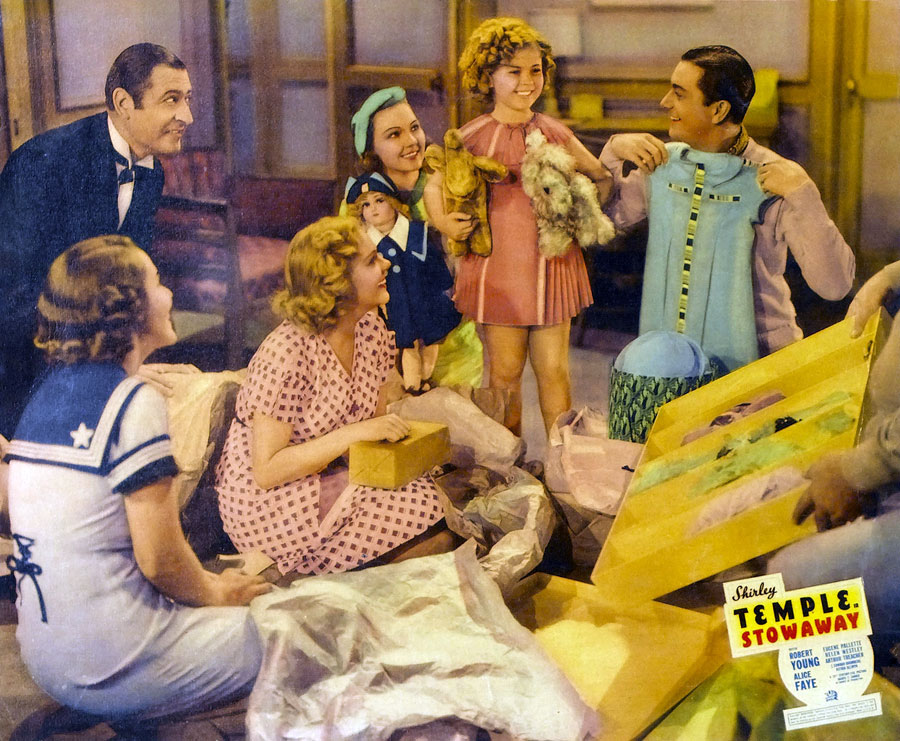 In this vintage lobby card, it looks like Helen Westley's character, Mrs. Hope, was breaking up this party!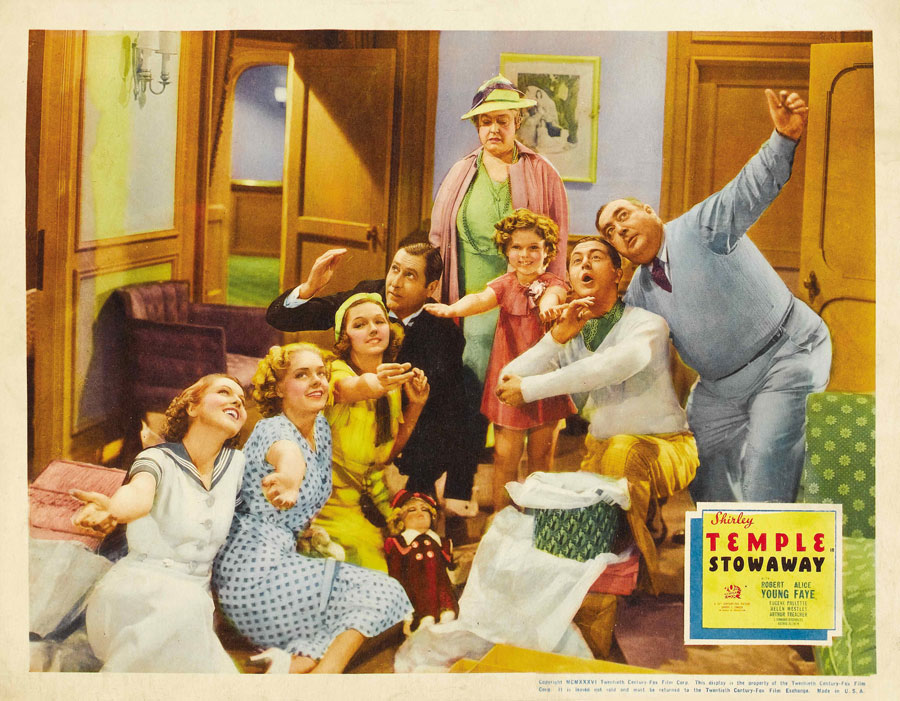 The gang appears to be singing a song in this shot; it could be "All Aboard the Dreamland Choo Choo" or "I Wanna Go to the Zoo", as both were mentioned in newspaper articles at the time as songs from "Stowaway," and there was "Zoo" sheet music. No sheet music for "Choo Choo," but there is a recording – but that may have been done later, as "Choo Choo" was also slated for – and deleted from – "Rebecca of Sunnybrook Farm." Most likely it was "Zoo" that they sang here; later, Ching Ching and Tommy would sing a snippet of it as they returned to the ship.
This photo from the deleted scene shows Ching Ching with a pair of scissors. Most likely it came after the party, as she's wearing her corsage.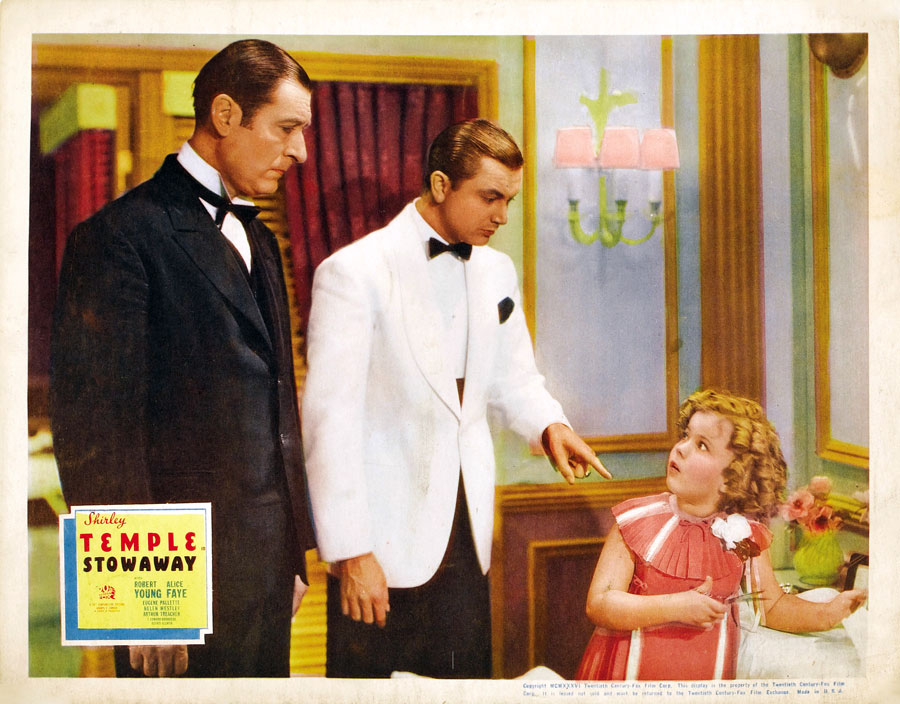 Almost 80 years later, this dress came up for sale at the Shirley Temple estate auction held by Theriault's in July 2015. First thing you'll notice is that the person who tinted the vintage lobby cards wasn't concerned with accuracy, as the original dress is blue, not red.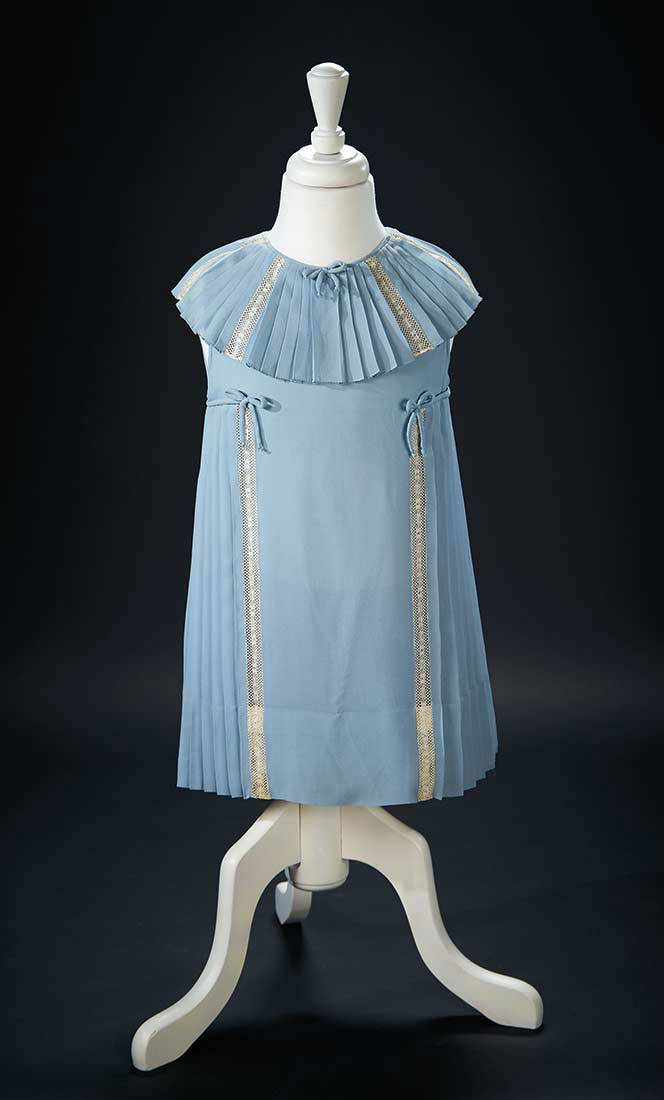 Lifelong Shirley Temple aficionado Melissa, aka "The Colonel," was at the July 2015 auction. "I didn't even dream of owning a costume, let alone from one of my very favorite Shirley films," she told me recently. The dress came up for bid and was gone, along with a number of other Temple screen-worn costumes. Who bought them? The Nate Sanders Auction House.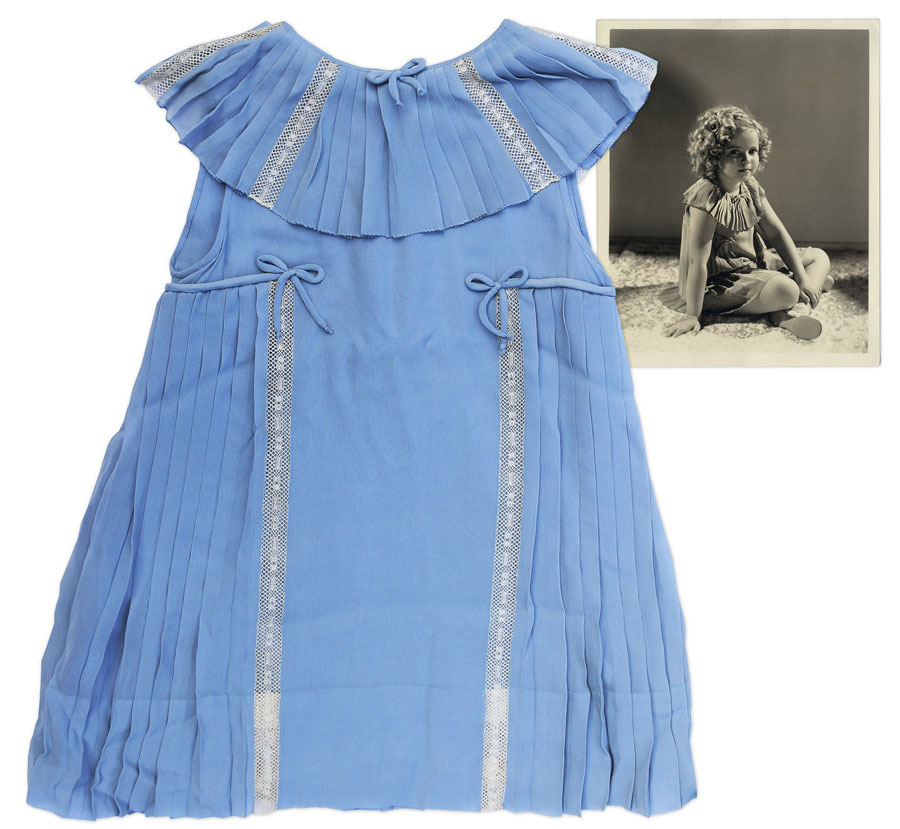 In this case, patience was a virtue as Melissa was able to obtain this costume the second time around directly from Nate. "I was elated but nervous about my purchase...it was a big expense that took me four months to pay for, but it was a quintessential Shirley dress, worn in several scenes including a deleted musical number. As soon as it arrived I noticed the exceptional detail and craftmanship. And lots of snaps and hooks and eyes!"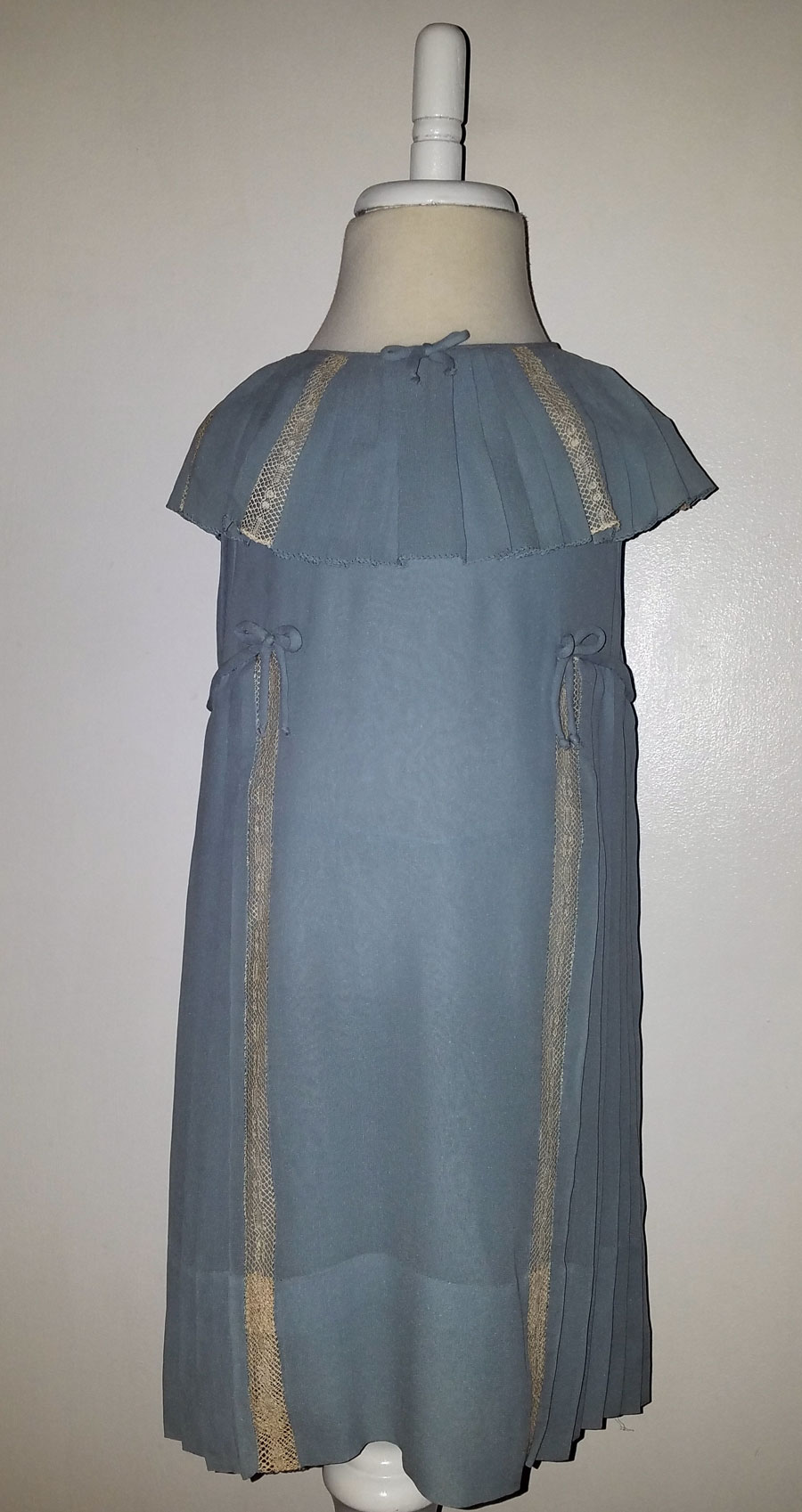 Melissa generously shared these images of her prized acquisition which now resides in her Shirley "shrine."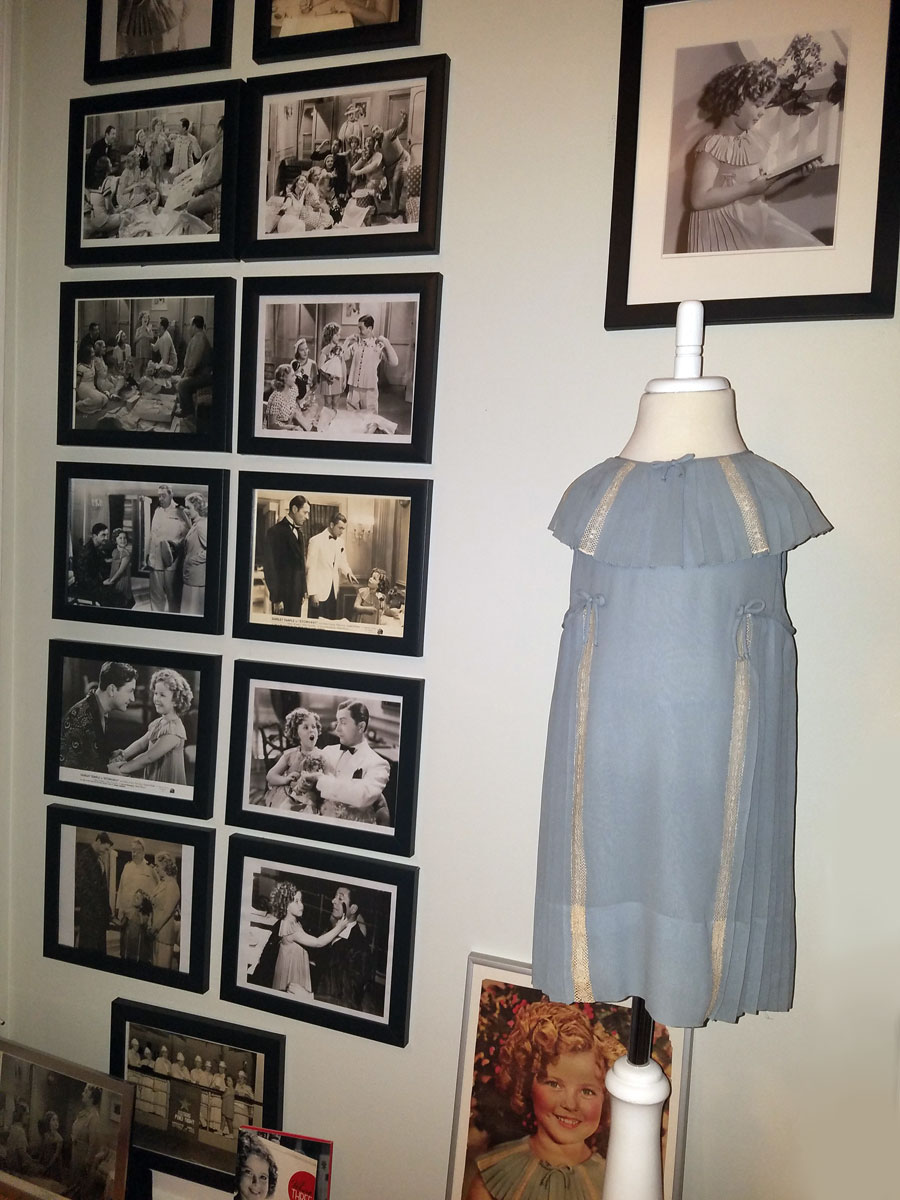 On a side note, The Danbury Mint released this 8" miniature Shirley doll wearing the "Stowaway" dress. The fact that Shirley Temple Black herself chose this outfit for the doll tells me it was a very special one to her...and they even got the color right!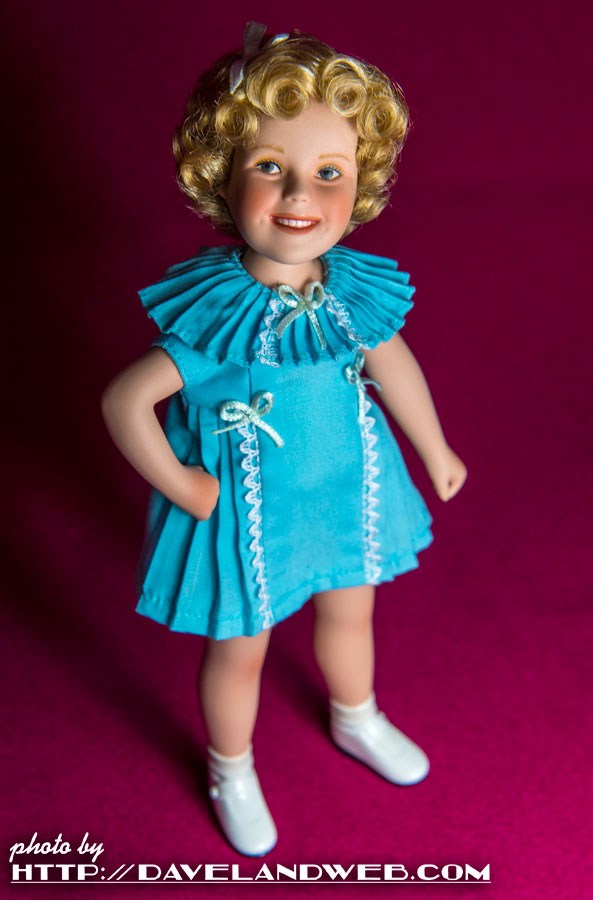 A little more information on the designer of the dress. Louis/Luis Royer also did the gowns for "Bright Eyes" and "Baby Take A Bow" as well as the costumes for "Miss Annie Rooney."
See more Shirley Temple photos at my
main website.