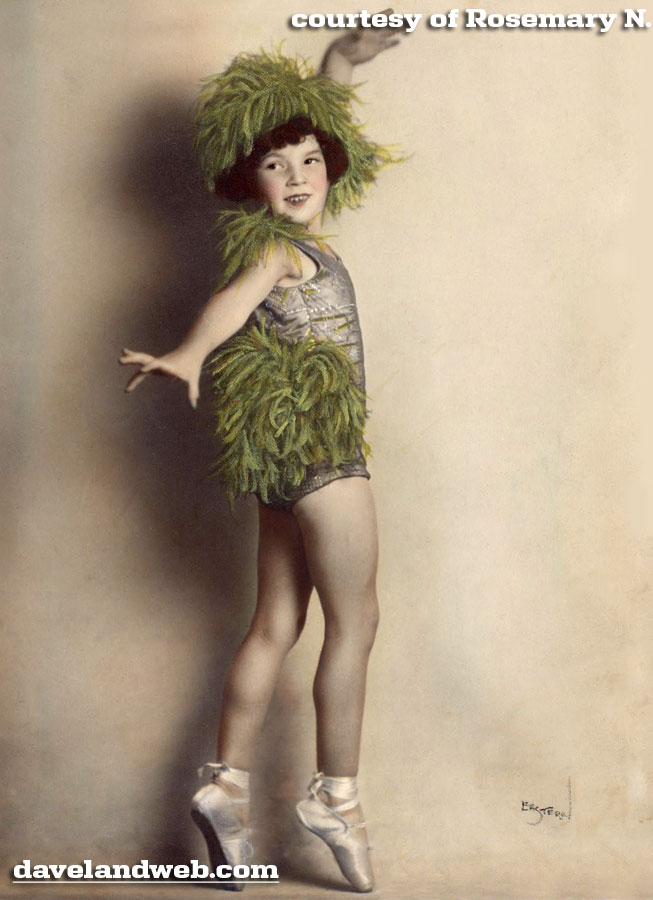 I was recently contacted by Rosemary, whose mother had worked with Shirley Temple on a number of her childhood films, specifically 1936's "Poor Little Rich Girl." The first two photos here show Rosemary's mom, who was listed in the old red Central Casting books from that era under a couple of different names, mainly Mary Ellen Purcell, Mary Ellen Bodem, and Ellen Bodem.
Mom worked a lot for various studios starting in about probably 1932 or 1933 (when she was six or seven) and continued working in the industry until about 1949, when she finally defied her mother and joined the Navy (she was only in for 9 months, then she married my dad and they made her leave, 'cause that's how it was in those days).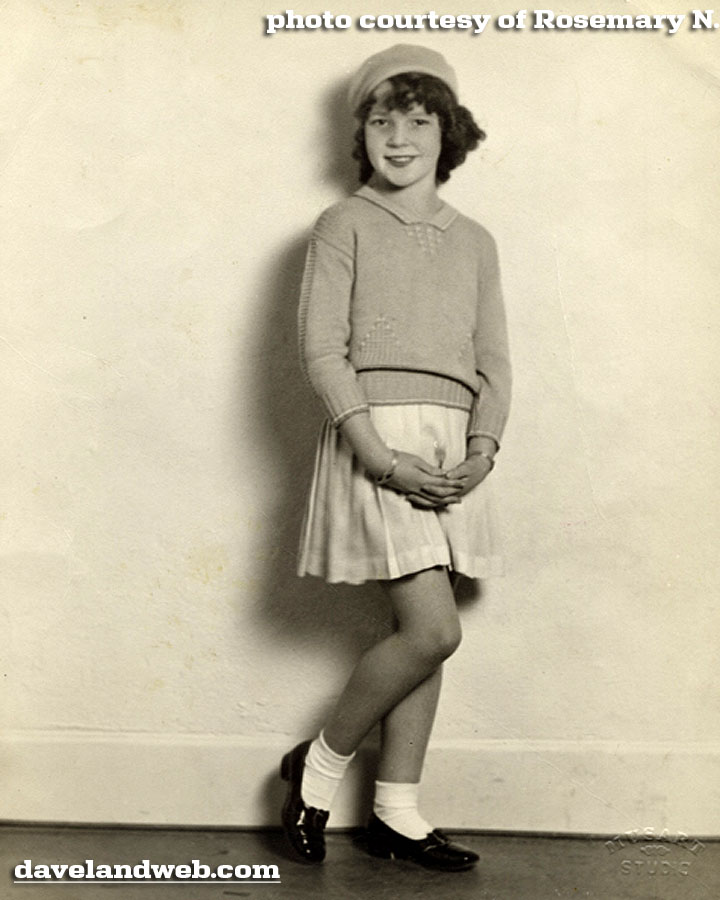 Rosemary recounts:
My mom was in several ST movies. She loved telling the story of being at ST's 7th birthday party at the studio and ST climbing onto the table, stamping her foot, and saying "I am Shirley Temple, I am seven years old, and I can do whatever I want."
Rosemary was hoping I could locate a decent copy of this publicity still, which I was only able to find on Corbis images. Her mom is on the right in plaid: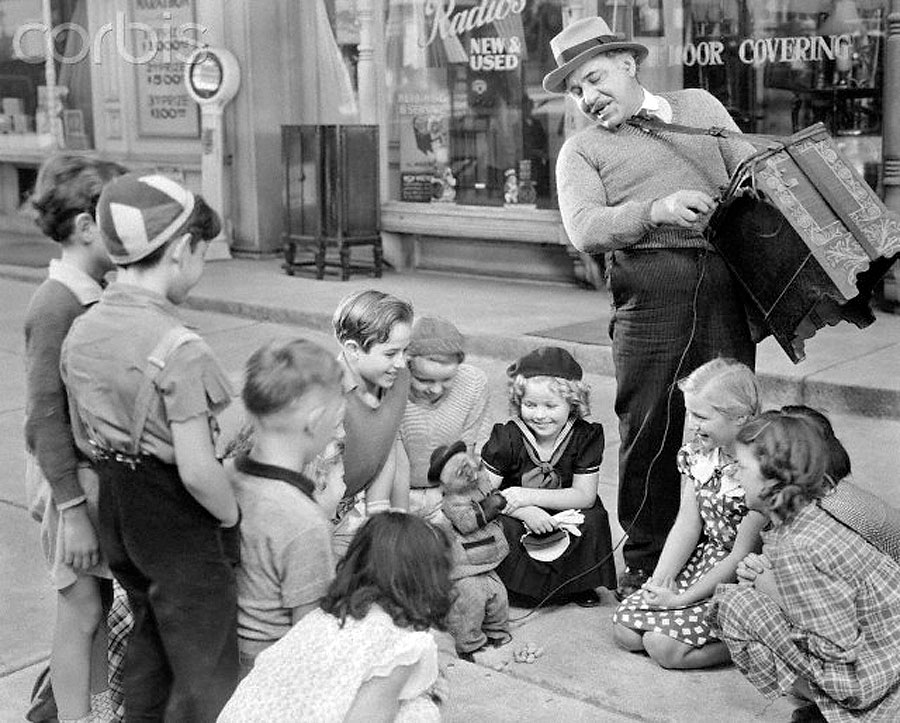 Keeping a lookout for this photo, I was able to acquire this behind-the-scenes shot: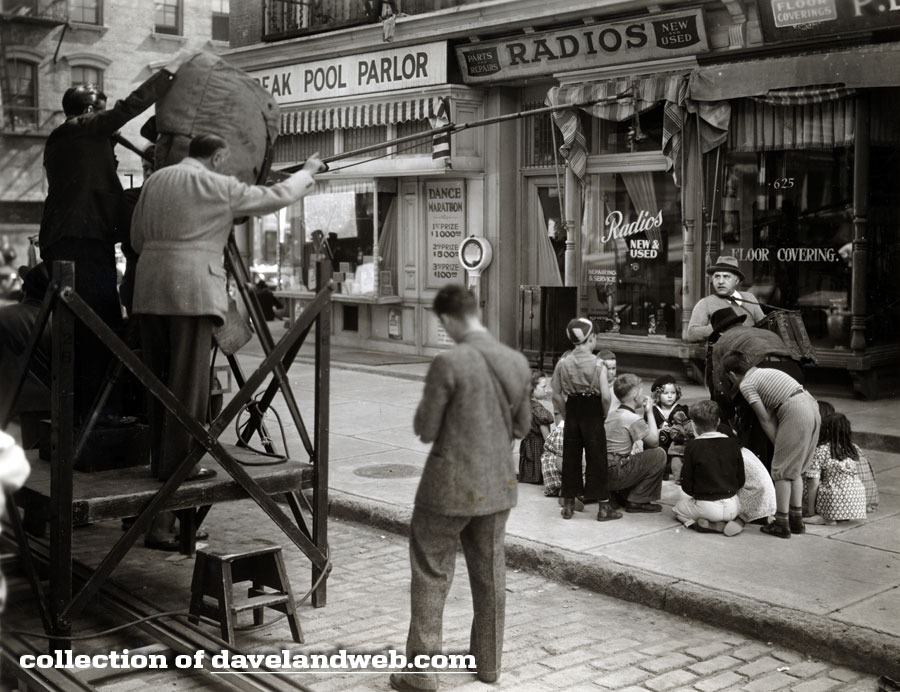 Here's the publicity blurb that accompanied it:
TELLING HIM HOW — Director Irving Cummings instructs Henry Armetta in the art of grinding an organ while Shirley Temple and her playmates admire the monkey, in a scene from the 20th Century-Fox Production of Poor Little Rich Girl.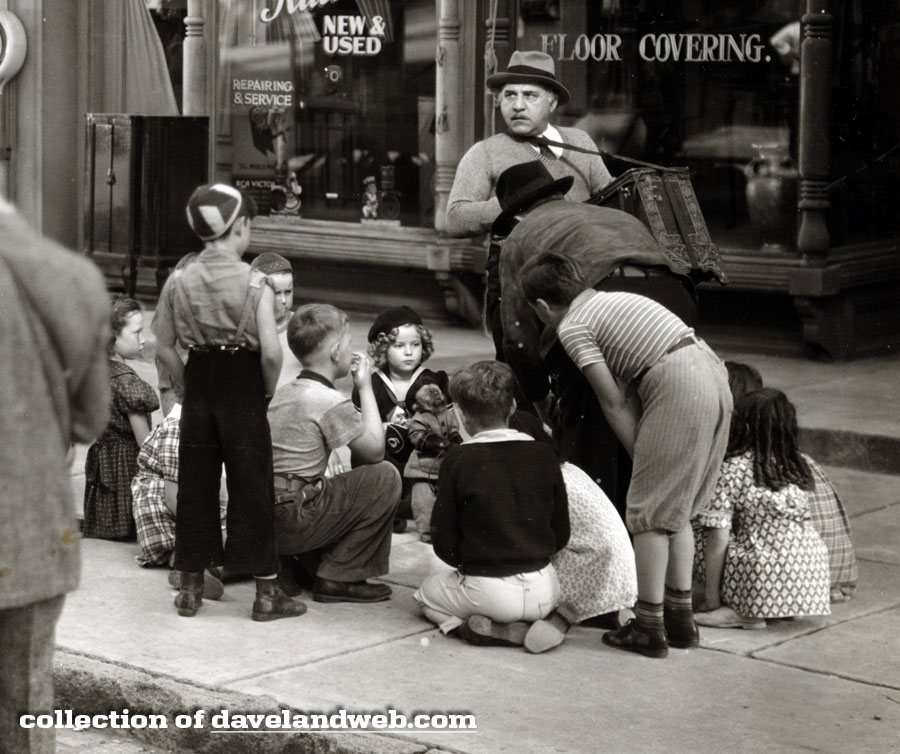 From Rosemary:
Even though you can't really see my mom (from this angle, she is hidden behind the boy on the right and the little girl stooping next to him and only a bit of her dress and hair is showing), but it is so cool to have the cameras and so in the shot. I was actually interviewed on BBC Scotland when Shirley Temple Black died. They had asked on the website if anyone had any personal connection to Shirley and I told them the birthday story. Oh, how I wish we still had all the photographs we once had of Mom, not only in the Shirley Temple movies (she was in several), but all the others (one of her with Jimmy Stewart with his arm around her shoulders – I think that was "Destry Rides Again"), on the set of "Dark Victory" with Bette Davis (Mom isn't actually seen in that one – they cut the shot out, but when Bette is in the garden and realizes she has gone blind and hears the children laughing, Mom was one of those kids), and so many more. Tyrone Power (Mom was in "Nightmare Alley") called her "Little Brown Eyes" and she despised Ray Milland, whom she said was very rude to her! Not long ago we got my mother's military records, which stated that in the late 40s, she was making 70 dollars a week on contract to Universal, which was pretty darn good pay in those days. She was also Yvonne De Carlo's stand-in and double.
Recently, this Shirley Temple costume from "Poor Little Rich Girl" was auctioned off by Bonham's for $21,250.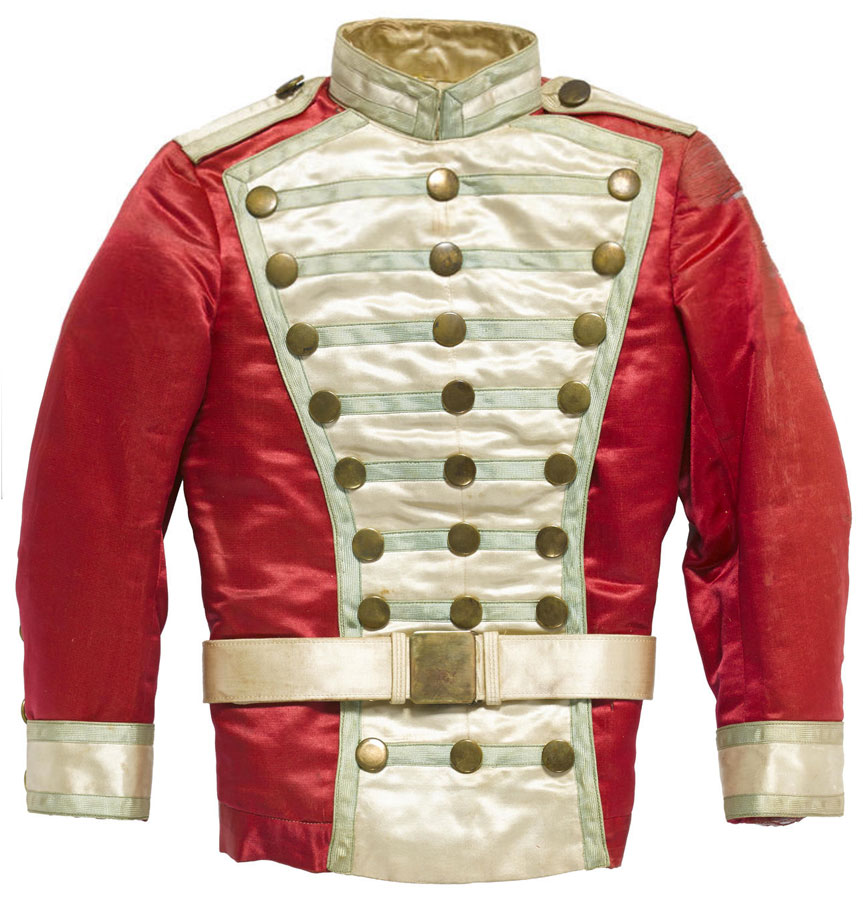 A publicity shot of Shirley with Claude Gillingwater, wearing the jacket: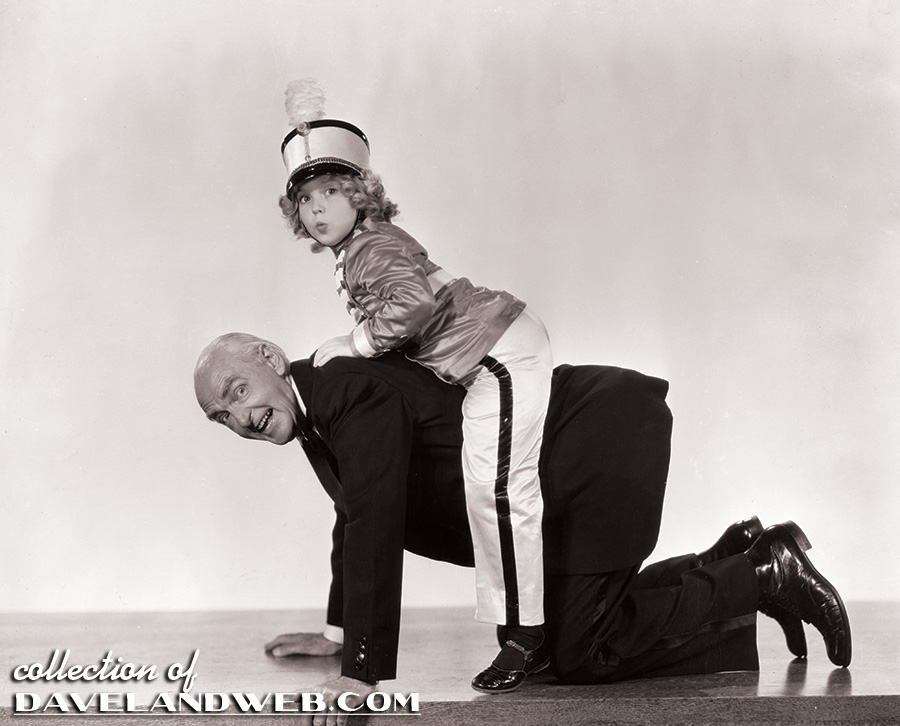 Here's the "Military Man" sequence where she wore the majorette jacket:
For some reason, "Poor Little Rich Girl" is the only Shirley Temple film that hasn't been released on DVD yet.
See more Shirley Temple photos from my collection on my
main website.
Follow my Daveland updates on
Twitter
and view my most recent photos on
Flickr
.