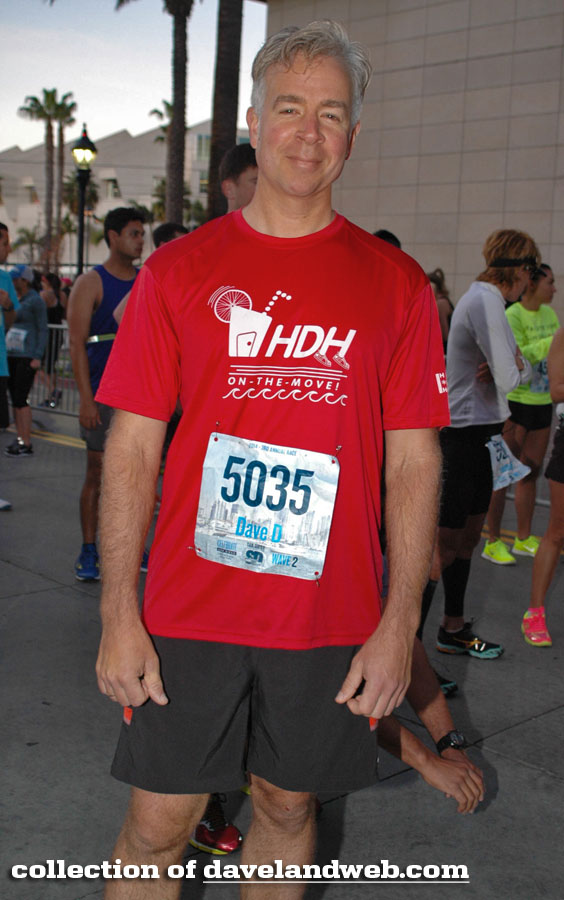 The pictures are in, so now I can tell the rest of the story of this year's San Diego Half Marathon. The temperature was slightly cool when I arrived at the starting line at about 6:30am. The official start time for the race was 7:20am, and I was in Wave 2, which would begin approximately 1 minute and 45 seconds after that. I was nervous about 2 things; one was taken care of by a quick trip to the restroom inside of the Omni (
note to self:
never eat lasagna laden with mozzarella the night before a race) and the other was something I had no control over, which is the outdoor temperature. It was going to be a warm day, and I just wanted to start as soon as possible before the sun came out in full force. As you can see in the first photo, I was in a pretty good mood, excited to be doing a new race and excited to see how far all of my training would take me. I also had a number of coworkers who were running the race, too (thus the apparel).
Here's how it started: the first few minutes, I always wonder, "How the hell am I going to run 13 miles at this pace?" Then by about mile 1, I calm down and start to feel pretty good, as witnessed by this shot of me passing the Star of India Maritime Museum on Harbor Drive.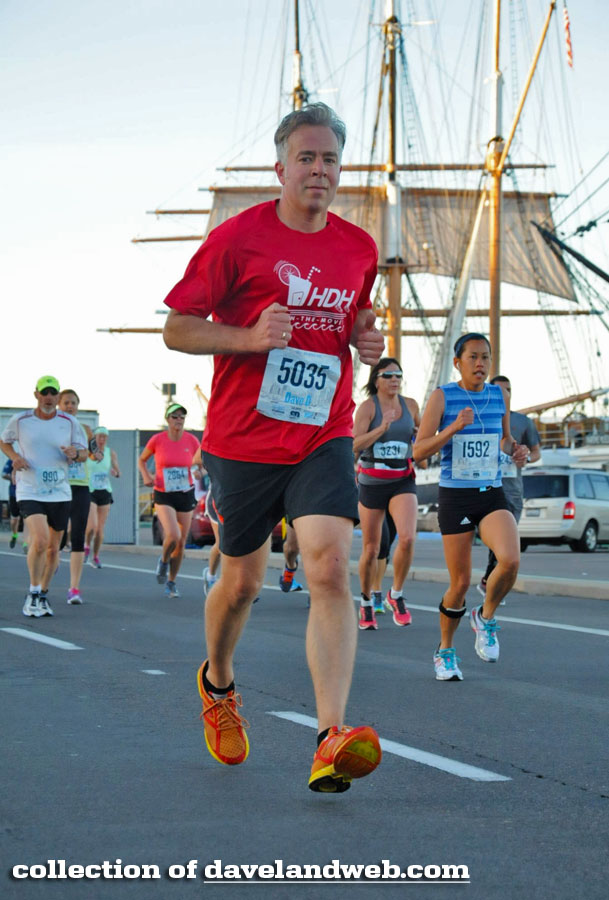 As the race wore on, the heat factor increased, and I began to wilt. By mile 8, I started seeing too many people pass me (never a good sign) and it really messed with my mind. I had a feeling that my goal time was slowly going down the drain.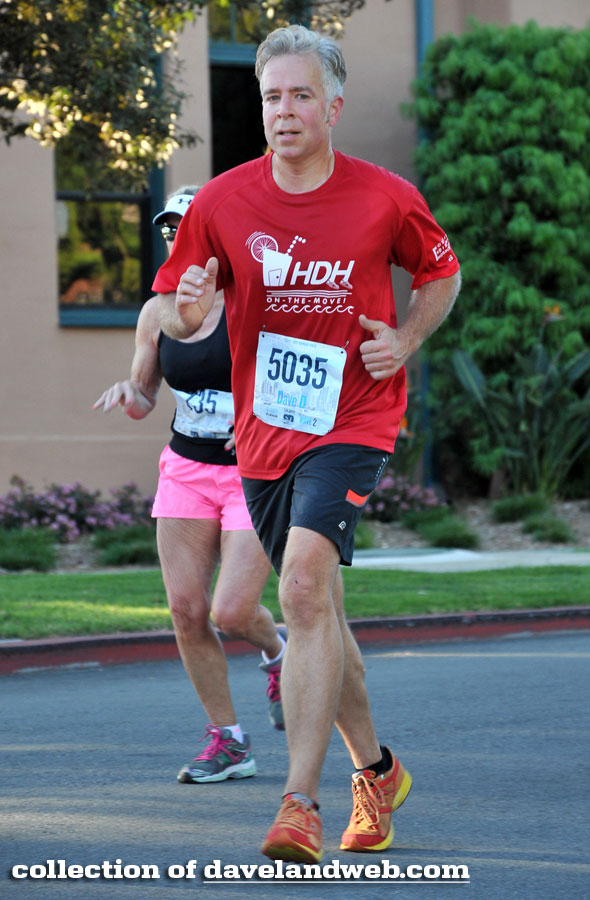 After completing the worst hill of the course (and there were quite a few for this race), I saw the time at the 10 mile marker which showed I had been running for 1 hour and 30 minutes. Son of a bleeping bee-yotch. I realized that a personal best was impossible, and all I wanted to do was just stop and walk the last 3 miles. Fortunately, I trudged on and began to get my game back. Not enough to run 3 miles in 15 minutes, but enough to finish with a time of 1:56.12. I saw my assistant from work at the finish line; she had waited for me after completing the 5k. If you run, I am sure you understand how much it can help to see and hear somebody cheering you on. It definitely bolstered my spirits and helped me finish strong.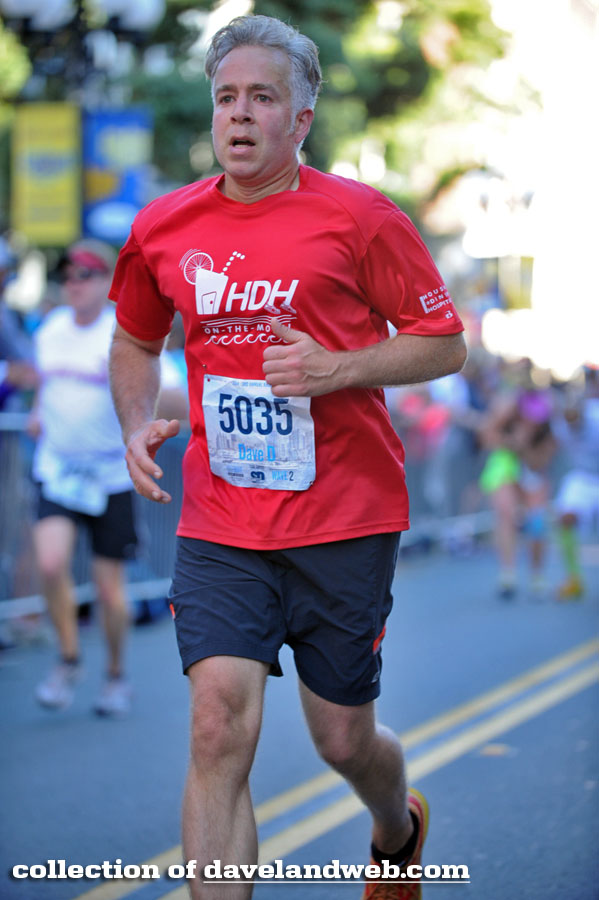 I was disappointed beyond belief not to achieve a personal best, but I was happy that despite the heat (which is my achilles heel when it comes to running), I came in respectably under 2 hours. And the worst part of the race? Having to climb a few flights of steps to pick up the after-race snacks and goody bag. Ouch, ouch, and double ouch.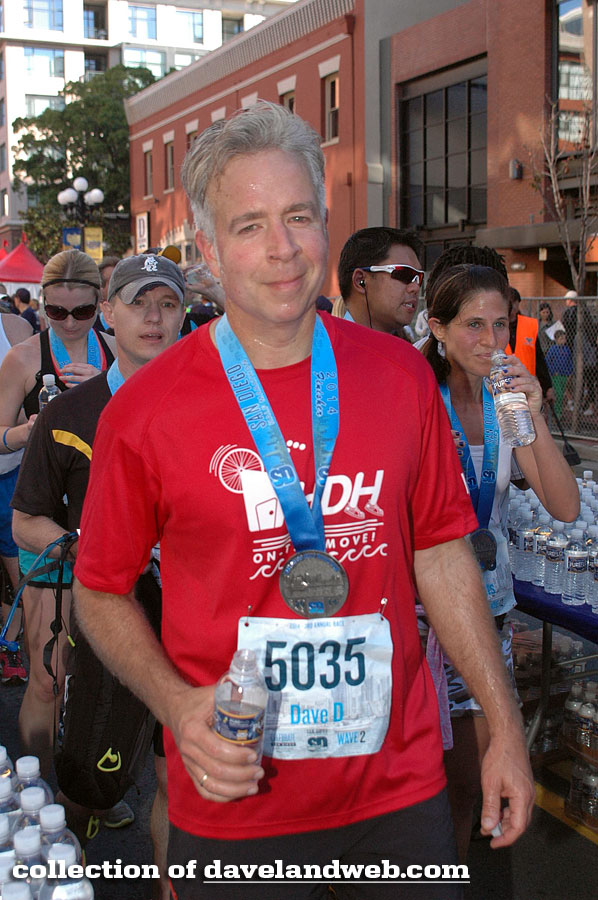 Next up…maybe I'll do the SD Rock 'n Roll Half Marathon. Stay tuned…
Thanks to David over at
Gorillas Don't Blog
, I was reminded that Life Magazine had a number of shots of the Buckboard Wagons from when Disneyland first opened. Hmmm…looks like fun; can't imagine why they didn't last!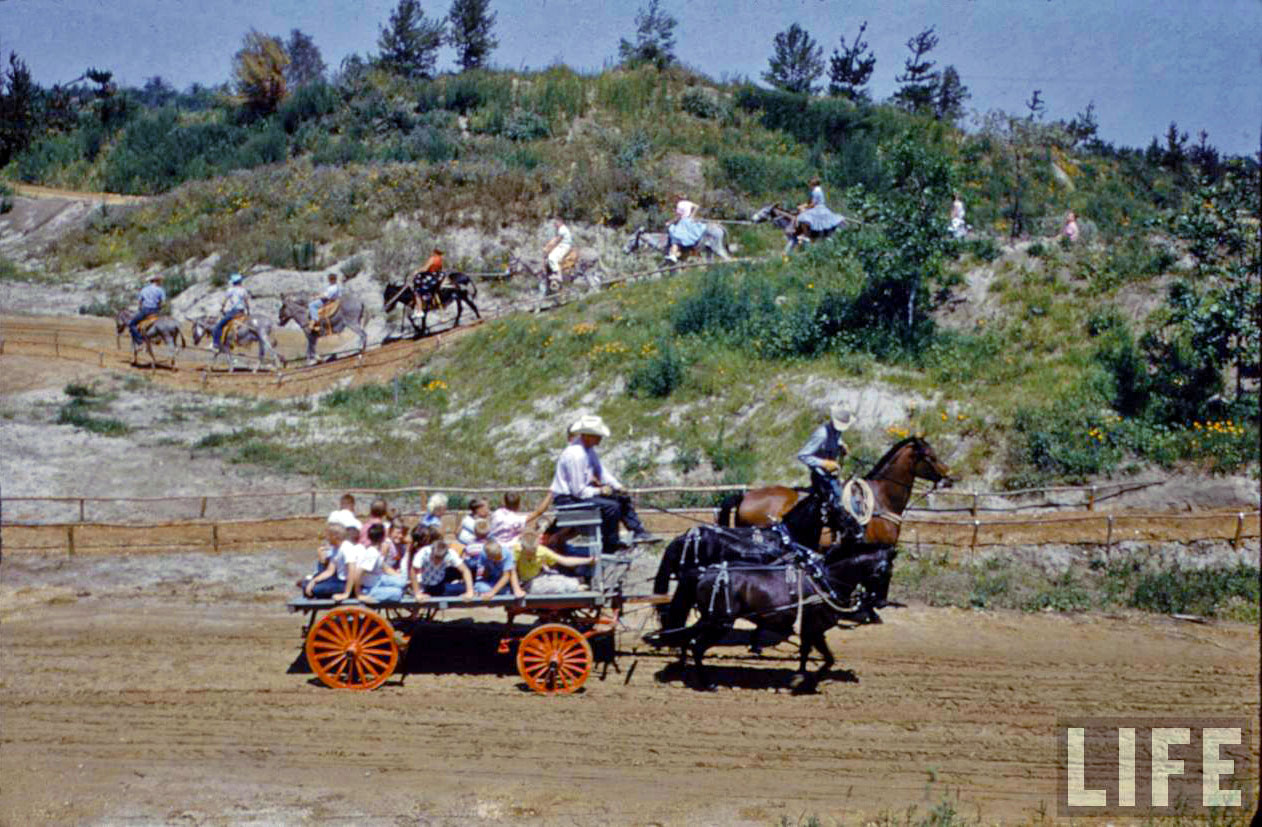 Driving through Frontierland, with Native Americans along the way, it looks like lots of fun! I don't get it?!?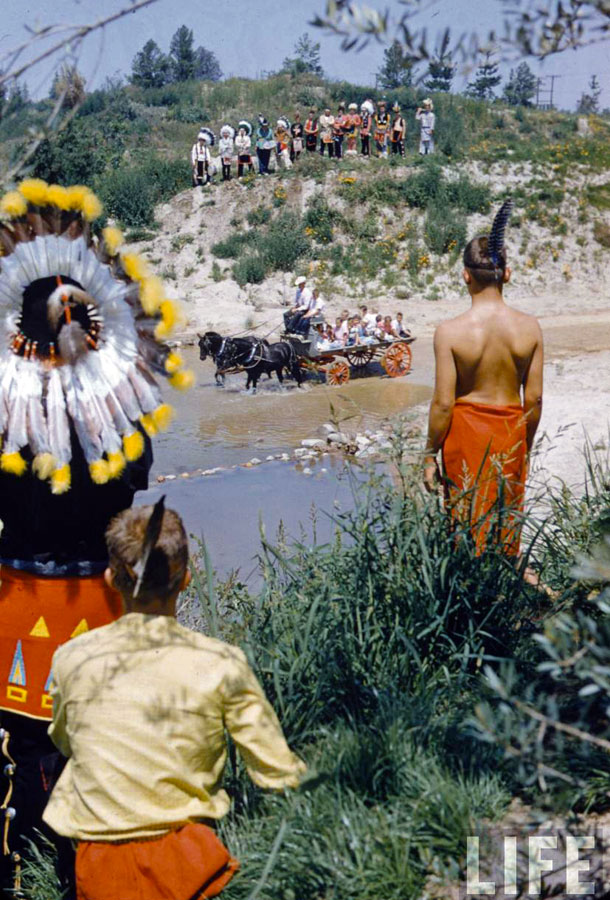 Oh…now I get it.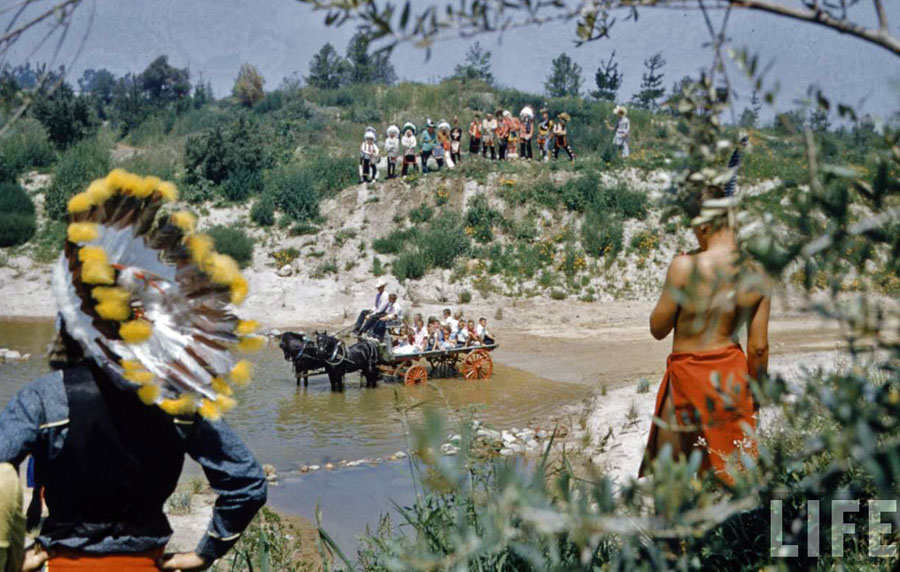 I can imagine that there were very few guests who were excited about getting wet in this vehicle that provided very little (if any) protection from the elements along the way.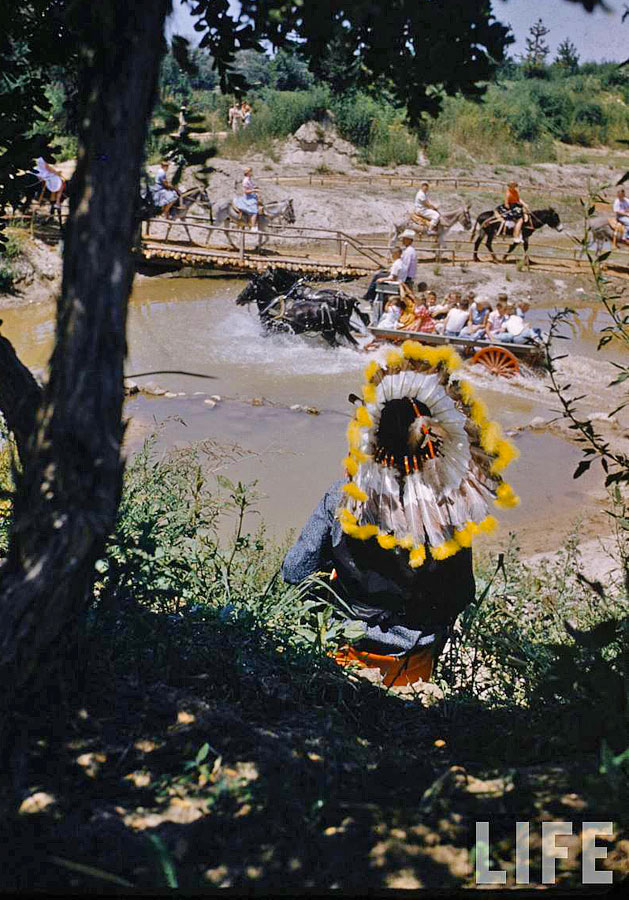 Obviously, not much testing occurred with this attraction before it opened! NOW I know why the buckboards didn't last long in the park.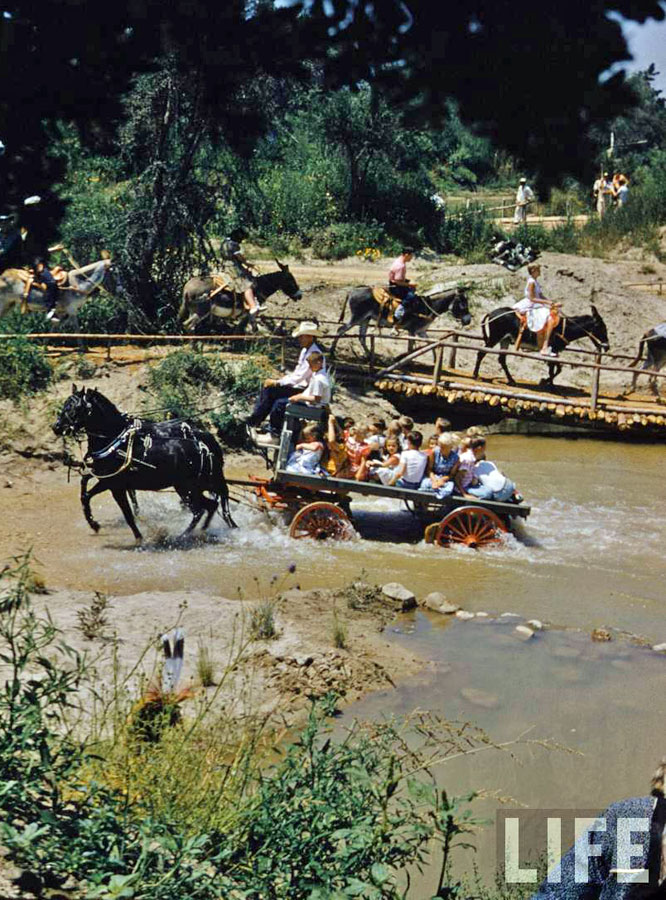 See more Daveland photos from my collection on my
main website.
Follow my Daveland updates on
Twitter
and view my most recent photos on
Flickr
.