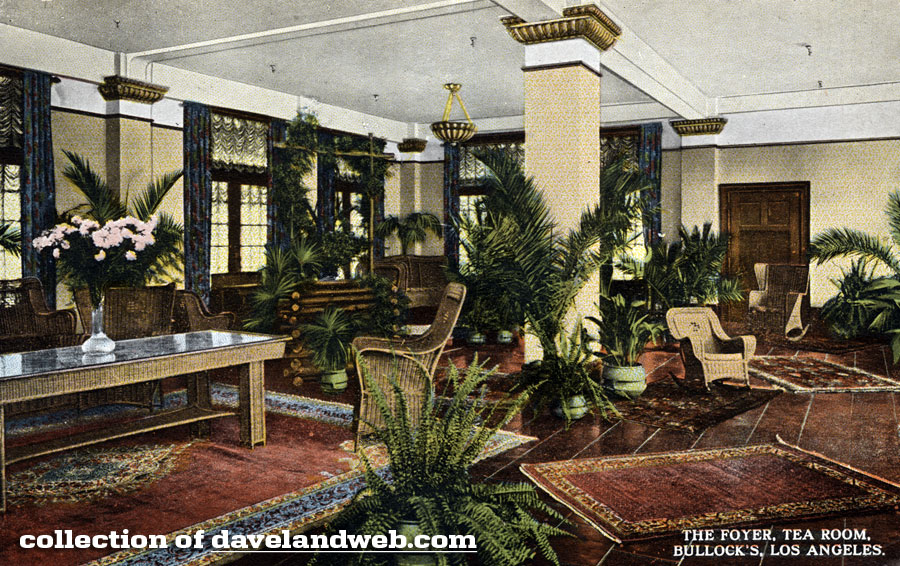 Continuing with my tribute to the nostalgic novels written by Martin Turnbull set in Hollywood, today's post shows a few views of the Bullock's Wilshire Tea Room. One of Martin's websites features an A-Z list of famous Hollywood hangouts, including this description of the Bullock's Tea Room:
Opened 1929, closed 02 APR 1993 – Located on top of the department store…Clark Gable and Carole Lombard were frequent shoppers… The dining area originally included a Tea Lounge, Club Room, two private dining rooms, one semi-private dining room and a Tea Patio. By the late 40s, the area was modified into the Tea Room and remained in place for 40-plus years. From opening day, fluffy coconut cream pie, baked daily, was a teatime specialty. At lunch, women shoppers favored sandwiches and dainty fair, including the Bombay Salad (mainly shrimp and crabs with a poppy seed dressing). During the run, the maitre d' Humberto Lara became an institution. Pompadoured and polite, the dark suited man was the Tea Room's ultimate greeter and hand-kisser for more than 30 years.

The buffet luncheon was 85 cents (in the 30s) There was also a table d'hote luncheon and a diet special for about the same price. By the way, this tea room is something you must be sure to visit. The desert motif is so very restful and the copper cactus on the window grating sets the tempo, which is so well carried out that even the slats on the Venetian blinds are painted alternately in pink and green and ivory to keep the decor! Even the vegetable plate is well-planned and will restore the good humor of the most unwilling dieter; grilled tomatoes, mushrooms, string beans, peas, asparagus, squash and celery – all of them delicious and you can do your duty by your stomach and enjoy yourself. There are such things as stuffed zucchini, cream cheese ring with assorted fruit, fresh strawberry dressing, and always orange bread and date and nut bread and cheese bread (ambrosial!) and a list of desserts to make one's mouth water. Tuesdays there is a fashion luncheon at $1.25, which is slightly more than the usual $I.00 affair, or a salad special at 85 cents or thereabouts. Out in the Desert Lounge, are cannily displayed the most decorative baskets of stuffed fruits, and the show case is always filled with delectable cookies; little fancy cookies which tempt the weak sisters anew, as well they may, with their enticing shapes and nutty goodness. The fruit cake is one of the house specialties at $1.25 the pound, and is very gay with its top dressing of candied fruits. At the moment, they are featuring agar-agar candy, again for the diet-conscious, which sells for $1.00 a pound and is simply extraordinary – ask them to let you taste it, and you're as good as sold.

Bullock's Department store was at 639-657 S. Broadway from 1906 to 1907 – then at 401-423 S. Broadway from 1912 to 1914 – then at 630 S. Hill.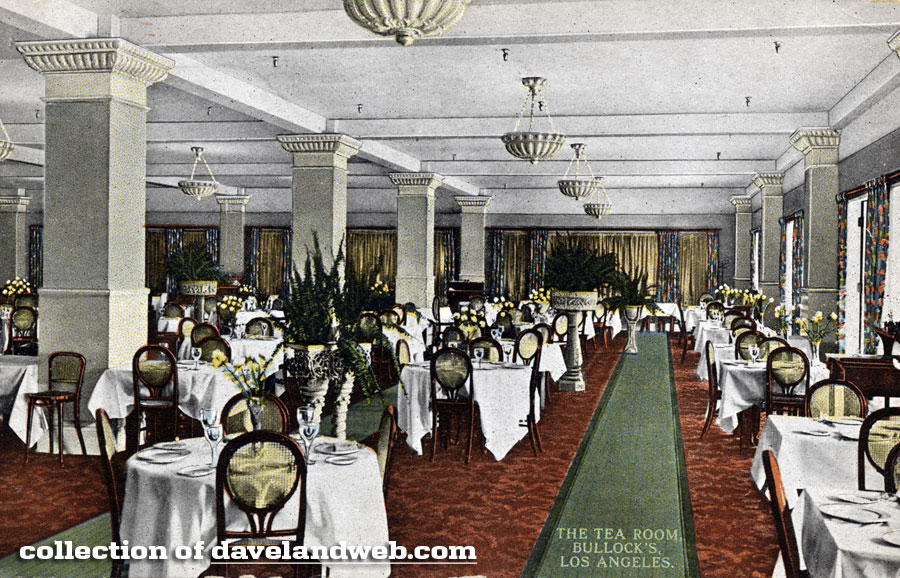 If Bullocks wasn't your cup of tea (pardon the pun), you could have visited the Tick Tock Tea Room.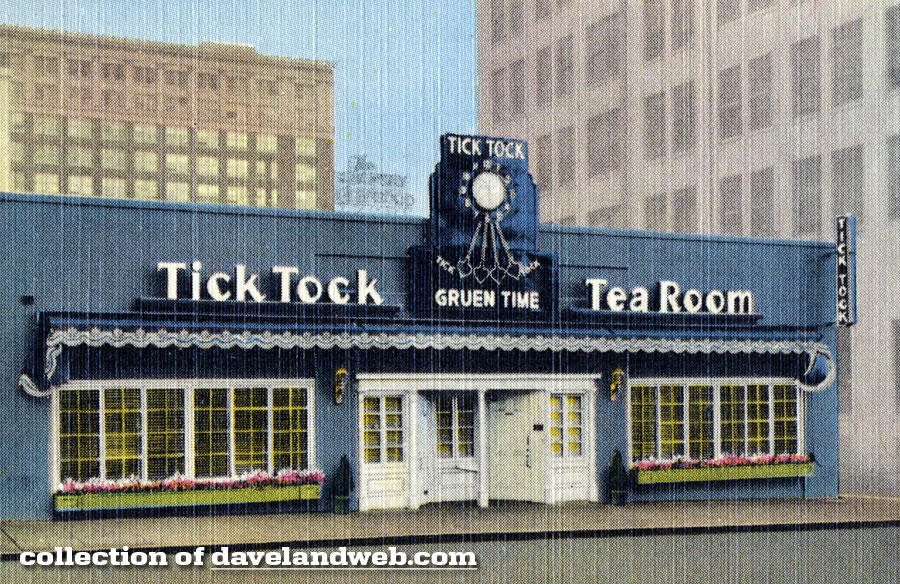 Once again, from Martin's site:
Located at 1716 North Cahuenga Avenue, the Tick Tock Tea Room opened in 1930, by Norwegian Arthur Johnson and wife Helen. Closed 1988. On the day they opened for business, they installed an old clock, a family treasure on the wall; hence the name. The final tally was 48 clocks plus the neon one out front.

The Tick Tock was a well-liked restaurant serving heaping portions of comfort food to the aspiring actors and studio craftspeople who could afford to dine in the city's tonier restaurants. In the 30s and 40s the restaurant was popular for it's 3-course dinners; in those days the Tick Tock served 2000 people a day. Only complete dinners were available, and came complete with a basket of beloved Sticky Orange Rolls, sweet enough to be desert. Dinners were usually canned fruit cocktail or tomato juice, sherbert, meat loaf, fried chicken, fried beef liver and onions with some sort of homemade pie or cake for dessert.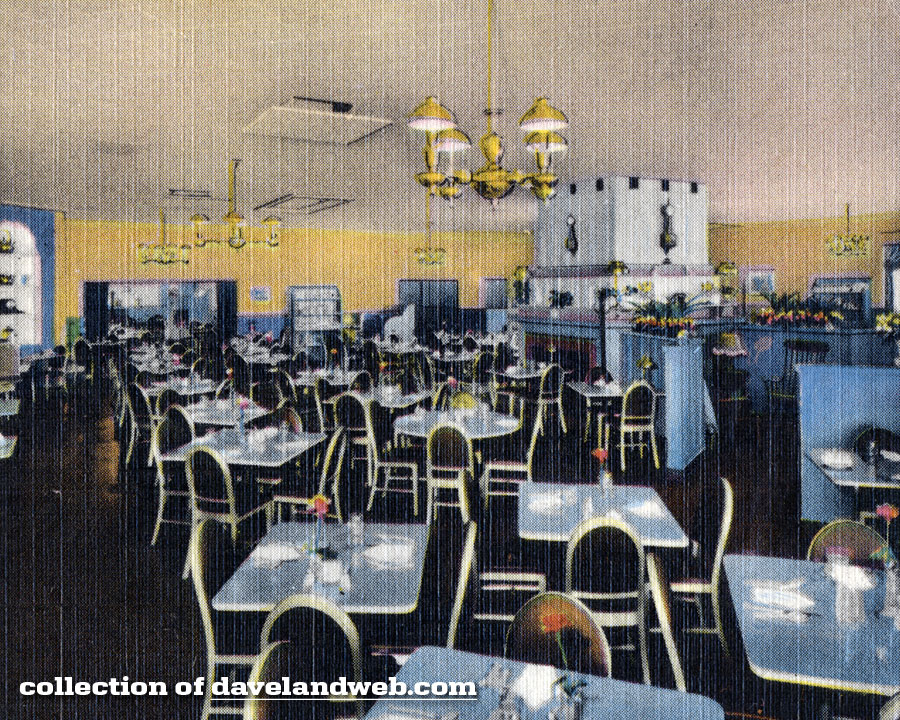 See more vintage & current Hollywood photos from my collection on my
main website.
Follow my Daveland updates on
Twitter
and view my most recent photos on
Flickr
.